Steve Round © Oystercatcher after earth worms in the fields by Leasowe Lighthouse.
The Oystercatcher - our most conspicuous wader, and the noisiest! Probably the one bird on the estuary anyone can identify with its striking black and white plumage and long bright red-orange bill. The Dee Estuary typically holds 8-12% of British wintering birds which are of the nominate race of Eurasian Oystercatcher (Haematopus ostralegus ostralegus).

Since the Wetland Bird Survey began in 1969 (then called Birds of Estuaries Enquiry) the Dee Estuary has always been one of the top four most important sites for Oystercatchers in Great Britain. Counts have consistently surpassed the level of International Importance - currently set at 9,000.
Back in 1969 numbers were quite low as the birds were only just making a slow recovery from the harsh winters of the early 1960's which saw much of their chief prey, cockles and mussels, wiped out. I well remember the ice floes on the estuary, and week after week of lying snow, during early 1963. Seems incredible now after the long run of mild winters we've had recently.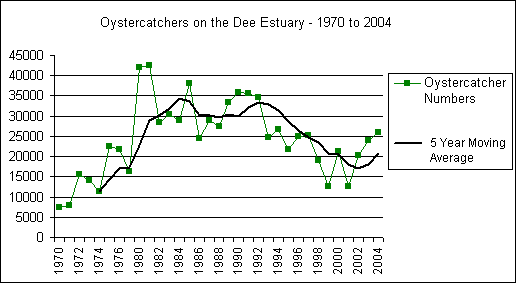 Data shown are peak counts over winter months (Nov to Mar). Data from Wetland Bird Survey.
Counts increased from a low in 1970 of 7,355 to 42,505 in 1981. From there the five year moving average stabilised around 30,000 to 35,000 before beginning a decline in the 1990's to a minimum of 12,506 in the winter of 99/00. The last three winters have shown a steady increase and in December 2004 numbers reached 25,944, with the five year moving average moving back over the 20,000 figure. The reasons for the decline since the 1980s are no doubt complex involving many variables such as the availability of cockles, disturbance, breeding success and weather. These factors are important not only as they relate to the Dee Estuary, but also to other estuaries. So if Morecambe Bay is suffering from excess disturbance, for example, the Oystercatchers might well be inclined to move here, and vice versa. But probably the main impact on numbers has to be the amount of cockles on the estuary. This may well be due to over exploitation of the cockle beds when cockling was virtually a free for all in the late 1980's and 1990's. It would seem that a large amount of damage to the estuary occurred over this period, not only to the cockle beds themselves, but also to the eco-system as a whole with tractors and people all over the mudflats. The figures speak for themselves - in 1987 16,000 tonnes were harvested but in 2003 only 1,182 tonnes (although even this was valued at £700,000). During the last few years the Environmental Agency have been more effective in controlling both the amount of cockles taken and the damage cockling does to the estuary so it is surely no coincidence that we have seen an increase in Oystercatchers over this period. A lot more can be done and the Environment Agency are currently trying to bring in a Regulation Order which would more effectively control cockling, hopefully benefiting both local cocklers and Oystercatchers. The impact of cockling and Oystercatchers on each other is not as straightforward as it may seem and I don't intend to go in to it here - but see sources of information below.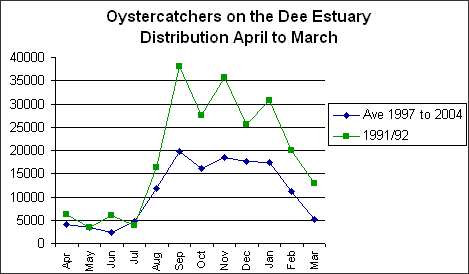 Data from Wetland Bird Survey
Oystercatchers are present on the estuary all year round. Those here from April to July will be mainly immature birds, they don't start breeding until they are at least four or five years old. Oystercatchers are also one of four species of waders to breed around the estuary, albeit in only small numbers (Redshank, Ringed-plover and Lapwing being the others). I always see two or three pairs at Gronant whilst wardening the Little Tern Colony - and they are very effective at chasing away egg hunting crows! The first birds to return to the estuary in early August will be those that have bred in this country, followed by those from Norway, Iceland and the Faeroes, so by September we usually have the highest count of the year. High numbers are present all winter before they return to their breeding grounds during February and March. In the graph above I've included the 1991/92 winter for comparison as this was the last time we had a count of over 35,000.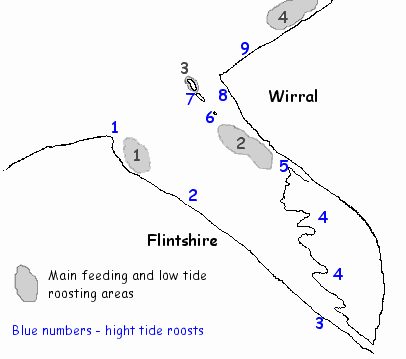 High Tide Roosts
Typical Counts
(based on WeBS data)
1
Point of Ayr
4000
2
Mostyn
1000
3
Oakenholt (RSPB)
1300
4
Burton/Parkgate Marsh
5000
5
Heswall
2300

6

Little Eye
2300
7
Little Hilbre
2000
8
West Kirby
500
9
Hoylake
2000
Main Feeding and Low Tide Resting Areas
(grey areas on map)
1
Salisbury Middle
2
Heswall\Thurstaston\Dawpool Bank\Caldy Blacks
3
Hilbre Island
4
Leasowe Shore
The map and table above gives an indication of how Oystercatchers distribute themselves across the estuary. They are, in fact, our most widespread wader being found throughout the estuary and North Wirral Shore but mostly concentrate in the areas shown. There are also usually several hundred feeding in the fields around the estuary, particularly at high tide. Low tide is a time when birds can feed on exposed cockles and mussels, but at any one time up to a half their number can be viewed resting (or loafing as BWP puts it) in tight flocks - in effect low tide roosts. With the relative large food items the Oystercatchers consume they can afford to conserve their energy in this manner.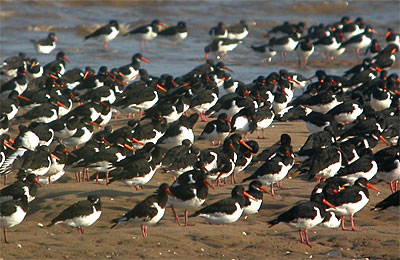 High tide roost at Point of Ayr, © Richard Smith
I took the above photo whilst wardening at Point of Ayr in October 2004. It was a lovely day and I remember how the Oystercatchers flew just a few feet above our heads on their way from the beach to their roost on the shingle spit opposite the RSPB hide. At high tide a Peregrine disturbed them and the whole flock of about 4,000 birds took off noisily and wheeled round above us for about 10 minutes before settling - a spectacular birdwatching experience I'll never forget.
Wetland Bird Survey Data in this article should not be used in any way without permission of the WeBS Office. To access official WeBS data please contact the WeBS Office - BTO, The Nunnery, Thetford, Norfolk IP 24 2 PU, http://www.bto.org.
Sources of Information for this article:
1. Wetland Bird Survey Data (Core Counts) 1970 to 2003, kindly provided by Andy Musgrove of the BTO.
2. Wetland Bird Survey Data (Low Tide Counts) 1996 to 2002, kindly provided by Alex Banks of the BTO.
3. Neil Friswell and Colin Wells, Dee Estuary Wetland Bird Survey Reports, 1999/2000 to 2003/2004.
4. Deeside Naturalists' Society who kindly provided counts from Connah's Quay and Oakenholt.
5. Martyn Jameison who kindly provided counts from Heswall.
6. Stanley Cramp (Ed), The Birds of the Western Palearctic, RSPB, 1977.
7. Migration Atlas, BTO, 2002.
8. A.J. Prater, Estuary Birds, T&A D Proyser, 1981. See pages 112 to 114 for cockling and Oystercatchers.
9. W.G. Hale, Waders, New Naturalist, 1980. See Chapter 13, Cockles and Conservation.
10. Liverpool Daily Post, February 12th 2005, 'Cockler crackdown looms as stocks fall' by Kirsti Adair.
11. My own observations and many birders who have kindly sent their data to me, including the Dee Estuary Voluntary Wardens.
Richard Smith (thanks also to input by Andy Musgrove and Neil Friswell)..