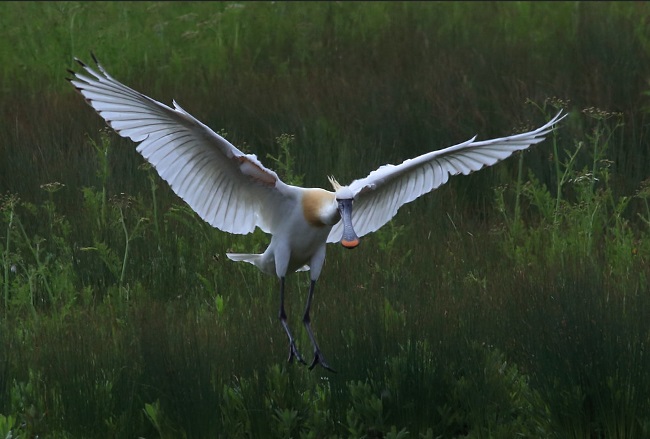 Spoonbill in breeding plumage at Burton Mere Wetlands © Carole Killikelly
March 2020 marks the 22nd Anniversary of 'Dee Estuary Birding' and I do my usual review of the previous 12 months.

RSPB 40 Years on the Dee Estuary

2019 marked 40 years of the RSPB on the Dee Estuary and appropriately their Burton Mere Wetlands Reserve was the centre of attention, particularly in the early part of the year. No less than FIVE species of Heron showed signs of breeding (Grey Heron, Little Egret, Great Egret, Cattle Egret and Spoonbill). It was great to see adult Spoonbills in full breeding plumage although in the end they weren't successful, but Great Egrets bred for the first time on the reserve, the first for Cheshire & Wirral, and later in the year no less than 35 of these were counted flying in to roost. Another first for the reserve were breeding Bearded Tits and a remarkable nine pairs of Mediterranean Gulls bred - they had only started breeding there two years previously. Rarity highlights at the reserve included a White Stork, White-winged Black Tern and a Terek Sandpiper with a Long-billed Dowitcher bringing an exciting end to our year in late February.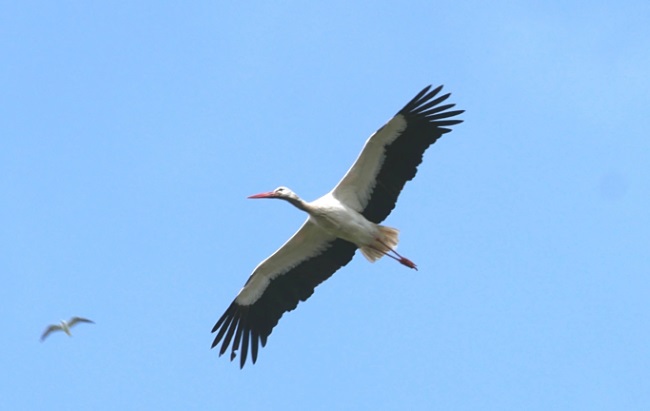 White Stork over Burton © Allan Conlin


A Good Spring
The Leasowe Lighthouse area is a great place to go birding in spring and 2019 was particularly good. We had the best spring passage of Ring Ouzels for at least 15 years with 43 records. The Ring Ouzels were followed by Yellow Wagtails and we had a max count of 40 by the Lighthouse, as well as several so-called 'Channel' Wagtails (Yellow/Blue-headed Wagtail intergrade - M f flava x favissima) but the icing on the cake was a Spanish Wagtail (Motacilla flava iberiae) - this will be only the second UK record if accepted (at time of writing this is still in circulation at BBRC).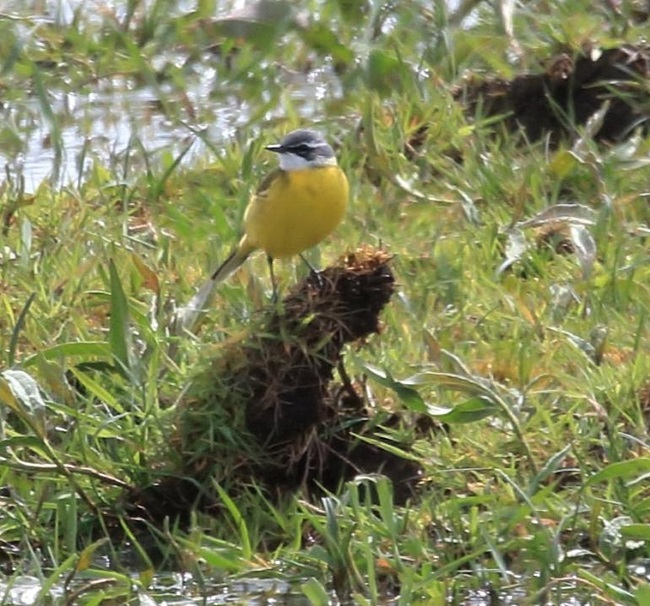 Spanish Wagtail
Motacilla flava iberiae
on Kerr's Field by Leasowe Lighthouse
© Carole Killikelly

A Busy Summer and Autumn
The Little Terns at Gronant continued to thrive with yet another increase in pairs, to 172, and the second ever highest number of fledglings with 206. In spring there were a few Eiders displaying off Hilbre, an unusual event this far south, but it was a huge surprise when Steve Hinde saw what looked like an Eider duck with two young in Heswall Marsh in July - a first for Cheshire and Wirral. That same month Steve found a Gull-billed Tern at Thurstaston, reward for his daily visits there. Steve also noticed the arrival of Knot in late summer and early autumn, these were nearly all juveniles and it turns out they had a really good breeding season. In August 10% of the Icelandic sub-species of Black-tailed Godwit was in somebody's back garden. I kid you not - a private Wildfowl collection on the edge of Caldy has attracted good numbers of Black-tailed Godwits now for quite a few years but I couldn't believe it when I had a count of 6,130 on August 10th. Just incredible!
We had a good start to the autumn with strong winds in early September bringing a record high count of Arctic Skuas at Hilbre, 101, plus 32 Leach's Petrels and three Grey Phalaropes. Unfortunately the remainder of the autumn was much calmer so sea watching was disappointing. October brought a particularly good Siskin passage with a record daily count of 540 along north Wirral on the 21st.

A Wet and Windy Winter

We did actually have some nice sunny crisp days but I'm sure most of us will remember this winter for it's storms - which meant as far as birding was concerned it was disappointing. But there were certainly highlights including one (sometimes two) Bitterns flying into roost at Neston Reed Bed every evening together with up to 20 Marsh Harriers. Around four Short-eared Owls gave some great views very close to the golf course path just north of Parkgate. There was a rare winter record of a Grey Phalarope at Hilbre together with two Slavonian Grebes. These days Pink-footed Geese are just about everywhere on the marshes and surrounding fields, a joy to see. In late January and early February these were joined by two Tundra Bean Geese, only the second record for Burton Mere Wetlands.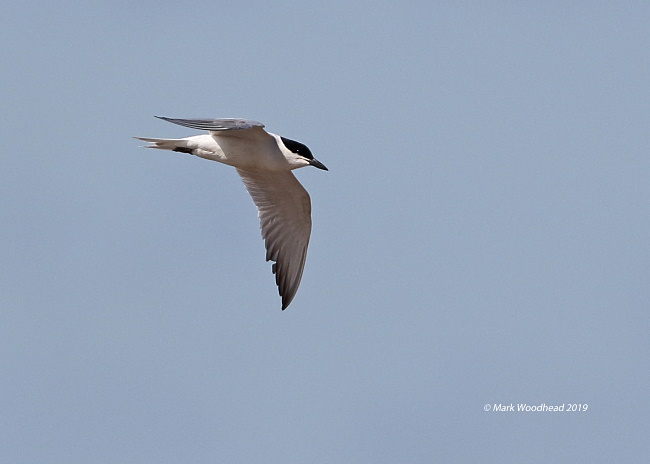 Gull-billed Tern at Thurstason

Richard Smith
Colour Ring Report

Dunlin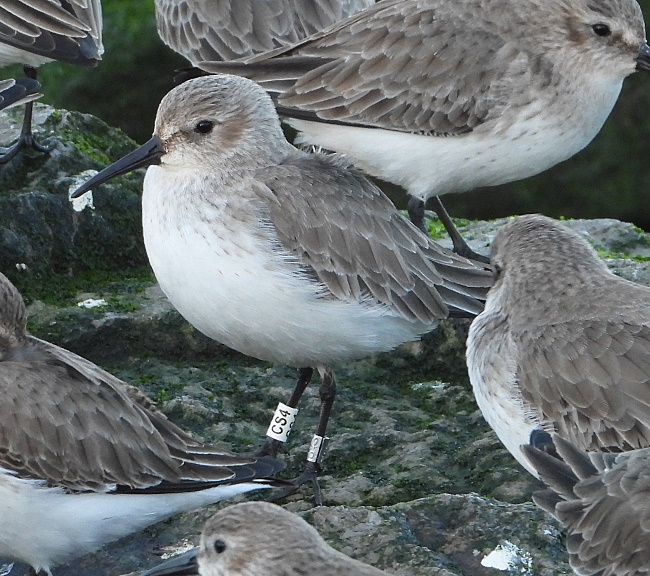 © Richard Smith


The first colour-ringed Dunlin I saw (in February 2012) was ringed on the Baltic coast near Gdansk, Poland. It's good to know that they are still actively ringing these birds at Gdansk and the one below is our fifteenth from that scheme.

CS4 on a white ring.
Ringed near Gdansk, Poland, on July 25th 2015.
Recorded near Gdansk, Poland, on July 26th 2015.
Recorded at West Kirby on February 8th 2020. No other records since 2015.
Herring Gull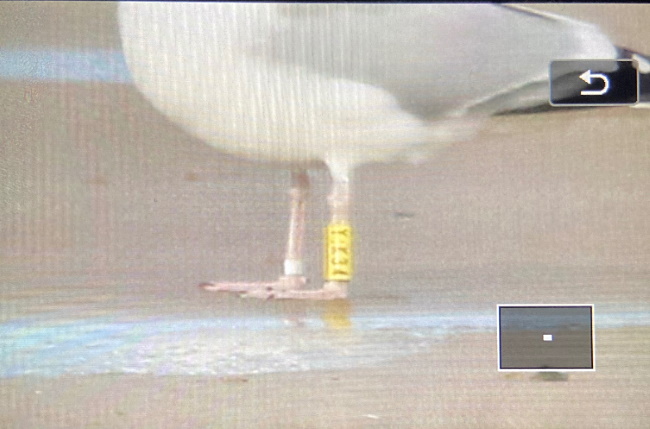 © Tim Kinch


Strictly speaking Prestatyn is outside the Dee Estuary area but I've included this one to share the interesting comments by the ringer. Having ringed so many of these gulls I'm very surprised we haven't seem more from this scheme.

Y: K34 - black on yellow ring.
Ringed at Harewood Whin Landfill Site, west of York.
Recorded in Prestatyn February 23rd 2020. No other records.
This is what Mike Jackson, the ringer, had to say:
Itís a bird which was ringed at Harewood Whin landfill site, to the west of York, (53.960 -1.177). The bird was caught using a Cannon Net and is one of around 2500 Gulls which were caught and colour ringed over a 3-year period from March 2015.
Harewood Whin was one of the decreasing numbers of Landfill sites in the UK where it was possible to operate for the catching and ringing of gulls. The landfill site has now closed and no longer attracts large number of Gulls.
One of the main reasons for carrying out this work was to examine if and how the movements of Gulls altered with the closure of the Landfill site which used to be a major food source throughout the year.
To date there have been over 2600 sightings reported from as far apart as the Barents Sea and Morocco.
Grey Plover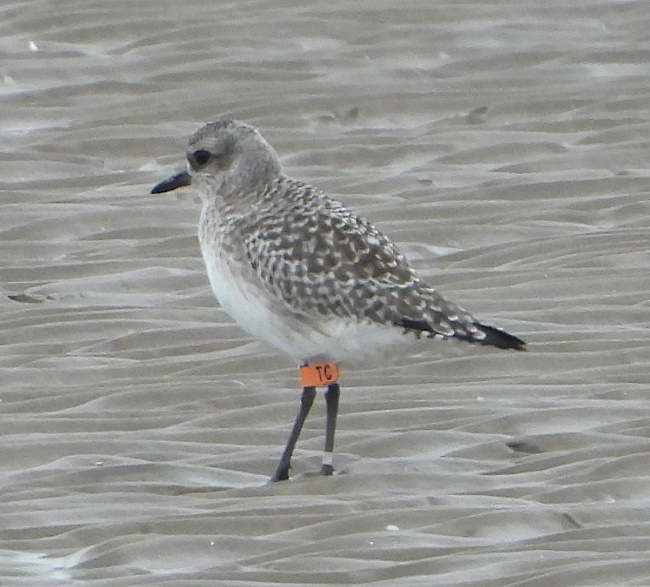 © Richard Smith

TC on Orange Flag (left tarsus), Pale blue ring (right tarsus).
Ringed at Altcar on March 30th 2018.
Recorded at Southport in May 2018.
In the winter of 2018/19 it was recorded at Hoylake, Birkdale and Altcar.
Recorded at Formby Point in September 2019.
Recorded at West Kirby on February 19th 2020.
This is one of 143 Grey Plovers caught and fitted with an orange flag over two catches, in March 2018 and March 2019. This is the largest number of Grey Plovers ever fitted with colour rings in the UK, being very wary they can be difficult to catch.
Up until the end of 2019 there have been 372 records of 117 of these ringed birds, a good tally considering they can be difficult to get close enough to read the letters on the flag. The vast majority have been seen on the Sefton Coast (Southport to Crosby). On the Dee Estuary there have been 25 records of 21 birds with most recorded at Hoylake where they can come quite close when roosting at high tides, but they have also been seen at Connah's Quay, Gronant, Point of Ayr, Meols, Thurstaston and West Kirby. Further afield they have been spotted in Brittany, Cleethorpes and Dublin. These ring recoveries suggest that many Grey Plovers winter to the south of us and pass through the Dee Estuary and Sefton coast area in spring and autumn, although many do also spend the winter here.

Knot
Over the past couple of years I've published several articles on colour-ringed Knots but have rarely shown specific data from individual birds - so here are two examples of the sort of records we have been obtaining for these 'O flags'.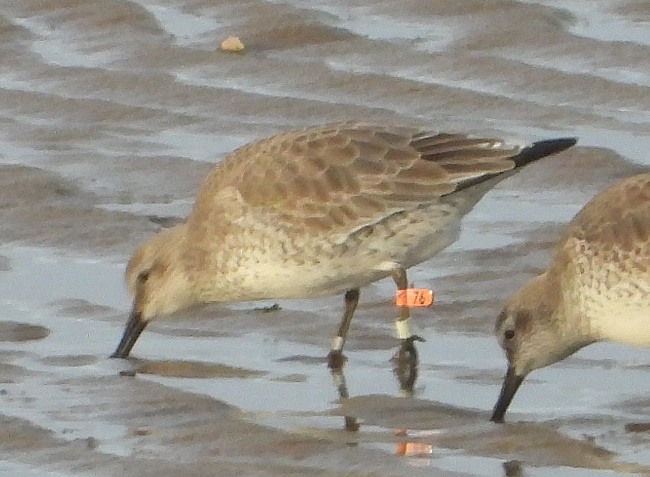 © Richard Smith

Oflag-P (76), first line is ringing date:

22/09/2017 Alt Estuary
30/09/2017 Crosby
29/10/2017 Crosby
27/12/2017 Thurstaston Shore
18/02/2018 Crosby
03/08/2018 Terschelling. Netherlands
26/11/2018 Thurstaston Shore
27/12/2018 Crosby
20/01/2019 Formby Point
30/07/2019 Hitarnes, W Iceland
31/07/2019 Hitarnes, W Iceland
15/09/2019 Griend, Netherlands
12/01/2020 Meols Shore
21/01/2020 Crosby
12/02/2020 Formby Point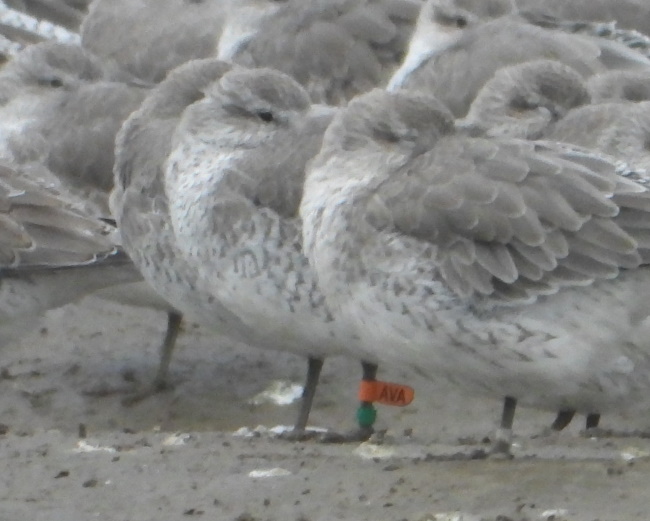 © Richard Smith

Oflag-G (AVA), first line is ringing date:

30/03/2018 Alt Estuary
24/05/2018 Dynjandisvogur, Iceland
18/08/2018 Southport
29/04/2019 Southport
21/07/2019 Crosby
23/08/2019 Crosby
08/09/2019 Crosby
14/09/2019 Ainsdale Beach
06/11/2019 Thurstaston Shore
30/12/2019 Thurstaston Shore
25/01/2020 Meols Shore

These two birds are using different strategies on returning after breeding with '76' stopping off at Iceland before flying to the Wadensee to moult, whereas 'AVA' underwent moult on the Sefton Coast. In May 2018 'AVA' was spotted in Iceland on it's way north in May, Iceland is a major stopover for this species in May, less so in July for the return journey. 'AVA' went missing for the winter of 2018/19 - we know many birds went over to Ireland that winter, or perhaps it went up to Morecambe Bay where there aren't many sites where flags can be read.

Colour-ringed Birds were recorded by Richard Smith, Steve Hinde, Tim Kinch, Colin Schofield, Graham Connolly and Peter Haslem.

February Bird News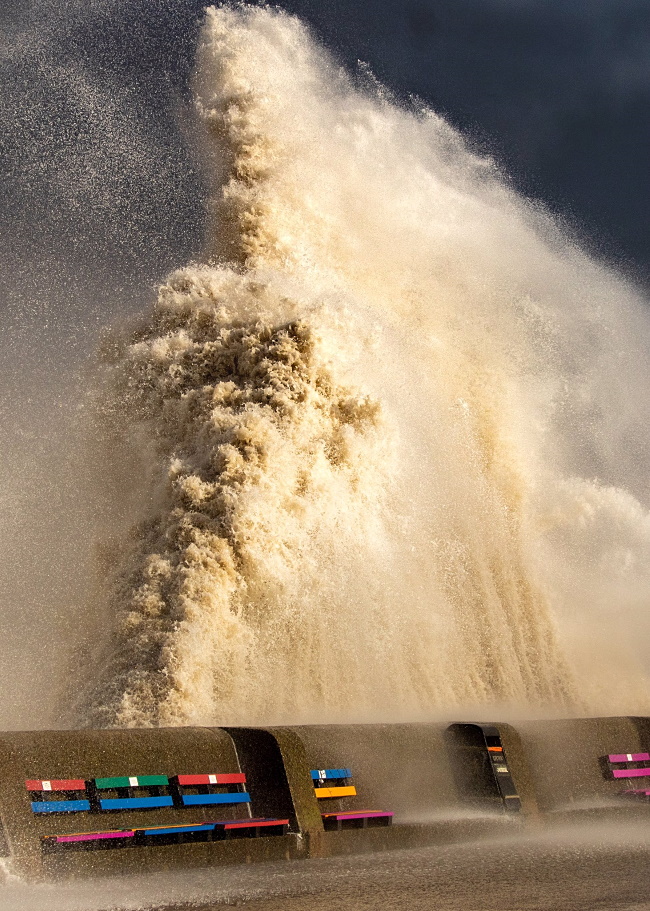 Storm Ciara at New Brighton © Peter Sutton


A stormy month. On February 9th it was only supposed to be a 9.4m tide (Liverpool height) but the incoming Storm Ciara resulted in a 1.5m tidal surge, about a high a surge we've ever seen, and the marshes were flooded right up to Burton Point, as they were the following three days of spring tides. This made for some great birding although the appalling weather made it somewhat challenging! At least six Water Rails were counted at Parkgate and close views of two male Hen Harriers were had. 14 Great Egrets were at Burton Mere Wetlands during the high tides. The gales also blew in several Little Gulls including three at West Kirby and four at New Brighton - these will be part of the Irish Sea over-wintering flock which are rarely seen from the coast. Also during these high spring tides both a Puffin and adult Long-tailed duck flew west, and there were over 500 Common Gulls at Hoylake, a good number for this species.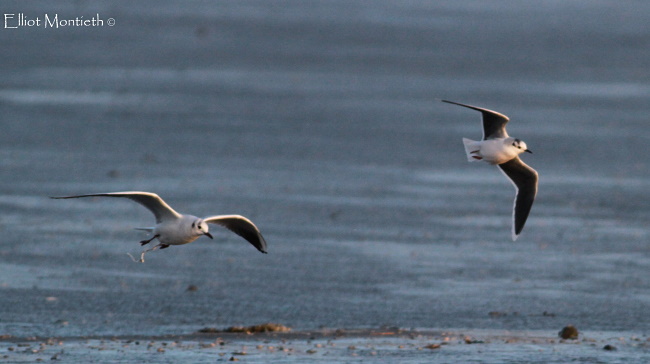 Little Gulls at West Kirby, February 11th © Elliot Montieth


Early on in the month there were good numbers of waders around including 15,000 Knot at Heswall and 17,500 Dunlin at Hilbre. The first Avocet of the year was spotted at Burton Mere Wetlands on the 13th and had increased to at least 10 by the month-end. Also at BMW was a Long-billed Dowitcher seen on the 24th and 25th. It seems likely that it was the same bird that was at Martin Mere, it was seen there both before and after those dates but was missing on those two days. Fairly remarkable that if flew all the way to Burton and back but it could be it was following Black-tailed godwits which may well make such journeys regularly.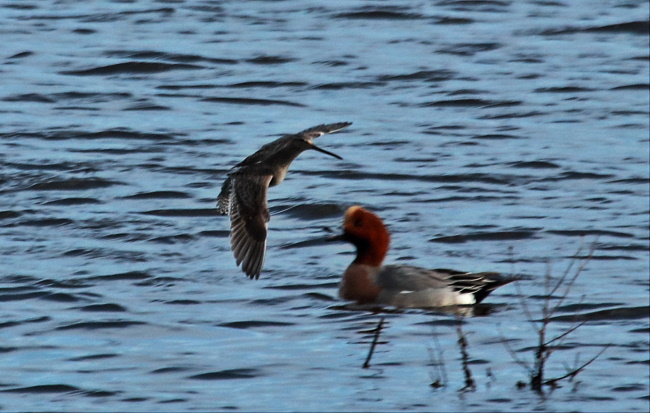 Long-bill Dowitcher at Burton Mere Wetlands (with Wigeon), February 24th © Carole Killikelly


There were several reports of single Cattle Egrets - perhaps the same bird but quite likely there was more than one. The two Tundra Bean Geese seen last month were spotted a couple of more times early in February. Goosanders continued to use West Kirby Marine Lake with max count of eight, and single Mediterranean Gulls were recorded at several sites, now starting to turn into summer plumage.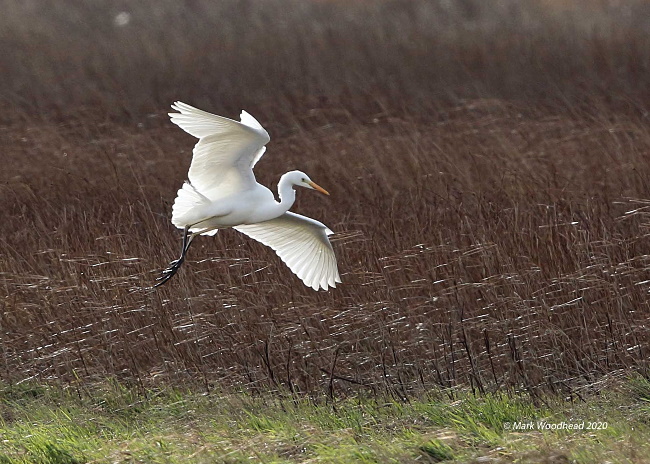 Great Egret at Parkgate, February 27th © Mark Woodhead

Many thanks go to Barry Barnacal, David Haigh, Colin Schofield, Carole Killikelly, Steve Hinde, David Leeming, Alan Hitchmough, Derek Bates, Allan Conlin, Karen Leeming, Richard Whitby, Tim Kinch, Frank Burns, Elliot Montieth, Mark Peers, Charles Farnell, David Thompson, David Bradshaw, David Jones, David Small, Peter Haslem, Chris Revell, Rod Bell, Alan Irving, Linda Platt, Mark Woodhead, Jeremy Bradshaw, Richard Speechley, Paul Lee, Graham Connolly, Steve Hart, Tony Sinnott, Gary Powell, Chris Tynan, Ron Brumby, Steve Davies, Ai Miller, Ian Goldstraw, Chris Lewis, Andrew Wallbank, A. Williamson, Gareth Hawkins, Andy Vallans, Clive Part, the
Lighthouse and Wirral Birding Blog
, the
Dee Estuary Wardens
and the
Hilbre Bird Observatory
for their sightings during February. All sightings are gratefully received.

Top of Page
What to expect in March
March sees the return of spring and the return of the spring migrants. Below is the table for 2019 (and the previous two years) showing the first sightings for a selection of species. If you see an early migrant please email

and, if it's a first, I'll put it in the 2020 table.
As well as the migrants shown in the table we often get a noticeable passage of Stonechats along the coast and possibly an early Ring Ouzel or two coming through. If you see gulls suddenly taking flight and making a massive racket it is very likely an Osprey overhead on it's way north, we usually see more of these in spring than on their return passage in the autumn.

Often in March Common Scoters pause here on their way north, they could be in their tens of thousands out in Liverpool Bay. Also out there will be Little Gulls with Hilbre and north Wirral being the best place to see these as they fly towards the Sefton coast before flying overland on their way to breed in the Baltic. Look out also for our first Gannets and Sandwich Terns of the year.

There are some big tides due and with them being fairly early on in the month there will still be plenty of the over-wintering birds. Short-eared Owls, Hen Harriers, Marsh Harriers and Great Egrets will be on view and thousands of Pink-footed Geese should put on a good spectacle as they get flushed from the marsh by the rising tide.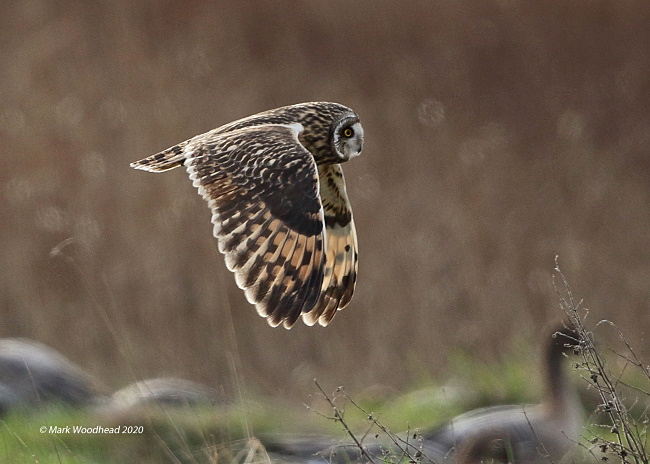 Short-eared Owl at Parkgate, February 5th © Mark Woodhead

Forthcoming Events
March Highest Spring Tides (Liverpool)
Also see Tides page.
10th March, 11.32hrs (GMT), 10.0m.
11th March, 12.15hrs (GMT), 10.2m.
12th March, 12.58hrs (GMT), 10.2m.
13th March, 13.41hrs (GMT), 9.9m.
Forthcoming Events
Organised by the Wirral Ranger Service , Flintshire Countryside Service and the RSPB (Dee Estuary): All these events and walks have bird interest, even those not advertised specifically for birdwatching. No need to book for these events unless specified - please check below.
---
NOTE: Due to the Coronavirus Pandemic events may be cancelled. Please check with whoever is running the event.
Tuesday 10th March, Wednesday 11th March and Thursday 12th March, Parkgate Tidewatch
10am-2pm

Price: Free

Join us at Parkgate Old Baths for the awe-inspiring spectacle of a high tide flooding the vast saltmarsh, potentially reaching the old sea wall.
The marsh at Parkgate is one of the best wetland habitats in the northwest, and when flooded by an incoming tide, the wildlife which lives here is pushed closer, with chance of seeing the great range of ducks, geese, wading birds and egrets in big numbers as they are driven upstream by the rising tide.
A range of birds of prey take advantage of mice and voles flushed from the grasses; hen and marsh harriers, peregrines and merlins all spend the winter months on the estuary and this is one of the best places to watch them, plus short-eared owls if we're really lucky. So why not venture out to try witness all the drama. Low pressure and a westerly wind will help push the tide and wildlife in close.
There is free public parking at the Old Baths car park (CH64 6RN) at the north end of The Parade, and the Wirral Country Park car park on Station Road (CH64 6QJ). There are public toilets at Mostyn Square in the middle of The Parade, and a number of pubs and cafes.
Telephone 0151 353 2720 for further information.

Tide times: Tuesday 10 March 10.0m @ 11.32am, Wednesday 11 March 10.2m @ 12.15pm, Thursday 12 March 10.2m @ 12.58pm.
Saturday 14th March, Tidewatch at Point of Ayr.
12-3pm (approx. finish)
Price: £5 per person (£4 RSPB members) plus Eventbrite booking fee
Booking essential
By March our winter visitors will be starting to think about their journey north for breeding season, so don't miss this last chance to catch the impressive Point of Ayr high tide roost that shows how important the Dee Estuary is for a variety of wetland birds.
Thousands of godwits, redshanks, oystercatchers and curlews gather in spectacular fashion on the saltmarsh and shingle here at high tide, which is what we hope to show you if you join us on this gentle walk from Talacre to our hide. There'll also be a variety of ducks pushed close on the incoming tide, plus there have been a flock of Brent geese around much of the winter. Peregrine and merlin are the two raptors most likely to take advantage of this high tide buffet, so there's a chance of seeing these hunting at close range.
Park in one of the public car parks signposted from Station Road and meet outside 'The Point' bar at the end of Station Road. Car parks are Pay & Display so don't forget some coins. Appropriate clothing and footwear are essential. The path is fully accessible, but an A-frame motorcycle gate at the beginning of the walk may make it difficult for larger wheelchairs.
Feel free to pack lunch and snacks for in the hide, and a hot flask is recommended at this time of year! Public toilets and places to purchase refreshments will be available in Talacre before and afterwards.
Telephone 0151 353 2720 for further information.
Advanced booking and payment is essential via Eventbrite:
https://poa-march-tide.eventbrite.co.uk
Directions:
Point of Ayr, Flintshire. Meet outside 'The Point' bar at the end of Station Road, Talacre.
Friday 27th March and Friday 24th April, Nature Photography Workshop at
Burton Mere Wetlands
.
10am-4pm
Price: £30 per person / £24 RSPB members (plus Eventbrite booking fee)
Booking essential
These days many aspiring photographers begin to realise as they explore the natural world that they have a level of creativity that they wish to explore and develop. Lots are put off by the complexity and expense of so called ďproper camerasĒ so their creativity remains frustrated. We can help!
Join other like-minded enthusiasts for a day of tuition from Wirral-based photographer Ron Thomas to learn more about getting the best out of your photographic equipment and discover that you donít need to spend a fortune to get those images of nature that you have always wanted.
Learn about camera handling and technique, gaining skills in wildlife observation and wildlife behaviour. We will also talk about how to contribute to the wellbeing of our planet so that others can see it at its best. Throughout the session the code of practice for nature photographers will be our ethical guide.
At the end of the day you will take home images that you will be pleased to hang on your wall at home. Tea and coffee will be provided but please bring a packed lunch, or money to buy from the visitor centre. Donít forget fully charged batteries and lots of memory cards!
Book your place via Eventbrite here:
https://march-photo.eventbrite.co.uk
(March) or
https://april-photo.eventbrite.co.uk
(April)
If you require more specific information on the content of the workshop before deciding whether to book, contact Ron directly on
ronald.j.thomas@btinternet.com
Website:
https://www.ronthomasphotography.com/
Wednesday 8th April, Thursday 9th April, Friday 10th April, Parkgate Tidewatch
9.30am to 1.30pm
Price: Free
Join us at Parkgate Old Baths for the awe-inspiring spectacle of a high tide flooding the vast saltmarsh, potentially reaching the old sea wall.
The marsh at Parkgate is one of the best wetland habitats in the northwest, and when flooded by an incoming tide, the wildlife which lives here is pushed closer. Although most of the winter visitors will have left the estuary to return to their breeding grounds by now, there will still be some resident birds of prey trying to take advantage of mice and voles flushed from the grasses along with a variety of resident wetland birds seeking shelter from the rising tide, although just witnessing the rare occurrence of the marsh being flooded is impressive in itself.
Please note the tide height is heavily affected by the weather conditions on the day; low pressure and a westerly wind will help push the tide and wildlife in closer.
There is free public parking at the Old Baths car park (CH64 6RN) at the north end of The Parade, and the Ropewalk car park on Station Road (CH64 6QJ). There are public toilets at Mostyn Square in the middle of The Parade, and a number of pubs and cafes for refreshments.
Tide times: Wednesday 8 April 10.0m @ 11.09am, Thursday 9 April 10.2m @ 11.52am, Friday 10 April 10.1m @ 12.36pm