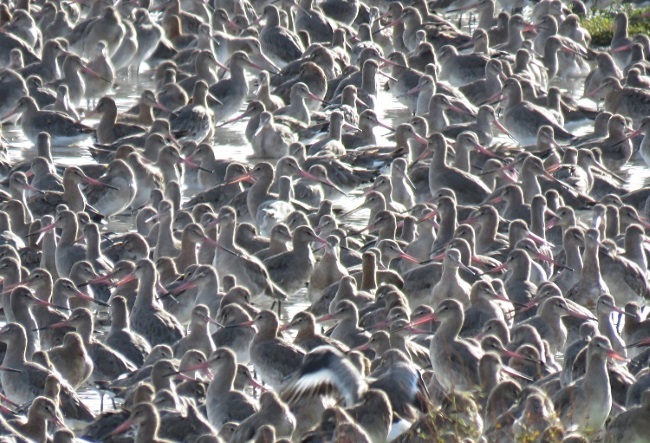 "The Joy of Birds" - Apologies for the somewhat cheesy title but on the 20th birthday of www.deeestuary.co.uk I tried to think why do I bird watch, why do I spend so much time writing about birds, why do I spend so many hours just staring at waders? And the simple answer is that they bring me joy. So on the occasion of this anniversary I thought I'd indulge myself and write about some of my own highlights over these past 20 years. You may think the list is a bit eccentric and wonder why it doesn't include any rarities, but it reflects my own interests and the birds and events which have brought me the most pleasure.
Leach's Petrel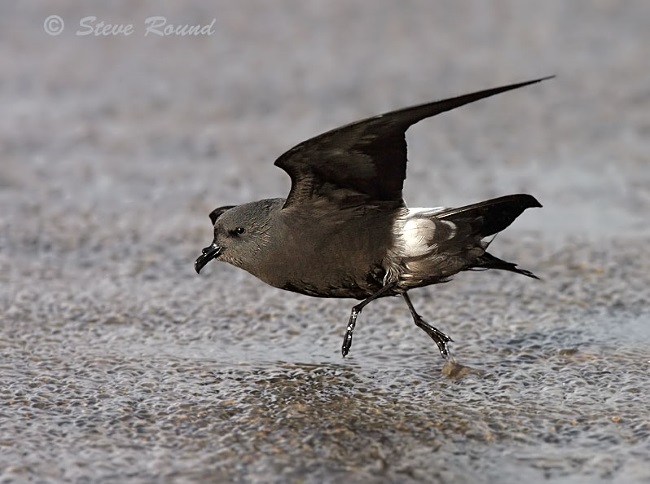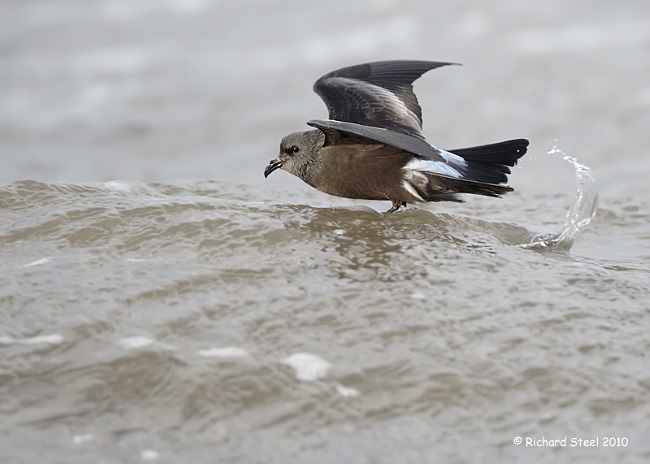 Apart from my own great experiences with Leach's Petrels I have received some wonderful photographs, particularly from my friends Steve Round and Richard Steel.

When I started this website in 1998 I didn't realise that North Wirral/Hilbre/Point of Ayr were the best places in the country to see Leach's Petrel, nor did I have any idea when and under what conditions was best to see them. It was thanks to Dave Walters' North West Region Bird Reports (published by Birdline North-west) that I learned all about them and I've had some great views of them since.

Three days stand out:
September 15th 2001 - a gale was blowing, of course, and I was sheltering in a shelter on Meols prom and watching my first ever Leach's Petrels fly by. I think I saw 16 over the high tide and they gave me some of the closest views I've ever had with several coming close to the prom wall.
December 9th 2006 - prolonged south west gales had blown hundreds of Leach's Petrels up into the Irish Sea in a remarkable 'wreck' through late November and early December. It wasn't until the 8th, when the wind turned to the north-west, that we started to see them here. I was wardening with Paul Shenton at Point of Ayr on the 9th and it was just astonishing to see eight fly through the surf in December!
September 16th 2010 - 2010 saw one of the best ever Leach's Petrel passages with daily totals in the hundreds. I was lucky enough to be on Hilbre on the 16th, I'm not sure exactly how many I saw that day myself but the total for Hilbre was 172, for three hours that afternoon I had the island to myself with petrel after petrel flying past. A magical day.
Winter 2010
This was actually two winters with the two coldest months being January and December. I'm old enough to remember the winter of 1962/63 and I didn't think I'd see another like it in my lifetime, but 2010 came close. I'm old fashioned and like 'proper' winter weather and it was just fantastic to be out birdwatching on those crisp, sunny and windless days when everything was covered in snow. It was the coldest January since 1987 but December was the coldest for 120 years. The temperature recorded at Crosby for December 21st was -17.6șC, the coldest ever recorded there and the coldest in the UK on that date.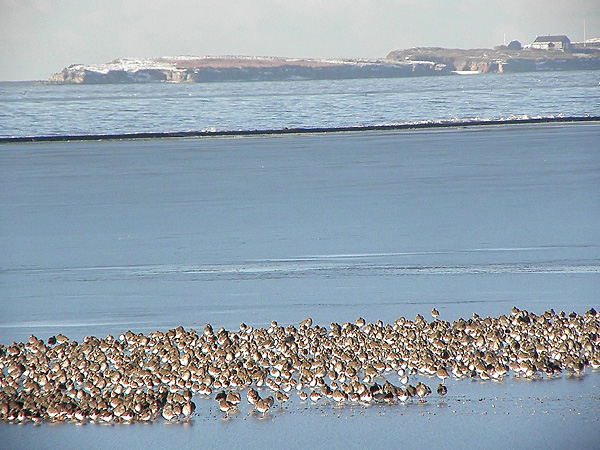 Waders roosting on the ice covered West Kirby Marine Lake with Hilbre in the background , Christmas 2010,
© Mike Davenport.

I remember the tide bringing ice floes up the channel at Thurstaston with Pintail and Teal swimming between them. At West Kirby we had the bizarre sight of the whole wader flock standing still yet all moving - it took us a few moments before we realised that the tide had crept in floating the ice the waders were standing on. The nearby West Kirby Marine Lake was full of ducks with up to 34 Goldeneye, 29 Tufted Ducks and a record breaking 52 Red-breasted Mergansers, and even some Pochard. The ducks stayed until the lake froze over on the 20th Dec, and the next few days we had waders roosting out on the sea ice - something I don't remember happening before. On a flat calm sea we had up to 82 Scaup and over 500 Great Crested Grebes. There was a noticeable influx of Woodcocks including four at Leasowe Castle on Christmas Eve, and out on the snow covered marshes were hundreds of sky larks with one flock recorded as 3,000 strong.
Knots
Who can fail to be moved by great flocks of Knots whirling in the skies in a spectacular display? But I actually prefer to see them on the ground when I know they are either roosting or feeding undisturbed and, of all waders, Knot seem to suffer more from disturbance than most.

Those that read last month's article 'Among Knots' will know that I had some fantastic experiences with them this last winter. There have been many other winters when I've had similar experiences but there is one that stands out - 2012/13. That winter we had the second highest number of Knot on the estuary since WeBS begun in 1970, but it was the spring tides in January which were truly astonishing. Often at Hoylake on the highest tides when there is just a small strip of beach left the birds rapidly disappear to roost at Formby but that year they decided to stay and I quote from my newsletter:
"Saturday January 12th was the day of the High Tide Birdwatch at Hoylake and it was an outstanding day with at least 200 birders enjoying the spectacle of 25,000 waders (mostly Knot) pushed in by a big high tide which included 1,200 Sanderling - one of the highest ever January counts for this species on the Dee Estuary. If Saturday was outstanding then Sunday was even better with the higher tide pushing the birds that much closer, for about 30 minutes half the Knot flock aerial roosted overhead which was an amazing sight in itself. Then came Monday which was simply astonishing, the birds were so close to the end of King's Gap you could almost touch them, unlike the previous day the birds stayed mainly on the sand and were surging backwards and forwards like breaking waves."
Short-eared Owls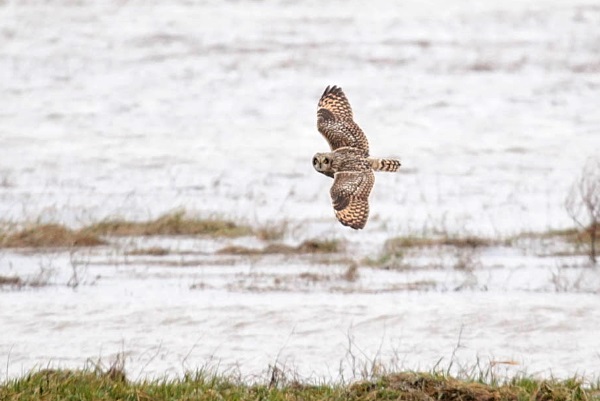 Of all the bird species we hope to see during a Parkgate High Tide bird watch the one I look forward to seeing the most are Short-eared Owls. Firstly we worry that the tide isn't going to cover the marsh, it seems to take for ever to creep in, then over the last 100 yards or so it rushes in and suddenly the Short-eared Owls appear as if by magic. I always go down to the Cottage Lane end of Heswall Golf Course to see them where there is a roost on the marsh, and when the tide flushes them you get some crippling views and I have known as many as 12 flying around trying to avoid the attentions of the crows and gulls.
Black-tailed Godwits
I dread to think how many hours I've spent looking at Black-tailed Godwits over the past 20 years - at Gilroy, Caldy Wildfowl Collection and Thurstaston shore - many hundreds, that's for sure. I just love them and the establishment of a major moulting site, 2,000 to 5,000 strong, close to my house has been like paradise for me. If you haven't already read it try my Observations of Black-tailed Godwits article.

Waxwings
Up until the winter of 2000/01 Waxwings were more or less unheard of around the Dee estuary with just the odd small flock quickly passing through. So it's been fantastic that between 2000/01 and 2016/17 we've had no less than seven good Waxwing winters. 2012/13 was by far the best when they were everywhere, including Hilbre, but I remember a particular incident in January 2005. About 90 were feeding on a fruit tree in somebody's front garden in Greasby, close to the main road. I assume the owners of the house were not in as nobody came out to ask why several people were looking through telescopes at their house. The Waxwings were there for several days but on the last day, when they had almost stripped the tree bare, I got into my car to drive off when the whole flock decided to land on the grass verge just outside my car door to eat crab apples fallen from a road side tree. That's the closest I've ever been to them!
Common Scoters
Its a long walk across East Hoyle Bank but pleasant enough in good weather and the bank is mostly hard sand, rather than mud. It was April 2015 and Wirral's first Surf Scoters had been seen off north Wirral in the Scoter flock so I decided to make the trek with my dog in tow. I'm not 100% sure that I did see a Surf Scoter but I was told there were six out there somewhere. But I was entranced by the Common Scoters, so often just distant black dots here they were in their hundreds just a short distance away from the tide edge. What struck me was the amount of movement with hundreds of birds swimming in a long single file, backwards and forwards, whereas others seemed to be displaying with an awful lot of aggression and splashing. A spent a very happy hour out there watching the spectacle.
Colour Rings
I started recording colour-ringed Black-tailed Godwits in 2005 and it has become increasingly an obsession, but a very enjoyable one. This last 12 months have been particularly good and our small group of colour ring enthusiasts on the Dee estuary have made an important contribution to the study of the movements and survival rates of both Black-tailed Godwits and Knots, as well as many other species.
Here are two quotes from my Newsletters, the first written by myself, and the second by Nathan Senner, hopefully it will give you an idea of what motivates us:
"I suspect that most birders think we small group of colour ringed wader enthusiasts on the Dee Estuary are a little bit crazy. But we find it fascinating finding out about the detailed movements of individual birds, but more importantly it provides vital data both for conservation and for ecological science."
"Colour ringing a bird is a very transformational activity. It gives a bird an (human) identity. With a set of colour rings, we can watch an individual change through time, learn about its personality, witness its successes and failures."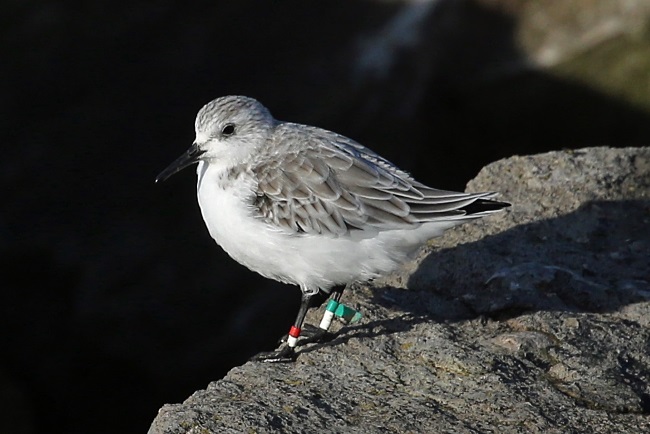 Colour-ringed Sanderling at Dove Point © Roy Lowry
Richard Smith
Connah's Quay Nature Reserve
It is becoming increasingly apparent – both from anecdotal and first-hand experience - that many people are accessing Connah's Quay Nature Reserve despite not being current members.
Notwithstanding the fact that non-members are uninsured when on site, it is clearly unfair to paying members that some visitors are using the facilities for free. It also creates a situation whereby regular visitors to the reserve are either reluctant or unwilling to publish details of any scarce birds that visit the site given what has occurred on previous occasions.
If you are a non-member and wish to visit us in the future, please ensure that you are carrying a 2018 Permit. Both new members and those wanting to renew an expired membership can find the renewal form at: http://www.deenats.org.uk/public/joinus.html.
Hereafter, anybody suspected of not being a current member will be asked to produce their Permit and failure to do so could result in them being asked to leave the site.
It is understandable however, that on occasion, current members may wish to bring prospective members to the reserve and in such cases exceptions will be made. After all, we have some excellent wildlife to enjoy here at Connah's Quay and we are keen to encourage as many people as possible to join us.

Kind Regards,

Paul Shenton

Chair, Deeside Naturalists' Society.

Colour Ring Report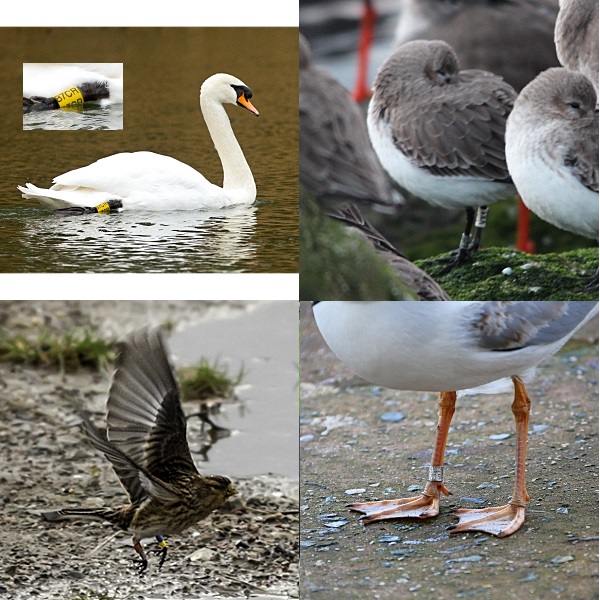 Clockwise starting top left: Mute Swan B7CR (Dave Winnard), Dunlin VX1 (Paul Ralston), Black-headed Gull
EZ09061
(Allan Conlin), Twite BY-O with letter O (Jeff Cohen).
A nice selection of ringed birds this month including a metal ringed Black-headed Gull, even with modern cameras it is usually not possible to read these in the field but with the gull coming to bread Allan Conlin managed to get close enough and also managed to photograph both sides of the ring so the number could be read. Our main effort is still logging colour-ringed/flagged Knots - see last month's article
'Among Knots'
and by the end of February we had recorded 307 of the Orange flagged Knots ringed at Altcar on September 22nd 2017, 59% of the total ringed.
Mute Swan
B7CR - black on yellow ring.
Ringed at Belvide Reservoir on 8th July 2008.
Recorded at Parry's mine pool, Greenfield Valley, on 21st January 2018.
Also recorded in Greenfield Valley on 3rd July and 22nd September 2017.

Dunlin
VX1
- black on white ring.
Ringed on the River Vistula estuary, Gdansk, Poland, on 25th September 2015.
Recorded at West Kirby Marine Lake on 14th January 2018. No other records.
This is the 13th Dunlin we've recorded which has been ringed at Gdansk.
Black-headed Gull
EZ09061
- metal ring.
Ringed at Westport Lake, Staffordshire, on 1st December 2017, a juvenile.
Recorded by New Brighton Marine Lake on 31st January 2018.
There have been several Black-headed Gulls recorded over the winter which are regulars in this colour-ring report - these include 5HP and 4HM (both ringed in Copenhagen), 2J75 (ringed in Bowness) and TMEN (ringed in Poland).


Twite
BY-O (with letter O)
Ringed at Connah's Quay Nature Reserve on 20th January 2017.
Recorded by Flint Castle on 1st February 2018.
Ringed as part of the
North Wales Twite Project
.
Richard Smith.
Colour-rings were also recorded by Steve Hinde, Matt Thomas, Les Hall, Colin Schofield, Elliot Montieth, Allan Conlin, Jeff Cohen, Paul Ralston, Dave Winnard and Ian Beggs.
Top of Page
February Bird News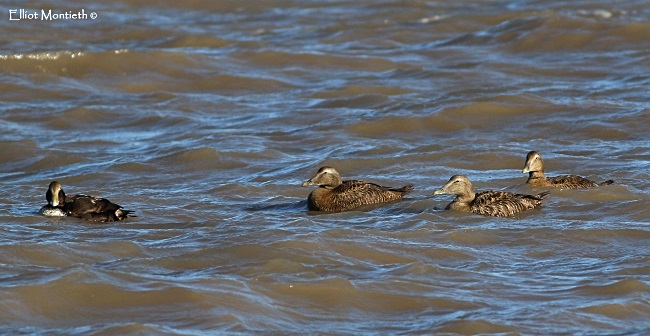 We reckon that the flock of Eiders off Hilbre (max 9 this month) is the largest to over-winter there since the winter of 1957/58 when up to 17 were present. We have had larger numbers at Hilbre, both in the winter and other times of the year, but they rarely stay for more than a few days. Likewise the flock of nine Greenland White-fronted Geese over-wintering on Warren Farm is very unusual, records are more difficult to check than for the Hilbre Eiders but White-fronts of the Greenland race are normally very much vagrants around the Dee estuary with, perhaps, the odd one or two turning up every few years and I don't recall any over-wintering birds.
Meanwhile Pink-footed Geese go from strength to strength, I don't have a total count for the whole estuary and they seemed to have been well dispersed this winter but the highest count in February was 7,000 on the outer edge of Burton Marsh on the 16th. Far more than in previous winters have been feeding in fields around Thurstaston and Heswall every day with up to 2,000 seen flying inland at first light from their roost on Heswall Marsh. The highest count of Brent Geese was 290, a small flock were regular at Thurstaston and towards the end of the month up to 11 were on West Kirby Marine Lake. There have been good numbers of Common Scoters off north Wirral although usually very distant, highest estimate was 12,000.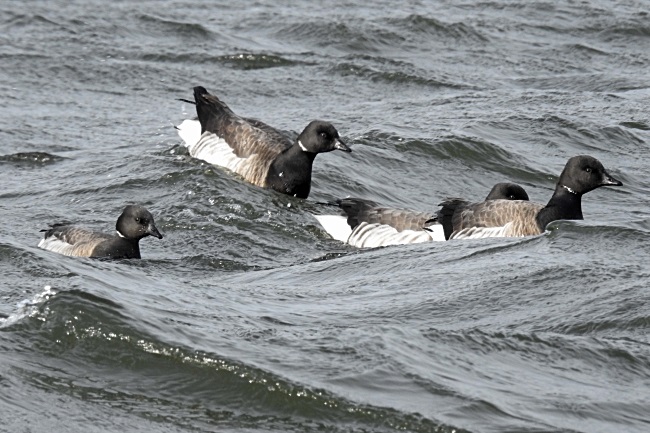 Brent Geese on a stormy West Kirby Marine Lake, February 28th © Les Hall
The first Avocet of the year arrived back at Burton Mere Wetlands on the 16th and had reached at least 15 a week later, but I imagine the exceptional cold weather at the end of the month will have had them flying back south. It's been a good winter for Knot and over 30,000 were on the estuary on the 18th. There was a noticeable influx of Dunlin with largest counts 8,000 at Hoylake on the 17th and 10,000 at West Kirby on the 18th. A Common Sandpiper was at Bagillt and a Green Sandpiper near Denhall quay early in the month. Max count of Purple Sandpipers was 11 at New Brighton.
Eight was the highest count of Great White Egrets on the marshes. Highest count of Marsh Harriers was six, although this wasn't a roost count and that, judging by the numerous records, is still likely to be 10+. A male Hen Harrier has been reported regularly but only one ringtail. The high tides early in the month failed to produce any Short-eared Owls at Parkgate or Heswall but five were off Denhall Quay on the 17th.
Other notable records was a Red Kite over Thurstaston Shore (21st) and a Bittern at Parkgate (25th). There were reports of single Water Pipits from Burton Mere Wetlands, Connah's Quay Nature Reserve, Heswall shore and Neston Sewage Works.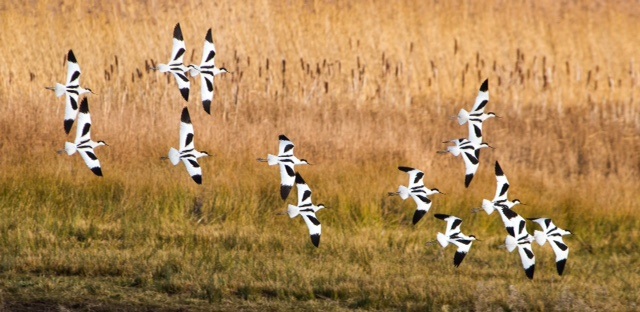 Avocets at Burton Mere Wetlands before the 'Beast from the East' struck, February 23rd © Peter Ham
Many thanks go to Steve Round, Mal Seargant, Timothy Kinch, Chalres Farnell, Mark Woodhead, David Haigh, Steve Hinde, Matt Thomas, Chris Butterworth, Roy Lowry, Elliot Montieth, Paul Shenton, David Leeming, Alan Hitchmough, Steve Williams, Les Hall, Jeff Cohen, Dave Edwards, Derek Bates, Eddie Williams, Allan Conlin, Karen Leeming, Geoff Robinson, Julie Rogers, Colin Schofield, David Peate, Sheila Ryde, Frank Burns, Gail Wilson, Dave Harrington, David Thompson, Mark Gibson, Mark Turner, Graham Connolly, Paul Mason, Linda Platt, Richard Beckett, Mike Hart, Peter Ham, Chris Leslie, Nigel Skilling, Phil Boardman, Alister Sclater, Chris Millington, David Huntingford, Barry Curnow, George Knight, Brian Kirkwood, David Bedford, Richard Whitby, Ian Blackhurst, Nigel Longshaw, Robert Pugh, Tony Breen, Dennis Wall, Michael Ball, Ian Fleming, Huw Morgan, Alan Howgate, Steve Hand, David Small, William Keig, the
Lighthouse and Wirral Birding Blog
, the
Dee Estuary Wardens
and the
Hilbre Bird Observatory
for their sightings during February. All sightings are gratefully received.
Top of Page
What to expect in March
I write this at the end of February in the middle of an exceptional cold spell so we probably can't expect any unusually early spring migrants, but this means when the weather does get warmer they will be coming through in good numbers. Wheatears will be among the first and easiest to see along our coastlines, once the first ones arrive they just keep on coming.
If you see an early migrant please email

and, if it's a first, I'll put it in the 2018 table.
Species
2017
Location
2016
2015
White Wagtail
4th March
Hilbre
15th March
10th March
Sand Martin
11th March
Hilbre
16th March
7th March
Wheatear
11th March
Burton
23rd March
11th March
Swallow
14th March
Meols
24th March
20th March
Willow Warbler
17th March
Shotton
29th March
22nd March
House Martin
27th March
Leasowe
Lighthouse
7th April
31st March
Whitethroat
17th April

Shotwick
13th April
12th April
Swift
19th April
West Kirby
22nd April
19th April
Cuckoo
24th April

Burton
21st April
20th April
Other migrants coming through will be the first Ring Ouzels and Sandwich Terns, also out to sea we will see Little Gulls heading towards Crosby from where they fly overland on their way to the Baltic. It's been a poor winter for both Scaup and Long-tailed Ducks but perhaps the current cold weather will bring some in with Hilbre and North Wirral the best places to see them, and Common Scoters are likely to be seen in their thousands. Stonechats over-winter here but March usually brings a noticeable passage, often seen on the land edge of the marshes or on bushes behind the beach and sand dunes. Siskins are another passage bird and some springs they are everywhere on garden feeders.
Avocets will return to Burton Mere Wetlands and in the last two years have peaked at over 70 in March, some of these may well be on their way further north but many should stay to breed here. This month can bring a good passage of Dunlin and we could get flocks of 10,000 or more at West Kirby and Hoylake.
There are some big tides forecast early in the month, although if the weather forecast is correct they are likely to be suppressed by high atmospheric pressure and east winds but there will still be plenty of birds to see on the marshes including thousands of Pink-footed Geese, Short-eared Owls and both Hen and Marsh Harriers.
Top of Page
Forthcoming Events
March Highest Spring Tides (Liverpool)
Also see Tides page.

2nd March, 11.21hrs (GMT), 9.8m.
3rd March, 12.03hrs (GMT), 10.0m.
4th March, 13.44hrs (GMT), 9.9m.
Forthcoming Events
Organised by the Wirral Ranger Service , Flintshire Countryside Service and the RSPB (Dee Estuary):
All these events and walks have bird interest, even those not advertised specifically for birdwatching. No need to book for these events unless specified - please check below.
Saturday 3rd March and Sunday 4th March , High Tide Raptor Watch at Parkgate.
10.30am to 1.30pm.
Free.
Come along to the car park at the Old Baths for the chance of seeing a range of birds of prey hunting over Parkgate Marsh. Hen and marsh harriers, peregrines and merlins all spend the winter months on the estuary and this is one of the best places to watch them, plus short-eared owls if we're really lucky. January's big tides were helped by Storm Eleanor but the tide reached the seawall and gave brilliant views of these hunting raptors, plus hard-to-find birds like water rails, rock pipits and lots of small mammals fleeing.
These biggest tides in March offer the same spectacle, so why not venture out to try witness all the drama. Low pressure and a westerly wind will help push the tide and wildlife in close. There's also chance of seeing the great range of ducks, geese, wading birds and egrets in big numbers as they are pushed upstream by the rising tide.
There is free public parking at the Old Baths car park (CH64 6RN) at the north end of The Parade, and the Wirral Country Park car park on Station Road (CH64 6QJ). There are public toilets at Mostyn Square in the middle of The Parade, and a number of pubs and cafes.
Tide times: Saturday 3 March, 10.0m at 12.03pm; Sunday 4 March 9.9m at 12.44pm