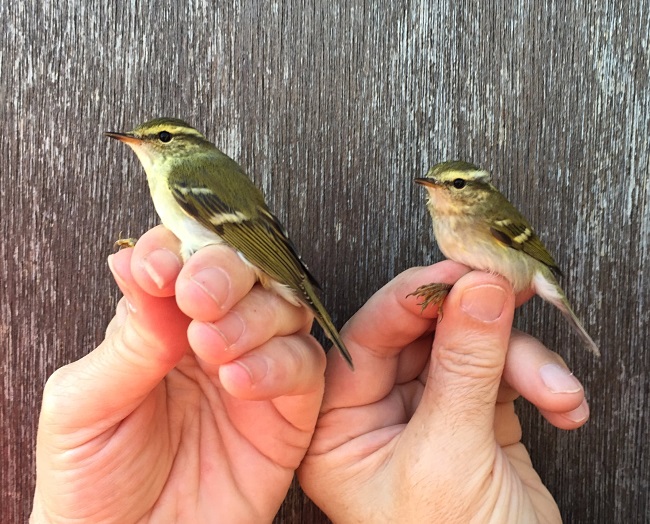 Two Yellow-browed Warblers caught and ringed on Hilbre © Steve Williams

On the 19th Anniversary of the first Newsletter on this website I again publish the highlights from the previous twelve months.
It was a busy 12 months, not, perhaps, so much in the way of mega-rarities but for the fact that so many records were broken for numbers of particular species. So rather than trying to summarise everything I'll concentrate on that aspect:

Common Scoters
Numbers of Common Scoters off North Wirral over the past three years has just been phenomenal. 30,000 in March 2016 was not quite as high as the previous month but then a remarkable 40,000 were counted on a flat calm sea in October which is the highest ever accurate count for the area. See Birds in Abundance! for more details.
Pink-footed Geese
Records numbers were present in the previous winter (8,900 Feb 2016) but the thing I remember most was the day of a spring tide on April 9th 2016. Around 4,000 were still present on the marshes - probably a record in itself for that month - and it was on that day that all 4,000 decided it was time to move north. So from dawn until high tide at 1pm flock after flock flew off and these were seen over Hilbre and North Wirral where many local birders live, including myself. I was at Heswall just before high tide and it was an awesome sight to see what was probably the last of them leave in a flock 1,000 strong.
Avocets
After several years of heavy predation the Avocets had a great breeding season at Burton Mere Wetlands in 2016, the max count of chicks was around 74 - a record high.
Little Terns
Another record number of pairs bred at Gronant with 141. 170 young fledged, the second highest (the highest being 216 in 2010).
Spoonbills, Great White Egrets and Cattle Egrets.
Amazingly, we had record numbers of all three of these species of white herons (may be Little Egrets as well but I haven't seen total counts for the estuary for 2016/17). The max counts were 12 Spoonbills, 12 Great White Egrets and six Cattle Egrets - see Egrets Galore!
Yellow-browed Warbler
September and October brought by far the best Yellow-browed Warbler passage ever recorded locally. The total of 35 records were more than three times the previous record. See Yellow-browed Warbler Influx 2016.
Brent Geese
The steep increase of pale-bellied Brent Geese on the estuary has been well documented and reached a peak of 262 in 2012 after which numbers have plateaued out for four years. But 402 on West Kirby Shore/Little Eye/Bird Rock in November 2016 smashed the previous record.
Marsh Harriers
Even in recent years more than one or two over-wintering Marsh Harriers on the estuary is virtually unheard of, but this last winter, 2016/17, has been exceptional. Just how many in total have been present has been the subject of much debate. It is known several birds have been roosting on the marshes all winter and seven were seen there in the air at once, but there have been several claims of double-figures with at least 12 counted coming into roost in the evening. A remarkable development.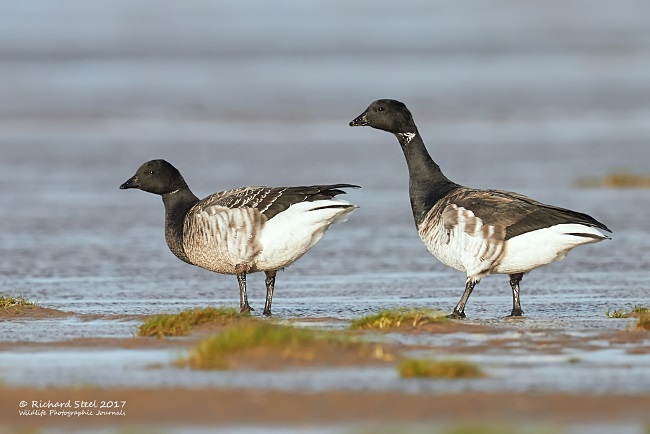 Richard Smith
Colour Ring Report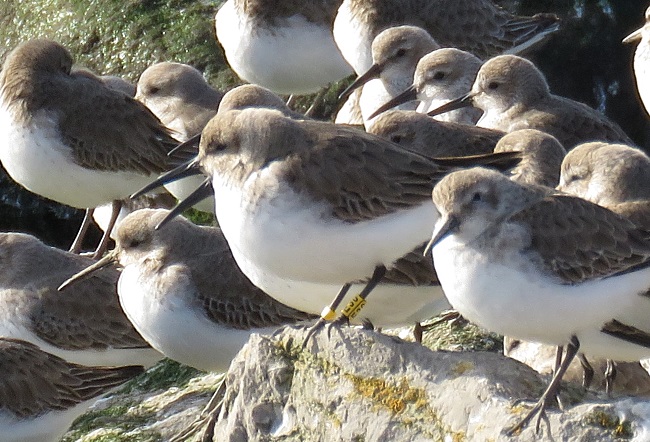 Dunlin 'E30', February 13th © Richard Smith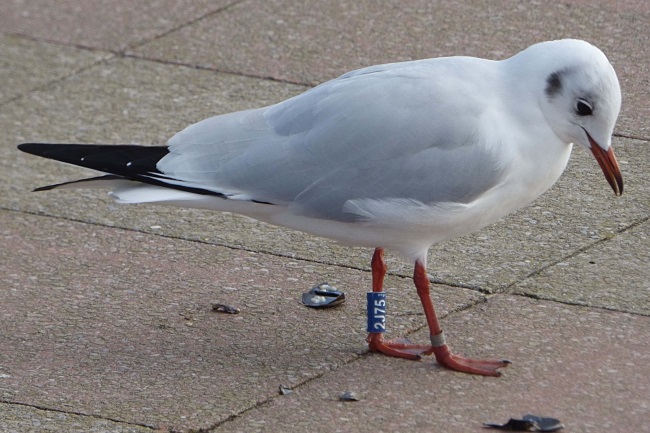 Black-headed Gull '2J75', February 10th © Les Hall

There have been good numbers of Black-tailed Godwits off Thurstaston and Heswall all February with well over 1,000 most days and consequently we've logged a total of 26 different colour-ringed birds - most years there are virtually no godwits here in February and the total number of colour-ringed Black-tailed Godwits logged in February for the previous three years is just eight! However, it was very noticeable that the turn-over of birds was very low with the same birds occurring day after day, below I describe the only 'new' one seen. There have been good numbers of Dunlin and we managed to see two ringed ones, in contrast Knot numbers have been low but even so we managed to see five ringed ones. We've also recorded three colour-ringed Oystercatchers but I intend to do an Oystercatcher 'special' next month so will save them until then.
Of note is that the 'new' Black-tailed Godwit, two of the Knot and an Oystercatcher were all ringed within a few miles of each other in north-west Iceland (Westfjords peninsula) whereas an Oystercatcher and two more Knots were ringed on the same small island in the Waddensee (Schiermonnikoog). Quite a coincidence!

Black-tailed Godwit
WW-WYflag
, ringed as a chick in NW Iceland on July 11th 2013.
Recorded on Thurstaston Shore at the end of January 2017.
After ringing the bird wasn't seen until May 2015 when it was spotted on the Gower Peninsula, South Wales. It then turned up at Marshside RSPB (Lancs) in September 2016 and stayed there until early October. Then no more records until it arrived at Thurstaston.
My colleague Matt Thomas was part of the group which ringed this bird on Iceland in July 2013.
Dunlins
E30 on yellow ring - Y.
Ringed in eastern Belarus (47km south of Gomel) on September 15th 2016.
Recorded at West Kirby Marine Lake on February 13th 2017.
Eastern Belarus is not an obvious migration route but some do breed in western Belarus and also the Baltic states so may be it is one of those.
ZYZ -
black on white ring (right leg).
Ringed in Gdansk, Poland, on July 20th 2015.
Recorded at West Kirby Marine Lake on February 13th 2017.
This is the 12th Dunlin we have seen which has been ringed in Gdansk, first one was in February 2011.
Knots
The two Knot ringed in Iceland are the first we've seen from there, they are ringed by the same group that ring Knot in Northern Norway.


L3GLLG
(if you wish to understand the code for Dutch ringed knot download a PDF file
here
.)
Ringed at De Richel island on the Waddensea, Netherlands, on September 29th 2011.
Recorded on Thurstaston shore on February 1st 2017.
Also recorded eight times on the island of Griend, Waddensea, between July 2014 and August 2016.
L7RRLR
.
Ringed on the island of Schiermonnikoog on the Waddensea, Netherlands, on October 17th 2009.
Recorded on Thurstaston shore on February 21st 2017.
Also recorded on Thurstaston shore in November 2010 and November 2013, no other records.
R - Y flag with number 94.
Ringed at at Dynjandisvogur in NW Iceland on May 25th 2014, on spring migration.
Recorded on Thurstaston shore on February 3rd 2017. No other records.
Y - Y flag with letters UUK.
Ringed at at Dynjandisvogur in NW Iceland on May 25th 2014, on spring migration.
Recorded on Thurstaston shore on February 12th 2017. No other records.
Black-headed Gull
2J75.
White on blue ring.
Ringed at Bowness, Cumbria, on January 3rd 2015.
Recorded at West Kirby Marine Lake on February 10th and 28th 2017.
Also recorded in autumn at Bowness in 2015 then January to March 2016 at West Kirby Marine Lake.
Richard Smith.
Colour-rings were also reported by Matt Thomas, Steve Hinde, Colin Schofield and Les Hall.
Top of Page
February Bird News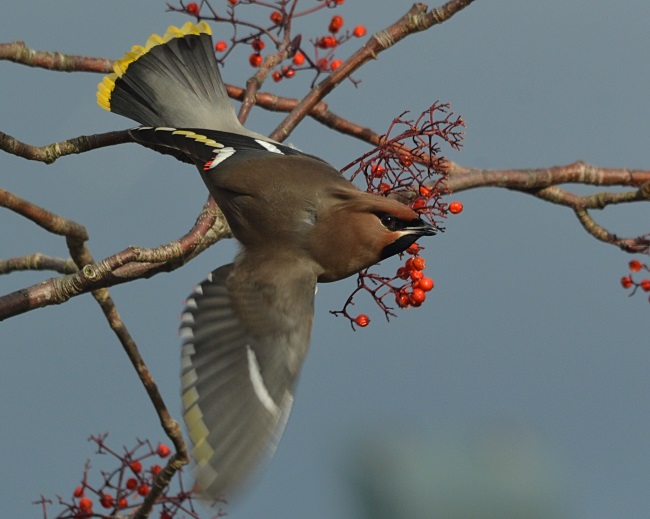 Waxwing in Parkgate, February 26th © Mike Davenport
It continues to be a good Waxwing winter across the country and we've had a few small flocks here, including at Irby and Parkgate both of which stayed for a few days giving people a chance to get good views.
Good numbers of Black-tailed Godwits remained at Thurstaston with up to 2,000 which is an unusually high count for late winter. There was a noticeable influx of Dunlins through the month and there was a total of around 10,000 at West Kirby including 2,750+ on the rocks by West Kirby Marine Lake giving great views. These are literally just a few feet away and on the 13th, which was a lovely sunny day, a constant stream of people walking along the promenade were asking what they were - although 'are they swallows?' was a bit much!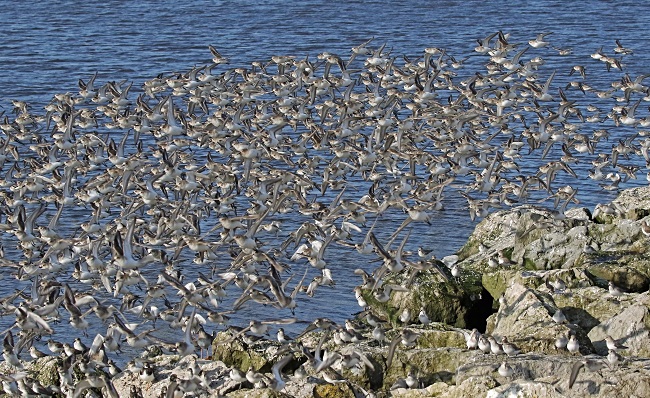 Dunlins at West Kirby, February 13th © Roy Lowry
There have been good numbers of wildfowl around including 5,000 Pintail and 3,000 Wigeon off Oakenholt Marsh. It was good to see several hundred Pink-footed Geese feeding in a field in Irby (close to the waxwings) for several days and you wonder how many other flocks were feeding in fields unobserved. Max count of Brent Geese at Hilbre was 306, a record count for the island. On the 24th, the day after Storm Doris, 8,300 Common Scoter were around Hilbre, including 5,000 in the Swash which is very unusual.
Perhaps the most remarkable record of the month was seven Black-necked Grebes at Connah's Quay on the 5th, they were seen by a very experienced birder so I have no doubt about the record. Also at Connah's Quay was the usual large flock of Twite with at least 50 there all month. Little Grebes don't often make the sightings page but they obviously love Shotwick Boating Lake and there were 18 there on the 7th.
Five Snow Buntings were at Point of Ayr with one or two also on the English side of the estuary. Marsh and Hen Harriers continued to be seen on a daily basis and there were up to three Short-eared Owls seen off Denhall Quay.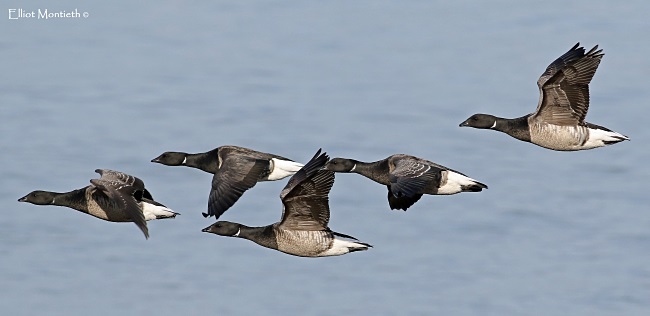 Many thanks go to Colin Schofield, Gary Bawden, Eddie Williams, Richard Steel, Steve Hinde, Matt Thomas, Steve Round, Charles Farnell, John Jakeman, Chris Butterworth, David Leeming, David Haigh, Jeremy Bradshaw, Alan Hitchmough, Les Hall, Steve Williams, David Taylor, Dave Edwards, Bruce Atherton, Richard Beckett, Alan Irving, Paul Mason, Elliot Monteith, Frank Burns, Karen Leeming, Graham Connolly, Janine Johnson, Neil Mcmorran, Pamela Davis, Lillian King, Paul Lee, Jeff Cohen, Roy Lowry, Ron Thomas, Mike Davenport, Phill Roden, Julie Rogers, Jenny Duff, Paul Vautrinot, George Knight, Neil Mack, Malcolm Guy, Nigel Jarratt, Mickey Schroder, Bruce Hogan, Ian Fraser, Andrew Leaver, Andrew Humphreys, Paul Ralston, Chris Tynan, Ron Stores, Isobel Bootham, Linda Platt, Stephen Lane, Vicky Kelly, Deborah Marwaha, Ian Fleming, Mike Hart, Nick Elliot, Robert Pugh, Andrew Crothall, Roger Hasley, David Poole. the
Lighthouse and Wirral Birding Blog
, the
Dee Estuary Wardens
and the
Hilbre Bird Observatory
for their sightings during February. All sightings are gratefully received.
Top of Page
What to expect in March
The first month of spring and, as always, we look forward to the first spring migrants. The table below shows the first of each of the more commoner species to arrive over the past three years (plus Cuckoo which is now considerably scarce). Last year many species were late arriving but I have a feeling they will be earlier this spring.
If you see an early migrant please email

and, if its a first, I'll put it in the 2017 table.
Species
2016
Location
2015
2014
White Wagtail
15th March
Hilbre
10th March
8th March
Sand Martin
16th March
Neston
7th March
20th March
Wheatear
23rd March
Meols
11th March
10th March
Swallow
24th March
Shotton
20th March
19th March
Willow Warbler
29th March
Leasowe and
Thurstaston
22nd March
12th March
House Martin
7th April
Parkgate
31st March
29th March
Whitethroat
13th April
Burton
12th April
4th April
Cuckoo
21st April
Leasowe
20th April
2nd May
Swift
22nd April
Burton
19th April
3rd May
Out to sea we can also expect some passage migrants with thousands of Common Scoters as well as our first Gannets of the year, the start of the Little Gull migration and possibly an early Sandwich Tern.
Although some over-wintering birds will start to leave there will still be plenty to see on the estuary and there are some big high tides both at the beginning and end of the month.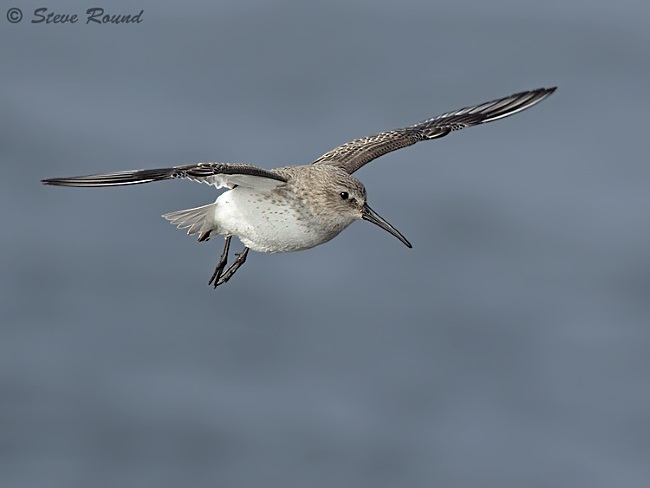 Top of Page
Forthcoming Events
March Highest Spring Tides (Liverpool)
Also see Tides page.

1st March, 12.54hrs (GMT), 9.8m.
29th March, 12.52hrs (BST), 9.9m.
30th March, 13.33hrs (BST), 10.0m.
31st March, 14.16hrs (BST), 9.8m.
Forthcoming Events
Organised by the Wirral Ranger Service , Flintshire Countryside Service and the RSPB (Dee Estuary):
All these events and walks have bird interest, even those not advertised specifically for birdwatching. No need to book for these events unless specified - please check below.
Saturday 4th March
, 9am to 1pm, Birdwatching Walk to
Hilbre
.
Join the Wirral Rangers and the RSPB on a guided walk to Hilbre Island at low tide.
We will walk to the islands to look for the birds that make Hilbre their home during the winter months. Hopefully we will connect with Brent Geese and Purple Sandpipers as well as the usual variety of waders and wildfowl present on the islands.
Booking essential: places limited, email deeestuary@rspb.org.uk or ring 0151 353 8478. £5 per person. Bring binoculars and wear warm waterproofs.
Sunday 26th March, Raptor Watch at Parkgate.
1pm to dusk.
Join us for a chance to see up to seven different birds of prey including peregrine and merlin, plus two types of owl that all make their home on the RSPB Dee Estuary nature reserve. With its panoramic views of the saltmarsh, Parkgate is one of the best places to watch for the birds hunting.
Stick around until dusk for a chance to see the graceful and endangered hen harriers flying into roost for the night on the marsh close to the Old Baths car park, plus a ghostly barn owl emerging to hunt.
No booking required, come along any time between 1 pm and sunset. Dress appropriately for the weather and don't forget your binoculars! Public toilets and various pubs and cafes are situated close by along Parkgate promenade.
Ring 0151 353 8478 for further details.

Directions
The Old Baths car park, Parkgate (just north of The Boathouse pub).