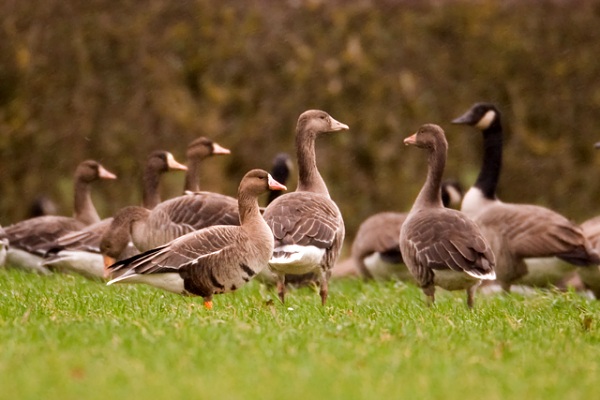 White-fronted Geese with Greylags and Canada Geese, Burton, Jan 1st 2012 © Jeremy Bradshaw.

It was good to see hundreds of Pink-footed Geese around Burton and Parkgate in January after having published my article last month. But the main interest was with the build up of White-fronted Geese and the arrival of up to three Bean Geese, so this month I write about these two species putting this winter's records in context.
The White-fronted Goose
There are two races of 'White-fronts' which occur in this country, known as 'European' and 'Greenland' White-fronted Geese. Neither race is by any means common around the Dee but whereas the European race does occur here at least one in every three years the Greenland race is very much a vagrant.
The graph below shows the max number of European White-fronted Geese recorded on the ground each year from when the Cheshire (and Wirral) Bird Reports started in 1964 to the present day. This current winter is the best one for this species over that time period with a flock in double figures reported most days from mid-November through to January with at least 50 present for most of January, max 59 on the 24th. They have been centred around the new RSPB Burton Mere Wetlands Reserve with birds either on the reserve itself or in the fields to the south and east.
There was a larger flock counted in early 1979 with 64 present, but they were here on only one day, a smaller flock of just seven to 12 stayed for a month.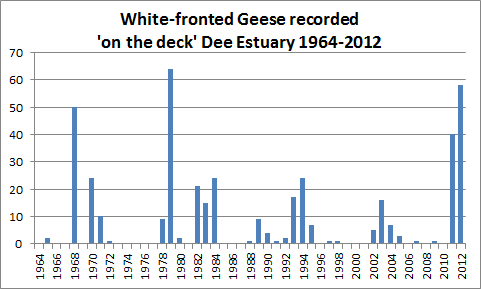 Years when good numbers are here around the Dee Estuary are usually associated with a general influx of small flocks scattered across the country, and that is certainly the case this winter with records broken at many locations including 46 at Martin Mere, Lancashire. The general trend, however, has been a steady fall in numbers nationally since 1970, when they peaked at 12,000, down to around 1,500 at present. Normally the geese stay in the southern part of the country with the largest flock on the Severn Estuary and others around East Anglia and the Thames Estuary. With such a dramatic fall in numbers it may seem strange that we are seeing record numbers this winter further north in the country, but not when you consider the huge numbers in continental Europe with over 800,000 in the Netherlands alone! The reason for the national decline was the series of mild winters with the geese short-stopping, i.e. staying in the Netherlands rather than making the extra journey to the UK, and even in the last two relatively cold winters few made it over here. But given these huge numbers just across the North Sea it is not surprising that occasionally, perhaps due to weather conditions during migration, we get an influx of birds even though numbers are tiny compared to the total population.
Over the years good size flocks of White-fronted Geese have been recorded over-flying our area, in most cases it was not possible to determine which race they were. There seems to be no correlation with these over-flying birds and birds on the ground. For example 58 flew over Hilbre on Jan 8th 2010 and another 212 were over Hilbre on Jan 25th 1996, but in both these years we didn't see any at all elsewhere on the estuary. 220 flying SW at Red Rocks on December 21st 1982 is the highest count of these geese since at least 1964.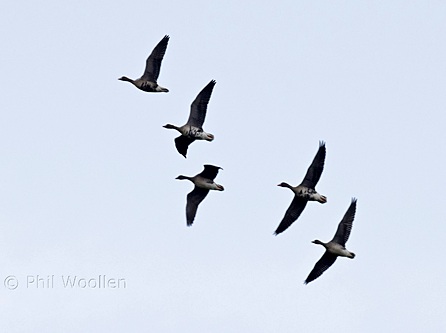 Going back pre-1964 historical records indicate that they were never very numerous on the Dee Estuary, but the same cannot be said of the Mersey. There seems to have been a sharp increase of birds during the early 1900's reaching 500 by 1920 then increasing to a max of over 4,000 by 1947. They roosted on the marshes on the southern side of the estuary and fed in the flood meadows along the River Dee by Aldersley (up river of Chester). During the 1950s there was a sharp decrease from 1,100 in 1953 to just 100 in 1959 with the disturbance caused by the construction of Stanlow Oil Refinery a likely cause. The 1964 Cheshire Bird Report records just 56 on the Mersey marshes and they have been largely absent ever since.
The Bean Goose
To quote Cabot "a taxonomic nightmare with disagreement among experts on the numbers of its subspecies/species.......pink-footed goose...classified by some ornithologists as a subspecies of the bean goose"! Nevertheless, the situation in the UK is reasonably straightforward with two sub-species present - the Taiga Bean Goose and Tundra Bean Goose, 'taiga' and 'tundra' indicating the habitat in which they breed, which is across northern Europe and Asia. Both are rare in the UK with the Taiga a regular winter visitor in small numbers at just two traditional sites, whereas the Tundra is far more irregular although there are the occasional influxes, usually associated with an influx of White-fronted Geese, as has happened this winter.

Tundra Bean Geese with feral Greylag at Burton Mere Wetlands on Jan 15th
© Paul Brady,
RSPB Dee Estuary.
This winter's influx of Tundra Bean Geese started in mid-November and, like the White-fronted Geese, many local records were broken. Flocks included 59 on Fair Isle and three-figure flocks in north-east Scotland indicating that the birds were coming down from Scandinavia rather than across the North Sea from the Netherlands where around 200,000 winter. Their nesting area overlaps that of the European White-fronted Geese and it would seem probable that they were caught up in the same weather pattern.

We were hopeful of seeing one or two here on the Dee Estuary but without any great expectation as they are so rare here. But two duly turned up on Jan 2nd and were then seen on several dates through the month, increasing to three on the 14th. They were usually with either Greylags or Pinkfeet, mostly in the fields to the south-east of Burton Mere Wetlands and either side of Puddington Lane. Many sightings were made mid to late afternoon.

In recent times small flocks have turned up around the Mersey Estuary with nine in 2005 and eight in 1984, but you have to go all the way back to 1961 for the last Dee Estuary record with nine in fields by Shotton on November 22nd. One, probably injured, bird was on Burton Marsh in May 1959 with 15 in a field near Puddington in January 1908 the only further record of a flock. Apart from that there are records of eight single birds shot on separate occasions, usually around Burton, going back as far as 1872.

A rare bird indeed but the same cannot be said of Europe as a whole with about 600,000 Tundra Bean Geese over-wintering; the numbers of this sub-species seem to be fairly stable. The same cannot be said of Taiga Bean Geese as the global population has plummeted from 100,000 to just 65,000 in the last 15 years, most spend the winter in southern Sweden, Poland, Germany and Denmark.

References/Sources of Information:
1. Cheshire and Wirral Bird Reports 1964 to 2010.
2. Clwyd/North-east Wales Bird Reports - various to 2010.
3. Latest Sightings archive - www.deeestuary.co.uk (many thanks to everyone who sent their sightings to me).
4. Wetland Bird Survey Reports, 1995-96 to 2009-10.
5. Goose Bulletin, Issue 13 - November 2011.
6. Waterlife, WWT, Jan-Mar 2012.
7. British Birds 105, January 2012, Recent Reports.
8. T.A. Coward, The Fauna of Cheshire, Witherby, 1910.
9. G.B. Farrar, Feathered Folk of an Estuary, Country Life, 1938.
10. T. Hedley Bell, The Birds of Cheshire, Sheratt, 1962.
11. Eric Hardy, The Birds of the Liverpool Area, T.Buncle & CO, Ltd, 1941.
12. G.L. Atkinson-Willes, Wildfowl in Great Britain, HMSO,1963.
13. David Cabot, Wildfowl, New Naturalist No.110, Collins, 2009.
Richard Smith
Top of Page
Submission of 2011 Records
Firstly, all the records which are NOT County rarities which are sent to myself (Richard Smith) for inclusion into this website are sent on and included in the Cheshire & Wirral and North-East Wales data bases, and these are then sent to the compilers when writing the Bird Reports. Obviously, as I cannot fill in a rarity form for birds I haven't seen, I don't send in rarity details - you will have to do that yourselves! It is VERY IMPORTANT to fill a rarity form in and get your record accepted by the relevant rarity panel - otherwise your record will not be official and it will be lost to posterity.
Please feel free to submit your records directly, that way you will get your name mentioned in the Report rather than being lumped in with the 'Dee Estuary Website', but more importantly it would be greatly appreciated if you could submit any additional records, including rarities, as follows:
For submitting Cheshire and Wirral records, including rarities, see details in the CAWOS website - www.cawos.org - click on 'recording' then 'submission of records'.
For submitting for the North-East Wales area (Flintshire and Denbighshire) see the Clwyd Bird Recording Group website - www.cbrg.org.uk - and click on 'will you help by submitting records'.
I should like to add that where you have managed to take a photograph of a bird which is a County Rarity, of whatever quality, please include it with the description. If the photo is of reasonable quality then that alone will often be enough to get it accepted. But please include any features of the bird which the photograph may have missed, together with details of behaviour, precise location etc.


Top of Page
January Bird News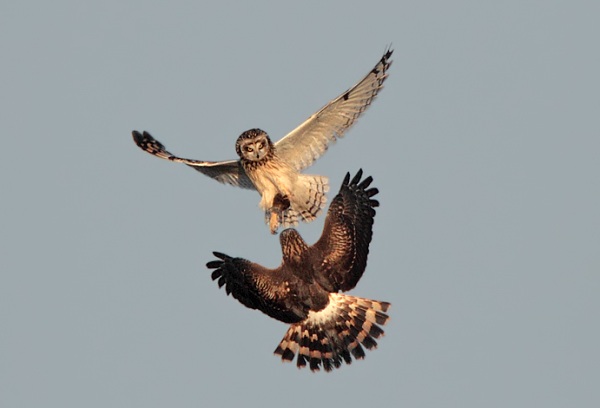 A dramatic photo of a Hen Harrier trying to take a vole from a Short-eared Owl, Burton Marsh,
January 16th ©
Steve Round
.
It was a good month for geese as you can read in the article above. As well as the Bean and White-fronted Geese there were also good numbers of Pink-footed Geese, up to 2,000 or more. These were often observed feeding in fields near
Burton Mere Wetlands
and made a spectacular sight when flying on to the reserve, the presence of this safe refuge and roost site bodes well for good numbers in the future. The birds were also often on the salt-marshes where they were difficult to see in the long grass and reeds, the highest count was made when they were all flushed by a low flying helicopter off
Neston
. There were around 250 Brent Geese around
Hilbre
, but numbers are so high now that they are very difficult to count accurately as they are scattered around the island.
A single Great White Egret has now been on the estuary since September 24th, it was joined this month by two others which were first seen on Jan 4th at
Inner Marsh Farm
then several times at
Parkgate
where they accompanied our 'resident' bird. The last report was on the 13th and it was probably these two birds which were subsequently seen flying over Frodsham Marsh on the 15th.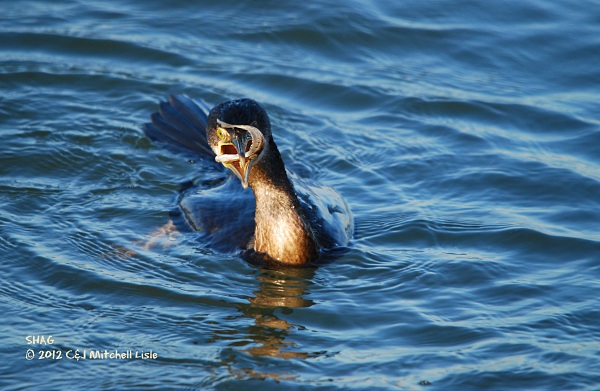 A Shag with fish on West Kirby Marine Lake, January 15th © Carol and Joy Mitchell-Lisle
Three Shag were off
Hilbre
and two on
West Kirby Marine Lake
on various dates through the month. January isn't normally associated with sea watching but can, in fact, be very good. Continuing strong southerly winds in the New Year brought in three Gannets on the 2nd and they have now been seen every month so far this autumn and winter. An adult Sabine's Gull went past
Hilbre
on the 5th and on the 8th were a Glaucous Gull, seven Little Gulls, two Velvet Scoters and nine Scaup. A flat calm sea meant a good count of over 500 Great Crested Grebes off
Hoylake
on the 10th together with three Long-tailed Ducks, a Black-necked Grebe and 14 Red-throated Divers.
A Spoonbill was on Warren Farm Fields by
Point of Ayr
early in the moth, it then spent several days on
Oakenholt Marsh
before finding its way to
Burton Mere Wetlands
and then
Parkgate Marsh
. Also at
Oakenholt Marsh
was an excellent count of at least 80 Twite. There were three counts of eight Short-eared Owls on
Burton Marsh
whereas the maximum count of Hen Harriers was four with three ring-tails and a sub-adult grey male, although the latter was only seen once.
Purple Sandpipers reached 23 on the pontoon at
New Brighton Marine Lake
, with similar numbers on
Hilbre
.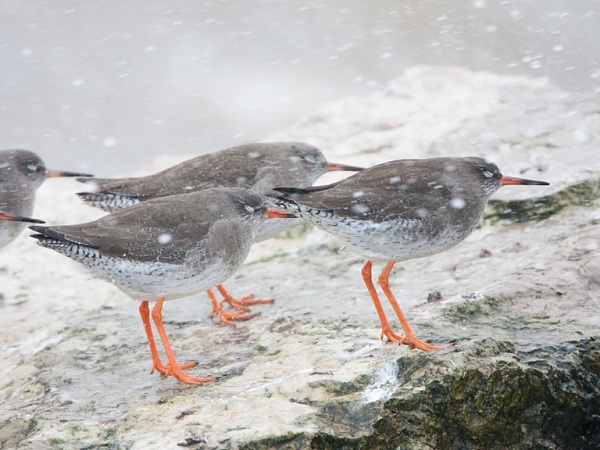 Richard Smith.
Many thanks go to Steve Round, Colin Millington, David Haigh, Joy and Carol Mithchell-Lisle, Brian Lingard, Roy Lowry, David Esther, Simon Smith, Mike Hart, William Haworth, Steve Hinde, Colin Bradshaw, Richard Beckett, Steve Davies, Ray Eades, Brian Roberts, Peter Forshaw, Dave Harrington, Ken Mullins, Phil Woollen, Bruce Atherton, James Smith, Steve Williams, Tom Giles, John Jakeman, Mike Baron, Mark Evans, Julie Rogers, Daniel Carrington, Dave Edwards, Charles Farnell, Ian Walker, Greg Harker, Sid Ashton, Paul Brady, John Coupe, Chris Butterworth, Peter Haslem, John Nicklin, Mark Gibson, Dave Wild, Neil Simpson, Matt Thomas, Steve Renshaw, Jeremy Bradshaw, Bryan Joy, Jane Turner, Dave Kenyon, David Small, Colin Wells, Colin Schofield, Les Hall, Graham Thompson, David Huntingford, Jon Greep, Eric Robinson, the
Dee Estuary Wardens
and the
Hilbre Bird Observatory
for their sightings during January. All sightings are gratefully received.
What to expect in February
Although the spring tides only reach 9.8 metres high this month (see below for details) this should be high enough to bring the sea over the marshes if we get a strong west wind behind it. These February high tides can be particularly good for seeing Short-eared Owls off Parkgate and Heswall, 2010 and 2011 both brought a max count of 12. The tides should also flush any lurking Water Rails as well as plenty of wildfowl and waders, last winter we had 2,000 Pink-footed Geese flying around during the highest tide - more 'Pinkfeet' may be seen over-flying the estuary on their way from Norfolk to Martin Mere.
At Hilbre Purple Sandpipers usually peak this month with the pontoon on New Brighton Marine Lake also a good place to see them, we can expect to see more than 20 at both locations. Some years Little Gulls start to move northwards through Liverpool Bay this month. Another species which may be starting to move north is the Avocet, look out for them at the Connah's Quay Reserve and Burton Mere Wetlands.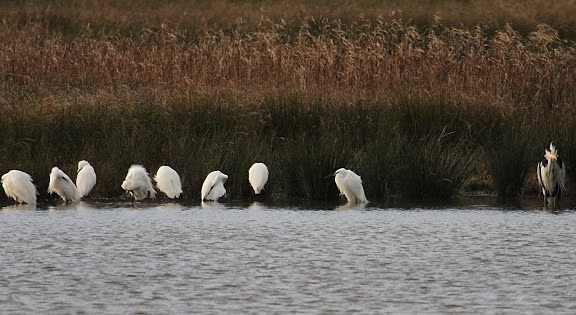 Little Egrets at Burton Mere Wetlands, January 27th © Mark Evans.
Forthcoming Events
February Highest Spring Tides (Liverpool)
Also see Tides page.
10th February, 12.38hrs (GMT), 9.8m.
11th February, 13.18hrs (GMT), 9.8m.
Forthcoming Events
Organised by the Wirral Ranger Service , Flintshire Countryside Service and/or the RSPB:
All these events and walks have bird interest, even those not advertised specifically for birdwatching. No need to book for these events unless specified - please check below.
Also see 2012 Events Diary.
Thursday 9th February, 10am start, approx 2hours. RSPB Flint Point and Oakenholt Marsh Walk.
The marshes off Flint and Oakenholt are perhaps the most important part of the famous Dee estuary so why not come along for a gentle stroll to find out why. Friendly staff and volunteers will be on hand to point out the birds with telescopes.
We hope to see thousands of wading birds being driven in by a rising tide including spectacular numbers of black-tailed godwits, oystercatchers and dunlin. Other specialities of the area include twite, peregrine and pintail.
The area is quite exposed so please bring weatherproof clothing and good walking footwear.
Meet at Flint Lifeboat Station car park next to Flint Castle.
This is a free event but booking is essential - please ring 0151 353 8478 or 0151 336 7681.
Saturday 11th February, High tide Birdwatch at King's Gap, Hoylake Shore, starting at 11:00 am.
You will discover why Wirral's foreshore is an internationally protected site when you join the Dee Estuary Voluntary Wardens, Coastal Rangers and the RSPB on this winter birdwatch at Hoylake. Organised as part of Wirral's Year of Coast and Countryside. High tide at 1pm, height 9.8m.
No need to book. Ring 0151 648 4371 for further info.
Sunday 19th February, 3.30pm start, RSPB Raptor Watch at Parkgate.
Pop along at any point until sunset for great views of the rare hen harrier. Merlin, Peregrine and Short-eared owls are also a regular sightings here. Meet at Old Baths car park overlooking the marsh. Ring 0151 353 8478 or 0151 336 7681 for more info.

Sunday 26th February, 10.30am start, 2 hours approx, RSPB Guided Walk at the Point of Ayr.
Point of Ayr is a fantastic mosaic of habitats on the outer edge of the famous Dee Estuary and is a vital wintering spot for thousands of birds. Join the experts from the RSPB for a free guided walk showcasing the wildlife of the area.
Meet in the Smugglers Inn Car Park, Station Road, Talacre.
This is a free event but booking is essential - please ring 0151 353 8478 or 0151 336 7681.

Friday 9th March, 10am start, RSPB High Tide Birdwatch at Parkgate.
High tide at 11.36am, 9.9m. The marshes of Parkgate and the surrounding areas hold masses of small mammals and bird life. Will this year's tides flood the entire marsh and cause the wildlife spectacle hundreds of people travel miles to see?
RSPB Staff and volunteers will be on hand to help identify the birds and explain what is happening and why. Meet at Old Baths car park overlooking the marsh. Ring 0151 353 8478 or 0151 336 7681 for more info.

Saturday 10th March, start 9.30am, High tide birdwatch at King's Gap, Hoylake.
You will discover why Wirral's foreshore is an internationally protected site when you join the Dee Estuary Voluntary Wardens, Coastal Rangers and the RSPB on this winter birdwatch at Hoylake. Organised as part of Wirral's Year of Coast and Countryside. High tide at 11.57am, 10.0m
No need to book. Ring 0151 648 4371 for more info.

Saturday 10th March, 10am start, RSPB High Tide Birdwatch at Parkgate.
High tide at 12.16pm, 10.0m. See 9th March event for info.

Sunday 11th March, 10am start, RSPB High Tide Birdwatch at Parkgate.
High tide at 12.57pm, 9.9m. See 9th March event for info.
Birding North West is a monthly magazine for birders in the North West Region. Our aim is to bring you the news of rare and scarce birds in our region while it is still news. We consider that up-to-date news, photographs of regional birds, articles on the occurrence of birds in the North West and other articles relating to our region is what our readership want.