"Mud, mud, glorious mud, nothing quite like it for cooling the blood" – so went the old Swan & Flanders hippo song. Of course mud is a key ingredient of the estuary as far as the birds are concerned, and you will see plenty of it if you go birdwatching at low tide!

(photo right, by Valerie McFarland)
Some birders wouldn't consider a visit to the estuary other than at high tide, on the look out, as they inevitably are, for rarities. But for myself being 'a bad birdwatcher' (as per Simon Barnes's marvellous book) I find being about at low tide very enjoyable and immensely rewarding. Rewarding not in the sense of being able to tick a few birds off my year list, but for the sheer dramatic spectacle of seeing thousands of birds hunting, fleeing, feeding, roosting, calling and flying. Some of you might be surprised at my putting down roosting as a low tide activity, but many birds, particularly the larger ones such as Oystercatchers and Godwits, spend a lot of time roosting both at low and high tide - the living must be good!

Below is a description of the best areas for low tide birdwatching and what you might expect to see there. But first a Warning:
Apart from a few relatively safe areas as described below, such as the route to Hilbre Island, do not be tempted to venture away from the beach and shore paths. As well as the danger to yourself of getting trapped in thick mud with an incoming tide, you will also be unnecessarily disturbing birds.
Also I should add that my definition of 'low tide' is fairly flexible, but loosely take it as being from three hours after high tide to three hours before high tide, i.e. the low half of the tidal cycle.
Maps and directions are given with the site guides.

Leasowe Shore
This includes all the mudflats from Leasowe Lighthouse down to Wallasey shore at the junction of Harrison Drive and Kings Parade. These mudflats are not only one of the best places to see feeding waders in the Dee Estuary/ North Wirral area but one of the best places in the whole country. Mockbegger Wharf, as this area is known as, is relatively low lying so the sea never goes out very far, but it does get covered early by the rising tide.


Redshank at Leasowe, just a very small portion of the massive wader flock here
Richard Smith ©
Good places to park are either at the car park at the junction of Pasture Road and Leasowe Road (on the A551) or in North Wirral Coastal Park at the end of Green Lane (by the Gunsite). There is an embankment the whole of the length of the shore here giving great views of the birds. It is also safe to go down on to the shore (but beware embankment can be slippery) where there is firm sand for about 50 metres out. This is much used by dog walkers but don't be tempted to go out any further as it turns in to thick mud.
Typical winter counts* here are 2,000 Grey Plover, 250 Sanderling, 15,000 Dunlin, 350 Curlew, 2,500 Redshank, 7,000 Oystercatcher, 20,000 Knot and 6,000 Bar-tailed Godwits, a large roost of gulls is also usually present. Peak numbers, especially of Knot and Dunlin can be considerably higher. About four hours before high tide is the prime time to see these thousands of waders, and as the tide comes in many birds move up towards Leasowe Lighthouse then beyond to Meols and Hoylake.

* counts based on Low tide Wetland Bird Survey 2001/02 as well as my own observations and those sent to me personally.

Hilbre Island
Very much a place where birders spend the high tide, but, strange though it may seem, I actually prefer low tide. May be I've just been unlucky, but I seem to recall being stuck on Hilbre for five hours over high tide, often freezing cold and wet, with very little in the way of birds to see! That isn't to say that Hilbre can't be a fabulous place at high tide, just that you have to get the weather and time of year just right.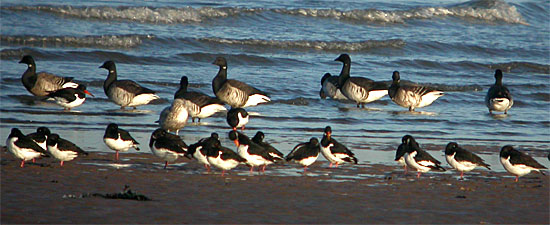 Brent Geese and Oystercatchers at Hilbre, a typical low water scene
Richard Smith ©
At low tide there is always plenty to see - especially at my favourite times of year, late summer and mid-winter. I always look forward to the return of the Sandwich Terns in early July. They are the first of our terns to finish breeding and one of their favourite spots before heading south are the sand banks around Hilbre Island. Here several hundred roost each low tide, the juveniles constantly calling out to be fed, and with the returning calls of the adults the noise they make is unbelievable! By early August Common and Little Terns join the throng, and with the comparatively warm weather it is extremely pleasant just to sit on the grass and watch these wonderful birds. This time of year is also excellent for watching numerous sea birds such as Gannets, Skuas and Common Scoters whatever the state of the tide.
Mid-winter is far from warm, but we do have Brent Geese, Purple Sandpipers and loads of other waders around to make up for it! The rocks around the islands are a favourite feeding area for hundreds of Oystercatchers and Turnstones, and the Brent Geese feed on the seaweed on the rocks at low tide - invariably moving off to Little Eye or elsewhere as the tide comes in.
As you walk over to Hilbre it is worthwhile stopping at the south end of Little Eye and having a quick look through your telescope. The mudflats you see will just be teeming with waders and Shelduck, as described in the section below on Thurstaston and Caldy.
A bonus for coming out to Hilbre at low tide is the Grey Seal haul out on West Hoyle Bank, here 300 to 500 can be seen throughout the year.
For description of how to get to Hilbre see Planning your trip, and for tide times see Tides.
Huge concentrations of Shelduck, Oystercatchers and Redshank make this area a fabulous site. Given the right time of year it is doubtful if you will see more anywhere in the country, and that's not to mention large numbers of Black-tailed Godwit, Curlew, Knot and Dunlin as well! Heswall gutter (channel) winds its way close to the shore here and acts as a magnet for the birds, the area within half a mile of the beach is very muddy and contains the crustaceans and worms the birds love to feed on. I've stood on Caldy steps in mid-winter and have been awe-struck when a Peregrine flies over the mudflats as the thousands of birds all take to the air at once, like a flying carpet of birds.


Shelduck cover the mudflats this densely over about
four square miles off Thurstaston - Richard Smith ©
There are three particularly good vantage points, all with good car parking.
1. Caldy Steps at the end of Croft Drive in Caldy. Always thousands of Oystercatchers here and in cold weather thousands of Knot (if Caldy Steps car park is full there is another car park next to the Wirral Way also off Croft Drive).
2. Parking area next to Dee Sailing Club. Go to the end of Station Road (Thurstaston), turn right past the caravan park and continue until just before the sailing club where you can park on the cliff top. Here there is a track going down to the beach and a causeway over the sand and mud used by fishing boat and yacht crews. At low tide it is safe to walk out to the end of this causeway and you really get a sense of being out in the middle of the birds - wonderful!
3. Thurstaston Visitor Centre. Again go along Station Road but turn left in to the main car park just before the bridge. From here it is a short walk to the top of the cliff giving a great vista over the shore. In late September and October over 8,000 Shelduck will be assembled, and winter brings hundreds of Black-tailed Godwits and thousands of Knot. In cold weather many birds feed close to the beach giving excellent opportunities for photography. Look towards Heswall to the south and there will be good numbers of Teal, Mallard and Lapwing near the marsh, and sometimes Golden Plover and Pintail. Don't try and scramble down the cliff, there are steps down at the end of Station Road.

Connah's Quay and Flint
The Deeside Naturalists' Society reserve at Connah's Quay is members only, but they do have open days from time to time (see their website for details). The main hide to the north gives a good vantage point over the mud where many Teal, Mallard, Knot, Redshank and Black-tailed Godwit feed at low tide. Autumn is the best time to see Black-tailed Godwits and over 4,000 can sometimes be observed busy feeding, either off here or Flint.
There is good car parking at Flint by the castle. Walk northwards along the shore path and you get to Flint point. From October to February this is a great place to see duck at low tide loafing around on the far side of the channel - thousands of Pintail and Wigeon as well as good numbers of Shelduck, Mallard and Teal. Plenty of waders use this area too.

Greenfield Dock
This is not where the 'fun' ship is but further south, there are a couple of roads to it south of the Sunday Market, one opposite Greenfield Valley. Here you can park your car and look over the River Dee channel, the 'dock' is just a small harbour filled with small boats and dries out completely at low tide. As the channel here remains quite deep even at low tide the sea going birds of the estuary tend to concentrate off here. Late summer can bring in hundreds of terns - many from the huge Common Tern colony at nearby Shotton. September and October are good months to see Great Crested Grebes, well over a hundred can congregate here and if you pick a calm day they will be a lot easier to see. It is also a good place for Red-breasted Mergansers, during March and April there are usually 20 - 30. At high tide all these birds tend to disperse across the estuary, so low tide is definitely best.

Ffynnongroyw
You can park in the village before crossing the busy main road and on to the railway bridge. The view from the top of the bridge reveals an extensive area of mud much used at low tide by Knot, both species of godwits, Dunlin, Shelduck and especially Oystercatchers.
Point of Ayr and Gronant
Although both these locations are best in the high half of the tide cycle nevertheless there can be large concentrations of gulls, terns and cormorants on the sand banks at low tide from late June until September.

Richard Smith.