Peregrine with Dunlin on Hoylake Shore ©Charles Farnell


The Peregrine Falcon (Falco peregrinus) is a ferocious and formidable hunter. Fast and lethal, Peregrines provide drama every day on the Dee estuary. We are lucky to have them as there was a real possibility of them going extinct in the 1950s and 1960s due to the build up of organochlorines used as pesticides. Looking back at the old Cheshire Bird Reports there were just two Dee estuary records in 1965, one in 1966 and none at all in 1967 or 1970. But after the ban of these toxic pesticides there were already promising signs of a return of this species as early as 1971 with the comment "there are signs generally that this species is making a come-back after near extinction and increasing records in the county are evidence of this". Through the 1970s records increased with Burton Marsh seemingly a favourite area, but it wasn't until 1977 that two birds were seen together when they flew over Hilbre in October that year.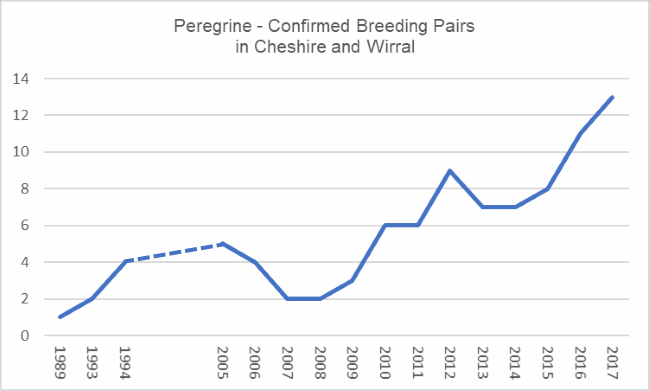 The first ever record of breeding Peregrines in Cheshire and Wirral was of a pair at Beeston Castle in 1989. A second pair were recorded in 1993 and the usual level for next 10 years or so was four to five pairs. After a dip in 2007 and 2008 the number of pairs have steadily increased as can be seen in the graph. Remarkably, there are no historical breeding records and it seems gamekeepers were at work in the 19th century and the first half of the 20th century making sure none nested. There must surely have been Peregrines breeding in suitable habitat in the distant past but it is quite likely that, with pairs now in double figures, we have more breeding in Cheshire and Wirral than ever before. You may wonder how I can say that, but it's simply that, thanks to man made structures and quarries, there are far more suitable breeding sites than there ever was in the past.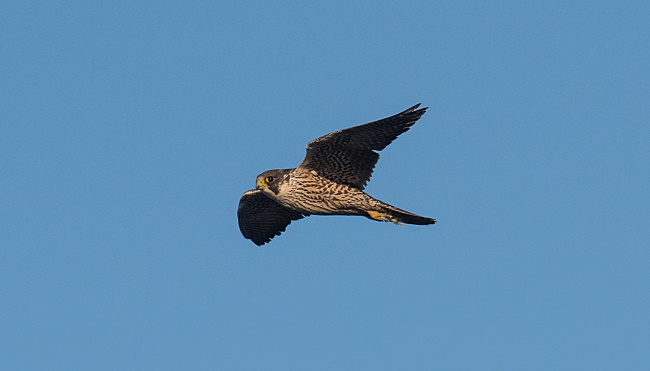 Peregrine over Hilbre © Matt Thomas

The same can be said for the whole of the UK, after the first nationwide survey in 1961 (bizarrely prompted by Pigeon fanciers complaining about too many Peregrines) numbers have steadily increased with every succeeding survey which have taken place every 10 to 12 years - see graph below.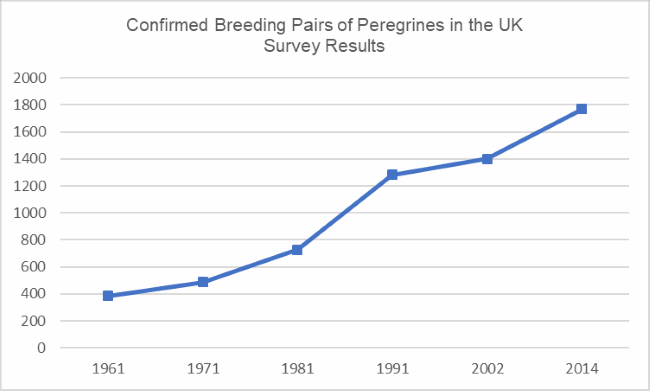 I've concentrated on Cheshire and Wirral Peregrine records as I have extensive records for the county, but the same pattern of records apply also to the neighbouring areas of Denbighshire & Flint (10 confirmed breeding pairs in 2017) and for Lancashire and north Merseyside (26 confirmed breeding pairs in 2017). The Peregrine population consists of established pairs which tend to stay on territory through the year, non-breeding 'spare' adults which are ready to take over nesting sites if anything happens to the breeding pairs, young birds and migrants from Scandinavia, although how many of the latter reach the Dee estuary is unknown. In any case that's a large number of Peregrines in reach of the Dee estuary, in the CAWOS Atlas (2008) it was estimated 50 birds were present in Cheshire and Wirral in the winter, no doubt many of these will visit the estuary at one time or another.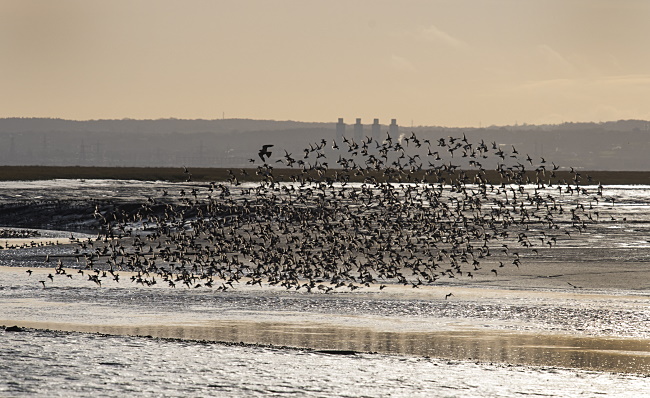 Peregrine and Knot flock at Thurstaston © Matt Thomas

Encounters with Peregrines

Peregrines can be seen anywhere on the estuary, from distant views of one sitting on a post at Parkgate to dramatic views of one overhead as it chases a wader flock at Hoylake.

They say only one in ten Peregrine hunts are successful, but that must vary greatly depending on the experience of the Peregrine and the prey species. Since the Knot returned to Thurstaston this summer they have attracted the attention of Peregrines almost on a daily basis. Steve Hinde noticed that initially the Peregrines were making several visits, usually unsuccessful, causing much disturbance to the Knot which often disappeared. But by early autumn it became clear that the Peregrine (perhaps a more experienced bird) was coming in, snatching a Knot first time then flying off and the main Knot flock stayed put. Recently I've noticed that the Knot are reluctant to fly instead just moving around on the ground whilst bunching up tightly and making anxious calls. However if the Peregrine is persistent some knot will take off and I saw one which got separated from the flock desperately trying to escape by flying higher and higher right overhead, but the Peregrine eventually got it and I felt desperately sorry for the wader.
That isn't the only time I've felt sorry for the prey, Leach's Petrels flying past past north Wirral are usually easy prey but one I saw surprised me by twisting and turning trying to escape but it was just too slow battling against the gale to escape. Peregrines will take Leach's Petrel one after another, just eating the nutritious liver before moving on to the next bird. Some birds do escape and I've seen both Knots and Redshanks diving under water again and again before the Peregrine gave up. I've also seen a Pigeon being stooped at, smashing into the marsh then flying off with loose feathers flying everywhere but seemingly uninjured!
Meols at low tide always has a good selection of waders, mainly Oystercatchers, Redshanks and Knots, and Peregrines visit regularly hoping for a meal. Recently I was there when the Knots saw a Peregrine coming and all took flight heading towards Seaforth. However, the Oystercatchers stayed put on the sand presumably feeling safer there than in the air so I was astonished when the Peregrine just flew down and picked one off the ground. It was so easy you wonder why they don't always do that. As at Thurstaston the Knots also sometimes stay put at Meols and it was interesting seeing several hundred tight up against an eroded bank of the channel with a Peregrine close overhead unable to get a clear sight of the Knots which sensibly didn't move.

Peregrines are also regular visitors to Burton Mere Wetlands giving spectacular views as they cause havoc among the birds there, and I finish with an extract from the RSPB Burton Mere Wetlands Blog from December 13th 2019: "Peregrines have been having a great time hunting over the main scrape, stooping and hunting at high speed across the scrape chasing black-tailed godwits and making teal dive for their life. We still have yet to figure out which bird of prey is disturbing the huge flocks of lapwing out on the wet grassland. Either way it has been spectacular and a magical scene watching them murmurate across the back of the reserve and as they separate and spread across the sky in great streams, you lose yourself and remember how special this place really is."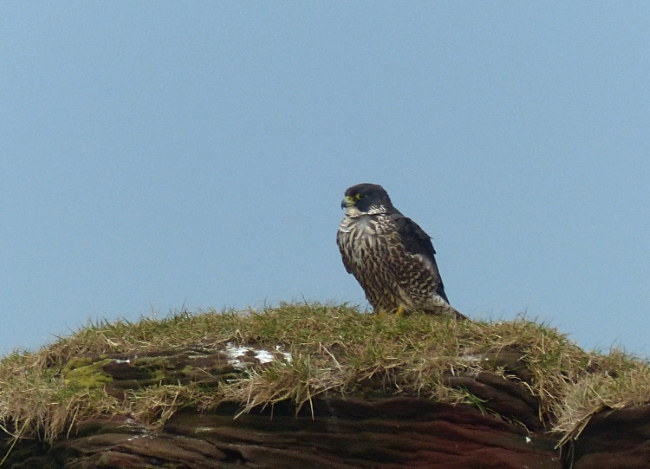 Peregrine on Little Eye © Allan Hitchmough


Richard Smith

Note: the graphs in this article show 'confirmed breeding pairs' as defined by the Rare Breeding Birds Panel, it doesn't necessarily mean all the pairs successfully fledged young.
References:
1. Rare Breeding Birds Panel Annual Reports http://www.rbbp.org.uk/.

2. Cheshire and Wirral Bird Reports (1964 to 2017) - CAWOS.

3. David Norman, Birds in Cheshire and wirral (CAWOS Atlas), 2008.
Top of Page
Colour Ring Report - Knot Special

The article below was written for the December 2019 Waderquest Newsletter and I thought it would be of interest if I reproduced it here. It does contain bits from various articles on Knot which have appeared in this Dee Estuary Newsletter over the years, but also some new material including up to date data. As you can see we have been busy.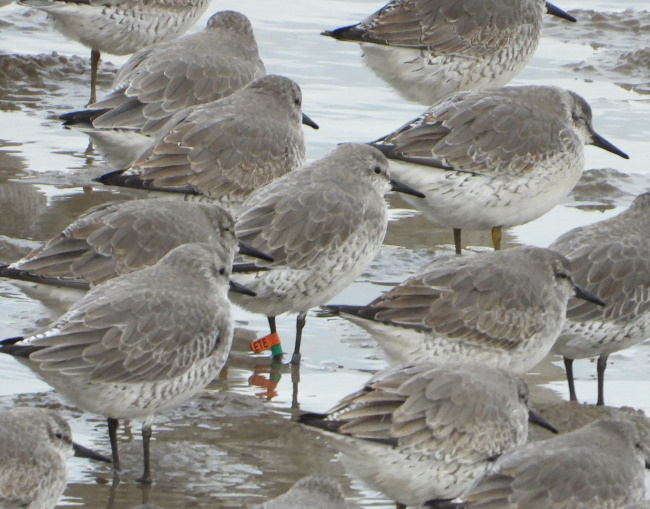 Citizen Science and Red Knots
'Welcome to the world of wader research' I thought as both my boots and tripod sank deep into thick estuarine mud, but despite the mud I was actually enjoying myself as I was surrounded by knots. That particular day several thousand were walking towards me as they fed, coming so close I could almost touch them. Later 20,000 would all take off from their roost in one noisy roar of wings as a Peregrine flew by, just fantastic! But what was I doing out there on the Dee Estuary mud flats? I was reading colour rings/flags as part of the Altcar Red Knot Colour-Ringing Project.

I'm not some University student doing research for a PhD, or somebody employed by a conservation organisation. I'm just a 70 year old birdwatcher doing a bit of Citizen Science. That's the beauty of colour rings, reporting just one bird contributes to the research. But here on the Dee Estuary we are not talking about one colour-ringed red knot, we are talking about hundreds and for an obsessive colour ring reader like myself the past two years has been like paradise!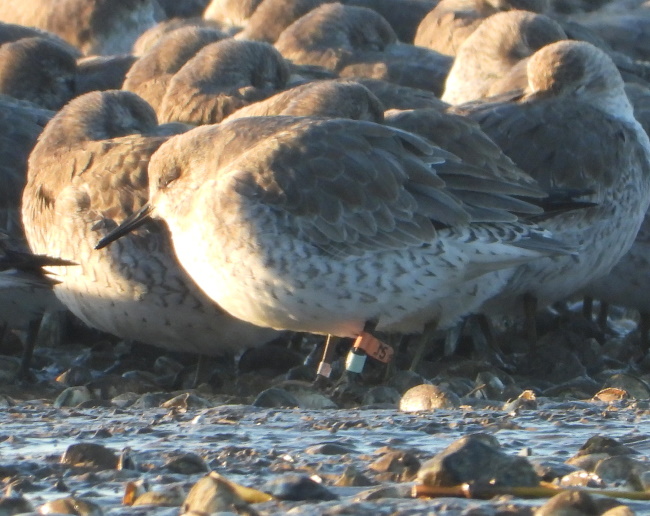 Where
The Dee Estuary is located on the west coast of the United Kingdom, and is part of a mega site which also includes the Mersey, Alt and Ribble Estuaries as well as Morecambe Bay. All this area holds hundreds of thousands of wetland birds and is particularly important during a cold winter when the relatively mild climate means birds can find refuge here from the colder North Sea coasts, including the Waddensea. The red knots are ringed at a wader roost near the village of Altcar which is between Crosby and Formby on the Seaforth coast, just a few kilometres from the Dee estuary to the west and the Ribble estuary to the north.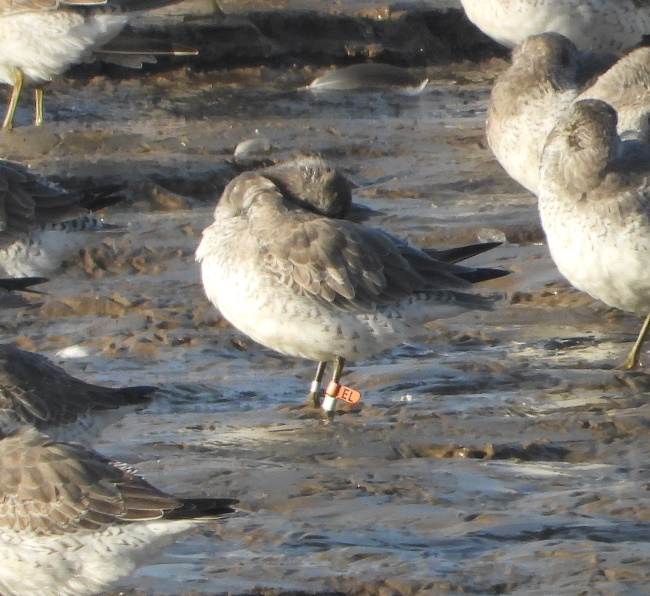 The Altcar Red Knot Colour-Ringing Project

I'll let Jim Wilson, Red Knot researcher, explain what this project is all about:

From the Wetland Bird Survey Counts the red knots in west coast UK in autumn and spring have been in more or less constant decline since the 1970s. From sightings made by Peter Knight and Rose Maciewicz we found out that Dutch and Norwegian marked birds were mostly missing in the autumn and spring, but are present in the winter (the well known westward movement of knots during the winter). In the autumn of 2017 they mainly only saw birds we marked in SW Iceland in spring 2017 and a few which we marked in NW Iceland in spring 2014 (1086 flagged). The present theory is that the west coast populations in autumn and spring can be a sub-population of the 'Islandica' red knots (
Calidris Canutus islandica
). Possibly, as the sites lie about 300 kms nearer Iceland than the Wadden Sea and have a warmer spring climate, then birds migrating North out of the west coast can leave earlier, have more time to fatten in Iceland and penetrate further west into the breeding grounds (north-east Canada). Most previous publications have focussed on the wintering population and not on the autumn and spring populations.
Also there are about 5,000 2y birds summering on the Alt and Ribble. The Alt/Ribble area is one of the most important sites in the North-east Atlantic Flyway for 2y birds (ie the future breeding stock). These have never been studied.
This Research will add focus on the importance of the Alt/Ribble in autumn and spring and also on the huge and uncontrolled disturbance on the Alt/Ribble coast (and elsewhere in the NW UK). Also it will show to what extent the autumn and spring Alt/Ribble populations are using all the NW coast estuaries and other parts of the Irish Sea and if there is a link between the wintering French populations (about 40,000 knots) and the Irish Sea.


Orange Flags
There have been three catches of Red Knot at Altcar with 519 in September 2017, 494 in March 2018 and 16 in March 2019, a total of 1029. All have been fitted with an inscribed Orange flag as shown in the photographs, plus either a pale blue or green ring – shorthand for which is OfP and OfG. The past two and a bit years since that first catch has resulted in the most productive work on Red Knot ever in the UK with a remarkable total of 6293 records of 931 orange flagged birds, 90% of the total caught which we think is probably a record.
This is a breakdown by area/country:

| | | |
| --- | --- | --- |
| Area/Country | Number of Birds | Number of Records |
| Alt/Ribble Estuaries | 806 | 3401 |
| North Wirral/Dee Estuary | 571 | 2197 |
| Morecambe Bay | 86 | 166 |
| Wales | 2 | 2 |
| Ireland | 62 | 112 |
| Scotland | 11 | 16 |
| Iceland | 120 | 206 |
| Norway | 3 | 6 |
| Netherlands | 45 | 185 |
| Germany | 3 | 7 |
| Azores | 1 | 3 |
| Mauritania | 1 | 1 |

A lot of people have been involved in recording these birds but by far the bulk were gathered by just four us with Peter Knight and Rose Maciewicz with 3177 records (mainly on the Alt/Ribble Estuaries but also Iceland and Ireland) and Steve Hinde and myself, Richard Smith, with 2169 records (north Wirral/Dee Estuary). This has meant spending hundreds of hours on the mud flats, day after day, but we love it even though our fellow birders think we're mad!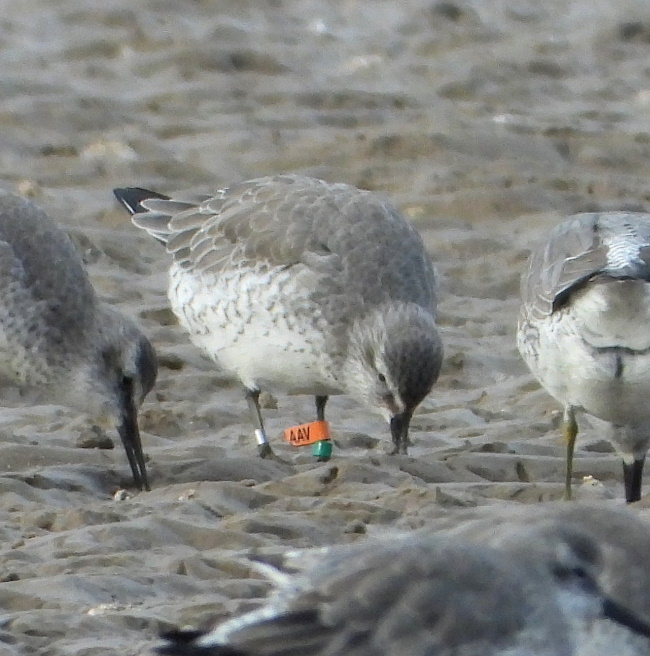 Results
The analysis of all this data, and the data still to come in over the coming years, is still in the early stages but we've already seen plenty of interest, including:

1. It has been confirmed there is a sub-population of Red Knot which moult in the Alt/Ribble area post breeding. It is late October before these birds disperse from there with many flying the short distance to north Wirral and the Dee Estuary to spend the winter, although many return to roost in the Alt area (Seaforth/Crosby/Formby) to roost, particularly on spring tides. Others move north to Morecambe Bay and in some winters many also fly over to the eastern coast of Ireland where they have been seen in Dublin and Dundalk Bays. At the end of the winter they return to the Alt/Ribble area before their spring migration in May – what we call an 'Irish Sea winter shuttle'.

2. Many islandica Red Knot stage in Iceland in May before heading to Canada to breed. Flag reading has shown that the Alt/Ribble birds have a marked preference to stage in south-west Iceland between the Reykjanes and Snaefellsnes Peninsulas. Interestingly in late April 2019 a compass bearing was taken of Red Knot leaving Southport beach as they headed north-west. The bearing of 322° would have taken them straight to Reykjavik in south-west Iceland.

3. Another staging area used by islandica Red Knot is northern Norway but very few of the Alt/Ribble birds use this route with only three birds recorded there.

4. Thanks to colour-ringing we know if it has been a good breeding season before anybody else! This is because the females leave the breeding grounds before the males due to the latter's greater involvement in brood rearing. The birds were recorded as they arrived back at Alt/Ribble and by using wing length measured when they were ringed as a surrogate for sex, the average wing length of each day's newly observed Knot was determined to test whether the longer winged females arrive before the males. In 2018 females did indeed arrive back before the males and it did turn out to have been a good breeding season. The 2019 data showed that the first adult Knot returned about 1 week earlier in the autumn season than in 2018. Early thoughts were that this might reflect a poor breeding year. This was short lived when the analysis indicated a very strong females-first arrival pattern. This was further supported by the observation in late August of exceptional flocks of 1000+ juvenile Knot on Merseyside, as well as reports elsewhere in the UK and the Netherlands of large numbers of juveniles.

5. Some unusual movements have been recorded with one bird turning up on the Azores in September 2018 and another at Banc d'Arguin, Mauritania, in December 2018. Islandica Red Knots are very much vagrants at both locations. The bird recorded in the Azores made it back to Formby beach where it was recorded in August 2019.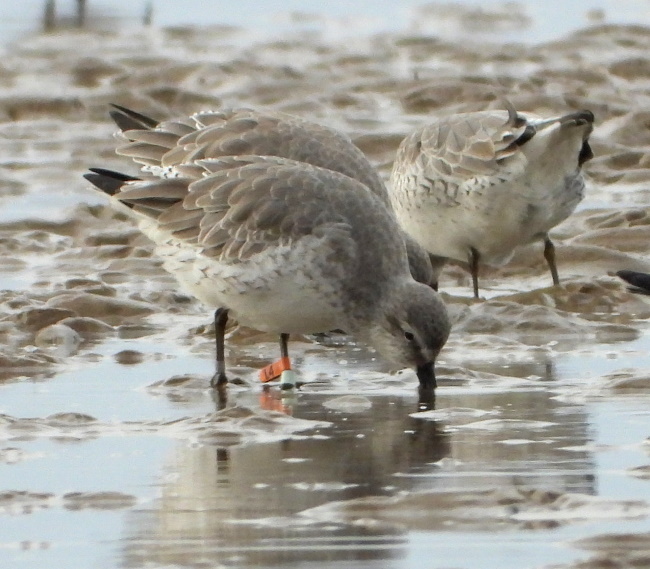 References:
1. Pers. Comms. Jim Wilson 2017 to 2019.

2. Colour Ring Report (October 2017 Dee Estuary Newsletter),
http://www.deeestuary.co.uk/news1017.htm .

3. Richard Smith, 'Among Knots', http://www.deeestuary.co.uk/news0218.htm (February 2018).
4. Peter Knight and Rose Maciewicz, Waders Heading Off,
http://www.deeestuary.co.uk/news0619.htm (June 2019).

5. Peter Knight and Rose Maciewicz, '2 Years on: Some new observations from the Altcar Red Knot Colour-Ringing Project', http://www.deeestuary.co.uk/news1119.htm (November 2019).

Richard Smith
(All Knot photos in this article by Richard Smith © )
December Bird News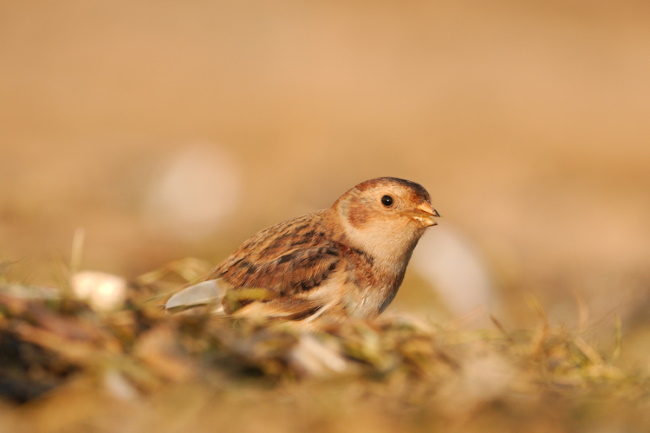 Snow Bunting at Point of Ayr, December 1st © Andrew Wallbank


One snow Bunting at the beginning of the month at Point of Ayr was the only one reported, a Ring Ouzel at Connah's Quay on the 16th was very much a vagrant for December. A Water Pipit has been regular at Burton Mere Wetlands.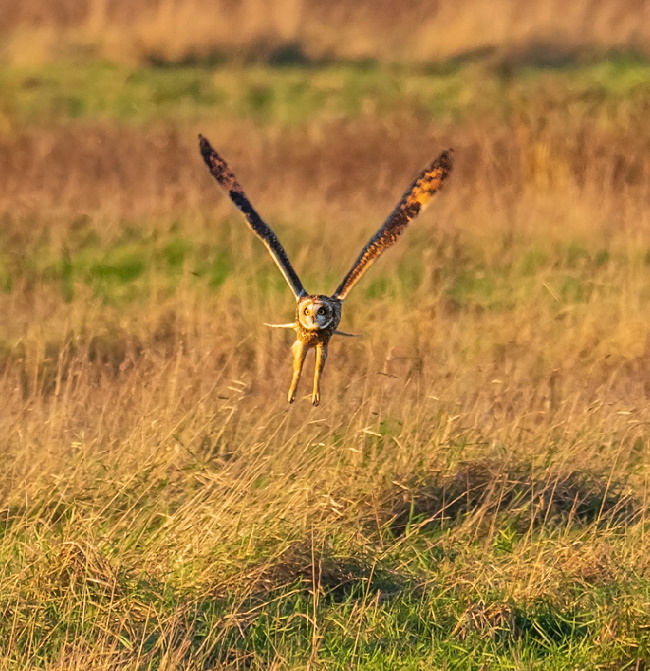 Short-eared Owl off Denhall Quay, December 3rd © Jeff Cohen


There was plenty of activity on the Marshes with at least 15 Marsh Harriers, 4 Hen Harriers (including two grey males) and several Short-eared Owls. Thousands of Pink-footed Geese have been seen at Burton Mere Wetlands with many feeding on the Dee flood plains inland of Cheshire whilst several hundred have been flying inland over Thurstaston most mornings although we haven't discovered where they are feeding. Brent Geese have been dispersing around the estuary with small flocks at Hoylake and Thurstaston and over a hundred were off Heswall out in the middle of the estuary at low tide. Brent Geese have also been seen on West Kirby Marine Lake alonf with three Shags and at least 10 Goosanders. A Long-tailed Duck has been on Shotwick Boating Lake all month.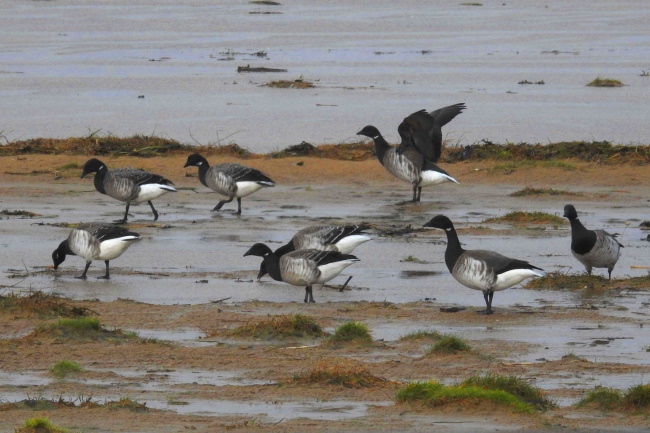 Brent Geese on Hoylake Shore, December 10th © Les Hall


At Thurstaston the low tide Knot roost was building up all month, reaching 15,000. Knot have also been at Meols and there have been really close views of them feeding close to the promenade, sometimes just a few feet away, on the rising tide.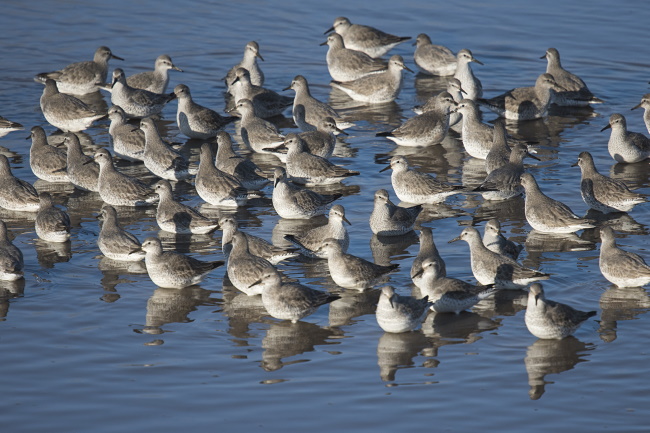 Knots on Meols Shore, December 17th © Matt Thomas

Many thanks go to Mark Gibson, Carole Killikelly, Steve Hinde, Chris Butterworth, David Leeming, Alan Hitchmough, Derek Bates, Allan Conlin, Karen Leeming, Richard Whitby, Tim Kinch, Roy Lowry, Mark Turner, Steve Hart, Matt Thomas, Les Hall, Frank Burns, Jeff Cohen, Elliot Montieth, Sheila Ryde, Dave Edwards, Paul Mason, Charlie Lowe, Dan Carrington, John Hemmings, Mark Peers, Charles Farnell, David Thompson, Hugh Stewart, Eric Burrows, Gavin Butler, Antony Quinn, David Bradshaw, Derek Rowe, David Roe, David Jones, Ian Galt, Dan Trotman, Pete Humphrey, Andy Davis, Paul Ralston, Dave Freeman, Geoff Robinson, Stephen Burke, Richard Payne, David Small, Bill Dickinson, Stephen Wende, Barry Brett, Paul Round, Peter Haslam, Alan Oates, Roger Halsey, Tony Sinnott, Christopher Doran, Andrew Wallbank, Goegg Worthington, the
Lighthouse and Wirral Birding Blog
, the
Dee Estuary Wardens
and the
Hilbre Bird Observatory
for their sightings during December. All sightings are gratefully received.

Top of Page
What to expect in January
If we get some 'proper' winter weather then we can expect some cold weather movements with an influx of waders, ducks and geese. Since the Pink-footed Geese have started using the estuary in their thousands we haven't really had a very cold winter so if the south Lancashire fields get covered in thick snow it will be interesting to see just how many turn up on the marshes here which tend to be largely free of snow.

If we get some cold frosty days with no wind sea-watching is certainly worth a try with Scoters, Scaup, various divers, Great-crested Grebes, Red-breasted Mergansers and Goldeneye on view. Some of these birds may well turn up on West Kirby Marine Lake along with Goosanders and Brent Geese - giving great views and photo opportunities.

This time of year is always good for both Hen Harriers and Marsh Harriers, check out the roost at Neston reedbed where Marsh Harriers should be in double figures. Lookout also for Bearded Tits and Bitterns there.

Spring tides will bring Purple Sandpipers to the pontoon on New Brighton Marine Lake, if it's windy we might well get into double figures.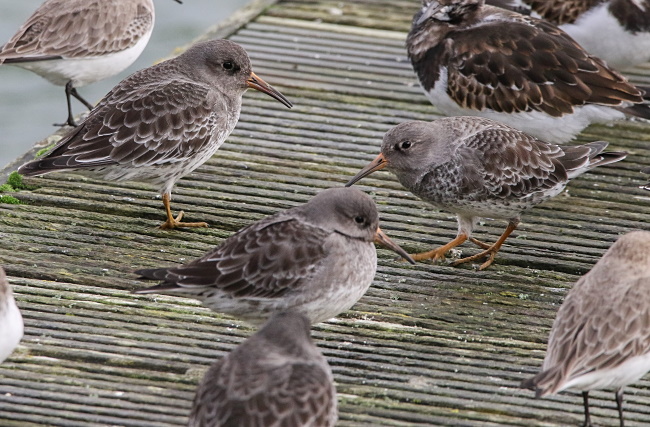 Purple Sandpipers at New Brighton, December 14th © Charlie Lowe

Forthcoming Events
January Highest Spring Tides (Liverpool)
Also see Tides page.
12th January, 12.03hrs (GMT), 9.5m.
13th January, 12.48hrs (GMT), 9.6m.
14th January, 13.34hrs (GMT), 9.5m.
Forthcoming Events
Organised by the Wirral Ranger Service , Flintshire Countryside Service and the RSPB (Dee Estuary): All these events and walks have bird interest, even those not advertised specifically for birdwatching. No need to book for these events unless specified - please check below.
---