Big high tides are always something to look forward to and we have at least two forecast this month, on the 22nd and 23rd. At 10.1m we would certainly expect the marsh to be covered at Parkgate giving great views of the Pink-footed Geese, various waders and ducks, Hen Harriers, Marsh Harriers and hopefully we will see a few Short-eared Owls which have been largely absent this winter so far. We would also expect to see one or two Great White Egrets and we are overdue for a visit by a Spoonbill.
Hopefully colder weather will mean good numbers of waders and we hope to see spectacular numbers at Point of Ayr, Hoylake and West Kirby. If we get high pressure setting in with little wind sea-watching can be very rewarding and we can get thousands of Common Scoters and hundreds of Great Crested Grebes, as well as a good number of divers and rarer grebes.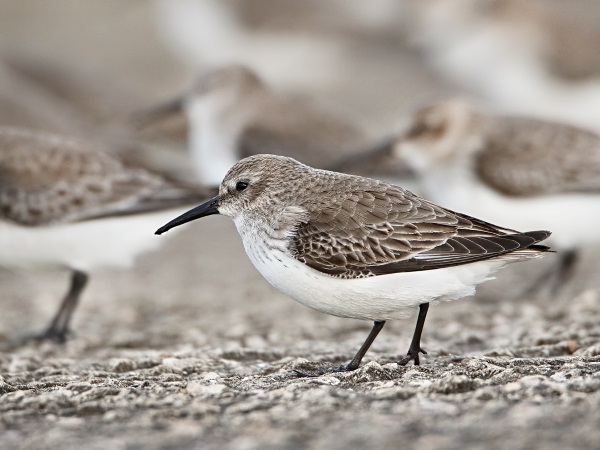 Dunlin on the sea defence at Leasowe, December 24th © Charles Farnell.
Top of Page
Forthcoming Events
January Highest Spring Tides (Liverpool)
Also see Tides page.

21st January, 11.28hrs (GMT), 9.9m.
22nd January, 12.14hrs (GMT), 10.1m.
23rd January, 13.00hrs (GMT), 10.1m.
24th January, 13.46hrs (GMT), 9.9m.
Forthcoming Events
Organised by the Wirral Ranger Service , Flintshire Countryside Service and the RSPB (Dee Estuary):
All these events and walks have bird interest, even those not advertised specifically for birdwatching. No need to book for these events unless specified - please check below.
Also see 2015 Events Diary.
Saturday 3rd January, 9.30am – 11.30am
Birdwatching for Beginners at
Thurstaston
.
Did you get a bird book for Christmas? A pair of binoculars maybe? If you are interested in birds and want to learn a little about how to birdwatch then come along to Wirral Country Park for a guided walk with useful hints and tips on bird identification and fieldcraft. We will be learning "on the job" as we walk around some great birding hot spots. Bring binoculars if you have them.
Waterproofs and boots recommended. All children must be accompanied at all times.
Booking essential:
0151 648 4371
Sunday 4th January, Farmland Welly Walk at
Burton Mere Wetlands
.
8 am-10 am
Price: Adult £8; RSPB member £6; children half adult prices
Booking essential
please ring 0151 353 8478.
Join us on this exclusive early morning, behind-the-scenes walk to get closer to the managed farmland parts of the reserve that are essential for supporting many birds through the cold winter months.
Large flocks of small farmland birds - particularly linnets and other finches - feed on our bird cover crop, which in turn attracts merlin, sparrowhawk and hen harriers to hunt. The wet grassland and barley stubble offer excellent natural grazing for the geese and swans spending the winter on the estuary.
Please note this event is weather-dependent. A cold, hard winter will push more birds to the west coast, so we'll keep our fingers crossed!
Wear wellies and warm, waterproof clothing, and bring binoculars if you have them. Price includes a hot drink and snack in the Reception Hide afterwards. Advanced booking and payment are essential.
Thursday 22nd January and Friday 23rd January, RSPB
Parkgate
High Tide Birdwatch.
From 10 am
Parkgate Marsh is one of the best wetland habitats in the northwest, and when it is flooded by an incoming Spring high tide, the wildlife which lives here is pushed closer, potentially delivering an awe-inspiring spectacle. Join us at Parkgate's Old Baths car park and the Donkey Stand near Nicholl's ice cream shop, where we'll be set up with marquees and telescopes hoping for the right weather conditions to really push the tide in.
You can expect great views of the large numbers of geese, ducks and wading birds which are here in their thousands for the winter. In addition, the small mammals living on the marsh can be flushed from cover, potentially attracting the kestrels, harriers and short-eared owls who spend the winter months here.
Car parking is limited on Parkgate promenade, but there is free public parking at the Old Baths car park (CH64 6RN) at the north end of The Parade, and the Wirral Country Park car park on Station Road (CH64 6QJ). There are public toilets at Mostyn Square in the middle of The Parade, and a number of pubs and cafes for refreshments.
High tide times:
Thursday 22 January; 12.14 pm (10.1m)
Friday 23 January; 1.00 pm (10.1m)
Saturday 24th January, 11.30am start
Riverbank Road Birdwatch,
Heswall
.
The car park at Riverbank Rd in Lower Heswall overlooks the Dee Marshes and on a very high tide is a great spot to look for waders, wildfowl and raptors flushed from the mudflats and marshes by the incoming water. Redshank, Oystercatchers, Pintail and Shelduck will be on the move and we will search for Short-eared Owls, Hen and Marsh Harriers. Waterproofs recommended as are binoculars.
No need to book, meet at Riverbank Rd, Lower Heswall.
For more information call (0151) 648 4371
Saturday 24th January, 10.30 am-2.30 pm, RSPB
Point of Ayr
High Tide Watch.
Price: Free (donations gratefully received on the day)
Booking essential
, telephone 0151 353 8478
On a high tide in winter, the Point of Ayr saltmarsh and shingle ridge is a vital roost site for thousands of wading birds especially godwits, redshank, oystercatchers and curlews. Join us for this gentle walk from the public car park in Talacre, along the recently improved coastal path to our hide, the perfect place to watch this dramatic showcase unfold as the rising tide pushes them into closer view.
There'll also be plenty of wintering ducks brought near on the incoming tide, and there's always the chance that something unexpected will show its face! Peregrine and merlin are the two raptors most likely to take advantage of this high tide buffet, so there's a chance of seeing these hunting at close range.
Appropriate clothing and footwear, food and drink are essential.
High tide is 9.9m at 1.46 pm
Sunday 25th January, Skydancers on the Dee Estuary -
Donkey Stand, Parkgate
.
12noon - dusk
Price: Free
Most people have never seen a hen harrier, but once seen it is rarely forgotten. In support of the RSPB's Skydancer project, we are pleased to bring you a series of events to showcase these enigmatic birds of prey which use the marshes of the Dee Estuary as their home for the winter months.
The name "Skydancer" comes from the aerobatic displays that the male birds perform in their courtship ritual on the moors in the spring. Sadly, this has become an increasingly rare sight and they are close to becoming extinct as a breeding species in England.
This could be the last chance to see Skydancers on the Dee, so come along to Parkgate to find out more about the hen harrier story and what you can do to help save them before it's too late! Look for the RSPB marquee along the main promenade at Parkgate, where friendly staff and volunteers will be on hand with telescopes and binoculars to show you these beautiful, agile birds hunting over the marsh, and coming in to roost there at dusk. Plenty of family activities and other RSPB information will be available.
For more information on the RSPB's Skydancer project, visit
http://www.rspb.org.uk/skydancer/
Directions: The "Donkey Stand" opposite Nicholls Ice-cream shop on The Parade (B5135), Parkgate, Cheshire.
Saturday 31st January, 9 – 11.30am
Thurstaston
Circle - World Wetlands Day Special
To celebrate World Wetlands Day (Feb 2nd) join the Ranger for a guided walk along one of the best wetland sites in Europe! We will walk the Wirral Way to Heswall Fields returning along the shore from Heswall to Thurstaston to look at the thousands of birds that spend the winter on the Dee Estuary. Black-tailed Godwit, Knot and Pintail should be feeding in the mud and there is the chance of a Peregrine too.
No need to book, meet at the Visitor Centre at Thurstaston. CH61 0HN
Warm waterproofs and boots are a must as paths can get muddy in winter. Bring some binoculars if you have them.
Call (0151) 648 4371 for more information.
Wednesday 4th February 10am – 3.30pm
Wildlife Photography Workshop
If you are interested in getting the best out of your DSLR camera when taking wildlife pictures the book a place on our workshop. We will have expert tuition on taking and editing pictures and photo shoots at feeding stations and drinking pools. By the end of the day you will have loads of information, hints and tips and some great pictures to take home.
This course is designed for DSLR cameras.
Booking essential.
£40 for the full day, places limited. Call (0151) 648 4371 to reserve a spot.
Saturday 7th February 11:30am start.
High tide Birdwatch at
Hoylake
:
Join the Coastal Rangers, Dee Estuary Voluntary Wardens and the RSPB on this high tide birdwatch at Hoylake to see large numbers of waders as they gather and roost on the shore. High tide is 9.1 metres at 1:03pm. No need to book. Dress warmly and bring binoculars if you have them. Meet at the bottom of
Trinity Road, King's Parade, Hoylake
. For further information please telephone Wirral Country Park on (0151) 648 4371.