Count from Heswall Shore - (Kindly provided by the Wirral Ranger Service), 12th December.
4 Great Crested Grebe, 6 Cormorant, 9 Canada Goose, 1,690 Shelduck, 7 Wigeon, 857 Teal, 78 Mallard, 882 Pintail, 19 Scaup, 17 Red-breasted Merganser, 1 Water Rail, 8,740 Oystercatcher, 361 Golden Plover, 600 Lapwing, 462 Dunlin, 15 Snipe, 342 Black-tailed Godwit, 953 Curlew and 930 Redshank. Note that 8,000 Shelduck, 2,000 Lapwing, 30,000 Knot, 2,000 Dunlin and 2,000 Curlew had been seen during the previous week - either at high or low tide. Also 70 Black-headed Gull, 17 Common Gull, 8 Lesser black-backed Gull, 31 Herring Gull, 6 Great Black-backed Gull, 1 Merlin, 2 Peregrine and 4 Hen Harriers (Harriers all in view together - 3 ring-tail and 1 grey male).

Count from Connah's Quay and Flint - (Kindly provided by Deeside Naturalists' Society)
12th December. 1 Great Crested Grebe, 119 Cormorant, 1 Little Egret, 6 Grey Heron, 1 Mute Swan, 1 Canada Goose, 120 Shelduck, 3 Wigeon, 4 Gadwall, 94 Teal, 1 Shoveler, 2 Tufted duck, 24 Coot, 350 Oystercatcher, 818 Lapwing, 2,001 Dunlin, 3,000 Black-tailed Godwit, 7 Curlew and 49 Redshank.

Count from West Kirby Shore provided by the Dee Estuary Voluntary Wardens, date of max December count in brackets).
10,000 Knot (17th), 10,000 Dunlin (17th), 300 Curlew (10th), 200 Redshank (10th), 560 Bar-tailed Godwit (11th), 13 Ringed Plover (11th), 3,000 Oystercatcher (12th), 53 Sanderling (12th), 1,000 Grey Plover (14th).

Brent Geese increased steadily through the month ending up with a record 60, they are all of the pale-bellied race (Branta bernicla hrota). If you want to see these birds then Hilbre Island at low tide is best, try and get over early morning if possible. At high tide they are usually on Little Eye, although infuriatingly they prefer the side hidden from view from the shore! Sometimes they fly down to Heswall and can be seen floating on the sea just off the marsh, or over to the Point of Ayr where they join the wader roost. Other notable wildfowl were 85 Bewick's and 10 Whooper Swan on Burton and Flint Marshes, and both a drake and female Smew at different times at Inner Marsh Farm where there was also a drake Green-winged Teal. There was a report of 70 Little Egrets coming to roost at Burton, another high for the estuary.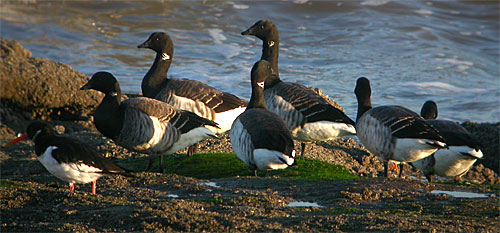 Brent Geese on Hilbre Island, 21st December 2004 © Richard Smith
This is a good year for Waxwings across the country and we have had our share here, although so far each flock has only stayed a short time in our area. Over 100 at Ewloe (near Queensferry) was the largest number.
I visited Leasowe shore a couple of times during the month and numbers of waders seem to be a bit down from the last few years. I also noticed that the shore here seemed noticeable sandier this winter, probably as a result of the September gales, and this could explain the low numbers of waders which prefer mud to feed on. In contrast there have been good numbers of birds in the estuary proper with large flocks of Knot and Oystercatchers off Thurstaston at low tide, and counts of waders at the high tide roost on West Kirby Shore are showing a definite improvement after three poor years. Two Spotted Redshanks at West Kirby and Hoylake were somewhat unexpected as this species usually prefer more fresh water or marshy habitats.


Part of a 30,000 strong flock of Knot at Hoylake, Steve Round ©
Five Hen Harriers, including a stunning adult male, coming in to roost just off Parkgate were the star birds for most people this month. Eight Short-eared Owls seen flying over Burton Marsh was also a fine sight. As usual there have been plenty of Peregrines around and I saw one hunting through a flock of over 25,000 waders at Hoylake making for a spectacular sight in a near gale.
What to expect in January
January is a bit of an unpredictable month regarding waders - some years we get massive numbers, whilst other years are very poor. But if there is a cold spell, specially around the North Sea coasts, expect large flocks of Knot - may be as many as 50,000 roosting on Hoylake shore. Cold weather should also bring in plenty of Lapwings with 8,000 or so making a spectacular sight on Burton Marsh. The much rarer Spotted Redshank often have a mid-winter peak of about 10 birds, best seen at Inner Marsh Farm or the Connah's Quay reserve. Purple Sandpipers should also increase during the month with about 20 to 30 on Hilbre and 10 to 20 along the North Wirral coast.
We've already had record numbers of Brent Geese on Hilbre Island this winter but if they follow the normal pattern they will continue to increase during the month - so may be as many as 70?? And to think seven was the norm only a few years ago! Strong westerly winds might bring in good numbers of Great Crested Grebes and Red-throated Divers, best seen around Hilbre or off Point of Ayr.
Flocks of Pink-footed Geese often pass through in January. A hundred or so are usually on Burton Marshes but large flocks heading north-west will most likely be on their way from Norfolk to South Lancashire. Bewick's Swans build up to over a hundred birds, sometimes difficult to see way out in the middle of the marshes.
Many thanks go to Ray Roberts, Bernard Machin, Steve Williams, Chris Butterworth, Martyn Jaimeson, Mark O'Sullivan, Phil Woollen, David Wilde, Allan Conlin, Steve Ainsworth, David Banbury, Mike Hart, David Esther, Steve Renshaw, 'Eric', John Kirkland, Allan Hewitt, Pete Rogers, David Banbury, Nigel Troup, Bryan joy, Frank Huband, Andy Coxen, John Campbell, Richard Hurst, Clive James, Colin Schofield, Roger Morgan, Jean Morgan, the Dee Estuary Voluntary Wardens and the Hilbre Bird Observatory for their sightings during December. All sightings are gratefully received.