October
Many land birds migrate within, to and from this country in October. Birds you see everyday in your garden such as Greenfinches, Chaffinches, Robins, Starlings and Wood Pigeons making some remarkably long journeys. Many of these birds follow the coastline which is the best place to see this visible migration. Pick an overcast day with light south east winds, get to the coast at dawn and for the next two hours you should be rewarded with a stream of birds passing overhead on their way south. Some good spots on the Dee are Red Rocks, Denhall Quay, Hilbre Island and Point of Ayr.
The Dee Estuary is one of the most important sites in this country for Shelduck, Redshank and Curlew - all three of these species are usually at peak numbers during October. Between 10,000 and 14,000 Shelduck will be on the estuary and most of these will be off Thurstaston at low tide, and nearby Heswall at high tide - an amazing sight. Heswall is also the best place to see the Redshank and Curlew, but good numbers of Redshank also congregate at Connah's Quay.
Like September strong north-west winds mean some great sea-watching, in particular massive movements of auks - Guillemots and Razorbills - with peak movements of several hundred per hour. Cormorants have been steadily increasing in the estuary over the past 15 years. They are present all year round but peak in the autumn with up to 700 birds. One of the best times to see them is at low tide roosting on the sand banks.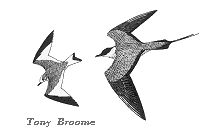 November
The Dee Estuary is of international importance for Black-tailed Godwits with a peak of over 4,000 in November. Most of these can be seen at Connah's Quay in the first half of the month after which they disperse with about half going over to the English side between Caldy and Heswall. These Godwits breed in Iceland and the ones which over summer here are immature birds.
November sees the last of the really big high tides of the year. Given low atmospheric pressure and a west wind the water will cover the marsh at the head of the estuary resulting in some spectacular birdwatching. Short-eared Owls and Water Rails are driven from the marsh and there can be huge numbers of duck feeding on the seeds from all the marshland plants. Flocks of Pintail, Teal and Wigeon, each 5,000 strong, can occur. The Dee Estuary is the most important site in the country for Pintail. Many of these duck, especially Pintail, can also be seen at low tide from Flint Point where they loaf on the sand banks across the channel of the River Dee.
This month sees the return of Knot and Dunlin in large numbers, best seen at Leasowe at low tide or Hoylake and Point of Ayr at high tide. Purple Sandpipers return to Hilbre Island, with 20 or so in November increasing to over 40 by the new year.
Snow Buntings should also return, either at Gronant, Point of Ayr, Hilbre or the north Wirral coast. Some years we get flocks over 20 strong, other years just 2 or 3. A cold snap can result in some spectacular movement of birds with large flocks of Lapwing, Skylark, Redwing and Fieldfare passing over.

December
Although there has been a drastic drop in breeding Lapwing in this country over wintering numbers remain steady on the estuary with an influx of continental birds. Most years we get a peak of over 8,000 in December, but freezing weather to the east may bring in much larger numbers. Their untidy flocks make a spectacular sight tumbling over the sky. Golden Plovers often associate with Lapwings and we can get several hundred in a good year, mainly at Burton.
Although not as regular as they used to be we sometimes get a Hen Harrier or two overwintering. They can be seen during the day patrolling the marsh, but the best time to see them is at dusk coming in to roost - traditionally in the reed bed just off the car park at Parkgate Old Baths.
Water Pipits are regular at Neston Old Quay. But Rock Pipits, which also winter there, are consistently being misidentified as Water Pipits - so beware! That lovely duck, the Smew, usually appears during December - just one or two either at Inner Marsh Farm or Shotwick Boating Lake.
Some winters we can get huge flocks of Dunlin and Knot feeding at Leasowe at low tide and moving to Hoylake to roost, up to 30,000 of the former and a remarkable 50,000 of the latter. Ringed Plover and Sanderling are also present but in much smaller numbers, 200 or so, but make a lovely sight busy scurrying around the sand feeding in front of the main roosting flocks.