January
The first month of the year is often a peak time for many species. A cold spell will bring large numbers of birds into the estuary with ten thousand strong flocks of Knot giving some spectacular displays, both on their feeding grounds (Leasowe, Thurstaston) and high tide roosts (Hoylake, Point of Ayr).
Cold weather movements will include Lapwings, the best place to see these is at Burton where as many as 8,000 can be seen but smaller flocks occur almost anywhere along the shores of the estuary and north Wirral coast.
The marsh at the head of the estuary holds both Bewick's and Mute swans in winter and they usually peak at over 100 in January. They are sometimes joined by a small flock of Pink-footed geese, sixty or so, nothing like the many thousands seen in South Lancashire. Brent Geese are quite rare on the west coast of Britain and the mouth of the estuary is one of the few places they are regularly seen. In recent years as many as forty have occurred, mostly pale-bellied, best seen at low tide around Hilbre Island but at high tide they tend to move off to Little Eye or across to the Point of Ayr.
Every few years the country has a Waxwing 'invasion' and January is usually the best month to see this, during the last one in 2001 we had several small flocks in Wirral.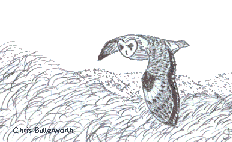 February
Winter gales can bring large numbers of Red-throated divers and Great Crested Grebes to the mouth of the estuary, perhaps as many as one hundred each. These can be seen of the North Wirral coast, Hilbre Island and Point of Ayr.
The first big high tides of the year occur in February, backed by a strong west wind this can cover most of the marsh at the head of the estuary flushing numerous Water Rails and Short-eared Owls. The tide also brings closer the many duck and waders feeding in and on the far side of the marsh affording spectacular views along with a good selection of raptors, in particular Peregrine and Merlin. Parkgate is the traditional place to see all this but Denhall Quay, at Neston, and Flint can be just as good. Flint is also the best place to see Twite with a flock of over twenty on the marsh,
We often get several flights of one hundred or so Pink-footed Geese flying northwards through the estuary at this time of year. These probably won't be birds which have fed inland locally, but ones which are moving from Norfolk on their way back north. In February and March they tend to gather on the Fylde Lancashire coast before moving off to Scotland, then on to Iceland to breed.

March
The month when we we get the highest day time tides of the year. Probably not quite as many birds as February but still a birding extravaganza!
Most wader species have their peak numbers in mid-winter but Redshanks are one of the exceptions. Their main peak is in the autumn followed by another smaller peak in March. They use the estuary as a pre-breeding stopover before moving off to Iceland, many having wintered further south. Heswall is the best place to see these with 3,000 or more roosting at high tide. Many Redshank also breed in this country but most of these will already be on their breeding sites in March.
Of course the most exciting thing to happen in March is the return of the summer migrants with the first Wheatears, Sand Martins, Swallows and Willow Warblers all starting to arrive. Another sign of the forthcoming season are the waders starting to change into summer plumage - in particular look out for Bar-tailed and Black-tailed Godwits looking very smart in their reddish brown plumage.
Out to sea there is a pronounced Little Gull passage during March, usually a peak daily count of between fifty and a hundred is reported from Hilbre. Many Red-breasted Mergansers breed in the hills of North Wales and North West England. Many of these birds gather in the River Dee Channel and sand banks off Greenfield Dock in March prior to moving inland too their breeding sites, best seen at low tide.