July
It may only be mid-summer but for many species July marks the end of the breeding season. This means a big influx into the estuary, especially gulls and terns which use the sand banks and calm seas of the estuary as a post breeding gathering place. Sandwich terns are the first of the terns to finish breeding and there is a rapid build up of numbers during the month. Their nearest breeding colonies are in Cemlyn Bay, Anglesey, and Morecambe Bay - about 600 pairs altogether. They quickly disperse from these breeding sites and we get up to a thousand roosting at low tide around Hilbre Island, and at high tide at Gronant, Point of Ayr, West Kirby and Hoylake. Although the Little Terns at Gronant are several weeks behind their bigger cousins the chicks will be starting to fledge by the end of the month. Most years we get a large influx of Little Terns during July, perhaps failed breeders from elsewhere, resulting in a total flock of 400 birds.
Waders start to return with a rapid build up of Redshank and Curlew, both of which breed in this country. But even those breeding further north start to pass through with Sanderling and Dunlin seen at Hoylake and Gronant. Less common waders often turn up - Green Sandpiper, Wood Sandpiper, Greenshank and Whimbrel are all regular in July. The Black-tailed Godwits at Inner Marsh Farm, up to 500 or so, are famous for being the largest over summering flock in the country.
Sea watching can be great in July, given a strong west wind we get lots of Gannets, Manx Shearwater and Common Scoter. Arctic Skuas are often about and this is one of the best months to see Storm Petrels. All in all a great, and much underrated, month for birdwatching.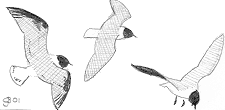 August
Large numbers of waders will be coming through on passage. These are birds which will winter far to the south - expect to see flocks of up to a thousand of Ringed Plover and Sanderling, and several thousand of Dunlin. A few Curlew Sandpipers should turn up, may be an adult or two earlier on in the month and juveniles towards the end. The return passage of Whimbrel peaks in August, best seen from Hilbre. Both Green and Common Sandpipers occur in small numbers preferring fresh water to salt e.g. Inner Marsh Farm. The Boathouse Flash at Parkgate has become one of the best places in the country to see Greenshank and numbers should build up all month to a peak of between 60 and 100+.
Whilst Sandwich Terns disperse away from the estuary a steady passage of Common Terns will build up with several hundred a day being seen towards the end of the month. The end of the breeding season at Gronant should also result in a hundred or so Little Terns visiting the mouth of the estuary.
August also marks the southwards migration of Marsh Harriers and two to three are often seen at Inner Marsh Farm or over the marshes off Burton and Flint.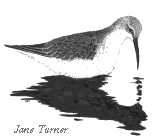 September
The north Wirral coast, Hilbre and Point of Ayr have the reputation for bring the best place in the country for seeing Leach's Petrels. But the weather has to be right, ideally we need at least two consecutive days of strong north west winds in the middle two weeks of September. This blows hundreds of Leach's Petrels into the Irish sea straight towards the mouth of the River Mersey, they then have to fly westwards along the Wirral coast towards the Point of Ayr, right in front of the assembled birdwatchers! Of course sea watching generally will be very good in these conditions with the occasional Sabine's Gull turning up, along with all four species of Skuas - Arctic, Great, Pomarine and Long-tailed.
Curlew Sandpipers and Little Stints will be passing through, usually more of the former at the beginning of the month. Greenshank numbers will remain high at Parkgate throughout the month, the record count of 104 was on Sept. 4th in 2001.
One or two Osprey may pass through on their way south. Shelduck numbers rapidly build up after their moult on the Mersey estuary. A good place to see Great Crested Grebes is off Greenfield dock at low tide, over 100 can sometimes be seen in September, best seen on a windless day.
Although these days Little Egrets stay on the estuary all year round there is a post breeding influx in September, probably best seen on Burton marsh. Spotted Crakes are rare rails most of which winter south of the Sahara. Most years we get one or two staying a few days at Inner Marsh Farm on their way south.