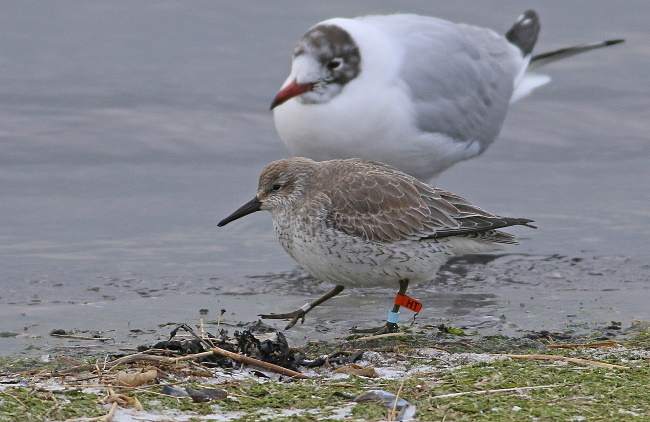 OflagP (HT) by West Kirby Marine Lake © Elliot Montieth (P = Pale blue)


From late October into the winter months wader watching on the Dee is truly exciting with the arrival of thousands of waders that have undertaken a movement from the east following completion of their autumn moult. We know this because colour ring reading has identified waders, like the Red Knot (Calidris canutus), with histories showing they were moulting in The Netherlands only a few weeks before their arrival here. However, not all Knot migrate such a distance after moulting.

From recent work on Knot that were colour ringed at Altcar, Merseyside in 2017 – 2019, some make a short flight from moulting grounds on the east side of Liverpool Bay into the Dee Estuary. However, some of these 'local' Knot also move further afield after moulting. This was shown in a talk on the 'Origins of Red Knot (Calidris canutus islandica) wintering in Ireland' presented at the International Wader Study Group (IWSG) conference held 20-23 September 2019 in Morecambe, UK, by Peter Knight et al. Knot are present in November to March in Ireland, mainly on the Irish Sea coast. From colour ring readings he showed that ~30% of the Knot observed in Dublin Bay in February/March 2019 came from the population that moults on Merseyside. The data also suggested that the same proportion were present in the Dundalk Bay flock. Furthermore, many follow-up sightings of the Knot colour ringed at Altcar showed that this population of the Irish wintering Knot returned to the Liverpool Bay area before spring migration in May, revealing for the first time an 'Irish Sea winter shuttle'. Knot colour ringed elsewhere in their flyway were also encountered in Ireland, but few of these individuals were seen around Liverpool Bay before or after their time in Ireland, suggesting they were members of the population that moves west from the North Sea after autumn moult and returns there before spring migration.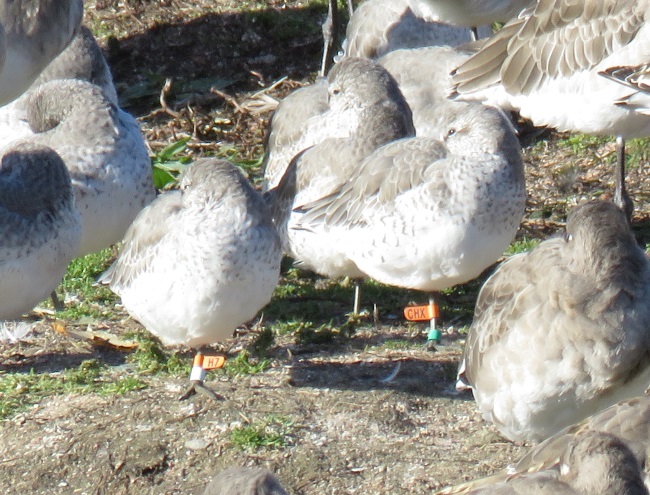 OflagP (H7) and OflagG (CHX) at Caldy Wildfowl Collection © Richard Smith


This study shows the importance of understanding the whole flyway of migratory waders like the Knot and raises the importance for wader conservation of knowing which populations of waders are using our estuaries and at what times of year. These results raise further questions. Do the same birds make the post-moult winter trip from Liverpool Bay to Dublin Bay every year? What happens when the winter weather is poor, i.e. when there is a 'Beast from the East', do more or different Knot move to Ireland? Where else in Ireland do these Knot go?

At the same meeting a talk by Rose A. Maciewicz et al. on 'Does arrival pattern of Red Knot (Calidris canutus islandica) at autumn moulting sites reflect departure pattern from breeding sites?' presented additional data from colour ring reading on these Altcar Knot. It previously has been established that Knot have a bimodal departure pattern from their arctic breeding areas with females leaving the breeding grounds before the males due to the latter's greater involvement in brood rearing. What is not known is whether their arrival pattern at the autumn moulting sites reflects this.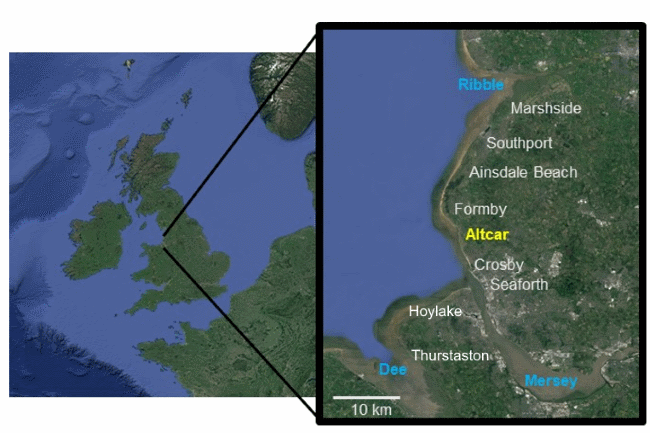 To study this, intensive colour ring reading was undertaken between the Ribble and the Mersey estuaries from July to September in both 2018 and 2019. In 2018, 632 readings were made of 325 individual Knot with the Altcar orange flags and pale blue or green rings (see photos). In 2019, 393 readings were made of 272 individuals. Using wing length measured when they were ringed as a surrogate for sex, the average wing length of each day's newly observed Knot was determined to test whether the longer winged females did indeed arrive before the males.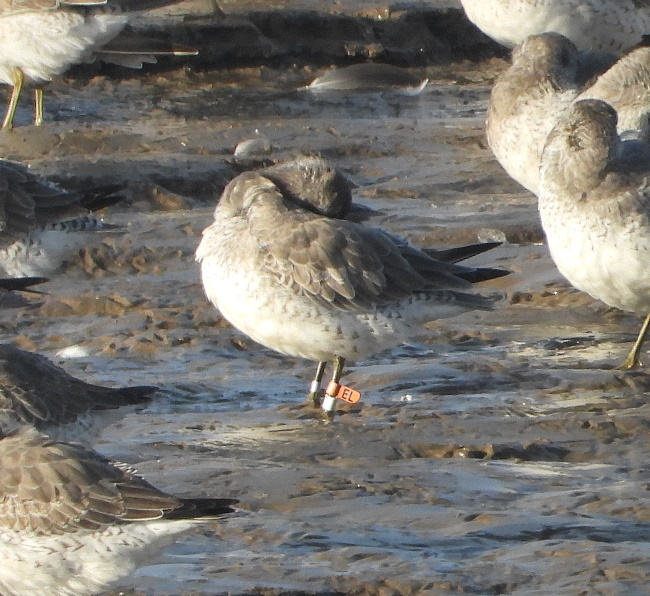 OflagP (EL) at Thurstaston © Richard Smith


The first arrivals of red-breasted adult Knot in autumn 2018 were found to have a statistically significant longer wing length i.e. they were predominantly females. As the females arrived early, did this reflect a good breeding year? This can be hard to judge from the number of juveniles seen in the same autumn as juvenile Knot often mix in with the other waders. However data from the June 2019 WeBS counts, when almost all the Knot present would be those born in 2018, showed it to be an average breeding year when compared to the median (4,371 and range 123 to 15,563) of June numbers from the 2003 to 2018 Lancashire Bird Reports.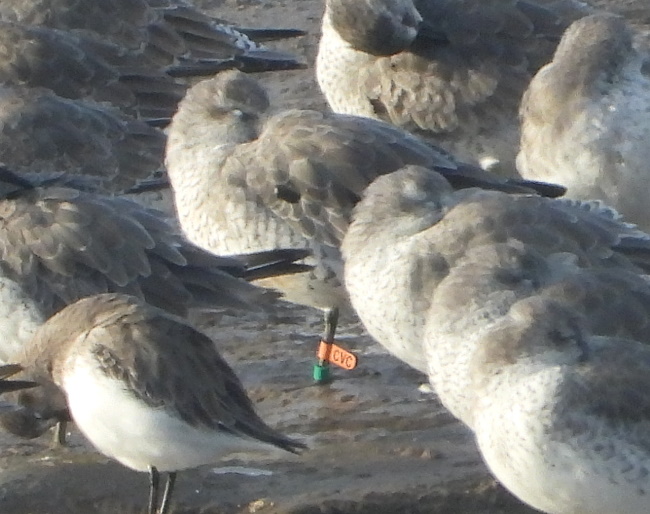 OflagG (CVC) at Thurstaston © Richard Smith


2019 data showed that the first adult Knot returned about 1 week earlier in the autumn season than in 2018. Early thoughts were that this might reflect a poor breeding year. This was short lived when the analysis indicated a very strong females-first arrival pattern. This was further supported by the observation in late August of exceptional flocks of 1000+ juvenile Knot on Merseyside, as well as reports elsewhere in the UK and The Netherlands of large numbers of juveniles. The exact extent of breeding success will not be known until next June. It is likely that the early return and good breeding success were the results of unusual meteorological conditions: there was a long negative North Atlantic Oscillation (NAO) period from 26th April to 23rd June ('A record-challenging Greenland climate pattern is boosting extreme weather in North America and Europe' see Washington Post 26th June 2019 https://www.washingtonpost.com/weather/2019/06/26/record
-challenging-greenland-climate-pattern-is-boosting-extreme-weather-north-america-europe/ that resulted in Greenland's snow cover melting at an unprecedented rate, thus allowing early nesting and high chick survival. The last time a similar event was observed, 11,000 Knot were reported on Merseyside in the following June.
These two new studies show what can be achieved when a sample of waders is colour ringed and then intensively tracked by birdwatchers armed with sufficiently high-powered telescopes.
For further information about the IWSG and the recent meeting held in Morecambe, UK see https://www.waderstudygroup.org/conferences/2019-morecambe-uk/.
Rose Maciewicz and Peter Knight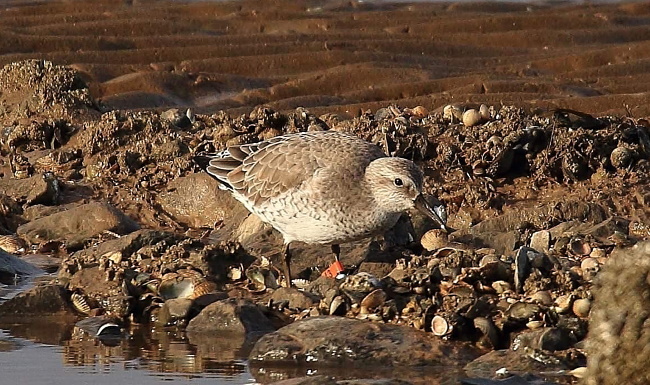 OflagP (L3) at West Kirby © Jackie Binks
Further Reading:
1. Richard Smith, 'Among Knots', February 2018 Dee Estuary Newsletter,
http://www.deeestuary.co.uk/news0218.htm.
2. Richard Smith, Colour Ring Report October 2017 Newsletter,
www.deeestuary.co.uk/news1017.htm. This item gives some background for the 'Altcar Knot Project' including the ringing of the Orange flagged birds in September 2017.
3. Richard Smith, Colour Ringed Knots, June 2010 Dee Estuary Newsletter,
http://www.deeestuary.co.uk/news0610.htm.

Top of Page
Colour Ring Report

For a change this month I'm concentrating on non-Waders - Pink-footed Geese, Little Egrets and Cormorants.
Pink-footed Geese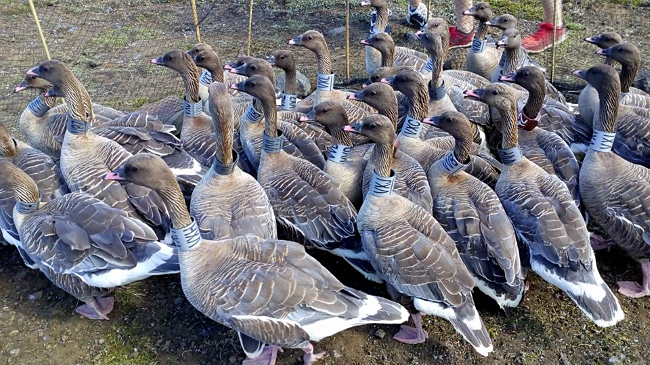 Pink-footed Geese with neck bands, these were caught and ringed during their wing moult in Iceland in July 2017.
Note the bird with a brown ring fourth bird from the right, these brown banded birds have been fitted with GPS tags.

The Pink-footed Geese in the photo above had their neck-bands fitted in Iceland but since then more have been caught and ringed at WWT Martin Mere and it was two of these that were seen in October. The Wetlands and Wildfowl Trust say "The goal of the study is to investigate the interaction of migratory Pink-footed Geese with man-made structures in the landscape including wind turbines. In addition, valuable information will be gained on migration phenology and the routes the geese take both within Britain and between Britain and Iceland/Greenland." Read more by Clicking Here.

Neckband: VNI on grey band.
Ringed at Martin Mere on March 22nd 2018.
Recorded at Gayton (in field close to Boathouse Lane) on October 9th 2019.
Neckband: 59 on brown band. This bird is fitted with a GPS tracker.
Ringed at Martin Mere on March 22nd 2018.
Recorded at:
Docking, Norfolk, on November 30th 2019.
Rockcliffe, Cumbria, on March 25th 2019.
Gayton (in field close to Boathouse Lane) on October 9th 2019.
The map shows the GPS track of '59' this autumn: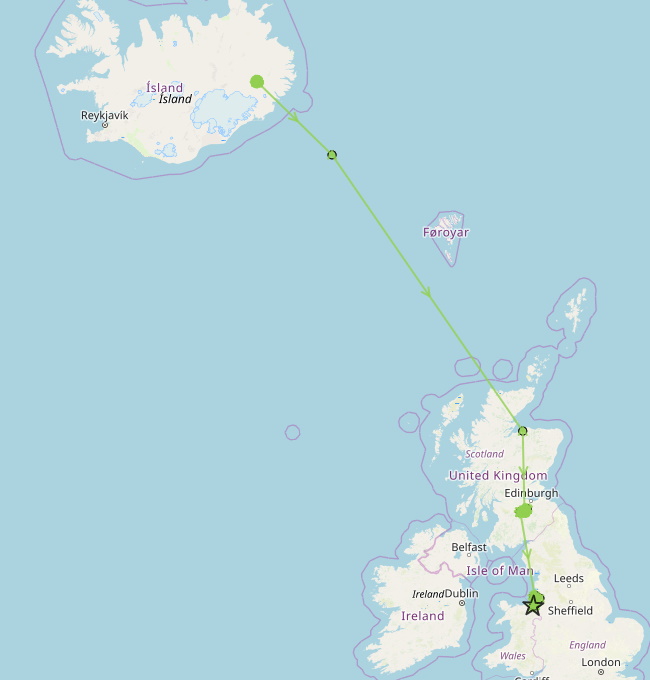 Little Egrets

Until this year all the colour ringed Little Egrets recorded on the Dee Estuary were ringed as chicks at the breeding colony at Penryn, near Bangor, with a total of nine birds. This year we've seen birds which have originated from further afield showing some interesting movement across the country, details as follows:

O(4)-Y(N)
- (Orange ring with number '4' and Yellow ring with letter 'N')
Ringed at Graveney, Faversham, Kent, on May 16th 2009.
Recorded at Connah's Quay on July 31st 2019.
No other sightings.
Blue ring with 'CX' left tibia.
Ringed at Newark-on-Trent, Nottinghamshire, in May 2017.
Recorded at:
Rutland Water in August 2017.
Heswall Shore on September 3rd and 12th.
Blue ring with 'H4' left tibia.
Ringed at Wheldrake Ings, Yorkshire, on July 9th 2019.
Recorded on Heswall Shore from September 7th to 19th 2019.+
Cormorants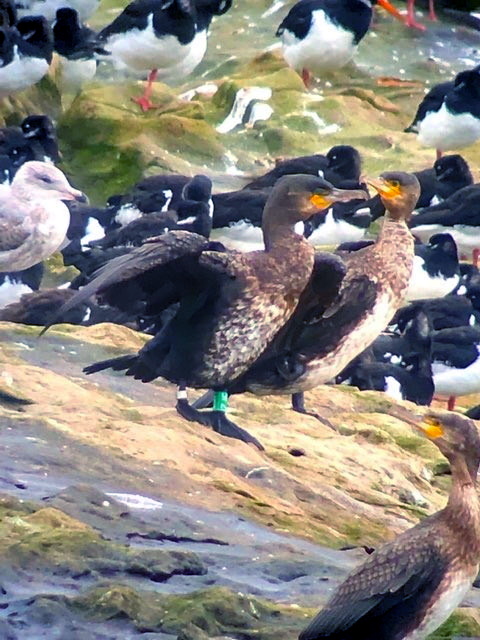 Cormorant 'ZJP' on Hilbre © Colin Schofield


Many of the colour-ringed Cormorants seen around the Liverpool Bay area are ringed on Puffin Island where the SCAN ringing group are involved in the Puffin Island Seabird Research Project, which includes tracking birds with GPS tags. To read more about this fascinating work see http://www.puffinisland.org.uk/home.
However, one of the Cormorants recorded on the Dee Estuary over the past few weeks was ringed in the east midlands before travelling to the south coast, details below:
CX4 on Yellow ring.
Ringed at Attenborugh Gravel Pits, Nottinghamshire, in August 2016.
Recorded in:
Essex in December 2016.
Dungeness in January 2019.
Hoylake Shore on July 31st 2019.

Bird found dead with BTO metal ring 5282622.
Ringed at Puffin Island as a chick on June 22nd 2019.
Found dead on the beach at Red Rocks on September 20th 2019.
ZJP on green ring.
Ringed at Puffin Island as a chick on July 4th 2018.
Recorded at Hilbre on October 11th 2019.
Colour Ringed birds were recorded by: Richard Smith, Steve Hinde, Colin Schofield, Dave Winnard, Ken McNiffe, Ian and Carolyn Emery, Graham Connolly and Tim Kinch.
October Bird News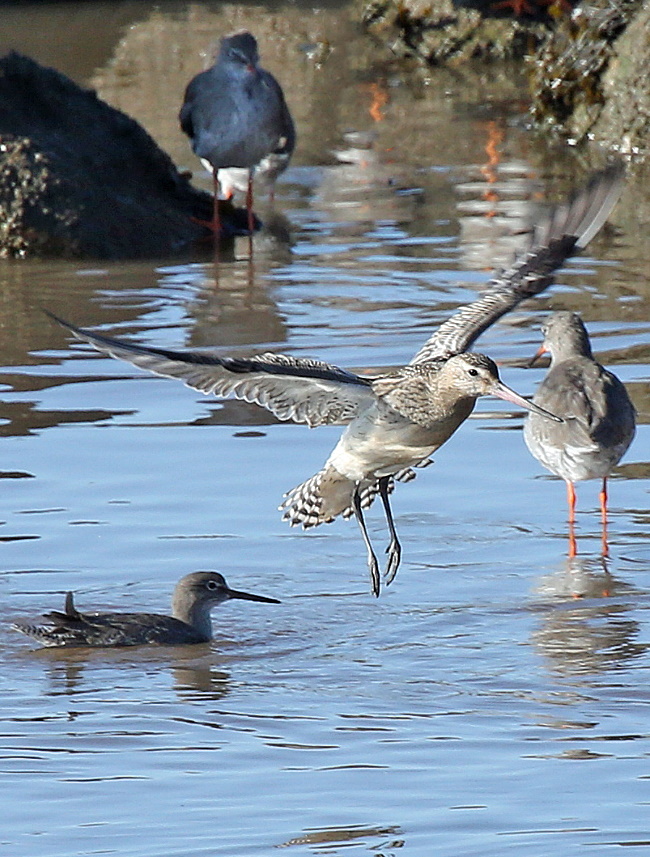 Bar-tailed Godwit with Redshanks at Meols, October 18th © Roy Lowry


Unusually for October there were no gales, but calm weather meant some good counts of birds on the sea including over 10,000 Common Scoters on the 15th and 154 Great Crested Grebes on the 24th. With much north east/easterly winds there was quite a lot of Visible migration including many Siskins flying through with what we think is a record count of 540 along north Wirral on the 21st. There were several days when hundreds of Redwings and Fieldfares were recorded coming through. Yellow-browed warblers were also observed with a total of seven, compared to 11 in 2018 and 9 in 2017; in 2016 we had a record 35! 460 Jackdaws in fields by the Wirral Way at Heswall was an excellent count.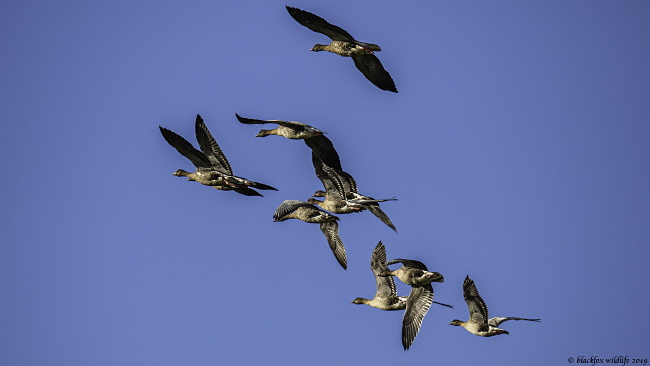 Pinkfooted Geese over Parkgate, October 28th © Jeff Cohen

There were two counts of at least 15 Marsh Harriers coming into the roost at Neston Reed Bed, and there are at least two ringtail Hen Harriers and a grey male. Also coming into Neston Reedbed have been two Bitterns. Out on the marsh and in surrounding fields are many Pink-footed Geese, just how many I don't know but it wouldn't surprise if numbers weren't already approaching 10,000. Brent Geese at Hilbre also increased rapidly with a max count of 253. There were several double-figure counts of Great Egrets including 23 which flew into the roost at Burton Mere Wetlands on the 29th.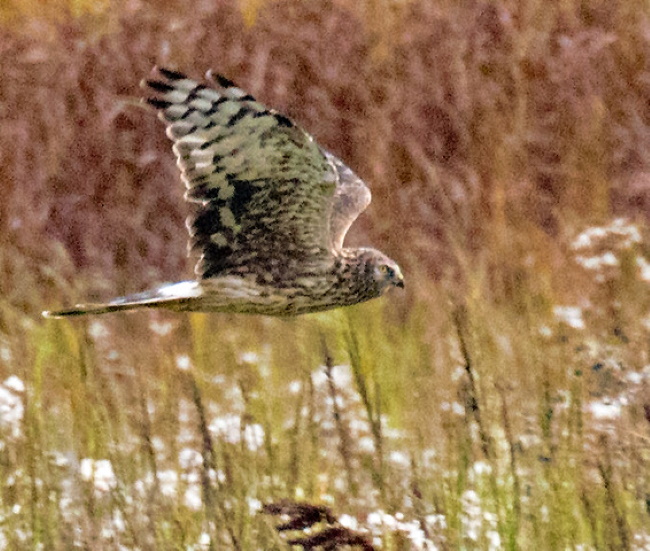 Hen Harrier at Parkgate, October 7th © Frank Burns
Raven was another species recorded in double-figures including a remarkable 40 around Decca Pools on the 17th. Rarities this month included a Pectoral Sandpiper in a wet field near Parkgate on the 7th, a Richard's Pipit at Hoylake on the 15th and a brief view of a Great Grey Shrike on the 30th. Single Snow Buntings were recorded at Little Eye, West Kirby and Wallasey and a Black Redstart at Thurstaston.
The spring tides at the end of the month were a bit of a disappointment due to high pressure and contrary winds, at least at Hoylake that meant there was room for a wader roost to form through the high tides although numbers weren't great but we had some good close views as the photo below shows.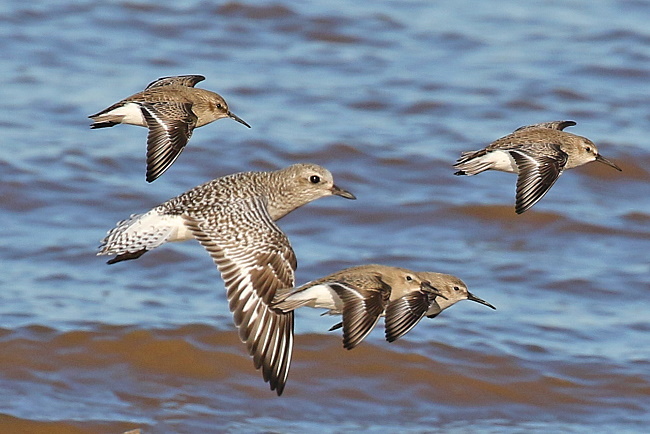 Grey Plover and Dunlin, Hoylake Shore, October 29th © Roy Lowry
Many thanks go to David Haigh, Mark Gibson, Carole Killikelly, Geoff Robinson, Steve Hinde, Chris Butterworth, David Leeming, Alan Hitchmough, Steve Williams, Derek Bates, Allan Conlin, Karen Leeming, Colin Schofield, Richard Whitby, Julie Rogers, David Small, Tim Kinch, Roy Lowry, Matt Thomas, Eddie Willimas, Mike Kay, Les Hall, Frank Burns, Jeff Cohen, Sheila Ryde, Dave Edwards, Ken McNiffe, Jane Turner, Jeremy Bradshaw, Ron Brumby, Paul Mason, Charlie Lowe, Gail Wilson, Dan Carrington, John Kane, Laurence Lacy, Graham Connolly, Richard May, Linda Platt, Alan Schofield, David Taylor, John Hemmings, Mark Peers, John Watson, Mark Edwards, Andrew Morton, Martin Kalaher, Jeannine Owens, Val (RSPB), Jim Bevin, Gary Aaron, Mark Whitmore, Simon Gough, Keith Ackerley, Lindsay Hinks, David Poole, Richard Speechley, the
Lighthouse and Wirral Birding Blog
, the
Dee Estuary Wardens
and the
Hilbre Bird Observatory
for their sightings during October. All sightings are gratefully received.

Top of Page
What to expect in November
Most of our over-wintering birds will have arrived, or will arrive this month. This includes Pink-footed Geese with several thousand, over the past couple of winters they've increasingly used coastal fields to feed in giving great close views both on the ground and flighting between the different sites. We will also get a few hundred Brent Geese around Hilbre and dispersing elsewhere on the estuary such as West Kirby Marine Lake and by the causeway at Thurstaston where they can be remarkably unbothered by local dog walkers.
According to the trends plotted by the Dee Estuary Voluntary Wardens it should be a peak winter for Knot and other small waders. It will be interesting to see just how many Knot we get as the exceptional good breeding season they've had means there are many thousands of juveniles to add to the normal total. Hopefully the spring tides at the end of the month will mean some spectacular views of them at Hoylake, West Kirby and Point of Ayr.
On the marshes we will see Marsh Harriers in double figures and hopefully six or more Hen Harriers with the grey males always worth looking out for. Short-eared Owls will be on view with Denhall Quay being a prime spot to see them, I find an overcast afternoon with little wind the best conditions for them to show. The increasing Bittern numbers in the country means we are getting more sightings of them here, last November we had several good views of a couple at Parkgate and Neston.
Look out for Snow Buntings which can occur on any beach with Point of Ayr and Gronant being particularly good for them.
It looks like it might be a good Waxwing winter, we've already had some on Wirral (Hooton) and there are lots coming into Scotland which is always a good sign. If it does turn out to be a good winter for them then we can expect to see a few flocks by the end of the month, just about anywhere but Deeside Industrial Park is often a good spot and they have a liking for Supermarket car parks! The last good winter here was 2016/17 with 2010/11 and 2012/13 also seeing plenty.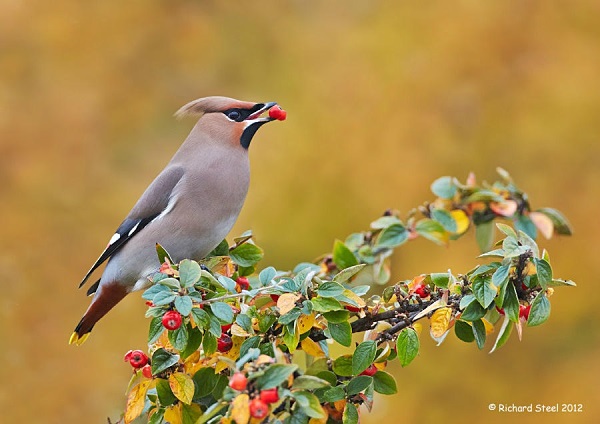 Will we get any of these beauties this winter?

Forthcoming Events
November Highest Spring Tides (Liverpool)
Also see Tides page.
26th November, 10.30hrs (GMT), 9.6m.
27th November, 11.12hrs (GMT), 9.7m.
28th November, 11.53hrs (GMT), 9.6m.

Forthcoming Events
Organised by the Wirral Ranger Service , Flintshire Countryside Service and the RSPB (Dee Estuary): All these events and walks have bird interest, even those not advertised specifically for birdwatching. No need to book for these events unless specified - please check below.
---
Sunday 10th November and Sunday 8th December RSPB Raptorwatch at Parkgate.
1pm-dusk
Join us for a chance to see up to seven different birds of prey including peregrine and merlin, plus two types of owl that all make their home on the RSPB Dee Estuary nature reserve. With its panoramic views of the saltmarsh, Parkgate is one of the best places to watch for the birds hunting. Stick around until dusk for a chance to see the graceful and endangered hen harriers flying into roost for the night on the marsh close to the Old Baths car park, plus a ghostly barn owl emerging to hunt. No booking required, come along any time between 1pm and sunset. Dress appropriately for the weather and don't forget your binoculars! Public toilets and various pubs and cafes are situated close by along Parkgate promenade.
Telephone 0151 353 2720 for further information.
Wednesday 27 November, Point of Ayr Tidewatch.
9.30am-12.30pm
Price: £5 per person (£4 RSPB members) plus Eventbrite booking fee (see below)
Booking essential
By late November all our winter visitors will be back on the mudflats and saltmarsh that make the Dee Estuary such an important home for wetlands birds, and witnessing a high tide at the Point of Ayr is a spectacle not to be missed.
Thousands of godwits, redshanks, oystercatchers and curlews gather in spectacular fashion on the saltmarsh and shingle here at high tide, which is what we hope to show you if you join us on this gentle walk from Talacre to our hide. There'll also be a variety of ducks - pintail, shelduck, teal and mallard - pushed close on the incoming tide, and there's always the chance that something unexpected will show its face! Peregrine and merlin are the two raptors most likely to take advantage of this high tide buffet, so there's a chance of seeing these hunting at close range.
Park in one of the public car parks signposted from Station Road and meet outside 'The Point' bar at the end of Station Road. Car parks are Pay & Display so don't forget some coins. Appropriate clothing and footwear are essential. The path is fully accessible, but an A-frame motorcycle gate at the beginning of the walk may make it difficult for larger wheelchairs.
Feel free to pack some snacks for in the hide, and a hot flask is recommended at this time of year! Public toilets and places to purchase refreshments will be available in Talacre before and afterwards.

Advanced booking and payment is essential via Eventbrite:
https://poa-november-tidewatch.eventbrite.co.uk
Telephone 0151 353 2720 for further information.