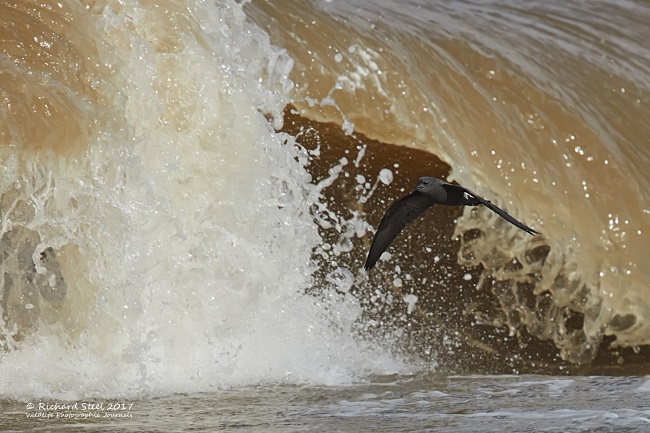 Leach's Petrel at New Brighton © Richard Steel
Storm Aileen came and blew in the birds, giving us the best September sea-watching since 2013, although for some species it was undoubtedly better than 2013. Below I go into details for two iconic September species and put this year's records into a historical perspective.
Grey Phalarope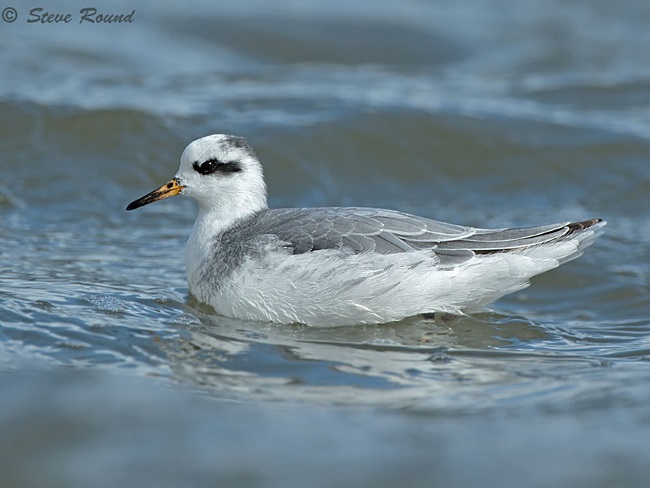 Grey Phalarope at New Brighton © Steve Round
Research suggests that September 2017 was the best month for this species on the Dee Estuary and North Wirral since the 19th century! It was certainly the best month this century with the graph below showing all annual totals for the past 18 years (obviously, for 2017 only up to the end of September).
Note that these totals may be higher than recorded in the local Bird Reports as, unfortunately, not all records have been submitted to the relevant Rarity Committees - but I'm confident that the vast majority were genuine Grey Phalaropes.
Trying to estimate the total numbers of birds seen this September has been difficult with so many reports coming in, to avoid over-estimating I've assumed that a single reported at West Kirby over two days was the same one, and that numerous reports from New Brighton in any one day were mostly of the same birds hanging around whilst one reported towards the end of the month there on two days I've also assumed to be the same bird. So, if anything, my estimate of 19 could be on the low side.
The breakdown of the September 2017 total is as follows:
New Brighton 13
Meols 1
Hoylake 4
West Kirby 1

They are less than annual in our area and in four of the past 18 years none were seen whilst in a further three years only one was recorded. Nearly all records are of single birds so the multiple records this year was certainly most unusual - these included three together both off Hoylake and New Brighton. Most of them are seen during gales in September and October and linger, if at all, for a short time but there have been a few exceptions over the past few years:
In October 2005 good views were had of one on New Brighton Marine Lake which stayed for three days. One was off Hilbre on the late date of December 1st 2012. One was a photographers dream as it stayed on the lagoon at Gronant from October 25th to November 1st in 2013. One was on the River Mersey on the unusual date of January 5th 2015.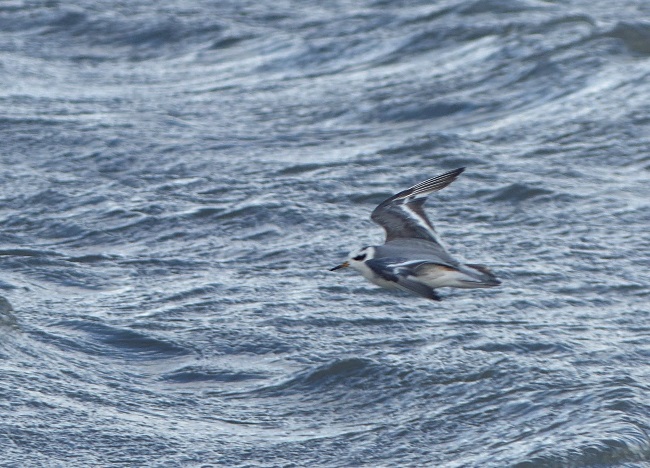 Grey Phalarope at New Brighton © Colin Davies

The records in December and January are interesting as it demonstrates that some must winter in the Irish Sea. Most are thought to spend the winter months in the Atlantic west of Africa, here they are pelagic birds - behaving much more like gulls than waders. But I say 'thought to' as so little is known about this species in terms of both population numbers and where they migrate to - simply because they breed in the high Arctic, migrate over the sea and winter out on the ocean. The birds which are blown here in autumn are assumed to be part of the population which mostly breed in north Canada, estimates of numbers are around one to two million - but that's more of an informed guess rather than an estimate. Although there is evidence the majority winter off Africa I expect we are in for some surprises once they put tracking devices on them No doubt you will have read about a Red-necked Phalarope which bred in Fetlar and was tracked flying west to Greenland then down to the Caribbean, across to the Pacific where it spent the winter off Peru. A completely unknown and unexpected migration route!
Leach's Storm Petrel
Leach's Petrel at New Brighton © Steve Round
North Wirral, Hilbre and Point of Ayr are the best and most reliable sites in the whole of Europe to see Leach's Petrel, given the right weather conditions. Storm Aileen brought those, blowing the birds through the North Channel and down to the mouth of the River Mersey giving us the best views of these fabulous birds since 2013.

Counts at the main sites were as follows:
Date
Sep11th
Mon
Sep 12th
Tues
Sep 13th
Weds
Sep 14th
Thurs

Hilbre

35
49
17
90
New Brighton
15

4

88
17
Leasowe/Meols
36
8
51
8
Hoylake
60
26
51
65
Point of Ayr
5
-
35
-
After three very poor years it was good to see the return of Leach's Petrels, but as you can see from the graph below we have had many better years and I'm sure many of you remember 2010 - one of the best ever. What did make 2017 special was that good numbers were present for four whole days and great views were had, particularly at New Brighton where some were flying over the beach within a few feet of watching birders!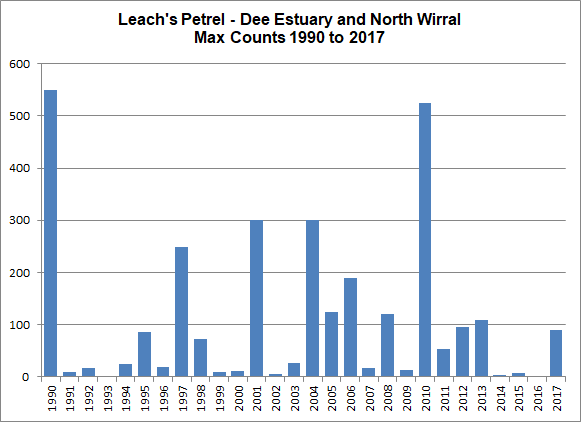 Richard Smith
References/Further Reading
1. Allan Conlin & Eddie Williams, Rare and Scarce Birds of Cheshire & Wirral, 2017.
2. Simon Delany et. al, An Atlas of Wader Populations in Africa and Western Eurasia, Wetlands International, 2009.
3. Cheshire and Wirral Bird Reports, CAWOS.
4. Clwyd/North-east Wales Reports, Clwyd Bird Recording Group.
5. Waterbird Population estimates 5th Edition, 2012, Wetlands International.
6. Richard Smith, Leach's Petrels 2010, http://www.deeestuary.co.uk/news1010.htm.
7. Birdguides.com.
Top of Page
Colour Ring Report

The past few weeks have been very good for spotting colour-ringed birds, the total includes 17 Black-tailed Godwits, two Dunlin, two Redshank, five Oystercatchers, a Lesser-black-backed Gull, a Herring Gull and a Black-headed Gull. Knot numbers, as usual, were low at this time of year and we never get any ringed ones until the winter - so we got quite a shock when loads suddenly turned up at the Caldy Wildfowl Collection sporting Orange flags!
Orange Flagged Knots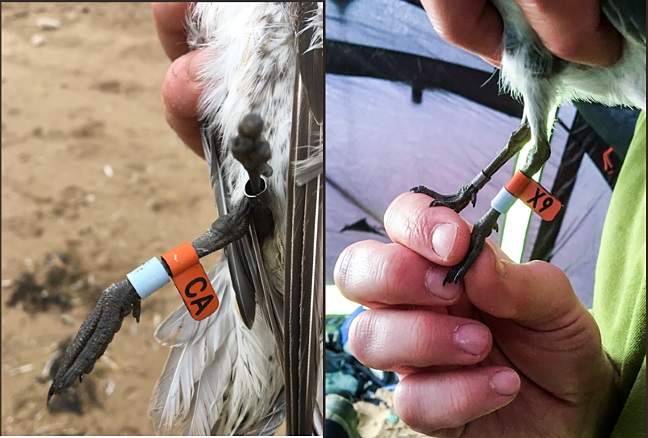 Knots being ringed on the Alt estuary on September 22nd, © Phil Woollen

It turned out that, as part of the project described below, a total of no less than 519 Knot had been colour-ringed on Altcar beach (just north of the Alt Estuary) on September 22nd. I was the first person to see one of them away from the ringing site the next day at Caldy, and over the following seven days saw a remarkable total of 19. These were in small flocks of Knot of between 50 and 150, such a high % of colour-ringed birds is unprecedented here on the Dee!
These birds all have a combination of two letters/numbers on the orange flag (left tarsus) above a pale blue ring with a BTO metal ring on the right tarsus. You will need to get fairly close to be able to read the flags but if you are sure of what you see send the details either to Jim Wilson (jimwils@frisurf.no) or to myself at

, if you contact Jim I would appreciate being copied in on any feedback so I can include it in our Dee Estuary Colour-ringed Birds Database.
I let Jim Wilson explain what this Ribble Knot Project is all about:
From the Wetland Bird Survey Counts the knots in west coast UK in autumn and spring have been in more or less constant decline since the 1970s. From sightings made by Peter Knight and Rose Maciewicz we found out that Dutch and Norwegian marked birds were mostly missing in the autumn and spring, but are present in the winter (the well known westward movement of knots during the winter) This autumn (2017) they mainly only saw birds we marked in SW Iceland this spring and a few which we marked in NW Iceland in spring 2014 (1086 flagged). The present theory is that the west coast populations in autumn and spring can be a sub-population of the Icelandic knots. Possibly, as the sites lie about 300 kms nearer Iceland than the Wadden Sea and have a warmer spring climate, then birds migrating North out of the west coast can leave earlier, have more time to fatten in Iceland and penetrate further west into the breeding grounds. Most previous publications have focussed on the wintering population and not on the autumn and spring populations.
Also there are about 5,000 2y birds summering on the Ribble. The Ribble is one of the most important sites in the Flyway for 2y birds (ie the future breeding stock). These have never been studied.
This Research will add focus on the importance of the Ribble in autumn and spring and also on the huge and uncontrolled disturbance on the Ribble-Crosby coast (and elsewhere in the NW UK). Also it will show to what extent the autumn and spring Ribble populations are using all the NW coast estuaries and other parts of the Irish Sea and if there is a link between the wintering French populations (about 40,000 knots) and the Irish Sea.
Also this from an email from Richard du Feu who helped organise and ring such a large number of birds (in total 1,610 waders were cannon netted and most ringed, a massive undertaking):
What is clear from the data is we caught a significant proportion of 2nd year Knots that probably spent the summer in the Liverpool bay area. Although we have very little idea what birds on the West coast in early autumn do for the winter we have even less idea what the 2nd year birds that summer on the West coast do in winter. As such all sightings even if just a few days after ringing are going to be really helpful in building up a good idea of what these birds are up to.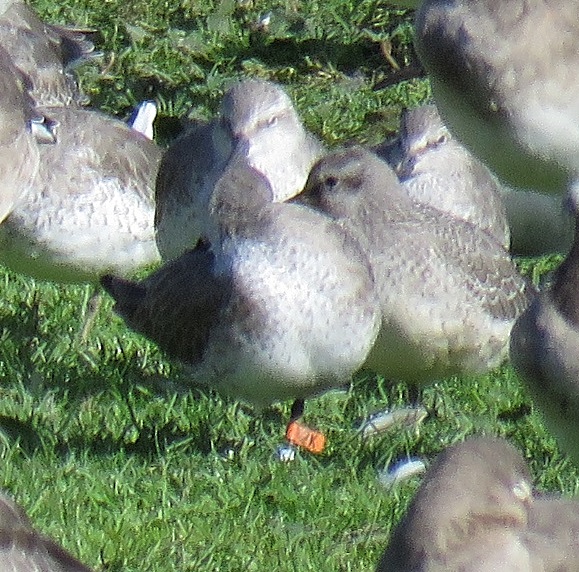 Knot '7K' at the Caldy Wildfowl Collection, partly obscured by grass! © Richard Smith

Richard Smith.
Colour-rings were reported by Matt Thomas, Steve Hinde, Peter Haslem, Richard Beckett, Les Hall, Jane Turner and Elliot Montieth - details next month.
Top of Page
September Bird News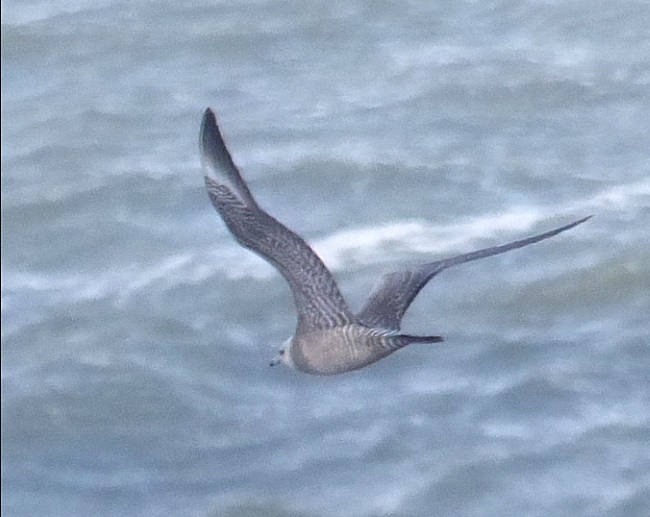 A real classic September with so much going on that I can do no more then give brief highlights.

To carry on the theme of "Four Windy Days in September" we had the highest numbers of Sabine's Gull since 2011 passing through, with a total of at least 12. Cracking views were had of an adult Pomarine Skua and a juvenile Long-tailed Skua, both from Hilbre (more of both species were also seen), as well as the more usual Arctic and Great Skuas. Black Terns are not usually associated with westerly gales but were seen throughout this period including 12 from Hilbre and nine from Hoylake, both on the 14th.

Then there was the Wilson's Storm Petrel seen from Hilbre on the 11th. This is officially only a 'possible' but it does seem very likely to be a genuine 'Wilson's' given the description although being a single person observation without a photo probably won't be accepted - but if it is it would be a first for Cheshire and Wirral. Right at the end of the month a Pallid Harrier was observed and photographed by several experienced birders at Neston Marsh, and again this will be first for Cheshire and Wirral if accepted, which seem likely. Another mega rarity was a Greater Yellowlegs at Hilbre on the 10th.
There was a good Curlew Sandpiper passage with several seen at both Hoylake and Burton Mere Wetlands, although not as many as last year. On the other hand the Little Stint passage was exceptional peaking with 10 at Burton Mere Wetlands on the 29th, this is the highest since at least before 2010 when there was a max count of eight. Five were on Oakenholt Marsh and three on Hoylake Shore earlier in the month.
A Greenish Warbler was at Red Rocks on the last day of the month (confirmed from sound recording) whilst there were five reports of Yellow-browed Warblers in the last week of September.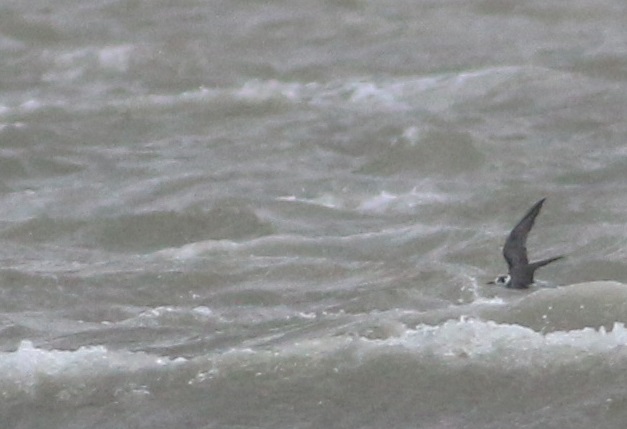 Many thanks go to Colin Davies, David Haigh, Mark Garner, Mal Sergeant, Steve Hinde, Jeremy Bradshaw, Mark Gibson, Matt Thomas, Chris Butterworth, Roy Lowry, Mark Woodhead, Elliot Monieth, Paul Shenton, David Leeming, Alan Hitchmough, Richard Whitby, Steve Williams, Les Hall, Jeff Cohen, Richard Speechley, Dave Edwards, Richard Beckett, Derek Bates, Peter Haslem, Jane Turner, Eddie Williams, Allan Conlin, Karen Leeming, Graham Conolly, Geoff Robinson, Julie Rogers, Linda Platt, Colin Schofield, Charles Farnell, Carole Killikelly, Paul Ralston,Alan Irving, Steve Hand, Sheila Ryde, Tom Giles, Steve Edwards, Bernard Machin, Phil Corns, Eric Burrows, Nicholas Montieth, Neil Mack, Gary Bawden, Anne Williamson, Susan Moody, Glen Morris, Geoff Jones, Keith Scovell, Paul Mason, David Parker, Steve Round, Richard Steel, Will Jones, Norman Hallas, Steve Seal, Richard May, Paul Lee, Craig Bell, Bob Archer, Mike Cooper, David Ousey, Hugh Stewart, Zoe Barrett, Paul Rutter, Ros Watson, Mike Hart, Ian Bradshaw, Janine Johnson, Andy Newall, the
Lighthouse and Wirral Birding Blog
, the
Dee Estuary Wardens
and the
Hilbre Bird Observatory
for their sightings during September. All sightings are gratefully received.
Top of Page
What to expect in October
As I write this we are expecting some strong westerlies early in the month so we can hope for more of what we got in September, although numbers of Leach's Petrels etc. are unlikely to be as high.
October is the best month for seeing Visible Migration when we can get hundreds of finches, winter thrushes etc passing overhead. For more details see
http://www.deeestuary.co.uk/news1010.htm
.
It's also a month to look out for rarities and last year we had an unprecedented influx of Yellow-browed Warblers (
see article
) and we can certainly expect more this year. Last year we also had record numbers of Cattle Egrets, Great White Egrets and Spoonbills.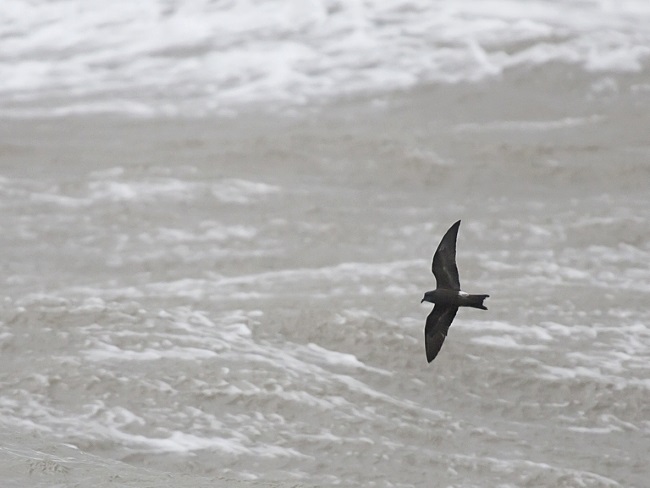 Top of Page
Forthcoming Events
October Highest Spring Tides (Liverpool)
Also see Tides page.

6th October, 12.13hrs (BST), 9.6m.
7th October, 12.50hrs (BST), 9.7m.
8th SOctober, 13.29hrs (BST), 9.7m.
Forthcoming Events
Organised by the Wirral Ranger Service , Flintshire Countryside Service and the RSPB (Dee Estuary):
All these events and walks have bird interest, even those not advertised specifically for birdwatching. No need to book for these events unless specified - please check below.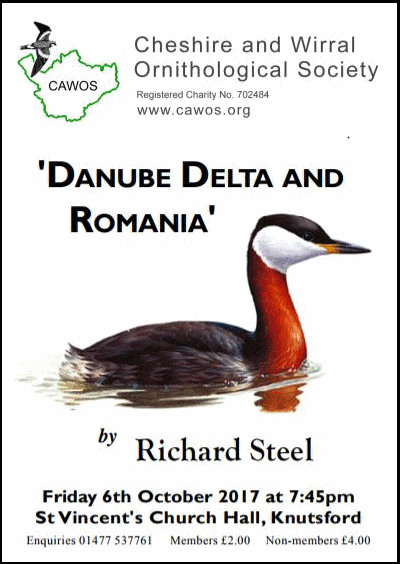 Sunday 8th October, High Tide Raptor Watch at Parkgate Old Baths.
11am-4pm
Price: Free
Come along to the Old Baths car park for chance of seeing a range of birds of prey hunting over Parkgate Marsh. Harriers, peregrines and merlins are all returning to the estuary for the winter and this is one of the best places to watch, plus short-eared owls if we're really lucky. This biggest tide of the month is 9.7metres around 1.30pm which if there is low pressure and a westerly wind could push things in close. Also chance of seeing a range of ducks, geese, wading birds and egrets as their flocks build on the estuary for the winter.
There is free public parking at the Old Baths car park (CH64 6RN) at the north end of The Parade, and the Wirral Country Park car park on Station Road (CH64 6QJ). There are public toilets at Mostyn Square in the middle of The Parade, and a number of pubs and cafes.
Directions:
Old Baths car park, Boathouse Lane/The Parade (B5135), Parkgate, Neston, Cheshire.
For further details ring: 0151 353 8478.
Saturday 21st October, Autumn Arrivals at Point of Ayr.
11am-2pm
Price: Free, but donations gratefully received on the day

Booking essential - email deeestuary@rspb.org.uk or Telephone: 0151 353 8478.
By mid-autumn we'll have welcomed many of our winter visitors back to the mudflats and saltmarsh that make the Dee Estuary such an important home for wetlands birds, and witnessing a high tide at the Point of Ayr is a spectacle not to be missed.
Thousands of godwits, redshanks, oystercatchers and curlews gather in spectacular fashion on the saltmarsh and shingle here at high tide, which is what we hope to show you if you join us on this gentle walk from Talacre to our hide. There'll also be a variety of ducks - pintail, shelduck, teal and mallard - pushed close on the incoming tide, and there's always the chance that something unexpected will show its face! Peregrine and merlin are the two raptors most likely to take advantage of this high tide buffet, so there's a chance of seeing these hunting at close range.
Park in one of the public car parks signposted from Station Road and meet outside 'The Point' bar at the end of Station Road. Car parks are Pay & Display so don't forget some coins. Appropriate clothing and footwear are essential. The path is fully accessible, but an A-frame motorcycle gate at the beginning of the walk may make it difficult for larger wheelchairs. High tide is at 12:48pm so feel free to pack some snacks or lunch for in the hide, and a hot flask is recommended at this time of year! Public toilets and places to purchase refreshments will be available in Talacre before and afterwards.