Early morning at Thurstaston in December and the Knots are hungry © Richard Smith

I get to Thurstaston as the sun is peaking over the horizon. It's just after Christmas (2022) and there's the promise of a perfect winter's day with clear sky and a gentle breeze, and I'm here to log colour ringed knots. The clear sky means that there has been a sharp frost overnight so I know the Knots will be hungry, but where are they? The tide is ebbing with the mudbanks just starting to show, but there's no sign of them. As I walk along the causeway I'm worried that the Knots have gone elsewhere, Formby perhaps, but then I see a great mass flying up from their roost on the edge of Heswall marsh. There must be 20,000, wow! They fly up from Heswall in one big flock and I fear they are all going to land out on Dawpool Bank, but then a few hundred peel off to land close to me on the mud, after 20 minutes they are joined by several more hundreds until I reckon over three thousand are between me, on the causeway, and Caldy steps, and I eagerly start to scan through them with my 'scope.
Orange flags '5A', ringed at Altcar in September 2017, and '15C' ringed at Hoylake in November 2022 © Richard Smith

In the bright morning light I soon see what I'm looking for, orange flags on the birds' legs, each individually marked with letters and/or numbers. There's '5A', lovely to see that one first seen by me at Caldy way back in October 2017 a few days after it was ringed. 'ECE' is a regular at Thurstaston and I've already recorded it three times this winter, I then spot 'CCH' which hasn't been seen since last winter, and that was at Meols. Here's something interesting - '10C' and '15C' together and both ringed just last month at Hoylake. 'PET' seems to be following me around and I've already seen it at Thurstaston, Meols and West Kirby this winter. I then see three Knots ringed last March at Ainsdale - '64L'. '76L' and '20M' - all new ones for Thurstaston. I see 'XVX', which was in Iceland in May, whilst '76E' joined the huge throng at Snettisham on the Wash where it was recorded both in April and August, glad to see they've both made it back here. Ah, what's this? A Knot with four colour rings and a flag means it is one ringed by the Dutch on the Waddensea - I make sure I get a good photo of that one and when I get home I find out it was ringed on the lonely island of Griend in October 2019. Next there's one with a Yellow flag and the code '14C', it was ringed in Iceland in May 2017 and it's the first time it's been recorded on the Dee Estuary. I spot several more, including one ringed on the Wash, but after just over an hour the Knots are spooked by a Peregrine and with a loud woosh of wings take flight and move to the far side of the channel. But I'm more than happy, not just with a very good haul of colour ringed Knots, but having been in the close presence of such wonderful birds.

I hope the above paragraph gives you a feel as to why we record colour ringed Knots (and many other species). I know it doesn't appeal to everyone but once you get into it it can be very addictive! Thanks to colour ringing and their subsequent recording, the Knots which visit Liverpool Bay (including the Dee Estuary and North Wirral) have rapidly become one of the most studied populations of Knots in the world. I can only think of two other comparable sites - the Waddensea (mainly the Netherlands) and Delaware Bay in the USA - and their study periods are relatively short when the birds are passing through on migration, whilst here in Liverpool Bay the birds are present all year (this includes non-breeding birds present between mid-May and mid-July).

In the winter of 2022/23 we logged a total of 564 records of Orange flagged Knot on the Dee Estuary, plus 102 records from other schemes. It's always fascinating to find out where these birds have been ringed, and that's shown in the maps below.
All the Knots we see on the Dee Estuary are the race which winter in north-west Europe, including the UK, and breed in north-east Canada - Calidris canutus islandica. As you can see from the maps they have been ringed at a good variety of locations ranging from Alert, near the North Pole in Canada, Iceland and the far north of Norway, east to the Baltic coast of Germany and as far south as the French Atlantic coast, as well as many sites in the British Isles. The different coloured dots represent different ringing schemes - to read about these refer to the 'Photographic Guide to Colour-marked Red Knot' - download the PDF file by clicking here.
Over the past 20 years or more I (and others) have written many articles for this website about Knots, their movements and migration, and how colour ringing has greatly helped our study of this species. Below is a comprehensive list. Note all articles have been written by myself, Richard Smith, unless specified:

2. WeBS and Waders - May 2007 Newsletter -
3. Colour Ringed Knots - June 2010 Newsletter -
4. North-west Estuaries, Knot and Dunlin - July 2010 Newsletter -
5. Tangled up in Knots by Matt Thomas - September 2012 Newsletter -
6. Knots on the Dee Estuary 2012/13 - October 2013 Newsletter -
7. Tracking Knots by Richard Smith and Peter Knight - Feb 2017 Newsletter -
8. Among Knots - February 2018 Newsletter -
9. 2 Years on: Some new observations from the Altcar Red Knot Colour-Ringing Project by Rose Maciewicz and Peter Knight - November 2019 Newsletter -
10. Liverpool Bay Knots - August 2021 Newsletter -
11. Colour Ring Report: Knots - January 2022 Newsletter -
12. Flying off to Iceland in May to follow migrating Red Knot by Rose Maciewicz and Peter Knight - August 2022 Newsletter -
.

Colour Ring Report

August was a good month for spotting colour rings and we recorded 80 different colour ringed birds from 14 species. Some birds were seen several times (particularly Back-tailed Godwits) so the total number of records will be well over 100. We are always pleased to see any colour ringed bird and it's as pleasing to see the return of a regular, which is like seeing an old friend again, as it is to see a new one with the possibility of receiving an exciting life history. We had a few from both categories in August and below I describe a few highlights, but start with one seen in July.

Great Egret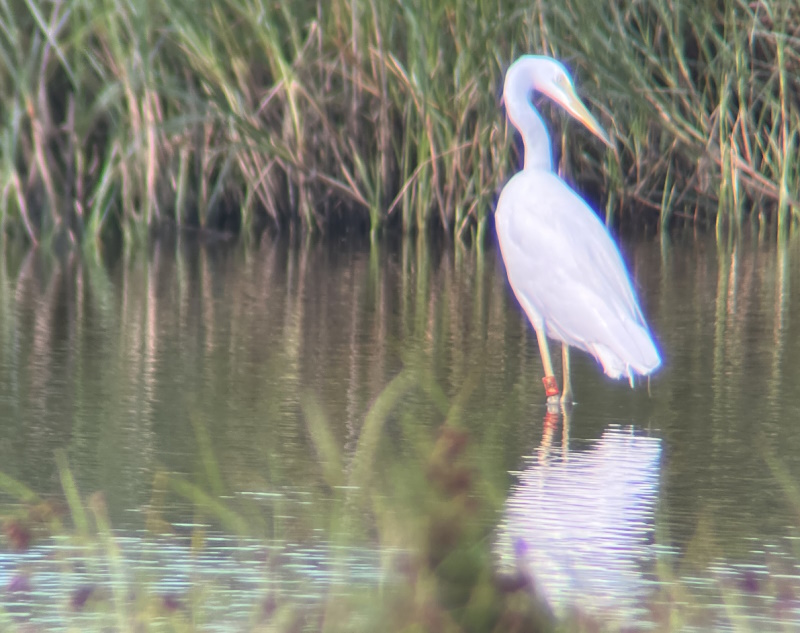 Great Egret ABM at Burton Mere Wetlands, July 9th 2023 © Richard Whitby
Red ring (ABM)
Ringed at Slapwick Heath, Avalon Marshes, Somerset, on April 29th 2022, as a chick.
Reported from Buckton, E Yorks, on 4th July 2022; from RSPB Blacktoft Sands, E Yorks, between 12th & 15th July 2022; from Alkborough Flats, Lincs on 17th July 2022; from Winterton, Lincs on 28th July; and from RSPB Old Moor, S Yorks on 27th October.
Recorded at Burton Mere Wetlands on 9/07/2023.
Our first colour ringed Great Egret. It was one of 14 colour ringed chicks on the Avalon Marshes in 2022. Looking at the reports these young birds dispersed widely with Yorkshire seemingly a favourite destination. ABM's sibling, ABN, chose a different direction and was seen on the Isle of Wight a couple of times that summer, whilst others reached as far north as Dunbar (near Edinburgh).


Cormorants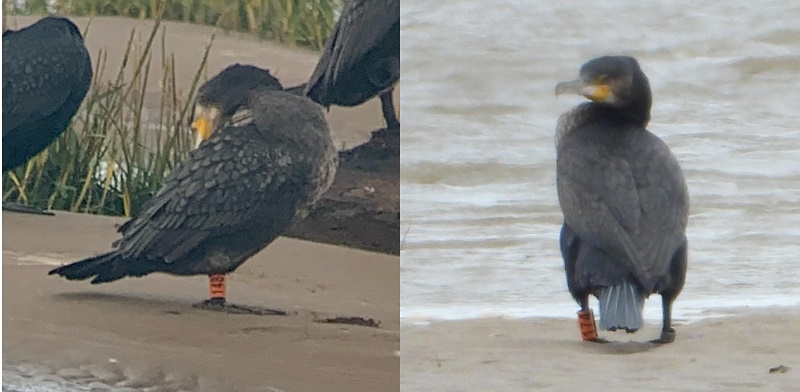 Cormorants Orange 148 and 174 on East Hoyle Bank, August 2023, left Colin Schofield right Richard Smith

The Merseyside Ringing Group has been busy ringing birds at Hale Duck Decoy, last month I reported several of their colour ringed Little Egrets and in August we saw six Cormorants. These were all ringed as chicks this year in May and June.

We can get several hundred Cormorants roosting out on East Hoyle Bank off Hoylake and Meols but usually far too distant to read rings. But on the 2nd and 3rd August the tide was high enough to push them closer to the shore without being too high to flush them all and we managed to get some distant photos of O-148, O-174, O-205, O-236 and O-254, with a sixth at Hoylake on 30th August - O-177. It will be interesting to see how these young birds disperse in the coming months and years.
Avocet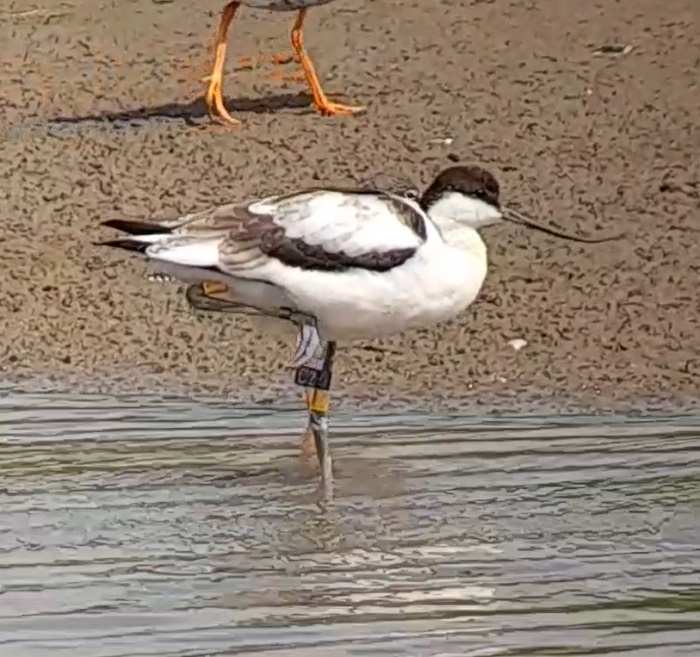 Avocet Blue Flag (C2) at Connah's Quay Reserve, August 17th © Peter Haslem


Blue Flag (C2)/Y-Y
Ringed at Conder Green, Lancs, on 07/07/2023 as a chick.
Recorded at Conder Green after fledgling several times in July, then at Connah's Quay NR from 14/08/23 to 17/08/2023.
This is the first colour-ringed Avocet recorded here since April 2019 when one was at Burton Mere Wetlands.


Redshanks
Considering that the Dee Estuary is the most important site in the country for Redshank we see very few colour ringed ones, but we got lucky this month with one seen three times, plus another three all recorded on August 18th. Two of them were returning birds from last year, also at Heswall, and they were both ringed at Ynyslas, Cardigan Bay. The other two are described below: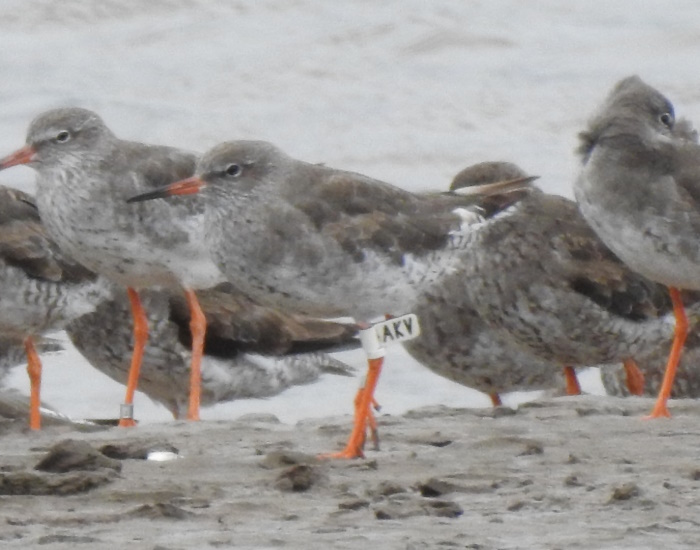 Redshank White flag (AKV) at Heswall, August 18th © Steve Hinde


Redshank White Flag (AKV)
Ringed at Frieston Marsh on the Wash on 22/09/2020.
Recorded at Heswall on 18/08/2023.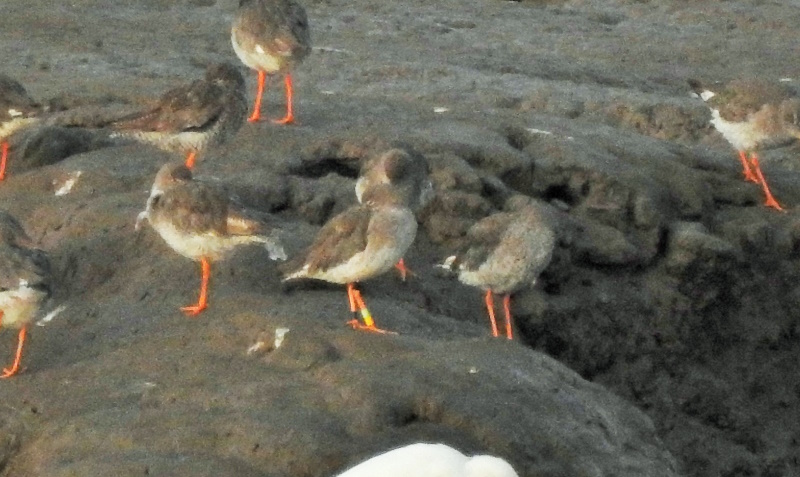 Redshank N-N/LY at Heswall, August 15th © Steve Hinde


Redshank N-N/LY
Ringed at Farlington Marshes, Langstone Harbour, Hampshire, on 01/09/2020.
Recorded at at Langstone Harbour several times until the end of November 2020.
It then moved to Slimbridge (Gloucs) where it stayed all winter, last seen on Feb 22nd 2021.
The next record was a single sighting back at Langstone Harbour in October 2021.
There was just one record in 2022, in September when it was at Sunderland on the Lune Estuary, Lancs.
Recorded on Heswall Shore on 15th, 16th and 25th August 2023.
Some interesting movements!

Black-tailed Godwits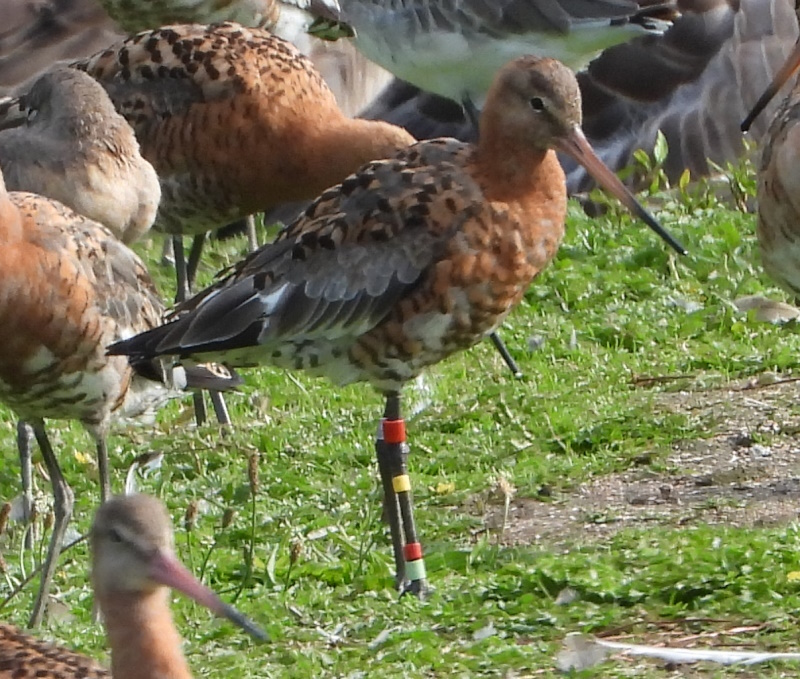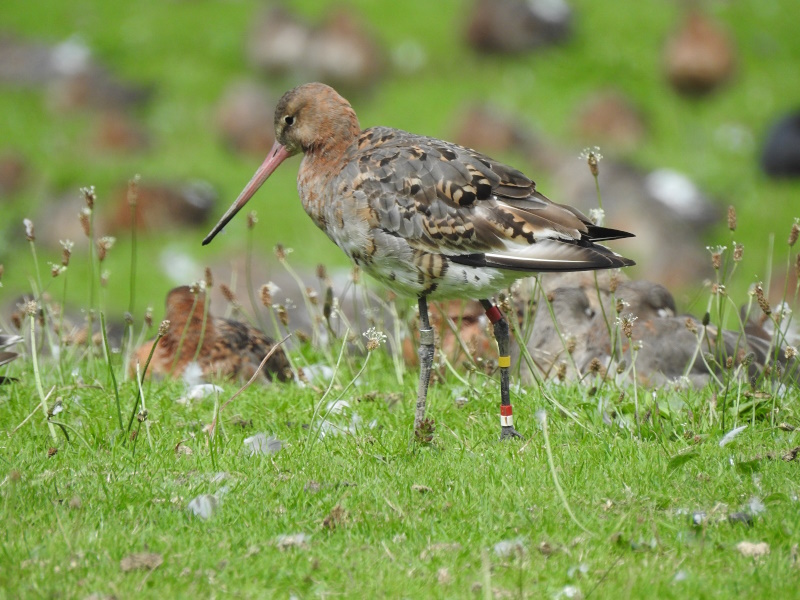 Black-tailed Godwits R/YRL and R/RYW at Caldy, August 2023 © Richard Smith (top) and Steve Hinde (bottom)


There were 43 records of 12 colour ringed Black-tailed Godwits in August.
Five were ringed in Iceland, three in Belfast Lough, one in north-east Scotland, one in Anglesey and two, pictured above, in north-west Spain.
R/YRL
Ringed at Pontevedra, north-west Spain, in December 2019.
This is a regular at Caldy post-breeding and has also been recorded several times at Oakenholt RSPB. It's been seen back at the ringing site in winter a couple of times, and in May 2023 was recorded breeding in south-west Iceland. There are also single records of it at Woolston Eyes and Marshside.
Recorded in late July and throughout August 2023 at Caldy.

R/YRW
Ringed at Pontevedra, north-west Spin, in January 2019.
Recorded at the ringing site up to April 2019 and again in January and October 2020. It flew south early in 2022 when it was spotted on the Portuguese coast in August 2022.
Recorded in late July and early August 2023 at Caldy.

Black-headed Gull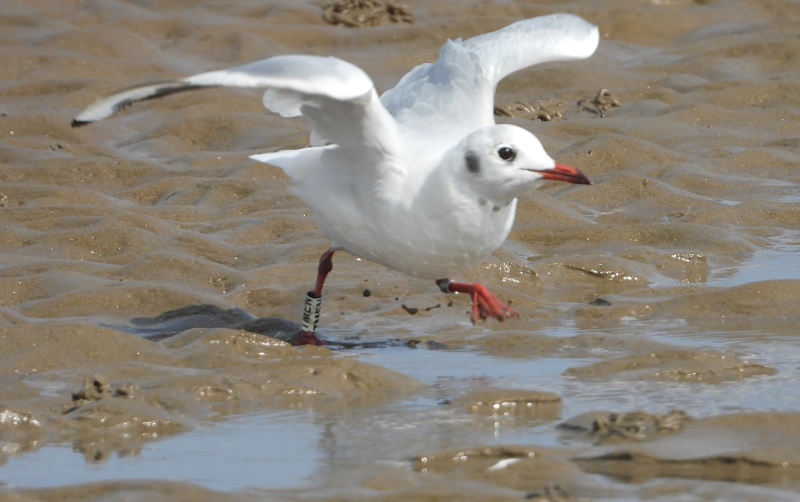 Black-headed Gull TMEN at West Kirby, August 17th © Richard Smith


White Ring (TMEN)
Ringed in central Poland in April 2013, an adult male.
This bird was first recorded on it's favourite spot, the pontoon on West Kirby Marine Lake, in September 2013. It's been recorded at West Kirby, either on that pontoon or on the shore, every year since. The earliest it has been recorded is July 7th and the latest is February 28th - a total of 70 records. Other records have come from Greenfield Dock, Hoylake and Thurstaston, with just one record back in Poland - on March 6th 2022 and thus we suspect it goes back to Poland to breed every year.

This August 17th I was walking back from an unproductive search for colour ringed Sandwich Terns off West Kirby Marine Lake, and feeling a bit fed up due to the lack of birds. There was a single Black-headed Gull close to the lake wall and only about 50 foot from me, so I thought I'd better have a quick look at it just in case. I was amazed to find that it was our old friend TMEN having survived both the ravages of bird flu and yet another journey to Poland and back. I was doubly amazed as almost exactly the same thing happened last year with the nearest gull to me being TMEN and also after an unproductive trip to the shore!

Sandwich Terns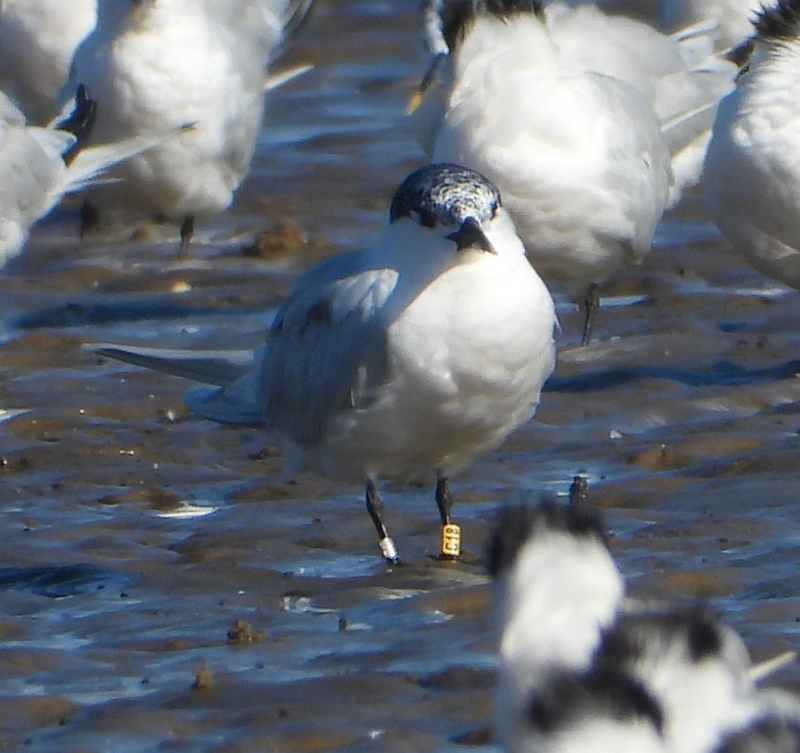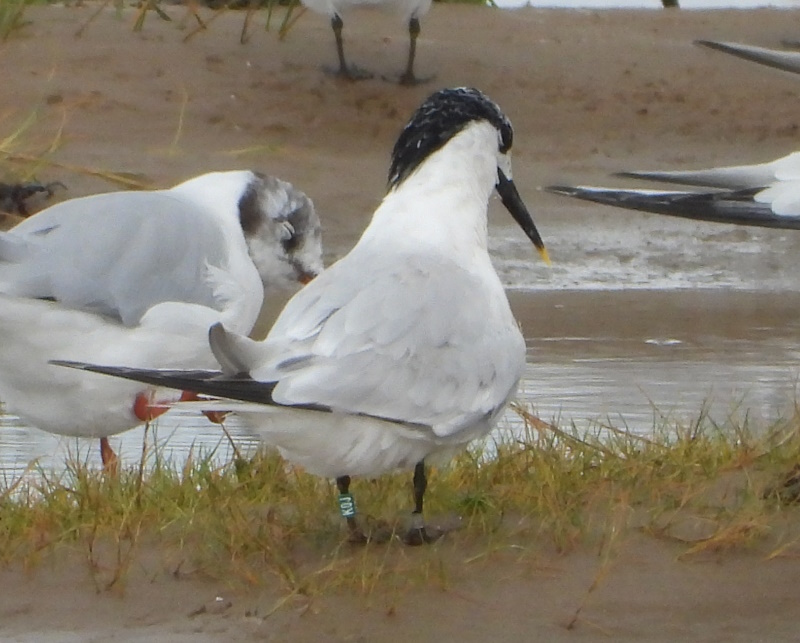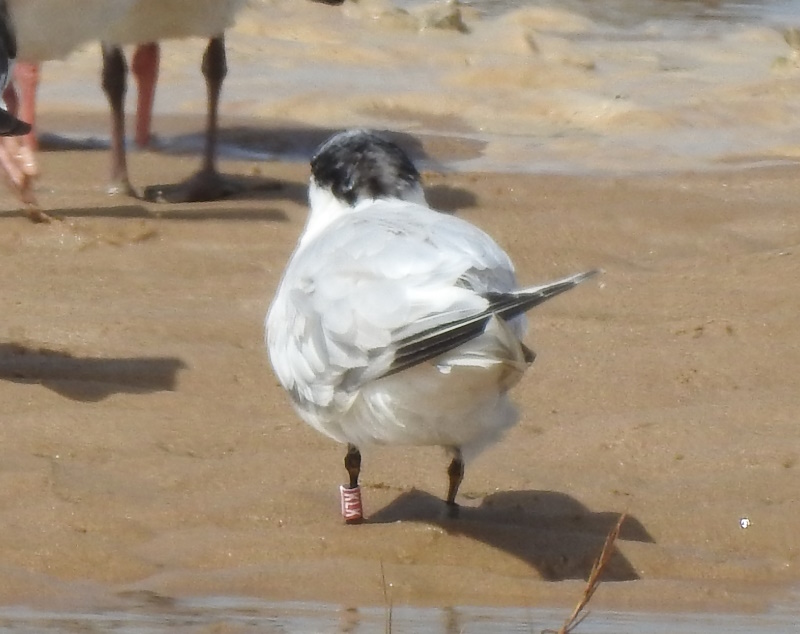 Three of the many Colour ringed Sandwich Terns seen in August
Top and middle by Richard Smith, bottom by Steve Hinde


Despite my poor experience on August 17th, described above, it has actually been a very good summer for colour ringed Sandwich Terns, including some very interesting life histories. So much so that I feel they deserve their own article which I will write either for next month or the month after - by which time we will hopefully have seen a few more.


Rock Pipit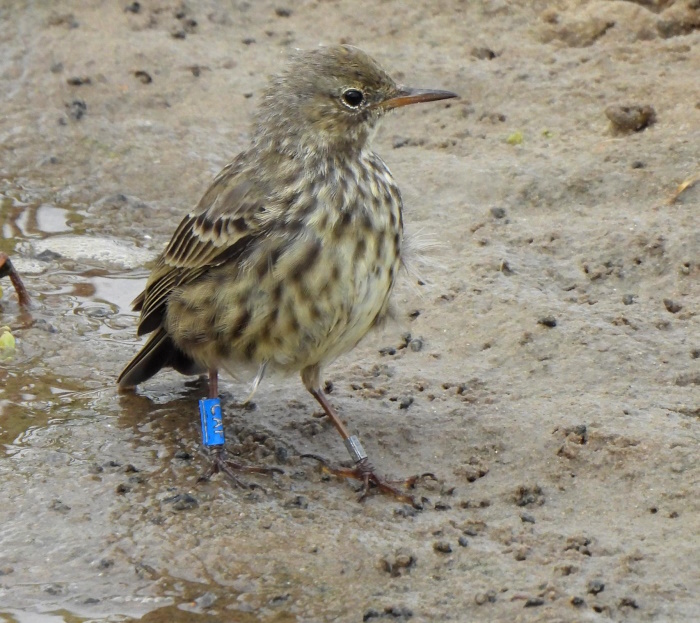 Rock Pipit Blue CAF on Hoylake Shore, August 13th © Tony Ramsden


Blue CAF
Ringed on Hilbre on 04/08/2023, recently fledged.
Recorded:
Hoylake Shore (near Lifeboat Station) on 13/08/2023.
Hilbre on 15/08/2023.
Meols on 25/08/2023.
See August 2023 Newsletter for details about this project.


Colour Rings were recorded by Richard Smith, Stephen Hinde, Alan Hitchmough, Alex Jones, Tony Ormond, Peter Haslem, Colin Schofield, Richard Whitby, David Leeming, Anthony Ramsden, Steve Williams, Les Hall and Roy Lowry.

Richard Smith

August Bird News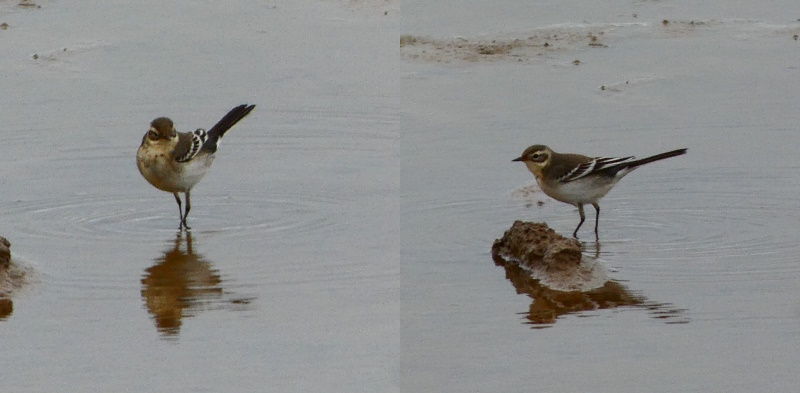 Citrine Wagtail at Meols, August 23rd © Graham Connolly

The stretch of North Wirral shore between Kings Gap (Hoylake) and Meols certainly got more than it's fair share of good birds in August, the star bird being Cheshire and Wirral's second record of a Citrine Wagtail - seen off Meols on the 23rd. The first one was at Red Rocks on May 5th 2014.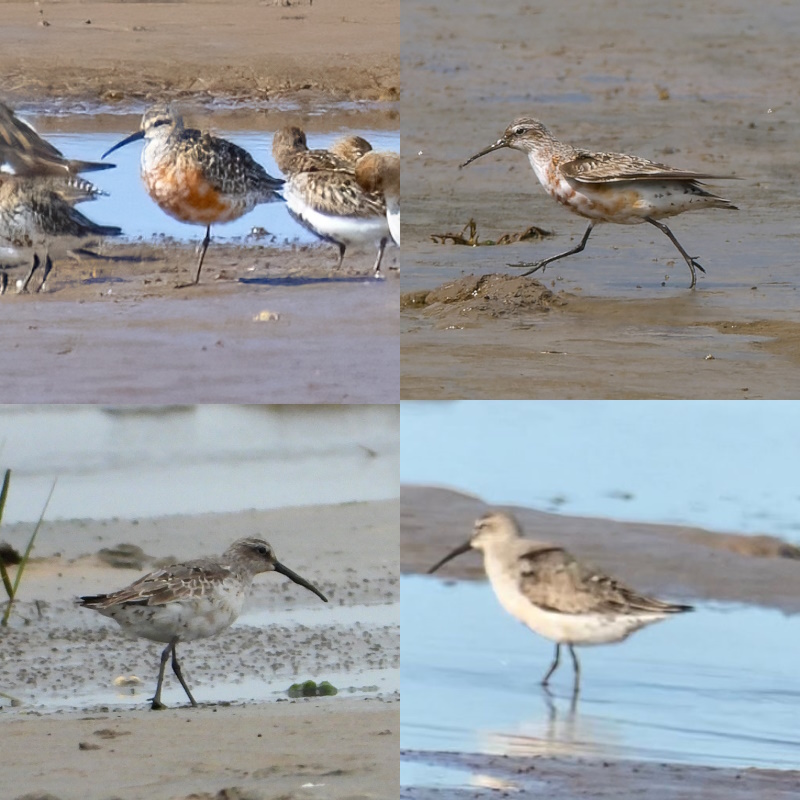 An unexpected passage of adult Curlew Sandpipers included these four birds in different stages of moult off Meols
top left by Frank Burns August 22nd : top right by Mark Woodhead August 21st
bottom left by Richard Smith August 29th : bottom right by Sean O'Hara August 24th

Adult Curlew Sandpipers are rare here and we normally expect to see just one or two in the summer before the juveniles arrive in late August and September. But this summer has been exceptional. It started with four briefly seen at Burton Mere Wetlands on the 4th, a good number but the date was typical for adults on post breeding passage. Then one in summer plumage at Meols on the 17th was a nice surprise, more surprising was that numbers had increased to three by the 21st with between one and three then recorded daily right up to the 29th. Records of three aren't unknown and there were three at Hoylake on August 13th 2004 and at Hilbre on August 17th 2005, but the usual pattern is for them to be seen briefly before moving on. This year there was a total of 20 records (total of daily counts). The birds were in different stages of moult which helped when trying to estimate the total number of individuals which were present over the nine days they were here, and we reckoned at least six - four of which are shown above. We usually expect the first juveniles to arrive in the last week of August and two were seen briefly at Meols on the 28th, with at least one more on the 31st.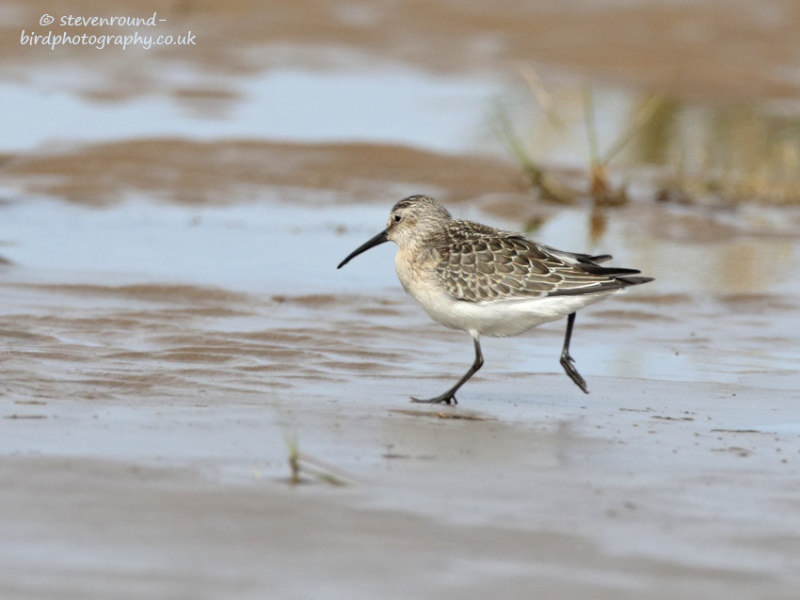 Juvenile Curlew Sandpiper at Hoylake, August 31st © Steve Round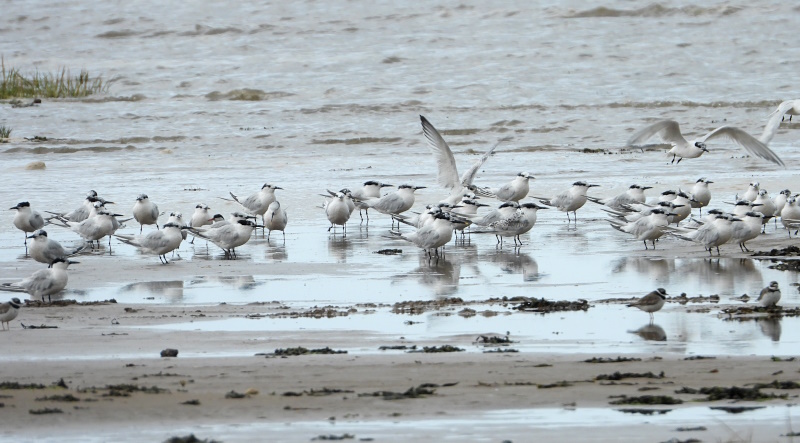 Sandwich Terns at Hoylake, August 2nd © Richard Smith


There were good numbers of Sandwich Terns throughout August, including 480 at Hoylake on the 2nd and 550 at West Kirby on the 29th, and there seemed to be a good number of young birds. It was good to see a small passage of Black Terns including nine past Hilbre on the 19th and six off Hoylake the following day, with five there on the 21st. Gronant had a Roseate Tern on the beach on the 10th and a Black Tern on the 28th. I've not yet seen any official counts from the Little Tern colony at Gronant but I'm expecting them to have had a good breeding season. 120 Little Terns, including 72 juveniles, were at Point of Ayr on the 20th, with similar numbers on the sand bank off Hilbre a few days earlier.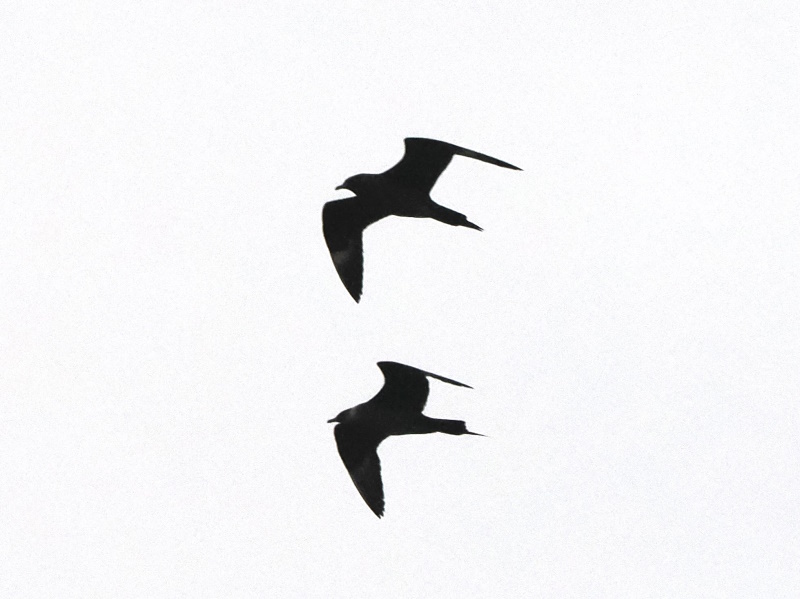 Arctic Skuas past Hilbre, August 28th © Steve Williams (Hilbre Bird Observatory)

Some fresh westerlies in the last week of August resulted in some good sea-watching, starting with a juv Long-tailed Skua and six Arctic Skuas past Hilbre on the 27th. The 29th brought in another juvenile Long-tailed Skua and four Arctic Skuas past Hoylake. The next day a Leach's Petrel flew past Hilbre with five Arctic Skuas past Gronant. Plenty of Gannets were flying past, as well.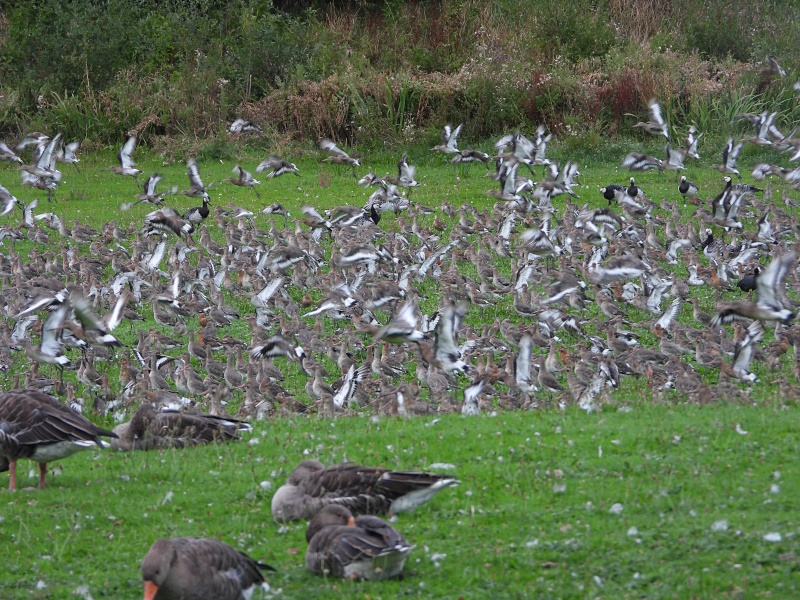 Black-tailed Godwits flying off to the estuary to feed, Caldy, August 22nd © Richard Smith

One of the most important sites in the UK for post breeding Black-tailed Godwits undergoing moult is a small field just a five minute walk from my house on the edge of Caldy. On the 20th I counted 6,350 there, a site record. Just to put that into perspective - in the 2021/22 Wetland Bird Survey Report only one count beat that number, and that was for the whole of The Wash with 6,930 in September 2021.
This video of the Black-tailed Godwits will give you an idea of just what an impressive sight this is - click here.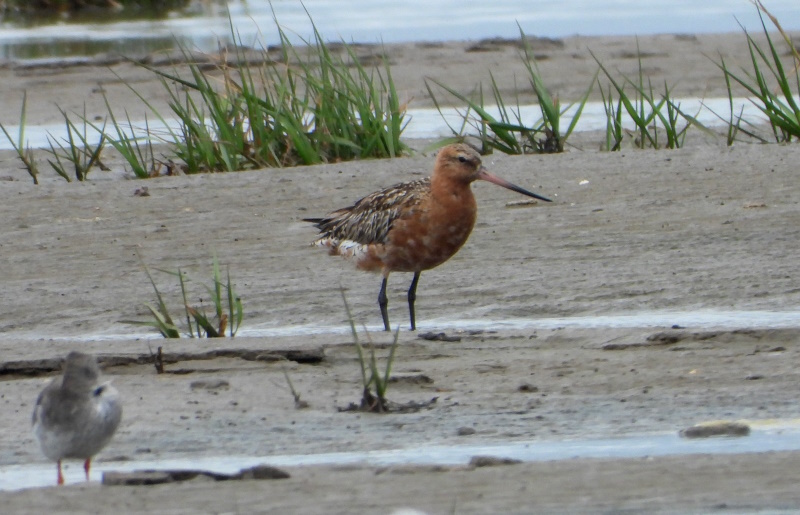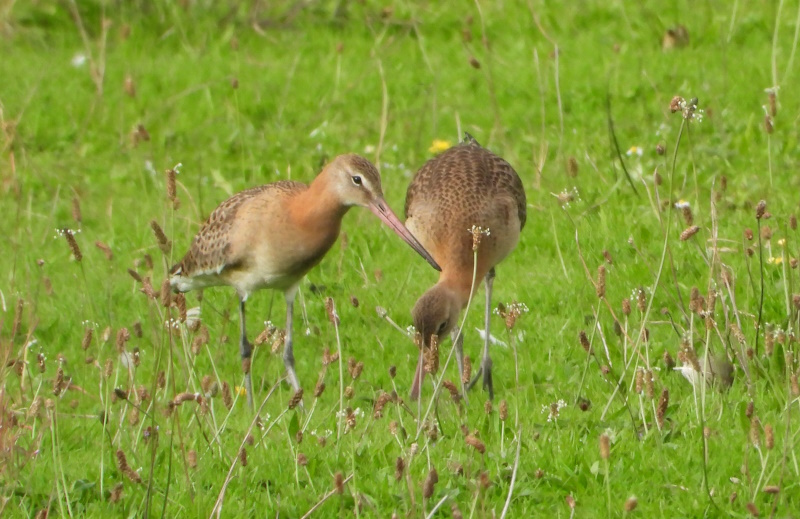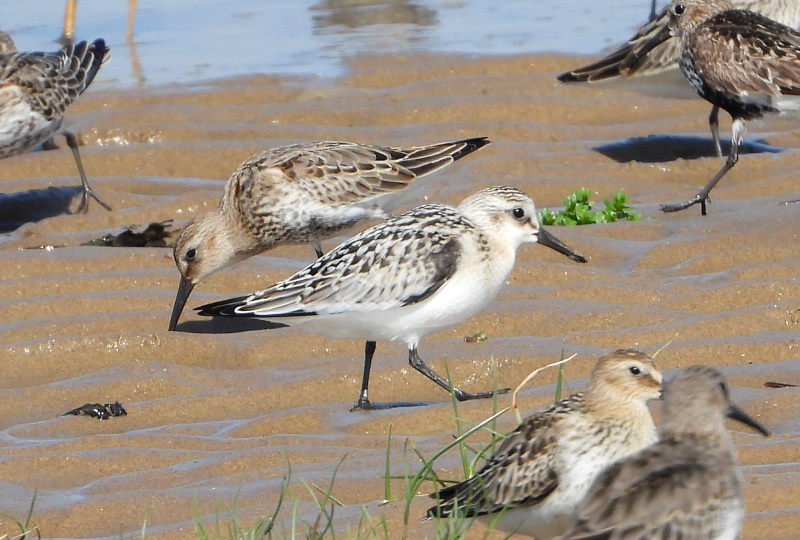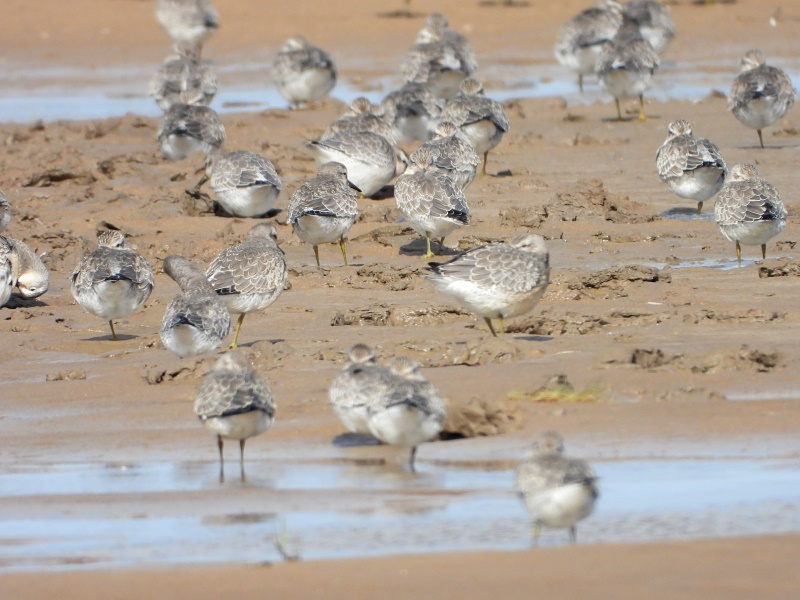 Top to bottom: Summer plumage Knot, summer plumage Bar-tailed Godwit, juvenile Black-tailed Godwits,
juvenile Sanderling and juvenile Knots - all photographed by Richard Smith, August 2023


One of the joys of watching the waders in August is seeing all the different plumages. At the start of the month many adults are still in full breeding plumage, such as the Knot and Bar-tailed Godwit above. Then, just as the adults start to moult, looking rather scruffy, the juveniles arrive in their brand new pristine plumage. It's always good to see juveniles knowing that they've had a successful breeding season, but we were astonished over the high tides at Hoylake on the last two days of the month to see two thousand juvenile knots when normally a count of 100 at this time of year would be considered a good number. There were plenty of juvenile Dunlins and Sanderlings as well, great to see.

Many thanks go to Steve Williams, Steve Hinde, Alan Hitchmough, Richard Speechley, Allan Conlin, Richard Whitby, Bruce Atherton, David Leeming, Matt Thomas, Dave Edwards, Chris Wilding, David Thompson, Les Hall, Sean O'Hara, Tony Ormond, Jane Turner, Chris Maltby, Jeremy Bradshaw, Derek Bates, Ken Mullins, Charles Farnell, Sheila Ryde, Roy Lowry, Peter Haslem, Carole Killikelly, Anthony Ramsden, Frank Burns, Mark Woodhead, Graham Connolly, Colin Schofield, David Bradshaw, Paul Vautrinot, Bill Wonderley, Roy Wilson, Katharine Fogg, Francesco Parisi, Andrew Ingham, David Small,Dave Harrington, Neil Newman, Paul Robinson, Geoff Robinson, Richard Cotterill, Mark Gibson, Tom Giles, the Dee Estuary Wardens and the Hilbre Bird Observatory for their sightings during August. All sightings are gratefully received.

What to expect in September
September is a special month looked forward to by all local birders. Given the right conditions we can get some fabulous sea-watching with our area the best place in Europe to see Leach's Petrels - but what we need are north-westerly gales, ideally a prolonged gale mid-month which could bring in over a hundred a day to our shores. 2017 was the last time we had a good passage of these birds, and that year there were also exceptional numbers of Grey Phalaropes (see Four Windy Days in September). Gales will also bring in all four species of skuas, Sabine's Gulls and the more usual Gannets, Kittiwakes etc. Going back further, on September 17th 2010 524 Leach's Petrel were counted from Hilbre, and there were three counts of over 300 from North Wirral over the previous few days. Happy memories!
Another species associated with September is Curlew Sandpiper, we've already had an unusually high number of adults coming through in August but they will likely to be all juveniles this month. They are sometimes very localised, in 2022 nearly all were found at Burton Mere Wetlands where there was a record number for that site (39), yet the previous year, 2021, not a single one was reported from BMW and most were at Heswall, West Kirby and Hoylake.
Pink-footed Geese will start to return with small flocks arriving from about the second week onwards - very much a harbinger of the coming winter! There will also be a notable increase in 'white herons' with good numbers of Spoonbills, Cattle Egrets and Great Egrets on the marshes. September is often good for rarities, for example 2021 brought in a Squacco Heron and Wilson's Phalarope.

Top of Page
Forthcoming Events
September Highest Spring Tides (Liverpool)
Also see Tides page.
1st September, 12.53hrs (BST), 9.8m.
2nd September, 13.35hrs (BST), 9.8m.
29th September, 11.49hrs (BST), 9.7m.
30th September, 12.29hrs (BST), 9.9m.
Forthcoming Events
Also see events at
https://events.rspb.org.uk/deeestuary