August 2023 Newsletter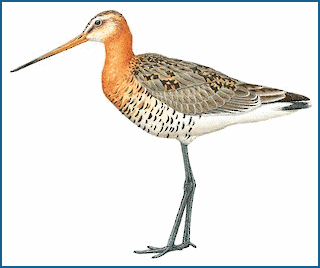 Wetland Bird Survey Annual Report 2021/22
Summary and Highlights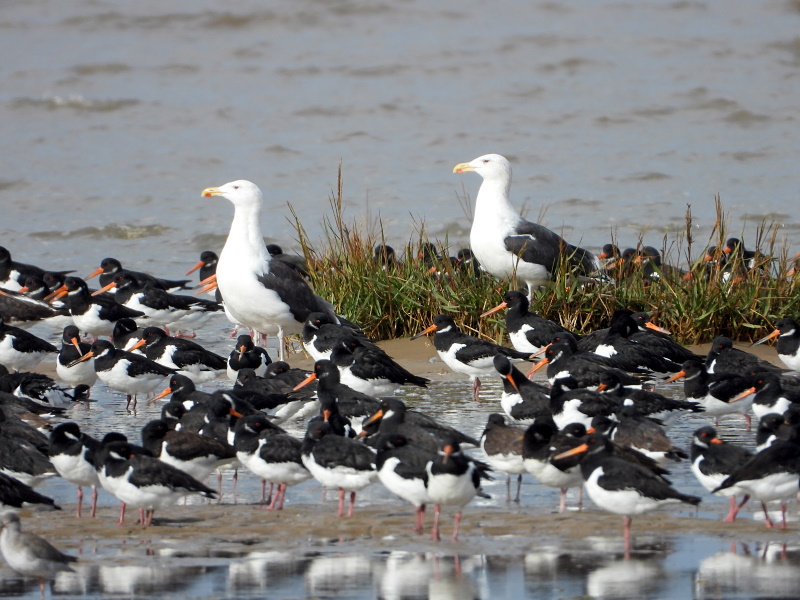 Oystercatchers and Great Black-backed Gulls at high tide on Hoylake Shore © Richard Smith

Both the local Dee Estuary and National WeBS Reports for 2021/22 have recently been published and here I delve into the data in order to pull out some interesting facts and figures relevant to the Dee Estuary.

There are two aspects to the national report, there is a 'Summary Report' which contains a lot of interesting articles and highlights, some of which I will mention below. The second is the actual numbers and trends where you can list the data for species and sites - this has been updated for 2021/22 and the counts for most species go all the way back to 1970. You can access all this and more from the BTO WeBS page:
https://www.bto.org/our-science/projects/wetland-bird-survey/publications/webs-annual-report

Mega sites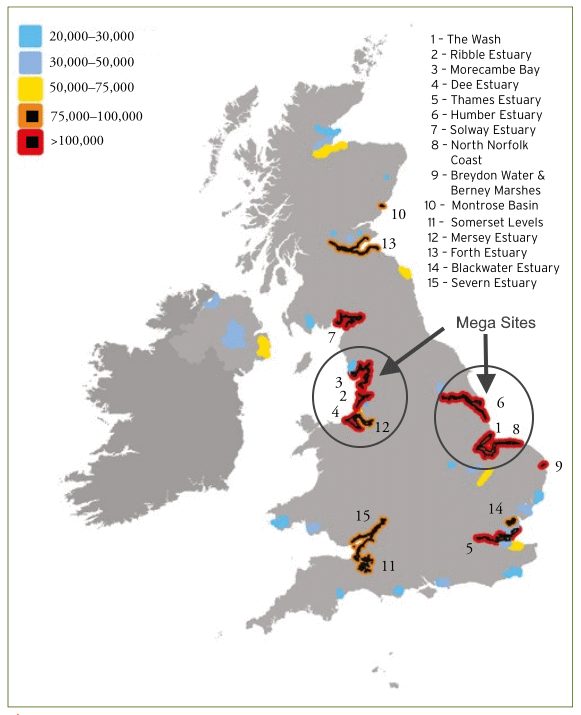 On page 14 of the Summary Report there is an article titled 'Largest waterbird aggregations' which includes a map of the most important sites in the UK. This is shown above with my annotation of 'mega sites'. The Wash is rightly recognised as the most important site in the country but if you look at the map there are two mega sites both of equal importance - and each holding a peak of around 700,000 birds according to the Report. The Dee Estuary is, of course, a key site on the west coast and part of the Mega Site on the Liverpool Bay coast, there is an almost unbroken shoreline from here to the north shore of Morecambe Bay and the Duddon Estuary. That number of 700,000 is the sum of the peak counts for all species - the actual number of birds present at any one time will usually be quite a lot lower, but how many individual birds actually pass through our estuaries in any one year? That's impossible to say but with a high turnover during the months of migration it is going to be a lot higher than that 'peak' count of 700,000.

But to put those two mega sites in the UK into perspective, according to the Natural World Heritage website
(http://world-heritage-datasheets.unep-wcmc.org/datasheet/output/site/the-wadden-sea) the Wadden Sea, over in the Netherlands, can hold up to six million birds at any one time. Wow!
Wildfowl
On page 22 of the Summary Report there is an article called 'Whooper Swans on the Rise'. The first sentence I found particularly interesting "Whooper Swans undertake what is probably the longest sea crossing of any swan species as they travel to winter in the UK and Ireland from their Icelandic breeding grounds". Numbers have risen rapidly nationally with a 244% increase in the last 25 years. On the Dee Estuary we saw a sharp increase from just five in 2002 to 86 in February 2011. Since then numbers have slowly decreased but 55, in March 2022, was the third highest count here. This is in stark contrast to Bewick's Swans which are now a rare bird on the Dee Estuary with just three counted on Shotwick Fields in January 2022. In 2001 we had 118 here, this trend is similar to the national picture with birds tending to spend the winter further east and also an overall fall in numbers internationally.
Our area is incredibly important for Shelducks with, in most years, the Dee and Mersey Estuaries being the top two sites in the country. 2021/22 was different as the Humber Estuary had large numbers moulting in July 2021 with a count of 13,012, about double their previous record. This compares with 13,704 moulting on the Mersey Estuary, also in July, and 8,708 on the Dee Estuary in October 2021. It was good to see the return of large numbers on the Mersey and this was the highest count there since July 2006. Incidentally, feathers collected for Ross Green's PhD study (Ref 3) has recently confirmed (but long suspected) that the Dee Estuary is also a moulting site for Shelduck, and in 2021 there were 5,088 present in July - thus making a massive total of 18,793 moulting on our two local estuaries.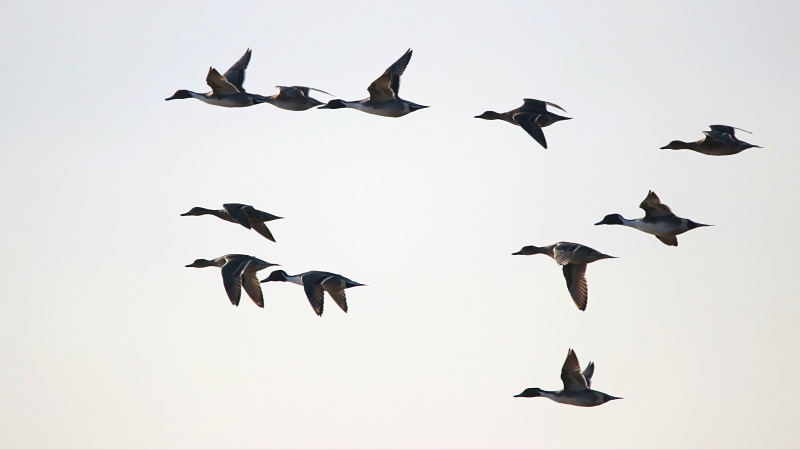 Pintail fly past at Heswall © Richard Jones


2021/22 was also good for other species of duck. The Dee Estuary remains the most important site in the country for Pintail with a good count of 5,955 in November 2021, above the five year mean of 5,442. There has been a recent increase on the Dee after a low count of 2,729 in 2013/14. Although there was a slight fall in Wigeon numbers compared with 2020/21 there was still a good count of 7,199. There has been a sharp increase in the five year average for Wigeon in recent years, from 2,299 in 2011/12 to the current value of 7,614. It's a similar story with Teal with an increase from 2,299 in 2007 to the latest count of 7,028 in 2021/22. The Dee Estuary had the third highest Teal count in the country in 2021/22, behind the Somerset Levels, with 7,920, and the Humber Estuary with 9,994.
Waders
In the Summary Report there are articles about Black-tailed Godwits and Redshanks, and the Dee Estuary is very important for both these species. The Dee Estuary had the highest count in the country for Black-tailed Godwits with 7,780 in September 2021, largely thanks to a massive 5,530 moulting in the Caldy Wildfowl Collection (my count!). Nationally it is a story of a very sharp increase since the 1980s, with some signs of a plateauing out in the last six years or so.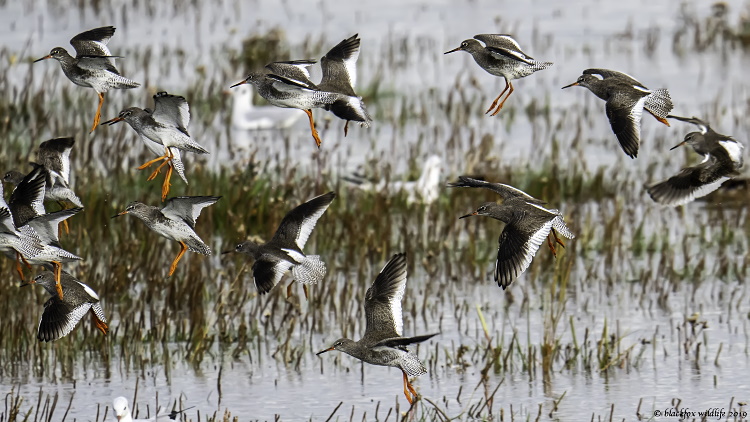 Redshanks on Flint Marsh on a big tide © Jeff Cohen


The Dee Estuary is the most important site in the country for Redshank and there was a peak 10,302 in September 2021, close to the five year average for most of this century.
It's good to see large numbers Oystercatchers back on the estuary with a peak count of 32,051 in September 2021, with high numbers through to January when there was a count of 30,362. At the end of the last century numbers were less than half that due to rampant over-cockling - the 2008 Dee Estuary Cockling Order has made a huge difference and something all estuaries should incorporate in their management plan. The Dee Estuary is the second most important site for Oystercatchers, behind Morecambe Bay.


So overall a good year for the Dee Estuary. There is much more of interest in the Summary Report and data which I haven't mentioned but I'll let you find that yourselves. This includes an article about Knots (page 30), I'll be referring to this in an article I'm writing about this species which I hope will be ready for next month's newsletter.

References.
1. Graham E. Austin, Neil A. Calbrade, Gillian A. Birtles, Kirsi Peck, Simon R. Wotton, Jessica M. Shaw, Dawn E. Balmer and Teresa M. Frost. 2023. Waterbirds in the UK 2021/22: The Wetland Bird Survey and Goose & Swan Monitoring Programme. BTO, RSPB, JNCC and NatureScot. British Trust for Ornithology, Thetford.
2. Neil Friswell and Colin Wells, Dee Estuary and North Wirral Foreshore WeBS Annual Report, 2021/2022.
3. Ros Green, Feather Findings, BTO News 347, Summer 2023. Find out more about Ros Green's PhD research on Shelducks here: shelducks.co.uk.

Richard Smith


Colour Ring Report


There have been plenty of colour ringed birds to record over the past few weeks, but we start off with what sounds like a fascinating new project.

Rock Pipit Colour Ringing Project - Hilbre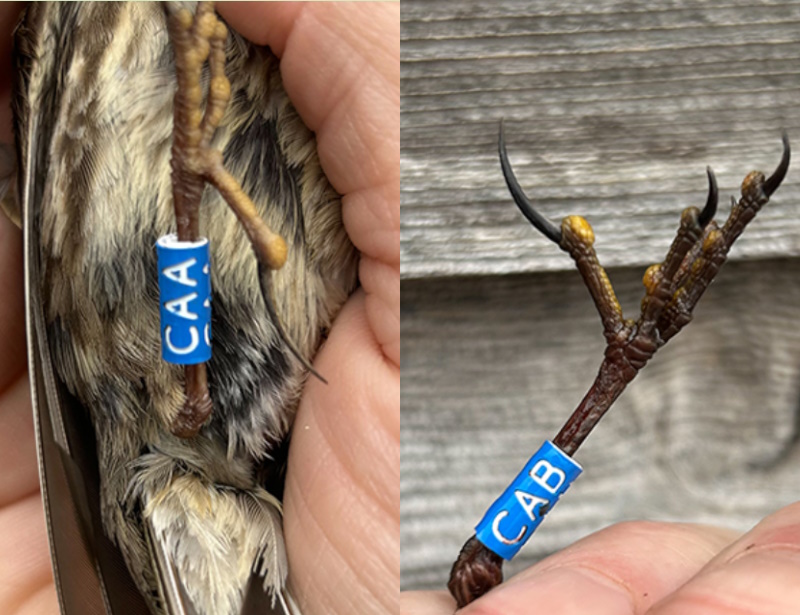 Rock Pipits Blue (CAA) and Blue (CAB) - Hilbre Bird Observatory


Rock Pipits are fairly common on Hilbre in winter and over the last few years we've had a small breeding population Many of these birds have been ringed but the problem is they have to get recaught by a ringer to get any subsequent data on survival or site fidelity. To make birds more identifiable in the field we've registered and got permission to start a project fitting individually lettered darvic rings to the right leg. Hopefully these will be more easily read in the field and provide more data to help us understand the population dynamics of this species on the island.

The small breeding population is supplemented by passage birds from Scandinavia during the spring and autumn. We have previously controlled a Norwegian darvic marked Rock Pipit. We have long suspected that some of our passage birds are of the Scandinavian race 'littoralis' and this control bears this out.
Scandinavian Rock Pipits are a feature of the Dee estuary during the winter but we don't know if some of these birds are using Hilbre as a staging post or whether it is a separate wintering population with no interchange. Hopefully we can answer these questions and a a few more.

The aims of the project are to:

Study adult survival rates and site fidelity of the resident population.
Monitor the breeding population due to increased visitor footfall to the island.
Dispersal of fledged young of the resident population.
Find out if our population shows site fidelity.
Determine origin of spring and autumn migrants and what proportion of these over winter on Hilbre and what proportion use the island as a staging post.
Whether there is any interchange between birds that winter on the mainland with those on Hilbre.
At the time of writing two birds have already been colour ringed and and one (CAB) has already been re-sighted in the field on Hilbre with the ring read at close ranges using binoculars.

Please report all sightings to secretary@hilbrebirdobs.org.uk.


Phil Woollen (Hilbre Bird Observatory) - https://wirralbirders.blogspot.com/

Little Egrets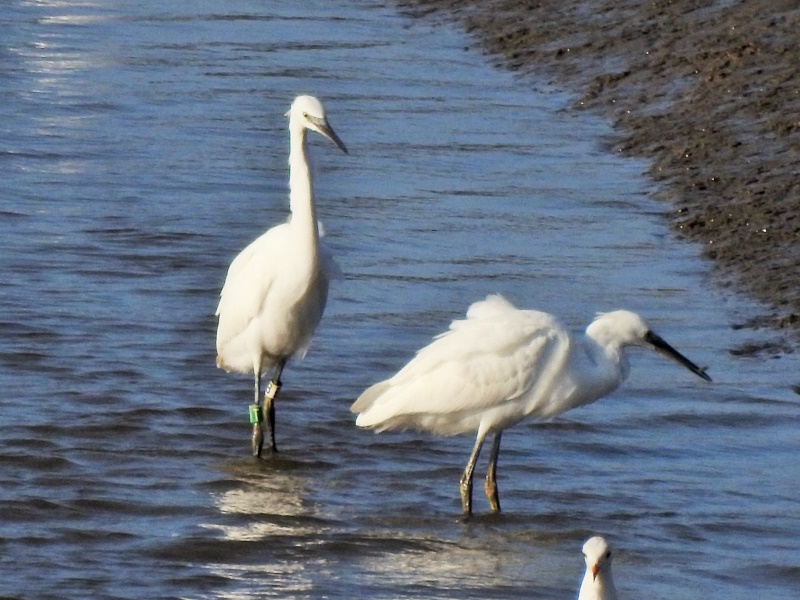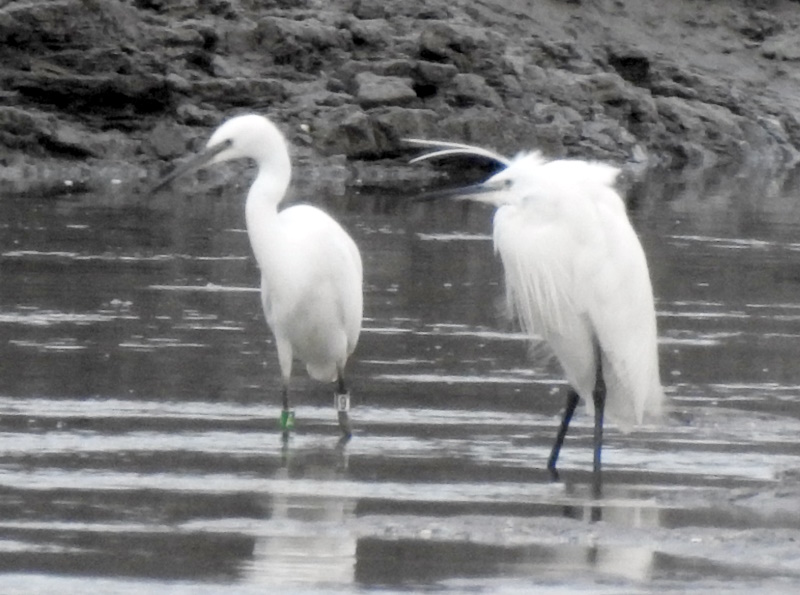 Little Egrets white B/green T and white 9/green A at Heswall in July © Steve Hinde

The Merseyside Ringing Group have been busy at Hale Duck Decoy colour ringing a total of 60 Little Egret chicks in late May and early June. So far we've seen five of them at Heswall including the two photographed above. One of the chicks they ringed in late May was recorded in the Netherlands on July 23rd, a good journey for such a young bird.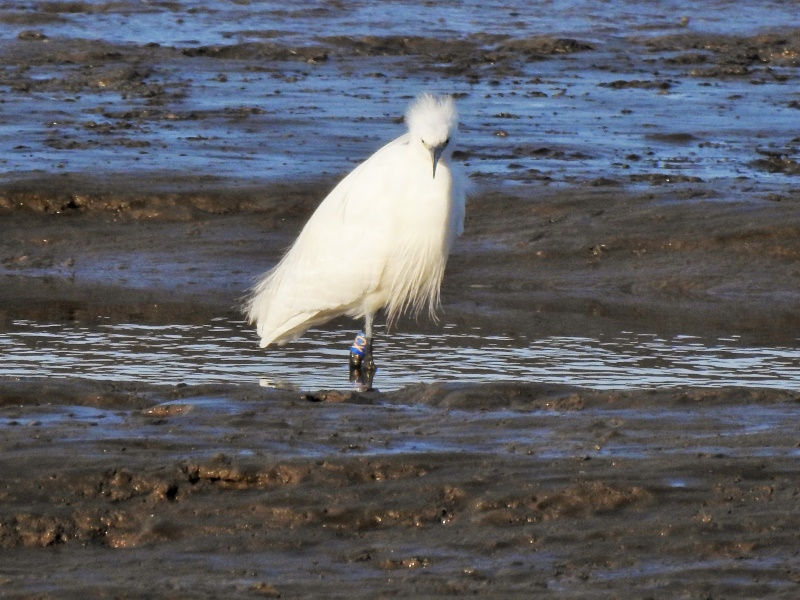 Little Egret Blue (CX) at Heswall on July 26th © Steve Hinde


Blue (CX)
Ringed at Newark-on-Trent, Notts, in May 2017.
Recorded at Rutland Water in August 2017, and then:
First record at Heswall was in September 2019, and it's been seen here every year since and always from July to mid-September, including 26/07/2023.

Apart from the record at Rutland Water the year it was ringed it has never been seen away from Heswall. It is likely it breeds nearby then moves elsewhere for the winter.
Black-tailed Godwits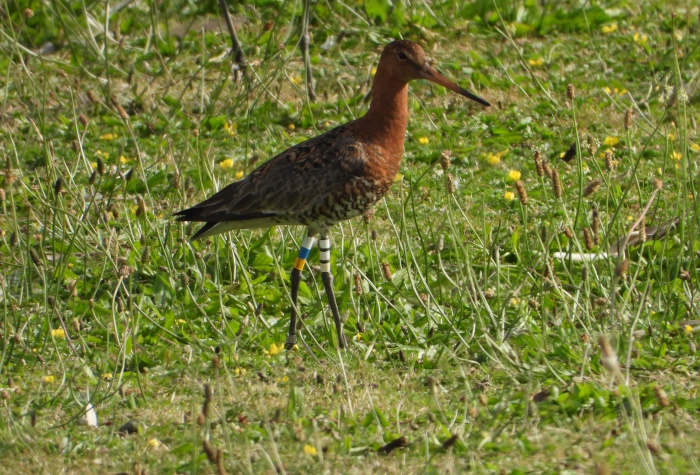 Black-tailed Godwit WBY-W= ringed in Cork Harbour, at Caldy Wildfowl Collection in July 2023 © Richard Smith

WBY-W=
Ringed at Lough Beg, Cork Harbour, on 12/09/2021.
Recorded at Caldy Wildfowl Collection on 06/07/2023, no other records.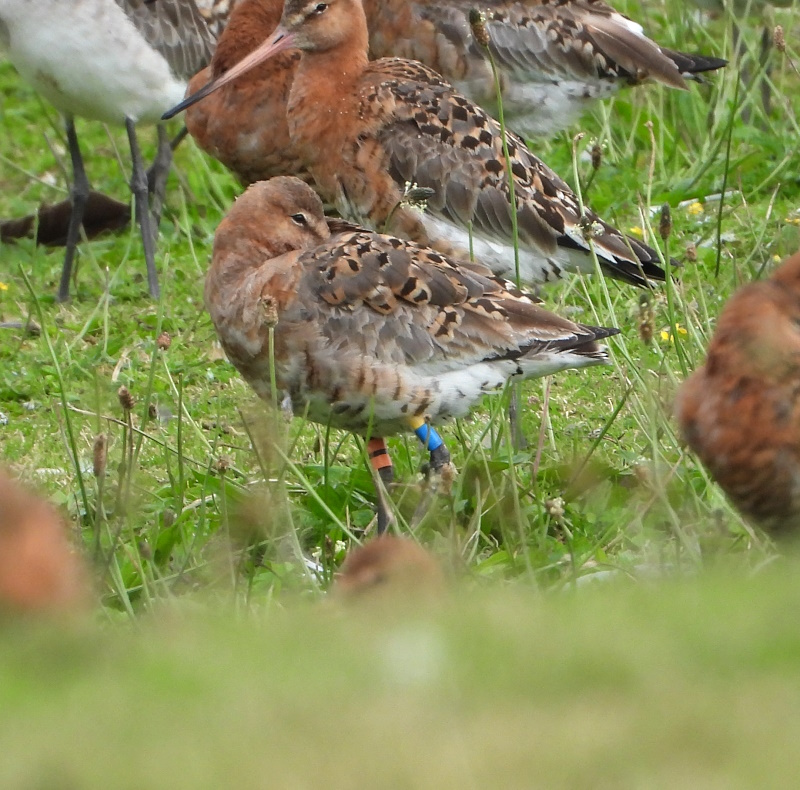 YB-O= at Caldy Wildfowl Collection in July 2023 © Richard Smith


YB-O=
Ringed at Belfast Harbour Reserve RSPB on 21/04/2021.
Recorded in Belfast Lough in September 2021.
It was at Caldy Wildfowl Collection on several dates in the second half of July 2023.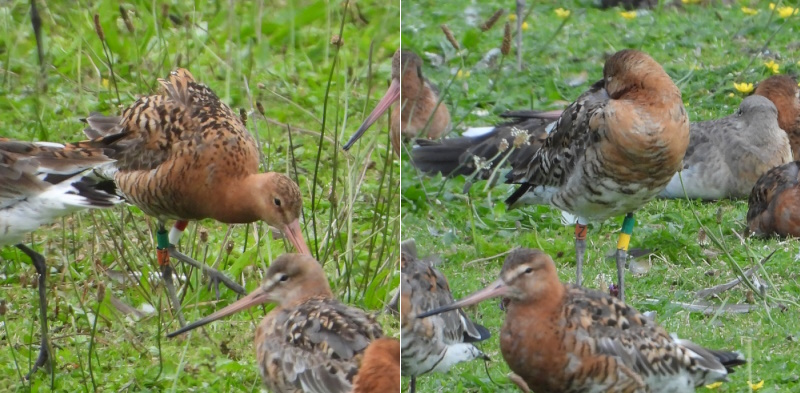 RW-GZ and GY-WZ at Caldy Wildfowl Collection in July 2023 © Richard Smith


RW-GZ and GY-WZ were both ringed as breeding adults in the south of Iceland in 2023.
Both of these birds were recorded on several dates at Caldy Wildfowl collection in the second half of July 2023.


Mediterranean Gull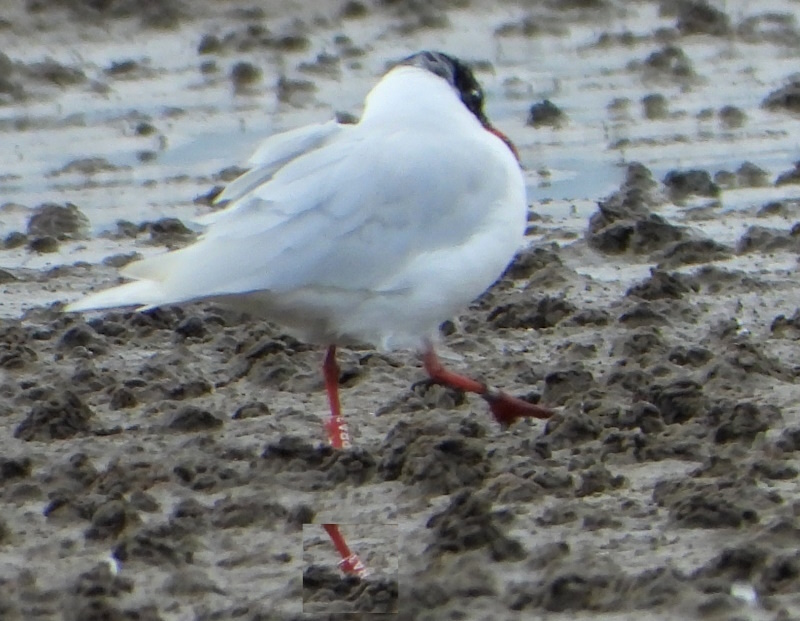 Mediterranean Gull Red - PRA3 on Thurstaston Shore, July 2023 © Richard Smith

Red - PRA3.
Ringed in SW Poland on 05/06/2017, as a chick.
Recorded:
SW Poland on 27/04/2019.
Grimley Camp Lane Pits, NW of Worcester, on 28/07/2019.
Hoylake on 01/08/2019.
Mimizan (SW of Bordeaux) on the Atlantic coast of France on 21/11/2019.
Thurstaston Shore on 28/07/2023.
I was one of three people to see this Polish ringed Mediterranean Gull at Hoylake on Aug 1st 2019 so it was a nice surprise to catch up with it again at Thurstaston in July.


Black-headed Gull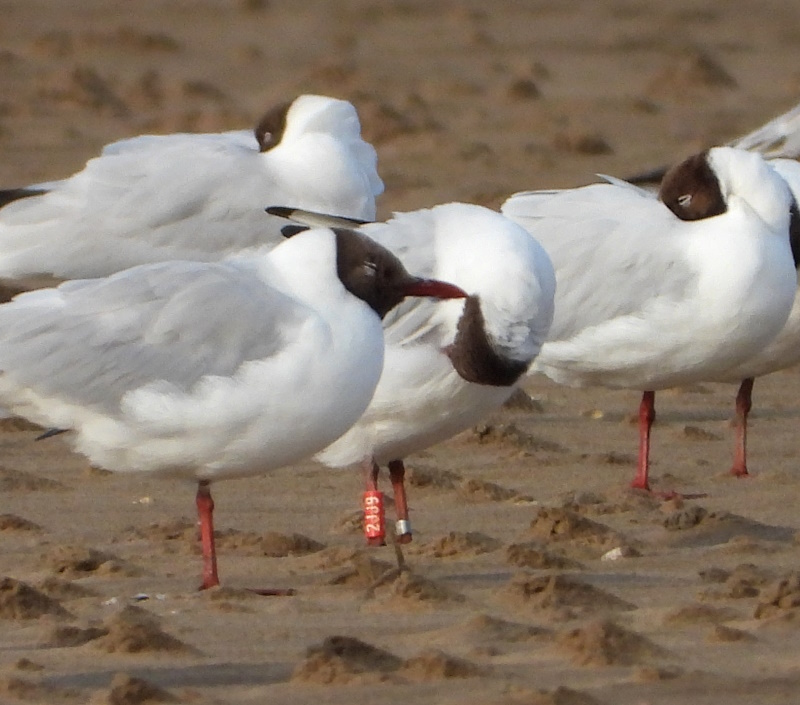 Black-headed Gull Red - 2JJ9 at West Kirby, July 2023 © Richard Smith


Red - 2JJ9
Ringed at Blackness Castle on the south shore of the inner Firth of Forth on 24/11/2021, as a 2nd year bird.
Recorded:
Queen Anne School, Dunfermline, on 10/12/2021.
Kirkcaldy promenade, Fife, on 26/01/2022.
West Kirby shore on 29/06/2023.
Sandwich Terns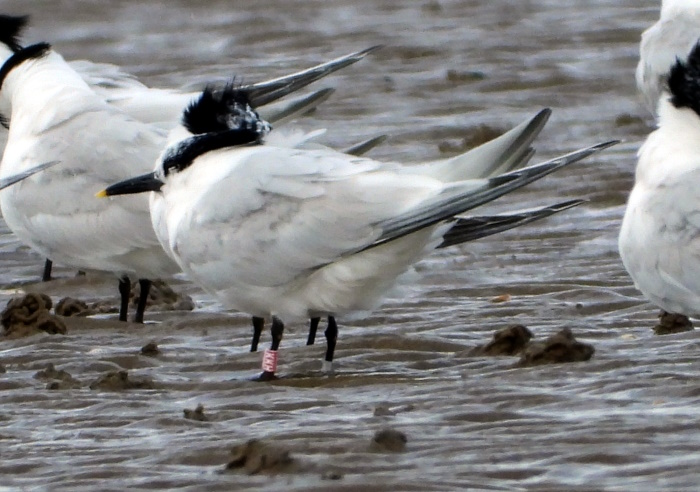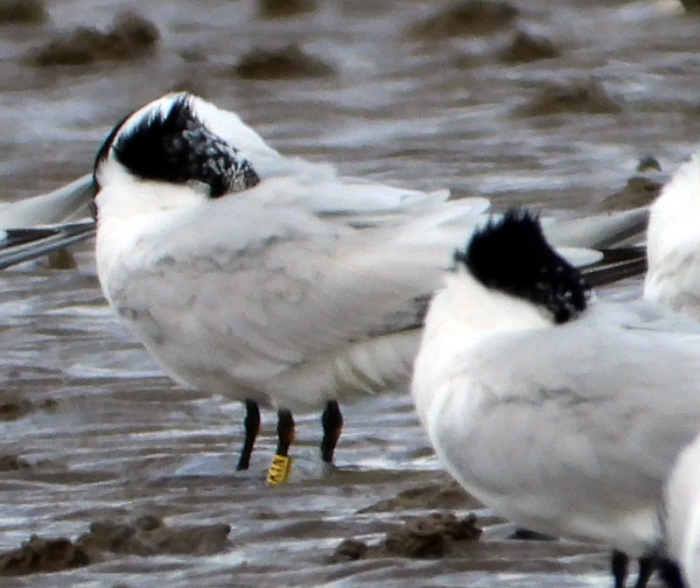 Red - KKH and Yellow - K1N at West Kirby, July 2023 © Richard Smith

Because of bird flu no Sandwich Tern chicks were ringed this year, but 16 colour ringed adults during July was a good total. All recorded at West Kirby and Hilbre.

Nine were ringed at Wexford in SE Ireland, three at Ynyslas (Cardigan Bay), two at Hodbarrrow, Cumbria, and one in Northern Ireland.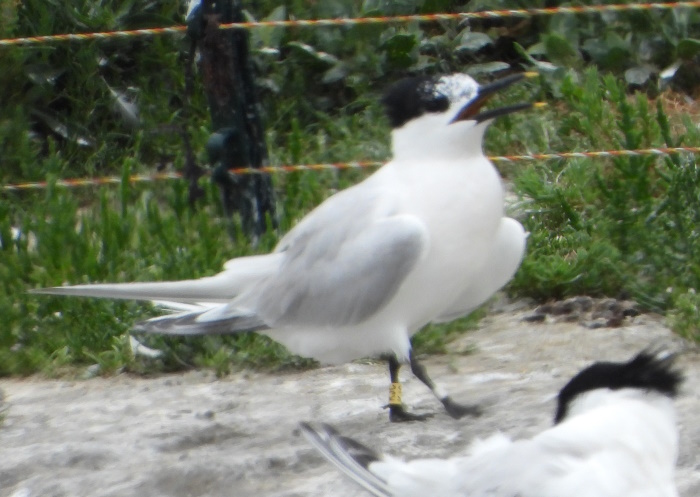 Yellow KJC was twice recorded by Tony Ormond at West Kirby at the end of July, and I had it at Cemlyn Bay (photo above) in 2021. In April this year it was recorded at Agadir, Morocco. Considering that all our Sandwich Terns pass down the Moroccan coast I was surprised when I realised that this was the first record from there for any of our terns.

Photographic Guide to Colour-marked Red Knot
To mark the return of the Knot from Canada Rose Maciewicz and Peter Knight have updated their 'Photographic Guide to Colour-marked Red Knot' - download the PDF file by clicking here.

Colour Rings were recorded by Richard Smith, Steve Hinde, Colin Schofield, Alex Jones, Tony Ormond, Alan Hitchmough and Phil Woollen.
Richard Smith

July Bird News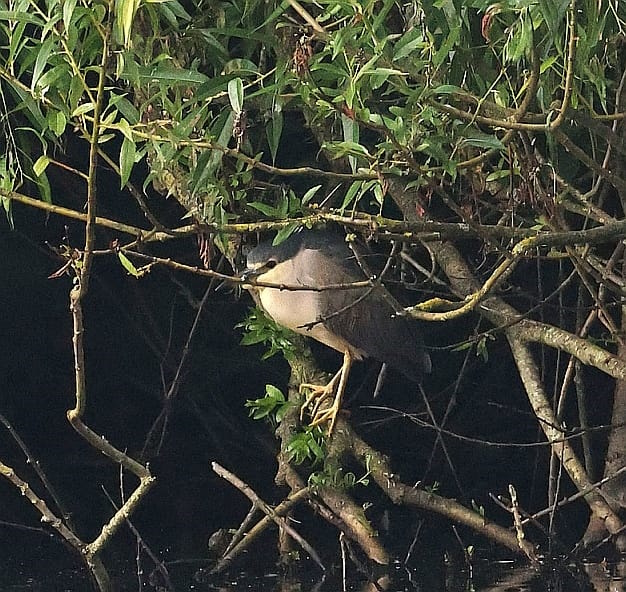 Night Heron at Burton Mere Wetlands, July 4th © Allan Conlin

It was a good month at Burton Mere Wetlands with a Night Heron on the Meres on the 4th and a male Spotted Crake seen right at the end of the month in the reeds. Marsh Harriers were showing well all month with up to six in the air together, and on the 27th a ringtail Hen Harrier turned up. Two Garganeys were present towards the month-end and waders included four Little Ringed Plovers and a Wood Sandpiper. Another notable rarity was a brief view of a Red-backed Shrike in Talacre dunes on the 13th.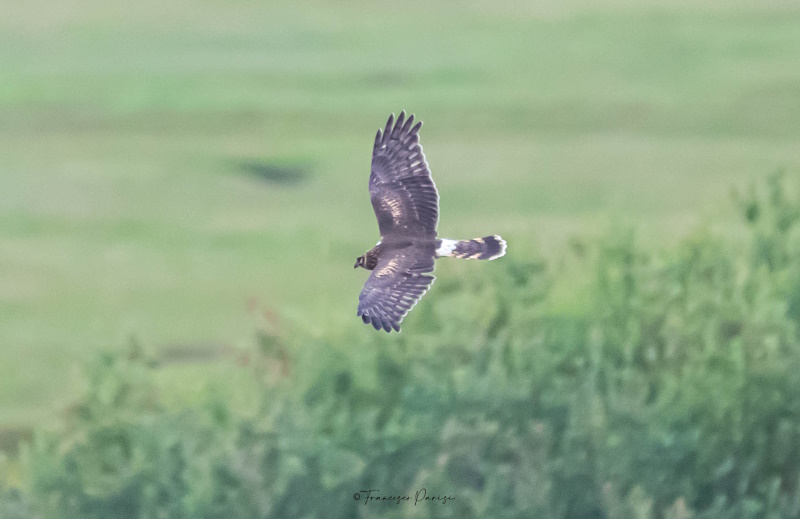 Hen Harrier at Burton Mere Wetlands, July 27th © Francesco Parisi

Other raptors included two records each of Osprey and Red Kite. Waders returned in good numbers including 2,600 Redshanks at Heswall by the 27th, but it was at the Caldy Wildfowl Collection where we had the spectacular sight of 4,500 Black-tailed Godwits with most in full breeding plumage. This small field (as it happens a short walk from my house) is one of the most important sites in the country for this species at this time of year when they are moulting.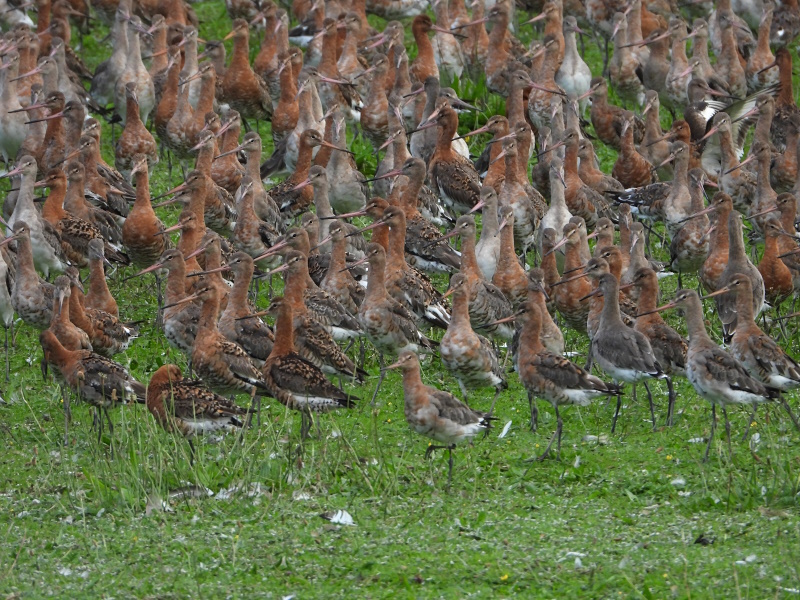 Black-tailed Godwits at Caldy, July 30th © Richard Smith

It's always good to see and hear the Sandwich Terns at this time of the year, numbers had increased to at least 350 at West Kirby for high tide by the month-end. Numbers of Mediterranean Gulls seem to increase every year and a remarkable 17 were at Heswall/Thurstaston on the 19th.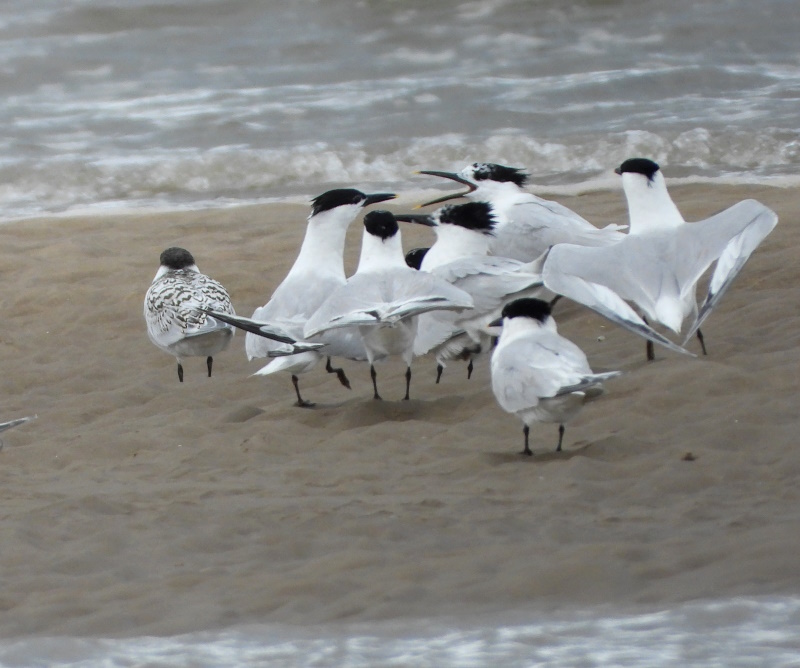 Sandwich Terns on East Hoyle Bank next to Hilbre, July 6th © Richard Smith


Strong winds on the 2nd blew in two Storm Petrels and 12 Manx Shearwaters to Leasowe Gunsite whilst at the end of the month 6 Arctic Skuas flew past Hilbre, a Black Guillemot was at Hilbre on the 30th.
There was one other seabird out there in Liverpool Bay in July - a Black-browed Albatross! It was seen from a boat south east of Gwyn-Y-Mor windfarm on the 10th, we think somewhere off Prestatyn and Rhyl. It's quite possible this bird was visible from Gronant at one point if anybody had been looking, but that's just pure speculation! Anyway, an intriguing record. Prior to this I think the nearest Black-browed Albatross to the Dee Estuary was off Bardsey Island a few years ago.

Many thanks go to Steve Williams, Steve Hinde, Colin Schofield, Alan Hitchmough, Richard Speechley, Richard Whitby, Bruce Atherton, David Leeming, Matt Thomas, David Thompson, Tim Kinch, Jane Turner, Jeremy Bradshaw, Dave Harrington, Alex Jones, Derek Bates, Phil Woollen, Tom Giles, Dave Edwards, Mark Gibson, Paul Bell, Steve Liston. Geoff Hattop, Anthony Ramsden, Patrick Tierney, Geoff Robinson, Ed Wilson, James Smith, Francesco Parisi, Frank Burns, the Dee Estuary Wardens and the Hilbre Bird Observatory for their sightings during July. All sightings are gratefully received.

What to expect in August
There will be a lot of birds moving this month, particularly waders - adults and, hopefully, plenty of young birds with them. At Hoylake and across at Point of Ayr and Gronant the shore will be full of Dunlins and Ringed Plovers, towards the end of the month we usually get a few Little Stints and the first of a passage of juvenile Curlew Sandpipers. Look out also for Knots, Grey Plovers and Bar-tailed Godwits still in their breeding plumage.

A small but steady passage of Greenshanks will be coming through Parkgate, Burton Mere Wetlands and Connah's Quay, whilst at Thurstaston will be over four thousand Reshank. There should be well over 5,000 Black-tailed godwits at the Caldy Wildfowl Collection and on the mud and rocks at the south end of West Kirby Marine Lake a nice flock of over 100 Turnstones still in full summer plumage will show well, with plenty more across at Hilbre.

On the marshes look out for Spoonbills and Great Egrets, and one or two returning Hen Harriers and Short-eared Owls.
If we get gales then August is a good month for spotting Manx Shearwaters and a selection of skuas, a north-west gale at the end of the month could even produce one or two Leach's Petrels.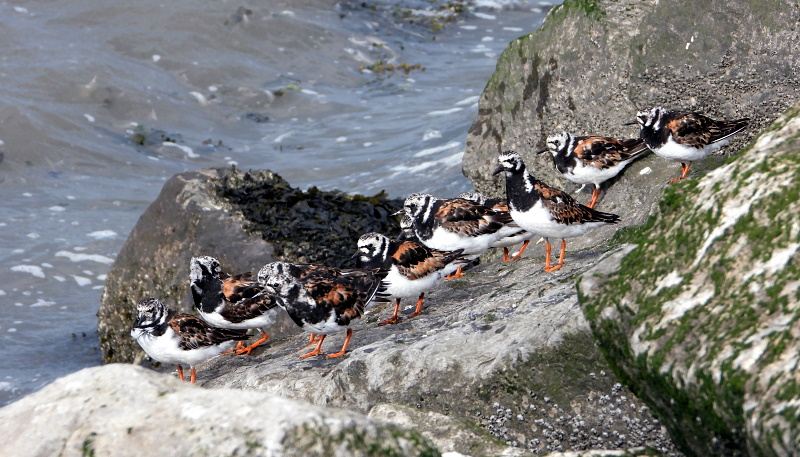 Turnstones at West Kirby, August 2022 © Richard Smith

Forthcoming Events
August Highest Spring Tides (Liverpool)
Also see Tides page.
3rd August, 13.12hrs (BST), 9.6m.
4th August, 13.58hrs (BST), 9.6m.
31st August, 12.09hrs (BST), 9.6m.
Forthcoming Events
Also see events at
https://events.rspb.org.uk/deeestuary