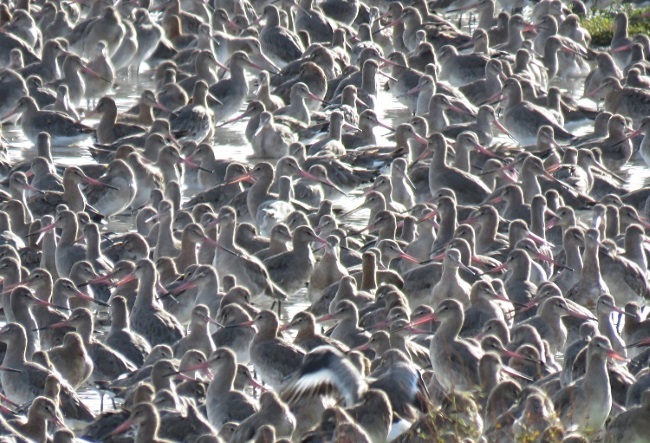 Part of the large flock at Gilroy, August 2016 © Richard Smith

I'm an obsessive when it comes to Black-tailed Godwits. I just love watching them and it has become an obsession since I started logging their colour rings as part of Operation Godwit. I'm lucky enough to live less than a five minute drive to a major moulting site at Gilroy 'Godwit Field' in West Kirby where we regularly get 2,000 or more from mid-July to the end of October. I must spend a total of at least 100 hours there during that period just watching them. Mad? Yes! But they are just so fascinating. In this article I share some of my observations.
Why here?
Probably the question most asked by passer-bys and visiting birders at Gilroy, and it's a very good one. Gilroy isn't the most obvious place to host internationally important numbers of wetland birds being bordered on one side by a busy housing estate and the other a heavily used cycle track and footpath. However, the field itself is largely unvisited and the great attraction for the godwits is the large area of shallow water making an ideal wader scrape of just the right depth. They like an uninterrupted flight path and there are no tall trees nearby, it is also sheltered and obviously free of tides with the constant movement that entails. The closeness of the estuary is crucial and it is less than a five minute flight to the rich mud south of West Kirby Marine Lake when they feel hungry, and back again when they want a nice safe place to roost.
Comings and Goings
The comings and goings of the godwits are surprisingly difficult to predict, but to cut a long story short they are usually at Gilroy several hours either side of high tide, often being there over eight hours during the day - we have no idea what they do at night.
The most exciting time is when they come in from the estuary. They fly in in groups of around two to three hundred over a period of an hour or so. They fly low and you can hear the whoosh of the wings as they come over - flock after flock. Sometimes they circle before landing and at other times they come straight in but it causes great excitement for the birds already on the ground with a great deal of noise made. It's a wonderful sight.
Leaving can be similarly spread out, usually preceded by a lot of preening and walking around. Ones and twos leave first then suddenly a couple of hundred will jump into the air and be off. Unpredictable as always sometimes half the flock will decide not to go at all and stay for several more hours, other times the whole flock will leave in one spectacular mass.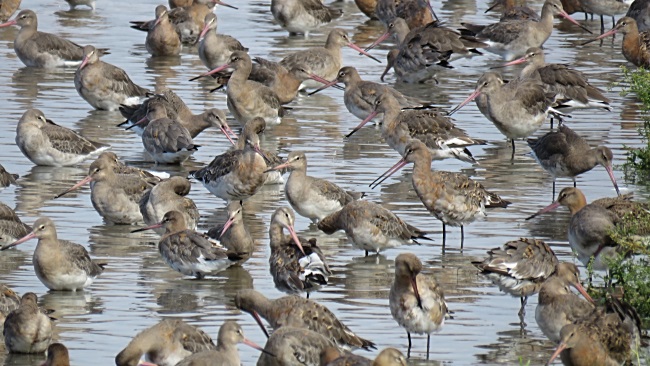 An activity session with birds preening and washing in the water, August 2016 © Richard Smith
Activities
A quick visit to Gilroy may give you the impression that all they do is sleep. They certainly do a lot of that but look closer and you will always see some movement with birds preening, scratching, walking and feeding. They also have what I call activity sessions when the whole flock becomes very vocal whilst they have a mass wash and preening session with birds constantly walking in and out of the water.
They also have four other activities at Gilroy:
1. Sky Search. An amusing behaviour they have is to put their head on one side whilst looking up at the sky, presumably to search for raptors. Their vision is monocular (i.e. each eye has a separate field of view, unlike our own binocular vision) so they need to do this for one of their eyes to view the sky fully, but it looks very comical.
2. Wing Stretch. This seems to be an infectious behaviour as when one or two birds do it the whole flock often follow. They stretch both wings fully above them so the whole flock suddenly flashes white. This can occur at any time but becomes more frequent as the time to leave for the estuary approaches.
3. Lying Down. Probably best described as an inactivity rather than activity! But how often do you see waders actually lying down? On a sunny day the majority of the birds at Gilroy do it, and what a great luxury it must be for them being able to lie on dry grass. It also must say something about how safe they feel at Gilroy.
4. Heads Up. This happens very quickly with the flock seemingly fast asleep then in a split second they all have their heads up with neck fully stretched. Obviously this is due to a perceived threat but more often than not it's a false alarm and heads go back down almost as quickly. If it's a real threat then what they do next depends on what it is, which brings me on to the next section.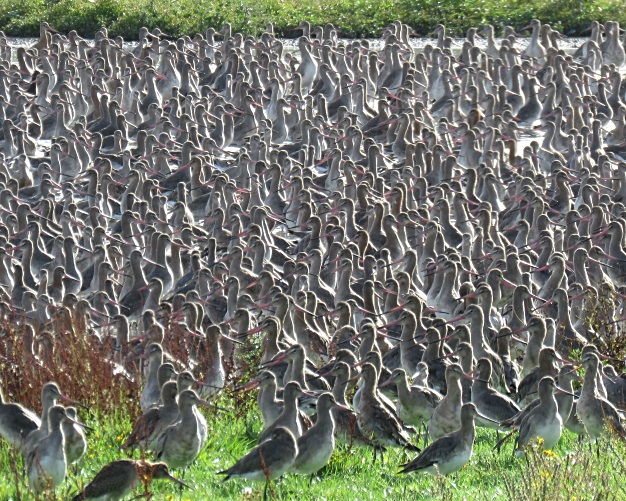 Heads Up! © Richard Smith
Disturbances
"Those BL***Y powered para-gliders again" I muttered as the birds disappeared into the distance. The godwits absolutely hate them and one has only to appear on the horizon for them to take flight and fly in the opposite direction. Luckily, this year they have so far been absent but they have been one of the worse causes of disturbance both at Gilroy and over the Dee estuary and north Wirral as a whole over several years. You would think a low flying noisy helicopter would have the same effect but that isn't the case. When the Golf Open was at Hoylake a couple of years ago the helicopter landing field was just a few hundred yards away with low flying helicopters coming right over the Gilroy field. Yet the godwits hardly reacted. The difference between something that looks like a large bird of prey and something that looks like a flying brick!
You get to know what bird of prey is about by their reaction. A Peregrine really scares them whilst Kestrels are ignored. Buzzards and Sparrowhawks get the whole flock into the air but they soon come back down again, I was lucky enough to have a Red Kite overhead last year and they reacted in the same way as with a Buzzard. Of the birds that are a potential threat Crows are the most numerous. Although the Godwits don't like them they are obviously not that scared of them, if a Crow flys low overhead some Godwits might take to the air but rarely the whole flock, and if one lands nearby in the field they just walk away from it. Last year I saw a Crow deliberately single out a godwit and chase it across the field, it didn't catch it but you can certainly understand their nervousness when they are nearby.
Other disturbances are perhaps more unexpected. One spring we had an 'angry Coot' which quite clearly did not like Godwits on its territory and would charge at them. We loved that Coot as it got the Godwits walking around so we could see their legs and hence the colour-rings! Quite often we get Moorhens having territorial disputes through the middle of the flock with the Godwits hastily getting out of the way as the Moorhens chased each other. Geese and horses blunder their way through the flock so they have to move. You wouldn't expect Lapwings to cause a disturbance but they are so flighty they fly up in a panic at absolutely nothing - which in turn disturbs the Godwits.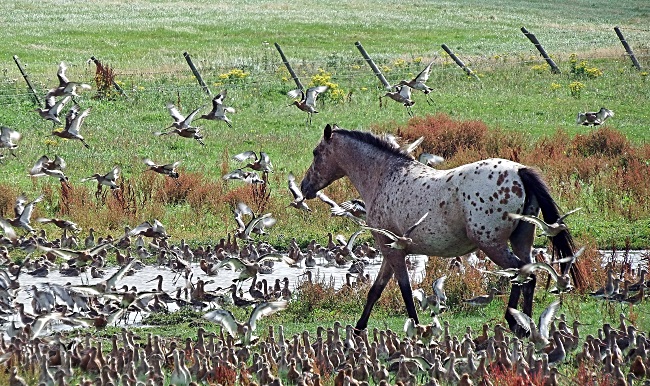 A horsey disturbance, August 2016 © Tanny Robinson
Noise
Black-tailed Godwits talk to each other. That's the only way I can describe it and when you get 2,000 birds chatting away that's quite some noise! They are at their loudest when they have an 'activity session', it's a bit like the sound a large flock of starlings make - but louder and more musical.
They make a different sound when about to leave for the estuary, much more of an urgent call repeated several times - you can almost imagine them saying "let's go, let's go, let's go".
In spring, whilst they 'talk' to each other, we sometimes hear snatches of their display song - exciting to hear when you think the next time they will utter that song will be in the wilds of Iceland.
Flock Position Fidelity
"I see YNRX* is in the usual place". After several days of this it dawned on us that the same colour-ringed individuals were in the same place day after day. It was three years ago when we first noticed this phenomenon and the day I'm writing this, at the end of August 2016, YNRX, along with several other colour-ringed birds, is still in its favourite position in the field. We don't know why they do this or what significance it has, but it seems pretty remarkable behaviour.
* for those not familiar with the Black-tailed Godwit codes YNRX means the rings are Yellow over Black on the left leg and Red over a white ring with an engraved X on the right leg.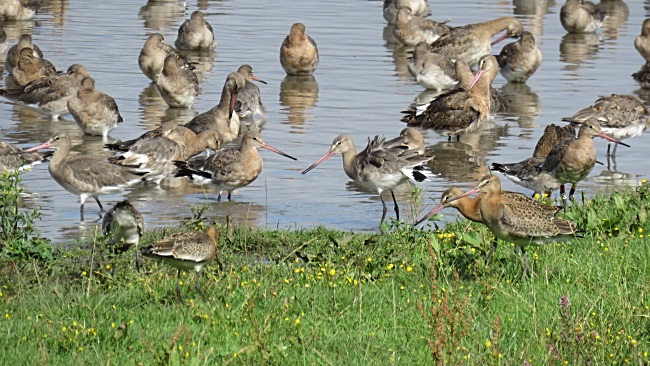 YN-RX in its normal place - can you spot it? The four birds in the foreground are juveniles.
August 2016 © Richard Smith
Further Reading:
1. Species Spotlight - Black-tailed Godwit http://www.deeestuary.co.uk/news1206.htm.
2. Colour-ringed Black-tailed Godwits http://www.deeestuary.co.uk/news1208.htm.
3. Colour-ringed Black-tailed Godwits Part 3
http://www.deeestuary.co.uk/news0111.htm.
4. Black-tailed Godwits at Caldy http://www.deeestuary.co.uk/news0813.htm
5. Rotterdam on the Dee Estuary http://www.deeestuary.co.uk/news0714.htm.

6. Colour Ring Reports in the Monthly Newsletter from September 2014 onwards.

7. The Godwits of Gilroy http://www.deeestuary.co.uk/news0915.htm.
8. The Godwits of Gilroy - update http://www.deeestuary.co.uk/news1015.htm#fourth.
9. Operation Godwit/Project Jadrakan - see https://archive.uea.ac.uk/~b026515/index.html.
Richard Smith.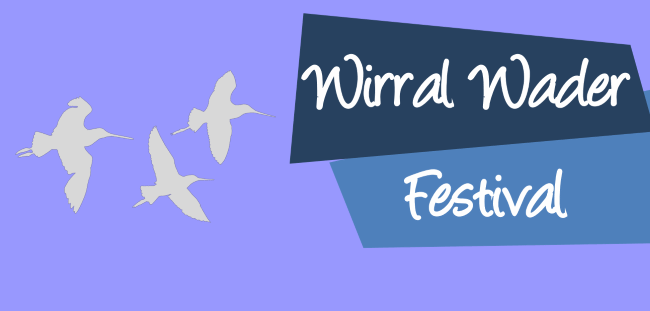 WIRRAL WADER FESTIVAL Sat 1st and Sun 2nd October.
Click here to download a complete list of events which includes Hoylake High Tide Birdwatches on both days, Sunset walk to Hilbre, High Tide Birdwatches at West Kirby, Low Tide Birdwatches at Thurstaston plus various Stalls, Talks, Stands etc. at Thurstaston Visitor Centre.
Colour Ring Report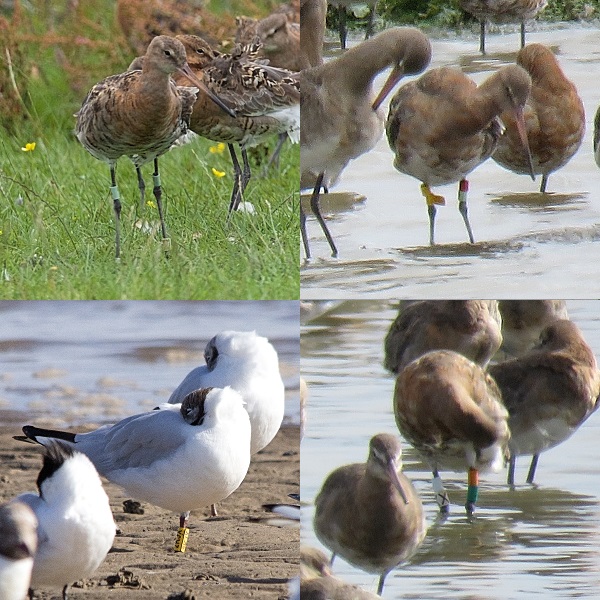 Starting top left and clockwise: 1. Black-tailed Godwit L//L-L (Brian Tollitt), 2. Black-tailed Godwit RL-YYflag (Richard Smith), 3. Black-tailed Godwit OG-WX (Richard Smith, 4. Black-headed Gull 2XJX (Elliot Monteith).

With the Black-tailed Godwits returning to Gilroy in large numbers we got plenty of ringed birds with a total of 130 records from 20 birds through the month, five of them are described below. We also had a selection of colour-ringed gulls but small waders remained elusive with just one distant ringed Sanderling spotted. Several ringed Little Terns were seen this season at Gronant although having such short legs trying to read the rings is a challenge! I report one below.

Black-tailed Godwits
A good proportion of birds just stop over here for a few days on their way south to France, Portugal and Spain, whilst others spend many months in the UK, including the Dee Estuary. A selection recorded this summer are described below, including YN-RX which I couldn't leave out having mentioned it in the above article!
L//L-L
, ringed in Iceland on June 17th 2003 as a chick.
This is our oldest bird which we know is still alive.
Apart from a visit to Yorkshire in 2003 and to France in 2005 this bird has never been seen outside the Dee estuary since it was ringed being recorded a total of 122 times here. Most records have been at Gilroy and Thurstaston/Heswall with a few at Inner Marsh Farm/Burton Mere Wetlands.
After it left Thurstaston in February 2015 it was not seen at all the following summer/autumn/winter and we thought it was a goner so we had a nice surprise when it turned up at Gilroy on August 7th this year, and it was there for the rest of the month.
RL-YYflag
, ringed in Iceland on June 20th 2014 as a chick.
The next record was in the Tagus Estuary area of Portugal where it spent February and March 2015.
No further records until it arrived at Gilroy on August 1st 2016, it stayed until August 11th and is presumably now well on it's way back to Portugal.
OG-WX
, ringed in Iceland on July 13th 2011 as an adult male.
This bird winters in France and Portugal but migrates in spring in a north-easterly direction being seen in Belgium in March 2013 and the Netherlands in March 2015.
It was at Gilroy the last two weeks of August 2015. In 2016 it arrived on July 29th at Gilroy and was last seen August 4th.
OB-OflagN
, ringed in Moeze near La Rochelle, France, on February 26th 2009.
It has been recorded in the same area of France every year since being ringed. Some years it arrives back there as early as July so it must have been late this year being at Gilroy from August 18th to 22nd.
YN-RX
, ringed in Iceland on July 11th 2009 as an adult male.
First record after ringing was at Gilroy in September 2009. It is very much a regular at Gilroy and the Dee estuary having been seen there a total of 114 times, the latest record being late July and the whole of August 2016. It is also a regular at Leighton Moss, usually during the spring migration, and it has been recorded back in Iceland during the breeding season in 2010, 2011 and 2015.
Black-headed Gulls
2KJX
Black letters on yellow ring.
Ringed at Pitsea Landfill Site, Essex, on March 21st 2015.
Recorded at West Kirby on July 25th 2015 and at Hoylake on August 3rd 2015 and August 19th 2016.
TMNH
Black letters on white ring.
Ringed in Przkona (near Lodz), Poland, on June 27th 2013, as a chick.
Recorded in Braunschweig, Germany, on June 28th 2015.
Recorded off Hilbre near Middle Eye on July 26th 2016.
VCE
Black letters on white ring.
Ringed in Gentofte just north of Copenhagen on March 23rd, 2008.
Recorded in Copenhagen on March 23rd 2011.
Recorded on Hoylake shore on July 23rd 2016.
Common Gull
JA447
Black on white ring.
Ringed in Bergen, Norway, on June 5th 2016, as a breeding adult.
Recorded on Hoylake shore on August 19th 2016.
Little Tern
AAC
on yellow ring.
Ringed on Rue Point, Isle of Man, on June 13th 2014.
Recorded at Gronant on July 29th 2016.
Richard Smith and Matt Thomas.
Colour-rings were also reported by Henry Cook, Richard Beckett, Peter Haslem, Brian Tollitt, Alan Hitchmough, Steve Williams, Les Hall, Allan Conlin and Tanny Robinson.
Top of Page
August Bird News
For August there were exceptional numbers of Curlew Sandpipers. The usual pattern is for just ones and twos to turn up in the last week of August before, in a good year, larger numbers pass through in September (see Nov 2011 article "The Curlew Sandpiper Influx"). But this year the first juvenile arrived at Hoylake on the 16th and there were at least nine there by the 20th. Elsewhere there were three at Connah's Quay and two at Burton Mere Wetlands, at nearby Frodsham Marsh there was a remarkable 26 on the 21st - surely a site record for August.
There were good numbers of Greenshanks as well with 56 at Burton Mere Wetlands the highest count there since 64 in August 2003 (it was then Inner Marsh Farm), the highest ever count there was 85 in September 1998. There were several double-figure counts at Connah's Quay max 15 on the 28th.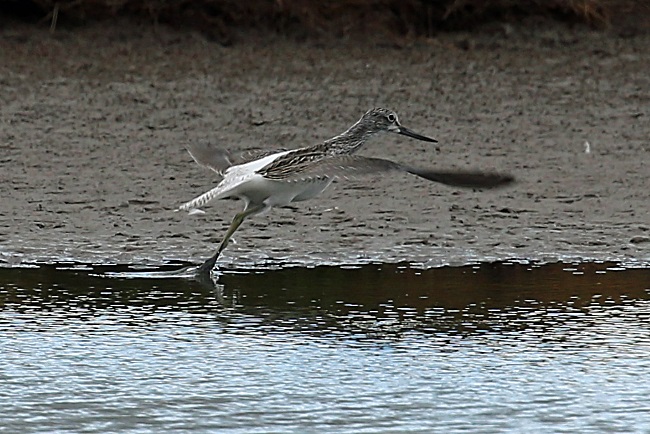 Greenshank at Neston, August 12th © Roy Lowry
As you may gather from the above article there were good numbers of Black-tailed Godwits at Gilroy with 2,700 on the 10th a record August count. The passage of small waders was good but we didn't get the large numbers seen two or three years ago, The high tide birdwatch at Hoylake on the 20th produced 4,000 Dunlin, 800 Ringed Plover and 500 Sanderling.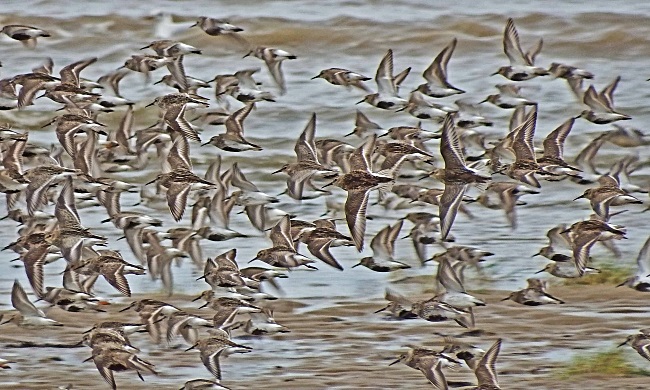 Dunlin at Hoylake, August 20th © Tanny Robinson
Sandwich Terns remained all month with the highest count of at least 1,000 at Point of Ayr on the 20th. There were several reports of the much rarer Black Terns and four in the tern roost at Hoylake on the 19th with the same number at Point of Ayr the following day gave good views, there were also several reports of singles from Hilbre.
Another month and another record count of Spoonbills at Burton Mere Wetlands! There were 10 on the 10th and these had increased to 12 by the 14th, and stayed the rest of the month.
Although sea watching wasn't as good as some years some windy weather early in the month produced a Storm Petrel and 300 Manx Shearwaters off Hoylake.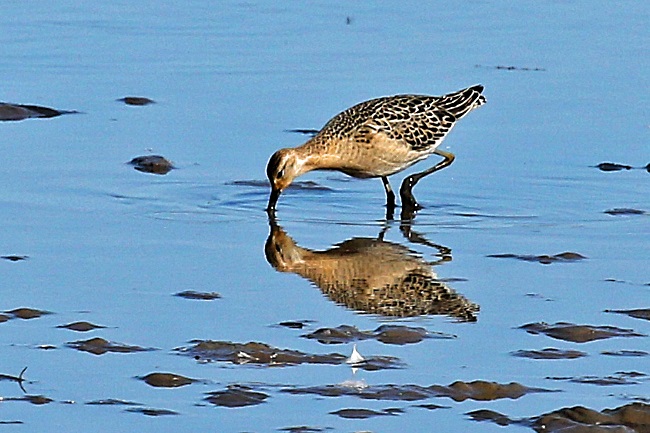 Ruff at Burton Mere Wetlands, August 29th © Roy Lowry.
Richard Smith.

Many thanks go to Mike Cooper, Eddie Williams, Mark Edwards, Tanny Robinson, Julie Rogers, Mark Turner, Karen Leeming, Steve Hinde, Paul Cronin, Matt Thomas, Mal Sergeant, David Leeming, Roy Lowry, Magenta Turford, Chris Butterworth, Paul Vautrinot, David Haigh, Bill & Gilda Keig, Allan Conlin, Thomas Giles, Jeremy Bradshaw, Leon Castell, Alan Hitchmough, David Peate, Steve Williams, Hugh Stewart, Leslie Simpson, Richard Whitby, Paul Shenton, Henry Cook, Gail Wilson, Dan Trotman, Peter Haslem, Dave Edwards, Glyn Thursfield, Graham Connolly, Chris Shaw, Les Hall, Brian Tollitt, Steve Hand, Bruce Atherton, Jane Turner, Jannette Hegarty, Ian Dyer, Richard Beckett, Brian Lingard, George Knight, Alan Irving, Paul Ralston, Derek Bates, Richard Speechley, Paul Mason, the
Lighthouse and Wirral Birding Blog
, the
Dee Estuary Wardens
and the
Hilbre Bird Observatory
for their sightings during August. All sightings are gratefully received.
Top of Page
What to expect in September
We are overdue for a good Leach's Petrel year, the last one being in 2010 (see
October 2010 newsletter)
when we had several hundred passing through. For that we need prolonged north-west gales, and the nearest those gales are to the middle of the month the more Leach's Petrels we will have. We will also get skuas (Long-tailed, Great and Arctic, and may be Pomarine), Sabine's Gulls, Grey Phalaropes plus the usual sea birds such as Manx Shearwaters and Gannets, often in impressive numbers.
However don't despair if the wind is light - that means good viewing conditions for waders, and birds on the sea. Last year we had counts of 600+ Great Crested Grebes, 750 Common Scoter, 100 Guillemots and 25 Red-throated Divers during a flat calm. Waders should be good all month and judging by the August counts it could be an exceptional year for Curlew Sandpipers and a good one for Greenshanks, we will also get Spotted Redshanks, Little Stints and Ruff as well as the commoner waders such as the Black-tailed Godwits.
2015 saw an exceptional influx of Short-eared Owls in September, and we will see both Hen and Marsh Harriers. This month is always good for rarities and last year we had a Hoopoe, Red-backed Shrike and Pectoral Sandpiper.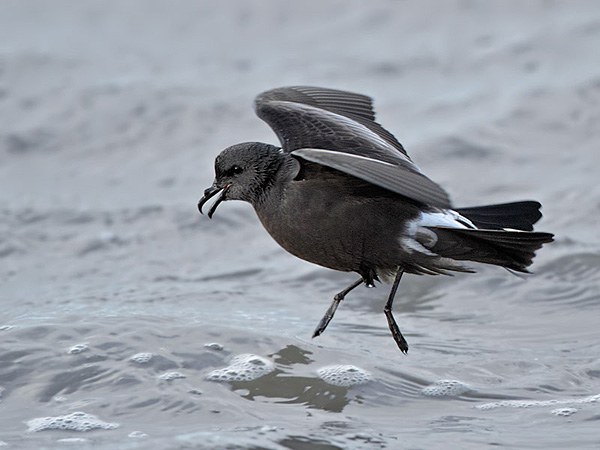 Top of Page
Forthcoming Events
September Highest Spring Tides (Liverpool)
Also see Tides page.

17th September, 11.12hrs (BST), 9.7m.
18th September, 12.53hrs (BST), 9.8m.
19th September, 13.35hrs (BST), 9.8m.
20th September, 14.18hrs (BST), 9.6m.
Forthcoming Events
Organised by the Wirral Ranger Service , Flintshire Countryside Service and the RSPB (Dee Estuary):
All these events and walks have bird interest, even those not advertised specifically for birdwatching. No need to book for these events unless specified - please check below.
Sunday 25th September, Raptor Watch at Parkgate - Old Baths Car Park.
1 pm-dusk
Price: Free
Join us for a chance to see up to seven different birds of prey including peregrine and merlin, plus two types of owl that all make their home on the RSPB Dee Estuary nature reserve. With its panoramic views of the saltmarsh, Parkgate is one of the best places to watch for the birds hunting.
Stick around until dusk for a chance to see the graceful and endangered hen harriers flying into roost for the night on the marsh close to the Old Baths car park, plus a ghostly barn owl emerging to hunt.
No booking required, come along any time between 1 pm and sunset. Dress appropriately for the weather and don't forget your binoculars! Public toilets and various pubs and cafes are situated close by along Parkgate promenade.
Ring 0151 353 8478 for further details.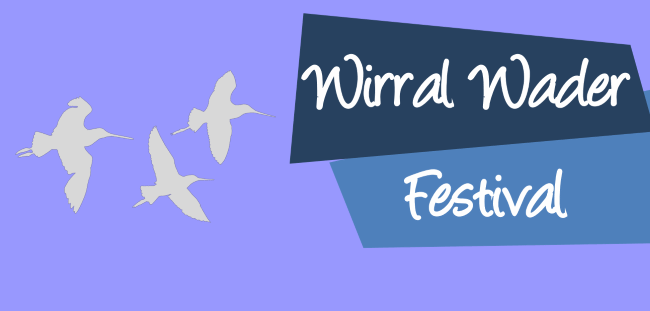 WIRRAL WADER FESTIVAL Sat 1st and Sun 2nd October.
Click here to download a complete list of events which includes Hoylake High Tide Birdwatches on both days, Sunset walk to Hilbre, High Tide Birdwatches at West Kirby, Low Tide Birdwatches at Thurstaston plus various Stalls, Talks, Stands etc. at Thurstaston Visitor Centre.
Monday 17th October and Tuesday 18th October, Parkgate High Tide Birdwatch.
Start times vary, best to arrive a minimum of one hour before high tide (see below).
Price: Free
Parkgate Marsh is one of the best wetland habitats in North West England, but until you've witnessed the spectacle of a rising Spring tide, it's impossible to appreciate just how much wildlife makes its home here.
Thousands of wildfowl and wading birds that are here for the winter are pushed closer by the rising water and there's a chance of a hunting peregrine trying it's luck. Small mammals usually hidden in the grasses are flushed from cover, offering a feeding frenzy for the kestrels, harriers and short-eared owls.
Join us at Parkgate's Old Baths car park and the Donkey Stand near Nicholl's ice cream shop, where we'll be set up with marquees and telescopes hoping for the right weather conditions to really push the tide in.
Car parking is limited on Parkgate promenade, but there is free public parking at the Old Baths car park (CH64 6RN) at the north end of The Parade, and the Wirral Country Park car park on Station Road (CH64 6QJ). There are public toilets at Mostyn Square in the middle of The Parade, and a number of pubs and cafes for refreshments.
Ring 0151 353 8478 for further details.
High tide times:
Monday 17th October: 12.20 pm (10.0m)
Tuesday 18th October: 1.14 pm (10.0m)