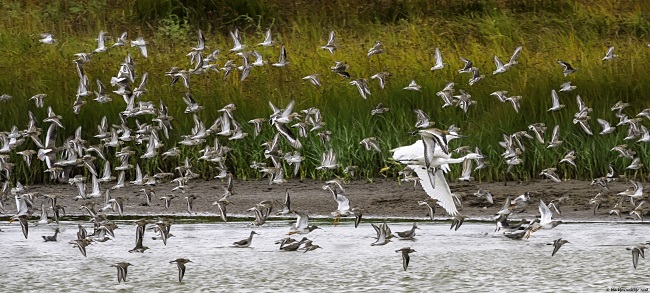 Redshanks and a Little Egret at Burton Mere Wetlands © Jeff Cohen


Both the National and local Wetland Bird Survey Reports (2017/18) have recently been published and gives us a chance to see how our Wetland birds are doing both on the Dee Estuary and across the country.
The National "Waterbirds in the UK 2017/18" is a summary of the data, including trends, and also includes some fascinating articles. Below is a list of the contents and you can download the report by clicking here:



For those wanting to delve a bit more deeply the data can be accessed by clicking here (click 'results on WeBS Report Online') where you can search for sites and species, for most species data goes back as far as 1970/71 or even earlier.
Waterbird Totals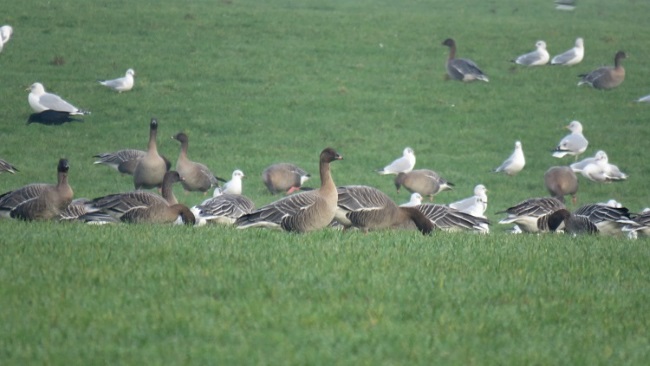 Pink-footed Geese in field by Greasby, 10,000+ now winter on the Dee © Richard Smith


On page 13 of the summary report is a table headed 'Principal Sites for non-breeding waterbirds in the UK', and the data is the total number (i.e. sum of max counts) of waterbirds for each year 2013/14 to 2017/18 (this doesn't include non-native species, such as Canada Geese, or gulls/terns). If you look at most of the top sites numbers didn't change a huge amount over that period - except for the Dee Estuary which saw increases in numbers for every one one of those five years, from 124,605 in 2013/14 to 177,588 in 2017/18 (graph below for Dee estuary in comparison to the nearby Ribble estuary).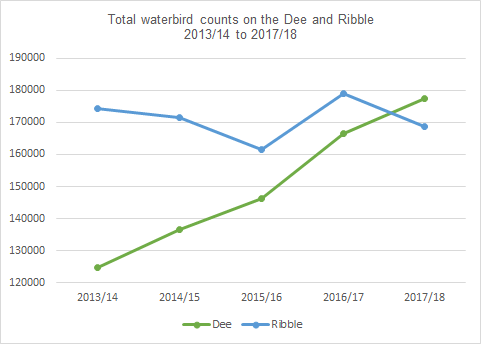 So we've gone from having the eighth highest number in the country to the third highest number, with only the much larger Morecambe Bay and Wash with larger counts. I should add here that the range of counts on the Dee over this period was nothing particularly unusual, for example we've had a lot lower with 97,879, in 2008/09 and a lot higher with 195,680 in 2001/02, which was the winter when over 50,000 Knots were present. There doesn't seem to have been any particular reason for this increase other than several of our most numerous species did well in 2017/18 including the highest Oystercatcher count since 1995/96 (31,569), the highest count of Wigeon since 1994/95 (7,707) and good numbers of Knot and Dunlin, see below. Anyway, whatever the reasons for this year on year increase it seems bird numbers on the Dee are very healthy, which is very good news.

The Beast from the East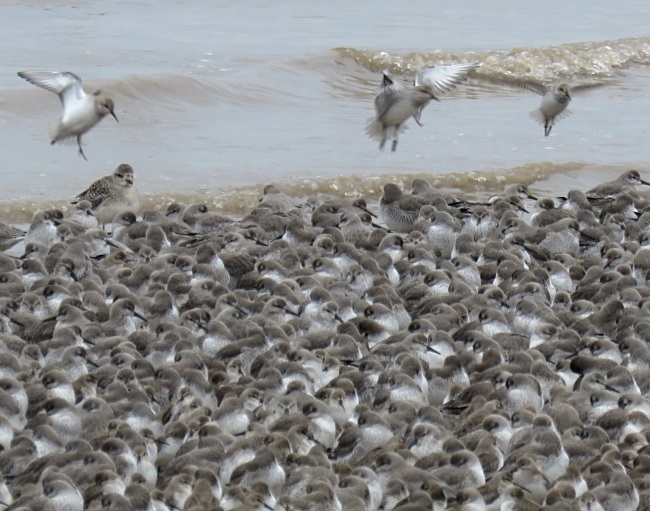 A small portion of the Hoylake wader roost during 'the Beast from The East' early March 2018
© Richard Smith

I'm sure you will all remember the Beast from the East when we had exceptionally cold weather for around two weeks from February 22nd 2018. The freezing weather started further east in Europe and birds fled to the western side of the UK as is evident in the two graphs below comparing numbers of Dunlin and Knot on the Dee Estuary in 2017/18 to the previous winter. In contrast Redshank appeared to have escaped the cold weather here by heading south (or west to Ireland?) as the March counts, both Nationally and on the Dee, were well down on 2016/17 (on the Dee 7,093 in 2016/17 and 4,803 in 2017/18).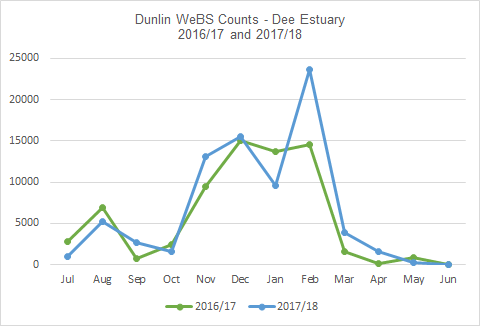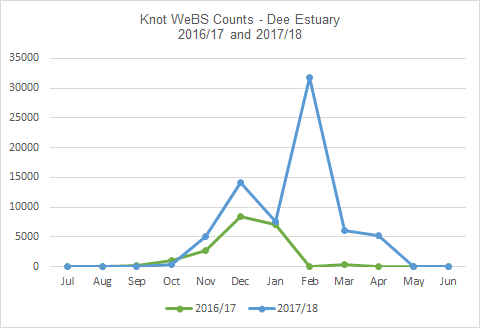 References

1. Frost, T.M., Austin, G.E., Calbrade, N.A., Mellan, H.J., Hearn, R.D., Robinson, A.E., Stroud, D.A., Wotton, S.R. & Balmer, D.E. 2019. Waterbirds in the UK 2017/18: The Wetland Bird Survey. BTO, RSPB and JNCC, in association with WWT.British Trust for Ornithology, Thetford.
2. Dee Estuary and North Wirral Foreshore WeBS Annual Report 2017/2018, compiled by Neil Friswell and approved by Colin E. Wells (Dee Estuary WeBS Coordinator).
Top of Page
Colour Ring Report

Lots of colour-ringed birds were seen in July, we are still waiting for feedback for some but here are a few highlights.
Sandwich Terns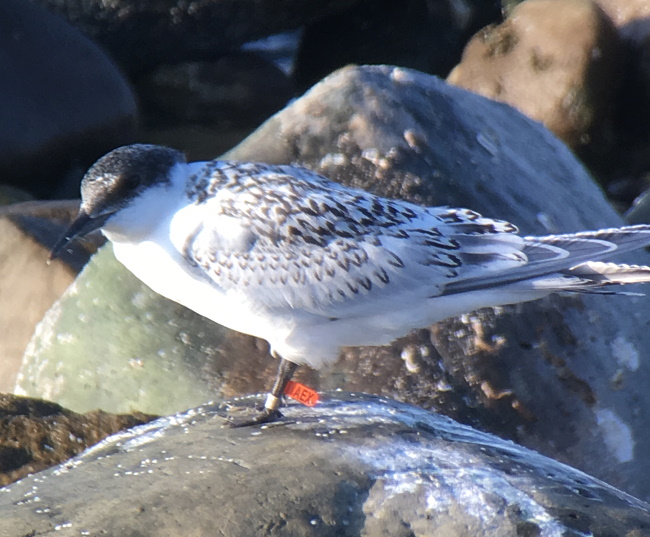 Sandwich Tern AEX at Rhos Point © Robin Sandham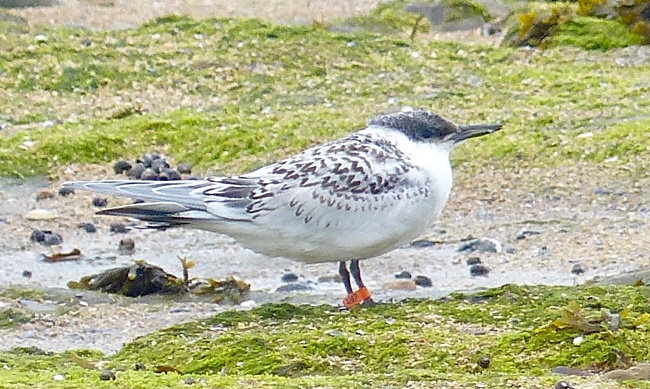 Sandwich Tern AMP at Hilbre © Allan Hitchmough


As part of a study into recruitment and dispersal 124 Sandwich Tern chicks were fitted with an orange flag at Cemlyn Bay, Anglesey, on June 18th. Now that the Sandwich Tern breeding season is over these Oflagged fledglings are being seen along the North Wales coast, in the Dee estuary and across to Formby and Ainsdale.

Eight of these birds were recorded at Hilbre in July including three which have also been seen across Liverpool Bay at Formby and Ainsdale, where they have recorded a total of 18. It confirms that a lot of the Sandwich Terns which breed at Cemlyn Bay use our area as a staging post before heading south. This has long been suspected but now we have the evidence. But we also know from colour ringing that birds come here from Ireland, Cumbria and the North-east of England.

Sandwich Tern AEX (see photo above) was at Hilbre around 9am on July 25th and that same evening at Rhos Point (near Little Orme). Together with the ones that have moved between Hilbre and the Sefton coast it proves they certainly move around a lot!


Mediterranean Gull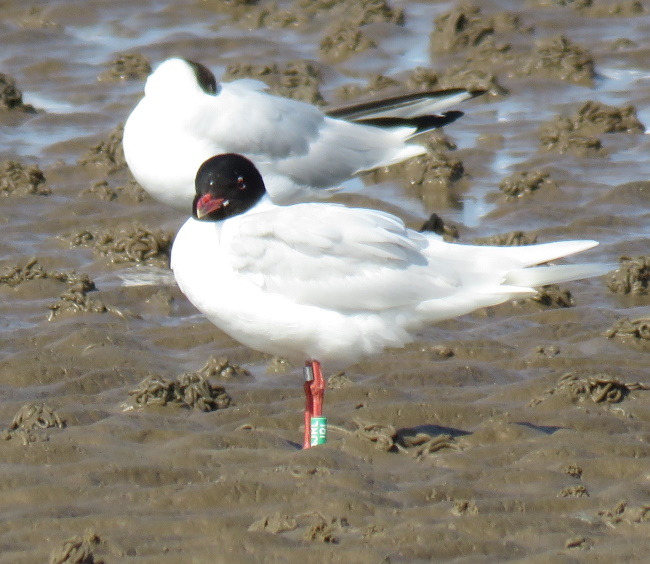 Mediterranean Gull AJRL at West Kirby ©Richard Smith


AJRL - white on a green ring.
Ringed on the Elbe Estuary, west of Hamburg, Germany, on June 17th 2006, as a chick.
This bird returned to breed at it's ringing location in 2008 and has been recorded there most years, including March 31st 2019.
It was seen in Cork Harbour, Ireland, either in January or February, in 2009, 2013 and 2017.
It was recorded at Seaforth in early July 2010 then moved to Hoylake where it was seen on three dates up to August 11th 2010.
Then no records locally until July 16th 2018 at Hoylake.
Recorded at West Kirby on July 15th 2019, one day under a year since the 2018 sighting!

Black-headed Gull

Black-headed Gull J8N6 at Connah's Quay © Dave Winnard

Two Black-headed Gulls which were ringed several years ago, one has been recorded just the once whereas the other has been seen at least 47 times.


J8N6
- black on white ring.
Ringed in Oslo, Norway, on June 12th 2011.
Recorded at Connah's Quay Nature Reserve on July 3rd 2019.
I wonder where it has been for eight years!
TMEN
- black on white ring.
Ringed in Lodz, Poland, on April 12th 2013.
First recorded at West Kirby on September 6th 2013.
It has returned to the Dee Estuary, usually at West Kirby, every year since.
In July 2019 it was at West Kirby on the 15th and 29th.
Since April 2013 it has never been recorded away from the Dee Estuary.
Redshank
LNflag-WW all on tibia.
Ringed at Welwick Saltmarsh, north bank of the Humber, on October 25th 2018.
Recorded at Connah's Quay Nature Reserve on July 6th 2019.


Black-tailed Godwit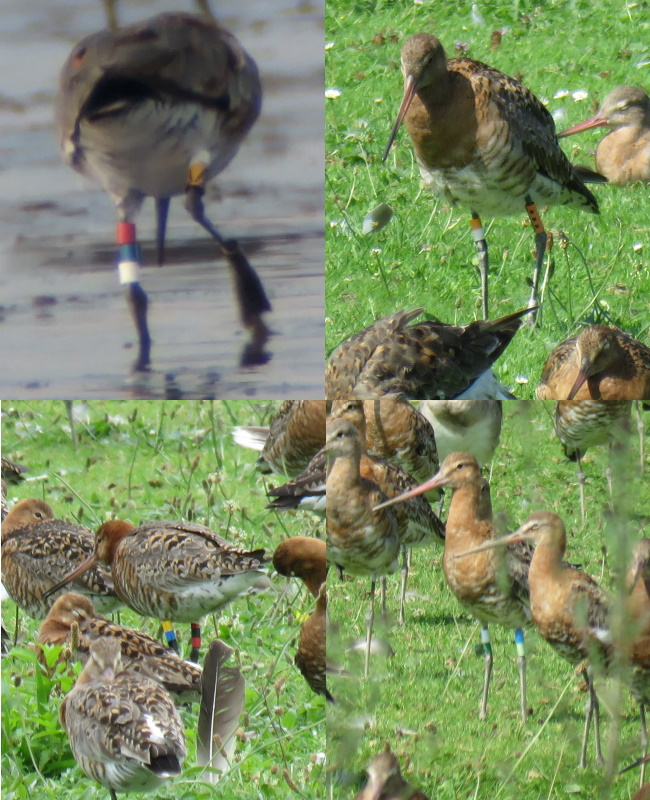 Clockwise, starting top left:
RBW-WY(A) - ringed in Portugal, photograph by Peter Knight at Crosby
O(3 dot)-OWN - ringed in France, photograph by Richard Smith at Caldy
BL-WGflag - ringed in Portugal, photograph by Richard Smith at Caldy
YBN-RNR - ringed in Kent, photograph by Richard Smith at Caldy
For July there were unprecedented numbers of Black-tailed Godwits at Caldy with good numbers also at Connah's Quay and Burton Mere Wetlands.
In total we saw 21 colour-ringed birds with 11 ringed in Iceland, four in Scotland, one on the Wash, two in southern England, one in France and two in Portugal. Ten of these birds we hadn't seen before, not surprising as many will just be stopping off here for a short while on their way between Iceland and their wintering grounds further south. Several of our regular birds will now spend the winter here. One of our regulars (L//L-L) has been returning to the Dee Estuary every year since 2005 and, so far, recorded a total of 231 times. It was back at Caldy on July 19th.

A couple of interesting movements during July with LR-GRflag moving from Connah's Quay to Burton Mere Wetlands then to Caldy where it remains as I write. RBW-WY(A) spent one day at Caldy on the 23rd (seen by me, Richard Smith), it was then seen by Peter Knight at Crosby on the 24th before being spotted by Richard Du Feu at Martin Mere on the 29th.


Colour-ringed birds were recorded by Richard Smith, Steve Hinde, Allan Hitchmough, Tim Kinch and Dave Winnard on the Dee estuary. Robin Sandham saw Sandwich Tern AEX at Rhos Point and Black-tailed Godwit RBW-WY(A) was recorded by Peter Knight and Richard Du Feu as mentioned above.


July Bird News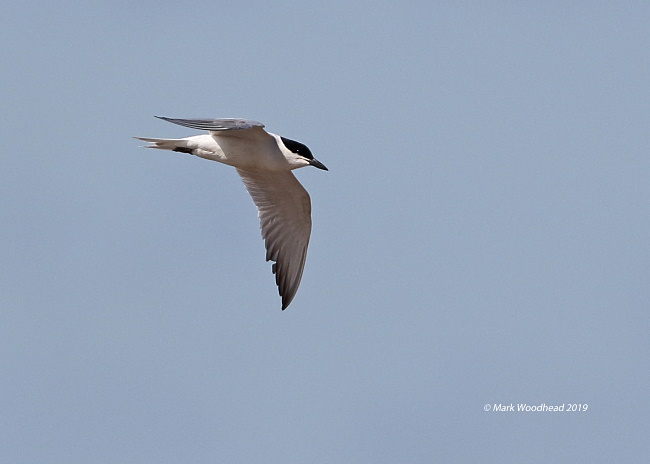 Gull-billed Tern at Thurstaston, July 4th © Mark Woodhead


Two mega rarities this month with a Gull-billed Tern seen at Thurstaston from the 3rd to the 7th. This is the eight record for the Dee Estuary and gave everybody some great views. It was interesting seeing it catching crabs over the mud flats unlike our usual terns which feed over the sea. This was followed by a Terek Sandpiper at Burton Mere Wetlands on the evening of the 9th, the reserve opened at 7am the following morning and it was unfortunate that the bird flew off south five minutes later! Another nice find was a Black Guillemot on the sea at New Brighton on the 13th, they are less than annual in our area.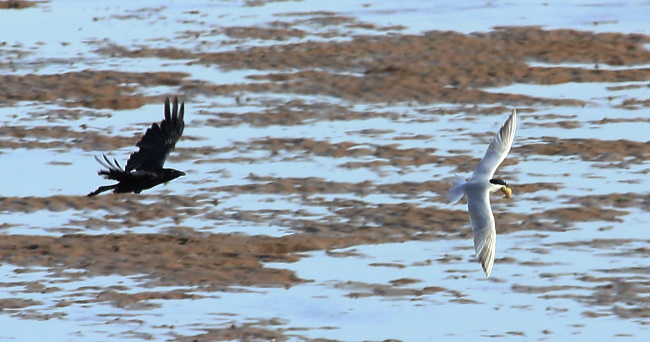 Gull-billed Tern pursued by a crow, July 8th © Carole Killikelly

Generally sea-watching was disappointing and Gannets in particular seem to have been largely absent, but 11 Arctic Skuas recorded from Hilbre at the end of the month was an excellent count.
Although I am still waiting for the official numbers I understand the Little Terns at Gronant had an excellent season - there were at least 172 pairs (another record) and 190 fledglings had been counted by mid-month with more to come.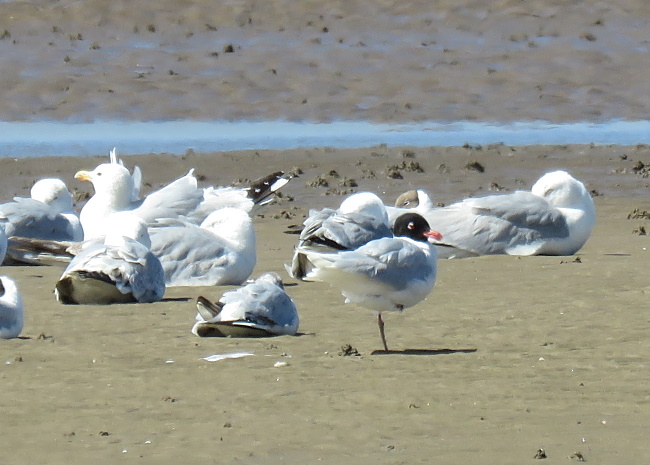 Mediterranean Gull in the roost at West Kirby, July 5th © Richard Smith


Great Egrets bred for the first time at Burton Mere Wetlands with two chicks seen, and several pairs of Mediterranean Gulls also bred there. 'Med' Gulls were plentiful along the coast with five counted at both West Kirby and Hoylake.

Six Spoonbills took up residence at Parkgate during the month, at first they were somewhat distant but later they gave good views on the various flashes along the prom.

Slipping somewhat under the radar was news of the probable first Cheshire breeding record for Eiders at Heswall where a pair had been seen several times followed by what appeared to be a duck and two young on the water in the marsh.

Two Wood Sandpipers were at Burton Mere Wetlands at the end of the month and numbers of Redshank (over 5,000) and Dunlin (over 3,000) built up nicely at Heswall. Up to 4,000 Black-tailed Godwits were at Caldy and Thurstaston, record numbers for July.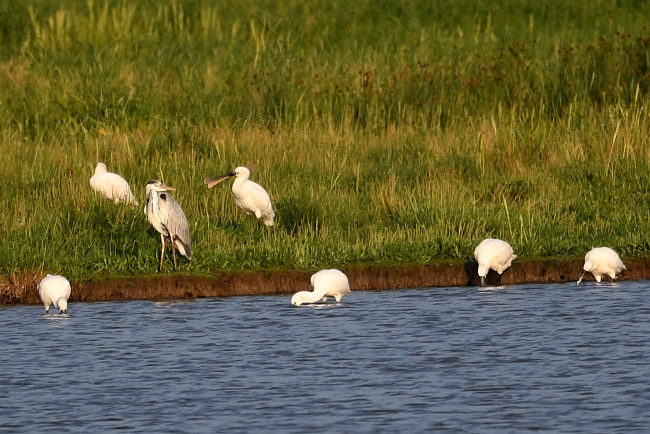 Spoonbills and Grey Heron at Parkgate, July 25th © David Collis

Many thanks go to David Haigh, Mark Woodhead, Gail Wilson, Mark Gibson, Carole Killikelly, Geoff Robinson, Steve Hinde, Chris Butterworth, Bruce Atherton, David Leeming, Alan Hitchmough, Steve Williams, Derek Bates, Allan Conlin, Karen Leeming, Colin Schofield, John Kirkland, Paul Ralston, Tony Brown, Richard Whitby, Julie Rogers, David Small, George Knight, Graham Thompson, Tim Kinch, Elliot Montieth, Dave Winnard, Ron Armstrong, Joe O'Sullivan, Stephen Lane, Alan Irving, Roger Jacobs, Bryan Joy, Roy Lowry, Les Hall, Liz Puzzar, Michael Dore, David Collis, Richard speechley, Pat Brookfield, Tony Breen, Rob Smith, Christopher Doran, Steve Hart, Steve Hasell, the
Lighthouse and Wirral Birding Blog
, the
Dee Estuary Wardens
and the
Hilbre Bird Observatory
for their sightings during July. All sightings are gratefully received.

Top of Page
What to expect in August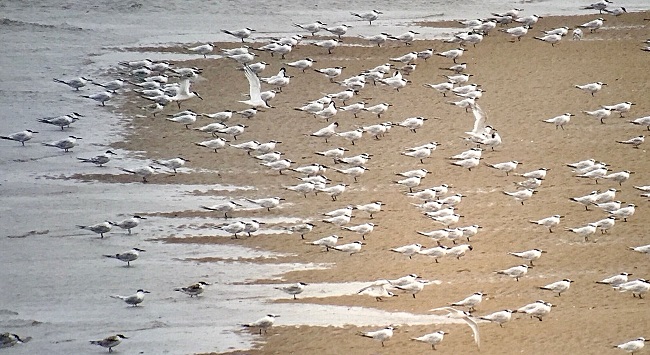 Lots of Terns! Although numbers of Sandwich Terns will be decreasing through the month there will still be a lot around, and they will be joined by hundreds of Common Terns in the high tide roosts. The Little Terns at Gronant have had another good breeding season and these will be dispersing into the estuary. It's always a joy seeing them feeding in Hilbre Gutter and also in the tern roosts at Point of Ayr, West Kirby and Hoylake. Most years we also get one or two Black Terns and Arctic Terns, and maybe even a Roseate Tern. There will also be plenty of gulls including Mediterranean Gulls and last year we had the Bonaparte's Gull in August.
Wader numbers will be building up quickly and last year we had over 6,000 Black-tailed Godwits at the Caldy Wildfowl Collection by the month-end. There will be plenty of Dunlins and Ringed Plovers at the usual wader roosts, Hoylake shore can be carpeted with them at high tide. Early in the month we sometimes see adult Curlew Sandpipers but towards the end of the month we may well be seeing the first juveniles of the year with Hoylake and West Kirby being favoured sites. The same applies to Little Stints and Ruffs, but both these species can turn up just about anywhere. Greenshank numbers will also be increasing, look out for these at Parkgate, Connah's Quay Nature Reserve and Burton Mere Wetlands.
Given strong westerly winds sea-watching can be excellent with skuas, Gannets and Manx Shearwaters in view. We are overdue for a good August for Storm Petrels, and we could even see the first Leach's Petrels of the year late on in the month.
Top of Page
Forthcoming Events
August Highest Spring Tides (Liverpool)
Also see Tides page.
3rd August, 13.38hrs (BST), 9.7m.
31st August, 12.35hrs (BST), 9.9m.
Forthcoming Events
Organised by the Wirral Ranger Service , Flintshire Countryside Service and the RSPB (Dee Estuary): All these events and walks have bird interest, even those not advertised specifically for birdwatching. No need to book for these events unless specified - please check below.
---
Saturday 31st August and Sunday 1st September - Wirral Wader Festival at
Burton Mere Wetlands
.
10am-5pm
Price: Free entry to reserve, charges apply for some family activities and refreshments.
In celebration of the RSPB Dee Estuary reserve's 40th anniversary, we're delighted to host the 2019 Wirral Wader Festival at Burton Mere Wetlands. As well as a celebration of the internationally important wading bird flocks that make their home on the peninsula's coastline in autumn and winter, it offers a chance to admire and learn more about the populations of breeding wading birds like avocets and lapwings that the reserve is so important for. Stalls and activities from the event's partner organisations Cheshire Wildlife Trust, Wader Quest and Dee Estuary Voluntary Wardens amongst others will be present, and we're offering free entry to everybody to enjoy this special occasion. Much of the event will take place in a marquee from local suppliers Muddy Boots, but hopefully the weather will allow plenty of time outdoors exploring the reserve.
Telephone: 0151 353 2720.