Liverbird Wildlife Discovery Cruises.
The RSPB, National Museums of Liverpool and Mersey Ferries have teamed up again to provide birdwatching cruises in to Liverpool Bay. There will be three cruises this year (2008), on Wednesday August 13th, Thursday August 14th and Wednesday September 24th, each one lasting about three hours. To book use the Mersey Ferries website -
http://www.merseyferries.co.uk/special/index.aspx (scroll down to Liverbird Discovery Cruises) or contact Mersey Ferries directly by ringing 0151 330 1444.
The cruises on August 13th and 14th depart Seacombe at 11.00am, Liverpool Pier Head at 11.10am and Woodside at 11.20am.
The cruise on September 24th departs Seacombe at 1.00pm, Liverpool Pier Head at 1.10pm and Woodside at 1.20pm.
For those travelling to the Wirral side of the Mersey there is a good car park at Seacombe, if arriving by train travel to Hamilton Square Station which is a short walk to Woodside Ferry terminal.
These trips are always enjoyable with Arctic Skuas usually the stars of the show. In previous trips rarer birds have included Storm Petrel, Long-tailed Skua, Great Skua and Osprey with regular birds including Peregrines, Guillemots, Mediterranean Gulls, Kittiwakes, Sandwich and Common Terns, Little Gulls, Bar-tailed Godwits and Knot on the beach at Crosby/Formby, and Black-tailed Godwits at New Ferry. We also usually see a Grey Seal or two.
As with any sea-watching the weather is crucial and ideally we want to go out the day after a westerly gale which should produce plenty of interesting birds including Scoters, Gannets and Manx Shearwaters, and may be even some Storm and Leach's Petrels.
Volunteers Wanted at Dee Estuary RSPB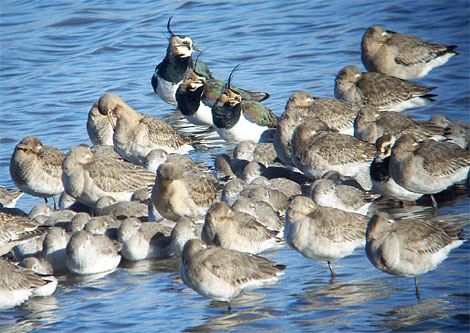 The view from the hide at Inner Marsh Farm RSPB, Feb 2008 © Richard Smith.
The RSPB at the Dee Estuary Nature Reserve are looking for volunteers for various jobs.
The first requirement is for help in the reception area at Inner Marsh Farm. The RSPB are looking for people who are willing to greet visitors in a friendly manner and are able to talk easily to the general public. Some knowledge of wildlife, especially birds, would be helpful but not essential.
The next requirement is for voluntary wardens to patrol the track between Denhall Lane and Burton Point. This will be a similar job to the voluntary wardens at Neston Reed Bed and Point of Ayr, it will be necessary to chat to visitors about the birds but also to try and persuade people to keep to the track and not stray on to the marsh. In particular the RSPB want to stop disturbance of sheep and lambs, as well as wildlife, from out of control dogs by persuading their owners to keep them on a lead. This track is, of course, an excellent place to birdwatch with loads of birds on the marsh - Short-eared Owls, Hen Harriers and wildfowl in the winter, and Wheatears, Whinchat and warblers during migration.
If you are interested or need more details contact Stuart Taylor either by email - Stuart.Taylor@rspb.org.uk, or by phone - 07966 645218.
July Bird News
An excellent month, specially for sea watching. But we start with an inland record - a Glossy Ibis which turned up at Inner Marsh Farm on the 16th , and stayed the following day. This is only the second record for Wirral, and is almost certainly the same bird which has spent some considerable time in Lancashire, mostly at the Marshside RSPB reserve. Another nice rarity at IMF was a Pectoral Sandpiper present from 7th to 9th. The Spoonbill which was there at the end of June was seen on several days through the month, with a second on 13th.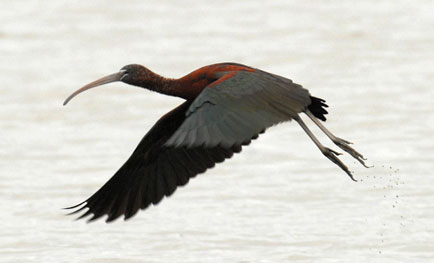 Glossy Ibis at Inner Marsh Farm, July 17th, © Phil Woollen.
Tern numbers built up through the month with 600 Sandwich Terns sitting on the sand bank by Hilbre on 13th, these had built up to at least 1,000 by the end of the month. There were plenty of juveniles in the flocks, which is good news. They've had another bad season at Cemlyn Bay, Anglesey, with gulls and herons taking the chicks, but it is thought that many of the birds turning up here through the summer breed in Ireland where they've obviously had a good season. A Roseate Tern was off Leasowe Lighthouse on 19th and two Black Terns off Hilbre on 30th. The max count of Little Terns at Gronant was 340, which will include some non-breeding birds. So far the fledgling count at Gronant has been low with only 29 when we were hoping for well over 100. It could be that the fledglings dispersed quickly in the strong winds before anyone had a chance to count them. An intriguing tern turned up at Gronant on the 14th. This was Sandwich Tern sized but with a orangey-yellow bill. The two experienced birders who saw it seemed confident that it wasn't the 'Cayenne' Tern which was at Cemlyn Bay a couple of years ago. So that leaves either a Lesser Crested Tern or a some sort of hybrid, of which there are a few around.
Talking of strong winds, it's been another good year for Storm Petrels (see article in June 2008 newsletter). Fresh westerly winds from the 16th to the 18th brought in a few Storm Petrels into the Mersey mouth each day, until the 19th when the wind freshened to the north-west, bringing 11 past Point of Ayr followed by 31 at New Brighton the next day.

It's also been a good month for skuas, particularly Arctic. Counts of Arctic Skuas off Hilbre included 18 on 16th, 12 on 19th and 24 on 30th. An unusual sight was of eight flying over the warden's hut at Gronant on 7am on the 21st, which then played havoc among the terns for the next 30 minutes! Two Great Skuas passed westwards along North Wirral, Hilbre and Point of Ayr on 19th, followed by two more sightings of single birds later in the month.
Greenshank numbers are starting to build with 15 at Parkgate and 18 at the Connah's Quay Reserve. At least 1,000 Black-tailed Godwits were also at Connah's Quay by the end of the month. A couple of Bar-tailed Godwits have been seen on the estuary in their full summer plumage, see sketch at the top of the newsletter.
A Marsh Harrier and Red Kite were observed at Inner Marsh Farm, with the former also seen over Parkgate Marsh.
Many thanks go to Steve Williams, Allan Conlin, Chris Butterworth, Colin Schofield, David Haigh, Geoff Robinson, Charles Farnell, Steve Ainsworth, Richard Steel, Mark O'Sullivan, Dave Wild, Ian Emmitt, Damian Waters, Martyn Seddon, Kevin Smith, John Boswell, Dave Harrington, Mike Hart, Phil Woollen, Neil McLaren, John Smerdon, Stuart Taylor, Jane Turner, John Jakeman, Dave Edwards, Chris Tynan, Ken Roberts, Paul Vautrinot, Glyn Roberts, Andrew Wallbank, Margaret Coupe, Simon Mills, John Tubb, James Armstrong, Jane Woodall, Greg Harker, Steve Renshaw, Alan Patterson, Paul Shenton, Graeme Low and the Hilbre Bird Observatory for their sightings during July. All sightings are gratefully received.
What to expect in August
Given some fresh west or north-west winds sea-watching can be very good in August. Expect Manx Shearwaters, Arctic Skuas (with perhaps a Pomarine, Great or Long-tailed) and the usual Gannets, and if we are lucky some Storm Petrels. Strong north-west winds at the end of the month should also blow in some Leach's Petrels. There will be plenty of Sandwich, Common and Little Terns around the mouth of the estuary, although the former tend to start dispersing south about mid-month.
The past two years have seen Little Egrets peak in August reaching a remarkable 204 coming into roost at Burton last year - expect another increase this year!
Wader numbers will build up rapidly. Expect to see a total of up to 3,000 Black-tailed Godwits, at Inner Marsh Farm and Connah's Quay/Flint. Greenshank will be passing through with the Connah's Quay Reserve a favourite stopping off point, they can also be seen at Heswall, Parkgate and Inner Marsh Farm. On the outer estuary (Hoylake, Point of Ayr and Gronant) there should be good numbers of Grey Plover, Ringed Plover, Dunlin and Sanderling. Most of the Grey Plover will still be in their lovely summer plumage.
A few Marsh Harriers will be passing over on their way south, one or two may well stay for a while. At least five thousand Shelduck are likely to be on the estuary, they now moult here over the summer period - Heswall about two hours before high tide is a good spot to see these. Teal numbers should build up to several hundred at Inner Marsh Farm by the end of the month.
Forthcoming Events
August Highest Spring Tides (Liverpool)
Also see Tides page.
3rd August, 13.33hrs (BST), 9.5m.
31st August, 12.31hrs (BST), 9.5m.
Forthcoming Events
Organised by the Wirral Ranger Service , Flintshire Countryside Service and/or the RSPB:
All these events and walks have bird interest, even those not advertised specifically for birdwatching. No need to book for these events unless specified - please check below.
Saturday 2nd August, 2pm start, Silent Hunter.
Join Steve Harris from the Wirral Barn Owl Trust and learn more about the conservation of these charismatic birds and the work being undertaken by volunteers to ensure their survival at this illustrated afternoon talk in the Wirral Country Park lecture theatre.
Booking essential, 0151 648 4371/3884 or book on-line.
Thursday 7th August, 6pm – 9.30pm, Sunset Walk to Hilbre.
Join the Ranger and cross the sands to discover the wildlife and history of the Hilbre Islands Local Nature Reserve. This 4-mile walk of 4 hours is ideal for first time visitors and suitable for all the family to enjoy, although some people may find the walk strenuous in places. Warm waterproof clothing and suitable footwear are essential. (Wellies are recommended). Sorry no dogs. There is a £1 charge per person for this event.
Booking essential, 0151 648 4371/3884 or book on-line.
Sunday 17th August, 9am start, Mud n' Marsh.
Join the Rangers and the RSPB Wardens at a premier birdwatching site on the internationally important Dee Estuary. Thousands of waders and wildfowl feed where the mudflats meet the marsh and as the tide floods in they form tighter and tighter flocks as they move in search of suitable roosts, alerting birds of prey including Peregrine Falcons and Merlins. Come along to Banks Road Car Park, Lower Heswall to witness this wildlife spectacular.
For further enquiries, 0151 648 4371/3884
Sunday 31st August, 10am – 12.30pm, Heathlands Hike.
Enjoy the beauty of heathland in full flower on this walk split in to two parts that takes you firstly over the Cleaver Heath Local Nature Reserve accompanied by members of Wirral Wildlife followed an hour later by a walk over Heswall Dales Local Nature Reserve accompanied by the Ranger. This event is suitable for all the family to enjoy. Sorry no dogs. No need to book. Meet at the Cleaver Heath Local Nature Reserve Car Park, Oldfield Road, off Telegraph Road, Heswall.
For further enquiries ring 0151 677 7594
Friday 5th September, 7.30pm Start, Bird Migration: A Local Perspective.
This illustrated talk by Wirral Country Park Ranger Matt Thomas focuses on bird migration – a subject that has fascinated people for centuries – and relates it to birds that can be seen on the Wirral Peninsula.
Booking essential ring 0151 648 4371/3884
Thursday 11th September, 6pm – 9.30pm, Sunset Walk to Hilbre.
Join the Ranger and cross the sands to discover the wildlife and history of the Hilbre Islands Local Nature Reserve. This 4-mile walk of 4 hours is ideal for first time visitors and suitable for all the family to enjoy, although some people may find the walk strenuous in places. Warm waterproof clothing and suitable footwear are essential. (Wellies are recommended). Sorry no dogs. There is a £1 charge per person for this event.
Booking essential ring 0151 648 4371/3884
Birding North West is a monthly magazine for birders in the North West Region. Our aim is to bring you the news of rare and scarce birds in our region while it is still news. We consider that up-to-date news, photographs of regional birds, articles on the occurrence of birds in the North West and other articles relating to our region is what our readership want.