Never mind the White-winged Black Tern or Honey Buzzard, the bird(s) of the month must be the Little Terns at Gronant. I'd been saying all spring that we were due a bumper year, and what a year it has turned out to be! A record number of pairs, 110, have produced a record number of fledglings - 160 - and another 20 or so are still unfledged as I write. A look at the graph below shows just how good a year it is for the Little Terns. As is typical for a Little Tern colony numbers fledged vary greatly from year to year but the general trend since the RSPB wardening scheme started in 1975 has been upward. The season got off to a good start when the weather turned fine at the end of May just in time for nesting to begin. We have an excellent team of wardens who have managed to keep predation very low, the only problem being a particularly persistent male Kestrel which has taken a few chicks. So a bumper year indeed!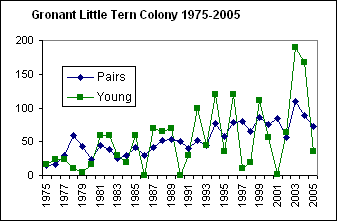 Data kindly provided by the RSPB (Dee Estuary)
Graph based on one originally drawn by Gareth Stamp
As usual July has been a good month for Sandwich Terns at the mouth of the estuary. They spend a lot of time loafing around roosting on the sand banks at any state of the tide, making them easy to see and count. The highest number were off Hilbre with a good count of over 1,500, and several 100 were seen daily at Gronant, Red Rocks and West Kirby. Of course the rarity of the month was the White-winged Black Tern, first seen at Gronant, it then moved to Hilbre and Hoylake before it was last seen at Seaforth. At this time of year this species is normally migrating over the east Mediterranean but with the fabulous weather we were having at the time no wonder it got confused!
It's been a good year for Common Sandpipers with 5 at Gronant, 7 at Hilbre and 6 at Shotton, as well as regular reports of single birds at various locations. There have also been good numbers of Spotted Redshank with up to 9 at Inner Marsh Farm. The Greenshanks are back at Parkgate, highest count so far is 24.
An unexpected sight was a Honey Buzzard on a fence by the Moreton spur road, but we quite often get Common Buzzards there.
What to expect in August.
There should be plenty of Little Terns around for the first half of the month, with the colony at Gronant totalling 400 birds (including juveniles) plus our usual influx of passage birds we could see up to 600. Best seen off Point of Ayr, Hilbre and Red Rocks. These same sites are also excellent for seeing our other terns, Sandwich and Common, plus a few Arctic. Expect Sandwich Tern numbers to start dropping off by mid-month as they make their way south. We will get large numbers of Common Terns, some birds actually travel overland from the North-east of England directly to Liverpool Bay (Migration Atlas). This gathering of Common Terns this month is more of a post breeding dispersal rather than a migration, although this will start by the end of August. Black and Roseate Terns are also a possibility. Arctic Skuas will be around chasing the terns and may be a Great or Long-tailed Skua as well.
Flocks of waders several thousand strong - Ringed Plover, Dunlin, Sanderling and Knot - will be passing through on their way south. These are birds breeding in the far north which winter in Africa. Some years the peak of this late summer passage is in early August, it then goes quiet again before the next wave in Autumn.
Greenshank numbers will build up, the Boathouse Flash at Parkgate being a favourite spot, we should get at least 50 by the end of the month. Inner Marsh Farm is a good place to see Green Sandpipers, last year at least one was present on most days of the month. Juvenile Curlew Sandpiper should start to pass through, they could turn up just about anywhere but Point of Ayr, Heswall and Hoylake have been prime sites for these delightful waders in the past.
Little Egret numbers will continue to build up, expect to see an increase on last year's 26, look for them off Parkgate and Denhall Quay. Marsh Harriers will be on their southward migration, and if we are lucky may be an Osprey or two.
Many thanks go to Karen Leeming, Colin Wells, Carl Clee, Brian Grey, Jean Morgam, David Small, Jon Wainright, Allan Conlin, BK and W Hassal, Mike Hart, Allan Patterson, David Harrington, Clive Ashton, Phil Woolen, Stephen Williams, Chris Butterworth, Martyn Jaimeson, John Harrison, Paul Rowlands, Neil Friswell, John Kirkland, Keith Gorley, the wardens at Gronant and the Hilbre Bird Observatory for their sightings during August. All sightings are gratefully received.