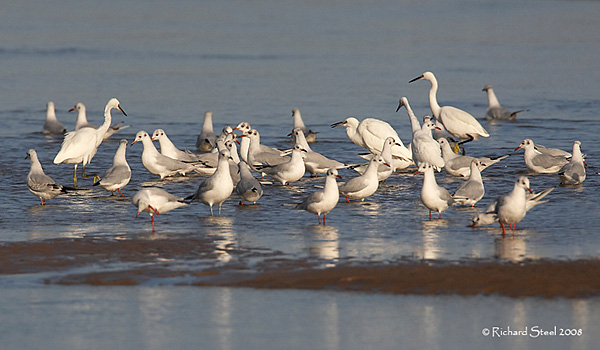 Little Egrets with Black-headed Gulls off Leasowe, ©
Richard Steel
.
Recently both the national and Dee Estuary WeBS reports were published, covering 2008/09 and 2009/10 respectively. WeBS is the Wetland Bird Survey carried out every month at around 2,000 sites around the country. It gives a really good indication of how our wetland birds are doing nationally, how important the Dee Estuary is as a wetland site in a national context and shows year on year trends for the birds which use the Dee Estuary.
You can access the national WeBS Report on-line by clicking -
http://www.bto.org/volunteer-surveys/webs, and for a copy of the Dee Estuary WeBS Report please contact the RSPB at Inner Marsh Farm – tel: 0151 336 7681, there may be a small charge for this report to cover printing costs. WeBS counters get their copies free.
To give you a 'taster' of these reports here is a summary of five species which I hope will be of interest:
Little Egret
Since 2006/07 the numbers nationally for this species have stabilised after many years of increase. But on the Dee Estuary numbers continue to rocket with max numbers counted flying into the Burton roost site of 258 in 2008/09 and 315 in 2009/10, about 30 pairs bred in both 2009 and 2010 producing at least 100 young each year. The Dee Estuary is now the fourth most important site in the country for this species. It will be interesting to see what effect the very cold December last winter has had on numbers.
Shelduck
A max of 9,457 were counted on the Dee Estuary in 2008/09, which was the highest in the country, this increased to 11,688 the following year. These peak numbers occurred in October and are assumed to consist of birds dispersing from their moulting site on the Mersey Estuary.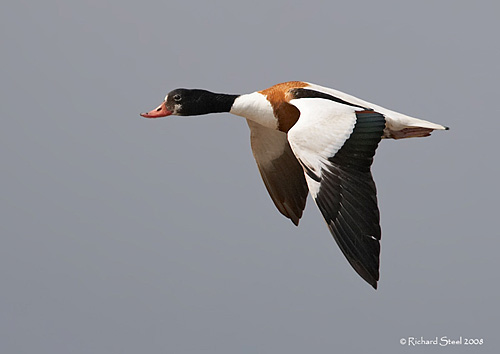 Pintail
Despite numbers falling for four years in a row the Dee Estuary remained the most important site in the country for this species with 3,932 in 2008/09, but there was a further sharp drop in 2009/10 to 2,960. This drop in numbers is reflected nationally, in 2008/09 only three other sites recorded numbers above 2,000.
Oystercatcher
This species appears to be recovering from a low point at the end of the 1990s, attributed to over-cockling. The max count in 2009/10 was 25,886; only the second time there has been a winter count of over 25,000 since 1997/98. Interestingly this high count took place during the cold spell in January 2010. The five year mean puts the Dee Estuary as the fourth most important site in the country for this species.
Black-tailed Godwit
A count of 5,763 on October 18th 2009 was the second highest count on the Dee Estuary for this species, the highest being 6,452 in September 2004. Numbers can vary quite widely year by year but appeared to have stabilised around a five year mean of about 5,000 in recent years after many years of increase, a trend reflected nationally. The Dee Estuary is the third most important site in the country for this species.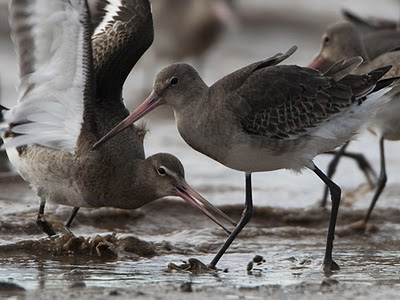 Black-tailed Godwits on Thurstaston Shore ©
Matt Thomas
.
WeBS (Wetland Bird Survey) data in this article should not be used elsewhere in any way without permission of the WeBS Office. To access official WeBS data please contact the WeBS Secretariat - BTO, The Nunnery, Thetford, Norfolk IP 24 2 PU www.bto.org.
Please note that BTO are currently looking for WeBS counters for the Mersey Estuary. If you are interested please contact them, details on:
http://www.bto.org/volunteer-surveys/webs/about/contact-webs.
Richard Smith.
June Bird News
A Blyth's Reed Warbler was trapped and ringed on Hilbre on the 5th. This is only the second record for Wirral, and the first for Hilbre. On the same day a Great White Egret flew over Parkgate Marsh with possibly the same bird turning up at the Connah's Quay Reserve on the 24th. Also on the 5th was a Pectoral Sandpiper at Inner Marsh Farm and a Red Kite over Heswall Golf Club, the previous day two Red Kites were over Saughall with a single over Deeside Industrial Estate on the 20th.
Although sea watching wasn't exactly spectacular there were several reports of Arctic Skuas including three off Hilbre and four off north Wirral. Gannets reached 300 at Hilbre on the 1st but only a few Manx Shearwaters were reported through the month. 200 Common Scoter on the 2nd was a good count for June. The Little Terns at Gronant are doing well with over 300 birds present and a record number of nesting pairs, although there have been a few problems with a Kestrel. Unfortunately the Common Tern colony at Shotton failed again.
As well as the Red Kites already mentioned other raptors included an Osprey over West Kirby on the 3rd and a Marsh Harrier at Inner Marsh Farm on the 6th. There were eight reports of Hobbies through the month, a species that is doing well and presumably breeding in our area.
Two Spoonbills were seen briefly at Parkgate and Inner Marsh Farm. The first returning Spotted Redshank was recorded at Inner Marsh Farm on the 16th, with two Green Sandpipers there on the 29th. Two early Common Sandpipers were on Hilbre on the 20th. A good June record was a Woodcock over Thurstaston on the 21st.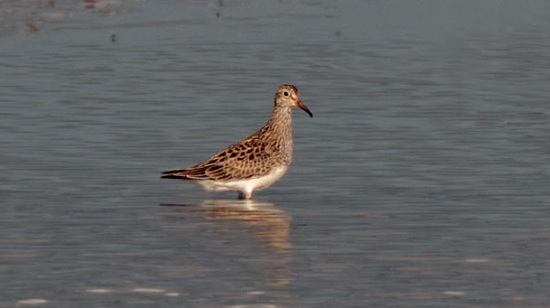 Pectoral Sandpiper with at Inner Marsh Farm, June 7th, © ©
Steve Round
.
Richard Smith.
Many thanks go to David Leeming, William Boyce, Steve Williams, Keith Scovell, Chris Butterworth, Charles Farnell, Roy Lowry, Colin Millington, Martin Kelly, Colin Jones, Bill Wonderley, Bruce Atherton, Paul Brady, Dave Wild, David Huntingford, Matt Thomas, Jeremy Bradshaw, Dave Harrington, Mike Hart, Kenny Dummigan, Colin Schofield, Andrew Wallbank, Paul Vautrinot, Jane Turner, Tanny Robinson, John Nicklin, David Small, Mike Davenport, Dave Edwards, Leon Castell, Greg Harker, Peter Forshaw, Mike Jones, Mark Evans, Paul Fitzpatrick, Ian Fleming, Julian Weldrick, Steve Hand, Paul Earley, John Atkinson, Harry Lyon, Steve Hasell, Garry Hagan, Phil Gibson, Clive Ashton, John Billington, the
Dee Estuary Voluntary Wardens
and the
Hilbre Bird Observatory
for their sightings during June. All sightings are gratefully received.
What to expect in July
July is one of my favourite months with a mixture of returning waders, terns, gulls and petrels plus the prospect of a mega rarity or two - all this and (hopefully) good weather as well!
The fresh water loving sandpipers - Common, Green and Wood - should start returning early in the month and birds may be seen at Gilroy NP, Inner Marsh Farm, Shotton lagoons and Connah's Quay. Common Sandpipers are quite often seen on the estuary as well and can turn up just about anywhere including Hilbre. By mid-month good numbers of Black-tailed Godwits will start returning from Iceland, during migration they are also often seen at fresh water sites, data from ringing tells us that many of these birds we see in July continue on much further south to France and Portugal. Spotted Redshank, Whimbrel and Greenshank will also be passing through, and there will be a rapid build up of Redshanks, particularly at Heswall. Many waders will be in summer plumage, including Turnstones.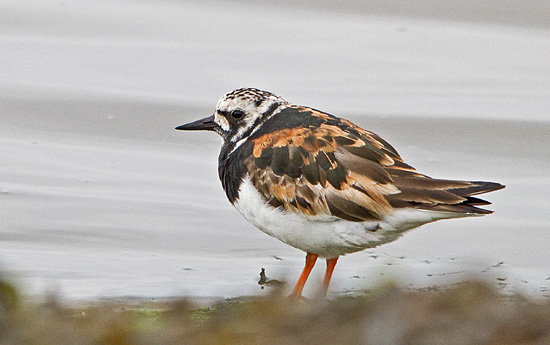 Summer plumaged Turnstone at Leasowe, July 2010, © Charles Farnell.
Sandwich Terns will be very much in evidence with numbers building throughout the month at Gronant, Point of Ayr, Hilbre, West Kirby and Hoylake with maybe as many as a thousand at each of these sites. Rarer terns may include one or two Black and Roseate. Gull numbers will also build rapidly and should include Mediterranean Gulls. Hoylake and Heswall are particularly good for this species which seem to be increasing each year, last year we had at least five at both sites.
Any strong westerly winds will result in many Gannets and Manx Shearwaters passing through Liverpool Bay, if the winds last for more than a day or two then there is a good chance of seeing Storm Petrels.
The past few years have been good for rarities in July - 2010 saw a Lesser Yellowlegs, 2009 a Terek Sandpiper and 2008 a Glossy Ibis.
Forthcoming Events
July Highest Spring Tides (Liverpool)
Also see Tides page.
3rd July, 13.18hrs (BST), 9.1m.
4th July, 14.00hrs (BST), 9.1m.
31st July, 12.19hrs (BST), 9.2m.
Forthcoming Events
Organised by the Wirral Ranger Service , Flintshire Countryside Service and/or the RSPB:
All these events and walks have bird interest, even those not advertised specifically for birdwatching. No need to book for these events unless specified - please check below.
Also see 2011 Events Diary.
Friday 1st July, 9:00pm - 11:00pm, Bat and Owl Night -
Royden Park
.
Join the Rangers and discover the variety of Bats that thrive in our woodlands, heathlands and meadows and listen to the call of the Tawny Owl on this dusk/night walk.
Meet at the Rangers Office in Royden Park.
Sorry no dogs.
Please wear suitable footwear and bring a torch.
Booking essential (numbers limited to 18).
Ring 0151 648 4371 to book.
Tuesday 12th July, 1:30pm - 3:30pm, Guided Walk - Royden Park.
Join the Ranger on a walk through the woodlands and meadows of Royden Park.
Discover the history and wildlife of this park.
Meet at the Rangers Office Royden Park.
Please wear suitable footwear.
No need to book, for further info ring 0151 677 7594.
Thursday 14th July and Thursday 28th July, In Search of the Silent Hunter at Parkgate.
See poster below for details.
Saturday 16th July, 10:00am - 4:00pm, Wirral Wildlife - Royden Park.
and Sunday 17th July, 10:00am - 4:00pm.
Wirral Wildlife will have displays and information about their work and events.
Also providing refreshments at the Tea Servery.
Meet at the Coach House at Royden Park.
Dogs on lead in Court Yard and Coach House please.
No need to book, for further info ring 0151 677 7594.
Wirral Wildlife is the Wirral Branch of Cheshire Wildlife Trust.
Sunday 17th July, Moths at Inner Marsh Farm - see poster below.
Saturday 23rd July, 2:00pm - 4:00pm, Barn Owls on Wirral.
Join the Wirral Barn Owl Group and discover more about the efforts being made to conserve Barn Owls on Wirral. Learn more about their habits and habitats including looking at the food they eat.
Max number is 30. Booking essential.
Sorry no dogs.
Location is Wirral Country Park, Thurstaston Visitor Centre. Please ring 0151 648 4371 to book.
Saturday 23rd July, 7:30pm - 10:30pm, Barn Owl Talk and Evening Walk - Wirral Country Park
Join the Rangers and Steve Harris from the Wirral Barn Owl Group for an evening illustrated talk followed by a walk around the Thurstaston Visitor Centre and along the Wirral Way to (hopefully) see these lovely birds quartering over the fields at dusk.
Sorry no dogs.
Maximum number is 25 and Booking is essential.
Location is Wirral Country Park, Thurstaston. Please ring 0151 648 4371 to book.
Saturday 13th August 8:15 am until 4:00 pm. Terns and Skuas on Hilbre.
Join the Rangers and staff from the RSPB for an over tide visit to Hilbre Island. We should get great views of the Terns as they dive into the sea in search of small fish followed by Skuas as they take chase to steal their meal! Suitable clothing, footwear and packed lunch are essential. (Please note that we shall be cut off from the mainland) Sorry no dogs. Please book early as there are limited places available. For booking and further enquiries call: 0151 648 4371.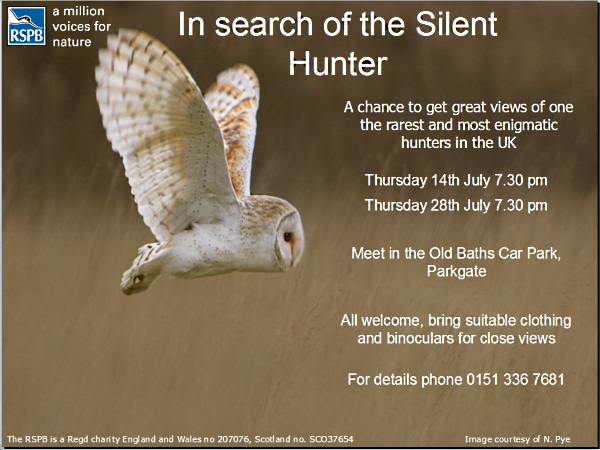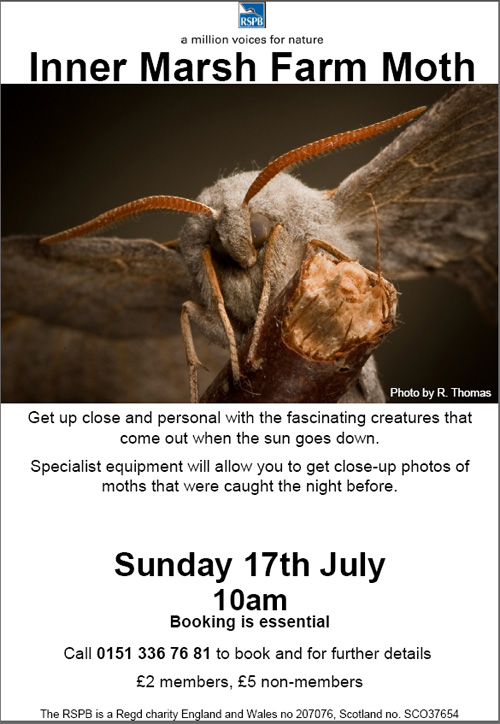 Birding North West is a monthly magazine for birders in the North West Region. Our aim is to bring you the news of rare and scarce birds in our region while it is still news. We consider that up-to-date news, photographs of regional birds, articles on the occurrence of birds in the North West and other articles relating to our region is what our readership want.