Little Terns at Gronant (taken with gopro camera under license) © North Wales Little Tern Group

The best way to become a voluntary warden at Gronant is to contact the North Wales Little Tern Group by emailing
nwlittletern@gmail.com. I quote from their website (https://northwaleslittleterns.weebly.com/howyoucanhelp.html ):
"The way you can help the birds whenever you are free, please consider heading down to the Gronant dunes and the wardens will always have something for you to help with. Volunteers play a crucial role in supporting the staff wardens as it is a large site with lots happening. If you can volunteer at Gronant Dunes this season, please let us know by emailing nwlittleterns@gmail.com."
Also you can download this PDF file which goes into some detail about the Little Terns and the wardening scheme:
Becoming a Little Tern Warden.pdf.

The Point of Ayr scheme is run by the RSPB and the person to contact is Liz Holmes,
or contact the RSPB at Burton Mere Wetlands.
A flock of Little Terns heading out to sea to do some fishing off Gronant © Steve Round

Blessed with good weather 2021 was a very good year for the Little Terns with a record number of pairs breeding (175) which resulted in the third highest number of fledglings (a minimum of 211), behind 2010 with 216 and 2019 with 212. The number of fledglings would have been higher but as usual some chicks were lost to foxes when they wandered outside the electrified pens and the kestrel managed to predate a few. In addition there were several Ringed Plover and Oystercatcher nests.
The figures are the combined totals for both Gronant and Point of Ayr, see the graph below.

It's very good news that Little Terns are now also breeding at Point of Ayr as it gives them an alternative site if there are problems at Gronant, as there was in 2020 when a storm resulted in 70% of the nests being destroyed. Some then started nesting at Point of Ayr and were quite successful as can be seen in the table above.
Nationally, it is sad that Little Terns are continuing to decline despite much research and effort to rectify this and protect the colonies. But we can take same consolation that our terns on the Dee Estuary continue to do very well. Indeed, two of the most successful colonies in the British Isles are relatively close to each other with Gronant in North Wales and Kilcoole in south-east Ireland, just 150 miles apart. Kilcoole has a very similar history to Gronant starting several decades ago with just 20 pairs or so and that has now grown to around 150 pairs. Colour ringing has shown that there is much interchange between the two sites and other colonies within the Irish Sea, and that is the topic of my next article below................


Colour Ring Report - Little Tern Special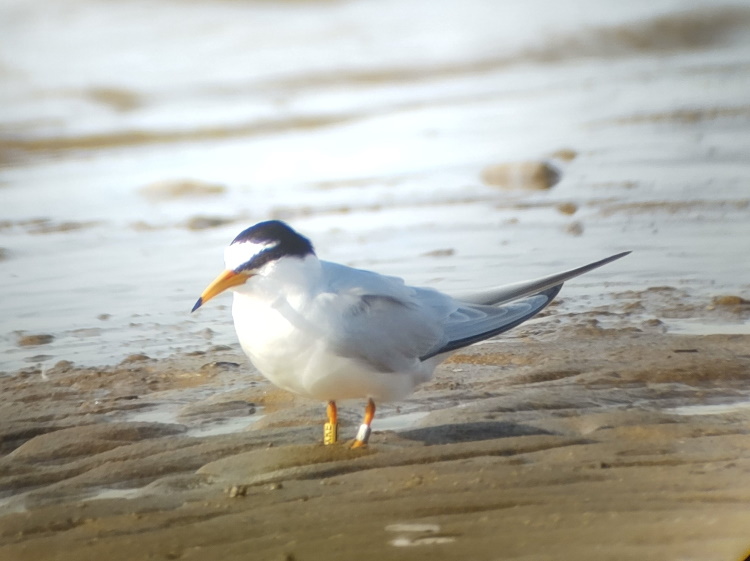 Little Tern Yellow XKE spotted three times at Gronant in 2021 © North Wales Little Tern Group
In 2013 Cabot & Nisbet wrote in their New Naturalist Terns book 'Of all our breeding terns we know least about the migrations of the little tern because of the paucity of recoveries of ringed birds.....a very low recovery rate of about 1.34 per cent......With such a low rate of recovery it is not surprising that migration routes and even the location of winter quarters are poorly documented.' In 2014 that started to change with the setting up of the Little Tern Recovery Project funded by EU Life. This provided funding not only to protect the colonies but also research into understanding the Little Tern population and movements including colour ringing. There was some resistance to colour ringing Little Terns as it was thought that the rings would have to be so small to fit onto their tiny legs they would be impossible to read in the field! Luckily that hasn't been the case, indeed far from it and I was astonished to read in their 2021 Report that there were seven hundred sightings of three hundred and thirteen colour-ringed Little Terns at Gronant last summer!

The pie chart below shows where all these birds were originally ringed and were all from breeding colonies within the British Isles apart from one ringed on passage in Portugal in September 2018. Also sighted at Gronant in 2020 this is the only Portuguese ringed Little Tern ever recorded in Britain and Ireland.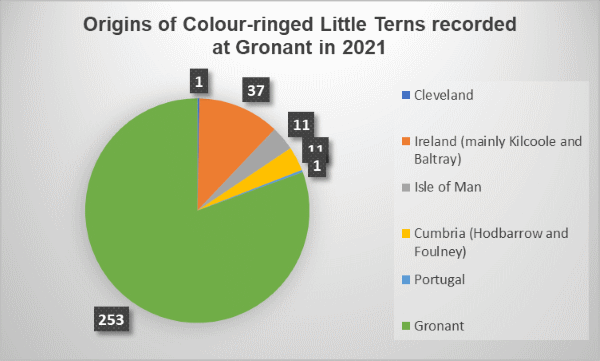 Colour ringing has also improved the recovery rate in their wintering area and all of these have been from the west African coast - Mauritania, Senegal, Gambia, Guinea Bissau and Sierra Leone with a total of 22 records up until the end of 2020 (includes metal ring recoveries so going back several decades). Only one of these were recorded in Mauritania but that changed in November 2021 thanks to our friends from the Royal Netherlands Institute of Sea Research (NIOZ), who were in the Banc d'Arguin National Park on their annual wader expedition and found time to scan through the Little Terns there and found 14 with colour rings - including six from Gronant!

Details below:

Yellow ring (C1B)
Ringed on Foulney Island on 27/06/2017 as a chick.
Recorded at Gronant in 2019 and confirmed to be breeding, and there were five records from June to August 2021.
Recorded at Banc d'Arguin, Mauritania on 26/11/2021.
Yellow ring (PBX)
Ringed at Gronant on 14/06/2019 as a breeding adult.
Also seen at Point of Ayr in August 2019.
Recorded at Gronant on several dates in both 2020 and 2021.
Recorded at Banc d'Arguin, Mauritania on 30/11/2021.
Yellow ring (PVN)
Ringed at Gronant on 24/06/2003 as a chick (metal ring).
Retrapped at Gronant on 05/06/2021 and fitted with colour ring, and re-sighted twice more in 2021.
Recorded at Banc d'Arguin, Mauritania on 26/11/2021.
This bird was 18 years old in 2021.

Yellow ring (XTV)
Ringed at Gronant on 12/07/2017 as a chick.
Recorded at Gronant twice in 2019 and twice in 2021.
Recorded at Banc d'Arguin, Mauritania on 26/11/2021.
Yellow ring (ZKN)
Ringed at Gronant on 22/07/2018 as a chick.
Recorded at Gronant four times in 2021.
Recorded at Banc d'Arguin, Mauritania on 30/11/2021.
Yellow ring (ZXN)
Ringed at Gronant on 22/07/2018 as a chick.
Recorded at Gronant in July 2020.
Recorded at Banc d'Arguin, Mauritania on 30/11/2021.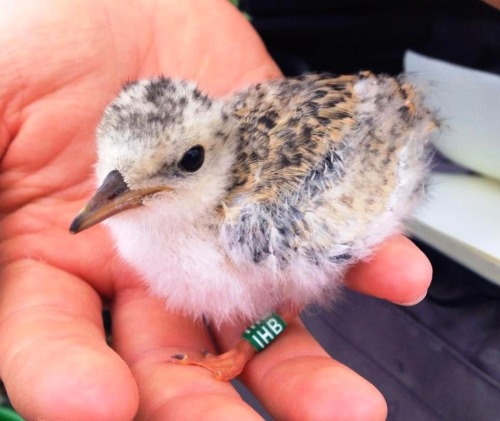 Little Tern chick being ringed at Kilcoole (Wexford, Ireland) © Kilcoole Little Tern Project


References (for both the above Little Tern articles)
1. Alex Bain, Oliver Slessor and Alex Wilkins, 2021 Gronant Little Tern Report, Denbighshire County Council.
2. David Cabot & Ian Nisbet, Terns, Collins New Naturalist, 2013.
3. Ringing and Nest Recording Report (BTO), available on-line at:
https://www.bto.org/our-science/projects/ringing/publications/online-ringing-reports

4. Linda Wilson, Insights from colour-ringing Little Terns (RSPB summary of British Birds article Feb 2021),
https://community.rspb.org.uk/ourwork/b/science/posts/insights-from-colour-ringing-little-terns

5. Details of the colour-ringed Little Terns recorded by NIOZ in Mauritania were sent to David Norman (Merseyside Ringing Group) then circulated to members of North Wales Little Tern Group.

Richard Smith

April Bird News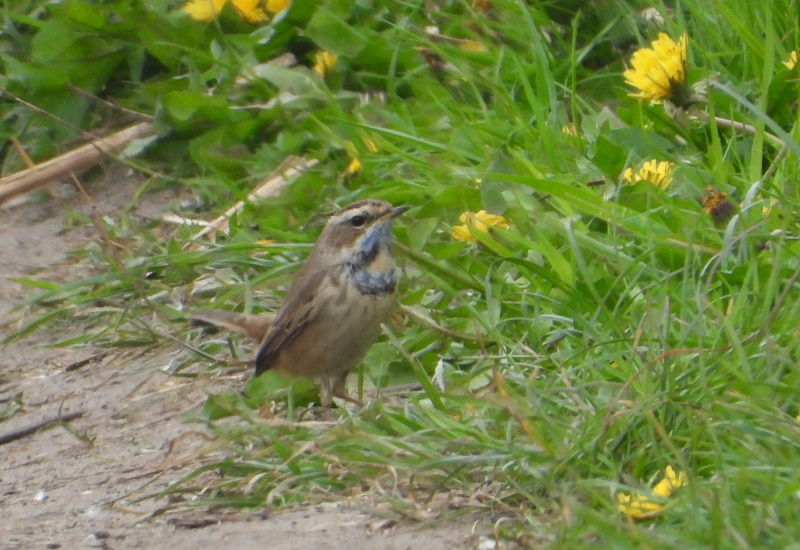 Bluethroat at Leasowe, April 28th © Richard Smith

There's no doubting the bird of the month with a Bluethroat found by Allan Conlin on the path by the horse paddocks at Leasowe Lighthouse on the 28th. It was a good way to remember our friend Kenny Dummingan who found the last Cheshire/Dee Estuary bird at almost the exact spot 12 years ago. I reckon this is the 17th record for the Dee Estuary area with most seen at Red Rocks but there are two records from Shotton in the 1970s.

Other notable rarities were an Iberian Chiffchaff at Hoylake, a Black Kite at Burton and a Richard's Pipit at Hilbre.

Below is the table of the first arrivals for a selection of migrants, all fairly typical for recent years except for the first swifts which were the latest since 2014 (3rd May), no doubt due to some cold north-easterlies late on in April.

| Species | 2022 | Location | 2021 | 2020 |
| --- | --- | --- | --- | --- |
| Wheatear | 9th March | Burton | 28th Feb | 16th March |
| Sand Martin | 11th March | Burton | 5th March | 16th March |
| White Wagtail | 12th March | Hilbre | 16th March | 1st March |
| Swallow | 15th March | Burton | 18th March | 23rd March |
| House Martin | 23rd March | Heswall | 27th March | 5th April |
| Willow Warbler | 29th March | West Kirby | 23rd March | 26th March |
| Whitethroat | 10th April | Heswall | 10th April | 8th April |
| Cuckoo | 21st April | Leasowe | 24th April | 23rd April |
| Swift | 28th April | Burton | 16th April | 21st April |
Due to some warm southerly winds the spring migration really picked up in the second week of April and highlights include: on the 12th we had well over 100 Wheatear including 50 at Leasowe Lighthouse where we also had 6 Common Redstarts and 60 Willow Warblers; the 13th saw four Ring Ouzels in four different locations and we had 73 White Wagtails on Hoylake Shore on the 14th. Other notable migrants were three male Pied Flycatchers, the first Spotted Flycatcher through on the last day of the month and a Wood Warbler at Leasowe on the 24th. There were plenty of Grasshopper Warblers seen and heard including five along the edge of Burton Marsh on the 18th.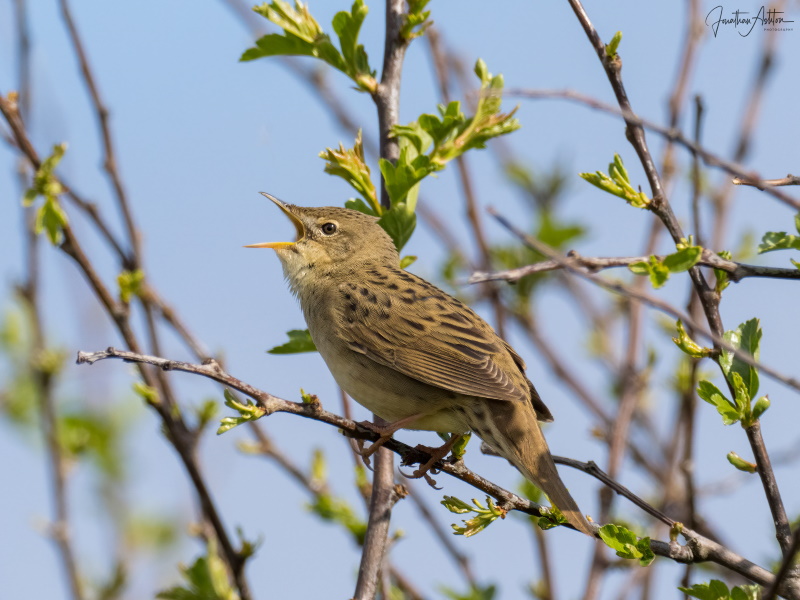 Grasshopper Warbler at Leasowe, April 27th © Jon Ashton

There was a decent passage of Ospreys with 11 in total including one in late March, unusually one roosted overnight in a tree at Meols giving good views both that evening and the following morning when it was sat on a past on the shore. Several reports of an Osprey came from West Kirby which all turned out to be the escaped Red-tailed Hawk which has now been there for several years.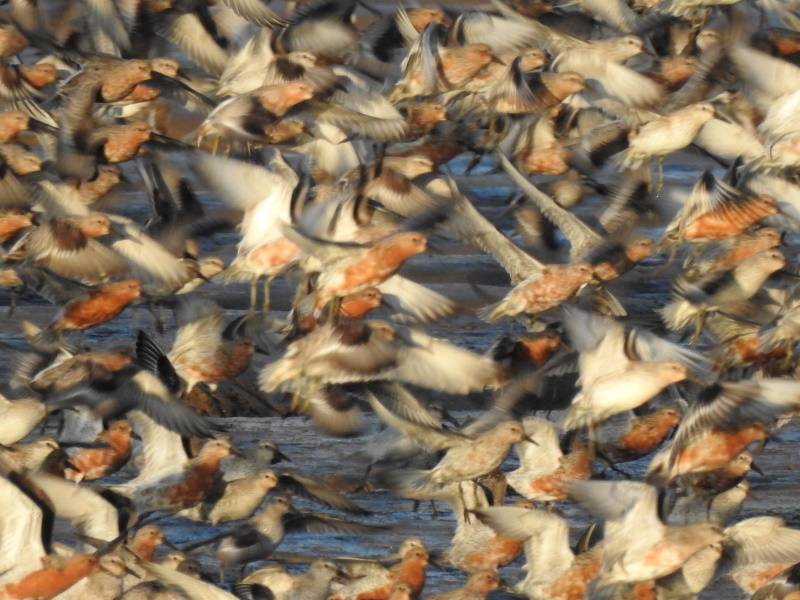 Knot at Thurstaston, April 24th © Steve Hinde

With many of our over-wintering waders having already moved on the estuary can be very quiet in April, but it certainly wasn't quiet on the 25th when Dawpool Bank, off Thurstaston, was covered with thousands of Knots, Grey Plovers and Dunlin. This was early morning yet by 10am they had all disappeared, apart from a handful of Dunlin, and this seemed to be the pattern for the whole of the last week in April. We think they were feeding overnight here on the Dee and flying back to Formby and Ainsdale the following morning. It was certainly fantastic to see so many Knot in breeding plumage and, from the way they were behaving, they seemed to be preparing for the long flight across the Atlantic with many seen to fly high into the sky before gliding back down again on several occasions. A few Wood and Green Sandpipers were recorded and a Curlew Sandpiper seen at Hilbre at the end of the month was a nice find.

Out to sea it was good to see the terns back including the first Little Tern, at Hilbre on the 12th, with several at Gronant a few days later. A strong breeze early in the month brought in a few Gannets but generally it was fairly quiet, but it was good to see two Arctic Skuas on the 3rd.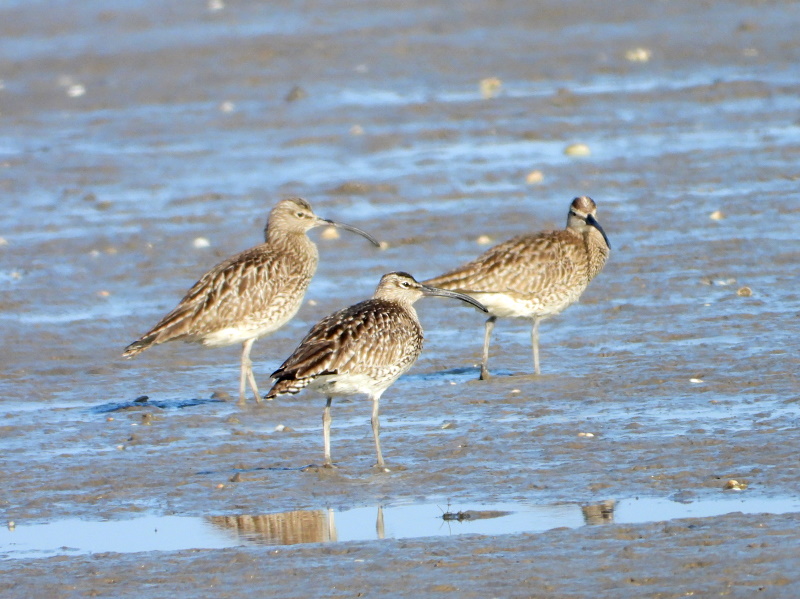 Whimbrels on Caldy Shore, April 29th © Richard Smith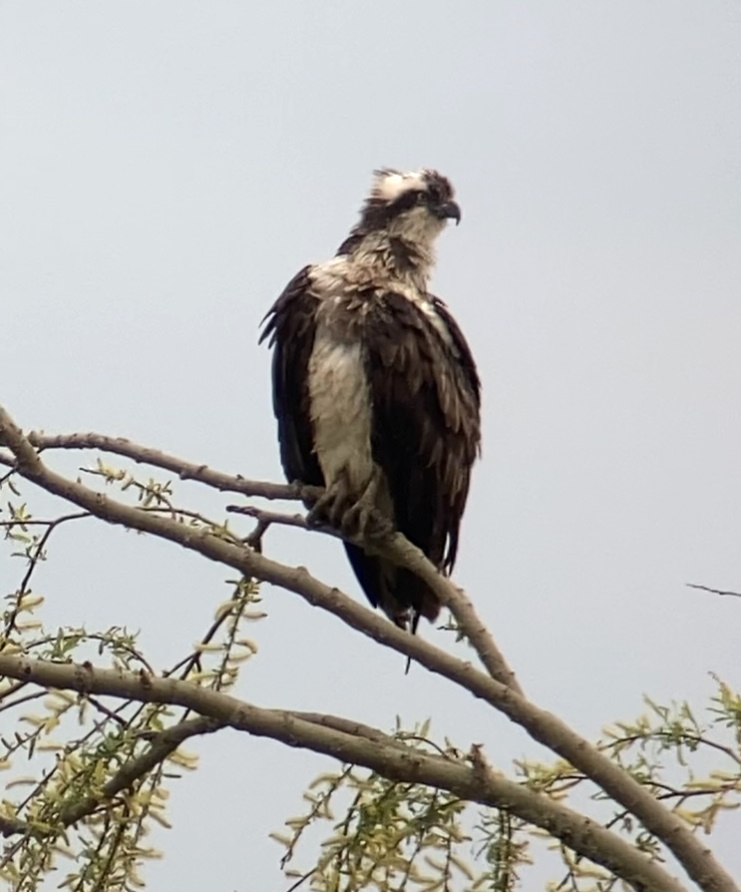 Osprey at Meols, April 14th © Sean O'Hara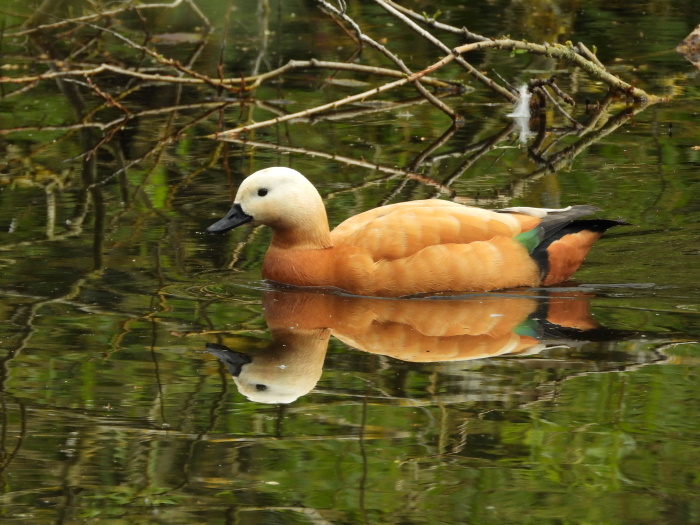 Ruddy Shelduck at Burton Mere Wetlands, April 27th © Bill Wonderley

Many thanks go to Matt Thomas, Steve Williams, Steve Hinde, Alan Hitchmough, Richard speechley, Allan Conlin, Richard Whitby, David Small, Bruce Atherton, Mark Woodhead, Jane Turner, David Leeming, Paul Vautrinot, Dave Edwards, Paul Mason, Frank Burns, Carole Killikelly, Kelvin Britton, Glyn Thursfield, Jeremy Bradshaw, Roy Wilson, Ken Mullins, Graham Parry, Shila Ryde, Mark Gibson, Marc Gannon, David Thompson, Jeff Stephens, Ian Goldstraw, Charles Farnell, Paul Greenslade, Tony Sinnott, Chris Wilding, Bill Wonderley, Sean O'Hara, Graham Connolly, Richard Whitby, Elliot Monieth, Jason King, Jon Ashton, Benjamin Twist, Bruce Hogan, Ashley Cohen, David Wood, Stephen Burke, Barry Brett, Mark Palin, John Watson, Mike Cooper, Chris Maltby, Jennifer Harwood, Charlie Lowe, Andy Metha, Steve Hasell, Clare Simpson, David Lowe, Bill Owens, Sheila Saunders, Ross Menteer, Ian Hughes, Roger Nutter, Richard Taylor, Serena Piccoli, Robin Hulse, Paul Yarlett, Benjamin Lane, Ken Lewis, Tony Davies, David Bradford, the Dee Estuary Wardens and the Hilbre Bird Observatory for their sightings during April. All sightings are gratefully received.

What to expect in May

The spring migration will still be in full swing especially in the first half of May. Migrants to look out for are Spotted Flycatchers and Whinchats both which should peak in numbers this month, and there should still be Yellow Wagtails passing through. Wood Warblers are sadly quite rare now but there is a good chance one or two will be sighted, and hopefully they will be in full song.

On the estuary and freshwater sites look out for waders in breeding plumage - Dunlin and Ringed Plovers will be migrating in their hundreds and both Grey Plovers and Knots will be in full summer plumage if you manage to see them early in the month before they head north. We normally associate Curlew Sandpipers with the autumn migration but we sometimes get one or two in May and they will also be in summer plumage which is not something we see very often here. The stretch of coastline between West Kirby and Heswall is particularly good for seeing Whimbrels and their numbers peak either late April or early May, last year there was a record count of 173 at Heswall.

Strong westerlies should result in some good sea-watching with our first Manx Shearwaters of the year as well as plenty of Gannets.
May is often a great month for rarities, last year alone we had a Hoopoe, Collared Pratincole, Common Crane, Bonaparte's Gull and Glossy Ibis.

Top of Page
Forthcoming Events
May Highest Spring Tides (Liverpool)
Also see Tides page.
16th May, 11.53hrs (BST), 9.5m.
17th May, 12.37hrs (BST), 9.6m.
18th May, 13.24hrs (BST), 9.5m.
Forthcoming Events
see https://events.rspb.org.uk/deeestuary