The DSC staff did a fantastic job but had a tough time of it, as did the terns. There were big high tides, storms, sand blow and predation, particularly by foxes. All this resulted in just 89 nesting pairs and 31 fledged young, compared to 162 pairs and 206 young in 2019. This might seem like a disaster but fluctuating fortunes are typical for Little Tern colonies; they are long lived birds and can easily cope with the odd poor season. To put it into perspective, this comes on the back of 10 record, or near record breaking, seasons in terms of ever increasing number of pairs, and over the past four years of high productivity in terms of fledged young - as you can see in the graph below.
Here is the Point of Ayr Little Tern Report 2020 kindly sent to me by Liz Boone (RSPB):
As I write this in mid-April we have just heard that the easing of Covid 19 restrictions means that voluntary wardens will be allowed at both Gronant and Point of Ayr, which is great news.

Colour Ring Report
Blackbird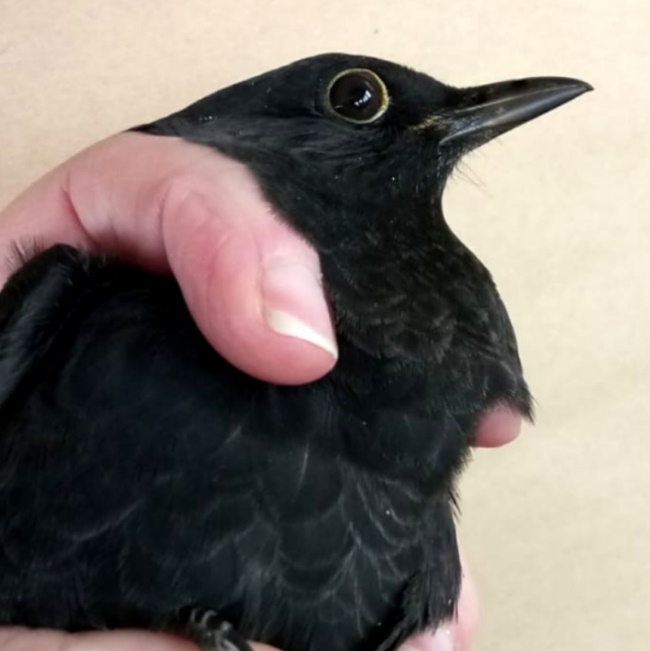 Blackbird with metal ring LN63843, Hoylake, November 2020 © Jane Turner


Blackbird isn't a species normally associated with this ringing report but this was a particularly interesting recovery and ringed in a sea-front garden in Hoylake.
Ringed with metal ring LN63843 at Hoylake on 29/11/2020.
Recovered alive in Vestby, Norway (just south of Oslo) on 8/04/2021, straight line distance is 1095Km.


Black-tailed Godwits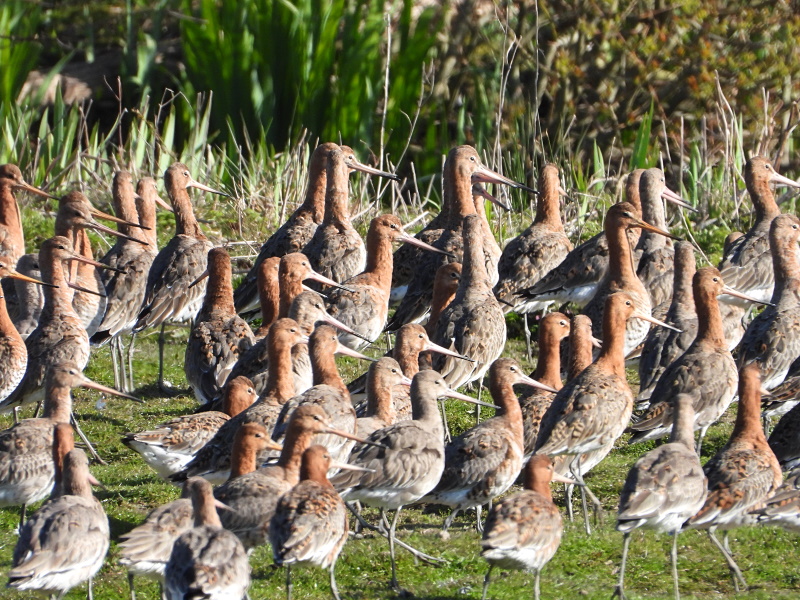 Black-tailed Godwits at the moulting site in Caldy, April 10th 2021 © Richard Smith

It was lovely seeing the northward passage of Black-tailed Godwits with many in full summer plumage but it wasn't very productive for colour-ringed birds with just two recorded, as follows: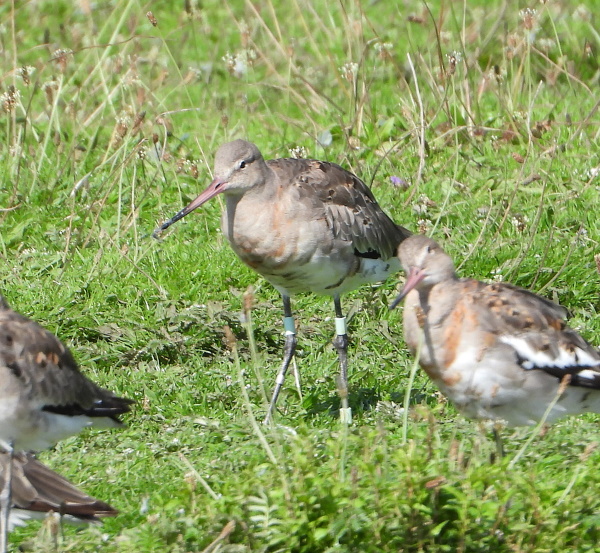 L//L-L at Caldy in August 2019 © Richard Smith

L//L-L
Ringed as a chick.
Ringed in southern Iceland on 17/06/2003.
In June this bird will be 18 years old. The longevity record for Black-tailed Godwits is 23 years old, but 18 is still an exceptional age for this species.
This bird has been recorded a total of 262 times, and since 2005 it has only ever been seen away from the Dee Estuary when it visited the Ribble Estuary in March 2019. I have seen it a total of 179 times which in itself must be some kind of record!
It was recorded four times at Caldy Wildfowl Collection in the second half of April 2021.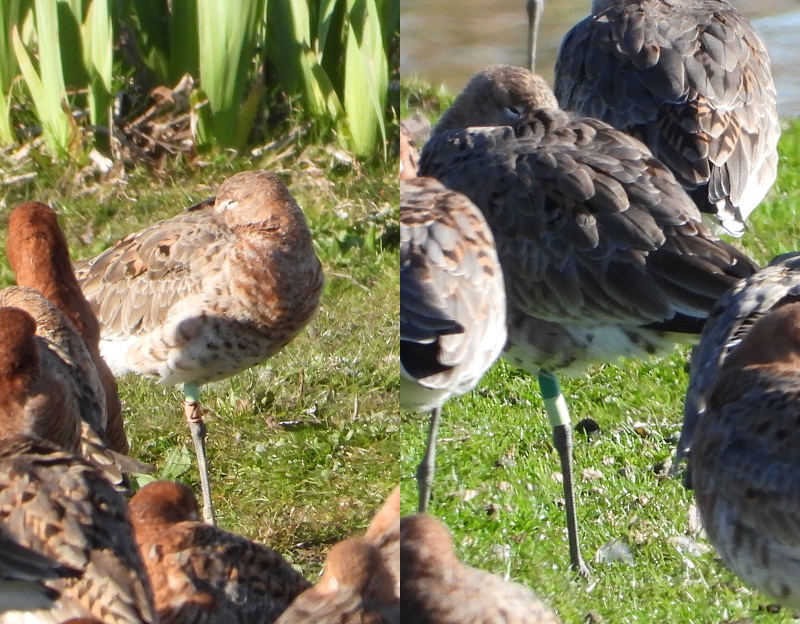 GL-LZ at Caldy in April 2021 © Richard Smith
It was always standing on one leg!

GL-LZ.
Ringed in southern Iceland on 19/6/2014 as an adult female.
The first record after ringing was at the Gilroy Flash, West Kirby, in November 2014 and it has been a regular on the Dee Estuary area since.
It usually flies to the east coast after breeding being seen at Snettisham in September 2015, August 2016 and September 2018, and at Frampton Marsh in August 2017. It then moves north-west and usually spends most of October at Caldy Wildfowl Collection (2017, 2018 and 2020).
In April GL-LZ is normally a bit further north in Lancashire so it was a bit of a surprise when it was spotted at Caldy Wildfowl Collection on several occasions in April 2021.

Colour-rings were recorded by Richard Smith, Steve Hinde and Jane Turner.


April Bird News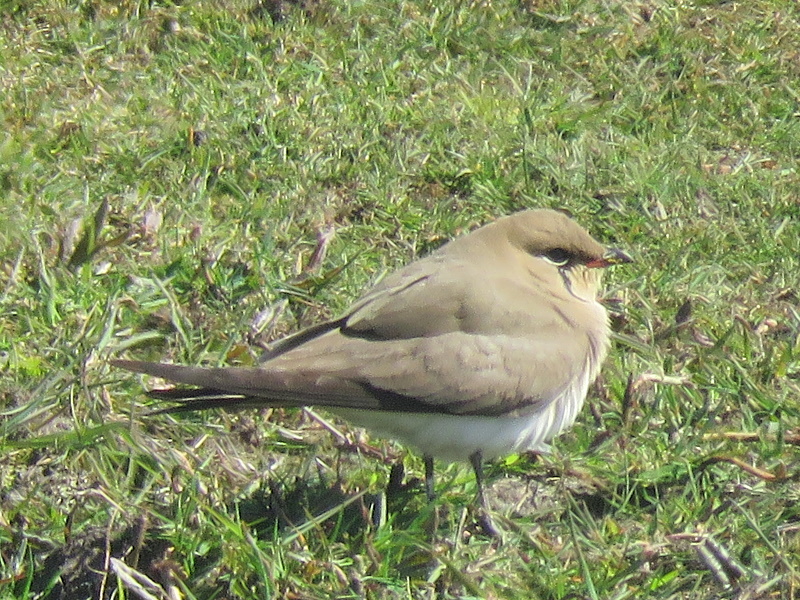 Collared Pratincole on Kerr's Field, Leasowe, April 22nd © David Bradley


It was hard to take, a Collared Pratincole in Kerr's Field for over an hour but news only got out after it had left! A truly mega rarity with usually just the one bird a year visiting this country. A particularly charismatic species - it is a wader but behaves more like a Swallow (eating insects on the wing) and looks like a small tern in flight. It was frustrating as they often stick around at the same site for several days but there was no sign, then as I write this on May 1st I see it has turned up on a ploughed field in Kirkby (north Liverpool)* so has spent over a week in our area without being spotted. Collared Pratincoles breed in good numbers in southern Spain and also along the Mediterranean coast of France so it is probably an overshooting bird from that population. *It is some consolation that the bird at Kirkby was found by Leasowe regular Eddie Williams, which was pretty amazing!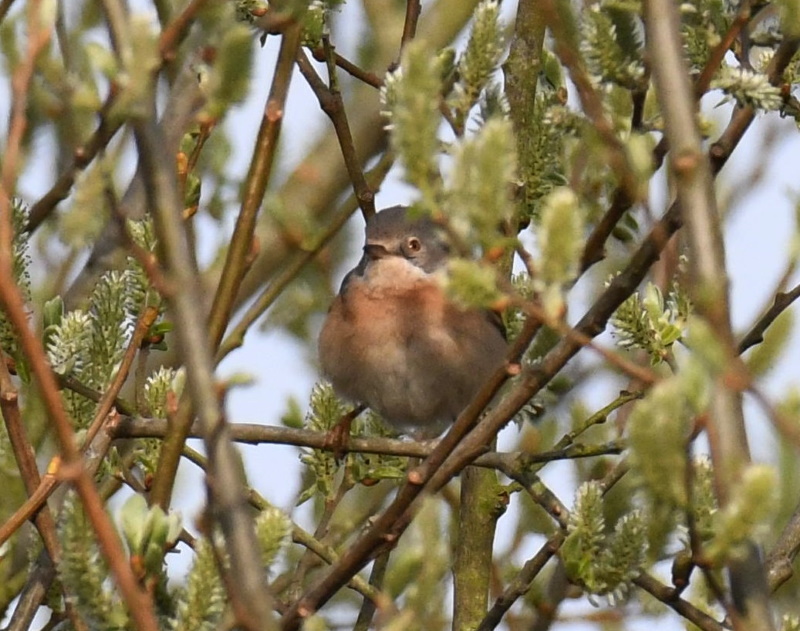 Sub-alpine Warbler near Burton Point, April 19th © Tony Hession

But there were similar stories for all our major rarities in April. A Surf Scoter was briefly seen on the 1st sitting on the sea at Ffynnongroyw, the birder who spotted it was on a train at the time so this has to go down as only a 'probable'. Next up was an over-flying White Stork at Greasby on the 16th, seen by a couple of birders but it wasn't visible from the coast so must have veered inland (it also flew over Frodsham Marsh that same day). An 'unusual looking Whitethroat' was photographed near Burton Point on the 19th, this turned out to be a Sub-alpine Warbler but there was no sign of it the following day. About the same time the Collared Pratincole was at Leasowe on the 22nd a Serin flew along Hoylake shore, nobody saw it but it's distinctive call was recorded as it flew over.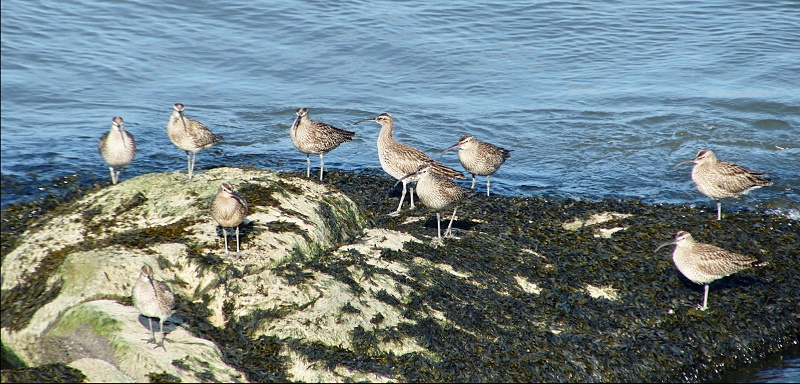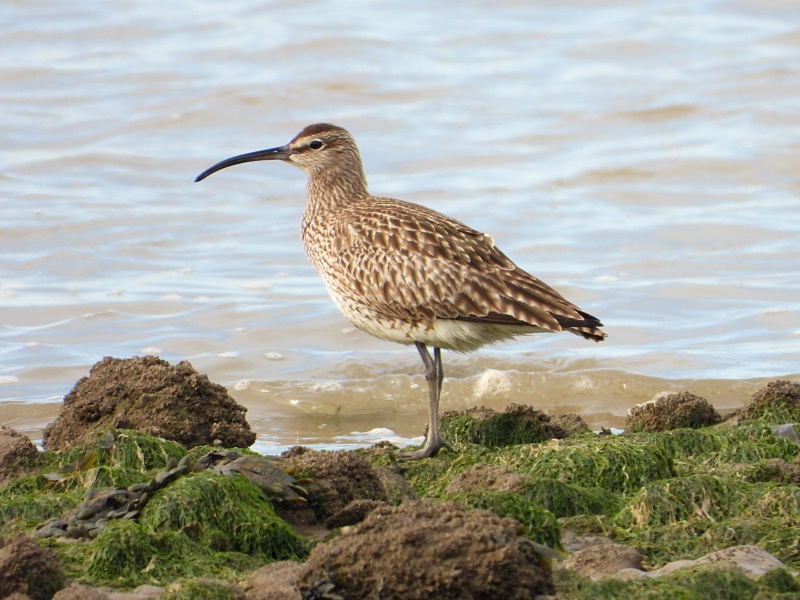 Whimbrels. Top: roosting on Hilbre on April 25th (Hilbre Bird Observatory)
Bottom: on Caldy Shore on April 26th (Richard Smith)

April is all about the spring migration with many species only seen here at this time. Whimbrels are a particular favourite filling the estuary up with their whistling calls at a time when few other waders are around. They are on their way from Africa to Iceland and north-east Europe (see The Seven Whistler article). The first was noted at Hilbre on the 10th with 17 at Heswall on the 17th the first double-figure count. The high tides at the end of the month produced very good numbers at Thurstaston and Heswall, max 143 on the 30th, with 43 at Hilbre on the 28th.

Sunny weather always seems to be good for Ospreys and we had a total of 12 over this spring - compared to eight in 2020 and 11 in 2019. At one point in April we seemed to be seeing them every day.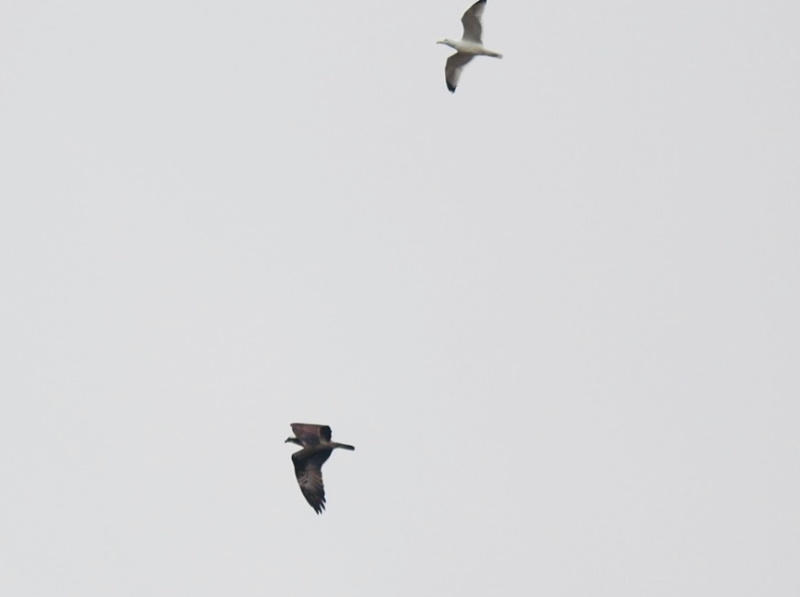 Osprey being mobbed by a Herring Gull over West Kirby, April 1st © Allan Hitchmough

The exodus of Pink-footed Geese was certainly prolonged this year with the first obvious flight north on March 30th and the last recorded on April 28th. The total counted, always early morning, was 16,173. To that has to be added many more which will have been missed, and large numbers were heard overnight. For example on April 13th several large flocks were recorded over Hoylake at night including one which took seven minutes to pass over - at least 10,000 in that flock alone would seem a reasonable estimate. The Dee Estuary is rapidly becoming one of the top ten sites in the country for Pink-footed Geese, a remarkable turn around from 10 years or more ago when a total of a few hundred was considered a good count (max WeBS count for winter 2010/11 was 750). There were 24,000 counted for the February 2021 WeBS and March was likely to have been even higher. There is likely to be much inter-change between here and Norfolk where numbers usually peak in December at 40,000 to 50,000, and many of the birds recorded moving north in April may well have spent the winter there.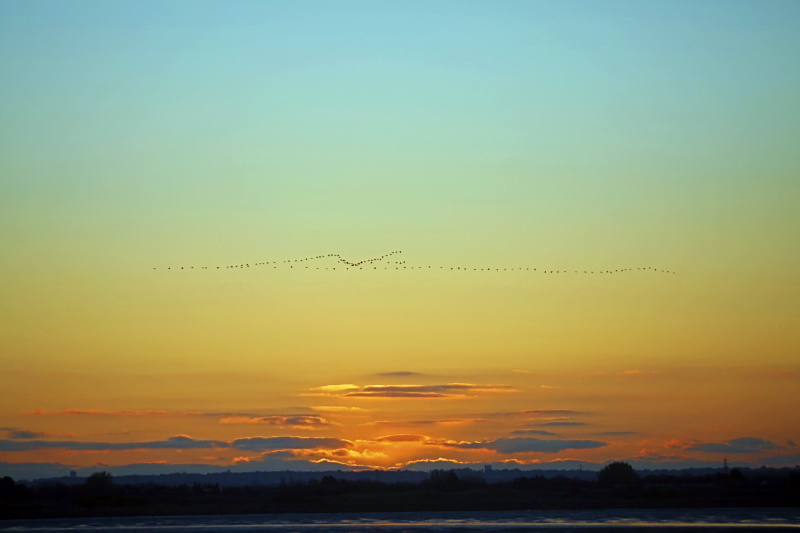 Dawn on April 3rd, Pink-footed Geese leaving the estuary © Hilbre Bird Observatory (Chris Williams).

Out to sea Little Gulls continued to be seen flying past Hilbre with several high counts, max 27 on the 4th. A lot of Gannets were out in Liverpool Bay including a feeding flock of 150 close to the island on the 25th. Over 400 Sandwich Terns on the 18th was a good number for Spring, six Manx Shearwaters were seen on the same day.

With a blocking high pressure system and relatively cold temperatures the passage of passerines was steady rather than spectacular and the first of the species tabulated below all arrived more or less as expected. The first Common Redstart arrived on the 11th with a total of 28 records for the month, and the first Whinchat on the 15th with a total of 16.

| Species | 2021 | Location | 2020 | 2019 |
| --- | --- | --- | --- | --- |
| Wheatear | 28th Feb | Leasowe | 16th March | 27th Feb |
| Sand Martin | 5th March | Burton | 16th March | 16th Feb |
| White Wagtail | 16th March | Leasowe | 1st March | 28th Feb |
| Swallow | 18th March | Leasowe | 23rd March | 21st March |
| Willow Warbler | 23rd March | Leasowe | 26th March | 24th March |
| House Martin | 27th March | Burton | 5th April | 31st March |
| Whitethroat | 10th April | Heswall | 8th April | 14th April |
| Swift | 16th April | Raby | 21st April | 23rd April |
| Cuckoo | 24th April | Willaston | 23rd April | 18th April |
Five Spoonbills arrived at Parkgate on the 23rd, as they all seemed to be in breeding plumage perhaps they'll breed here this year. At Burton Mere Wetlands a Bittern was still being seen regularly and Bearded Tits, Marsh Harriers, Cattle Egrets and Mediterranean Gulls all appear to be breeding along with many other species.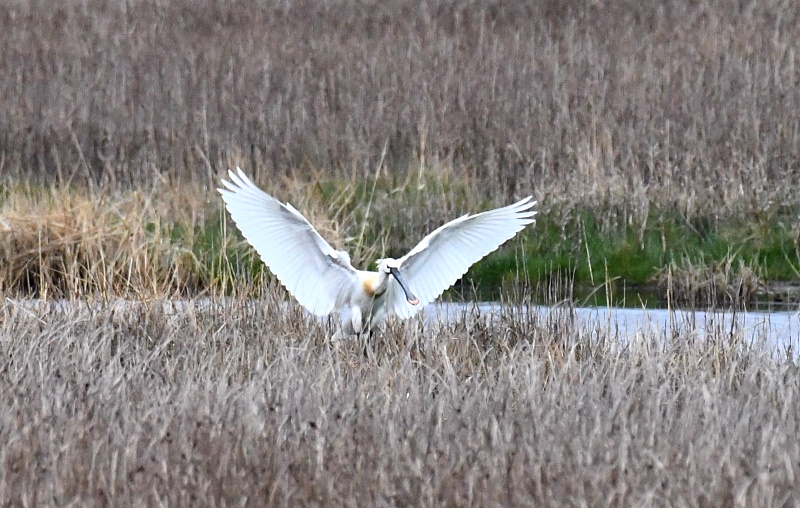 Spoonbill at Parkgate on April 29th © Tony Hession

Many thanks go to Steve Williams, Matt Thomas, David Haigh, Steve Hinde, Alan Hitchmough, Colin Schofield, Derek Bates, Allan Conlin, Richard Whitby, David Thompson, David Small, Richard Beckett, Bruce Atherton, Peter Sutton, Frank Burns, Dave Edwards, Mark Gibson, Jeremy Bradshaw, Roy Wilson, Chris Revell, Neil Montieth, Graham Parry, Ian Goldstraw, John Hewitt, Alan Challoner, Graham Connolly, Tony Sinnott, Paul Greenslade, Steve Houghton, Mark Woodhead, Tony Hession, Richard Speechley, Tim Kinch, Bruce Hogan, Carole Killikelly, Ken Mullins, Richard May, Steve Round, Roger Evans, Leon Castell, Richard Stell, Bill Wonderley, John Welbourn, David Bryant, Ron Brumby, Gareth Prestridge, David Bradley, John Hemmings, Steve Hassell, Gary Burton, William Keig, Pam Stackhouse, Dennis Wall, Mike Buckley, Roger Hasley, Alan Oates, Elizabeth Shand, Valentin Ponce, Linda Platt, Gill and Alistair Foggo, An Williamson, David Roberts, Teresa Starr, Peter Biggs, David Parker, Phillip Reed-Roberts, David Leeming, Mark Palin, Paul Ralston, Colin Well, Gary Shingler, John Fisher, David Roe, Rich Hurst, Peter Humphrey, Chris Davies, Hugh Stewart, Colin Jones, Kevin Cook, David Jones, the Dee Estuary Wardens and the Hilbre Bird Observatory for their sightings during April. All sightings are gratefully received.

What to expect in May

Spring migration will still be in full swing in early May, indeed the migration of Whinchats, Whimbrels and Spotted Flycatchers all peak this month. After a quiet April for waders things will pick up again with good numbers of Dunlins, Ringed Plovers and Sanderlings passing through, most of these will be coming up from their African wintering grounds. For those interested in the different Dunlin races this is the time to get down to Hoylake and Meols. As described in my article 'Dunlin - Rings, Races and Genes' (http://www.deeestuary.co.uk/news1220.htm), May is the time when we see Icelandic and Greenland breeding Dunlin (schinzii and arctica races) passing through which are then joined, around mid-May, by bigger Dunlin of unknown origin (but probably breeding in Siberia). The much scarcer Curlew Sandpiper may also turn up this month on their way north.

May is often a good month for terns, as well as our breeding Common Terns and Little Terns there is always a good chance of seeing Black Terns, as well as rarer species such as the White-winged Black Tern present at Burton Mere Wetlands in May 2019. In fact May is often a good month for rarities generally which in recent years have included Hoopoe, Turtle Dove and Blue-headed Wagtail.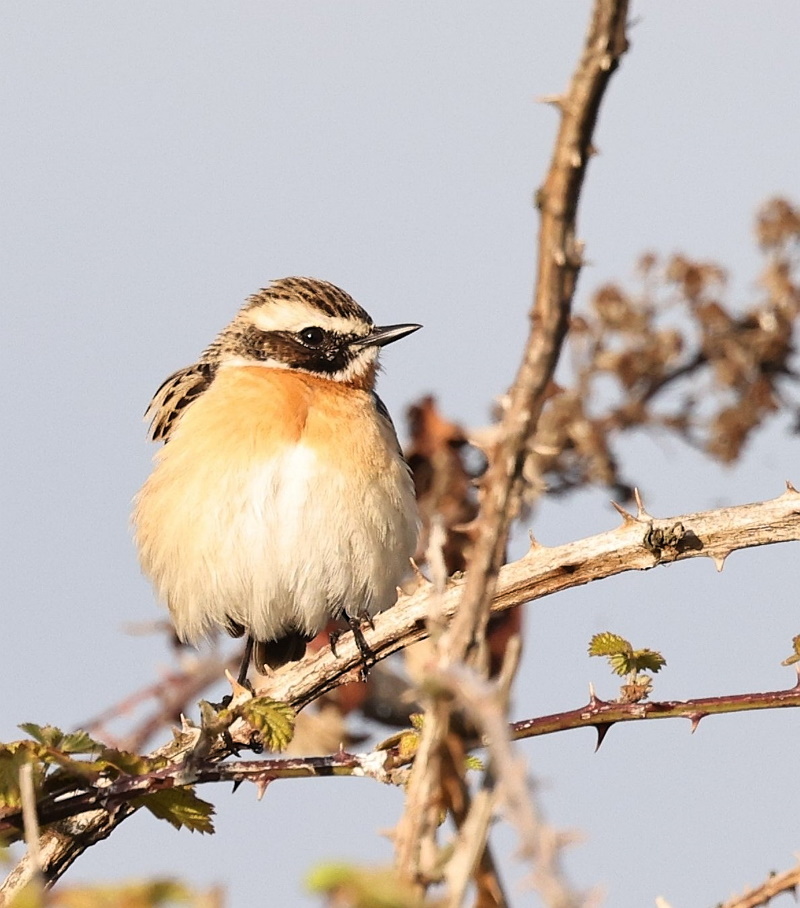 Whinchat at Leasowe, April 30th © Allan Conlin
Forthcoming Events
May Highest Spring Tides (Liverpool)
Also see Tides page.
26th May, 11.36hrs (BST), 9.7m.
27th May, 12.24hrs (BST), 9.7m.
Forthcoming Events
Due to Covid 19 restrictions no birdwatching events are planned for this month.