April 2023 Newsletter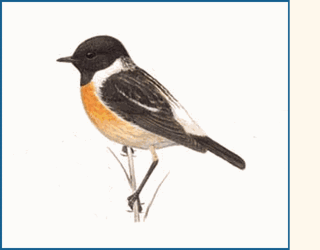 A Day of Stonechats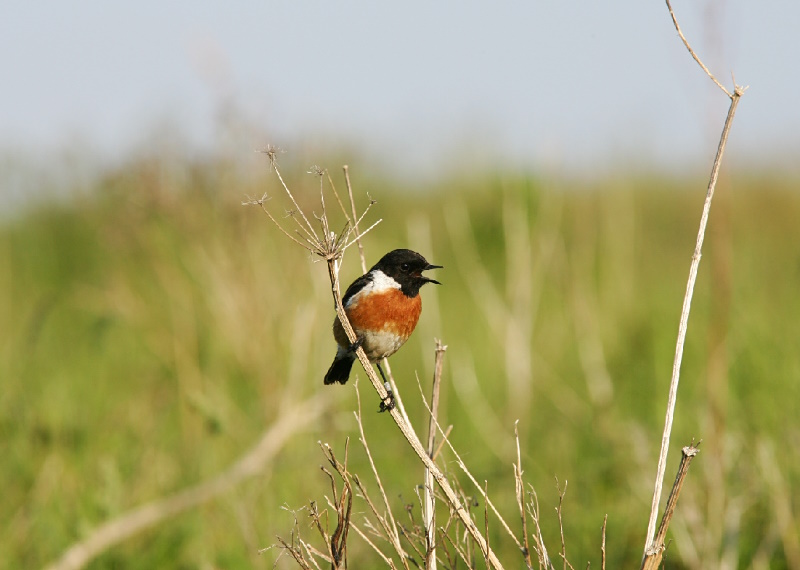 Male Stonechat singing near Leasowe Lighthouse © Jeremy Bradshaw
Typical Stonechat behaviour perched in full view, this was taken in June a few years ago when they were feeding young


March 17th 2023 was one of those magical spring days we dream about during those long winter months. After prolonged cold weather, including some heavy snow, this was the first day of spring like weather. The cold northerlies had held up the spring migration so we were expecting our first Wheatear of the year and we weren't disappointed with singles at both Burton and Little Eye early morning, quickly followed by around 20 more during the day - fantastic! We also had our first White Wagtail and our first Sandwich Tern of the year. Much more unexpected was Hilbre's first ever Bearded Tit, heard calling then briefly seen before flying off south.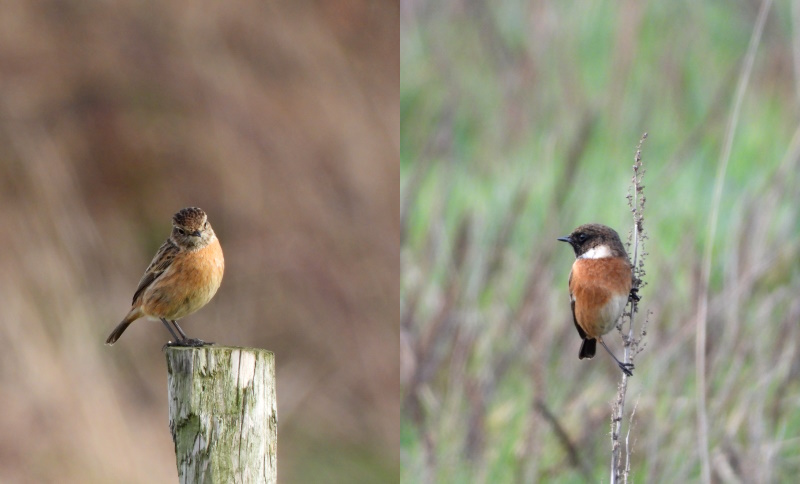 Female and Male Stonechat at the western end of the coastal horse paddock (Leasowe Lighthouse), unfortunately it's the only
photograph I have of the Stonechats there on March 17th 2023 © Richard Smith

But it was Jeremy Bradshaw's WhatsApp message shortly after 8am which really got my attention - '11 Stonechat in "Hoopoe Hollow"!!'*. As I'm sure you all realise, Stonechats are very territorial and you just don't get flocks of them in one small horse paddock - they usually come in one or twos and even when we do get counts in double figures they will be spread over a wide area. Yet here we were with a flock of 11 and then came news of a flock of Stonechats on Hilbre! By late afternoon the birds at Hoopoe Hollow had increased to a remarkable 14 all sitting on a fence, together with 10 at Kerr's Field and up to six at the north end of the coastal paddocks, all in the Leasowe Lighthouse area. In addition there was a minimum of 10 at Red Rocks and eight on Hilbre - giving a conservative estimate of at least 48. When Allan Conlin told me such numbers were unprecedented I knew I had to do some research to find out more and put these numbers into a historical context, hence this article.

* Hoopoe Hollow - our name for a small horse paddock just inland of Meols Common, as you've probably guessed a Hoopoe spent several days there a few years ago giving we local birders great views.

Stonechats in March at Leasowe aren't exactly unexpected, and this is what I wrote in my February Newsletter "Signs of the coming spring will include the usual passage of Stonechats along north Wirral". Some typical recent max daily counts are six on 28th Feb last year and 10 on Mar 17th in 2020. The previous highest count at Leasowe was 12 on Mar 14th 2017, but we had 10 in both 2007 and 2008 before the crash in numbers caused by the cold weather in 2010. We don't know what caused the high numbers in 2023, maybe it reflects a particularly good breeding season in 2022, or it could well be just a random event caused by weather conditions during their northward migration - I suspect both.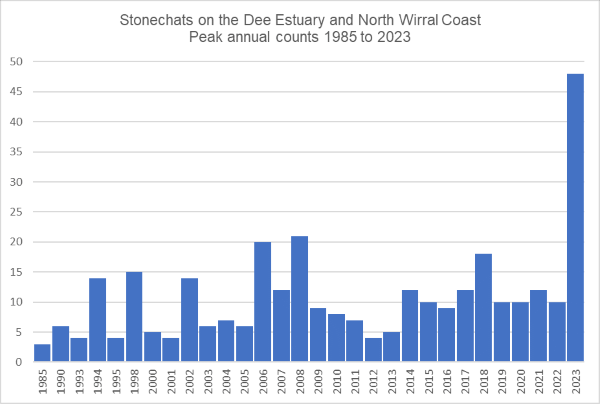 The bar chart above shows ad hoc counts made along North Wirral and the Dee Estuary for various years from 1985 to 1998 (those years not shown had max counts of just one or two birds) and from 2000 to 2023. They show the highest daily count made in any particular year. As well as those from the Leasowe Lighthouse area mentioned above other high counts of note were 20 from Heswall and Parkgate during a spring tide on Mar 19th 2006, 21 along Burton Marsh on Mar 9th 2008 and a combined count of 18 from Burton Marsh and Leasowe on Mar 7th 2018.

Most of these peak counts were from the Leasowe area or adjacent sites, and most were in late February and in March - so there has been a definite spring passage noted most years along the North Wirral coast. But there is also a return passage in October and the two highest counts for that month came from Burton Marsh with 12 in 2014 and 10 in 2019. Given that most peak counts are in spring it's perhaps surprising that more Stonechats are reported in October than March, as shown in the monthly distribution from Red Rocks, below. But after the breeding season a lot more Stonechats are present particularly after a good breeding season, the difference being that in March the passage is much more concentrated within just a few days, whilst in October birds are slowly dispersing away from breeding areas and any southward movement is much more leisurely. The monthly distribution at Red Rocks shows both the March and October peaks, plus over-wintering birds (mainly Jan and Feb) and breeding birds present from April to June.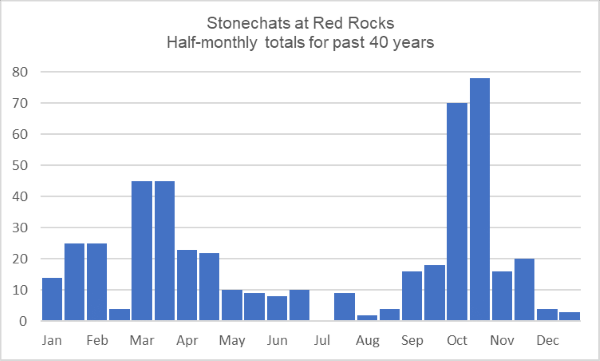 Red Rocks data provided by Jane Turner

In the UK the Stonechat is doing very well with a 147% increase in breeding population since 1995 and similar increases in range both in the breeding and winter seasons. The BTO have a lot of data you can scrutinise here:
https://www.bto.org/understanding-birds/birdfacts/stonechat
Stonechats are hit hard by freezing weather and reading reports you can see how numbers plummeted when exceptionally cold winters struck such as in 1946/47, 1962/63 and 1981/82. The run of mild winters since has no doubt made a big contribution to the increase in numbers, but we did have some severe weather in the winters of 2009/10 and 2010/11 and you can see the effect in the two graphs below.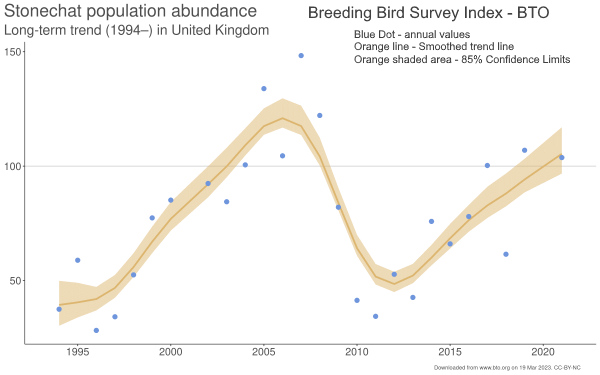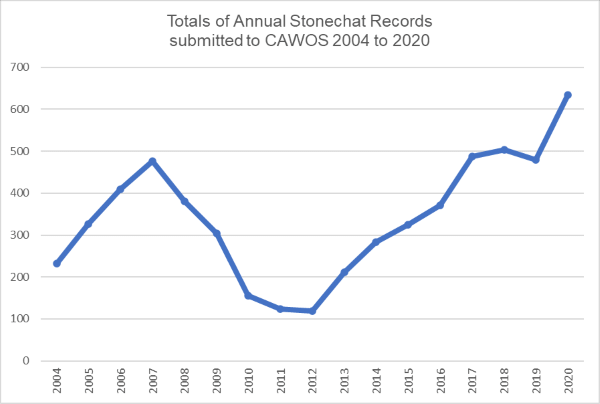 Given that these two graphs are derived from very different data it's remarkable how similar they are. The BTO graph is from BBS (Breeding Bird Survey) over the whole of the UK, whilst the second graph is of yearly totals of all Stonechat records submitted to CAWOS (Cheshire and Wirral Ornithological society) to be included in the Cheshire and Wirral Bird Report. The records are mainly of birds on passage and over-wintering with just a few breeding records (note this second graph will be slightly skewed as more BirdTrack records have been used in recent years than in the earlier years). Prior to 2010 both graphs peak in 2007 with a fall in numbers caused first by a cold winter in 2008/09 followed by the severe winters of 2009/10 and 2010/11. It took the birds two or three years before starting a strong recovery in 2013 and up to the present day. Even our first bar chart (peak annual counts) shows a similar pattern with a decrease in numbers between 2009 and 2012 before the recent increase.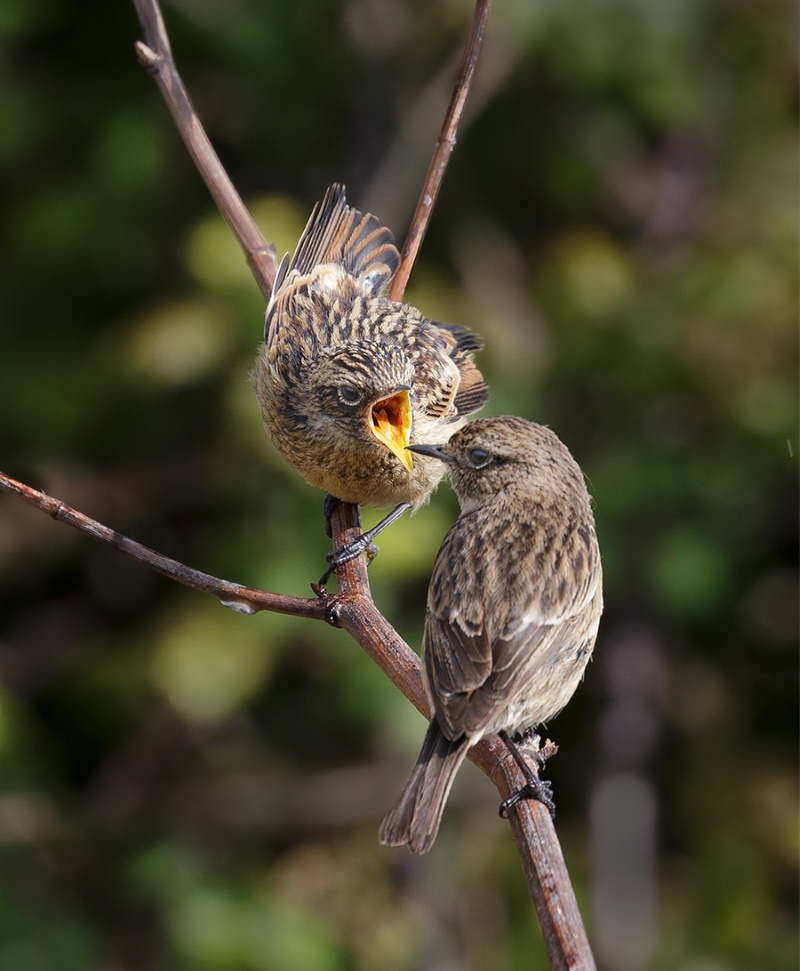 Confirmation of successful breeding at Leasowe Lighthouse in 2019 © Charles Farnell


Breeding
Stonechats breed around the Dee Estuary in small numbers. The Cheshire and Wirral Atlas stated that between 2004 and 2006 at least three pairs bred along North Wirral. Since then they have been recorded breeding most years there plus at Heswall, Burton Marsh, Burton Mere Wetlands, Talacre/Point of Ayr and Gronant. However, the Atlas noted that many more used to breed along the coast in the 1980s (during survey work for the First Atlas), but also noted that several pairs now breed in the eastern hills of Cheshire where they had been absent previously. Stonechats usually have two broods and sometimes three so during a successful breeding season a pair can produce at least 10 young - very useful when recovering from a population crash.
Atlantic Stonechats

The identification and taxonomy of Stonechats can be quite complex but, apart from a rare visit by an 'Eastern Stonechat', in this country we need only consider one species - the European Stonechat (Saxicola rubicola). The species is split into two sub-species which are commonly known as Atlantic and Continental Stonechats. These two sub-species are described as 'weakly defined' mainly because there is a lot of variation and overlap. Atlantic Stonechats (S.r. hibernans) are found in SW Norway, Great Britain and NW France, and probably coastal Portugal. These are partial migrants and it is reckoned about 40% migrate south of this country for the winter with ringing returns telling us that they spread themselves out between western France, Iberia and the western Mediterranean coast of Africa. Continental Stonechats (S.r. rubicola) are found right across Europe including Spain, France, Germany, Denmark and Italy with many migrating south to the Mediterranean basin for the winter. Continental Stonechats are commonly believed by birders to be regular migrants through the UK, perhaps even breeding in SE England, but, because of the difficulty in differentiating the two sub-species, they are not on the British List. Intriguingly, Jane Turner (now the Cheshire and Wirral Bird Recorder) was sure that eight male Stonechats she saw in a flock of 14 on the Royal Liverpool Golf Course in March 1994 were of the Continental race, and of the 10 or so Stonechats seen around Red Rocks on March 17th 2023 Mark Turner thought two were good candidates for the Continental race. It seems likely that the birds we saw on March 17th were passage migrants coming north after spending winter in France, Spain or even as far south as North Africa. It is also likely that both Atlantic and Continental races spend winter in the same areas and then head north at the same time so it is not unreasonable that both races migrate north together so that Atlantic birds could carry Continental birds even as far north-west as North Wirral. One day colour ringing may tell us for sure!

Whatever their race there's no doubt they are a stunning looking bird and I love seeing them. They are very photogenic and I certainly didn't have any trouble finding some stunning photos to illustrate this article - below is a selection.

References:
1. Cheshire and Wirral Bird Reports, 1966 to 2021, currently published by CAWOS.
2. Clwyd Bird Reports and North-east Wales Bird Reports, various from 1975, currently published by Clwyd Bird Recording Group.
3. Stonechat Bird Facts page and Trends Explorer - https://www.bto.org/understanding-birds/birdfacts/stonechat.
4. David Norman, Birds in Cheshire and Wirral (a breeding and wintering atlas), Liverpool University Press, 2008.
5. Helm, Barbara & Fiedler, Wolfgang & Callion, J.. (2006). Movements of European Stonechats Saxicola torquata according to ringing recoveries. Ardea. 94. 33-44.

6. Chris Kehoe, Racial identification and assessment in Britain, a report from the RIACT subcommittee, British Birds 99 (635-636), 2006.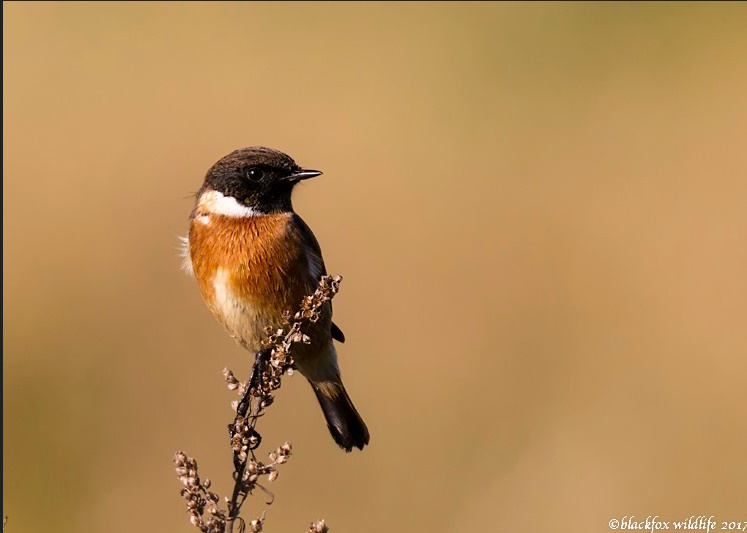 Male showing well by Denhall Quay, October 2017 © Jeff Cohen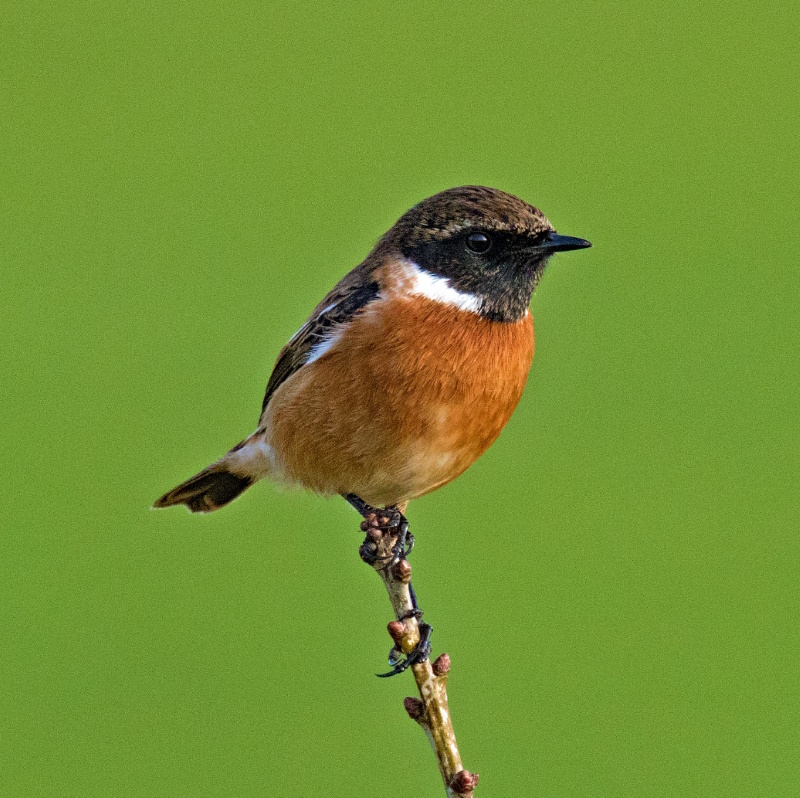 Stunning male on Heswall Golf Course, January 2020 © Frank Burns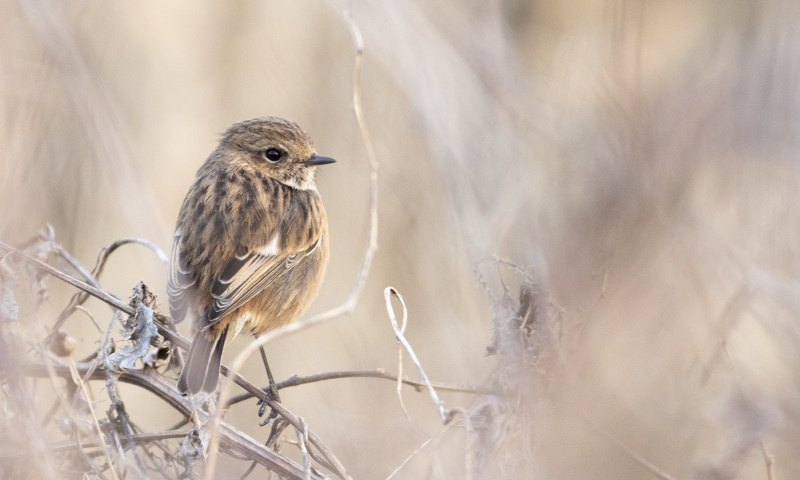 Lovely photo of a female Stonechat at Leasowe Lighthouse, March 2023 © Elliot Montieth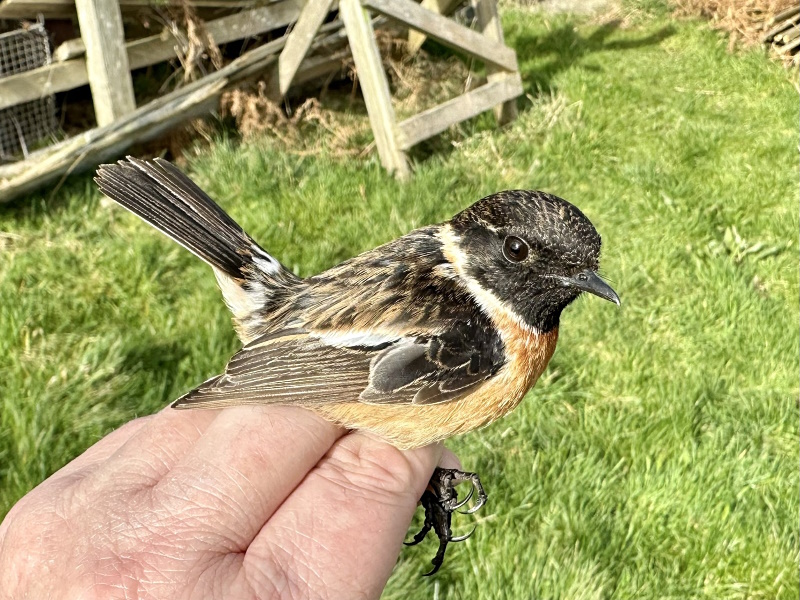 Caught and ringed on Hilbre, March 2023 © Steve Williams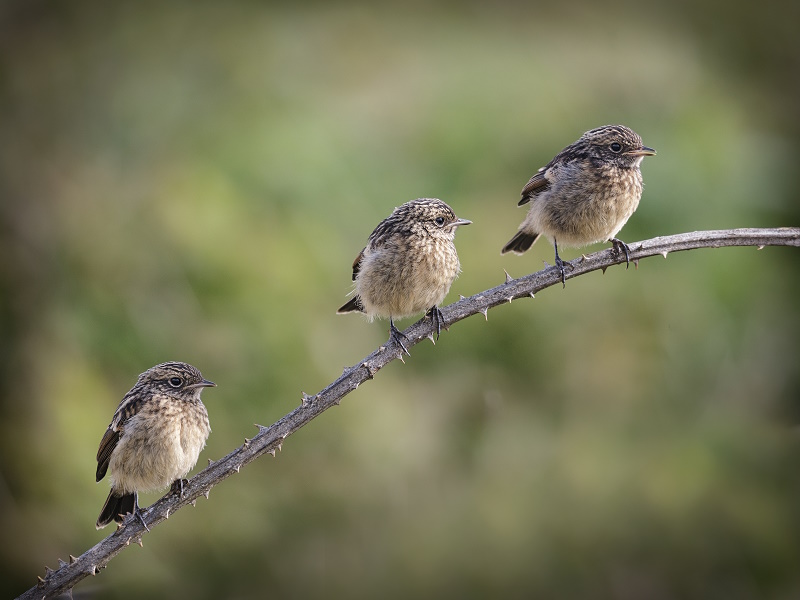 Fledglings at Leasowe Lighthouse, Spring 2019 ©Charles Farnell

Richard Smith

Colour Ring Report



Marsh Harrier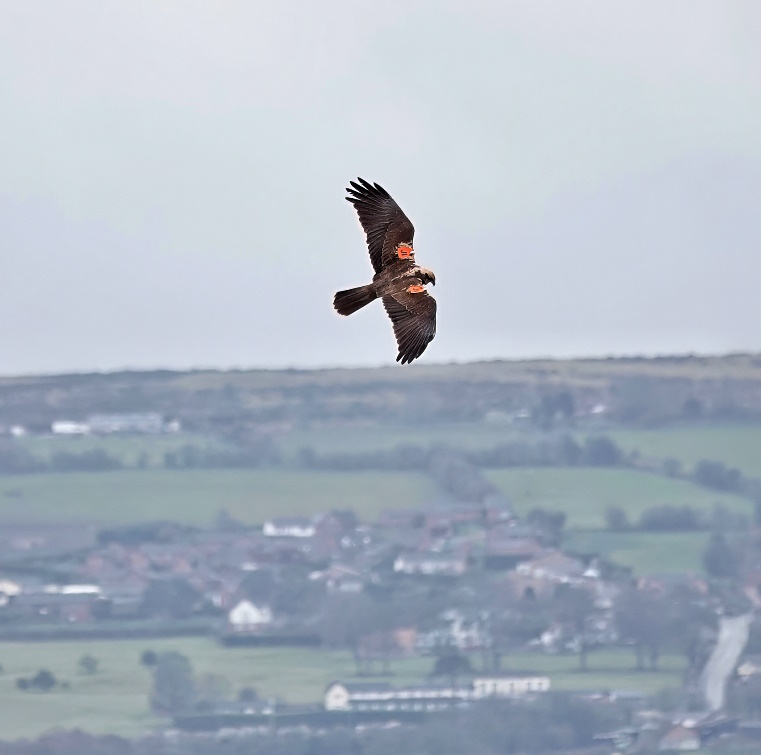 Marsh Harrier with Orange Tags JI at Parkgate, March 2023 © Rara Sara


Orange Wing Tags JI
Tagged at Heacham, Norfolk, in June 2021 as a female nestling.
It was recorded near Southend in Essex in September and October 2021 before turning up at Parkgate in February 2022.
Recorded at Titchwell in April 2022, Langtoft Fen, Lincs, in August 2022 and Rutland Water in January 2023.
Latest record was again at Parkgate in March 2023.

Good to see something a bit different! It shows how much these birds move around the country, and it's good to see it returning to the Dee Estuary this year.
Brent Goose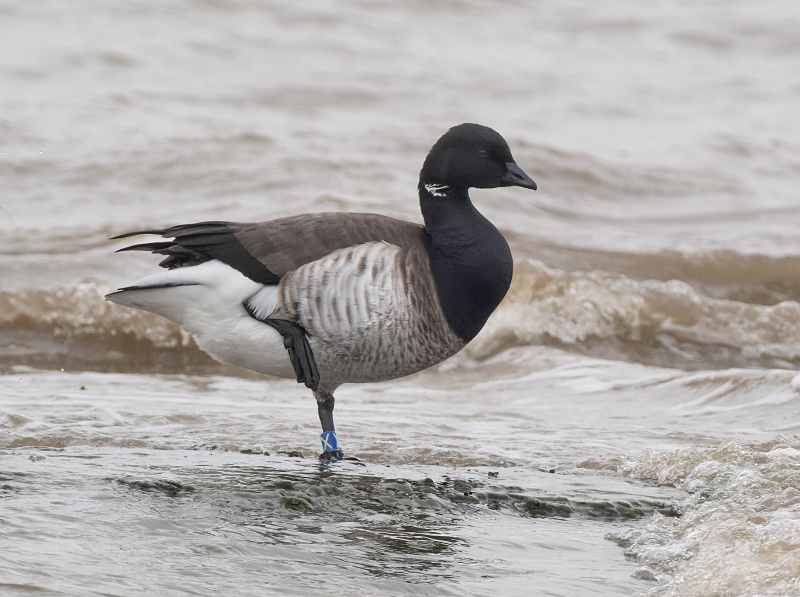 Brent Goose Blue X at Thurstaston, February 2023 © Charles Farnell

Blue X - probably TXRB (T on red ring right leg, X on blue ring left leg) which has lost the red ring
Recorded at Thurstaston on 03/02/2023.
As this bird has lost a ring from it's right leg we wondered if the Hilbre Bird Observatory knew it's origins. Steve Williams (HiBO Bird Recorded) kindly replied "I reckon (but obviously I can't be certain because it's lost a ringed from its right leg) that this was probably TXRB … so lost its red ring (which would show it was Canadian ringed).
If it is TXRB it was ringed Axel Heiberg 26 July 2014 and then seen Northern Ireland (Sep 2016), Iceland Sep 2017 before being seen at Hilbre for first time on 4/12/2019. It has been recorded at Hilbre several times since."
Shelduck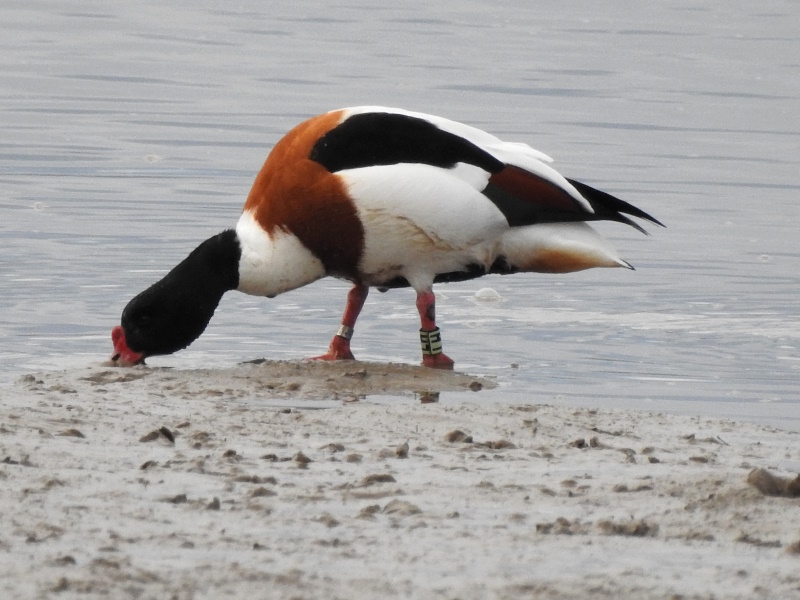 Shelduck Lime LH at Thurstaston Shore, March 2023 © Steve Hinde

Lime LH
Ringed at WWT Martin Mere on 19/11/2018.
First recorded after ringing also at WWT Martin Mere in February 2019.
Since then it has been recorded a total of 30 times at Martin Mere and always between October and February.
Recorded at Thurstaston in October 2022 and on 05/03/2023.
Curlew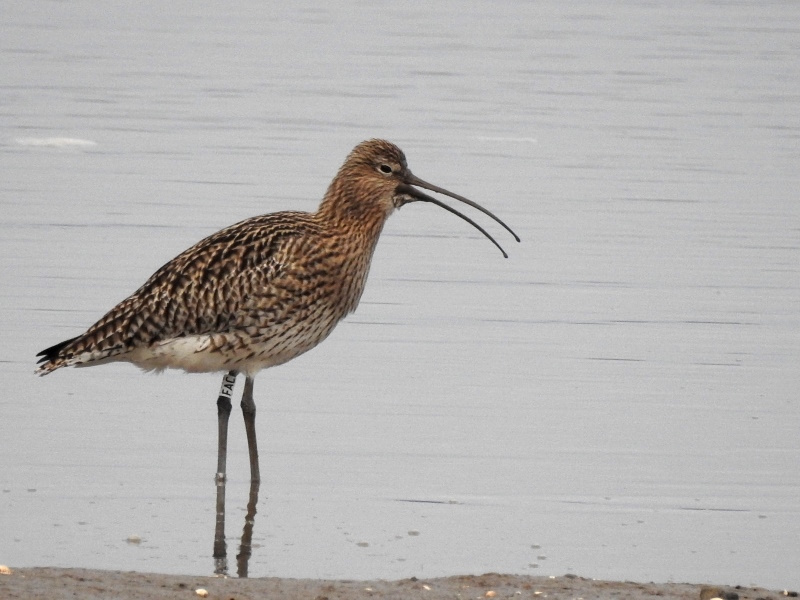 Curlew White FAC at Thurstaston Shore, March 2023 © Steve Hinde


White FAC
We have two Curlews with white rings which are regularly seen in the Heswall and Thurstaston area. White FOM was in last month's newsletter and was recorded at the beginning and end of this winter - so it may have spent mid-winter further west, possibly in Ireland. White FAC, on the other hand, has been seen many times this winter on Heswall Shore including when this photo was taken on 05/03/2023. It was ringed in Finland in July 2017.
Dunlin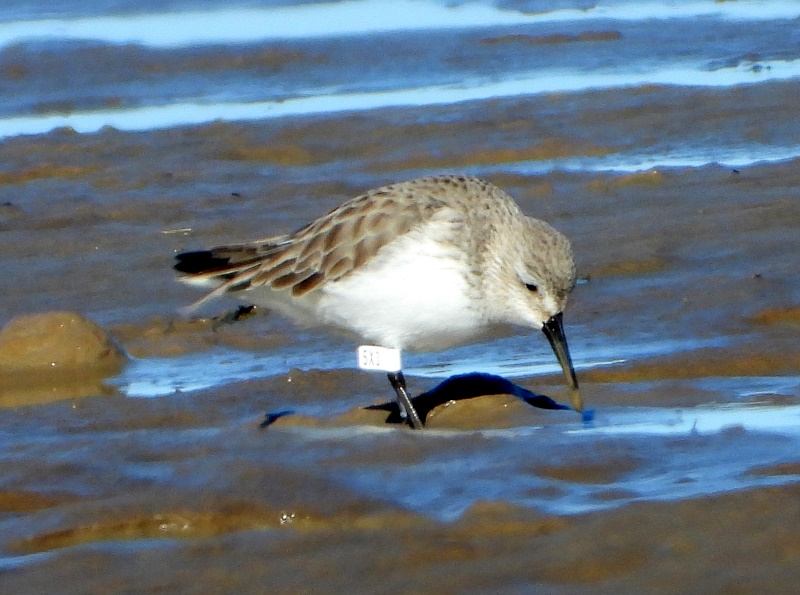 Dunlin White flag 5X3 at Hoylake, March 2023 © Richard Smith

White flag 5X3
Ringed in Gdansk, Poland, on 01/08/2021.
Recorded at Hoylake on 10/03/2023.

Knots

We don't usually have many Knots on the estuary in March as this time of year they tend to move back further east to the Wash and the Waddensea, or across the Mersey channel to the Sefton coast. But this March we did quite well reading 80 flags compared to just 18 last March and none at all in March 2021. Below are the details of one of the most newly ringed Knot and one of our oldest ringed Knots. I'm in the middle of writing a summary of our 'Knotting' activities from the past twelve months and hope to publish that in next month's newsletter - so far we've logged a remarkable 660 colour ringed Knot records on the Dee Estuary and North Wirral over that period.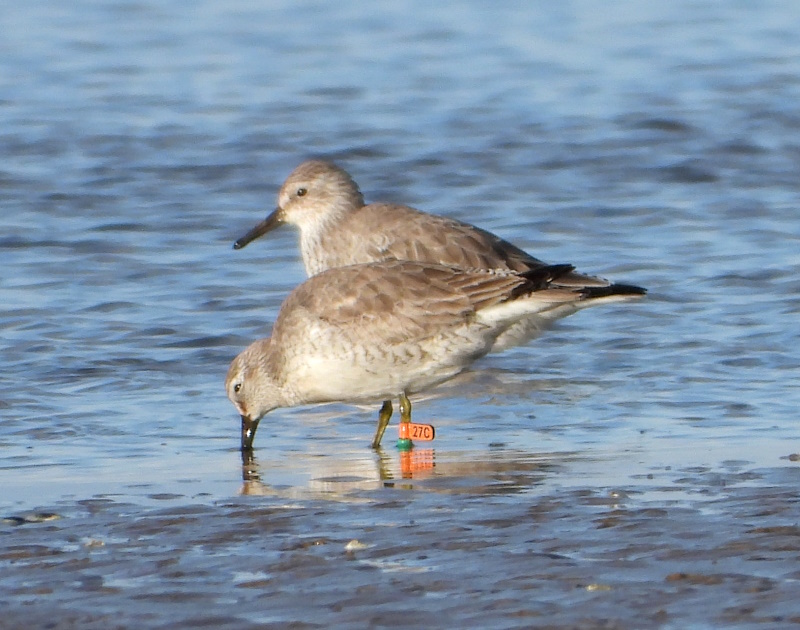 Knot Orange flag (27C) over Green ring at Meols in March 2023 © Richard Smith

Orange flag (27C) over green ring.
Ringed on Hoylake Shore on 25/11/2022.
Recorded at Thurstaston in December, and both West Kirby and Meols in March.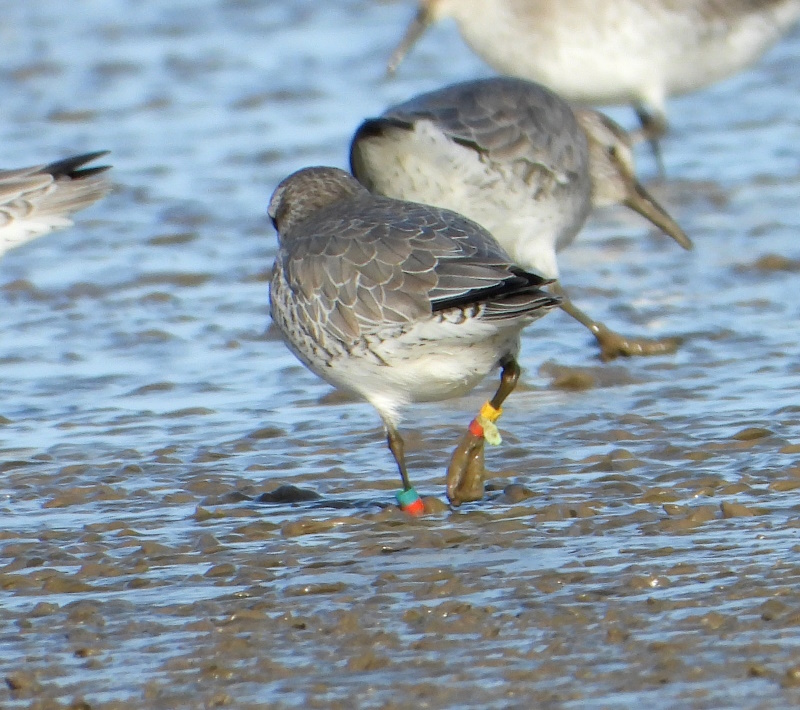 Knot L6GRYR at Meols in February 2021 © Richard Smith


L6GRYR
Ringed on De Richel (Waddensea, Netherlands) on 16/08/2010
First record after ringing was at Thurstaston on 01/02/2012, but it wasn't seen again in our area again until March 2017 when it was at Formby, and again there in March 2018. It returned to Thurstaston in October and November 2018, November 2020 and then Meols in February 2021. More recently it was at Crosby in November 2022, Meols in February 2023 and West Kirby in March 2023.
Every year since 2013 it has been recorded either at De Richel or Griend on the Waddensea where it undergoes moult between August and October. Last record there was at De Richel on 16/10/2022.
Since I saw it in February 2012 it has never been recorded in the winter months so maybe it goes further west to Ireland, or perhaps up to Morecambe Bay.
A lot of Knots are ringed and colour rings recorded (included some of our locally ringed orange flagged knots) at De Richel and Griend in the Dutch Waddensea. De Richel ('the Ridge' in Dutch) is a permanent sand bank close to the island of Terschelling and Griend is a small uninhabited island just a bit further to the south-east. Full of waders in winter and terns in summer, they must be wonderful places to visit!


Colour Rings were recorded by Richard Smith, Stephen Hinde, Alan Hitchmough, Jeff Cohen, Allan Conlin, Rara Sara and Charles Farnell.

Richard Smith

March Bird News
I may have written an article about high numbers of Stonechats but the bird of the month was most definitely Alpine Swift. They are way less than annual here and always just single birds - so to get a total of EIGHT this month, including two together, was just incredible. To put that into perspective we have had just three over the previous 20 years, although that included one at Barnston in April 2006 which stayed eight days conveniently flying regularly over the Fox and Hounds Pub! All records were either in March or April. There was a big influx into the whole of the British Isles this March and on the 22nd, when a total of four were seen here, there were over 80 records reported to BirdGuides including several multiple records.

But Alpine Swifts weren't the only less than annual rarity seen as a Black Guillemot was recorded off Hilbre on the 5th followed by two on the 25th - the first multiple record since November 1995. There have been just nine previous records this century.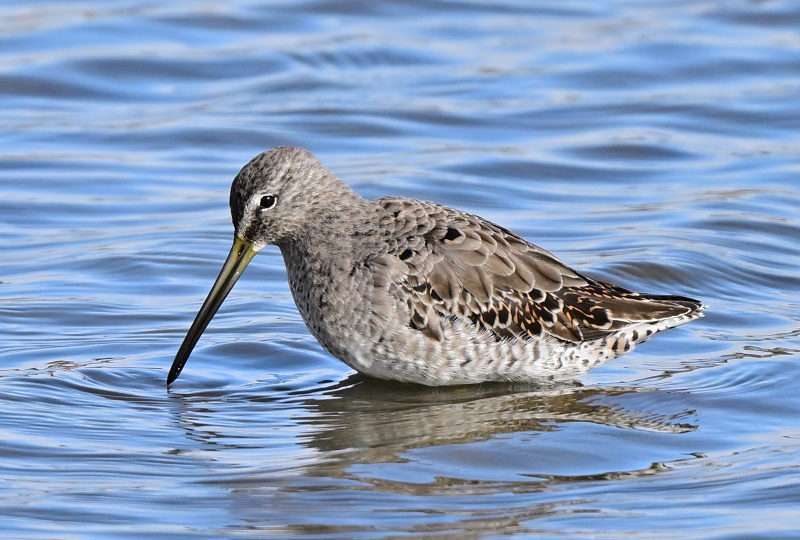 Long-billed Dowitcher at Burton Mere Wetlands, March 25th © Steve Lawson


At Burton Mere Wetlands a Long-billed Dowitcher was seen several times - probably the same bird recorded there last October and again in January. There have been good numbers of other waders at BMW including over 100 Avocets and also a flock of 21 Whooper Swans on the 27th. There have been spectacular numbers of Pink-footed Geese over the reserve, see a video here:
https://twitter.com/i/status/1640324037153792002

A Lapland Bunting flew over Neston Marsh on the 3rd and a Bearded Tit, on the 17th, was a first for Hilbre.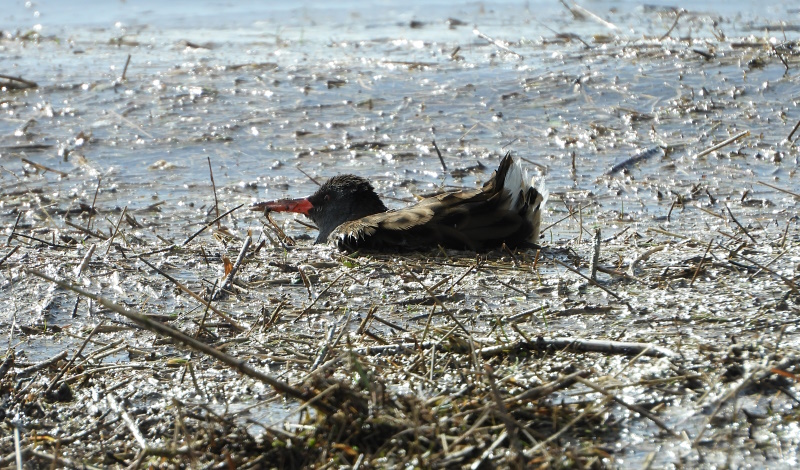 Water Rail off the Old Baths at Parkgate, March 22nd © Richard Smith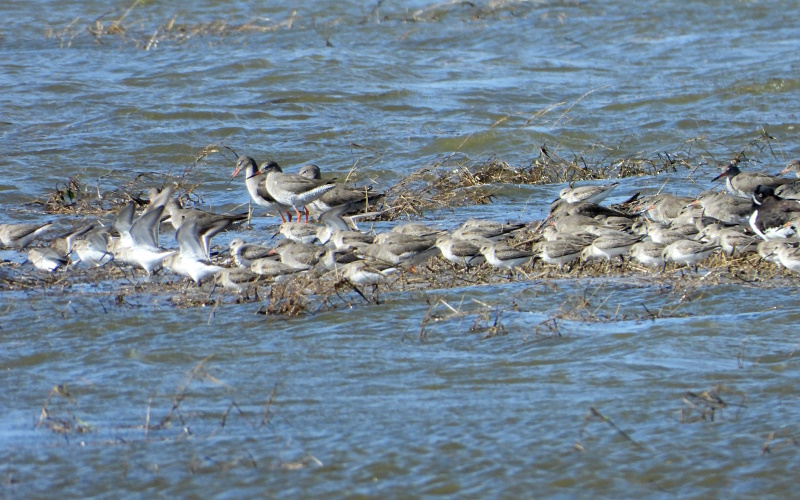 Redshanks and Dunlins resting on a reed island at high tide on Heswall Marsh, March 22nd © Richard Smith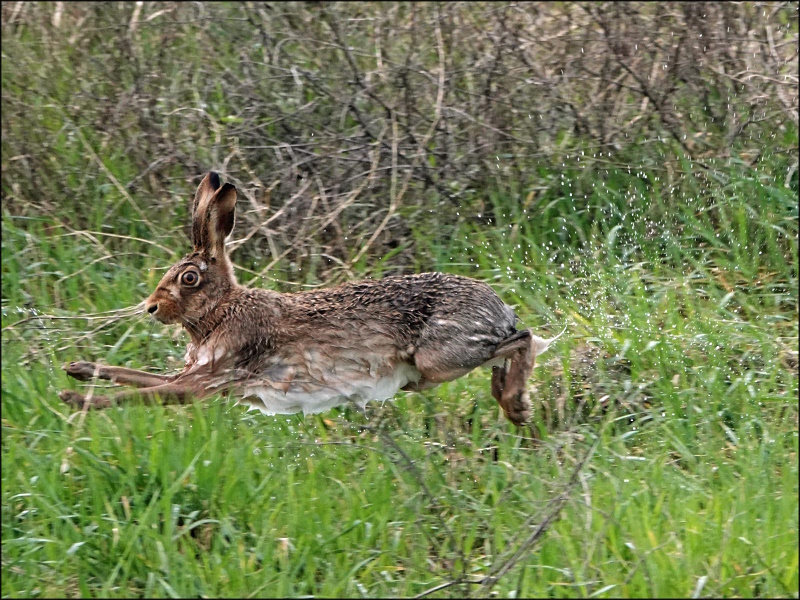 High tides at Parkgate aren't all about the birds and rodents, here a hare was running from the incoming tide off Heswall golf course on
March 21st (it made it onto dry land) © Colin Millington


A storm surge brought on by low pressure and a fresh south-west wind meant four big high tides on the estuary. Lots of the usual waders and wildfowl seen but the highlights was a Red Kite, one Short-eared Owl and at least seven Water Rails on the 22nd. There have been very few Short-eared Owls on the estuary this winter but singles were also seen at Red Rocks and Wallasey this month.

| Species | 2023 | Location | 2022 | 2021 |
| --- | --- | --- | --- | --- |
| Sand Martin | 15th March | Gronant | 11th March | 5th March |
| Wheatear | 17th March | Burton/Little Eye | 9th March | 28th Feb |
| White Wagtail | 17th March | Leasowe | 12th March | 16th March |
| Swallow | 24th March | Leasowe | 15th March | 18th March |
| Willow Warbler | 25th March | Burton | 29th March | 23rd March |
| House Martin | | | 23rd March | 27th March |
| Whitethroat | | | 10th April | 10th April |
| Cuckoo | | | 21st April | 24th April |
| Swift | | | 28th April | 16th April |

The first half of March was dominated by cold weather and northerly winds which meant many of the first migrants were late this year, as shown in the above table with dates for the first migrants of a selection of species. But on the 17th the weather changed with a warm south-easterly and, as described in the above article, resulted in big numbers of Stonechats and much else. So we had the first Sandwich Tern on the 17th and the first Ring Ouzel on the 30th. A total of six Ospreys in the second half of March was a high total so early in the spring, most usually come through in April.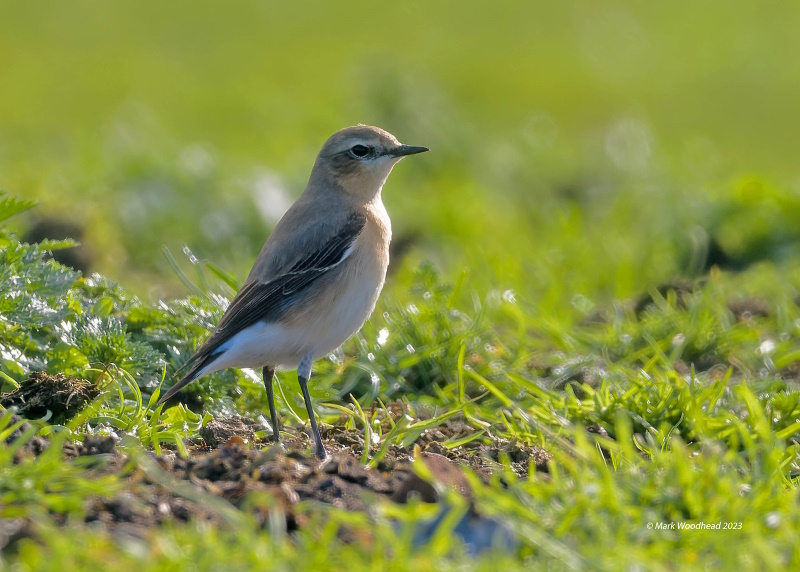 Wheatear at Burton, March 22nd © Mark Woodhead


On Hilbre a Black Redstart showed well on the 18th, up to eight Eiders were present through the month and 280 Brent Geese were counted on the 28th. Other wildfowl included six Long-tailed Ducks off Hoylake early in the month and two pairs of Garganey on Decca Pools on the 18th.
Three flocks of over 20 Twite were recorded - at Flint Castle, Parkgate and Gronant.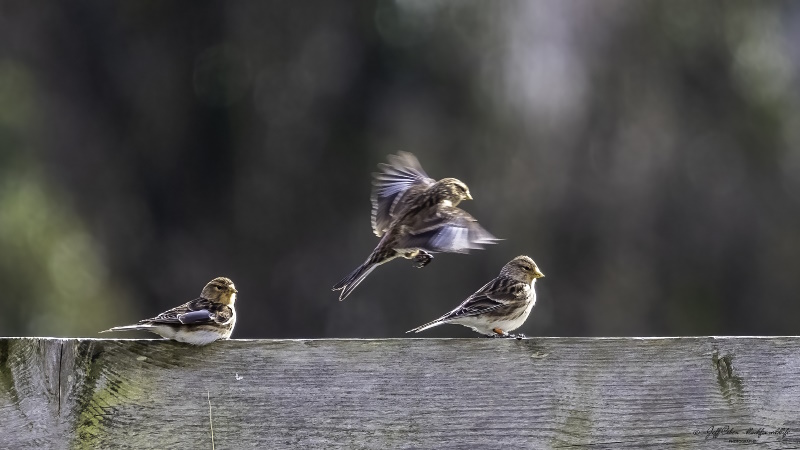 Twite near Flint Castle, March 23rd © Jeff Cohen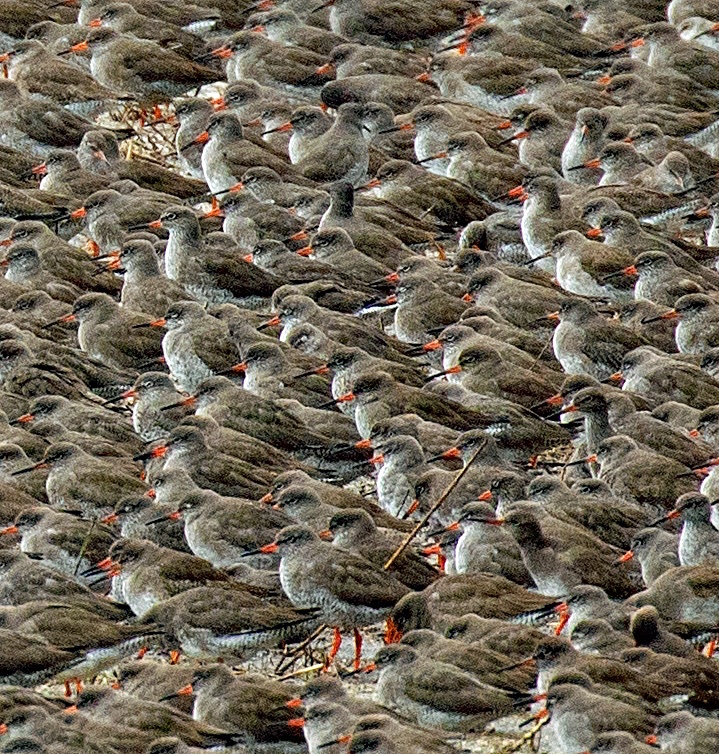 Redshanks seeing out a big high tide at Heswall, March 23rd © Frank Burns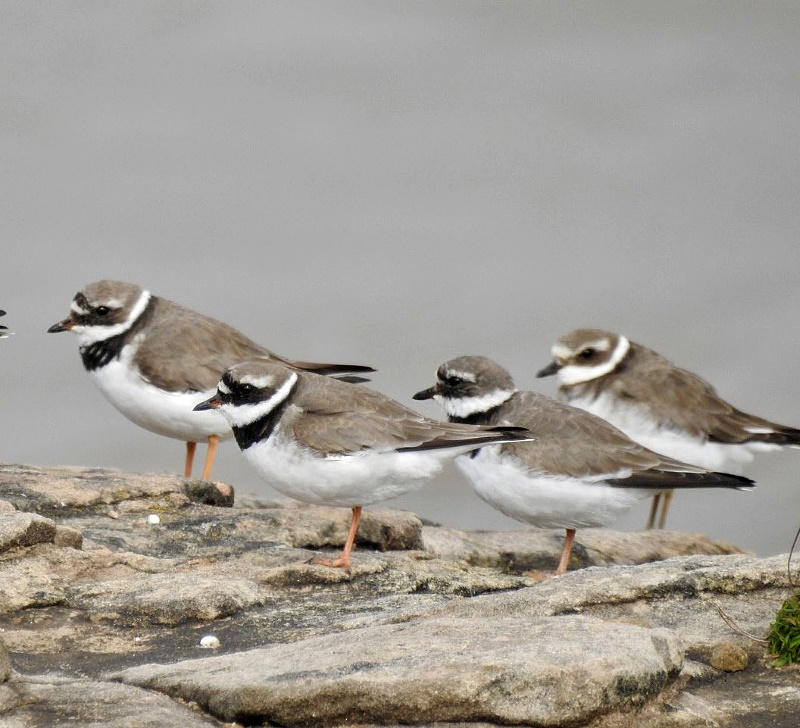 Ringed Plovers on Hilbre, March 25th © Alan Hitchmough

Many thanks go to Steve Williams, Steve Hinde, Alan Hitchmough, Richard Speechley, Allan Conlin, Richard Whitby, Bruce Atherton, David Leeming, Matt Thomas, Dave Edwards, Steve Round, Chris Wilding, David Thompson, Les Hall, Sean O'Hara, Tony Ormond, Jane Turner, Chris Maltby, Jeremy Bradshaw, Derek Bates, Charles Farnell, Elliot Monteith, Jeff Cohen, Frank Burns, Tommy Mundy, Rara Sara, Steve Lawson, Colin Millington, Mark Woodhead, John Hewitt, Peter Sutton, Mark Peers, Sarah Kershaw, Thelma Sykes, Dave Harrington, John Crook, David Small, John Watson, Paul Vautrinot, Jennifer Harwood, Sonia Hunt, Jack Murphy, Janine Johnson, John Wright, Richard Cotterill, Mike Fryer, Steve Dewsnap, the Dee Estuary Wardens and the Hilbre Bird Observatory for their sightings during March. All sightings are gratefully received.

What to expect in April
With flocks of Stonechats and multiple records of Alpine Swifts March was certainly more eventful than normal, but April should be even better!
As far as rarities are concerned anything can turn up and recent highlights included a Spanish Wagtail in 2019, a Collared Pratincole in 2021 and a Bluethroat in 2022.
Spring migrants will be pouring through and I can do no better than to quote from last year's April bird news: "on the 12th we had well over 100 Wheatear including 50 at Leasowe Lighthouse where we also had 6 Common Redstarts and 60 Willow Warblers; the 13th saw four Ring Ouzels in four different locations and we had 73 White Wagtails on Hoylake Shore on the 14th. Other notable migrants were three male Pied Flycatchers, the first Spotted Flycatcher through on the last day of the month and a Wood Warbler at Leasowe on the 24th. There were plenty of Grasshopper Warblers seen and heard including five along the edge of Burton Marsh on the 18th."
On top of that expect to see Ospreys going over, we always see more in spring rather than when they return. Whimbrel numbers will build up rapidly towards the end of the month and last year we had over 180 at Heswall with even more in early May.
As well as Spring arrivals many birds will be departing including the many thousands of Pink-footed Geese which have spent the winter here. Sometimes they will depart in large spectacular flocks during the day, but keep an ear out at night as many leave in the dark and you can hear their calls as they pass over.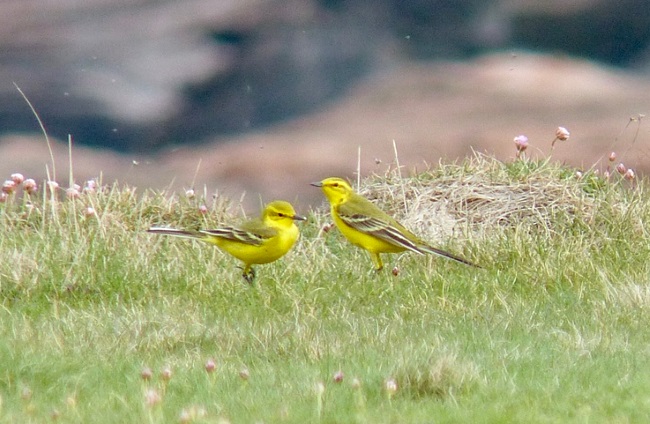 Yellow Wagtails on Hilbre in April 2019 © Steve Williams
One of our more spectacular looking spring migrants, they usually peak in the second half of April.

Forthcoming Events
April Highest Spring Tides (Liverpool)
Also see Tides page.
20th April, 12.06hrs (BST), 9.8m.
21st April, 12.45hrs (BST), 9.7m.
Forthcoming Events
Also see events at
https://events.rspb.org.uk/deeestuary