Rewilding with species restoration is a solution to three crises facing humanity - climate change, biodiversity loss and wellbeing. Amy-Jane Beer (Ref 1).

Those who live locally will have probably realised by now that the Hoylake Golf Resort, first proposed in 2004, is now dead in the water. It may not have been officially canceled by Wirral Council but the political will has evaporated and the money has most certainly dried up. As the proposal included building houses on Green Belt land it never had much public support and I always felt that it was just one councilor's vanity project and he has now retired. So what do we do with these 295 acres?
To me it seems an ideal opportunity for a rewilding project on land which the Council told us, when justifying the Golf Resort, is low grade and unproductive. But what exactly is rewilding and why is it necessary? Several books have been written answering those very questions and I can't recommend too highly the ones mentioned in the References/Further Reading section below (Refs. 2, 3 and 4). In this short article I'll try and give a brief summary.

In this country we pride ourselves on our great conservation societies and organisations, such as the RSPB, Wildlife Trusts, BTO etc, which have large memberships, many active volunteers and enthusiastic and knowledgeable employees, they are the envy of the world. It is ironic, therefore, that our countryside is one of the most impoverished and degraded in the world with our wildlife often clinging on in depleted remnants of barely suitable habitats. It's as though somebody in power sat down at the end of World War II and drew up a plan on the most efficient way to destroy our wildlife, and has been carrying that out ever since with great success as there has undoubtedly been catastrophic declines of both insects and birds over that period. Having depressed you all with that here is the good news, there is light at the end of the tunnel with rewilding becoming more and more part of main stream thinking and with many notable success stories (see Ref 5).
You will hear the phrase 'Keystone Species' again and again with rewilding and these mainly fall into the category of herbivorous animals such as cattle, horses, deer and beavers, and add to that the omnivorous pig. Deer and Beavers are, of course wild animals, and in the 'wild wood' there would also have been Aurochs and Bison (wild cattle), Tarpan (wild horses) and Wild Boars, but where wild animals such as these aren't available then hardy old domestic breeds such as Longhorn cattle, Exmoor ponies and Tamworth pigs are a good substitute. It is these animals in their different ways - grazing, browsing, digging and dam building - that create habitat diversity and with it abundant wildlife with birds, insects, wild flowers and the rest (Ref 6). Rewilding is often associated with reintroducing species but it's more about providing conditions in order that nature can be left to create the right habitats so that species can make a comeback, either naturally or through reintroduction schemes.
What I had in mind for the Hoylake Langfields would be to make them into a Nature Reserve, so by definition that means rewilding them but exactly how that would be achieved I would leave to the experts. At 295 acres these fields may be a bit small for a full on rewilding project, which are normally associated with areas of land consisting of several thousand acres (for example the Knepp estate is 3,500 acres), but it is certainly large enough to make a fabulous nature reserve being slightly larger than both RSPB Burton Mere Wetlands and the wild area of WWT Martin Mere. These low lying fields with a high water table, often flooding in winter, would be turned into wetlands with reedbeds, wader scrapes, deeper lagoons for ducks and geese, damp fields and islands for breeding waders and there would still be plenty of room for woodland, scrub and wild flower meadows.

With the Dee Estuary just to the west and north Wirral Shore and Liverpool Bay just to the north the reserve would be in an ideal place, many birds already fly over these fields every day as they travel between the two areas as well as passage migrants flying down the coastline. With the proximity of the West Kirby and Hoylake high tide roosts the reserve would itself become a major roost site and refuge for waders which are often disturbed by the many dogs and walkers on the beaches. Such a wetland reserve would also attract exciting birds such as Short-eared Owls, Hen Harriers, Marsh Harriers and Bitterns.
Currently permanent shallow fresh water is in very short supply in North Wirral but to get an idea of the potential of this site I give two examples of what happens when shallow fresh water is available. The first is the 'Gilroy Scrape'. This was a permanent flood caused by a blocked drain which was in a small paddock of just five acres on the southern edge of Hoylake Langfields next to Gilroy housing estate. Unfortunately it was drained in 2016 but up until then it regularly held around 5% of the entire Icelandic race of Black-tailed Godwits as they moulted here in late summer and autumn which meant it was one of the most important sites for this sub-species in Europe with numbers typically reaching two to four thousand (Ref 7). It also attracted up to a hundred Redshanks and Common Snipes plus regular visits of Common, Green and Wood Sandpiper on passage, as well as a good selection of wildfowl including Garganey, Shelduck and Shoveler. The other site is also just another small paddock of around five acres. This was basically an area of wasteland on the edge of Moreton which last year (2020) was dug out to create a flash to attract birds, and within weeks it was doing just that. In the summer there were huge numbers of hirundines feeding overhead and this last winter (2020/21) there were up to 62 Shovelers, three Water Rails, over 20 Common Snipe, 35 Mallard, three Tufted Duck, several Teal and a Greenshank. As the saying goes - provide the habitat and the birds will come!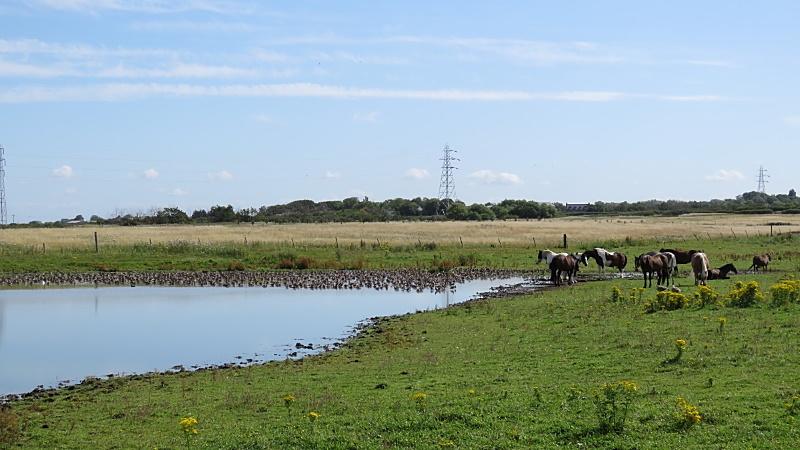 Peaceful scene at Gilroy Scrape in August 2015, several hundred Black-tailed Godwits in the water and attendant herbivores on the right. Horses kept the grass short which was essential for attracting the godwits. © Richard Smith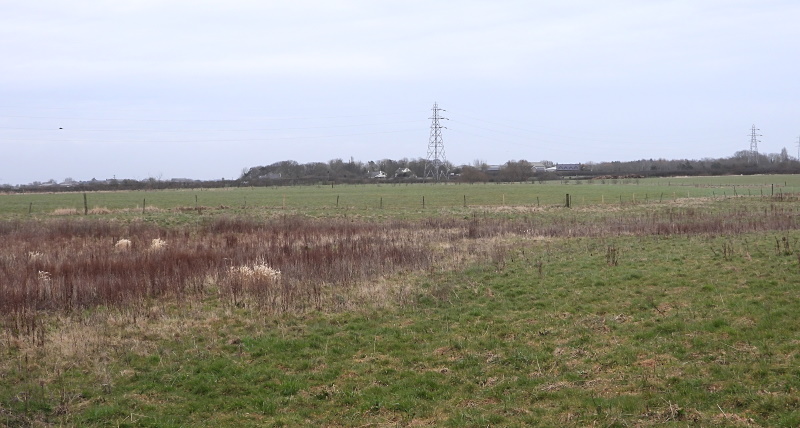 The same view in March 2021. After draining the scrape in 2016 the farmer regrettably abandoned the field and this is now what it looks like after a couple of years of no horse grazing. It is now completely unsuitable for waders and wildfowl and looks a mess with rampant 'weeds'. But even looking like this it is better wildlife habitat than the hedgeless field beyond, even so it would be much better to restore the scrape and this could then be incorporated within any Hoylake Langfields Nature Reserve © Richard Smith
Although creating some fantastic habitat for wildlife, particularly birds, would be a primary aim of any reserve I envisage education to be just as important. Situated next to Hoylake and West Kirby there are several schools within an easy walk of the Hoylake Langfields, with many more schools just a short drive away in the rest of Wirral and, indeed, the whole of Merseyside. This would be an ideal opportunity to provide world class wildlife educational and research facilities something along the lines of WWT Martin Mere which has over 10,000 school children visiting each year (Ref 8). It would also be a boost for the tourist economy and visitors would be able to come by train as well as car with Hoylake Station immediately adjacent to the proposed reserve. Below is an example of what WWT provides for teachers: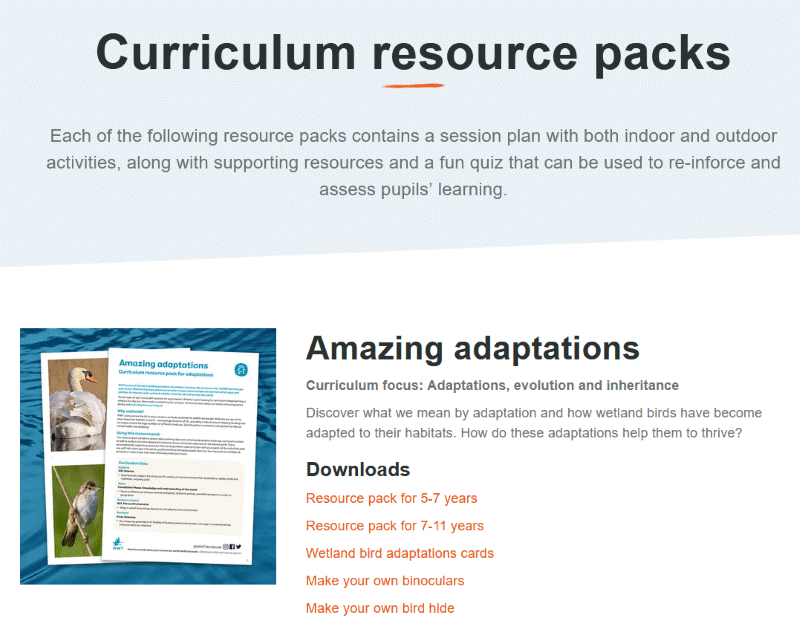 All this, of course, is currently just a fantasy and I'm not aware of any serious plans for the Hoylake Langfields although I'm not the first to propose some kind of Wetland Centre (see Ref 9). But with rewilding becoming more and more in the public eye and Wirral Council having 295 acres of land they don't know what to do with, you never know what might happen.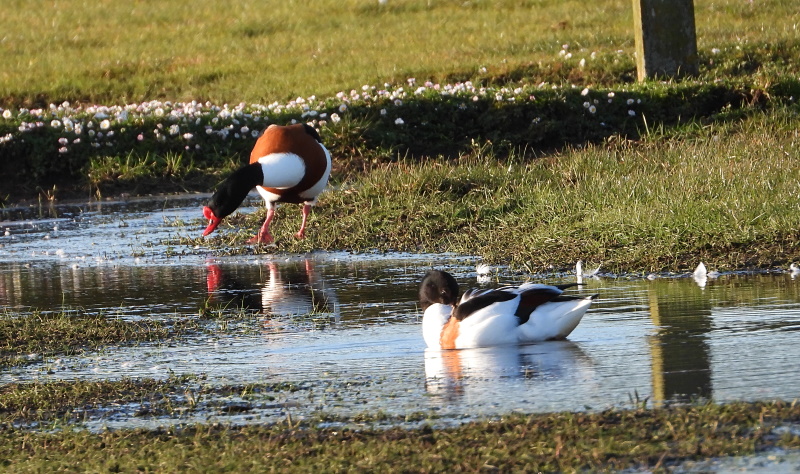 A pair of Shelducks in a flooded horse paddock on north Wirral - March 2021, there would be dozens of these
beautiful ducks on the Langfields if it was made into a reserve © Richard Smith
Further Reading/References
1. Amy-Jane Beer, Lost and Found, Waterlife (WWT Magazine), 214 November 2020/February 20201.

2. Isabella Tree, Wilding, Picador, 2018 (about the remarkable wilding experiment which has taking place on the Knepp Estate, West Sussex).

3. Benedict MacDonald, Rebirding - Restoring Britain's Wildlife, Pelagic Publishing, 2019.
4. Derek Gow, Bringing Back the Beaver, Chelsea Green, 2020.
5. Rewilding Britain Website - "Think Big. Act Wild.". https://www.rewildingbritain.org.uk/.

6. K. H. Hodder et al., Large herbivores in the wildwood and modern naturalistic grazing systems, English Nature (Report 648), 2005.
7. Richard Smith, The Godwits of Gilroy, September 2015 Dee Estuary Newsletter,
http://www.deeestuary.co.uk/news0915.htm.

8. Wildfowl and Wetlands Trust - The Learning Zone, https://learningzone.wwt.org.uk/.

9. Proposals for a Hoylake Eco-Golf Resort , Wildfowl and Wetland Centre; a leaflet published by Hoylake Village Life in 2011 and revised in 2017:
http://hoylakevision.org.uk/wp-content/uploads/2017/03/Eco-resort_Layout-1_2017_UPDATE_LOWRES.pdf

Richard Smith

Colour Ring Report
Shelducks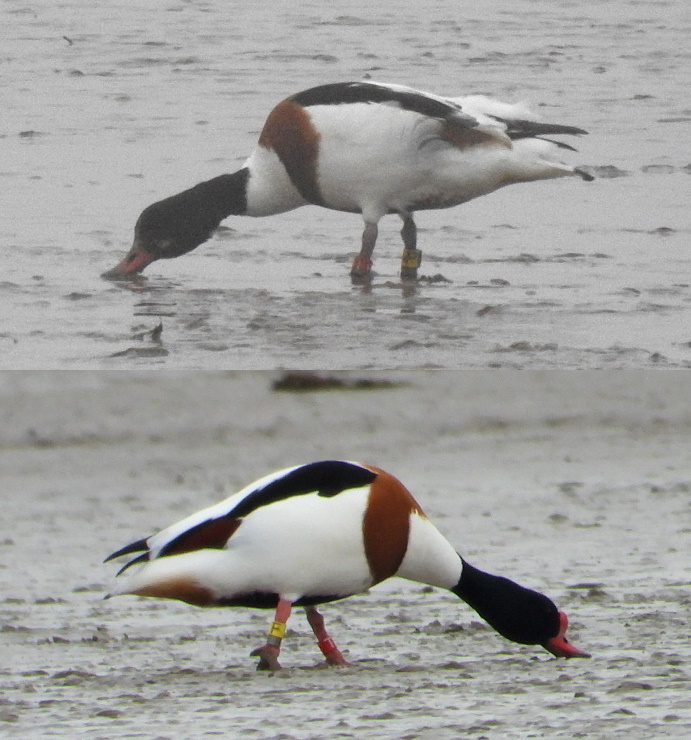 Top - Shelduck Red U Yellow F at Thurstaston, March 18th 2021 © Steve Hinde
Bottom - Shelduck Red T Yellow F at Meols, March 19th 2021 © Richard Smith

These two Shelduck were both ringed at Wheldrake, Lower Derwent Valley NNR (SE of York) on 25/11/2020 and both were caught in a second catch at the same location the following day.
Red U Yellow F was recorded at Thurstaston on 18/3/2021.
Red T Yellow F was recorded at Meols on 19/3/2021.
These are the seventh and eighth Shelducks seen on the Dee Estuary which have been ringed at the Lower Derwent Valley NNR, an interesting and unexpected connection between the two sites. These two will probably have been on their way back to the Dee Estuary after moulting on the Waddensea in late summer.

Knots
A new Photographic Guide to Colour-ringed Red Knot has been published which should prove very useful to all colour ring enthusiasts - Click Here to download it (PDF File). Also for those wondering what the Dutch ringing codes for waders such as N8RYYN and Y4RNRR actually mean here is a guide to download - Click here (PDF file).
No new records in March but I will be writing a summary of the excellent 2020/21 season sometime in the next few months, before the Knot return.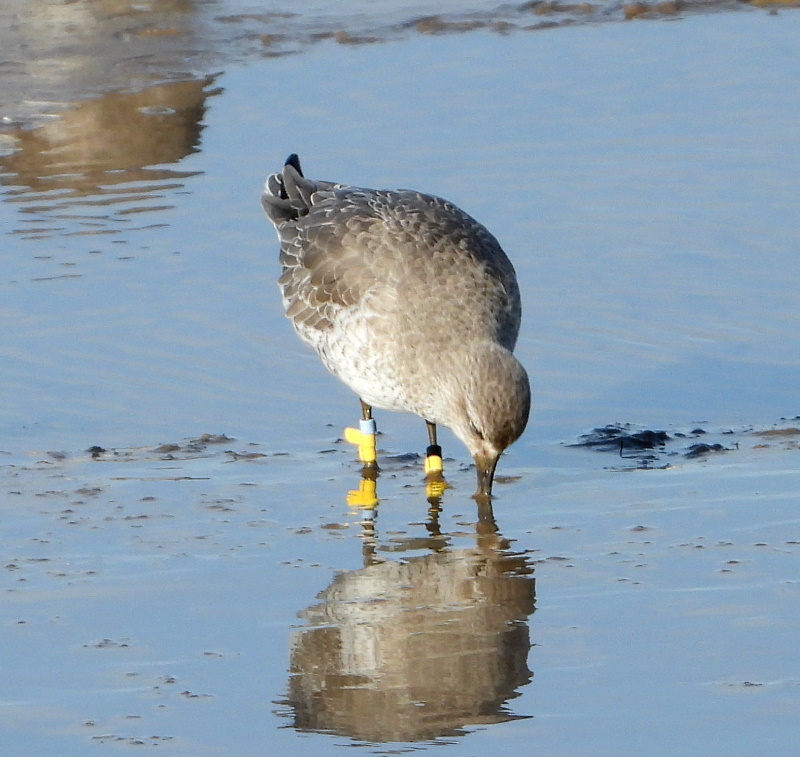 Black-headed Gull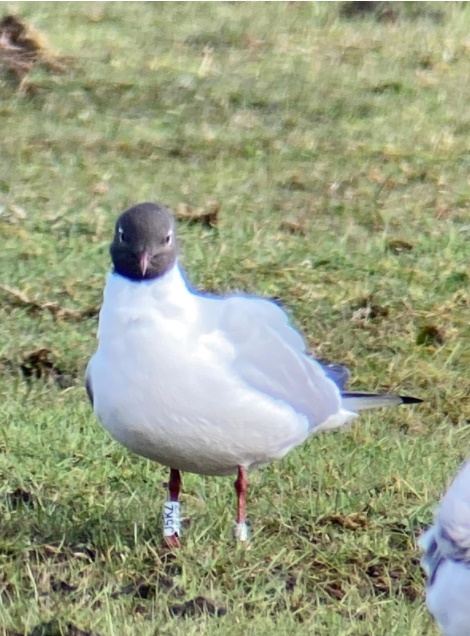 Black-headed Gull J5KZ at Leasowe March 2021 © Sean O'Hara

J5KZ
black on white ring.
Ringed at Ulsrudvann Lake, SE of Oslo, on 16/6/2012, as a chick.
Recorded back at Oslo in spring and summer every year since, including April and May 2020.
Recorded at Kerr's Field, Leasowe, on 12/3/2021 - first record away from Oslo.
Mediterranean Gull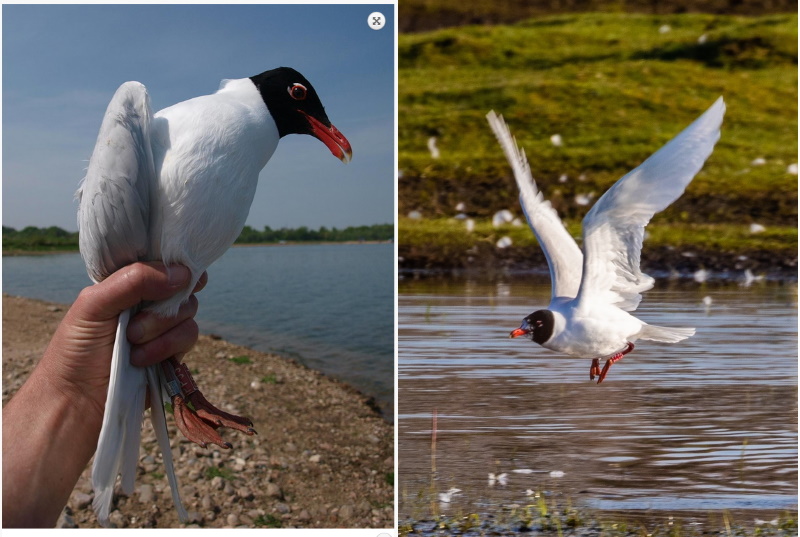 Mediterranean Gull PPJ3
Left - in Poland when re-caught in May 2020 © Maciej Gajewski
Right - in Kerr's Field in March 2021 © Peter Sutton
PPJ3 - white on red ring.
Ringed near Wojcice, SW Poland in 4/6/2015, as a chick.
Recorded:
July 2015 in the Netherlands.
April 2016 on the Farne Islands.
May 2017 in western Poland.
September 2017 on Hoylake shore.
March 2018 at Old Moor Wetlands, Yorkshire.
It was breeding in May both in 2018 and 2019 in NE Germany.
March 2020 in Kerr's Field, Leasowe.
Breeding close to it's ringing site near Wroclaw, Poland. As seen in above photo it was recaught by a ringer whilst on nest which had two eggs.
6/3/21 and 7/3/21 at Kerr's Field, Leasowe.


Shag

Not a colour-ringed bird but one with a metal ring unfortunately found dead on Leasowe Shore:
Ring No. 1496231
Ringed at Puffin Island, Anglesey, on 14/6/2017, as an adult.
Found dead at Leasowe Shore on 18/3/2021.


Colour-rings were recorded by Richard Smith, Steve Hinde, Peter Sutton, Sean O'Hara, Graham Connolly and Sue Titchmarsh.


March Bird News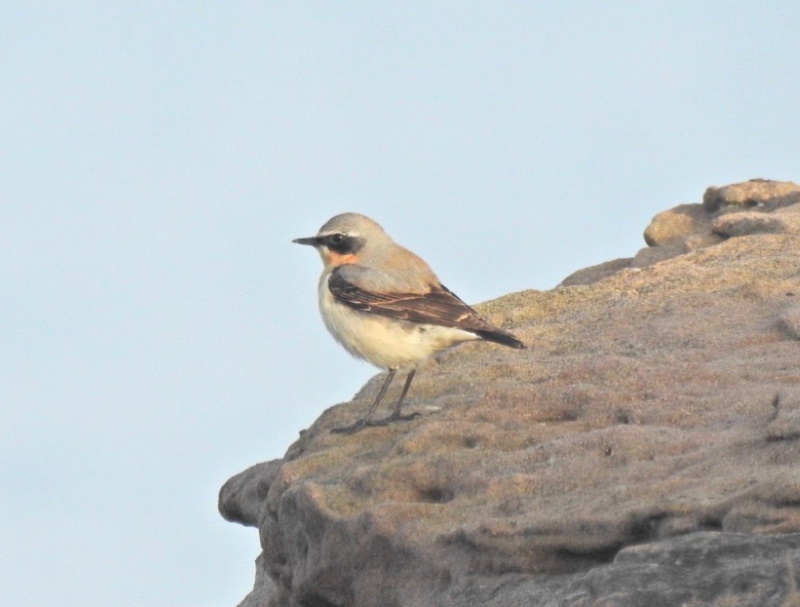 Wheatear 0n Hilbre, March 31st ©Allan Hitchmough


The first spring migrants were generally early this year, some warm southerlies in late February seemed to have pushed them on despite a return to more wintry weather in March. The first Wheatear was exceptionally early on February 28th, but then we had to wait over three weeks for the second one on March 23rd which was the same day we had a nice early Willow Warbler. Normally these first birds come in singles so it was unusual to get 16 House Martins at Burton Mere Wetlands on the 27th, another early date. Several had been seen elsewhere in Cheshire the previous few days including five at Comberbach so perhaps not as unexpected as we first thought.

| Species | 2021 | Location | 2020 | 2019 |
| --- | --- | --- | --- | --- |
| Wheatear | 28th Feb | Leasowe | 16th March | 27th Feb |
| Sand Martin | 5th March | Burton | 16th March | 16th Feb |
| White Wagtail | 16th March | Leasowe | 1st March | 28th Feb |
| Swallow | 18th March | Leasowe | 23rd March | 21st March |
| Willow Warbler | 23rd March | Leasowe | 26th March | 24th March |
| House Martin | 27th March | Burton | 5th April | 31st March |
| Whitethroat | | | 8th April | 14th April |
| Swift | | | 21st April | 23rd April |
| Cuckoo | | | 23rd April | 18th April |

Another early spring migrant was a Ring Ouzel at Burton on the 8th, which we think is the earliest ever recorded in Wirral. Another arrived at Leasowe on the more usual date of the 23rd and stayed for several days. These March Ring Ouzels will be British breeders, most likely Scotland, with Scandinavian breeding birds not coming through until the second week in April.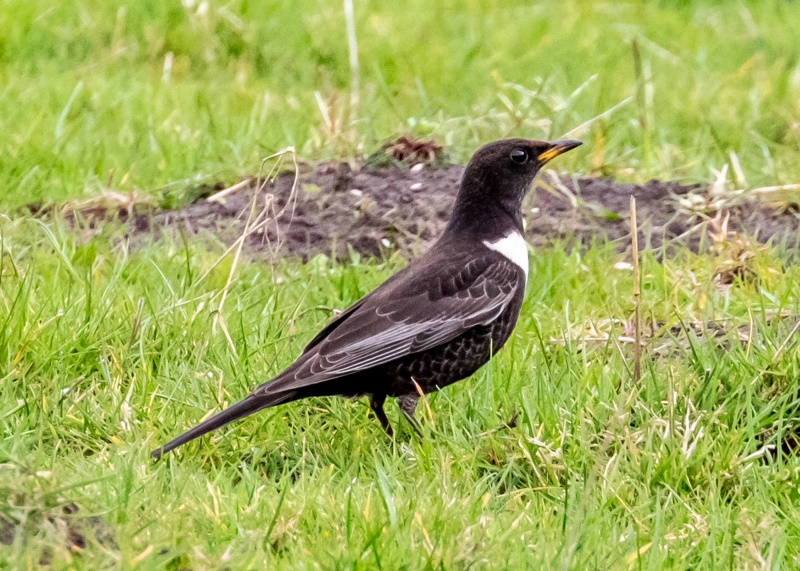 Ring Ouzel at Leasowe, March 28th © Peter Sutton

Both the Crossbills, at Ness, and the Snow Buntings, at Hoylake, were still present at the beginning of the month. Having spent much of the winter on the wet sand and proto sand dunes the Snow Buntings decided in March that they liked the rocks by the Lifeboat Station, this certainly made for some good photo opportunities and it meant the birds could also find shelter and hide among the rocks safe both from dogs and over enthusiastic photographers and birders!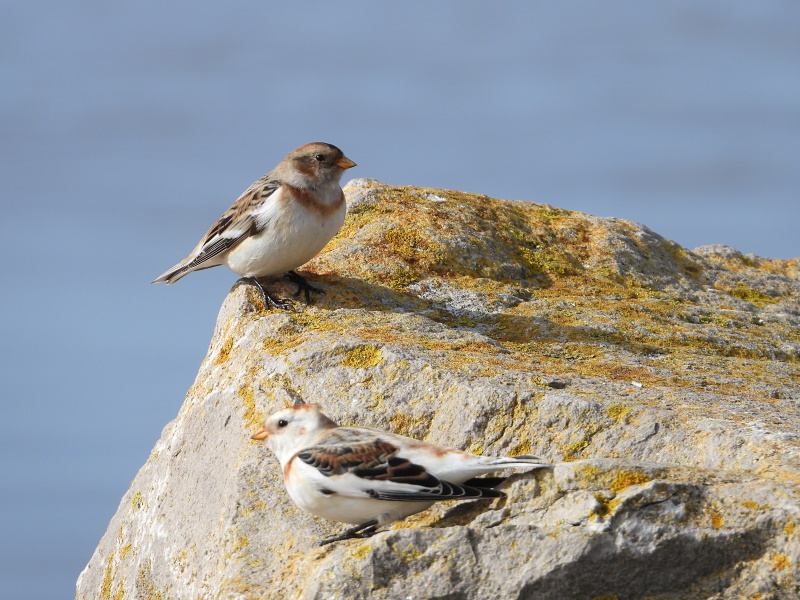 Snow Buntings at Hoylake, March 15th © Richard Smith


Little Gulls started coming through on the early date of the 4th, with five off Leasowe, and in total there were five days when we had counts in double figures with the max count of 63 off Hilbre on the 23rd, the highest count since 115 in April 2016. An early Manx Shearwater was spotted during a strong south-westerly on the 29th, more expected was the first Sandwich Tern on the same day. A count of at least 40 Gannets on the 12th was a good number for March.
Brent Geese reached 417 around Hilbre, the highest count of the winter. Small flocks were dispersed around the estuary being seen on West Kirby Marine Lake, Thurstaston, Meols, Leasowe and Gronant.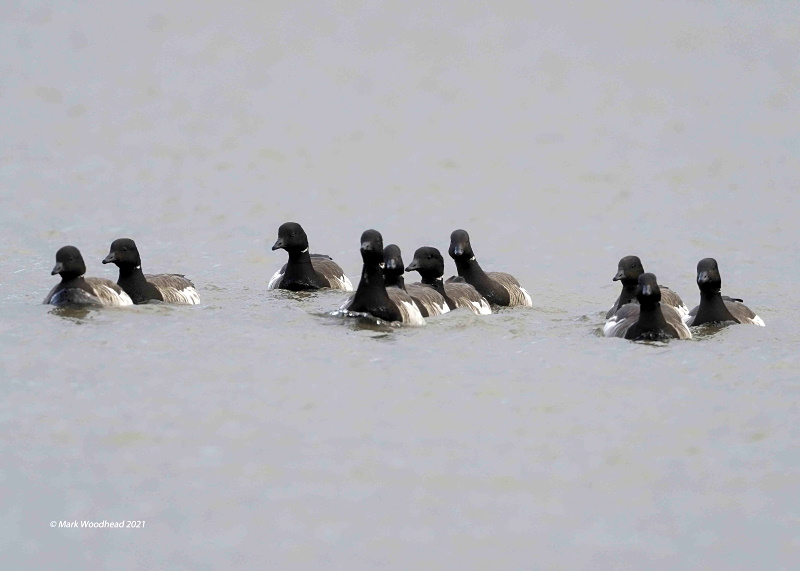 Brent Geese on West Kirby Marine Lake, March 29th © Mark Woodhead

There was plenty going on at Burton Mere Wetlands including a booming Bittern, a first for the Dee Estuary, which also gave some great photo opportunities. Avocets had reached 89 by the month-end, a pair of Marsh Harriers were seen nest building and the presence of several Cattle Egrets and Great Egrets in the area means both species may also breed again. After being absent for most of the winter two Short-eared Owls appeared over the spring tides off Gayton on the 29th and 30th.
Rarer and scarce birds included an Iceland Gull at Oakenholt on the 14th, at least four Twite at Parkgate on the 24th with six there on the 30th (also, more expected, seven were at Flint on the 23rd), a Little Ringed Plover at Leasowe on the 21st and a Lapland Bunting at Hilbre on the 22nd. With a big influx of Russian White-fronted Geese into the country earlier in the winter it's a bit disappointing that we've only seen a handful here with three at Burton on the 5th and single there on the 31st.
Four Ospreys in two days, on the 30th and 31st, meant a splendid end to the month.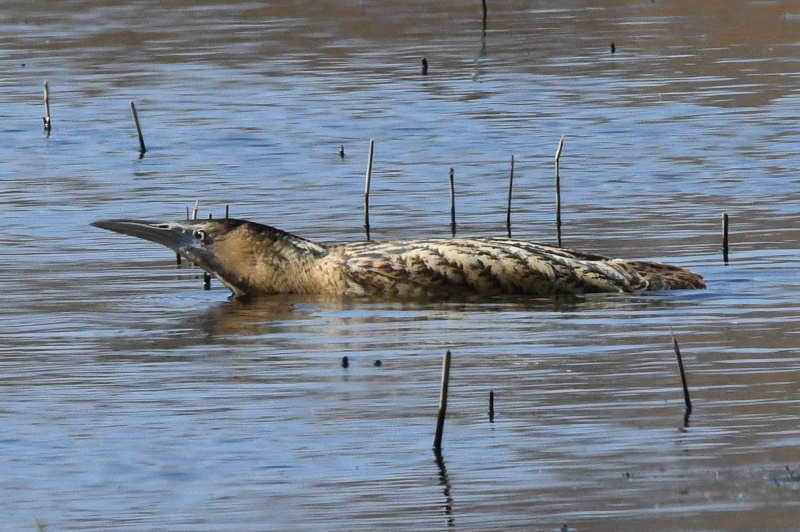 Bittern at Burton Mere Wetlands, March 27th © John Hewitt

Many thanks go to Steve Williams, Matt Thomas, David Haigh, Steve Hinde, Alan Hitchmough, Graham Jones, Colin Schofield, Derek Bates, Allan Conlin, Richard Whitby, David Thompson, David Small, Les Hall, Richard Beckett, Bruce Atherton, Peter Sutton, Frank Burns, Dave Edwards, Mark Gibson, Jeremy Bradshaw, Roy Wilson, Carole Killikelly, Chris Revell, Elliot Montieth, Graham Parry, Charles Farnell, Sean O'Hara, Andy Coxon, Chris Wilding, Ian Goldstraw, John Hewitt, Alan Challoner, Chris Maltby, Stephen Lane, Laura Middlebrook, Hraham Connolly, Rod Bell, Tony Sinnott, Tony Davies, Paul Greenslade, Sarah Roberts, Chris Lwewis, Nigel Young, Kevin Walston, Peter Ham, Kevin Taylor, Steve Hart, Keith Ackerley, Andrew Lee, Peter Broder, Kate Hart, Steve Houghton, John Watson, Glyn Thursfield, Mark Woodhead, Tony Hession, John Blore, John Rowlands, Steve Hasell, Dave Roberts, Ted Bellis, Richard Speechley, David Bradshaw, Chris Tynan, Eric Burrows, Rob O'Keeffe-Wilson, Steve Hand, Tony Hessionthe Dee Estuary Wardens and the Hilbre Bird Observatory for their sightings during March. All sightings are gratefully received.

What to expect in April

Spring migration really gets into full swing in April. Exactly what we see, where and when depends on the weather but there's always plenty going on. Out to sea there will be terns on passage starting with Sandwich Terns followed by Arctic Terns later in the month with Black Terns are always a possibility. Also out to sea look out for Gannets, with the right conditions there will be hundreds out in Liverpool Bay.

Black-tailed Godwits will be heading towards Iceland, they will stopover on the Dee estuary for a week or two at Burton Mere Wetlands, Caldy Wildfowl Collection and the Connah's Quay reserve looking magnificent in full breeding plumage. The second half of the month will see good numbers of Whimbrels with Heswall and Hilbre being prime locations, and a couple of years ago a small flock fed in a wet field near Leasowe Lighthouse for a few days giving really good views. Another wader to look out for are Avocets and these should reach over 100 at Burton Mere Wetlands. Some pause here before heading further north to breed, whilst others will stay and nest on the reserve.
Early in April the Pink-footed Geese will leave us, usually in several large spectacular flocks. Any large gull overhead is worth checking out, it may actually be an Osprey!
But the main focus for we birders in April is the passerine migration. The second half of the month should see the largest numbers including Common Redstarts, Wheatears, Ring Ouzels, Yellow Wagtails, White Wagtails and Whinchats. Look out for spectacular falls - some mornings we can go out and every bush seems full of Willow Warblers and every field full of Wheatears, whilst the wet sand at Hoylake and Gronant is carpeted with White Wagtails. Other warblers will include Grasshopper Warblers with the much rarer Wood Warbler always a possibility. Early morning is generally best with hotspots being the Leasowe Lighthouse area, Red Rocks marsh and dunes, Hilbre and the Warren/Sand Dunes at Point of Ayr.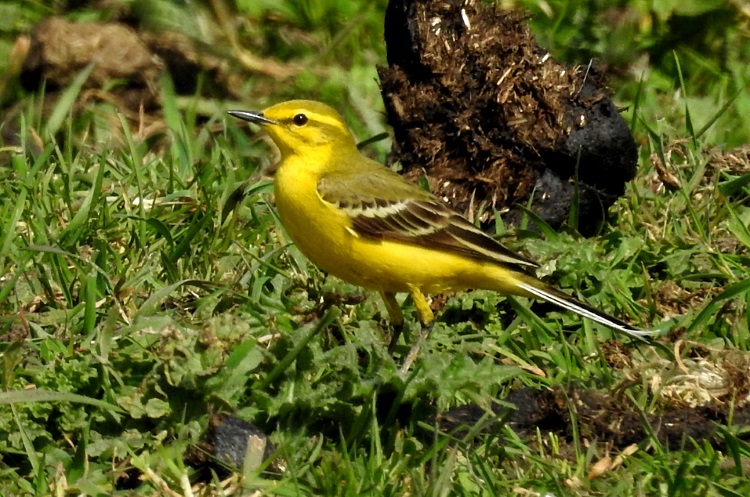 Yellow Wagtail at Leasowe, April 2019 © Les Hall

Forthcoming Events
April Highest Spring Tides (Liverpool)
Also see Tides page.
27th April, 12.00hrs (BST), 9.9m.
28th April, 12.43hrs (BST), 10.0m.
29th April, 13.28hrs (BST), 9.9m.
Forthcoming Events
Due to Covid 19 restrictions no birdwatching events are planned for this month.