March 2023 Newsletter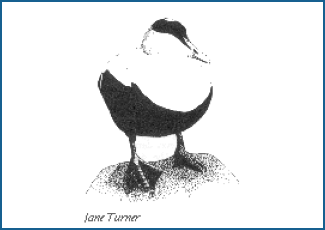 Highlights - March 2022 to February 2023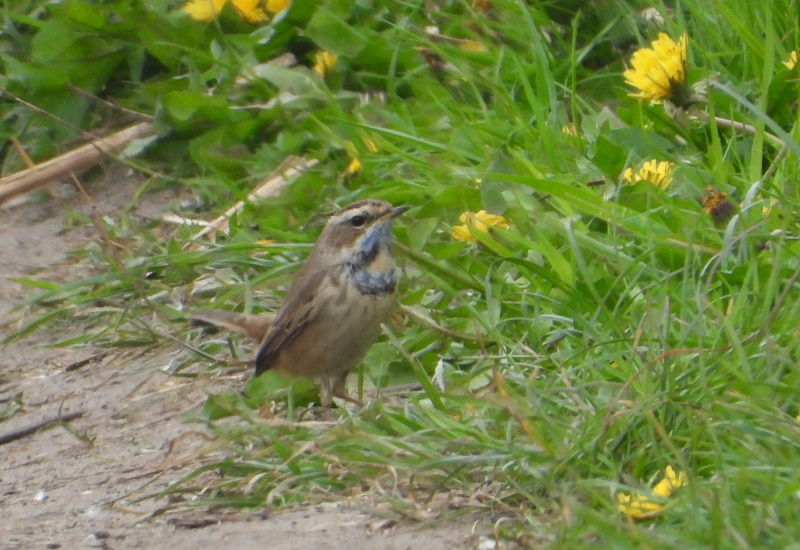 Bluethroat near Leasowe Lighthouse, April 28th 2022 © Richard Smith

Here is my usual yearly summary on the 25th Anniversary of this Dee Estuary Birding website. I always enjoy doing these summaries as it's a chance to look back on the last twelve months and re-live the highlights. Every year is different, of course. Looking at last year's article I see that the previous 12 months had been spectacular for rarities with such beauties as Collared Pratincole, Bonaparte's Gull and Squacco Heron - and I listed 20 rarities in total. This last year we didn't get the numbers but there were certainly some spectacular megas! But what these last 12 months were notable for was the number of record high counts made for various different species. But I start with those rare birds.
Rarities
April saw a Bluethroat hopping along the path near Leasowe Lighthouse on the 28th, a great find by Allan Conlin. Also that month were an Iberian Chiffchaff, a Black Kite and a Richard's Pipit.
May saw a very unexpected Puffin off the Connah's Quay Reserve whilst early June brought in a White-winged Black Tern to Burton Mere Wetlands. An adult and juvenile Spotted Crake at the latter site in August probably bred there.

It was October when we saw an unprecedented influx of Pallid Swifts into the country with one showing really well at Hoylake on the 27th - the first for Cheshire and Wirral. Amazingly, there were then two present on the last day of the month. Several Yellow-browed Warblers were recorded during October and there was also a possible 'Little Shearwater' (Baroli Shearwater).

A Long-billed Dowitcher was at Burton Mere Wetlands on five days in October, and on single days during January and February - quite likely the same bird.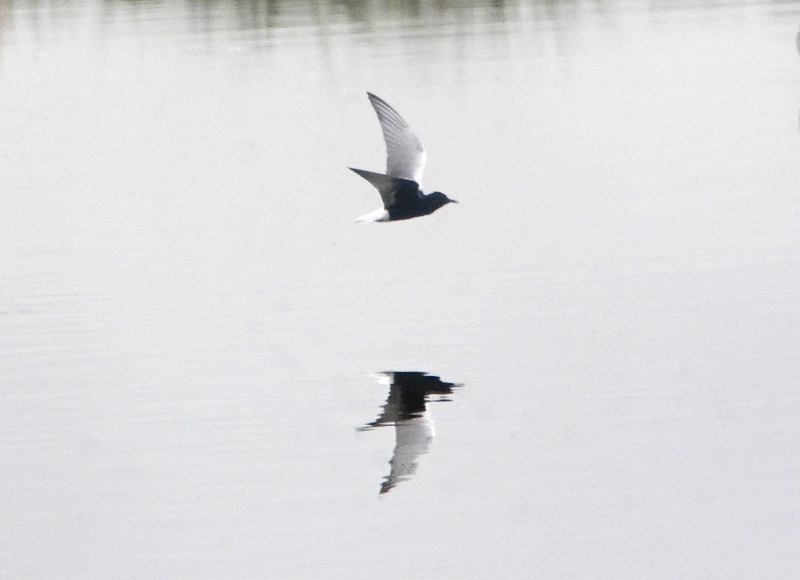 White-winged Black Tern at Burton Mere Wetlands, June 6th 2022 © John Hewitt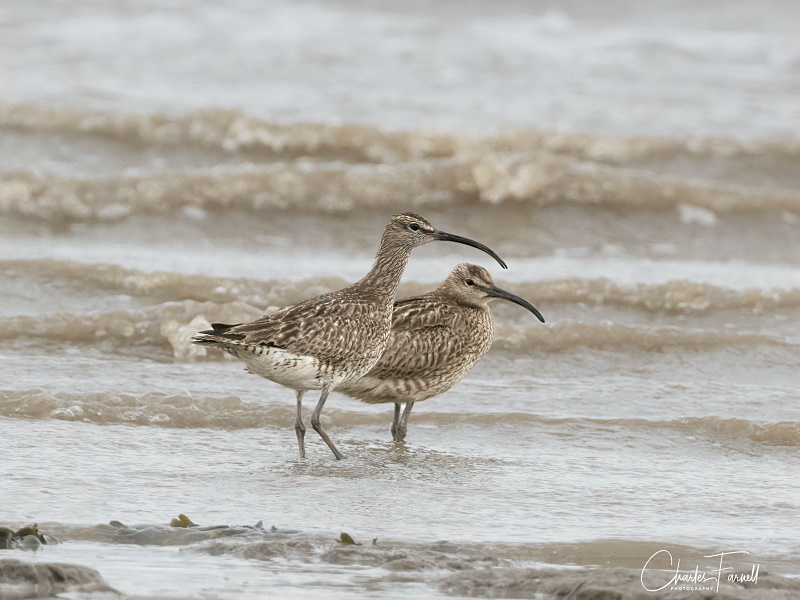 Whimbrels at Thurstaston, July 26th 2022 © Charles Farnell

A Year of Record Numbers!

Our first record was a count of 211 Whimbrels at Heswall on May 5th, the third year in a row that the record has been broken. It seems that the mud between Heswall and West Kirby is very much to their liking whilst they pause here on their way to Iceland to breed.
With their black head and large bright red beak Mediterranean Gulls in summer plumage are easy enough to spot even among hundreds of Black-headed Gulls. Numbers have been steadily increasing over the past 10 years or so and on July 12th the total count was 27 - we think at least double our previous highest count. At that time of year Thurstaston, West Kirby, Hoylake and Meols on a rising tide are the best places to see them. But they can also be inland and I counted six in a gull roost in playing fields in West Kirby in mid-July.

September didn't bring much in the way of gales but we did get very good numbers of Curlew Sandpipers. Numbers peaked on the 11th with a total of 50 for the estuary, with the 39 counted at Burton Mere Wetlands a record high for that site. See Curlew Sandpiper Influx 2022.

Spoonbill is another species which are increasing and 19 were counted at Burton Mere Wetlands and Parkgate on September 19th - the previous high being 12 in 2016.
For me, the most impressive movement of birds we saw in the past 12 months was the massive passage of Redwings on October 19th. Have a read of the newsletter article 'A Massive Redwing Migration'. I do have regrets about this as it was a missed opportunity to count a once in a lifetime mass movement - how great it would have been to have had counters at New Brighton, Leasowe, Red Rocks and Thurstaston, but it's easy enough to be wise after the event! However, thanks to Barrie Armitt, who spent most of the day at Crosby, we do have some idea of numbers. He counted an incredible total of 122,600 Redwings over Crosby Marine Park - all headed south straight for Wirral. I believe that's the highest single site count of Redwings ever made in the UK. We did manage to count for an hour and a half at Thurstaston whilst over six thousand Redwings went over - just to give you an idea of numbers here.

The winter of 2022/23 has been particularly good for Great Crested Grebes off North Wirral with the max count being a very creditable 589 on November 16th. It's remarkable to see all these but you need a flat calm day as they are a long way out. 589 is the highest number since a coordinated count between Hilbre and Leasowe of 961 on October 2nd 2015. The record high is 1,195 counted in January 2011.

Flocks of Goosanders have been recorded flying along north Wirral and into the Dee Estuary for many years, nearly always in late summer and early autumn as they disperse after breeding. But they have always been a rare bird on the estuary in winter, until around 2016/17 when they started appearing on West Kirby Marine Lake on a regular basis. They reached double figures in December 2019 with 11 counted. Numbers have continued to increase but it has this been this last winter when we have started to see really good numbers and they reached 36 on December 14th.

Long-tailed Ducks are scarce in Liverpool Bay with the occasional visit by one or two birds the normal pattern. So the small flock off Hoylake, seen from the edge of East Hoyle Bank and present from December to February, was a nice surprise. There were two counts of seven in February which I believe is the third highest count ever recorded for the Dee Estuary/North Wirral area. The highest count was a flock of 30 which flew past Hilbre in April 1992 and the second highest a flock of 10 off Meols in December 2014. Both those flocks were only seen on single days so to have our flock of seven present for several weeks has been a nice bonus.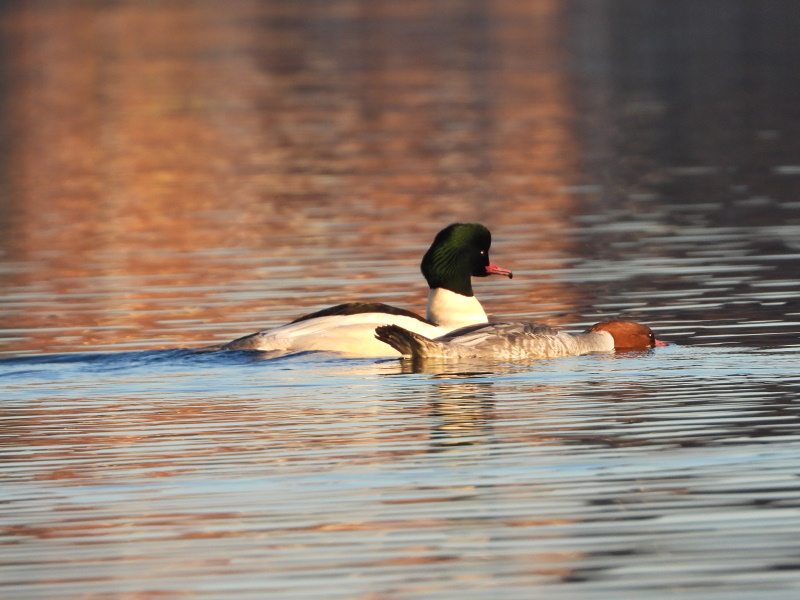 Goosanders on West Kirby Marine Lake, December 8th 2022 © Richard Smith
Richard Smith

Colour Ring Report

Oystercatcher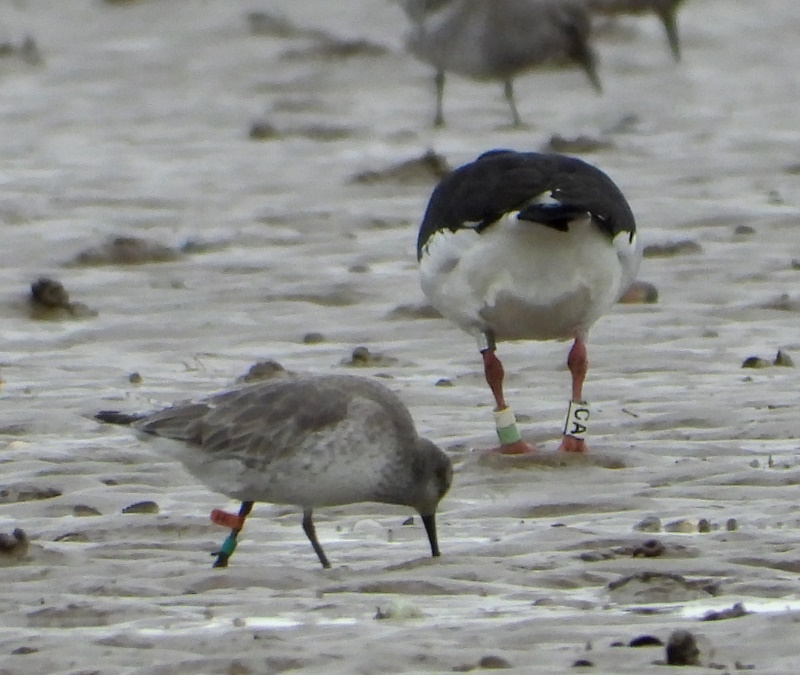 Oystercatcher (WL-W(CA)) at Thurstaston with an Orange Flagged Knot, February 2022 © Richard Smith
WL-W(CA)
I was clicking away on my camera, trying to get a clear view of a orange flagged Knot, when I realised an Icelandic ringed Oystercatcher was stood right behind it!
It was ringed in southern Iceland as a chick in the nest in May 2017. Sightings in June at the same site meant it had safely fledged. It then made it to the UK and it turned up at Thurstaston Shore in April 2018. Being a one year old non-breeding bird there was no need for it to return to Iceland and it was spotted several times at Thurstaston in May and June that year. But it wasn't recorded again until I saw it at Thurstaston on February 16th 2023. Despite the near five year gap the rings look in very good condition.


Black-tailed Godwits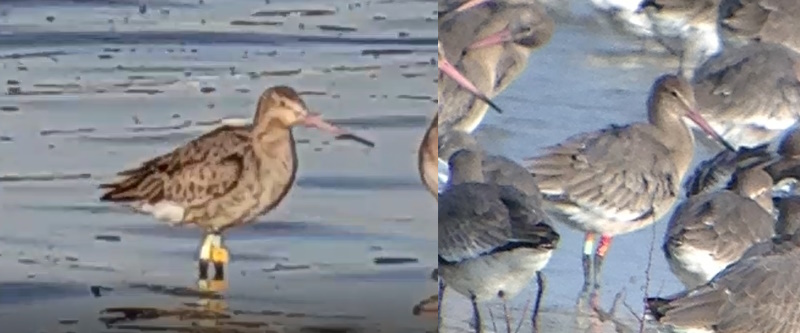 Left - WW-LYflag at Oakenholt Reserve in February 2023 © Peter Haslem
Right - OL-RZ at Gilroy Scrape, West Kirby, in November 2014 © Richard Smith

Since 2005, when we first became aware of colour-ringed waders, we have logged 284 different colour-ringed Black-tailed Godwits on the Dee Estuary. Looking at the database some of them have been recorded several hundred times, whilst others can disappear for several years before unexpectedly turning up again. Such is the case for WW-LYflag which was ringed in northern Iceland in July 2012. It was spotted once at Seaforth in September that same year before going off the radar for over 10 years until turning up at Oakenholt RSPB on February 6th 2023. Where has it been hiding all these years??
In contrast, OL-RZ (latter ring is the letter Z on an orange ring) has been recorded a total of 56 times and shows some interesting movements.
OL-RZ was also ringed in Iceland in July 2012, but on the south coast. It's been recorded in the UK every year since except for 2015 and 2021. Late summer and early autumn records have been rare but, until recently, it appeared to spend those months on the Blackwater and Thames estuaries before flying north-west to over-winter on the Dee Estuary and nearby sites. It then returns to the south-east to undergo spring moult. It's been recorded back in Iceland a couple of times during the breeding season. In 2020 it did something different being recorded at Conwy RSPB in August and on the River Lune, Lancashire, in October.
The most recent record was at Thurstaston on December 26th 2022.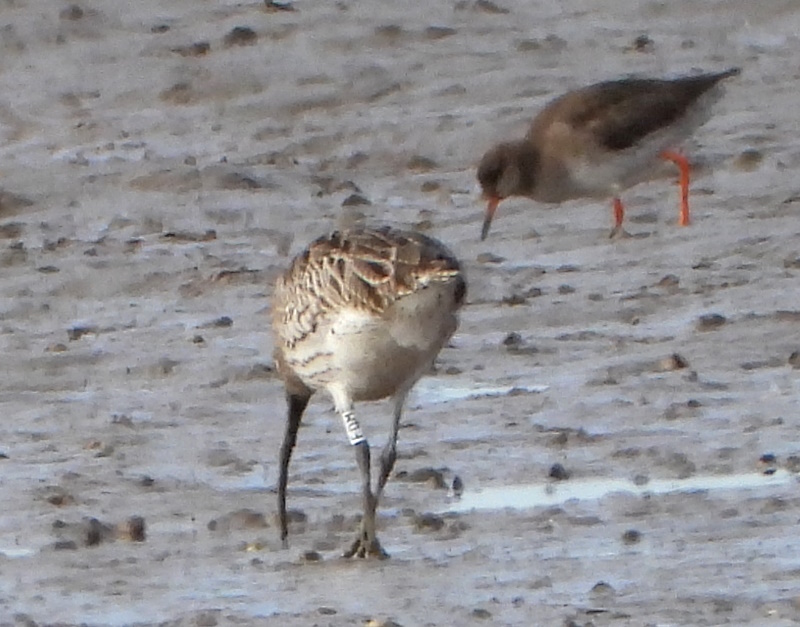 Curlew White FOM at Thurstaston Shore, February 28th © Richard Smith


White FOM
This Curlew featured in the December Newsletter and was in the exact same place on Thurstaston Shore on February 28th. Has it spent the winter here, unnoticed, or is it on its way back to Finland having spent the winter in Iteland?
FOM was ringed as a nestling at Siikalatva in Finland on June 28th 2018.
Since ringing it has been recorded back at the ringing site in April 2020 and May 2021.
Recorded at Thurstaston in November 2020, November 2022 and February 2023.
Colour Rings were recorded by Richard Smith, Stephen Hinde, Alan Hitchmough, Tony Ormond, Peter Haslem, Sean O'Hara, Helen Jones and Brian Kermode.

Richard Smith

February Bird News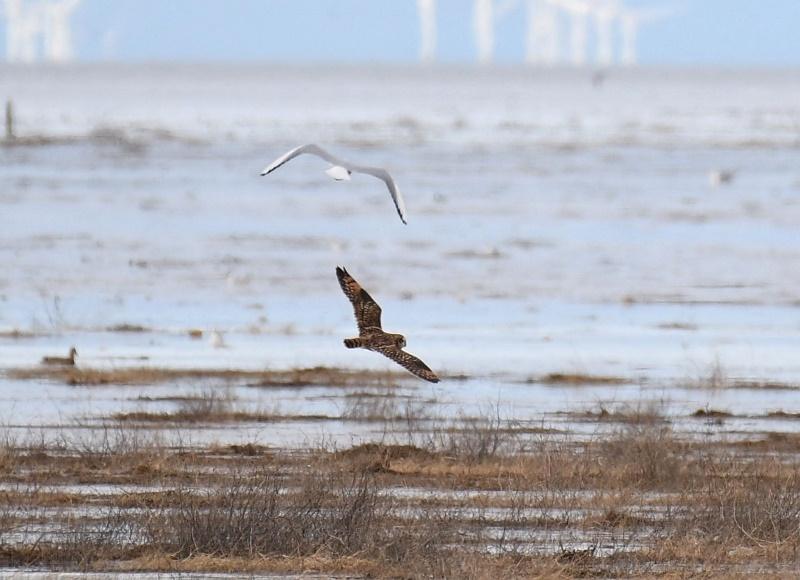 Short-eared Owl at Parkgate, February 21st © Tony Hession

The highest tides of the winter were forecast for the 21st to 23rd and they resulted in some great birding. Nearby high pressure meant that the sea only just crept into the wall off Heswall Golf Course on the 21st but we saw at least two Short-eared Owls plus masses of gulls, waders and wildfowl - it's the continuous movement of so many birds which is so impressive. As the tide came over the marsh it flushed thousands of Pink-footed Geese giving a fantastic spectacle. Click here to see a video of the geese.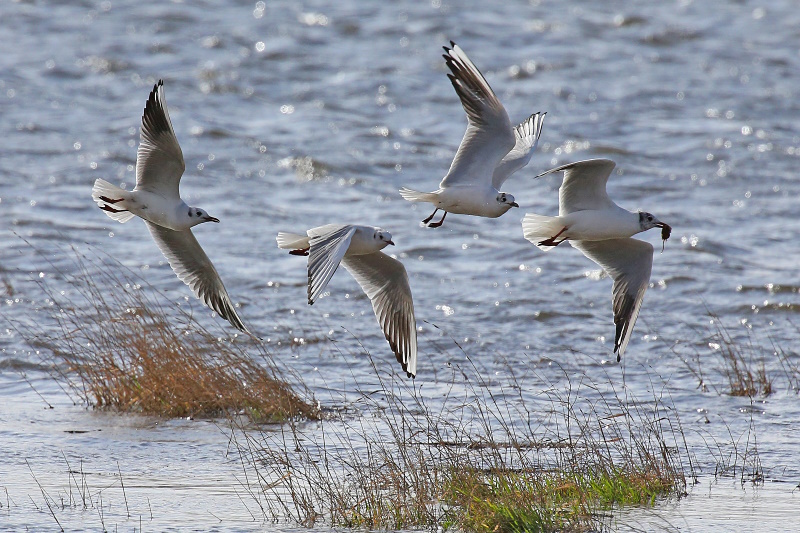 Black-headed Gull chase, February 22nd © Roy Lowry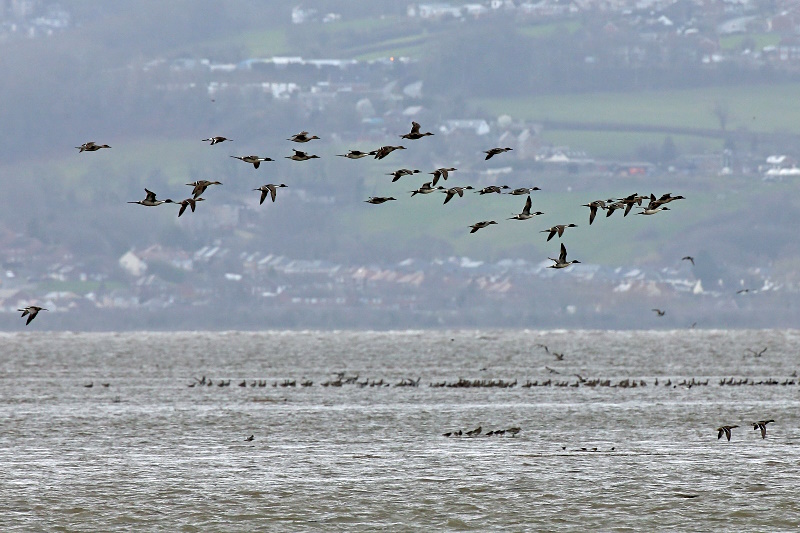 Pintails at high tide, February 22nd © Roy Lowry


There have been a few Eiders off Hilbre most of the winter and they peaked with a count of 10 on the 21st. Long-tailed ducks are scarce in our area, we normally see one or two each winter at most, so it's been great to have had a small flock of seven birds since December off East Hoyle Bank. As per the above article there have been two previous records greater than seven, but they were just single day counts, we've never had an over-wintering flock before. They were very difficult to photograph so Sean O'Hara did an excellent job making this video - the picture quality isn't great but watch as they all dive together!

As well as thousands at Parkgate large numbers of Pink-footed Geese were seen elsewhere with a record count, 3,500, on the Hoylake Langfields early in the month, and also record numbers, 9,000, at Burton Mere Wetlands towards the month-end. Over a period of a couple of weeks hundreds flew right over my house near Caldy at first light having roosted over-night on Heswall Marsh. Glorious! Much rarer geese were also spotted with a single Russian race White-fronted Goose at Burton Mere Wetlands with the 'Pinkfeet'. A Lesser White-fronted Goose, also at Burton Mere Wetlands, was far rarer and very unexpected - unfortunately it seems likely to be an escaped bird and one which spent the summer in Yorkshire in 2020 and subsequently also recored in Lancashire.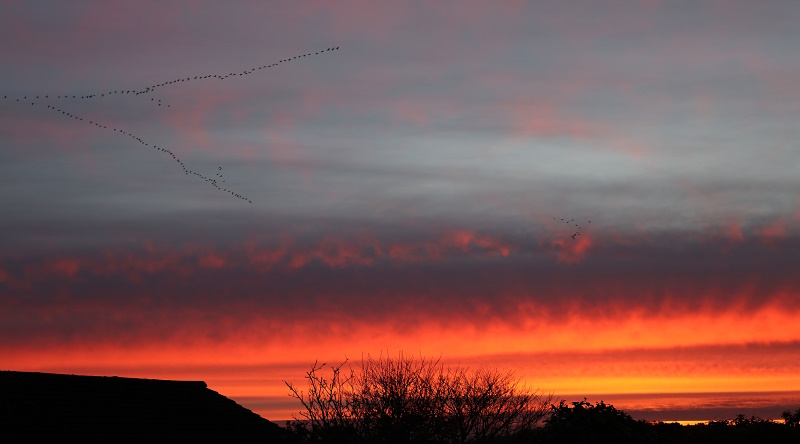 Pink-footed Geese at dawn over Newton © Chris Richards

There was another visit by a Long-billed Dowitcher during the month at Burton Mere Wetlands. Another nice rarity was a flyover Lapland Bunting at Hilbre on the 26th.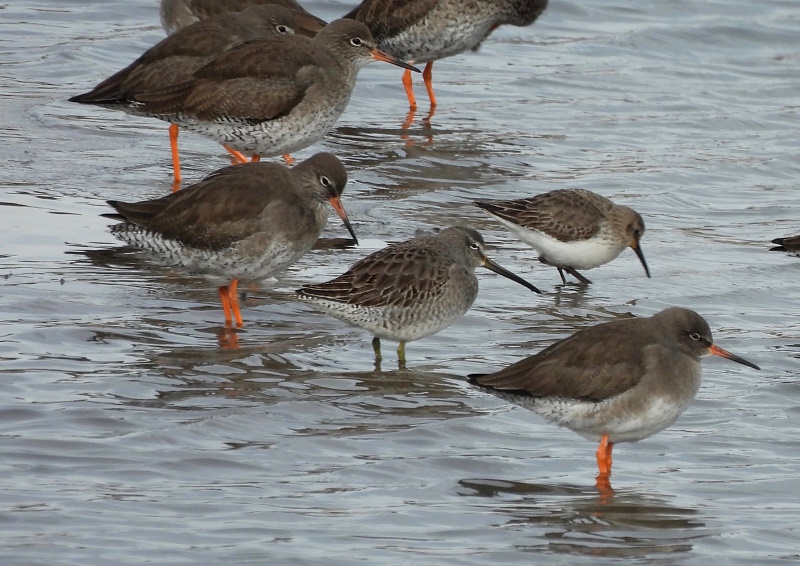 Long-billed Dowitcher associating with Redshanks and Dunlin at Burton Mere Wetlands, February 21st © John Watts

I mentioned last month about high numbers of Dunlins on the estuary this winter, and the official WeBS count was over 26,500 in January - I actually think that was an under estimate and that there were probably over 30,000. Anyway, good numbers remained in February and my estimate at high tide at Hoylake on the 19th was 18,000.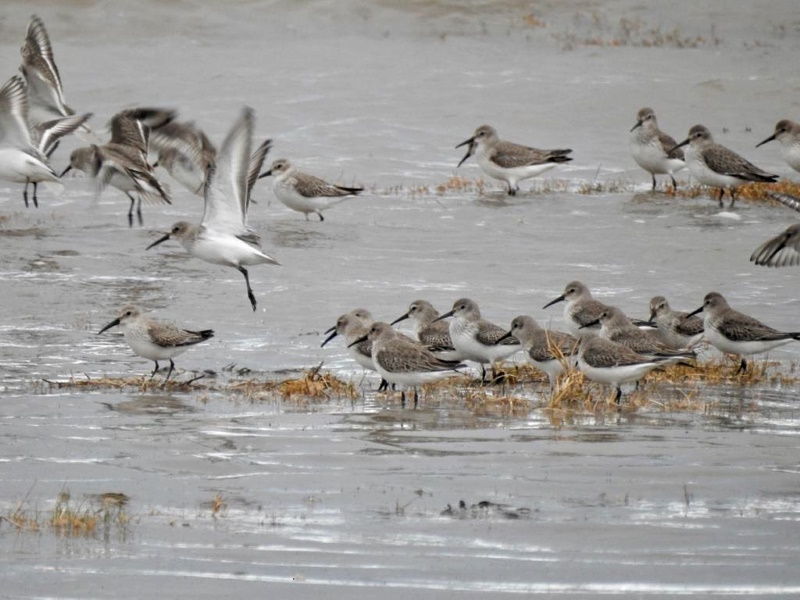 Dunlins at Hoylake, February 20th © Alan Hitchmough

Many thanks go to Steve Williams, Steve Hinde, Alan Hitchmough, Richard Speechley, Allan Conlin, Richard Whitby, Bruce Atherton, David Leeming, Matt Thomas, Dave Edwards, Chris Wilding, David Thompson, Les Hall, Sean O'Hara, Tony Ormond, Jane Turner, Chris Maltby, Jeremy Bradshaw, Derek Bates, Ben Lane, Ron Brumby, Jon Ashton, Helen Jones, Ken Mullins, Paul Mason, Tony Sinnott, Charles Farnell, Elliot Monteith, Sheila Ryde, Roy Lowry, Jeff Cohen, Brian Kermode, Tony Hession, Chris Richards, John Watts, Keren O'Rourke, Peter Haslem, Carole Killikelly, Anthony Ramsden, Colin flynn, Glyn Thursfield, Frank Burns, Keith Ackerley, Morgan Whitaker, Ed Wildon, Mervyn Davies, Tommy Mundy, the Dee Estuary Wardens and the Hilbre Bird Observatory for their sightings during February. All sightings are gratefully received.

What to expect in March
March sees the return of spring and the return of the spring migrants. Below is the table for 2022 (and the previous two years) showing the first sightings for a selection of species. If you see an early migrant please email

and, if it's a first, I'll put it in the 2023 table.

| Species | 2022 | Location | 2021 | 2020 |
| --- | --- | --- | --- | --- |
| Wheatear | 9th March | Burton | 28th Feb | 16th March |
| Sand Martin | 11th March | Burton | 5th March | 16th March |
| White Wagtail | 12th March | Hilbre | 16th March | 1st March |
| Swallow | 15th March | Burton | 18th March | 23rd March |
| House Martin | 23rd March | Heswall | 27th March | 5th April |
| Willow Warbler | 29th March | West Kirby | 23rd March | 26th March |
| Whitethroat | 10th April | Heswall | 10th April | 8th April |
| Cuckoo | 21st April | Leasowe | 24th April | 23rd April |
| Swift | 28th April | Burton | 16th April | 21st April |
For me the harbinger of Spring is the first Wheatear. The date of the first one is usually sometime in the first half of the month and once we see the first they keep on coming. The first Avocets will already have arrived at Burton Mere Wetlands where numbers could reach three figures in March, some will be on their way further north whilst others stay to breed. Out to sea it is always exciting to see the first Sandwich Tern of the year, back from it's journey to South Africa, and there will be a passage of Little Gulls with their distinctive black under-wings. After traveling up the Irish Sea they then fly over the country in their way to breed around the Baltic Sea. We also usually see our first Ring Ouzel this month, and maybe an Osprey flying over.
Although Spring is in the air for many estuarine birds it is still very much winter and the big high tides due later in the month should bring spectacular numbers into view. The most obvious bird to see on the marshes will be Pink-footed Geese - get to Parkgate a good hour or two before high tide and there will be flocks everywhere as the tide lifts them off the marsh. It will also be good to see some Short-eared Owls which have been scarce this winter.

Top of Page
Forthcoming Events
March Highest Spring Tides (Liverpool)
Also see Tides page.
21st March, 10.49hrs (GMT), 9.8m.
22nd March, 11.31hrs (GMT), 10.1m.
23rd March, 12.12hrs (GMT), 10.1m.
24th March, 12.50hrs (GMT), 9.9m.
Forthcoming Events
Also see events at
https://events.rspb.org.uk/deeestuary