March 2022 marks the 24th Anniversary of 'Dee Estuary Birding' and I've written my usual review of the previous 12 months.
Having looked back at the last 12 months all I can say is WOW!! It was an incredible year for rarities and all I can do in this summary is list them below - don't forget you can read in a lot more detail about all these in the monthly newsletters - click on Past Newsletters on the above menu.

Collared Pratincole on Kerr's Field near Leasowe Lighthouse,April 22nd 2021 © David Bradley

Collared Pratincole, Leasowe Lighthouse.
Surf Scoter, Ffynnongroyw.
White Stork, Greasby.
Sub-alpine Warbler, Burton Point.
Hoopoe, Hoylake.
Collared Pratincole, Leasowe Lighthouse.
Common Crane, Burton Marsh.
Bonaparte's Gull, Burton Mere Wetlands.
Glossy Ibis, Burton Mere Wetlands.
4 Roseate Terns, 3 at Gronant and 1 at Hoylake.
Melodious Warbler, Hilbre.
Hoopoe, Hilbre.
American Golden Plover, Hoylake.
Squacco Heron, Gronant.
The spring migration was somewhat drawn out with, for example, our first Wheatear appearing on the early date of February 28th (2021) yet we had to wait until March 23rd for the second one. Notable was a very early Ring Ouzel on March 8th. Out to sea the highest daily count of Little Gulls was 63 in March, and in the estuary there was a large Whimbrel passage with a record count of 173 at Heswall in April.

After hearing a Bittern booming in spring we had the great news that a pair successfully bred at Burton Mere Wetlands, a first for the Dee Estuary. Also three pairs of Great Egrets bred at Burton producing 10 young. By July the return migration was well underway and there was a remarkable count of 35 Common Sandpipers along the River Dee by the town of Connah's Quay. September was something of a disappointment but we did have some good close views of up to seven Curlew Sandpipers at West Kirby feeding just a few feet from walkers on the Marine Lake wall.
The Christmas and New Year period saw some good weather and it was great to see several Short-eared Owls off Denhall Quay after being largely absent the previous winter. It was probably the best place in the country to see these fantastic birds and it unfortunately attracted some, shall we say, over-enthusiastic photographers who insisted in 'camping out' on the marsh driving the owls further away from what is the best view point at Denhall Quay. But it wasn't just the presence of these people which was causing problems, it was their behaviour with some seen deliberately flushing the owls, running after them and waving their arms!

Colour Ring Report


Marsh Harrier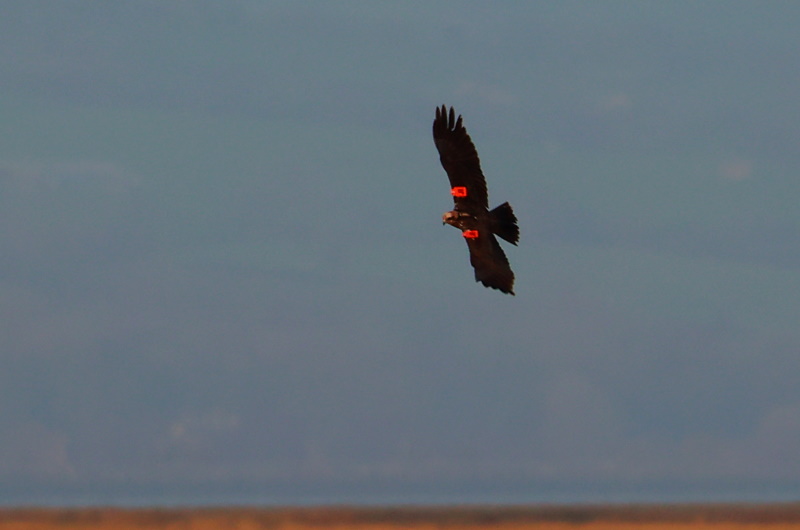 Marsh Harrier with Orange Tags JI at Parkgate, February 2022 © Roy Wilson

Pride of place goes to this wing tagged Marsh Harrier with Orange wing tags inscribed with JI.
Ringed and Tagged at Wild Ken Hill, Norfolk, on 14/06/2021 as a female chick, two male siblings were also tagged.
Recorded:
Fingringhoe Ranges, east of Southend, Essex from 13/9/21 to 11/10/2021.
Parkgate on 26/2/2022.

This is what Phil Littler of the North-west Norfolk Ringing Group had to say: "This is indeed JI, a female bird that was ringed and tagged last year at Ken Hill in Norfolk. She was one of three, having two brothers. She was seen away from her natal area on 13.09.2021 when she was seen in Essex, east of Southend, where she stayed until 11.10.2021. There have been no other sightings of her since. One of her brothers was seen on Trimley Marshes (a Suffolk Wildlife Trust reserve) on 28.08.2021. No sightings yet of the third bird."
The nest featured on BBC Springwatch in 2021 and you can see some nice footage at the start of Episode 10 - see
https://www.bbc.co.uk/iplayer/episode/m000wvzh/springwatch-2021-episode-10

Below is a screen grab from the live webcam at Wild Ken Hill taken in early June 2021.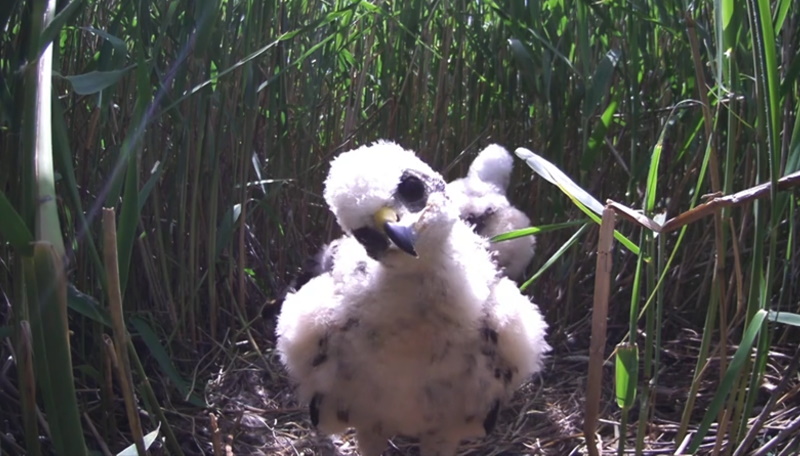 Bar-tailed Godwit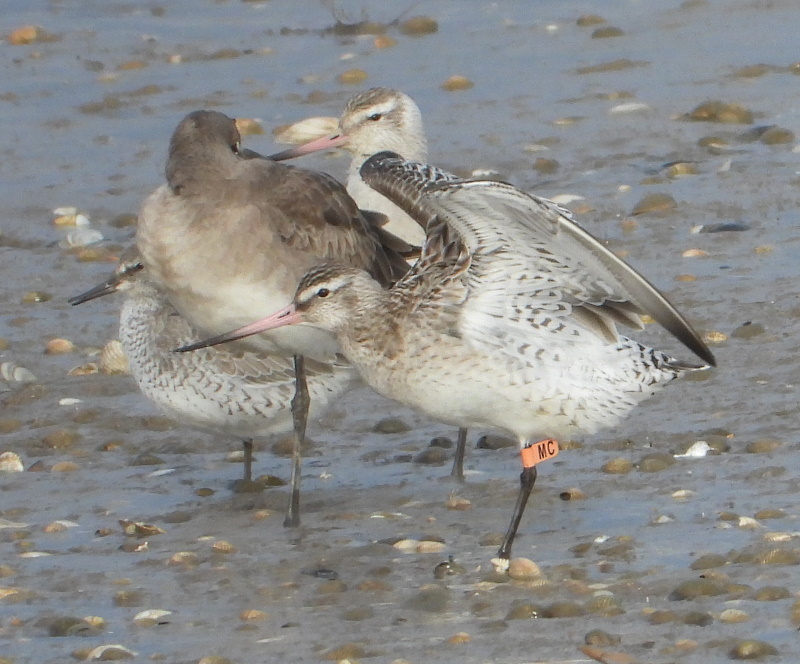 Bar-tailed Godwit O flag (MC) at Thurstaston, January 2022 © Richard Smith

As mentioned last month we have only ever recorded four different colour ringed Bar-tailed Godwits on the Dee Estuary so it was good to see Oflag MC at the end of January following the sighting of the yellow flagged Norwegian bird mid-month. It was particularly pleasing for me as I was there when it was caught and ringed in March 2018.

Orange flag (MC)
Ringed at Altcar (just south of Formby Point) on 30/3/2018.
Recorded:
Thurstaston on 20/11/2018.
It was spotted in March 2019 at Southport and recorded a further 12 times between Southport and Crosby up until December 2021.
Thurstaston on 28/01/2022

Herring Gull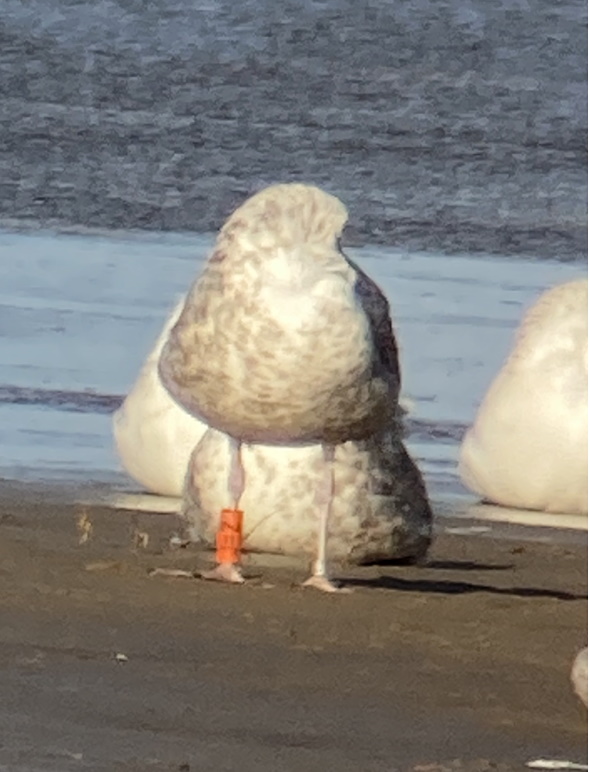 Herring Gull Orange ring (J=Z) at Hoylake, February 2022 © Sean O'Hara


Orange (J=Z)
Ringed on 30/06/2021 at Worcester as a juvenile.
Recorded at Lower Compton landfill (Wilts) during October and November 2021.
Recorded on Hoylake shore on 23/02/2022.
Black-headed Gulls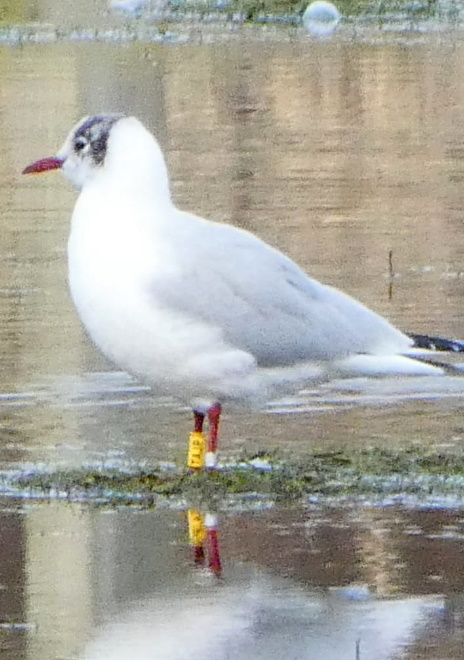 Black-headed Gull Yellow TAJP at Leasowe, February 2022 © Graham Connolly


Yellow Ring TAJP.
Ringed by the River Vistula (NW of Warsaw), Poland, on 17/06/2019, an adult with nestlings.
Recorded:
Moreton/Leasowe in December 2020.
It was back breeding at the ringing site in Poland in the spring of 2021.
Leasowe (Kerr's Field) on 25/02/2022.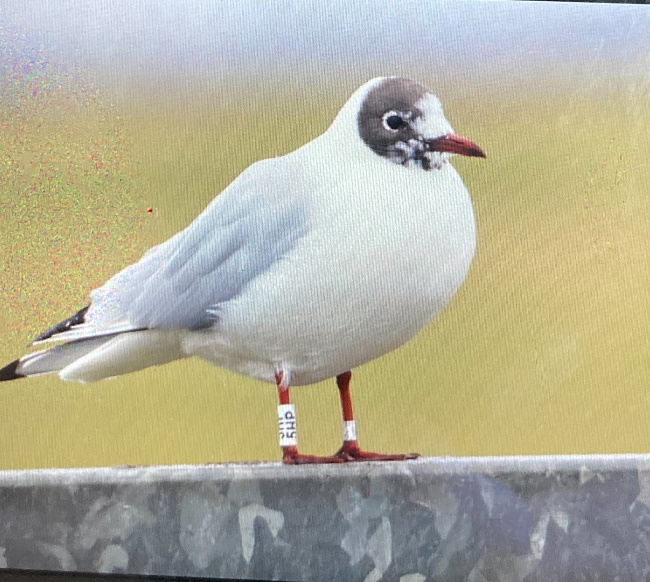 Black-headed Gull White 5HP at New Brighton, February 2022 © Sean O'Hara


White Ring 5HP.
Ringed in Copenhagen, Denmark, on 29/03/2015.
This one is a regular at New Brighton having been recorded at least 30 times since the first record in July 2015. Most sightings are between November and February, but it was recorded at Seaforth in August 2020. Just one record back in Copenhagen in July 2019.
It was at New Brighton 'Dips' on 28/02/2022.

Knots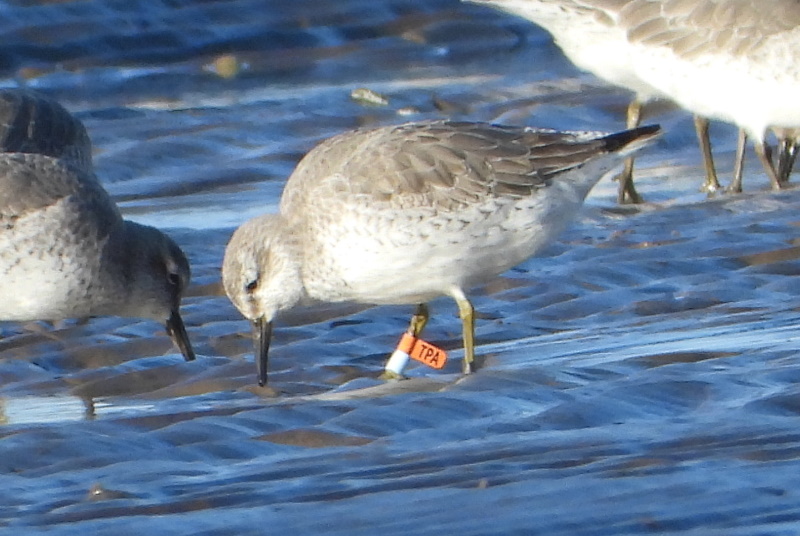 Knot Oflag TPA at Thurstaston, December 2021 © Richard Smith

The Mid-Wales Ringing Group started putting Orange flags on Knots in the autumn of 2020, and they flagged more in the autumn of 2021. They mist-net them at Ynyslas which is halfway down Cardigan Bay (just south of Aberdyfi). Most of the ones they catch there are juveniles so it's interesting that they then must fly north-east and find their way to the Dee Estuary - how do they know the main flocks are here?
We have recorded 10 of these Ynyslas birds over the past two winters, including Oflag TPA (photograph above) which we've recorded eight times including on 28/02/2022 at Thurstaston. Seven of these have not been seen away from the Dee Estuary since they were ringed demonstrating how site faithful they are. Two have also been recorded at Ainsdale (near Southport) but a third showed an interesting movement. This was Oflag TAC which was ringed in September 2020 before being seen at Thurstaston in November 2020. It was then recorded on the Teifi estuary (south end of Cardigan Bay) in January 2021 before flying back up here and recorded at Ainsdale several times in April 2021 - no other records as yet.

Colour Rings were recorded by Richard Smith, Steve Hinde, Roy Wilson, Phil Woollen, Steve Dodd, Matt Thomas, Sean O'Hara and Graham Connolly.
February Bird News

Left: the tide flooded the marshes right up to Burton on Feb 18th, the photo was taken from Denhall Quay several hours after high tide
© Graham Jones
Right: Starfish and Shellfish wreck at New Brighton photographed on Feb 22nd, plenty of food for the gulls! © Mark Turner
The intense low pressure system, Storm Eunice, passed right over the Dee Estuary on the 18th causing one of the biggest storm surges ever seen here - at least 1.5m (Liverpool). It was really too windy for many people to be about but a few brave souls were at Parkgate and were treated to the sight of at least 11 Water Rails fleeing from the tide, the highest number we've seen for several years.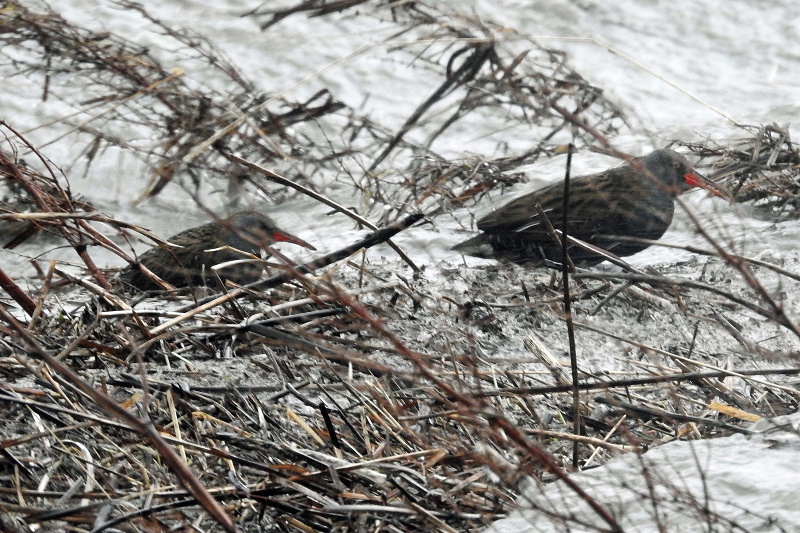 Water Rails at high tide, Parkgate, February 18th © Les Hall
In fact most of the month seems to have been wet and windy but at least it blew in a few Little Gulls, these will be part of the population which over-winter in the Irish Sea, many more winter further south and these will soon be heading north.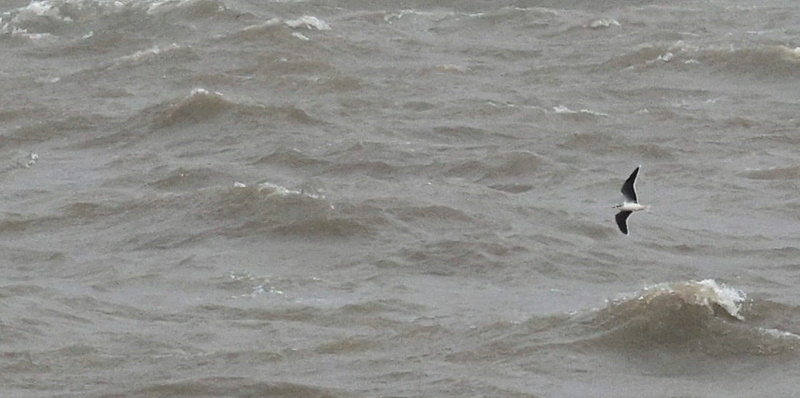 Little Gull off New Brighton, February 21st © Allan Conlin


Despite the bad weather there were some signs of spring with the return of Avocets at Burton Mere Wetlands, I'm not sure what the maximum number was in February but they had reached 34 by Marsh 1st. There was also a definite passage of Stonechats including six next to Leasowe Lighthouse on the 28th.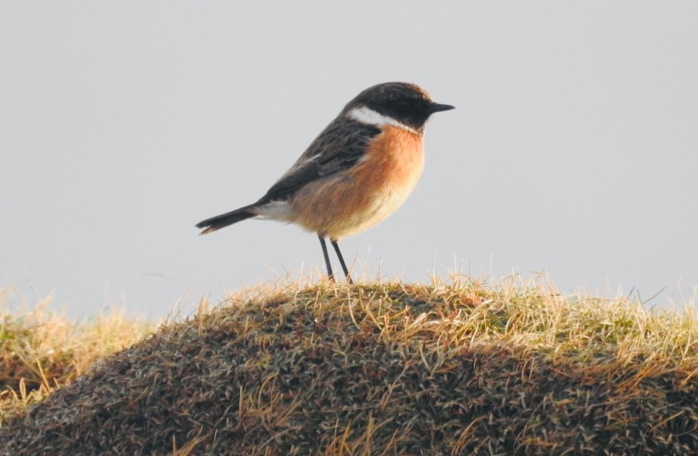 Stonechat on Hilbre, February 26th © Alan Hitchmough

Five snow Buntings remained on Wallasey Shore all month whilst the only significant rarity was a Snow Goose seen at Burton Mere Wetlands and Burton Marsh early in the month with Pink-footed Geese. It seems likely to be the same bird which has also been seen in Lancashire. If accepted as a wild bird it would be a first for Wales. Another intriguing bird was an Icelandic Redwing at Neston which was strikingly distinct - dark and heavily streaked. Very few of the Icelandic race are seen in England with most recorded in Scotland, Ireland and further south to Iberia.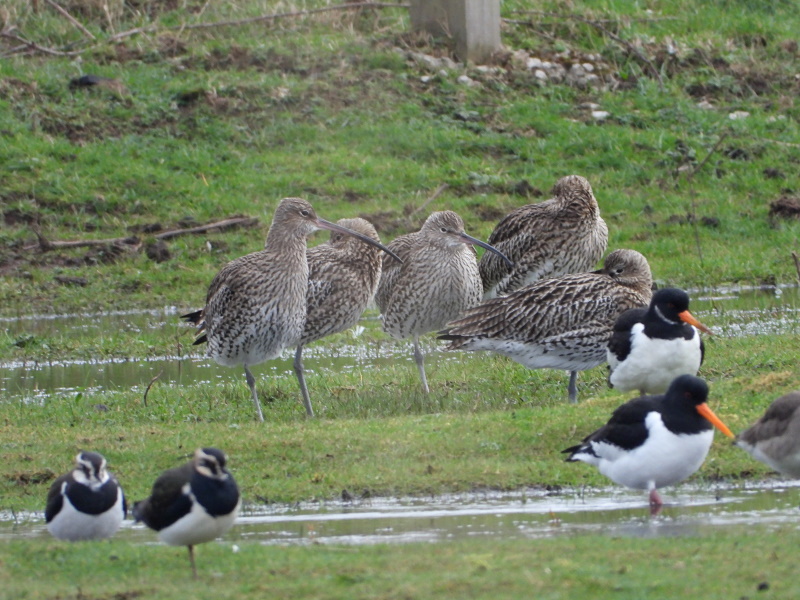 Waders roosting on Kerr's Field on February 17th © Richard Smith


There were nine reports of Mediterranean Gulls with many already turning into summer plumage. One was in Kerr's Field (near Leasowe Lighthouse) on the 15th and since it was enclosed a few years ago this has become a good spot for roosting waders and gulls at high tide including a Little Gull on the 18th. It's also good for spring migrants (including a Spanish Yellow Wagtail in 2019).

Below are a couple of strangely plumaged waders seen in February at Hoylake. Strange looking Oystercatchers are seen regularly in the winter and can vary from all white birds to ones which are chocolate coloured. As well as the one shown below there was also one at Thurstaston this month where the orange beak and legs and the red eye were instead all black, unfortunately no photo. As there had been an oil leak in the Irish Sea I thought at first the knot had been oiled, but it's definitely got black feathers around the neck and breast. The only other strange looking Knot I've seen was a very pale one (leucistic) which I wouldn't have noticed if I hadn't photographed it.


Strangely plumaged waders both photographed at Hoylake in February
Left © Ed Wilson and Right © Tim Kinch

Many thanks go to Matt Thomas, Steve Williams, Steve Hinde, Alan Hitchmough, Derek Bates, Allan Conlin, Richard Whitby, David Small, Bruce Atherton, Mark Garner, Mark Woodhead, David Leeming, Paul Vautrinot, Les Hall, Dave Edwards, Paul Mason, Frank Burns, Gail Wilson, Carole Killikelly, Kevin Gallagher, Rob McDonald, Kelvin Britton, Steve Hart, Sean O'Hara, Mark Peers, Glyn Thursfield, Chris Maltby, Jeremy Bradshaw, Phil Woolen, Geoff Robinson, Roy Wilson, Graham Connolly, Mark Palin, Tim Kinch, Helen Jones, Ken Mullins, Tim Hockenhull, Alan Horsley, Roger Jacob, Trevor Waddington, Stuart Phillips, Patricia Bargh, Bryan Joy, John Wellbourn, Ed Wilson, Matt Francis, Colin Galbraith, Steve Lane, Debbie Gargan, Ben Lane, Cliff Baker, Helen Jones, James Cooke, the Dee Estuary Wardens and the Hilbre Bird Observatory for their sightings during February. All sightings are gratefully received.

What to expect in March

March sees the return of spring and the return of the spring migrants. Below is the table for 2021 (and the previous two years) showing the first sightings for a selection of species. If you see an early migrant please email

and, if it's a first, I'll put it in the 2022 table..


| Species | 2021 | Location | 2020 | 2019 |
| --- | --- | --- | --- | --- |
| Wheatear | 28th Feb | Leasowe | 16th March | 27th Feb |
| Sand Martin | 5th March | Burton | 16th March | 16th Feb |
| White Wagtail | 16th March | Leasowe | 1st March | 28th Feb |
| Swallow | 18th March | Leasowe | 23rd March | 21st March |
| Willow Warbler | 23rd March | Leasowe | 26th March | 24th March |
| House Martin | 27th March | Burton | 5th April | 31st March |
| Whitethroat | 10th April | Heswall | 8th April | 14th April |
| Swift | 16th April | Raby | 21st April | 23rd April |
| Cuckoo | 24th April | Willaston | 23rd April | 18th April |
Other early migrants should include a Ring Ouzel or two and out to sea Little Gulls as well as the first Gannets and Sandwich Terns of the year, perhaps even one or two Manx Shearwaters. Bitterns bred at Burton Mere Wetlands last year so hopefully the male will start booming again, and Avocet numbers should reach at least 100. By the month-end look out for Ospreys on their way north.
Most of the over-wintering birds will still be here and a cold spell in March can be just as bitter as mid-winter. The high tides early in the month could produce a spectacular wader roost at Hoylake and as the tide starts to cover the marshes expect to see thousands of Pink-footed Geese as well as Short-eared Owls and both Hen and Marsh Harriers. Brent Geese will be present in their hundreds and often disperse quite widely so we could get flocks on West Kirby Marine Lake, West Kirby Shore, along north Wirral, Point of Ayr, Thurstaston and Heswall, as well as the more usual Hilbre.

Top of Page
Forthcoming Events
March Highest Spring Tides (Liverpool)
Also see Tides page.
3rd March, 11.37hrs (GMT), 9.7m.
4th March, 12.16hrs (GMT), 9.8m.
5th March, 12.53hrs (GMT), 9.7m.
Forthcoming Events
No Events planned this month