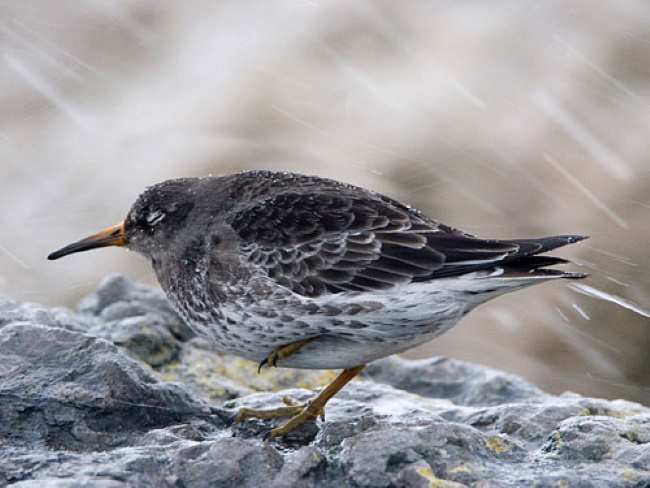 Sheltering from the storm on Hilbre © Matt Thomas


Disappointment. That's what I remember about my trip to Hilbre 30 years ago specifically to see my first Purple Sandpipers. John Gittins (sadly no longer with us) had waved his arm towards the rocks "I've counted 26 down there this morning". I felt inadequate as all I could see were Turnstones. Purple Sandpipers can be difficult to see, they are well camouflaged against the seaweed and they seem to spend an awful lot of time hiding behind rocks, but eventually I realised what I thought was a large dumpy looking Dunlin was in fact what I was looking for. I don't know what I was expecting but with a name like Purple Sandpiper it was something a bit more exotic. Not many waders are named after a colour but Grey Plovers are obviously grey, and Golden Plovers definitely show gold in their plumage especially in the sun, but this bird didn't show a hint of Purple! Since that day I've seen lots of Purple Sandpipers and found out a lot more about them, and grown to love this hardy little wader - but I've still not seen any Purple on them!
Why are they called Purple?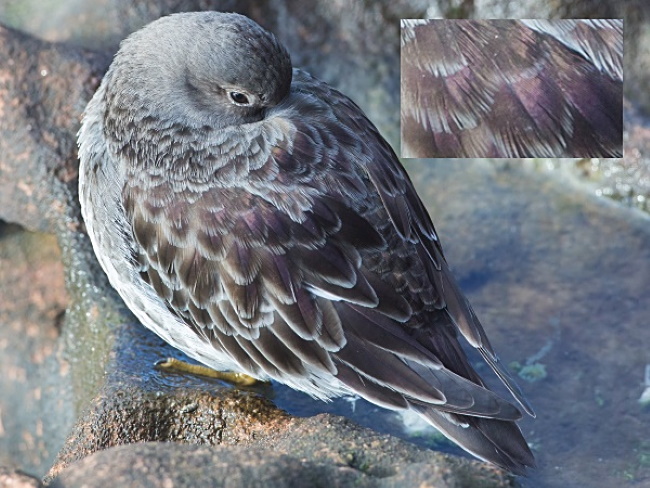 © Matt Thomas

Despite the Collins Bird Guide making no mention of the colour they ARE actually purple, but it's very subtle and rarely seen or photographed. It's more of a sheen which is only seen in certain light conditions. Matt Thomas's photo shows it really well.
Hilbre Bird Observatory

The Hilbre Bird Observatory (HiBO) was founded in 1957. It was an exciting time as, up until then, little was known exactly where our waders went to after they left the Dee estuary, but the ringing activities of HiBO and other observatories were revolutionising our knowledge of bird movements. HiBO took a leading role in studying Purple Sandpipers and the first ever foreign recovery of a British ringed Purple Sandpiper was one ringed at Hilbre which was seen in southern Greenland in October 1964. Various other results of this work included finding out just how site faithful these birds are with colour ringing showing they kept on returning to Hilbre for up to 12 years. Catching these birds for ringing revealed that there were small differences in size, particularly of bill-length, and it was noted that long-billed Purple Sandpipers predominated on west and northern coasts of the UK whilst short-billed birds predominated on the east coast. This gave a big clue as to where the birds were breeding as it was known Norwegian breeding birds had these shorter bills whilst Canadian breeding birds had the longer bills. But despite all this work not a single British ringed bird has ever been recovered in Canada and it wasn't until 2014 that it was at last confirmed that some British over-wintering birds did indeed breed in Canada, more of which below.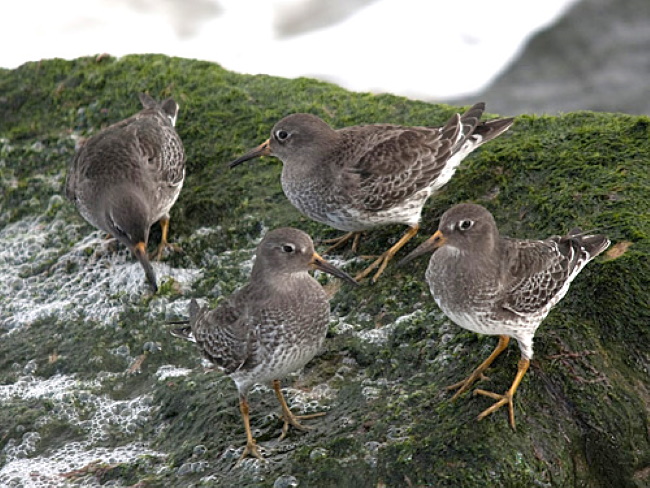 Roosting on Hilbre © Matt Thomas
Craggs, in his Hilbre book (Ref 1), dedicates several pages to the Purple Sandpiper and is a source of much information I have used in this article, but this paragraph particularly intrigues me:
The departure of the Hilbre Purple Sandpipers, in May, is impressive and has been witnessed several times. Thus, on 13 May 1961 a party of these birds was observed to become silent, after excitedly chattering amongst themselves, and at that moment to rise into the air as a flock and after gaining a very considerable height to fly off in a northwards direction. this behaviour suggests, although it does not prove, that the spring migration of Purple Sandpipers from Hilbre involves not a gradual movement out of the island but a long-range purposeful flight.
What a pity that nobody though to take a compass bearing as we may have established whether they were heading towards southern Greenland, Iceland or Norway. Work with other wader species has enabled us to do just that (Ref 2).

Migration
The migration of Purple Sandpipers is quite complex with different populations using different strategies. The populations in Iceland and west Greenland are sedentary whilst those breeding in northern Canada travel the longest distance to north-west Europe, most to the western and northern coasts of the United Kingdom including Hilbre and north Wirral. Although this latter migration has been long suspected it was only when geo-locators became small enough to fit to small waders that this route was confirmed and a paper published in 2014 (Ref 3). The map below is taken from that paper showing that some birds staged in Iceland in spring (green line), the red line shows the return migration.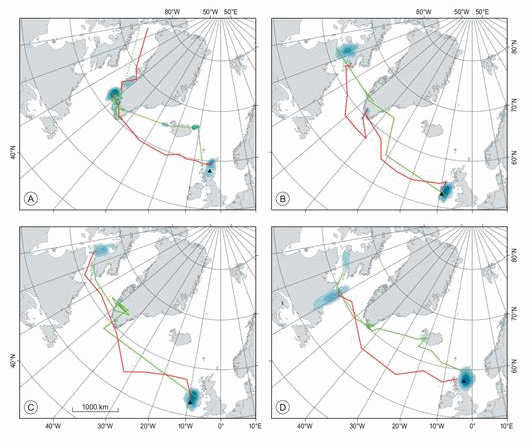 All Purple Sandpipers winter on north Atlantic coasts with some wintering the furthest north of any wader, including within the Arctic circle if they can find rocks free of ice. Those on the northern tip of Norway have developed a bigger digestive system than those wintering further south, allowing them to process more food and therefore generate sufficient heat to survive the winter (Ref 4).
Status
Because Purple Sandpipers feed on rocky coastlines, often far from the normal Wetland Bird Survey sites, they are not easy to count. However, the Non-Estuarine Waterbird Survey (NEWS) takes place every few years and that shows a steady decline in numbers. In 2011 an estimated 13,000 Purple Sandpipers were counted in the UK, and this had dropped to 8,900 by 2019 (Ref 5 and 6). The BTO Bird Atlas 2007-11 quoted a decline of 27% between 1984/85 and 2006/07. Nobody knows why numbers are declining. We don't know whether the population as a whole is dropping or they are just shifting their wintering grounds. It is well established that, presumably due to global warming, some waders are staying nearer their breeding grounds and it seems quite plausible that many of the Purple Sandpipers which breed in Canada are now only migrating as far as Iceland where there is a large sedentary population of around 90,000 birds - but at the moment that's just speculation.

At the end of the 20th century work on differing bill lengths suggested that the split between our wintering birds which breed in Canada or Norway was 75/25. We don't know if that is still the case, it would be very interesting to see if that ratio has changed to suggest, say, that it is the Canadian breeding birds which are now more likely to short-stop in Iceland, or further west, and perhaps Norwegian breeding birds are still migrating the much shorter distance to the UK.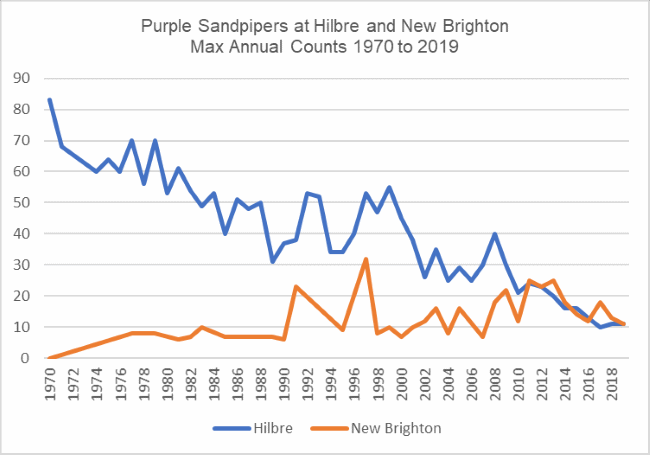 Locally the decline in numbers is very evident. The graph above shows the decline in annual max counts from Hilbre, and it seems that Purple Sandpipers in years to come could become a rare visitor, which would be sad. The graph for numbers at New Brighton suggests an increase but that is somewhat misleading. I'm not sure exactly when New Brighton Marine Lake was re-vamped with a new pontoon, and when waders started to use it as a high tide roost but the first mention of it in the Cheshire and Wirral Bird Reports, and indeed this website, was in 2008. But since then that pontoon has become one of the most reliable sites to see Purple Sandpipers in the area, particularly on a spring tide with a strong wind which means the nearby rocks are swept by waves. Max counts were regularly above 20 for a few years but now even here has seen a decline to half that number. Before 2008 counts along that shore were very irregular as the birds would roost scattered anywhere between Leasowe, along to Fort Perch and even on the groynes off Egremont and Seacombe in the river Mersey. Interestingly the highest count recorded, 32 in 1997, were of birds sitting on the mud in the drained Marine Lake and I suspect this would have been during a gale when the empty Marine Lake would have been nice and sheltered.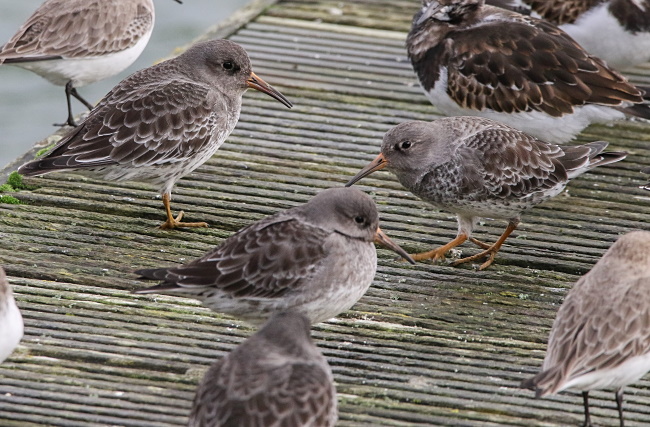 Purple Sandpipers on the pontoon at New Brighton © Charlie Lowe
Elsewhere, one or two Purple Sandpipers can turn up further west along North Wirral but 20 at Red Rocks in January 2003 was exceptional. One or two are sometimes with the waders roosting on the rocks at West Kirby Marine Lake, although recently that's a rare sight.
Annual Distribution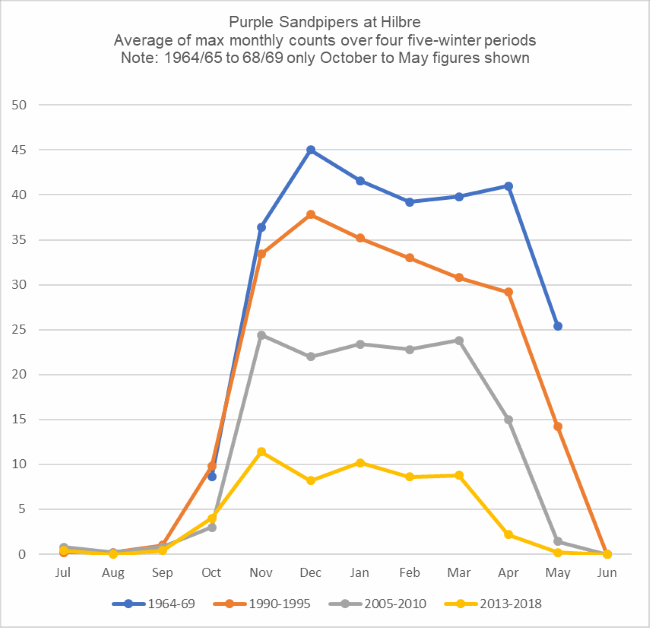 Apart from one or two occasionally spotted in summer the first ones arrive in October and build up rapidly through November. Those numbers then stay pretty steady through the winter until they leave, colour ringing strongly suggests that it is very likely the same birds that stay throughout with very little interchange between sites within the country. It is not known whether there is any interchange between Hilbre and New Brighton although it has certainly been suggested that during gales at least some of the Hilbre birds seek shelter in New Brighton Marine Lake.
Apart from the significantly smaller numbers the most obvious change in distribution over the years is the earlier departure and perhaps this is also linked to global warming. The table shows the April and May counts as a percentage of the winter average (Nov to Mar). In the 1960s all birds were still present in April whilst less than a quarter of winter numbers are now still seen in April, and virtually none in May.

| | | | | |
| --- | --- | --- | --- | --- |
| | 1964-69 | 1990-95 | 2005-10 | 2013-18 |
| winter ave count | 40.4 | 34.0 | 23.3 | 9.4 |
| Apr% | 101.5 | 85.8 | 64.4 | 23.3 |
| May% | 62.9 | 41.7 | 6.0 | 2.1 |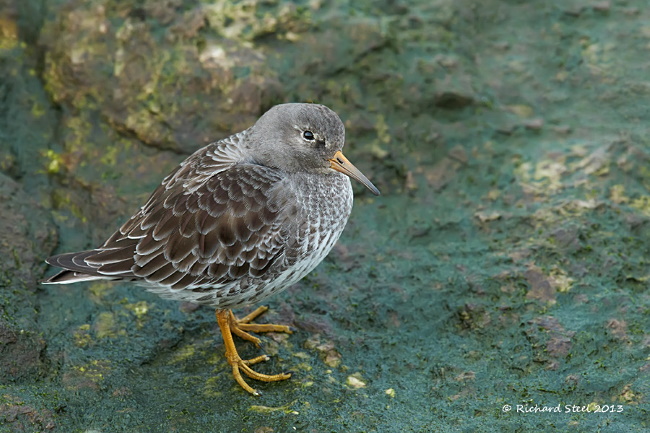 Purple Sandpiper on the rocks just behind New Brighton Promenade


In some years one or two appear at Hilbre in the summer, nearly always in July. They don't stay long so must be on passage. Where do these birds come from as they are way ahead of the main influx which doesn't occur until October and November? Wetland Bird Survey data gives no hint of a summer passage but Bird Observatory reports suggest quite a strong passage through the country in July. To the west of us numbers on Bardsey Island in July can be as much as a third of those present in winter, interestingly counts at Bardsey are usually zero in June and in August drop to at least half the July peak. On Fair Isle the annual peak often occurs in July and early August. For example in 2015 54 were counted on July 23rd and 80 on August 3rd. Numbers then dropped to single figures before 40 arrived in September. So there seems to be good numbers of Purple Sandpipers which arrive in the country in July and early August, they then move on before the main arrival September to November. I've not found any work done to establish where these birds come from. Possibly they are non-breeding birds from the Canadian population which perhaps fly only as far as Iceland for the breeding season before returning early. Perhaps the more likely source for these birds is Norway, but we don't know. Another question is where are these birds going to? Some do winter on the Atlantic coasts of France and northern Spain and it would be interesting to know if these birds arrive back there in late summer. One thing for certain is that there is still an awful lot we still don't know about these birds!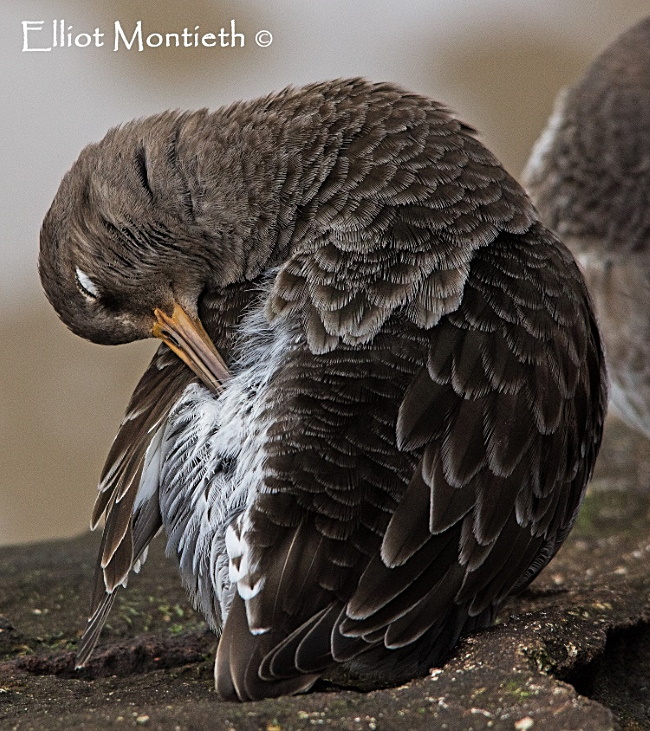 Richard Smith

References:
1. J.D. Craggs, Hilbre the Cheshire Island, 1982.
2. Peter Knight and Rose Maciewicz, Waders Heading Off, June 2019,
http://www.deeestuary.co.uk/news0619.htm#second.
3. R.W. Summers et.al., Contrasting Trans-Atlantic Migratory Routes of Nearctic Purple Sandpipers Calidris maritima Associated with Low Pressure Systems in Spring and Winter, Ardea, 1 July 2014.
4. BTO Migration Atlas, 2001.
5. Waterbird Population Estimates, British Birds, July 2011.
6. Population estimates of wintering waterbirds, British Bird, March 2019.

7. Cheshire and Wirral Bird Reports (1964 to 2017) - CAWOS.
8. Bardsey Island Bird Observatory Reports (various).
9. Fair Isle Bird Observatory Reports (various).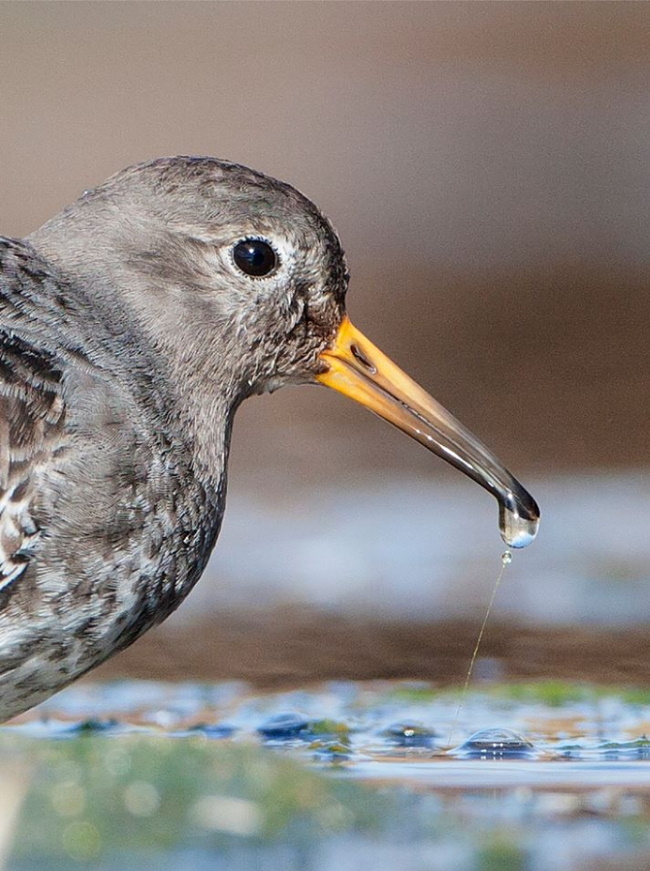 © Matt Thomas
Colour Ring Report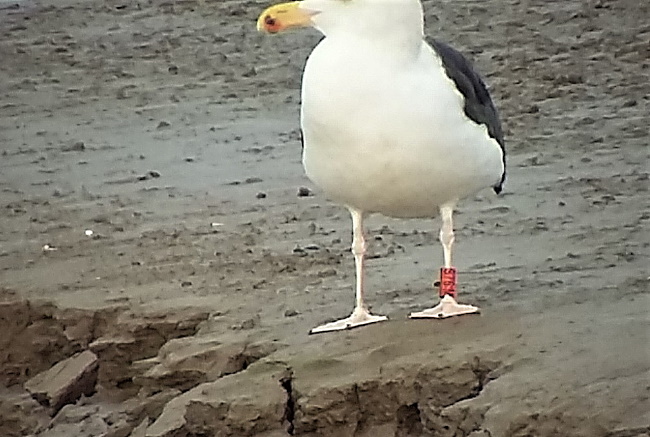 © Peter Haslem

Great-black Backed Gull

S76:M on an orange ring.
Ringed on Calf of Man, Isle of Man, as a chick in June 2015.
Recorded in Dublin in August 2015 and August 2018.
Recorded on Oakenholt Marsh on December 29th 2019.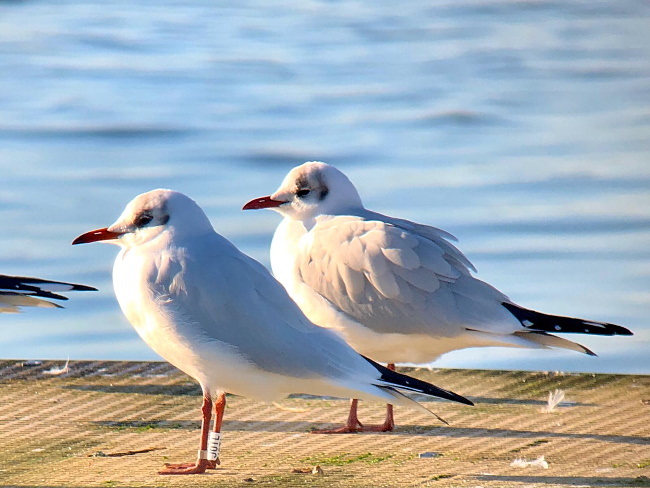 © Steve Williams

Black-headed Gulls

J0TL - black on white ring.
Ringed in Oslo, Norway, in May 2013.
Recorded in Oslo many times between 2013 and 2019.
Recorded on the pontoon at West Kirby Marine Lake on January 20th 2020, the first sighting away from Oslo.
We have several regular colour-ringed Black-headed Gulls which have been seen several times this winter including TMEN (ringed in Poland in 2013), 2TSC (ringed in Essex in 2017) and 5HP (ringed in Copenhagen in 2015).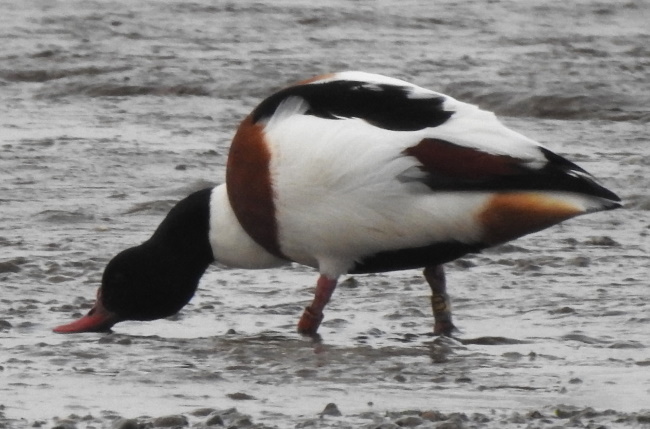 © Steve Hinde

Shelduck

Left Tarsus Red "A" letter in white Right Tarsus Yellow "B" letter in black.
Ringed on Bank Island, Lower Derwent Valley NNR on February 16th 2018.
Recorded on Thurstaston Shore on November 21st 2019.
Craig Ralston of Natural England says: "This is really nice – it's the first re-sighting of one of our new colour-ring combinations, having finished off using Black rings with two white letters on them.
It was ringed here in the Lower Derwent valley NNR at Bank Island, 6 miles south east of York , as an adult male, one of five Shelduck in a mixed catch of Wigeon, Teal and Greylag Geese on 16/02/18. Birds here arrive back in the valley around now, building up to a peak in spring (Feb/March) with a large breeding population (c60 pairs) remaining thereafter to late June. There seems to be quite a link between here and birds moving west - with several re-sightings from Martin Mere and elsewhere in Cheshire and Cumbria".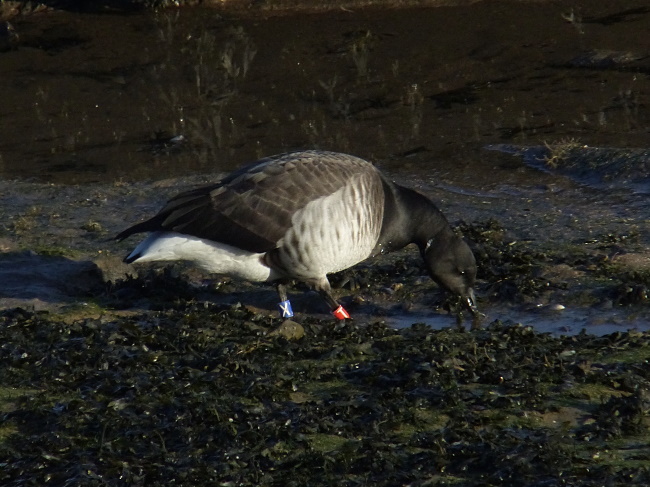 © Steve Williams (Hilbre Bird Observatory)

Brent Goose

Several colour-ringed Brent Geese have been spotted from Hilbre this winter, including this one:
TXRB - Ringed on Axel Heiberg Island, Canada, on July 26th 2014.
Recorded at Castle Espie North, Strangford Lough, Northern Ireland, on September 14th 2016.
Recorded at Snaefellsnes, west Iceland, on September 13th 2017.
Recorded at Hilbre in November and December 2019 and January 2020.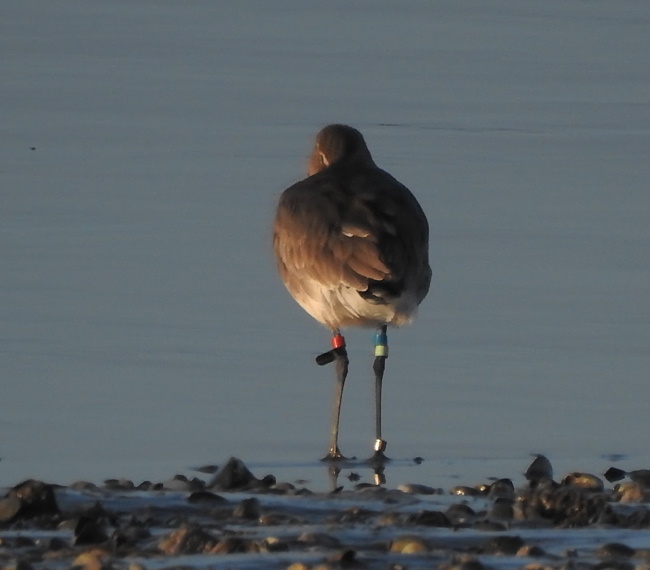 © Steve Hinde

Black-tailed Godwit

After the huge numbers present in late summer and autumn numbers have been low on the estuary this winter, particularly off Thurstaston, but we have still managed to see one or two colour-ringed ones including this one:
RNflag-BL
Ringed at Welwick Saltmarsh, north bank of Humber, on November 6th 2018.
Recorded at Leighton Moss in April 2019.
Recorded at both Thurstaston Shore and Connah's Quay on January 18th 2020.
This is the fourth bird we've recorded from the same catch on the Humber.

Colour-ringed Birds were recorded by Richard Smith, Steve Hinde, Dave Winnard, Tim Kinch, Colin Schofield, Mark Turner, Steve Williams, Allan Hitchmough, Les Hall and Peter Haslem.

Richard Smith
Belspoka Walk for Wildlife: Dee Marshes

The Cameron Belspoka Trust
The Trust was set up in memory of Cameron. He loved nature. He photographed it, blogged about it, immersed himself in it. Birdwatching was a major part of his life. The Trust creates and sponsors outdoor events for young people from every background so they might discover that same passion for all things wild and natural.

One such outdoor event is being led by local birder Elliot Montieth on 8th February. Elliot is also raising funds for Birdlife partners in Kazakhstan and Uzbekistan. I'll let Elliot explain what this is all about:

On the 8th of February I'll be leading a Young Birders walk along the Dee Marshes called the 'Bespolka Walk for Wildlife: Dee Marshes' . I've got two places left with young birders traveling from Derbyshire, Lancashire and Shropshire to part-take in the walk. The meeting point is the Harp Inn Car Park at 10:00am with the walk ending at 4pm at RSPB Burton Mere Wetlands. If anyone wants to take part then they should email me at my usual email address -
elliotpmontieth@gmail.com.

On another note, this year I'll be Captaining a UK Youth Team in this years Champions Of The Flyway in Eilat, Israel; the World's biggest Bird-watching competition. Why? To raise funds to support the underfunded Birdlife partners in Kazakhstan and Uzbekistan, so that researches and conservationists can continue their work to conserve the remaining population of endangered Steppe Eagle. Of which, c50,000 mature adults are left on the planet and still declining at an alarming rate: fires, illegal shooting and collisions with power lines etc. Here's the link to our JustGiving Page -
https://www.justgiving.com/fundraising/bespolkazeissshrikes.

January Bird News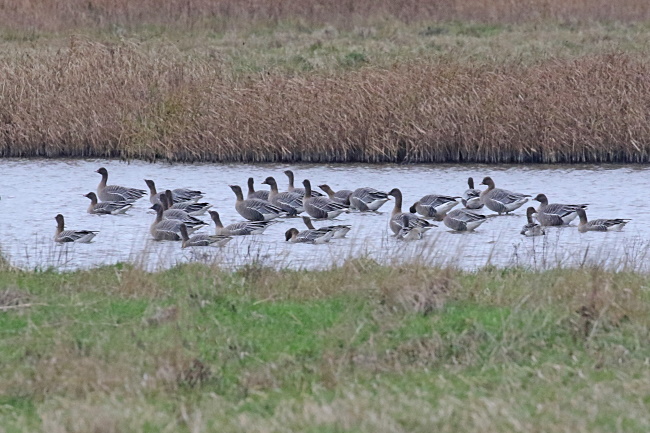 Pink-footed Geese at Parkgate, January 6th © Roy Lowry


There's probably over 10,000 Pink-footed Geese in the Dee estuary area at the moment and some came very close to the footpath going from Parkgate to Heswall, as can be seen from the photo. In the same area at least four Short-eared Owls were showing really well for most of the month, when I saw them there were two lots of two displaying to each other just a few feet from the path.

Also on the marshes were a Bittern and at least 10 Marsh Harriers coming to roost at Neston. Two males Hen Harriers were good to see with at least one ringtail.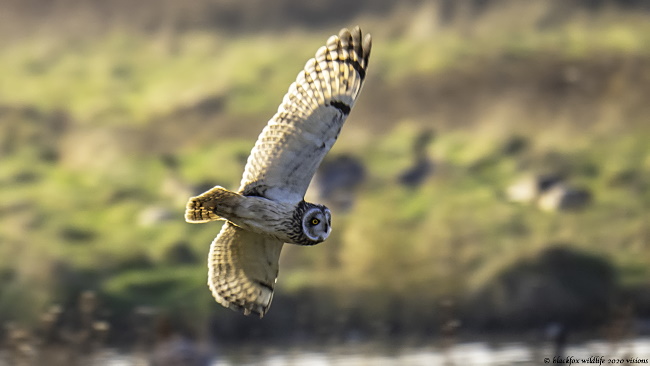 Short-eared Owl at Parkgate, January 1st © Jeff Cohen


There have also been plenty of Pink-footed Geese at Burton but two Tundra Bean Geese with them was a nice surprise, only the second record for Burton Mere Wetlands.

Goosanders were still on West Kirby Marine Lake for most of the month with a max count of nine. A couple of male Goldeneye were also on the lake. Off Hilbre were two Velvet Scoters and a male Eider, a Grey Phalarope and two Slavonian Grebes on the 29th were excellent records. The Long-tailed Duck was on Shotwick Boating Lake all month.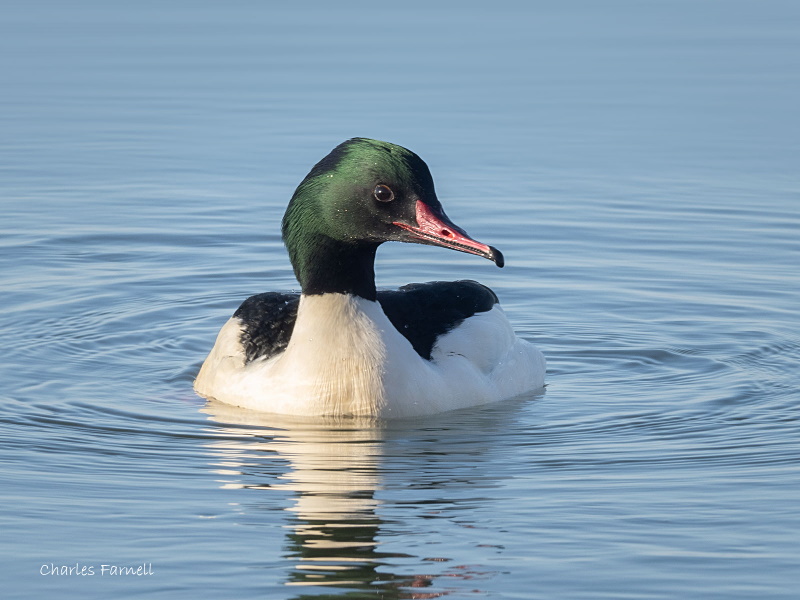 Drake Goosander on West Kirby Marine Lake, January 23rd © Charles Farnell


There were a few records of Green Sandpipers but three Common Sandpipers by the Dee at Queensferry were more unexpected. There were plenty of small waders around including 22,000 Knot at Heswall and 17,500 Dunlin off Hilbre. Eight Purple Sandpipers was the max number at New Brighton this month, with similar numbers at Hilbre.

Regular visitor to the estuary and contributor to this website, Charlie Lowe, has made a very nice video shot during this winter of birds of the Dee Estuary - see:
https://www.youtube.com/watch?v=GxhI6_IxgDQ&feature=youtu.be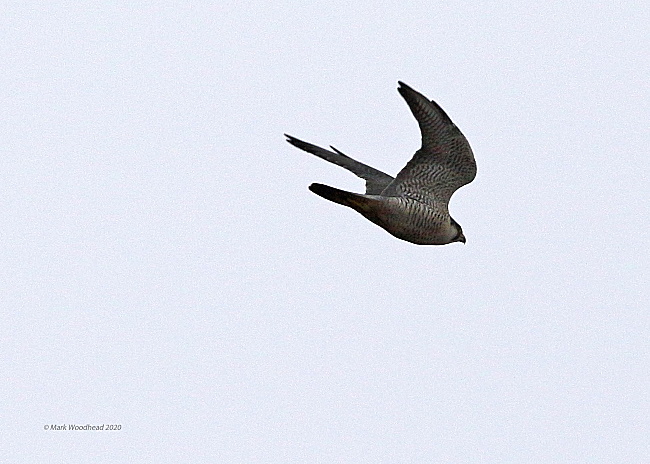 Peregrine over West Kirby Marine Lake, January 24th © Mark Woodhead

Many thanks go to David Haigh, Andrew Morton, Colin Schofield, Mark Gibson, Carole Killikelly, Steve Hinde, David Leeming, Alan Hitchmough, Derek Bates, Allan Conlin, Karen Leeming, Richard Whitby, Tim Kinch, Roy Lowry, Matt Thomas, Les Hall, Frank Burns, Jeff Cohen, Elliot Montieth, Sheila Ryde, Dave Edwards, Paul Mason, Charlie Lowe, John Hemmings, Mark Peers, Charles Farnell, David Thompson, Hugh Stewart, Eric Burrows, David Bradshaw, David Roe, David Jones, Richard Payne, David Small, Peter Haslem, Chris Revell, Colin Jones, Rod Bell, Katharine Noel, Alan Irving, John Wright, Dave Winnard, Roger Jacobs, Linda Platt, Peter Sutton, Ian Hughes, Mark Woodhead, Peter Inward, Geoff Worthington, Kevin Cahill, Neale Rowley, Andrew Morton, Jeremy Bradshaw, Paul Bate, Kelvin Britton, Paul Kenyon, Paul Triggs, Richard Speechley, Huw Morgan, James Smith, the
Lighthouse and Wirral Birding Blog
, the
Dee Estuary Wardens
and the
Hilbre Bird Observatory
for their sightings during January. All sightings are gratefully received.

Top of Page
What to expect in February
The highlight should be the high tides expected on the 11th and 12th, with a strong westerly wind these will cover the marshes and we will see spectacular numbers of birds including Short-eared Owls, Jack Snipes, Water Rails, thousands of Pink-footed Geese and both Hen and Marsh Harriers.

There will be some sign of the coming spring with plenty of bird song in the woods on mild days and woodpeckers drumming away, and we could even have a very early spring migrant in the shape of a Sand Martin.
It is most definitely still winter, though, and not too late to have a prolonged cold snap which should bring large numbers of waders to the estuary, as well as good numbers of duck of various species plus cold weather movements of skylarks, winter thrushes etc.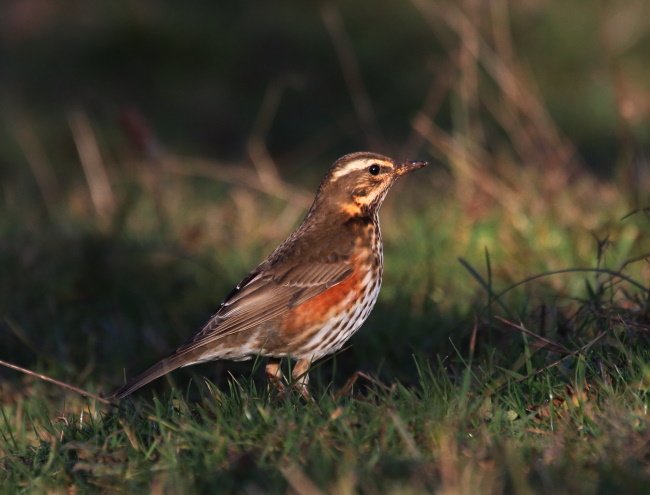 Redwing at Parkgate, January 5th © Carole Killikelly

Forthcoming Events
February Highest Spring Tides (Liverpool)
Also see Tides page.
10th February, 11.51hrs (GMT), 9.9m.
11th February, 12.35hrs (GMT), 10.0m.
12th February, 13.19hrs (GMT), 10.0m.
13th February, 14.03hrs (GMT), 9.8m.
Forthcoming Events
Organised by the Wirral Ranger Service , Flintshire Countryside Service and the RSPB (Dee Estuary): All these events and walks have bird interest, even those not advertised specifically for birdwatching. No need to book for these events unless specified - please check below.
---
Sunday 9th February RSPB Raptorwatch at Parkgate.
1pm-dusk
Join us for a chance to see up to seven different birds of prey including peregrine and merlin, plus two types of owl that all make their home on the RSPB Dee Estuary nature reserve. With its panoramic views of the saltmarsh, Parkgate is one of the best places to watch for the birds hunting. Stick around until dusk for a chance to see the graceful and endangered hen harriers flying into roost for the night on the marsh close to the Old Baths car park, plus a ghostly barn owl emerging to hunt. No booking required, come along any time between 1pm and sunset. Dress appropriately for the weather and don't forget your binoculars! Public toilets and various pubs and cafes are situated close by along Parkgate promenade.
Telephone 0151 353 2720 for further information.
Tuesday 11th February and Wednesday 12th February, Parkgate Tidewatch
10.30am-2.30pm

Price: Free

Join us at Parkgate Old Baths for the awe-inspiring spectacle of a high tide flooding the vast saltmarsh, potentially reaching the old sea wall.
The marsh at Parkgate is one of the best wetland habitats in the northwest, and when flooded by an incoming tide, the wildlife which lives here is pushed closer, with chance of seeing the great range of ducks, geese, wading birds and egrets in big numbers as they are driven upstream by the rising tide.
A range of birds of prey take advantage of mice and voles flushed from the grasses; hen and marsh harriers, peregrines and merlins all spend the winter months on the estuary and this is one of the best places to watch them, plus short-eared owls if we're really lucky. So why not venture out to try witness all the drama. Low pressure and a westerly wind will help push the tide and wildlife in close.
There is free public parking at the Old Baths car park (CH64 6RN) at the north end of The Parade, and the Wirral Country Park car park on Station Road (CH64 6QJ). There are public toilets at Mostyn Square in the middle of The Parade, and a number of pubs and cafes.
Telephone 0151 353 2720 for further information.

Tide times: Tuesday 11 February 10.0m @ 12.35pm, Wednesday 12 February 10.0m @ 1.19pm
Tuesday 10th March, Wednesday 11th March and Thursday 12th March, Parkgate Tidewatch
10am-2pm

Price: Free

Join us at Parkgate Old Baths for the awe-inspiring spectacle of a high tide flooding the vast saltmarsh, potentially reaching the old sea wall.
The marsh at Parkgate is one of the best wetland habitats in the northwest, and when flooded by an incoming tide, the wildlife which lives here is pushed closer, with chance of seeing the great range of ducks, geese, wading birds and egrets in big numbers as they are driven upstream by the rising tide.
A range of birds of prey take advantage of mice and voles flushed from the grasses; hen and marsh harriers, peregrines and merlins all spend the winter months on the estuary and this is one of the best places to watch them, plus short-eared owls if we're really lucky. So why not venture out to try witness all the drama. Low pressure and a westerly wind will help push the tide and wildlife in close.
There is free public parking at the Old Baths car park (CH64 6RN) at the north end of The Parade, and the Wirral Country Park car park on Station Road (CH64 6QJ). There are public toilets at Mostyn Square in the middle of The Parade, and a number of pubs and cafes.
Telephone 0151 353 2720 for further information.

Tide times: Tuesday 10 March 10.0m @ 11.32am, Wednesday 11 March 10.2m @ 12.15pm, Thursday 12 March 10.2m @ 12.58pm