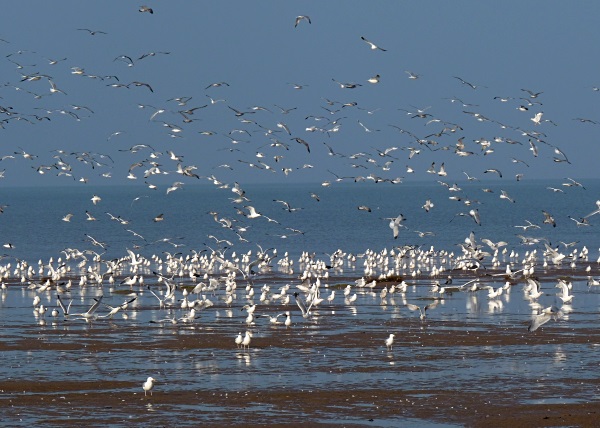 A small part of the gull roost on Hoylake Shore, January 2015, © Richard Smith.

Herring Gulls
Herring Gulls, more than any other species, typifies a trip to the seaside and is the 'seagull' known to most of the non-birding public. For me, it's their call as they fly overhead which brings back memories of childhood holidays spent by the coast. Although you wouldn't think it from the large numbers we get in our area the number of breeding birds in the UK have dropped substantially over the past 40 years although they are still more numerous than in the early 20th century. They are increasing in urban areas, however. Up until 10 years ago they were a rare breeder locally but since then they have increasingly used roof tops to nest on and there are probably now a total of over 100 pairs breeding in West Kirby, New Brighton, Wallasey and Birkenhead, with many more in nearby Liverpool and various towns in Cheshire. These roof-top breeders are generally not welcome and people try to stop them, but to quote from the Cheshire & Wirral Atlas: "considerable effort and money has been expended in attempts to deter gulls in some places, almost always unsuccessfully".
Outside the breeding season we get large flocks of Herring Gulls along the north Wirral coast and on the sand banks around Hilbre, the graph below shows max counts for the past 10 years and these peak numbers usually occur in late winter.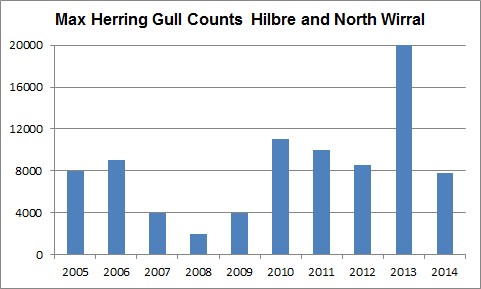 February 2013 saw exceptional numbers here and the sight of so many birds on Hoylake shore even had members of the general public coming up to me asking about them. Most years see several thousand present from mid-summer through to late winter. The usual pattern is for them to spend low tide on the edge of Mockbeggar Wharf off Leasowe feeding on whatever gets washed up there such as shellfish and starfish. As the tide comes in they tend to fly up towards Meols and Hoylake and sit on the sea until the tide starts ebbing and it is then when many hundreds/thousands form a roost on Hoylake shore. Many more gulls are often found on 'the dips' at New Brighton and various fields inland. Roosts also form on the large sand bank between Gronant and Point of Ayr but, judging from the Bird Reports, these seem to be very much under-recorded.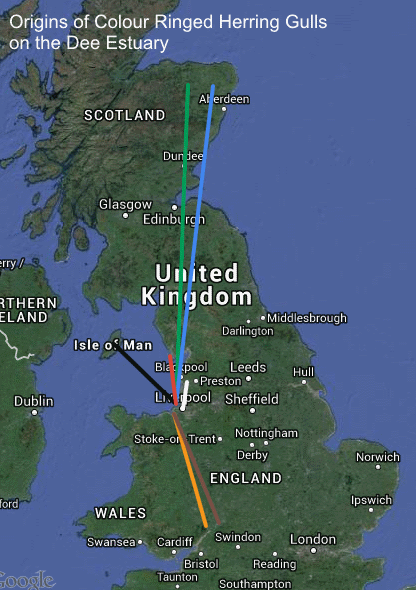 Herring Gulls breed all around the UK coasts (and coastal towns) and large numbers winter all over the country scavenging waste tips and whatever else they can find so it's no surprise that all our colour ringed birds were ringed in this country.

The map shows the ringing locations, details as follows:

1. Black line - Orange ring with black code Z37M.
Ringed as a first year bird at Peel, Isle of Man on November 30th 2012.
Recorded at New Brighton on November 3rd 2013 and August 1st 2014.

2. Red line - Yellow ring with black code Y7:W.
"This bird is of particular interest as it is fitted with a GPS tag which is recording all its movements."
Ringed on Walney Island, Cumbria, on June 1st 2014.
Recorded on Hoylake Shore on November 8th 2014.
3. Green line - Yellow ring with black code T:82P.
Ringed in the Grampian/Tay region of Scotland - further details not yet received.
Recorded on Hoylake Shore on November 24th 2014.
4. Blue line - Yellow ring with black code T:264.
Ringed in the Grampian/Tay region of Scotland - further details not yet received.
Recorded on Hoylake Shore on November 24th 2014.
5. White line - Black ring with yellow code R4RP.
Ringed as a chick on July 1st 2006 on the Ribble estuary marshes.
Recorded at Hoylake on September 27th 2014.

6. Brown line - Blue ring with orange code KKY.
Ringed when three years old at Gloucester Landfill Site near Hempstead, Gloucestershire, on November 20th 2010.
Recorded at Roath Park Lake, Cardiff, on July 15th 2012.
Recorded on Hoylake Shore on November 24th 2014 and January 22nd 2015.

7. Orange line - Blue ring with orange code BKY.
Ringed as an adult at Stoke Orchard Landfill Site, Gloucestershire, on February 5th 2007.
Recorded near Hempstead, Gloucestershire, in February 2007 and January 2010.
Recorded on Hoylake Shore on December 9th 2014 and January 20th and 22nd 2015.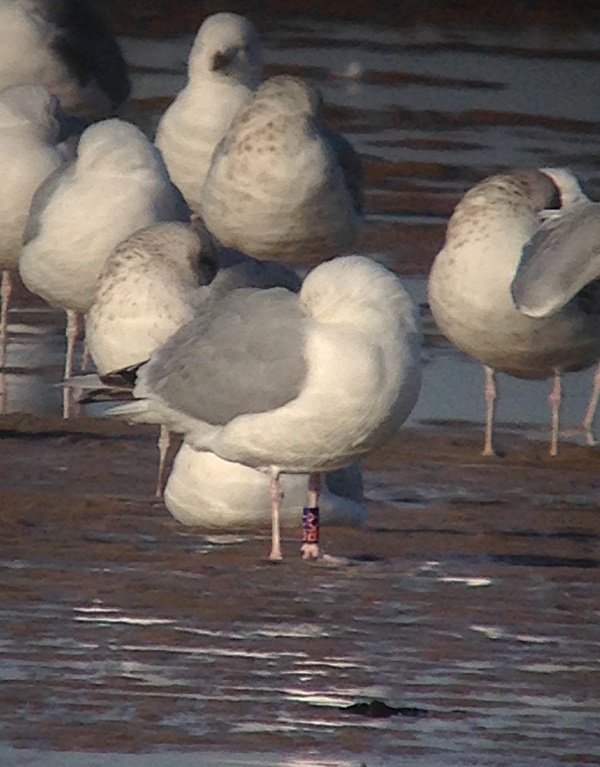 Great Black-Backed Gulls
Great big brutes and the largest* gulls in the world! They have only ever been recorded breeding in Cheshire and Wirral when a pair bred at Frodsham Marsh between 1998 and 2002. According to the BTO Atlas 2007-11 there was 'possible' breeding somewhere in the Point of Ayr and Gronant area although it is not mentioned in the North-east Wales Bird Reports. They do breed further west in Anglesey and perhaps on Great and Little Orme.
Numbers outside the breeding season along north Wirral and Hilbre are usually around the 100 to 200 mark, although there was an exceptional count of 800 at Hoylake on January 24th 2011. They can also be found in the inner estuary and typical counts at Connah's Quay and Oakenholt Marsh are usually in the region of 50 to 100 with 200 there in June 2009 being the highest number in recent years. These are high numbers for a species always considerably rarer than Lesser Black-backed and Herring Gulls.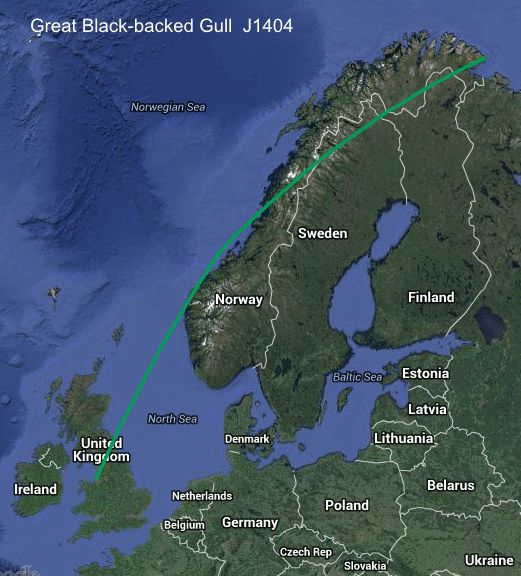 In 2014 we saw just the one colour-ringed bird, but an interesting record:
Black ring with white code J1404.
Ringed as a chick on the island of Hornoya near Vardo, Norway on June 15th 2011.
Recorded on Hoylake shore on December 9th 2014.
According to the BTO Migration Atlas there have been quite a few Great Black-backed Gulls ringed in Scandinavia recorded on the east coast of the UK (or vice versa), but records from the west coast of the UK are rare, especially from northern Norway.
* we also get the smallest gull in the world off our coast, usually on spring migration - the Little Gull.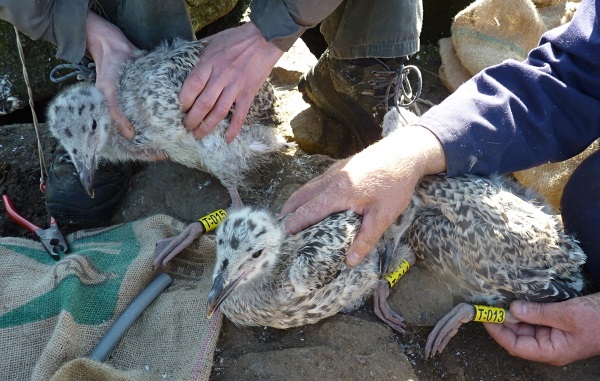 Sources of Information:
1. Bird Atlas 2007-11, BTO.
2. BTO Migration Atlas, 2002.
3. D. Norman, Birds in Cheshire and Wirral (2004 to 2007 Atlas), CAWOS.
4. Cheshire and Wirral Bird Reports 2005 to 2013.
5. North-east Wales Reports 2005 to 2012.
6. Hilbre Bird Observatory.
7. Those who have sent colour-ringed gull records direct to Matt Thomas and myself including Colin Schofield and Manu Santa-Cruz.
8. The ringers and ringing groups who very kindly sent details of the birds we have seen including those from: The Norway Colour Ringing group, the Grampian Ringing Group, the Severn Estuary Gull Group and the Ribble Estuary ringing group.
Richard Smith and Matt Thomas
Top of Page

Cheshire and Wirral Bird Report 2013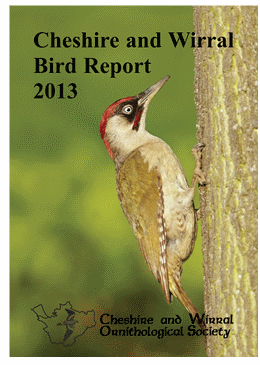 We're delighted to say that the annual Bird Report for 2013 is now available. This year's eye-catching colour front cover is a Green Woodpecker; a species which lifts the spirits when you hear their loud, far-carrying laugh or 'yaffle'.

The 168 pages of text include 27 maps, graphs and tables, and 10 beautiful illustrations from three different artists. As usual, the colour map of the county forms the centre spread of the Bird Report. A total of 19 colour photographs, which best capture some of the highlights of the year, are spread over seven full pages.

The Bird Report is full of interesting articles:

• The rarity highlight of the year was the discovery of an American Buff-bellied Pipit at Burton Marsh. This first for Cheshire and Wirral, proved to be a real crowd puller for birders from all over the country. It remained faithful to the same general area of Burton Marsh, and the Meadow Pipit flock it associated with.

• Another national rarity was a moulting adult Stilt Sandpiper which was found at Neumann's Flash. After being flushed by a Sparrowhawk, it was relocated at Sandbach Flashes. This was only the second record for Cheshire and Wirral, and was a popular bird seen by many observers.

• Then there's a fascinating account of the behaviour of a Ring Ouzel which visited a garden on spring passage.

• Another article gives a detailed look at the breeding records for Willow Tit at one particular site along its Cheshire stronghold of the Mersey corridor: the excellent Woolston Eyes Nature Reserve.

• Last, but not least, there's a graphic account of the remarkable events of December 5th, when unexpected storm surges caused widespread flooding along the Wirral coast.

All the 'regulars' are there: 'Weather and Bird Review of the Year'; the full 'Systematic List of Birds Recorded in Cheshire and Wirral during 2013', including 'Category E Species'; 'Early and Late Dates for Migrants'; 'Ringing Report'; 'BBRC and County Rarities Decisions'; 'Chairman's Review'; and finally, advice on the Cheshire and Wirral Gazetteer, and the 'Submission of Records', including rarities.

Last, but not least, we have again included a 'Species Index' at the back to help you quickly look up your favourite species.

The Bird Report is free to Cheshire and Wirral Ornithological Society members (ordinary membership costs £12), otherwise it costs £8 + £2 p&p and copies are available from:

David Cogger, 71 Parkgate, Knutsford, Cheshire, WA16 8HF

Tel: 01565 228503 Email: davidcogger@cawos.org

Top of Page
January Bird News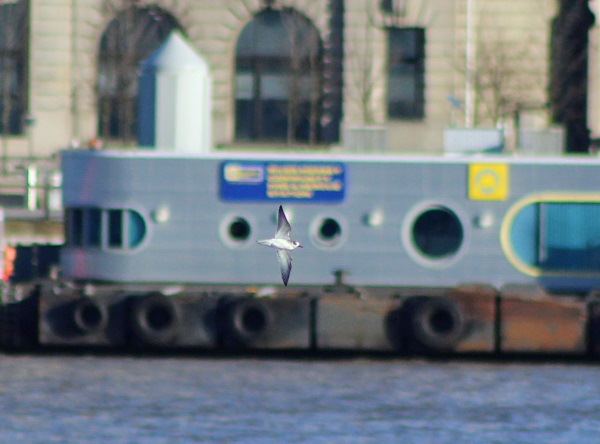 Grey Phalarope over the River Mersey, Pier Head in the background, January 4th © Elliot Montieth.
No less than three records were broken in January! Firstly, 6,200 Pink-footed Geese were counted during the Dee Estuary WeBS count on January 25th, the highest ever for the estuary and it's great that several thousand are now regular here (see Geese on the Dee estuary article). To put this in context the average max count for the years 2002 to 2006 was less than 200. Second was a massive count of Cormorants leaving the estuary past Hilbre early morning on January 20th with a total of 3,884. This is not only a record count for the estuary but may well be the highest ever single site count of this species anywhere in the country. Thirdly is a great count of at least 200 Twite at the Connah's Quay Reserve on January 21st, according to the bird reports this is certainly the highest count for the past 15 years and as far as I have been able to ascertain numbers prior to that were rarely above 50 so this again may well be the highest count recorded on the Dee estuary.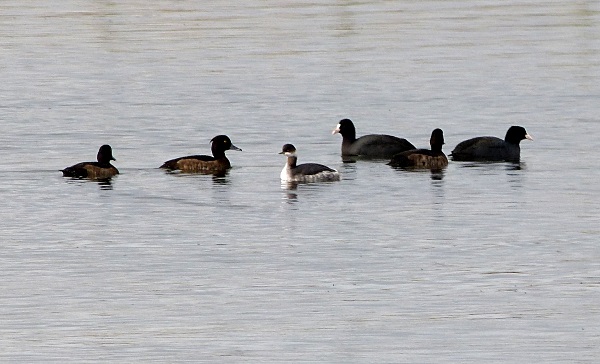 Black-necked Grebe with Tufted Ducks and Coots at Shotwick Boating Lake, January 18th © Dave Wilson.
I know the River Mersey off Seacombe is not exactly the Dee Estuary but I have flexible borders when it comes to exciting birds and I couldn't resist the Grey Phalarope seen and photographed from one of the Mersey Ferries on the 4th, it was still present the next day. Very unusual to see one of these delightful birds in the winter.
The three Black-necked Grebes remained on Shotwick Boating Lake most of the month, this lake must be at just the right depth for diving wildfowl as it attracts a surprising number of birds including at least 17 Little Grebes on the 17th. Although often elusive two Snow Buntings spent the first half of the month around the Leasowe Bay area then moved east to Wallasey Shore close to the Derby Pool pub.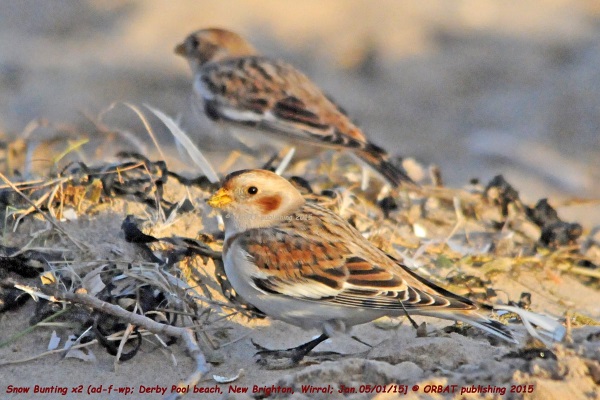 Snow Buntings at Wallasey, January 5th © William Boyce
The heights of the spring tides in the third week of the month were a bit disappointing, except for the 23rd when the tide reached Parkgate. As usual the best place to see Short-eared Owls was the Cottage Lane end of Heswall Golf Course (about 1km north of the Old Baths car park at Parkgate) and five were seen here on the 22nd followed by at least seven the following day. Three Water Pipits were at Neston Old Quay on the 23rd. There were at least two Hen Harriers on the marshes through the month.
Looking back it had seemed we had high winds all month but we did actually have a few days of calm seas enabling an excellent count of 431 Great Crested Grebes on the 5th and 1,100 Common Scoters on the 20th when three Eiders were also counted, all these off Meols Shore. The 14th was a day of gales resulting in the highest count of Purple Sandpipers at New Brighton with a total of 14, there was also a Greenshank among the roosting waders. Other good counts of waders included 10,000 Dunlin at Hoylake on the 22nd with 7,500 Dunlin at Connah's Quay the following day, and 1,900 Black-tailed Godwits in Newton (West Kirby) on the 30th. A Whimbrel on Burton Marsh on the 17th was an amazing find, they are very much a vagrant in winter.
White-fronted Geese are rare on the estuary, we do occasionally get small numbers of the European race and one turned up with Pinkfeet on Burton Marsh on the 25th. More unexpected was a 'White-front' of the Greenland race which was at Burton Mere Wetlands on the 27th. Two Great White Egrets were recorded on several dates with at least one of these present all month.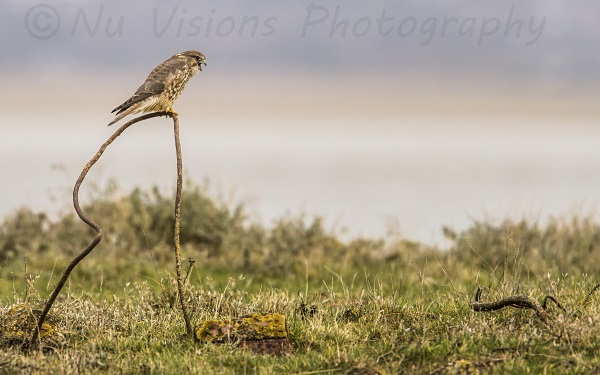 Richard Smith.
Many thanks go to Eddie Williams, Derek Bates, Chris Tynan, Damian Waters, George Knight, Keith Scovell, John Jakeman, William Boyce, Mal Sergeant, Gav Jones, Frank Burns, Dave Wilson, Matt Thomas, Brian Lingard, Richard Beckett, Peter Ham, Chris Butterworth, Matt Francis, David Peate, David Ritchie, James Smith, Steve Hinde, Roy Lowry, Allan Conlin, Andy Davis, Colin Schofield, David Haigh, Jeremy Bradshaw, Alan Hitchmough, Steve Williams, Charles Farnell, Mark Gibson, Dave Edwards, Elliot Montieth, Paul Mason, Dan Trotman, Paul Shenton, Les Hall, Richard Steel, Greg Harker, Gail Gannon, Manu Santa-Cruz, Bernard Machin, Henry Cook, Rob Morsley, Andy Thomas, Chris Shaw, Janine Johnson, Dave Evans, Ann Williamson, Paul Vautrinot, Jean Newall, Ian Hughes, Richard Howells, Stephen Simpson, Malcolm White, Sheila Ryde, Richard Payne, Colin Jones, Colin Wells, David Leeming, John Blades, the
Lighthouse and Wirral Birding Blog
, the
Dee Estuary Wardens
and the
Hilbre Bird Observatory
for their sightings during January. All sightings are gratefully received.
Top of Page
What to expect in February
Exceptionally high tides are forecast this month (20th and 21st), it will certainly be exciting if we get a strong west wind and low pressure. At 10.3m even if the weather is calm we would expect the marshes to be covered giving great views of Short-eared Owls, Hen Harriers, Pink-footed Geese and loads of duck and waders. There should also be one or two Great White Egrets and, I keep saying this, we are well overdue to see a Spoonbill.
Common Scoters start moving north this month and we may well get several thousand out in Liverpool Bay, a calm day with good visibility is the best time to see them along with several hundred Great Crested Grebes which will be out there.
Purple Sandpiper numbers have been very disappointing so far this winter but we would expect them to peak this month with the best views on the pontoon on New Brighton Marine Lake at high tide.
We often get the first hints of spring this month with the odd warm day and it's certainly great to hear our woodland birds in full song. We can even get the first exceptionally early spring migrant - may be a Sand Martin or White Wagtail.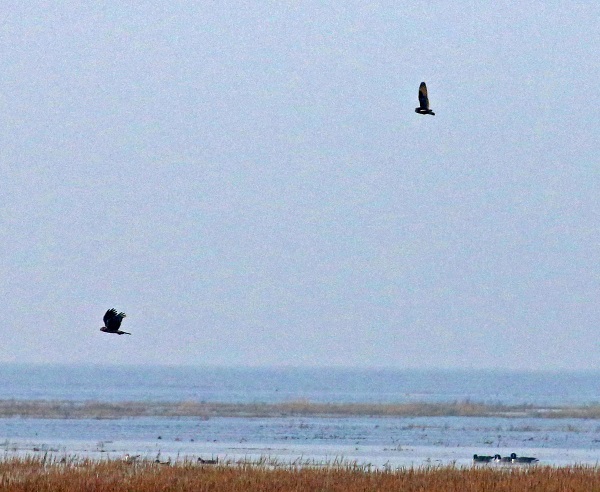 Top of Page
Forthcoming Events
February Highest Spring Tides (Liverpool)
Also see Tides page.

19th February, 11.12hrs (GMT), 10.0m.
20th February, 11.57hrs (GMT), 10.3m.
21st February, 12.42hrs (GMT), 10.3m.
22nd February, 13.27hrs (GMT), 10.1m.
Forthcoming Events
Organised by the Wirral Ranger Service , Flintshire Countryside Service and the RSPB (Dee Estuary):
All these events and walks have bird interest, even those not advertised specifically for birdwatching. No need to book for these events unless specified - please check below.
Also see 2015 Events Diary.
Wednesday 4th February 10am – 3.30pm
Wildlife Photography Workshop
If you are interested in getting the best out of your DSLR camera when taking wildlife pictures the book a place on our workshop. We will have expert tuition on taking and editing pictures and photo shoots at feeding stations and drinking pools. By the end of the day you will have loads of information, hints and tips and some great pictures to take home.
This course is designed for DSLR cameras.
Booking essential.
£40 for the full day, places limited. Call (0151) 648 4371 to reserve a spot.
Saturday 7th February 11:30am start.
High tide Birdwatch at
Hoylake
:
Join the Coastal Rangers, Dee Estuary Voluntary Wardens and the RSPB on this high tide birdwatch at Hoylake to see large numbers of waders as they gather and roost on the shore. High tide is 9.1 metres at 1:03pm. No need to book. Dress warmly and bring binoculars if you have them. Meet at the bottom of
Trinity Road, King's Parade, Hoylake
. For further information please telephone Wirral Country Park on (0151) 648 4371.
Saturday 14th February 1.30-3.30pm
National Nestbox Week at Wirral Country Park
Help the Rangers to build some nestboxes then place them around the Nature Ponds at Wirral Country Park to help kick off the nesting season. We will number the boxes so we can keep tabs on how our boxes are doing. We will also have loads of information on how to attract wildlife to your garden and keep it there!
Booking Essential as nest box kits are limited. Call (0151) 648 4371 to reserve a place. All children must be accompanied at all times.
Thursday 19th February to Sunday 22nd February, RSPB
Parkgate
High Tide Birdwatch.
From 9.30am
Parkgate Marsh is one of the best wetland habitats in the northwest, and when it is flooded by an incoming Spring high tide, the wildlife which lives here is pushed closer, potentially delivering an awe-inspiring spectacle. Join us at Parkgate's Old Baths car park and the Donkey Stand near Nicholl's ice cream shop, where we'll be set up with marquees and telescopes hoping for the right weather conditions to really push the tide in.
You can expect great views of the large numbers of geese, ducks and wading birds which are here in their thousands for the winter. In addition, the small mammals living on the marsh can be flushed from cover, potentially attracting the kestrels, harriers and short-eared owls who spend the winter months here.
Car parking is limited on Parkgate promenade, but there is free public parking at the Old Baths car park (CH64 6RN) at the north end of The Parade, and the Wirral Country Park car park on Station Road (CH64 6QJ). There are public toilets at Mostyn Square in the middle of The Parade, and a number of pubs and cafes for refreshments.
High tide times:
Thursday 19 February: 11.12 am (10.0m)
Friday 20 February: 11.57 am (10.3m)
Saturday 21 February: 12.43 pm (10.3m)
Sunday 22 February: 1.27 pm (10.1m)
Sunday 22nd February, Skydancers on the Dee Estuary -
Donkey Stand, Parkgate
.
12noon - dusk
Price: Free
Most people have never seen a hen harrier, but once seen it is rarely forgotten. In support of the RSPB's Skydancer project, we are pleased to bring you a series of events to showcase these enigmatic birds of prey which use the marshes of the Dee Estuary as their home for the winter months.
The name "Skydancer" comes from the aerobatic displays that the male birds perform in their courtship ritual on the moors in the spring. Sadly, this has become an increasingly rare sight and they are close to becoming extinct as a breeding species in England.
This could be the last chance to see Skydancers on the Dee, so come along to Parkgate to find out more about the hen harrier story and what you can do to help save them before it's too late! Look for the RSPB marquee along the main promenade at Parkgate, where friendly staff and volunteers will be on hand with telescopes and binoculars to show you these beautiful, agile birds hunting over the marsh, and coming in to roost there at dusk. Plenty of family activities and other RSPB information will be available.
For more information on the RSPB's Skydancer project, visit
http://www.rspb.org.uk/skydancer/
Directions: The "Donkey Stand" opposite Nicholls Ice-cream shop on The Parade (B5135), Parkgate, Cheshire.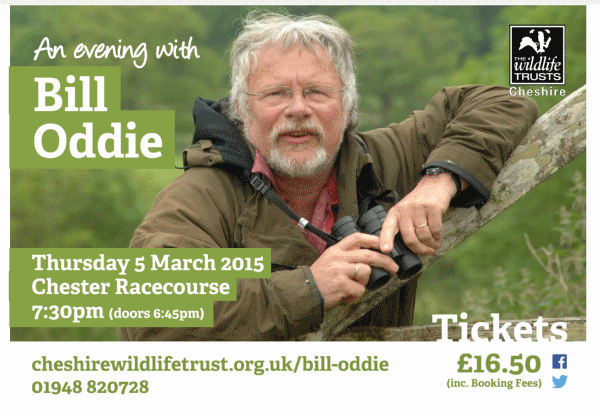 Saturday 7th March 6.30am – 9am
Mad March Hares
An early start but worth it to have a chance of seeing Brown Hares on the fields of Thurstaston. These mammals are very active now and on a guided walk to the Dungeon Woodland we might be lucky enough to see them "boxing".
Warm waterproofs, boots and binoculars recommended. Book early for this popular walk! (0151) 648 4371.