Pied Wheatear flying over a nearby roof-top © Elliot Montieth

I was busy doing a DIY job in the house on November 6th, I'd not checked my emails for a couple of hours and when I did at around 2pm I had an email from Alan Irving saying there was a Wheatear by Meols Slipway, he was on his bike so had only a brief glimpse. 'That's a late one' I thought, thinking I must remember to put it on the Dee Estuary Website later when I finished my chores. I should have known better as Steve Williams told me a few years ago that there was a good chance that any Wheatear in November wouldn't be a 'Northern' but something much rarer. But I was busy and it didn't really register, that is until another email pops into my inbox just as it was getting dark with the heading 'Wheatear sp' and a couple of photos, these from Richard Ashford. Now that DID get my attention! It certainly didn't look like a Northern Wheatear to me but, having only ever seen Northern Wheatears, I wasn't sure which species it was so I immediately forwarded the emails to my expert birding friends - Allan Conlin and Steve Williams, Allan takes up the story............
Richard Smith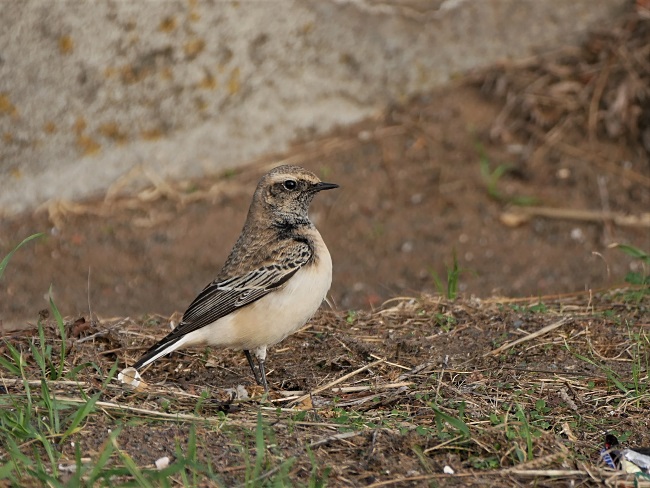 Pied Wheatear at Meols © Allan Conlin

Pied Wheatear, Meols, Wirral. November 5th- 9th. A county first!

It is pretty much every 'patchers' nightmare to find out about a rare bird on his or her patch, after the event! On Tuesday November 6th I walked through the door at home having spent the day out in the field. I had been looking for the usual late autumn suspects - Pallas's Warbler, Humes Warbler or even a rare late autumn Wheatear. In reality on my West coast patch however, it's more about hope than expectation. Taking off my 'bins' and jacket I noticed I had missed a couple of calls from my old friend and fellow Wirral birder Steve Williams. Within a couple of minutes, I had returned his call! "Have you checked your e-mails?" was his opening comment. I hadn't! I fired up my laptop and after a few seconds up came the e mail with the header 'Not 100% it's a Northern.' I'd almost guessed what was coming before opening the attachments but open them I did and up popped two pictures of a 1st winter male Pied Wheatear with a line saying it had been present since Monday!! A flurry of expletives was my response. An instant reaction but of course I was delighted for the finder, Richard Ashford. Full credit to him for forwarding his photos to Richard Smith (RS) at www.deeestuary.co.uk who in turn forwarded the pictures to Steve and myself. "It's a Pied, isn't it?" came the rhetorical question from Steve which brought me back into the land of the living as I continued to stare at my screen in disbelief. "Yes, it's a Pied "I replied. In fact, Steve had already responded to RS some 10 minutes or so earlier to say 'it could be a Pied and where there any photos of the tail pattern'. We briefly discussed and quickly dismissed Desert Wheatear and the most likely confusion species, Eastern Black Eared. "I'll see you in the morning" ended the briefest of calls and it was during this call that Steve quickly informed RS the bird was a Pied. We then put the news out on our local Wirral WhatsApp group and the finder's pictures sent out on social media.

I was delighted (we all were!) to receive these photos but it was a bitter sweet moment from a personal perspective for a number of reasons. Firstly, I'd been out all day contemplating the very real potential that one day Wirral would have a rare Wheatear; secondly, the bird had now been present for two days but most of all, it had been at the end of my road and it was now completely dark!

It was a long night! With the phone ringing and pinging through much of the evening I needed something to stop the turmoil, to numb the pain, to make it all better. The answer was of course obvious, the answer was alcohol! After a few large glasses of wine and one last dash into the garden to check the cloud cover for the fifth time it was time to turn in. Batteries charged and SD cards inserted, I was set. Ordinarily I'd have checked the car too but this 'twitch' was different, I could walk it. Apparently, it was bone idle of me to even consider driving according to Mrs C!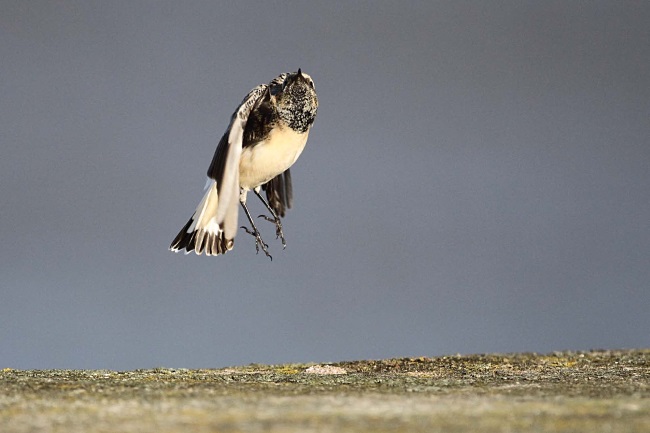 Pied Wheatear, trying to catch an insect? © Jeremy Bradshaw

The next morning was a chilly start. I arrived on site (by car!) at 07.00. I wasn't the first; as shapes and silhouettes of fellow birders emerged through the pre-dawn gloom. The weather and mood remained gloomy until 07.16 when the distinctive shape of a 'Wheatear' standing 'tall' appeared on the sea wall. It had stayed! The relief was palpable, the excitement tangible and with much mutual congratulatory back slapping the assembled crowd enjoyed a very confiding 1st year male Pied Wheatear – a county first. The light improved during the morning, as did the photographs, many of which made social media and the various birding websites. The bird remained faithful to a very small stretch of sea wall at the eastern end of Meols promenade making occasional forays to the rooftops of the seafront houses or the masts of the nearby boats. After a five day stay the bird decided to do a classic Friday night flit and was sadly not present for those who made the journey on the Saturday.

So, a great bird, a county first and full congratulations should go to Richard Ashford for finding it and to Richard Smith of www.deeestuary.co.uk for being so quick in distributing the photographs. Great work! Our West coast peninsula is perhaps only famed for the Leach's Petrel passage in autumn and rarely does it hit big with this quality of rarity. With that in mind it's incredible to think this Pied Wheatear was within 100m of the site of Britain's 4th ever Desert Warbler in October 1979.

As a postscript, long time Wirral birder and Hilbre Island Bird Observatory founder Tony Bell recalls another 'dark' Wheatear he had on Nov 17th 1957 also along the same stretch of coast. His notes from the day appear to describe a Pied Wheatear although I suspect not detailed enough to satisfy the BBRC.

Allan Conlin – Hoylake, Wirral
twitter @AllanConlin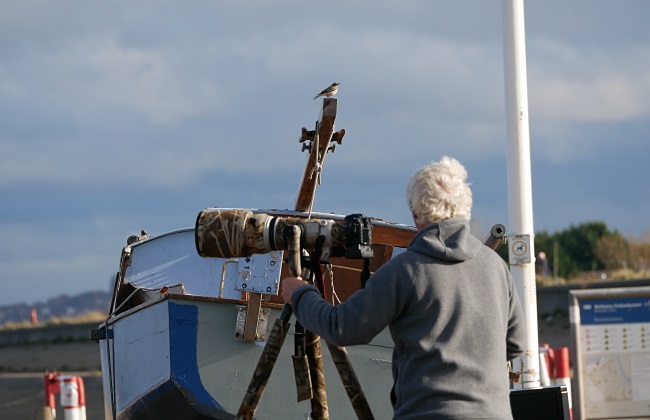 An unusual perch © Allan Conlin
Top of Page
Colour Ring Report
Black-tailed Godwit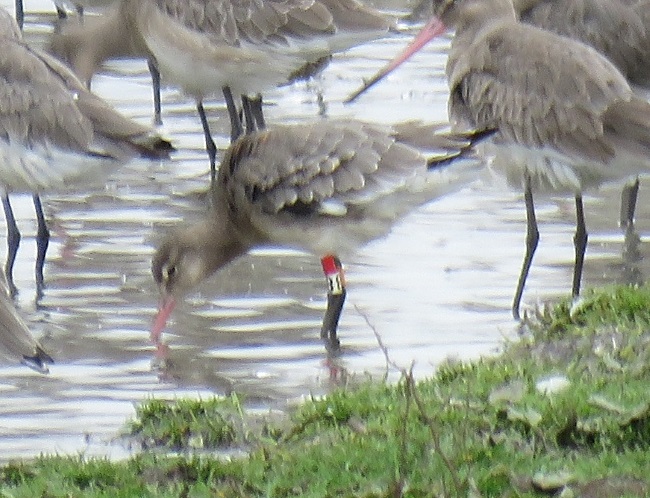 Black-tailed Godwit R8-GO © Richard Smith

R8-GO Ringed as an adult male in Iceland on July 14th 2010.
Most Black-tailed Godwits are very site faithful using the same breeding area, moulting site and wintering site every year. Very occasionally they can switch sites but we've never seen one that does what R8-GO appears to do, and that is it alternates post breeding moult sites using different sides of the country every other year, only 2015 spoiling the pattern.

2011 - Dee estuary
2012 - Humber estuary.
2013 - Dee estuary.
2014 - The Wash.
2015 - Gibraltar Point, Lincolnshire.
2016 - Dee Estuary.
2017 - Stour Estuary.
2018 - Dee Estuary.
In 2018 it was first spotted on Thurstaston Shore in early August then at Caldy Wildfowl Collection where it was recorded several times in August and September, last seen on October 26th.

Black-headed Gulls
Very much a case of the return of the regulars at West Kirby Marine Lake.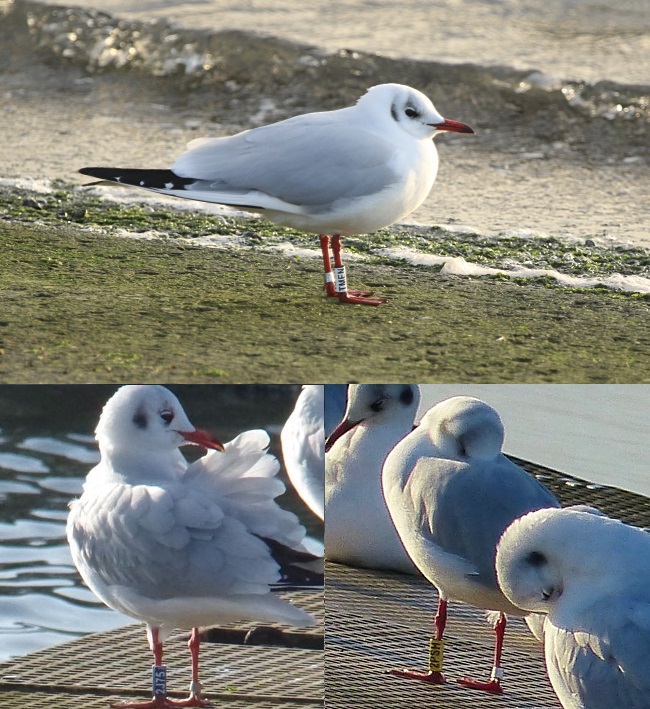 Black-headed Gulls: TMEN © Tim Kinch, 2PSH © Allan Hitchmough, 2J75 © Steve Williams
TMEN - black letters on white ring.
Ringed in central Poland on April 12th 2013.
First recorded at West Kirby Marine Lake in September 2013 and seen every winter since, a total of 43 sightings. The only other places this bird has been seen since being ringed are Greenfield Dock and Hoylake Shore.
TMEN arrived back this autumn on September 7th 2018 with latest record on November 30th.

2PSH - black letters on yellow ring.
Ringed at Pitsea Landfill Site, Essex, on March 12th 2016.
Recorded at West Kirby Marine Lake in November 2016 and October and November 2017.
It arrived back early in 2018 being recorded on September 7th then several times through November. It has not been recorded anywhere else.

2J75 - white letters on blue ring.
Ringed at Bowness, Cumbria, on January 3rd 2015, and recorded there in August and October 2015.
First recorded at West Kirby Marine Lake in January 2016 and was still present until March 2016.
In 2017 it was at WKML in February and March then arrived back in November, remaining until March 2018.
This autumn it has been recorded twice at WKML in November (18th and 23rd).

Lesser Black-backed Gull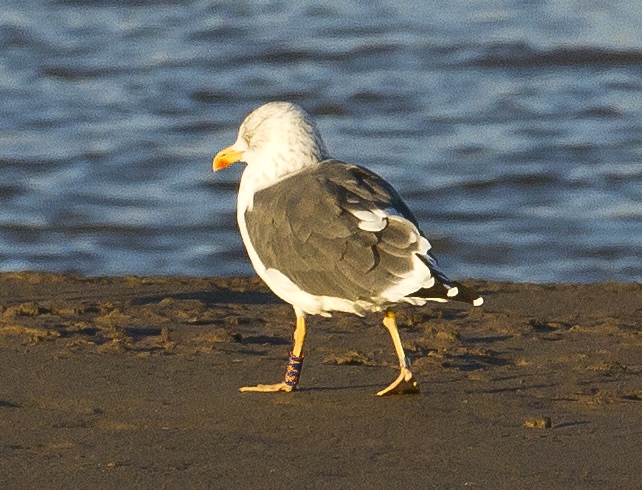 Lesser Black-backed Gull at Connah's Quay © Dave Winnard
371 - Orange numbers on blue ring.
Ringed at Gloucester Landfill Site (near Hempstead) on November 26th 2005.
Recorded at the ringing site in autumn/early winter in 2006 and 2008.
Recorded at Priorslee Lake, Shropshire, in December 2009.
Recorded in the Loire Valley (France) - including 'Sonzay dumping ground' - in the winters of 2014/15 and 2017/18.
Recorded at Connah's Quay Nature Reserve on November 1st 2018.

Knots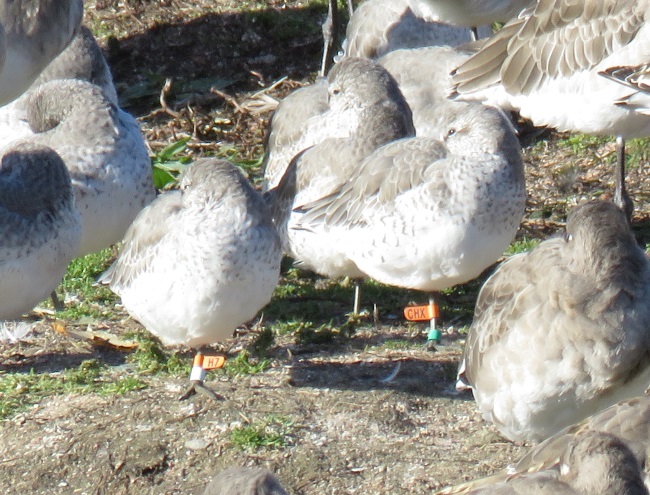 Orange Flagged Knots H7 and CHX © Richard Smith

There was a large influx of Knots into the Dee Estuary at the end of October and ring reading showed many had been spending the late summer and autumn on the Sefton coast (Southport, Formby and Crosby) with many more arriving from the Dutch Waddensea. We have been recording the colour rings/flags and since October 29th we have logged 254 orange flagged birds (ringed at Altcar) as well as several Dutch ringed birds and also Knots ringed in both Iceland and Norway which have yellow flags. All this is part of a study into the migration routes and general movements of this species as well as the location of moulting sites and staging posts of the different sub-populations.
Colour-ringed birds were recorded by Richard Smith, Steve Hinde, Derek Bates, Tim Kinch, Steve Williams, Matt Thomas, David Winnard and Alan Hitchmough.
Richard Smith.
Top of Page
November Bird News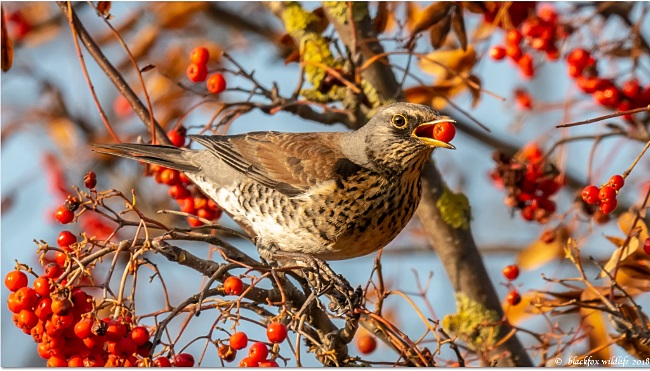 Fieldfare at Deeside Industrial Estate, November 18th © Jeff Cohrn


A Pied Wheatear, a first for Cheshire and Wirral, was on Meols Promenade early in the month - see article above.
The Bearded Tits which arrived at Burton Mere Wetlands last month had increased to four by the 14th, as always they were elusive but occasionally showed well as you can see from the photograph below, there was also a report of eight in Neston Reed Bed.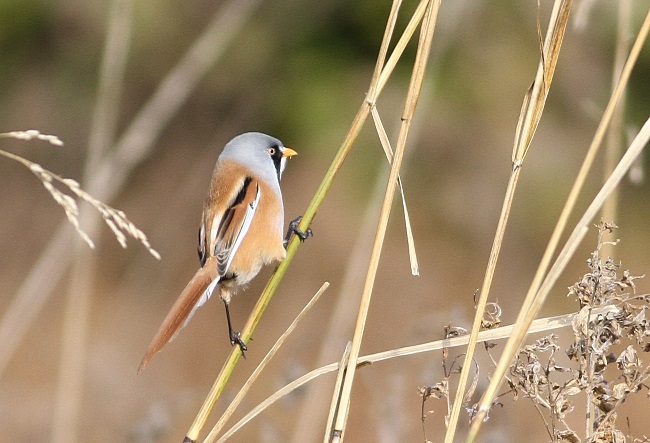 Bearded Tit at Burton Mere Wetlands, November 1st © Elliot Montieth

A few years ago over-wintering Marsh Harriers were rare on the estuary, but with the establishment of a winter roost at Neston Reed Bed numbers in double figures have become routine and this month's maximum count was 16. There were also six Hen Harriers including two grey males. Bitterns in the marshes through the winter are not unknown but I think I'm correct in saying there have been more sightings so far this winter than ever before with one showing well at Parkgate through the day with this, and a second bird, flying into roost at Neston Reed Bed at dusk.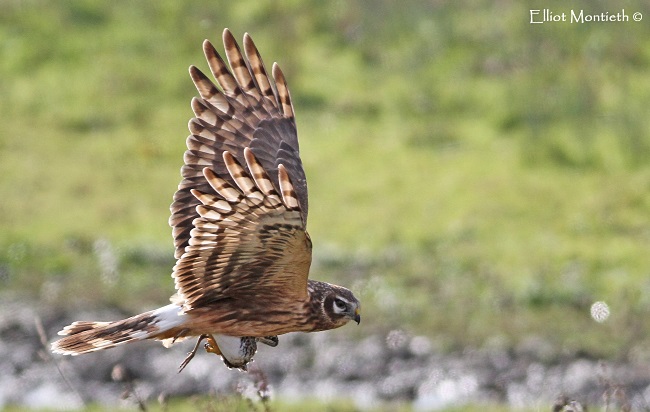 Hen Harrier at Burton Mere Wetlands, November 1st © Elliot Montieth

I don't know how many Pink-footed Geese there are on the estuary but I suspect it will be approaching 10,000 - they usually peak in late winter - but it's been good to see flocks flying to and fro between the coastal fields and the marshes, I had over 1,000 feeding in a field not far from my house - fantastic!
A Great Northern Diver gave great views at West Kirby Marine Lake at the end of the month, and Goosanders are becoming increasingly common on the lake with up to five, along with a Scaup and Little Grebe as well as the more usual Red-breasted Mergansers.
Knot numbers increased to 20,000 through the month with birds flying in from the Sefton coast and the Waddensea. Duck numbers have been high with good concentrations off Oakenholt Marsh and Connah's Quay including 7,000 Wigeon, 5,000 Pintail and 4,000 Teal.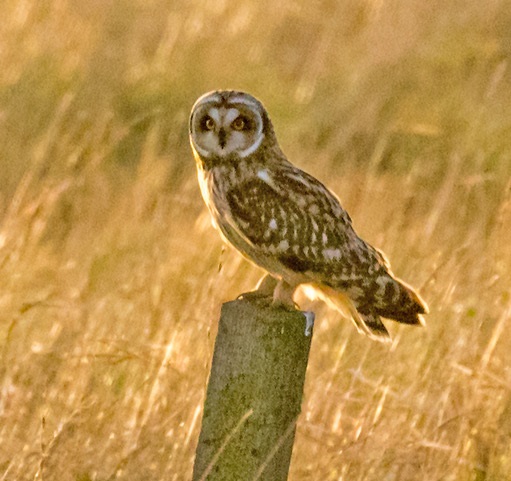 Short-eared Owl at Parkgate, November 17th © Frank Burns
Many thanks go to John Hewitt, Elliot Montieth, David Winnard, Richard Ashford, Mark Woodhead, Geoff Robinson, Martin Kalaher, David Haigh, Mark Turner, Jeremy Bradshaw, Mark Woodhead, Steve Hinde, Matt Thomas, Chris Butterworth, Mark Garner, David Leeming, Alan Hitchmough, Paul Mason, Steve Williams, Derek Bates, Allan Conlin, Karen Leeming, Frank Burns, David Thompson, Tim Kinch, Les Hall, Roy Lowry, Colin Schofield, Alan Irving, Mark Gibson, Jeff Cohen, Graham Connolly, Dave Edwards, Richard Whitby, Gail Wilson, Linda Platt, Jon Ashton, Ryan Williams, David Wilson, Chris Challoner, Steve Round, Mark Edwards, Pamela Davis, George Knight, John Wright, Richard Payne, Bill Owens, Simon Gough, Derek Gifford, Roger Nutter, David Small, Steve Hart, Elizabeth Shand, Alan Nevitt, John Sharp, Dave Harrington, Gary Bawden, Bill Keig, Keith Mercer, the
Lighthouse and Wirral Birding Blog
, the
Dee Estuary Wardens
and the
Hilbre Bird Observatory
for their sightings during November. All sightings are gratefully received.

Top of Page
What to expect in December
It's been a great winter for Harriers so far with up to 16 Marsh Harriers coming into the roost at Neston and up to six Hen Harriers. Short-eared Owls have been a bit more elusive but the high tides over Christmas may well flush some with Heswall Riverbank Road probably the best spot. The high tides should also make the Great Egrets more visible and they are likely to reach double-figures for the estuary as a whole. I think we've had more Bittern sightings so far this winter than ever before with at least one showing itself regularly at Parkgate and two flying in to roost at Neston reed bed.
It would be nice if we got some nice calm and crisp weather with those Christmas high tides. It seems to be another good winter for high Knot numbers so the Hoylake wader roost could well be spectacular and out to sea a calm sea might well produce good numbers of Common Scoter and Great Crested Grebes, and we usually get a small flock of Scaup either off Hilbre or north Wirral.
Pink-footed Geese continue to increase in numbers and they will be visible on the marshes as well as in coastal fields, with small flocks flying to and fro. Around 300 to 400 Brent Geese will be around Hilbre and quite often some split away from the main flock and can be seen at Thurstaston or along north Wirral.
West Kirby Marine Lake doesn't have an awful lot of birds but it can spring a few surprises and, apart from the usual Red-breasted Mergansers and Goldeneye, we can get Great Northern Diver, Red-throated Diver, Brent Geese, Scaup, Little Grebe (rare here), Shag and even a Long-tailed Duck.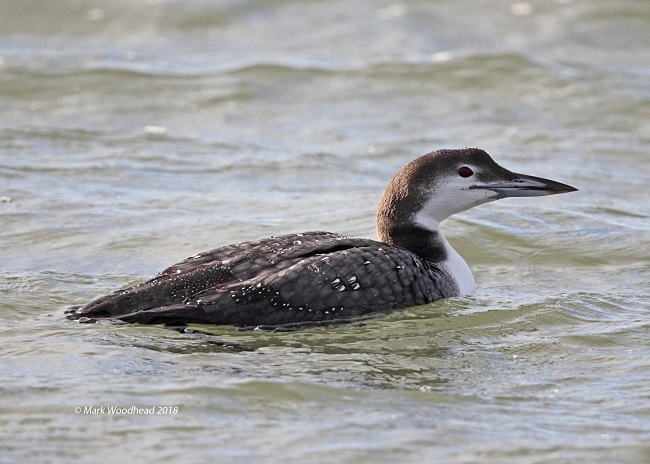 Great Northern Diver on West Kirby Marine Lake, November 30th © Mark Woodhead
Top of Page
Forthcoming Events
December Highest Spring Tides (Liverpool)
Also see Tides page.
23rd December, 11.12hrs (GMT), 9.6m.
24th December, 11.57hrs (GMT), 9.7m.
25th December, 12.45hrs (GMT), 9.7m.
26th December, 13.34hrs (GMT), 9.6m.
Forthcoming Events
Organised by the Wirral Ranger Service , Flintshire Countryside Service and the RSPB (Dee Estuary): All these events and walks have bird interest, even those not advertised specifically for birdwatching. No need to book for these events unless specified - please check below.
---
Sunday 9
th December - Raptorwatch at Parkgate.
1pm-dusk, Price: Free.
Join us for a chance to see up to seven different birds of prey including peregrine and merlin, plus two types of owl that all make their home on the RSPB Dee Estuary nature reserve. With its panoramic views of the saltmarsh, Parkgate is one of the best places to watch for these birds hunting.
Stick around until dusk for a chance to see the graceful and endangered hen harriers flying into roost for the night on the marsh close to the Old Baths car park, and maybe a ghostly barn owl emerging to hunt. No booking required, come along any time between 1pm and sunset.
Dress appropriately for the weather and don't forget your binoculars! Public toilets and various pubs and cafes are situated close by along Parkgate promenade.


Satuarday 22nd December - Hightide Birdwatch at Hoylake.

Start 9.30am.
Join the Dee Estuary Voluntary Wardens and Wirral Rangers at Kings Gap, Hoylake shore, for what should be a spectacular mid-winter wader roost. Expect to see thousands of Knot and Dunlin with hundreds of Bar-tailed Godwits, Curlew, Grey Plover, Redshank and Sanderling. If the weather is calm we could see Common Scoter, Great Crested Grebes and Red-throated Divers out to sea, and there's a good chance of other sea ducks such as Scaup and Goldeneye.
High tide is at 10.27am and height 9.33m (Liverpool time and height).
Sunday 13th January
- Raptorwatch at Parkgate.
1pm-dusk, Price: Free.
Join us for a chance to see up to seven different birds of prey including peregrine and merlin, plus two types of owl that all make their home on the RSPB Dee Estuary nature reserve. With its panoramic views of the saltmarsh, Parkgate is one of the best places to watch for these birds hunting.
Stick around until dusk for a chance to see the graceful and endangered hen harriers flying into roost for the night on the marsh close to the Old Baths car park, and maybe a ghostly barn owl emerging to hunt. No booking required, come along any time between 1pm and sunset.
Dress appropriately for the weather and don't forget your binoculars! Public toilets and various pubs and cafes are situated close by along Parkgate promenade.
Wednesday 23rd January - Tidewatch at Parkgate.
10am to 2.30 pm. Free.
In celebration of the RSPB Dee Estuary reserve's 40th anniversary, join us at Parkgate Old Baths for the awe-inspiring spectacle of a high tide flooding the vast saltmarsh, potentially reaching the old sea wall. The marsh at Parkgate is one of the best wetland habitats in the northwest, and when flooded by an incoming tide, the wildlife which lives here is pushed closer, with chance of seeing the great range of ducks, geese, wading birds and egrets in big numbers as they are driven upstream by the rising tide. A range of birds of prey take advantage of mice and voles flushed from the grasses; hen and marsh harriers, peregrines and merlins all spend the winter months on the estuary and this is one of the best places to watch them, plus short-eared owls if we're really lucky. So why not venture out to try witness all the drama. Low pressure and a westerly wind will help push the tide and wildlife in close. There is free public parking at the Old Baths car park (CH64 6RN) at the north end of The Parade, and the Wirral Country Park car park on Station Road (CH64 6QJ). There are public toilets at Mostyn Square in the middle of The Parade, and a number of pubs and cafes. High tide (10.0m/32.8ft) at 12.36pm
Telephone 0151 353 2720 for more details, or call in at Burton Mere Wetlands.