The Dunlin is the most numerous wader along the East Atlantic Flyway which includes the British Isles. The Dee estuary and North Wirral are important sites for them but it is our neighbouring estuary, the Mersey, which holds huge numbers through the winter and is easily the most important site in the country for them. The latest five year average has the Mersey Estuary as holding 53,862 Dunlin compared with the second most important site, the Severn Estuary, which has 30,204. The Dee Estuary/North Wirral, has a more modest 19,657. Dunlins obviously love the mud of the Mersey which is sheltered and largely undisturbed, and recent counts include two of just over 68,000 which were record high counts for the site, and the highest in the country since 72,113 at Morecambe Bay in January 1992.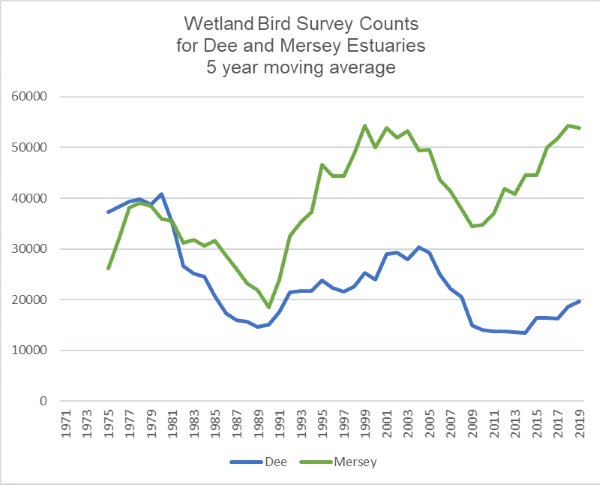 The WeBS counts for the two estuaries both show similar trends, nearly all the max annual counts are in winter so the fluctuations reflect that of the nominate alpina race which breeds in northern Scandinavia and western Siberia and winters in western Europe. The trend for the Dee is very similar to that of the UK as a whole except that the last 10 years numbers have leveled off nationally rather than showing an increase as the Dee does. Interestingly, numbers on the Mersey increased sharply over that same 10 years so becoming increasingly important for this species and now typically holds 20% of the UK's population. Whether the declines in the 1980s and again early this century effected the whole of the alpina population or just those in the UK is not clear. The more recent decline has been attributed to a run of mild winters with birds short-stopping on the Waddensea, but recent counts there have also shown declines suggesting a more widespread drop in numbers - perhaps due to a run of poor breeding seasons.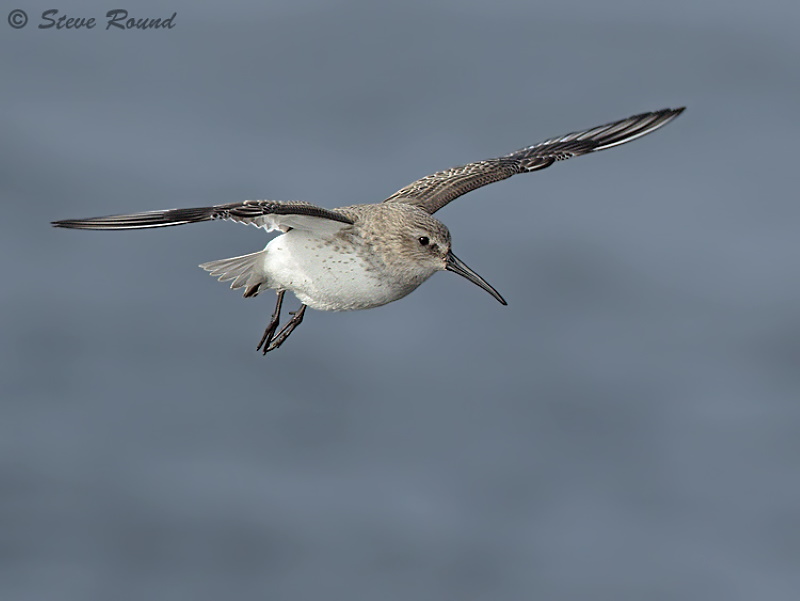 Winter plumaged Dunlin over Hoylake shore in February © Steve Round

Dunlin Mega-site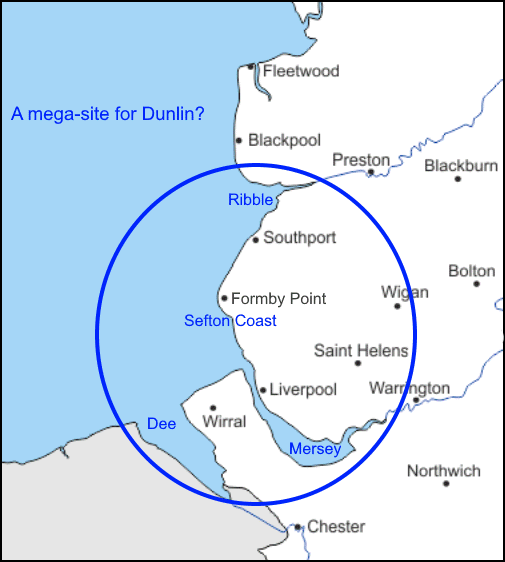 Peak counts for the Dee and Mersey are nearly always on different months through the winter, suggesting that there is movement of Dunlin between the estuaries and perhaps they use it as one big site. But for birds using north Wirral, and a lot do feed on the mud banks off Leasowe and New Brighton, the Sefton/Ribble Coast (from Crosby up to the Ribble Estuary) is only a short flight away and typically holds up to 15,000 wintering Dunlin. Ringing tells us little about local movements within winters but it does seem likely that all these estuaries are used as one big mega site.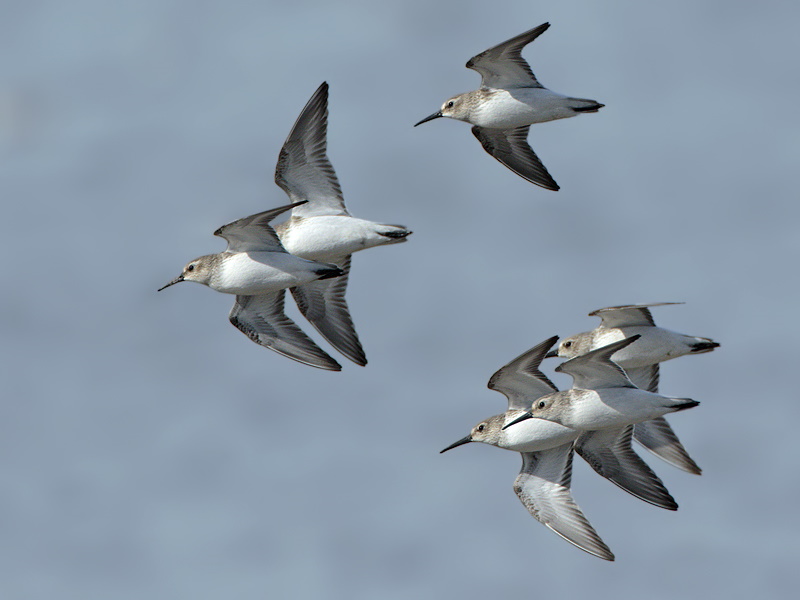 Small flock over Hoylake in March, still in winter plumage © Steve Round

A Winter Refuge
Early February 2012 brought a Siberian blast of cold air to our shores, but it was even colder further east and Gdansk, on the Baltic shore of Poland, recorded a temperature of -28șC. It was bitter at Thurstaston on the 3rd but not quite freezing when I was met with a strange sight - at least 5,000 Dunlin stretched out in a long line close to the beach, all the way from Heswall Marsh to the Dee Sailing club causeway. Unless roosting, Dunlin are always on the move feeding and flying from spot to spot - but these weren't roosting, they were busy feeding yet hardly moving and they just looked exhausted! I've never seen Dunlin behave quite like that before or since but presumably they must have just flown in to escape the freezing weather further east. This is an example of how important our west coast estuaries can be as refuges during abnormally cold weather and something similar happened when the 'beast from the east' struck in February 2018 with high numbers of Dunlin on all our local estuaries.
The graph below contrasts the monthly distribution in a 'typical' winter (2016/17) with that for 2017/18 when the 'Beast from the East' struck in February. Many other waders, particularly knot, were similarly affected.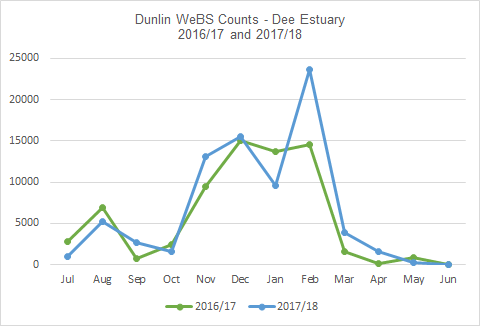 Where to see Dunlin in the Dee Estuary and North Wirral
In the winter Dunlin utilise the whole estuary wherever there is mud and sand, and even the marshes may be used as a roost site if the grass is short. I took part in the Low Tide Wetland Bird Survey in 2014/15 (November to February) and I remember the counters in the inner estuary expressing surprise at just how many Dunlin they were seeing off Burton and Parkgate Marshes by the River Dee Channel, with up to 9,000 completely out of sight from the shore. But many more can easily be seen at the main high tide roost sites at Point of Ayr, West Kirby and Hoylake. For some really close encounters with hundreds of Dunlin it's difficult to beat the rocks at the old swimming baths site on West Kirby Marine Lake, I've seen as many as 3,000 just a few feet away from the passing walkers along the promenade and it's a great spot to get some fabulous photographs. These birds often feed on the thick mud just to the south of the Marine Lake and you can get good close views of them from the lake wall.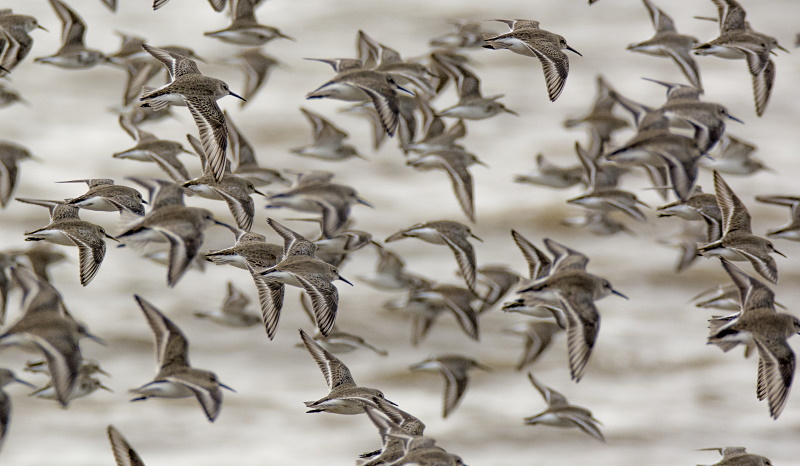 Part of a large flock over West Kirby Marine Lake in January © Kevin Lyth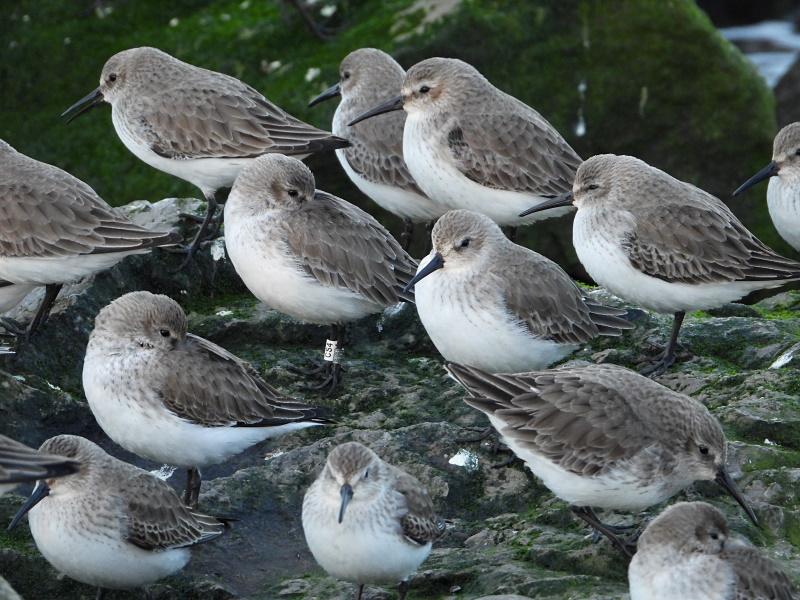 Exceptionally close views on the rocks by West Kirby Marine Lake wall in February © Richard Smith
Ringed Dunlin (centre) was ringed in Gdansk, Poland


But perhaps the time we most look forward to is migration, when the Dunlin are going to and from their breeding grounds. These are mostly birds breeding in Greenland and Iceland which winter in West Africa, and pass through here on their way north in May and return in August. At this time they are in full breeding plumage and make for a fantastic sight often carpeting Hoylake shore. The requirements of these passage birds must be different to the over-wintering birds as they are rarely seen on the thick mud in the inner estuary but much prefer the wet sand* found off north Wirral and between Point of Ayr and Gronant. It's presumably why these passage birds are virtually absent on the Mersey, with it's thick mud, yet love the extensive sand banks of Ribble/Sefton coast (the site designated as the 'Ribble Estuary' for WeBS includes the huge area of sand going from just north of Formby at Ainsdale all the way past Southport and RSPB Marshside most of which is not actually in the Ribble Estuary proper - as you can see in the map above). These passage Dunlins seem to be more tolerant of human disturbance than the over-wintering birds and many will come to within a few feet of watching birders as they forage for food on the beach.
* in reality this could be described as a patchwork of sand, muddy sand and sandy mud! But the thick estuarine mud found in the inner estuary (for example off Thurstaston) is largely absent.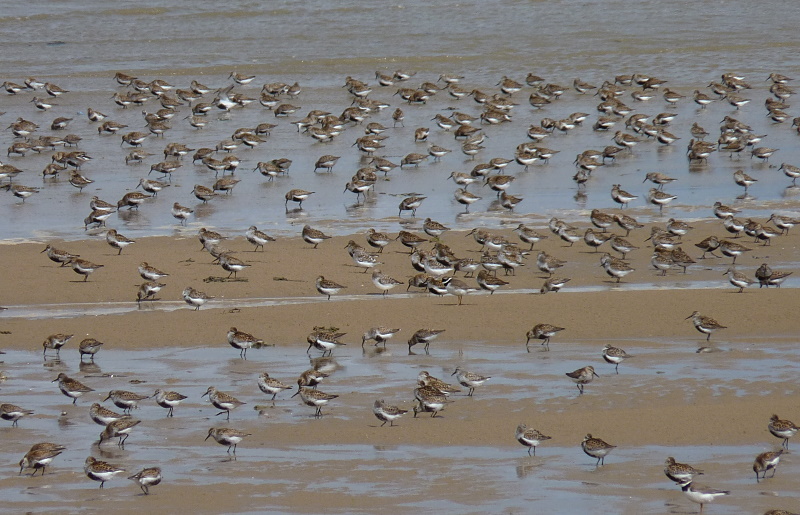 A busy Hoylake Shore in May © Richard Smith

The monthly distributions above tell the story. Numbers do peak on the Dee in winter but the graph shows the sizable numbers coming through in May and August which are largely absent on the Mersey. The sand of East Hoyle Bank off Hoylake (included in the Dee Estuary WeBs counts) and the large stretch of sand stretching along the Sefton Coast past Southport to the Ribble attracts thousands of Dunlins on passage. Recent large counts of passage birds include 24,232 on the Dee Estuary in August 2014 and 33,006 on the Ribble in August 2018.
There is a lot more to be said about the Dunlin and next month I will publish a second article called "Dunlin - Rings, Races and Genes".

References
1. On-line Wetland Bird Survey data - https://app.bto.org/webs-reporting/.

2. Cheshire and Wirral Bird Reports 2013 to 2018.
3. Lancashire Bird Reports 2013 to 2018.
Richard Smith.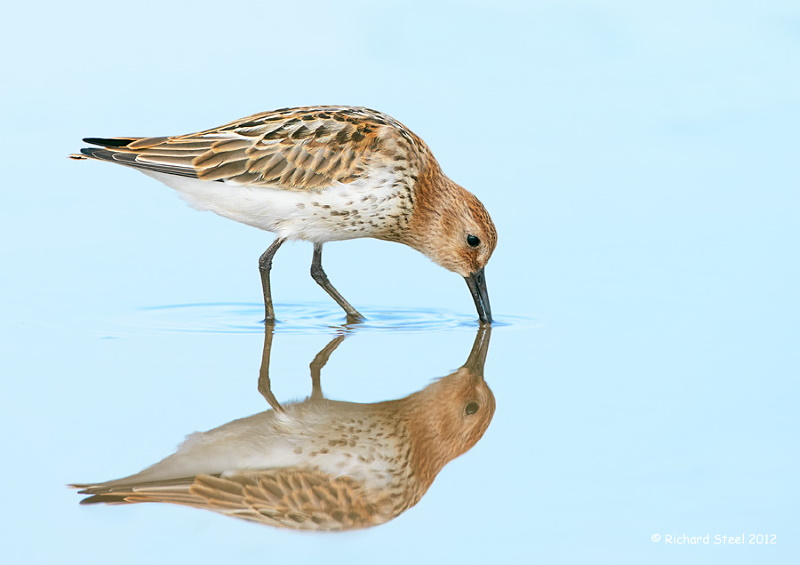 Juvenile Dunlin at Hoylake in September © Richard Steel

Colour Ring Report
Some particularly interesting ones this month, including news from South Africa.

Sandwich Terns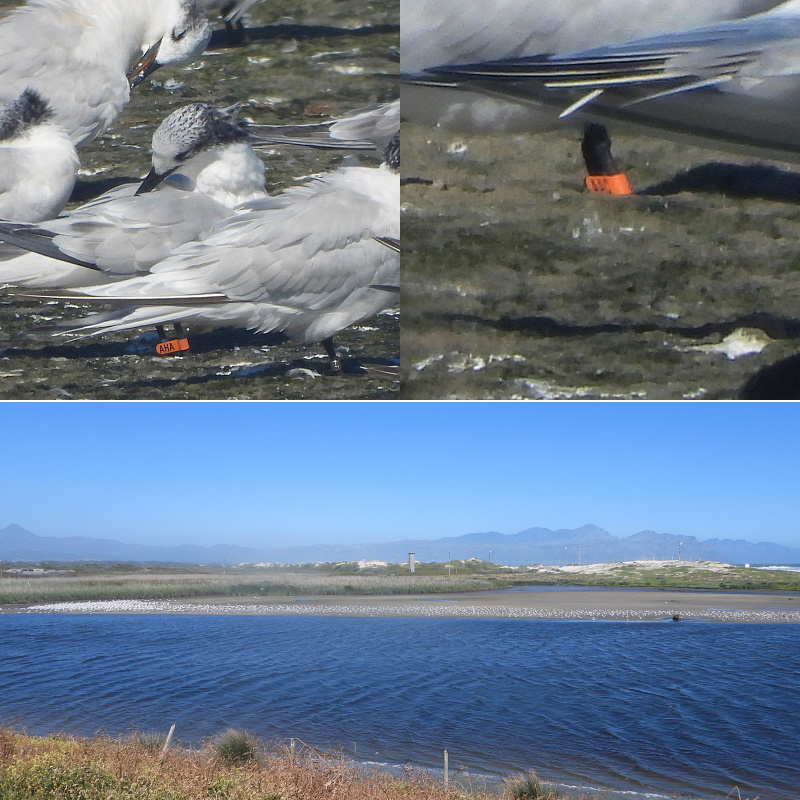 Top Left - Sandwich Tern AHA, Top right - Sandwich Tern AAC
Bottom: View of the Sandwich Tern roost at Macassar, just south of Cape Town SA
photos by Theuns Kruger (October 2020)


Two orange flagged Sandwich Terns which were ringed at Cemlyn Bay, Anglesey, in June 2019, were seen and photographed in October at Macassar, False Bay, which is on the south edge of Cape Town, South Africa. These were ringed as chicks (124 in total) in 2019 and will have spent this year, 2020, in African waters. We hope to see their return next spring.
For more details on this project, and about the Sandwich Terns which visit the Dee Estuary see:
July 2020 Newsletter 'Sandwich Terns' - http://www.deeestuary.co.uk/news0720.htm ,
December 2019 Newsletter - Colour Ring Report - http://www.deeestuary.co.uk/news1219.htm#second and
August 2019 Newsletter - Colour Ring Report - http://www.deeestuary.co.uk/news0819.htm#second.

Oflag AHA
Ringed Cemlyn Bay, Anglesey, on 18/6/2019.
Recorded at Macassar, Cape Town, South Africa on 21 and 22/10/20.
Oflag AAC
Ringed Cemlyn Bay, Anglesey, on 18/6/2019.
Recorded:
Ainsdale on 16/7/2019.
Hilbre on 31/7/2019.
Macassar, Cape Town, South Africa on 22/10/2020.

Many thanks to Steve Dodd for forwarding these South African records and to Theuns Kruger for seeing them in the first place.

Cormorant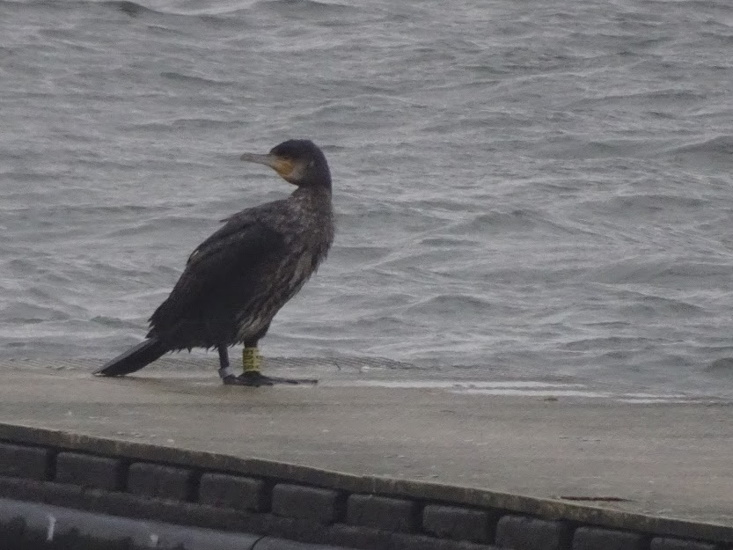 Cormorant at West Kirby Marine Lake © Mark Peers


F078 black on yellow ring.
Ringed at Wasservogelreservat Wallnau, Germany (east coast of Danish peninsula) on 27/5/2020 as a chick.
Recorded at West Kirby Marine Lake on 22/10/2020.
Only the fourth colour-ringed Cormorant in our database and the first one ringed outside the UK.

Oystercatcher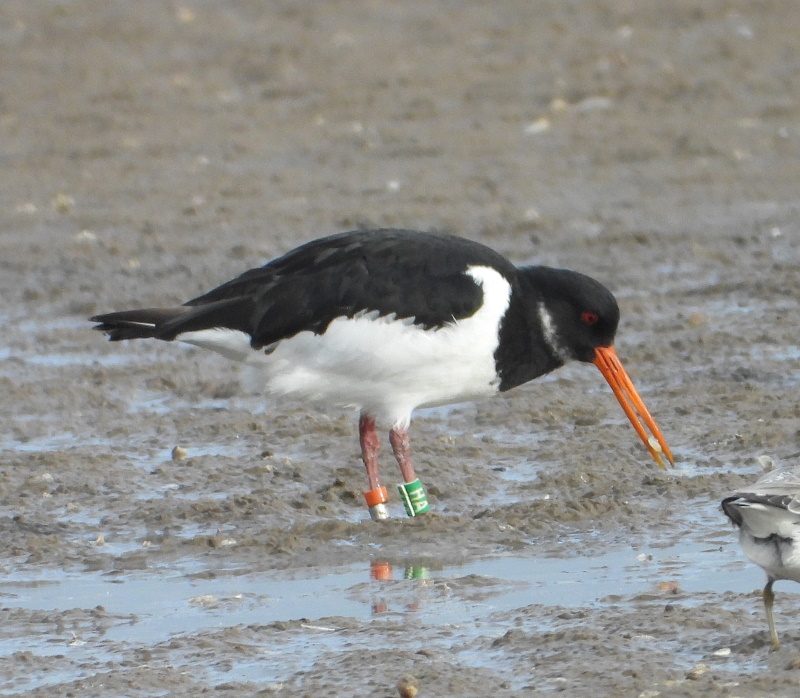 Oystercatcher Om-G(HA) at Meols © Richard Smith

Om-G(HA)
Metal ringed at Caerwys (west of Newtown in mid-Wales) on 26/3/2017.
Colour ringed at Caerwys (west of Newtown in mid-Wales) on 22/3/2020.
Recorded:
Seaforth NR on 5/9/2020.
Meols shore on 4/10/2020.
"This bird was ringed as a breeding adult on an inland site on the banks of the River Severn at Caersws, near Newtown, Mid Wales on 26th March 2017. It was re-trapped at the same site and the colour-ring was added on 22nd March 2020."
Grey Plovers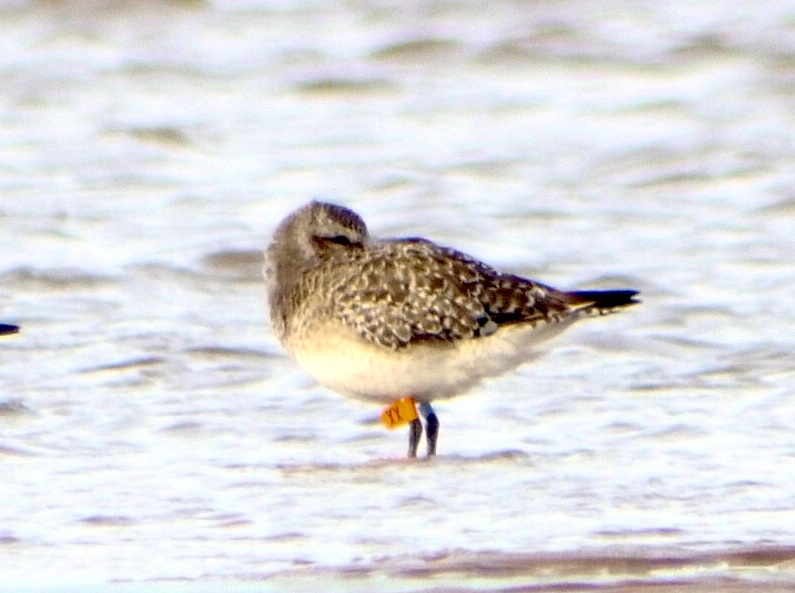 Grey Plover XX at Hoylake © Ron Brumby

O(XX)-P
Ringed at Altcar on 22/3/2019.
Recorded at Formby in August and Hoylake in September and October 2019.
It was at Ainsdale in February and March, returning to Ainsdale in September 2020,
Recorded at Hoylake in 21/10/20.
O(LA)-P, ringed at Altcar on 22/3/2019.
Recorded:
At Formby in April, August and September 2019.
At Hoylake in October 2019 and Hilbre on 24/10/20.

Richard Du Feu, the coordinator for this scheme says: "Grey Plovers are one of the least well understood and studied waders in the UK. From colour ringing them on the Sefton coast in spring we now know a proportion of these winter in Brittany".

Shelducks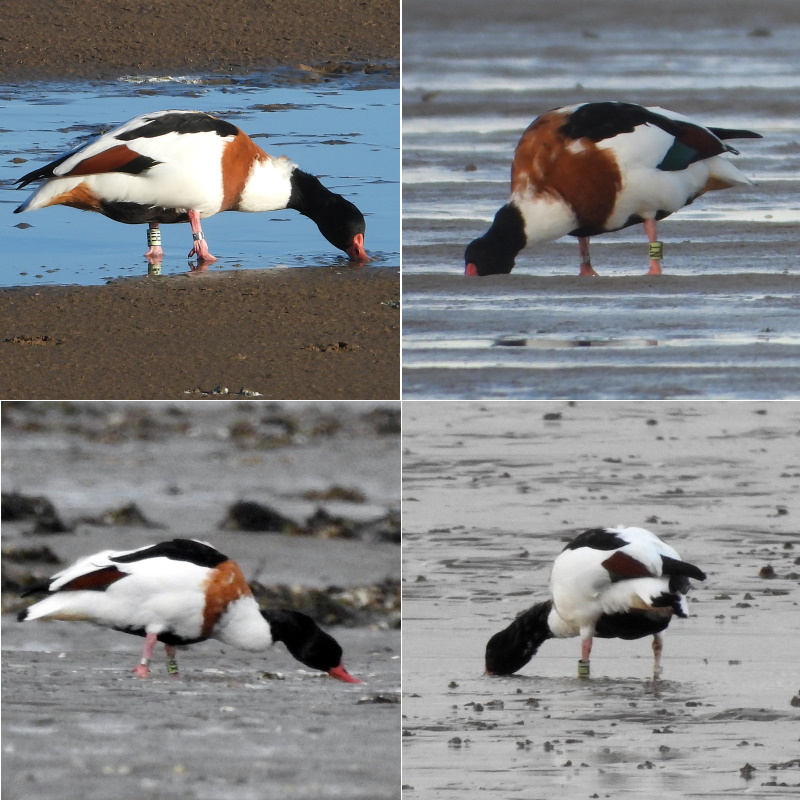 Top: Shelducks HI and NT at Meols © Richard Smith
Bottom: Shelducks XR and LJ at Thurstaston © Steve Hinde

During October we recorded another nine Lime ringed Shelducks at Thurstaston and three at Meols - these were all ringed at WWT Martin Mere. Good to know we are making a significant contribution to the study of Shelduck movements in north-west England.

Lesser Black-backed Gull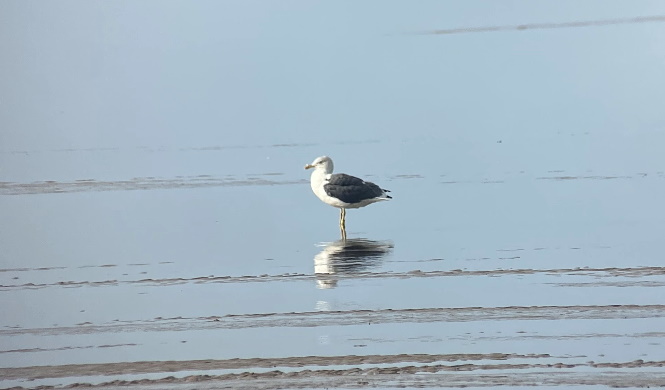 Lesser Black-backed Gull 5B:W at Hoylake, October 2020 © Tim Kinch


5B:W
Ringed on Walney Island on 1/6/2016 as a breeding adult.
Recorded at Hoylake on 10/9/2017 and 18/10/2020.

Ross Green of the BTO said "It was ringed as part of a study monitoring movements in relation to offshore wind farms in the Morecambe Bay area. It was fitted with a GPS tag which tracked its movement daily between 01/06/2016 and 06/06/2019. This showed that it moved between Walney and the Wirral, using all coastal areas in between and traveling no further east than the line between Warrington and Longridge."
Colour-rings were recorded by Richard Smith, Steve Hinde, Tim Kinch, Ken McNiffe, Mark Peers, Phil Woolen, Colin Schofield, Ron Brumby, Colin Jones and Charles Farnell.


October Bird News
If somebody was to tell me just over twenty years ago when I started this website that people would be sending me bird photographs of the superb quality as the kingfisher below, and for free, I would think they were deranged. The pink in the background is the reflection of the setting sun on the water of Leasowe duck pond. Fantastic!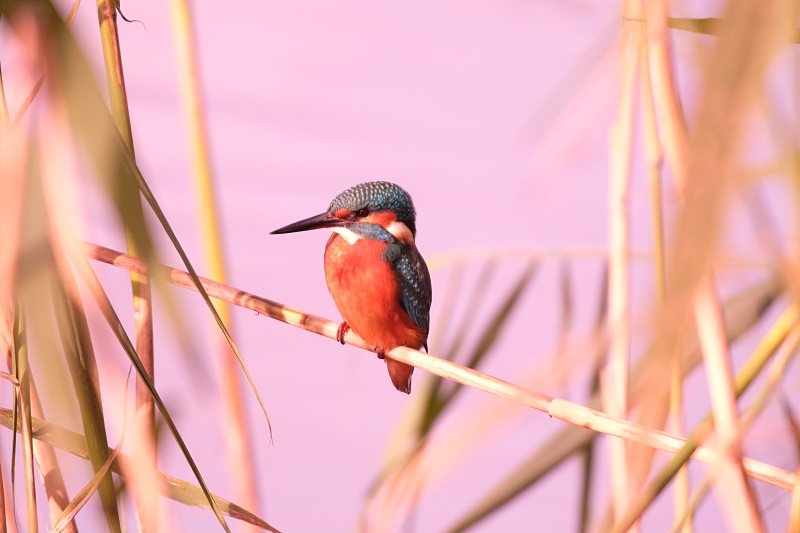 Kingfisher by Leasowe Lighthouse, October 7th © Jeremy Bradshaw

Several Kingfishers were spotted including three at the RSPB Point of Ayr Reserve, they must have had a good breeding season.
There was a good passage of thrushes at Leasowe on the 14th with 1,000 Fieldfare, 40 Mistle Thrush, 500 Redwing and 25 Song Thrush mostly heading east. This was no doubt part of a massive movement of thrushes seen heading over the Yorkshire coast the day before - including 32,080 Redwings and 4,494 Fieldfares! You may wonder why our birds were heading back east; it had been a clear sky the previous night and they probably were flying high using the tail wind and overshot ending up making landfall along North Wales, they would have then flown into the wind along the coast which was blowing north-east that day. Unfortunately there were no prolonged north-westerlies to blow in Leach's Petrels this month but some strong winds on the 10th did bring in three adult Pomarine Skuas and an Arctic Tern to north Wirral.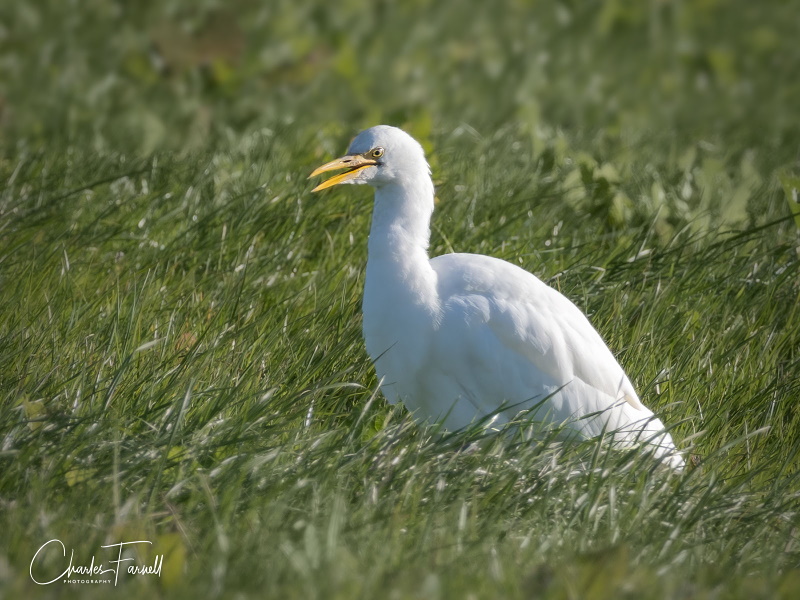 Cattle Egret on the Hoylake Langfields, October 11th © Charles Farnell

10 Cattle Egrets were at Burton early in the month and had increased to a record 13 by the 20th. Four turned up in flooded fields at Hoylake on the 10th, giving good opportunities for photographs. The highest count of Great Egrets was at least 24 flying into the roost at Burton right at the end of the month. There were lots of Pink-footed Geese around with many flocks seen over Wirral flying towards the estuary. But the most spectacular sight was seeing thousands flying to and from the roost which seems to be off Parkgate at the moment - at least 6,000. The highest count of Brent Geese was 269 at Hilbre on the 13th. At least six small flocks of Whooper Swans were spotted overhead, max 16, some flying west and others east.

Shelduck numbers were high with 6,500 off Heswall with 350 at Meols a good number for that site, and Wigeon numbers reached 4,000 off Denhall Quay.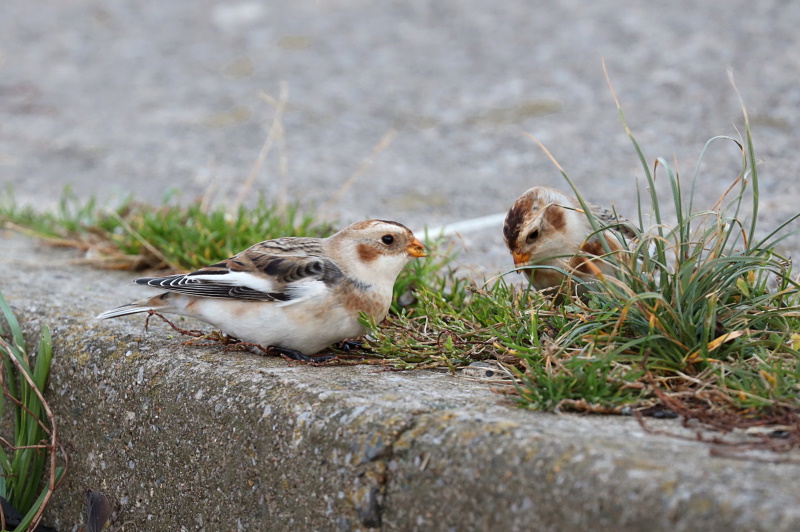 Snow Buntings on the sea defence at Meols, October 28th © David Bradshaw


Two Snow Buntings turned up on the embankment to the east of Leasowe Lighthouse on the 26th before moving west towards Meols. Also at Meols was a nice Black Redstart. Other rarities included over-flying Lapland Buntings (two) and a Richard's Pipit. A spotted Crake was at Burton Mere Wetlands early in the month.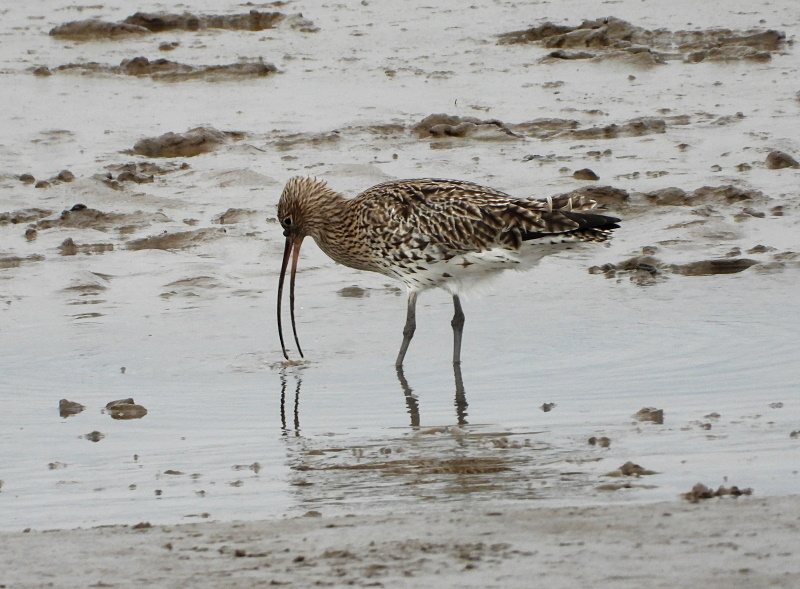 Curlew on Meols Shore, October 27th © Richard Smith


Wader numbers were generally low but 3,000 Black-tailed godwits were at Caldy early in the month and 4,000 Knot had returned to Thurstaston by the month-end. At Least 600 Sanderling were at both Hilbre and Hoylake, a good number for October.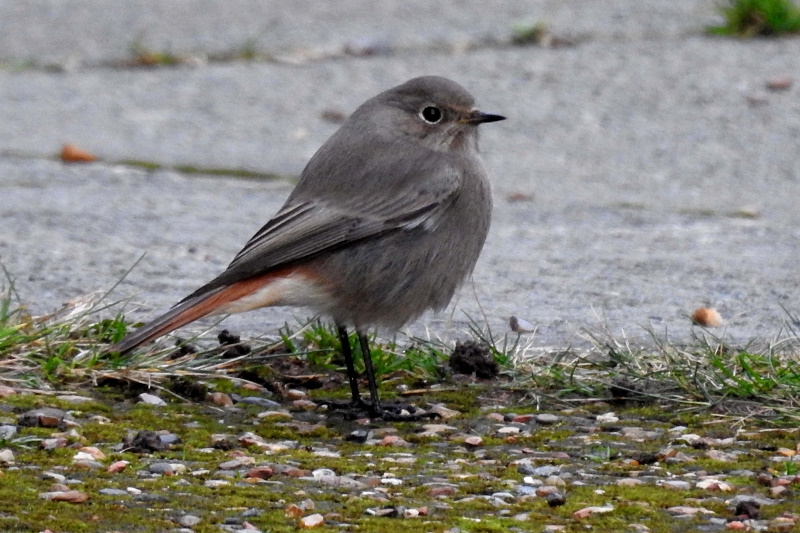 Black Redstart at Meols, October 30th © Les Hall

Many thanks go to Geoff Robinson, Mark Gibson, Mark Woodhead, Tim Kinch, Matt Thomas, David Haigh, Steve Hinde, Alan Hitchmough, Derek Bates, Allan Conlin, Steve Williams, Richard Whitby, David Thompson, David Small, Les Hall, Richard Beckett, John Hemmings, Chris Wilding, Roy Lowry, David Leeming, Karen Leeming, Bruce Atherton, Colin Wells, Charles Farnell, Peter Sutton, Mike Kay, Frank Burns, Dave Edwards, David Bradshaw, Linda Platt, Hugh Stewart, Paul Mason, Tony Hession, Steve Hart, Colin jones, Ken McNiffe, Ron Brumby, Mark Peers, Peter Ham, Graham Connolly, Gareth Prestridge, Colin Flynn, Keith Scovell, David Lea, Paul Carter, Sheila Ryde, David Thompson, Steve Hasell, Jeremy Bradshaw, Eric Burrows, John Rowlands, Kelvin Britton, Andrew Morton, Alan Challoner, Peter Broder, Juile Robson, Ian Goldstraw, Simon Dowell, Matt Francis, Susan Moody, Bryan Joy, Alan Irving, Richard Payne, Ann Currie, Barbara Lamb, the
Dee Estuary Wardens
and the
Hilbre Bird Observatory
for their sightings during October. All sightings are gratefully received.
What to expect in November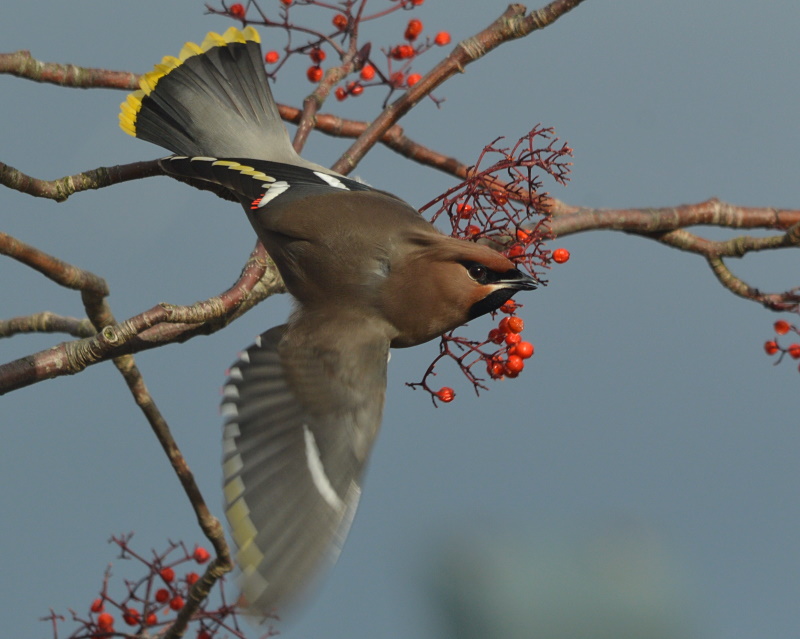 Waxwing at Parkgate in February 2017 © Mike Davenport

By the end of November we should know if we are in for a good Waxwing winter or not. If it is they will be pouring into Scotland and some may even have reached here. The last big irruption locally, and probably the largest on record for the Dee Estuary area, was in the winter of 2012/13 when Waxwings just seemed to be everywhere - that winter the first ones arrived here on Nov 9th.
Look out for diving ducks on West Kirby Marine Lake. The most common ones these days are Goosanders (see Goosanders on the Dee Estuary Aug 2020) and we could get as many as 10 with a few Red-breasted Mergansers and Goldeneyes, a Red-throated or Great Northern diver is also a possibility. On a calm day look out to sea and there may well be thousands of Common Scoters and hundreds of Great Crested Grebes with Point of Ayr, Hilbre and anywhere along north Wirral good places to spot these - they are likely to be distant so you will need a 'scope.

Judging by the large numbers of Knots on the Wash in October we may well get big numbers of them here this winter giving spectacular displays flying over the mud banks at low tide and at the usual high tide roosts at Point of Ayr, West Kirby and Hoylake. November is also a good month to see good numbers of other waders such as Dunlin and Grey Plovers, as well our regular ducks - Pintail, Wigeon and Teal. Pink-footed Geese will be everywhere and they are often seen inland feeding in the fields, I had them a few yards from my house a couple of years ago, and the Brent will be showing well around Hilbre and West Kirby - 300 or so. There's also the possibility of something rarer including a small flock of White-fronted Geese which do turn up irregularly, and may be a Bean Goose or two.

Short-eared Owls, Hen Harriers, Marsh Harriers and hopefully a Bittern or two should be showing over the marshes. A good spot is the southern end of Parkgate looking towards Neston Reed Bed late afternoon, last year one or two Bitterns were regularly seen flying to roost as well as Marsh Harriers in double figures.

Forthcoming Events
November Highest Spring Tides (Liverpool)
Also see Tides page.
15th November, 10.42hrs (GMT), 9.9m.
16th November, 11.27hrs (GMT), 10.0m.
17th November, 12.10hrs (GMT), 9.9m.
Forthcoming Events
Due to Covid 19 restrictions no birdwatching events are planned for this month.