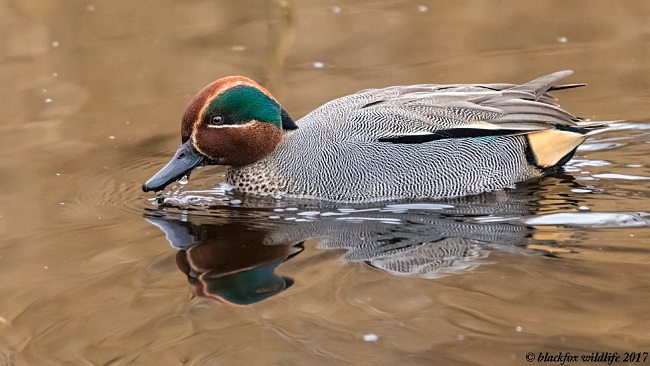 Drake Teal on the Dee Estuary © Jeff Cohen

It was a cold morning on December 13th 1981 when the Wetland Bird Survey team crossed the Manchester Ship Canal on the little ferry to Stanlow Point to be met by the astonishing sight of a minimum of 35,000 Teal in Stanlow Bay in the Mersey Estuary, driven there by the icy weather further inland. That count was by far the highest in the country that winter, the second highest being 6,000 at nearby Martin Mere, and remained the highest ever Teal count in the United Kingdom until 45,884 on the Somerset Levels in February 2011. Remarkably, only two other sites have ever had WeBS counts in five figures - Lower Derwent Ings in February 2017 with 10,000, and here on the Dee Estuary with 10,715 in December 1991, compare that to the Mersey Estuary which has had counts in five figures for a total of 19 winters between 1973/74 and 2001/02.

Common Teal, more properly known as Eurasian Teal (Anas crecca), but to most people just as 'Teal', is our smallest duck species and one of the most colourful. They are very numerous, second only to Mallard, right across Europe and Asia with the even more numerous and closely related Green-winged Teal replacing them in North America.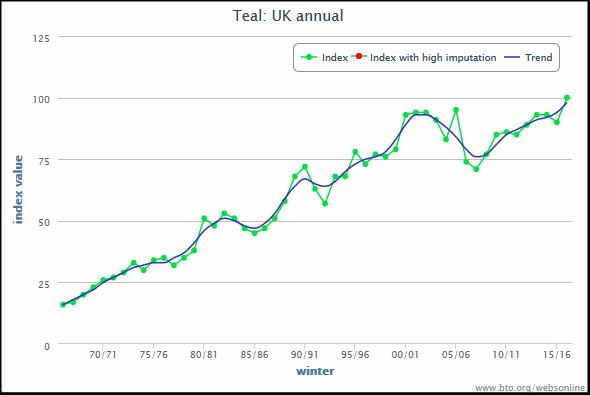 Teal are very much a success story and the graph above shows the WeBS index reached it's highest ever level in 2016/17. With many Teal using small water bodies which are not counted during WeBS total numbers are difficult to estimate, but an article in the Journal of Conservation in 2015 put it at 388,000, a massive 84% increase on the estimate made in 2011. They have taken advantage of the restoration of wetlands, both in the UK and elsewhere in north-west Europe, including the many reserves on the Somerset Levels which is now easily the most important site in the UK with a current five year average of 21,918.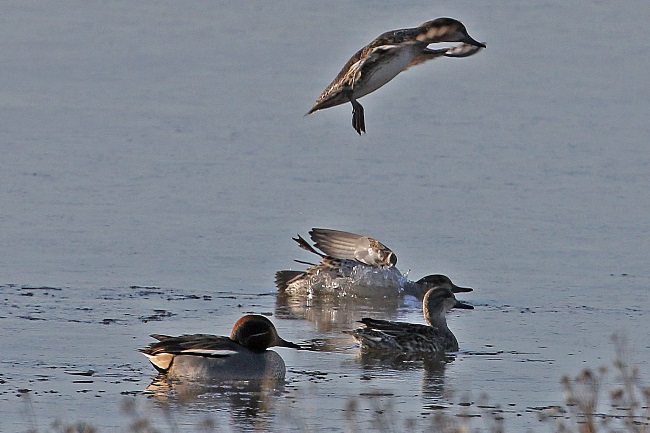 Teal at Parkgate © Roy Lowry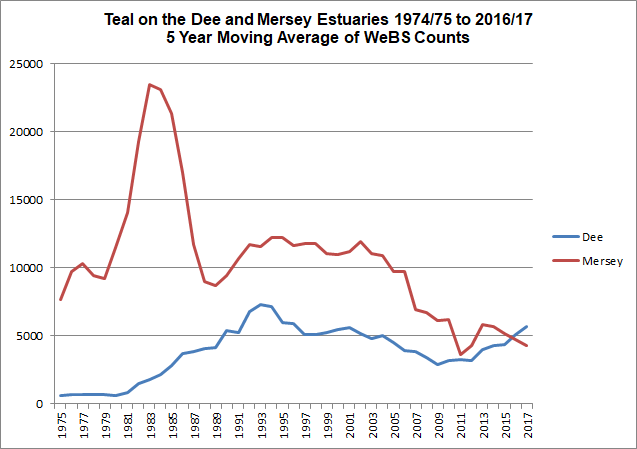 For many years the Mersey Estuary, and then the Mersey and Dee combined, were the most important for Teal in the country. The graph above shows the astonishing peak on the Mersey in the early 1980s with numbers above 20,000 for three winters. Since then counts on the Mersey were typically double that found on the Dee Estuary, up until 2004 when a sharp decline set in. This decline continued and max numbers in the winter of 2016/17 was a very disappointing 1,924, resulting in the five year running average dropping below that of the Dee estuary for the first time. The reasons behind this huge fluctuation in numbers on the Mersey are not known, there has been no obvious change of habitat and no change in the amount of disturbance which has always been low here. Perhaps it's more of a case of what has changed elsewhere with a big increase in wetland reserves around the country.
Meanwhile, on the Dee Estuary numbers were very low in the 1970s, presumably due to over-shooting. The increased presence of the RSPB on the estuary coincided with a sharp increase in Teal through the 1980s peaking at 10,715 in 1991. Numbers have dropped since but more recently have shown a welcome increase.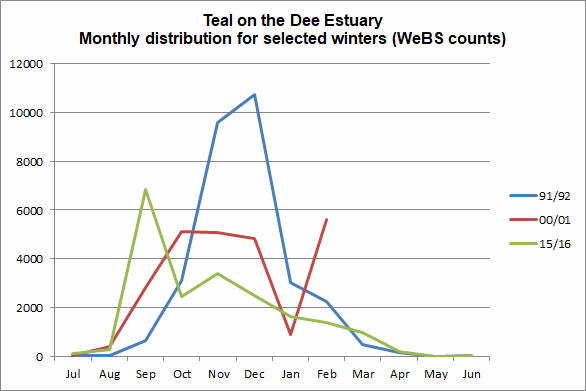 The graph above shows the monthly distribution on the Dee Estuary through three different winters when numbers were high, and it demonstrates just how much each winter can differ. The annual peaks across the country are nearly always in December or January and it's interesting that the Dee Estuary highest count in 1991 was in December, as were most of the very high counts on the Mersey, and those currently on the Somerset Levels. 2000/01 shows a very different distribution as January was very cold and it appears the Teal fled west to Ireland and south to France, a milder February resulted in a late peak that winter as the birds returned here (data for Mar to Jun in 2001 is missing due to foot and mouth restrictions). But 2015/16 shows what seems to be a more recent trend with the annual peak occurring in autumn. The recently enlarged RSPB reserve at Burton (now Burton Mere Wetlands - BMW - and previously know as Inner Marsh Farm) has attracted many thousands and has played a large part in this autumn increase, but so has the long established RSPB Oakenholt Marsh between Connah's Quay and Flint. Below are tabulated some of the highest counts at those two sites since 2014:
| | | |
| --- | --- | --- |
| Date | Location | Count |
| 9/10/14 | Oakenholt | 3,000 |
| 11/10/14 | BMW | 5,000 |
| 27/10/15 | Oakenholt | 6,000 |
| 9/11/15 | BMW | 8,000 |
| 20/9/16 | BMW | 7,500 |
| 8/11/17 | BMW | 3,200 |
| 11/10/18 | Oakenholt | 4,000 |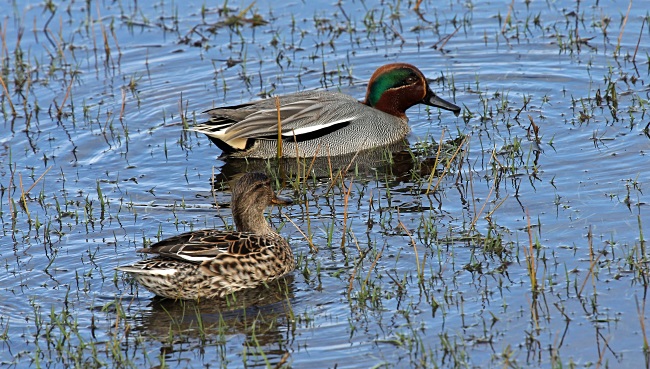 Teal seen from the Inner Marsh Farm hide © Roy Lowry
Teal are well known for their mass movements when they react to droughts, floods, food availability and cold weather, and this is why numbers can vary so much from winter to winter. Many thousands have been ringed over the years to try and understand these movements, and to try and find out where they breed and where they winter, and the flyways they use. This includes birds which have been ringed locally and I quote from the CAWOS Breeding and Wintering Atlas:
Thanks to the work of Merseyside Ringing Group, mainly Rob Cockbain at Hale Duck Decoy, we have a very good picture of the origins of our wintering Teal, which arrive here in autumn from late August onwards, from breeding grounds to the north-east, especially in Finland and northern Russia as far east as the Pechora River..... If driven by frost, some Teal move to Ireland, with smaller numbers to France; this is the opposite of the picture for southern England, where almost all hard-weather movements are across the Channel. Similarly, few of the birds ringed in Cheshire have wintered further south in later years, again contrary to national figures, and there is clearly a north-south divide in the habits of this species.
Where can Teal be seen on the Dee Estuary?
RSPB Burton Mere Wetlands is undoubtedly the best site when large numbers are present in Autumn. But they are unpredictable with some days far better than others, and some years much better than others.
RSPB Oakenholt Marsh - hundreds can be seen from the West Hide on the Connah's Quay Reserve (members only except on Open Days) loafing on the mud in the River Dee channel at low tide, and on the sea at high tide. Again Autumn is best.
Thurstaston Shore
- never very numerous here but in cold weather through the winter they can be seen feeding on the mud close to the beach anywhere from where the marsh ends at Heswall to Shore Cottage below the end of Station Road.
Heswall Marsh
- as the tide rises small flocks appear in the various channels often among the boats by the Sheldrake Restaurant and along the channel going towards Parkgate, including off the Riverbank Road car park. As they spend most of the time out of sight deep in the marsh numbers here are often under-estimated.
Parkgate/Neston/Burton Marshes
- on big tides which cover the marshes large flocks, perhaps several thousand strong, can be seen. When the tide is out any small flash or channel is likely to have small numbers of Teal.
Point of Ayr
- several hundred are often recorded in the lagoon between the hide and the spit over high tide, or feeding on the mud on both the lagoon and on further south towards Mostyn.
Early morning at Thurstaston on a rising tide © Richard Smith
References
1. On-line Wetland Bird Survey Data - see https://www.bto.org/volunteer-surveys/webs.
2. Teresa M. Frost, Graham E. Austin, Neil A. Calbrade, Heidi J. Mellan, Richard D. Hearn, David A. Stroud, Simon R. Wotton and Dawn E. Balmer: Teeming with Teal, Waterbirds in the UK 2016/17 (on-line WeBS Report 2016/17).
3. David Norman (CAWOS), Birds in Cheshire and Wirral, A breeding and wintering atlas, Liverpool University Press, 2008.
4. Mendez et al., Use of environmental stratification to derive non-breeding population estimates of dispersed waterbirds in Great Britain, Journal of Nature Conservation, Vol 28. Nov 2015.
5. Musgrove et al., Overwinter population estimates of British waterbirds, British Birds Vol 104 (July 2011).
5. Deeside Naturalists Society Bird Reports - 2014, 2015, 2016 and 2017.
6. Cheshire and Wirral Ornithological Society data (extracted from database).
7. Cheshire and Wirral Bird Reports - various.
8. North-east Wales Bird Reports - various.
9. Records sent to deeestuary.co.uk for inclusion in Latest Sightings page.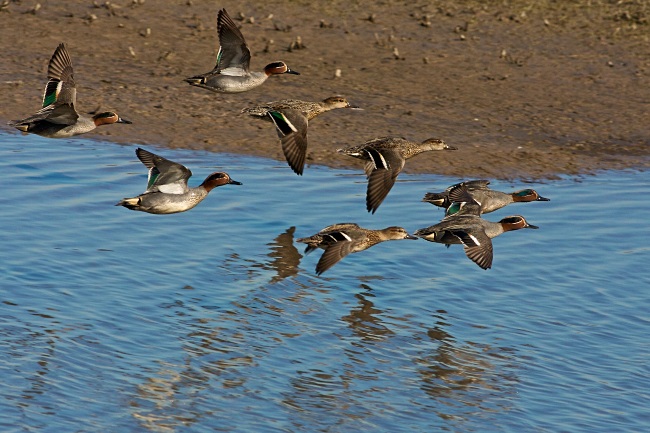 Flight of Teal over the Dee Estuary © Jeff Cohen
Richard Smith.
Top of Page
Colour Ring Report
After the 'Knot special' last month I summarise two months worth of records including Black-tailed Godwits, Ringed Plovers, an Oystercatcher and an assortment of gulls.
Black-tailed Godwits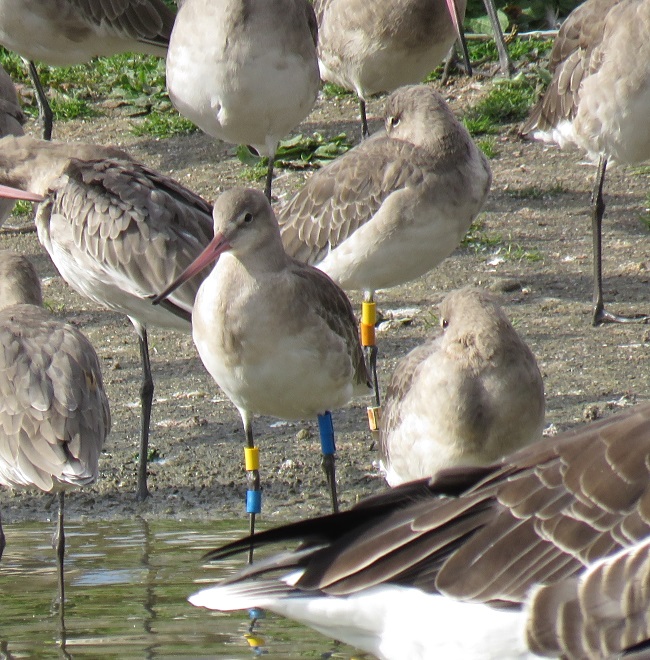 Black-tailed Godwits BB-Y//B and Y-YO//W at Caldy © Richard Smith
A total of 20 colour-ringed Black-tailed Godwits were logged during September and October, fairly typical for recent years, and I give details of two interesting birds:
Y-YO//W Ringed as an adult at Holbeach on the Wash in August 2010.
This bird has a zig-zag southern migration route every year. First place it visits on returning from Iceland is the Wash (ringed there in 2010 and recorded there 2014, 2015, 2016, 2017 and 2018). After moulting, usually late September, it flies over to the Dee Estuary and it has been recorded at Burton Mere Wetlands (2012), Thurstaston Shore (2013), Gilroy (2014 and 2015) and Caldy (2018). It then makes it's way to the Tagus estuary in Portugal, with all records in February and March, including in 2018.
It arrived at Caldy on September 29th 2018 and last seen October 19th 2018 with a single record from Thurstaston.
GN-W= Ringed in Cork Harbour, Ireland, in September 2014.
After being re-sighted in Cork in May 2015 and Iceland in April 2016 it then visited the Mersey Estuary in summer 2016 before spending the 2016/17 winter at Thurstaston (November to February).
It decided to visit Cork again in September 2017 before flying south to the Atlantic French coast where it was in October and November 2017.
It arrived at Caldy in early September 2018 and was present through October 2018.

Oystercatcher
NG-W(PA) (Black over Green left leg, White flag inscribed with PA on right leg)
Ringed as an incubating adult in eastern Iceland on May 20th 2018.
Recorded at Thurstaston from September 23rd to 28th 2018.
This is our sixth Oystercatcher ringed in Iceland, you can read more about this scheme by reading 'Oystercatchers' (April 2017 Newsletter).

Ringed Plovers
R-Yflag(AAC) at Hilbre © Hilbre Bird Observatory

We saw our first ever colour-ringed Ringed Plover in 2017, but this year we've already seen three and they show a fascinating distribution with one breeding in Iceland, another in Norway and a third in Germany. The Icelandic ringed bird was featured in the September 2018 Colour-ring Report, here are the other two:
R-Yflag(AAC) - ringed at Giske, Norway, on August 2nd 2010.
Recorded at Hilbre on September 7th 2018 and at Hoylake on September 10th 2018.
This is the oldest bird reported in their scheme and only the 2nd bird to be flagged (they have flagged 2,130!)
N/WN-m/NG - ringed at Beltringharder Koog , north Germany (German Waddensee) on June 26th 2018.
Recorded at Thurstaston on September 26th 2018.


Great Black-backed Gulls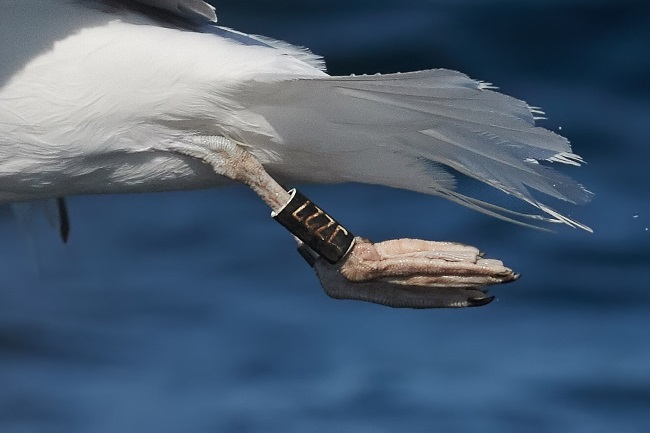 JZ27 off North Wirral © Richard Steel

JZ27 (white on black ring) - ringed at Farsund, Vest-Agder, Norway, as a chick on June 28th 2012.
Recorded close to the ringing site in May 2013 and May 2017.
Recorded off North Wirral and photographed from a boat on September 7th 2018.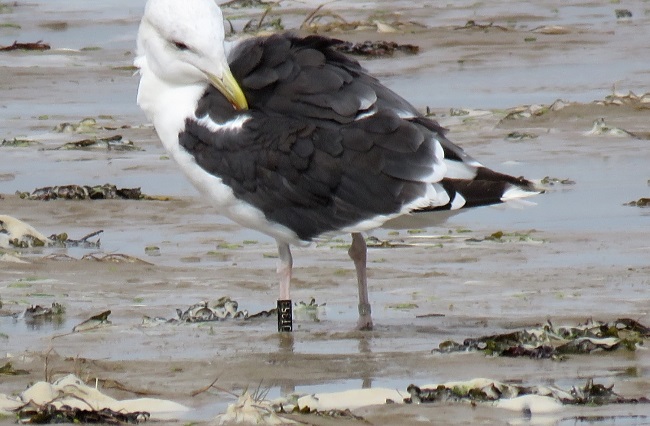 JT353 at Hoylake © Richard Smith
JT353 (white on black ring) - ringed at Mandal, Vest-Agder, Norway, as a chick on June 19th 2013.
Recorded at Helgoland, Germany, in September 2013.
Recorded close to the ringing site in April 2017 and 2018.
Recorded on Hoylake Shore in September 2015, August 2017 and September and October 2018.

Herring Gull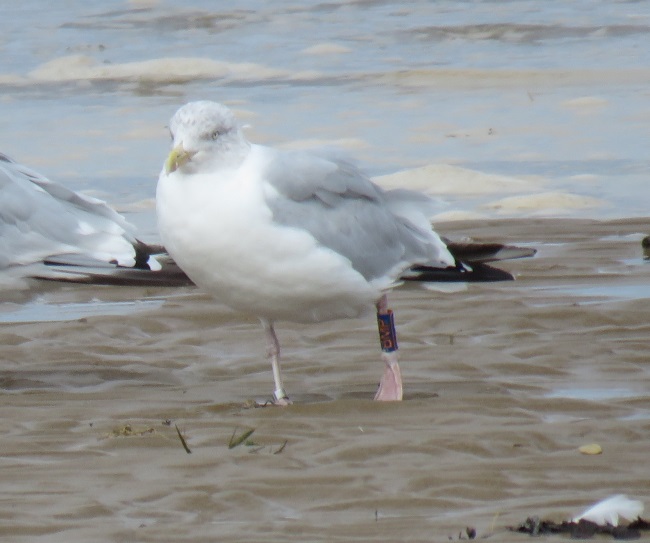 Herring Gull BMP at Hoylake © Richard Smith

BMP (orange on blue ring) - ringed at Gloucester Landfill site, Gloucestershire, as a juvenile on October 20th 2007.
This bird was recorded several times at the ringing site through the winter of 2007/08 and again late 2009. Then no records until it was seen at Hoylake on September 10th 2018 (just as well I photographed it!).

Black-headed Gull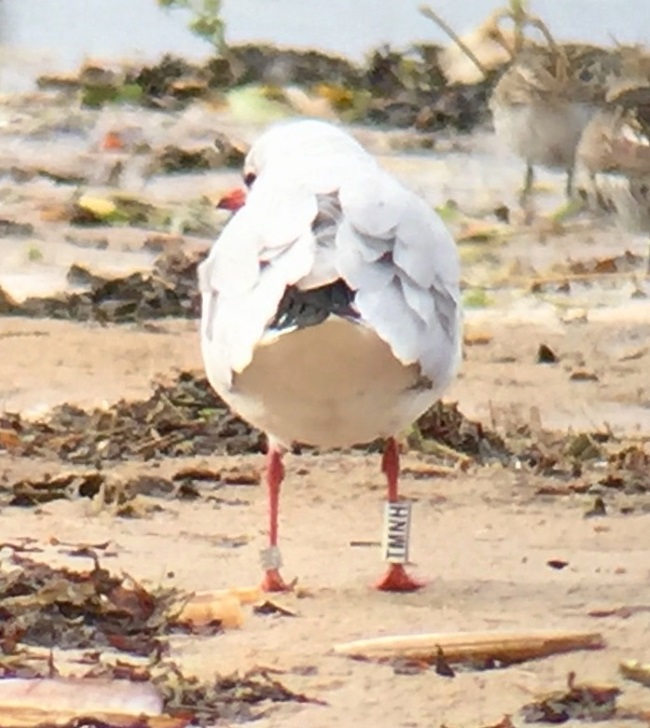 Black-headed Gull at Hoylake © Steve Williams

TMNH (black on white ring) - ringed near Lodz, Poland, as a chick on June 27th 2013.
Recorded in Germany (near Hanover) on June 28th 2015.
Recorded at Hilbre on July 26th 2016.
Recorded at Hoylake on September 11th 2018.

Colour-ringed birds were recorded by Richard Smith, Steve Hinde, Tim Kinch, John Jakeman, Steve Williams, Matt Thomas, Phil Woollen, Mark Turner, Alan Hitchmough, Derek Bates and Richard Steel.
Richard Smith.
Top of Page
October Bird News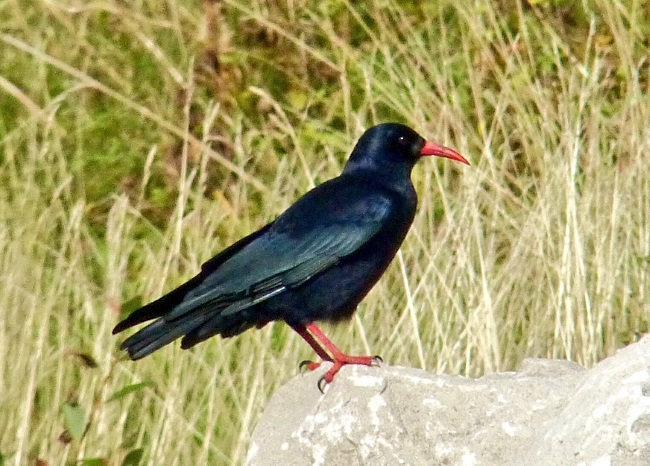 Chough at Thurstaston, October 16th © Steve Williams


Choughs are one of my favourite birds so to have one on my local patch at Thurstaston was a great thrill, it was there on 16th and 17th. Choughs are very rare on Wirral with one turning up every few years but normally they never linger so it was good that this one hung around for every one to see.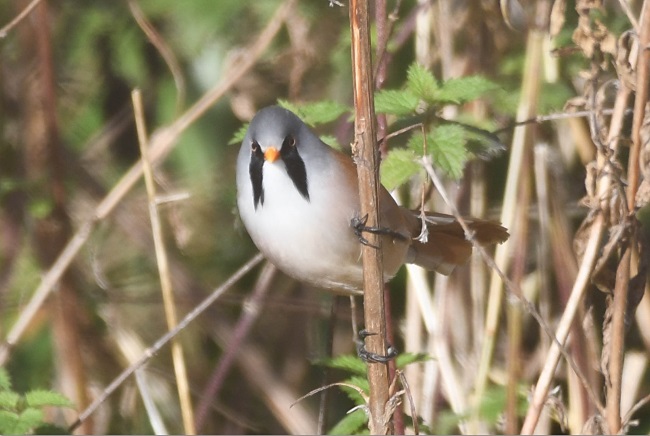 Bearded Tit at Burton Mere Wetlands © John Hewitt

A Bearded Tit was a first for Burton Mere Wetlands on the 23rd, a sign that the reed bed is getting truly established. By the end of the month two were recorded although very elusive. A Glossy Ibis was another nice rarity on the 9th, although it didn't stay long. Also at BMW were Curlew Sandpipers with five on the 2nd and one was seen on most days through the month, a Little Stint was also spotted on several days. Pink-footed Geese were well seen from the Reception hide and there was a big influx over Wirral on the 15th, totalling over 4,000 heading from south Lancashire to the estuary. Brent Geese had reached over 200 by the end of the month, I'd be very surprised if this wasn't a record high for October.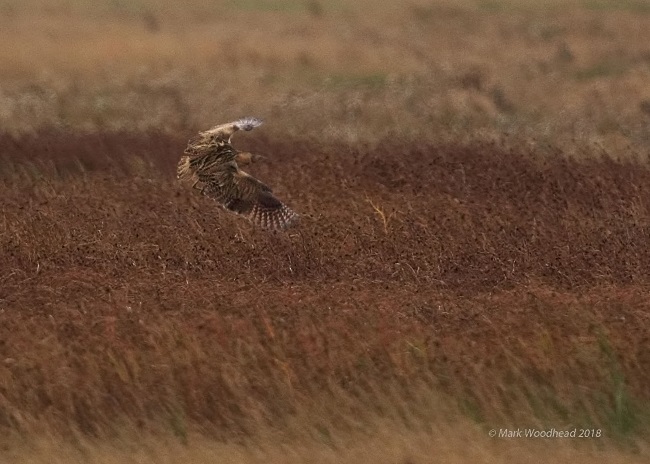 Bittern at Parkgate, October 25th © Mark Woodhead

Visible migration was evident on several days including 1,170 Chaffinches over Red Rocks on the 21st. Good numbers of Brambling were also seen with 33 at Red Rocks also on the 21st and 12 over Leasowe Lighthouse on the 29th. It was a good month for Yellow-browed Warblers with 11 recorded between the 10th and 17th.
On the marshes were two Bitterns, three Spoonbills and at least five Great Egrets. Westerly winds saw two Leach's Petrels, one at Hilbre and one at Hoylake.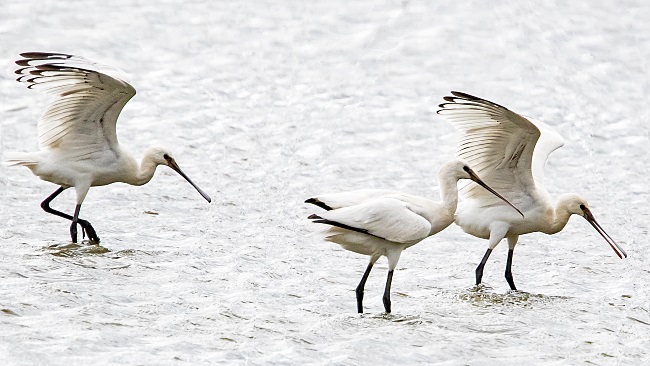 Spoonbills at Burton Mere Wetlands © Mark Washington
Many thanks go to Eddie Williams, Geoff Robinson, Martin Kalaher, David Haigh, Mark Turner, Mark Wasington, Jeremy Bradshaw, Mark Woodhead, David Haigh, Steve Hinde, Matt Thomas, Chris Butterworth, Mark Garner, Jane Turner, David Leeming, Alan Hitchmough, Paul Mason, Steve Williams, Derek Bates, Allan Conlin, Karen Leeming, Frank Burns, David Thompson, David Small, Tim Kinch, Les Hall, Roy Lowry, Mal Seargant, Colin Schofield, Alan Irving, Mark Garner, Damian Waters, Mark Gibson, Jeff Cohen, Graham Connolly, Chris Wilding, Carole Killikelly, Dave Edwards, Richard Whitby, Gail Wilson, Linda Platt, Paul McDonnell, Paul Ralston, Maurice Turner, Andrew Thomas, Rod Bell, Craig Higson, David Huntingford, Mike Dykes, Hugh Stewart, Hazel Rothwell, Leon Castell, Chris Shaw, Marcus Dean, Malcolm Guy, John Watson, Kevin Cahill, Nicholas Montieth, John Rowlns, the
Lighthouse and Wirral Birding Blog
, the
Dee Estuary Wardens
and the
Hilbre Bird Observatory
for their sightings during October. All sightings are gratefully received.

Top of Page
What to expect in November
Although technically still autumn November always has a very wintry feel to it. We can expect to see our first Snow Buntings, and if it is going to be a good winter for Waxwings the first of those could well appear. Small waders will increase with 10,000 plus of both Dunlin and Knot giving great displays at Hoylake, West Kirby and Point of Ayr at high tide and on the mud banks in the estuary when the tide goes out.
We are already having a very good year for Harriers and we have two adult 'grey' male Hen Harriers among the six or so present. As always it is very difficult to accurately assess just how many Marsh Harriers are around but expect numbers coming in to the Neston Red Bed roost to be in double figures. Also on the marshes we can expect good numbers of Great Egrets, probably in double-figures.
Calm weather out to sea should allow us to see thousands of Common Scoters along with hundreds of Great Crested Grebes and tens of Red-throated Divers. It's not too late for stormy weather to blow in Leach's Petrels and skuas, a south-west gale to blow them up the Irish Sea followed by a north-west wind should see them off our coast line.
Brent Geese numbers are already high around Hilbre and West Kirby, it is not impossible that the magic figure of 500 could be reached this winter, it doesn't seem that long ago when 50 seemed an incredibly high number! Pink-footed Geese could reach over 10,000, many feed in the marshes sometimes quite close to Parkgate but difficult to spot in the long grass and reeds.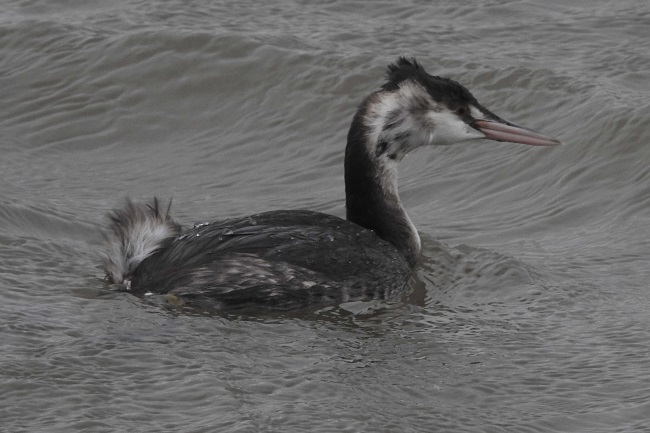 Great Crested Grebe on West Kirby Marine Lake, October 23rd © Les Hall
Top of Page
Forthcoming Events
November Highest Spring Tides (Liverpool)
Also see Tides page.
8th November, 11.15hrs (GMT), 9.6m.
24th November, 11.28hrs (GMT), 9.6m.
Forthcoming Events
Organised by the Wirral Ranger Service , Flintshire Countryside Service and the RSPB (Dee Estuary): All these events and walks have bird interest, even those not advertised specifically for birdwatching. No need to book for these events unless specified - please check below.
---
Sunday 11th November - Raptorwatch at Parkgate.
1pm-dusk, Price: Free.
Join us for a chance to see up to seven different birds of prey including peregrine and merlin, plus two types of owl that all make their home on the RSPB Dee Estuary nature reserve. With its panoramic views of the saltmarsh, Parkgate is one of the best places to watch for these birds hunting.
Stick around until dusk for a chance to see the graceful and endangered hen harriers flying into roost for the night on the marsh close to the Old Baths car park, and maybe a ghostly barn owl emerging to hunt. No booking required, come along any time between 1pm and sunset.
Dress appropriately for the weather and don't forget your binoculars! Public toilets and various pubs and cafes are situated close by along Parkgate promenade.
Sunday 9
th December - Raptorwatch at Parkgate.
1pm-dusk, Price: Free.
Join us for a chance to see up to seven different birds of prey including peregrine and merlin, plus two types of owl that all make their home on the RSPB Dee Estuary nature reserve. With its panoramic views of the saltmarsh, Parkgate is one of the best places to watch for these birds hunting.
Stick around until dusk for a chance to see the graceful and endangered hen harriers flying into roost for the night on the marsh close to the Old Baths car park, and maybe a ghostly barn owl emerging to hunt. No booking required, come along any time between 1pm and sunset.
Dress appropriately for the weather and don't forget your binoculars! Public toilets and various pubs and cafes are situated close by along Parkgate promenade.