Colour Ring Report
Another good month with 40 colour-ringed birds seen from 11 species, plus a satellited tagged Hen Harrier. Below is a summary of the more interesting records.

Hen Harrier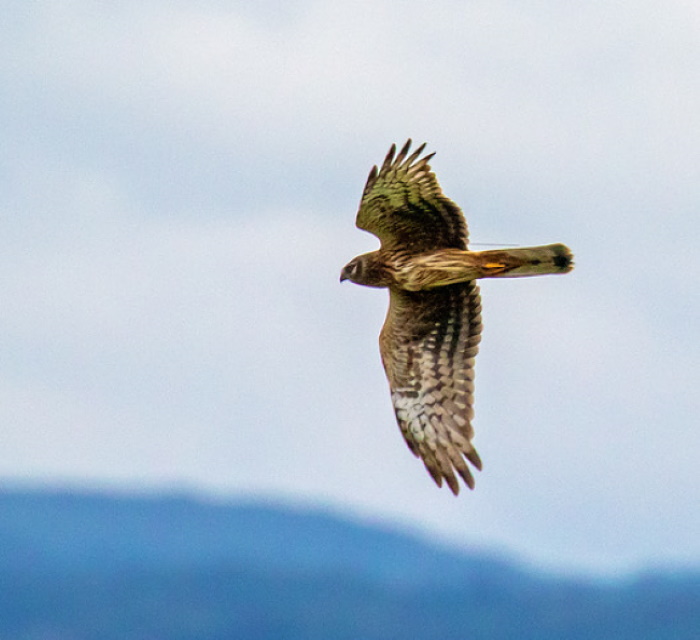 Satellite tagged Hen Harrier at Parkgate, September 23rd © Frank Burns

Not a colour-ringed bird but this satellite tagged Hen Harrier definitely deserves a place in this report. Jarvis (named after Hen Harrier enthusiast Jarvis Cocker) was tagged by the RSPB during the 2020 breeding season in Snowdonia. It was tracked arriving on the Dee estuary on the September 22nd, was photographed on the 23rd but was observed leaving again the following day and was then recorded just east of Betws-Y-Coed - not far from where it was hatched. Jarvis's movements suggest that maybe we see quite a large turnover of Hen Harriers on the Dee estuary which range over a large area.

Oystercatchers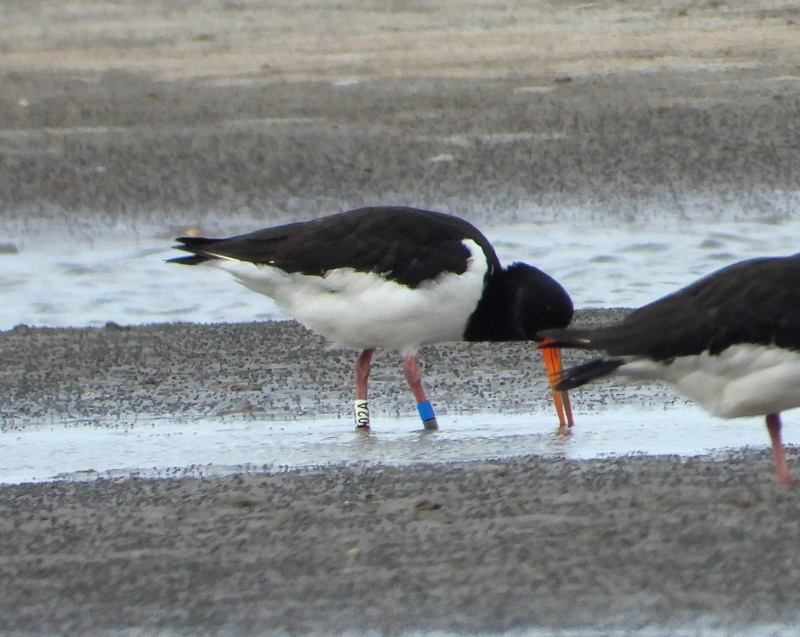 Oystercatcher W(02A)-B at Meols, September 2020 © Richard Smith


W(02A) - B.
Ringed at Sliddery on the Isle of Arran on 9/3/2018.
Recorded at Meols on 7/9/20 and 16/9/20.
Recorded at Thurstaston on 23/9/20.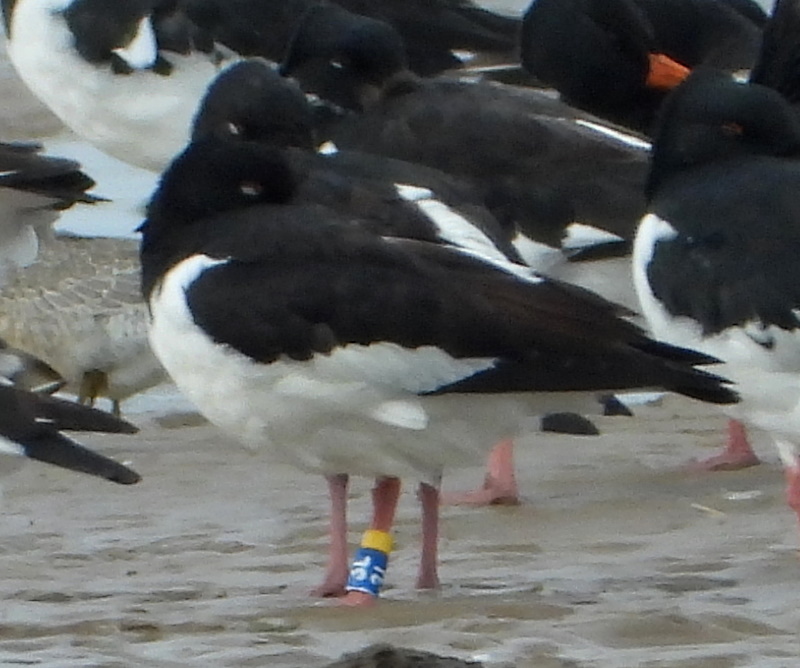 Oystercatcher YB(3L) at Hoylake, September 2020 © Richard Smith


Yellow over B(3L).
Ringed at Dawlish Warren, Exe Estuary, on 4/2/2018.
Since being ringed it has been recorded many times at the ringing site over each winter. In the winter of 2019/20 it was last seen at Dawlish Warren on 14/2/20.
Recorded at Hoylake on 4/9/20 but was back again at Dawlish Warren by 10/9/20. I wonder what route it took - directly overland south along the Welsh borders or the much longer journey around the coast?
This bird was cannon-netted when a total of 190 Oystercatchers were caught in the first catch at Dawlish Warren since 2004, by the newly re-formed Devon & Cornwall Wader Ringing Group. It is part of a study into understanding recent declines in wintering Oystercatchers in the Exe Estuary SPA. YB(3L) was obviously on passage at Hoylake and we don't know where it bred, but the group have had sightings of their ringed Oystercatchers from various breeding sites including Derbyshire, Bedfordshire, Co. Durham, Highland Scotland, Islay, Dundalk Bay (Ireland) and Norway.
If you want to know more about the Exe Oystercatcher project then have a look at their 2019 Annual Report - http://www.dcwrg.org.uk/images/downloads/Annual Report 2019.pdf where there is an article titled "What are we learning about Exe Oystercatchers" by R Burrel and J Morten, and another titled "Ring Reading at Dawlish Warren" by L Collins.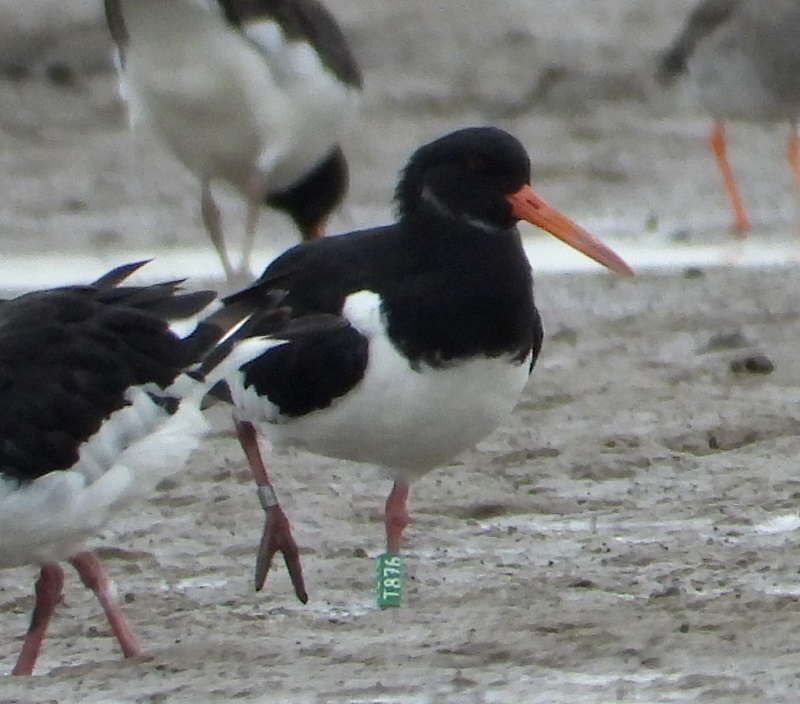 Oystercatcher G(T876) at Meols, September 2020 © Richard Smith


T876 on green ring.
Ringed at Sola in SW Norway on 8/5/2020 as a breeding adult, and recorded there in mid-July.
Recorded at Seaforth on 5/9/20 and at Meols on 7/9/20.
Ringed Plover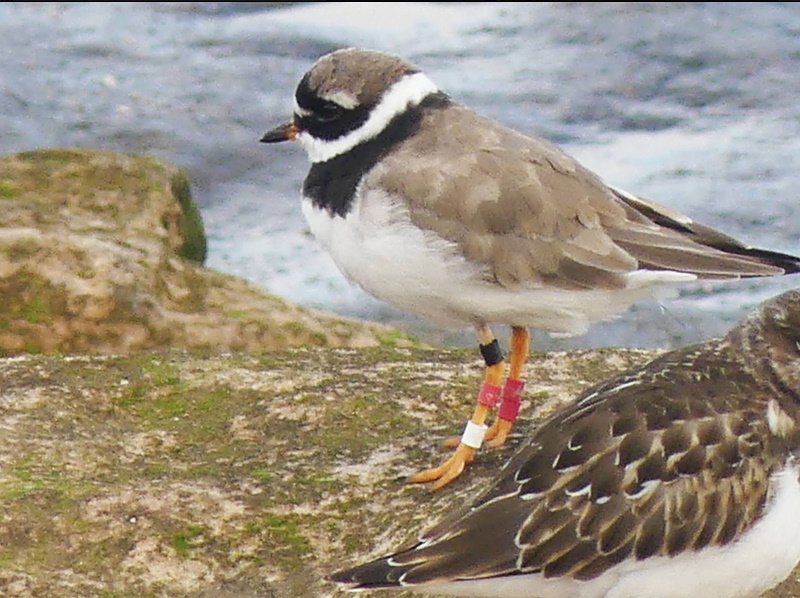 Ringed Plover N/RW-RR on Hilbre, September 2020 © Steve Williams


N/RW-RR.

Ringed in th north east corner of the Waddensea on the German coast on 11/6/16.
It has returned to breed at the ringing site every summer since. Remarkably, it has been caught another two times; on 5/6/19 when a missing ring was re-fitted and on 4/6/20 when a GPS tag was fitted. You can just make out the wire below it's rump in the photo above.
Recorded at Ballycotton, Cork, Ireland on 10/9/19 and at Hilbre on 1/9/20.


Shelduck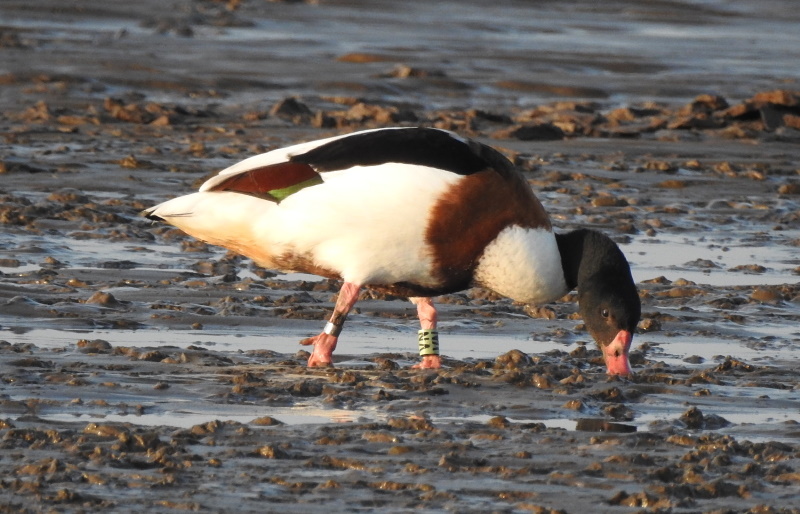 Shelduck L(VN) at Thurstaston, September 2020 © Steve Hinde


Another eight Lime ringed Shelduck were recorded at Thurstaston during September. These birds spend the winter at Martin Mere (where they are ringed) eating the grain put out for the wild Swans. None of the birds we have recorded have been seen elsewhere but it seems likely they breed in this country, perhaps locally, before moulting in late summer either on the Mersey or Dee estuaries. They are then seen off Thurstaston in September and October before returning to Martin Mere.
XD on Black ring.
Ringed at Lower Derwent Valley NNR, just east of York, on 23/3/2011 - a breeding bird.
Recorded at Thurstaston on 20/9/20.

Common Gull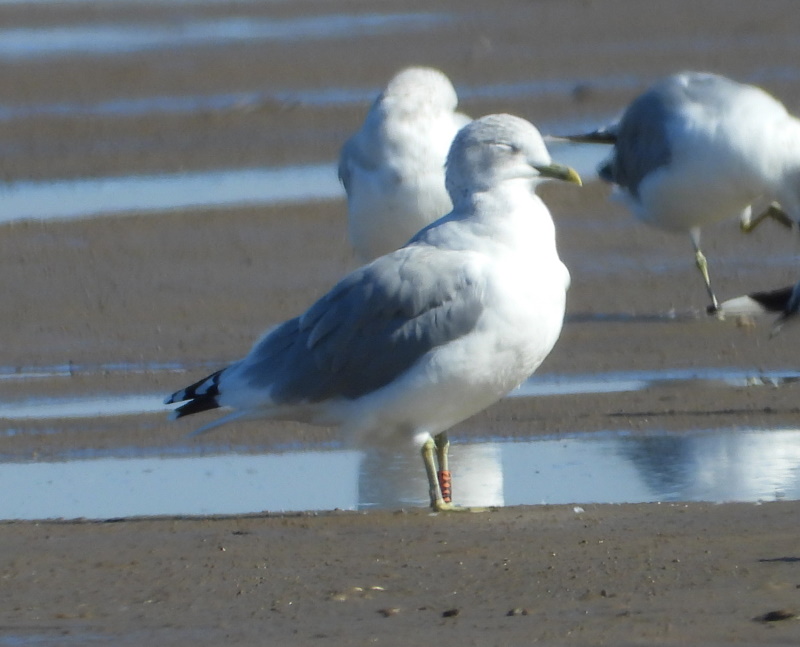 Common Gull 2XXK at Hoylake, September 2020 © Richard Smith


2XXK on an orange ring.
Ringed in Westhill Industrial Estate, Aberdeen, on 5/7/14.
It has been seen at Wallasey in the autumns of 2014, 2015 and 2018.
Recorded at Hoylake on 1/9/20.


Black-headed Gull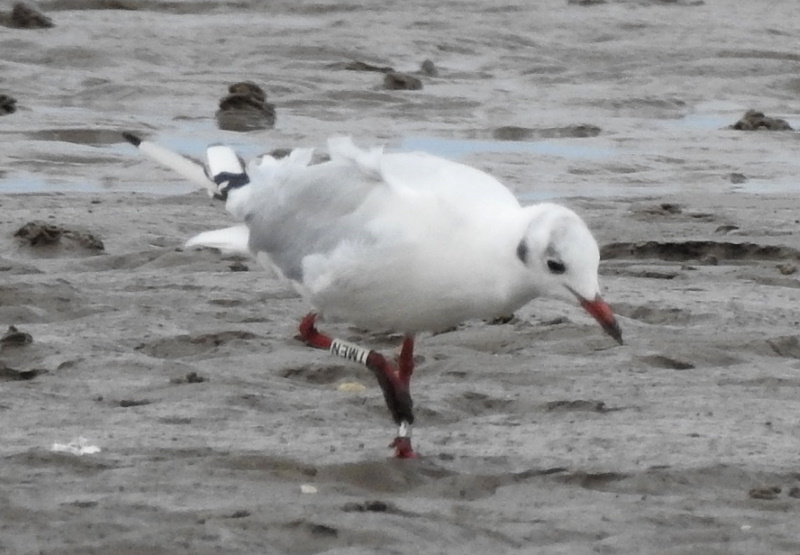 Black-headed Gull TMEN at West Kirby, September 2020 © Steve Hinde


TMEN on White ring.
Ringed in central Poland on 12/4/13.
First recorded at West Kirby on 6/9/2013 it has been seen there every winter since, often perched on the pontoons on West Kirby Marine Lake. Over that time it has also been recorded at Hoylake (twice), Thurstaston and Greenfield Dock, but never away from the Dee Estuary.
Recorded at West Kirby on 12/8/20 and 2/9/20.
VK13 on White ring.
Ringed at Frederikshavn on the north-east tip of Denmark on 9/6/11,
Recorded at Leasowe on 16/9/11.
There have been no other records.

Redshanks


Despite being the most important site in the country for this species we see very few colour-ringed birds, so it was good to record two over the past few weeks.
Wflag(AUT)-Y
Ringed in Dundrum Inner Bay, Northern Ireland, on 14/12/19.
Recorded on Heswall Shore on 13/8/20.
O-N(ACH)
Ringed at Ynyslas, Cardigan Bay, on 28/12/19.
Recorded at Hoylake on 26/9/20.
Colour-rings were recorded by Richard Smith, Steve Hinde, Steve Williams, Colin Jones, Richard Ashford, Tony Ormond, Sue Haslem, Richard Du Feu, Tim Kinch, Richard Speechley, John Hemmings and Rob Lewis, Frank Burns photographed the satellited tagged Hen Harrier.

September Bird News
One day of strong north-westerlies early in the month teased us into thinking we would have some great sea-watching in September but it was not to be. However, we did see a few Leach's Petrels with five on the fifth and two on the ninth, but that was it. At least one Sabine's Gull was spotted on the 5th. A Pomarine Skua was spotted from Hilbre on the 13th but other than that it was a poor month for skuas.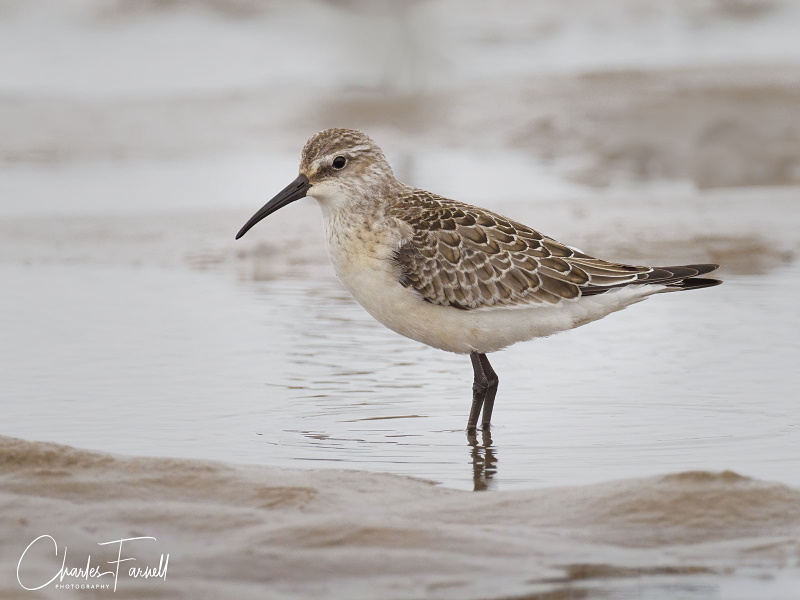 Curlew Sandpiper at Hoylake, September 3rd © Charles Farnell

It was certainly a good month for Curlew Sandpipers with one of the best passages in recent years with numbers peaking in the first week, including 10 at Burton Mere Wetlands and 16 at Hoylake on the 3rd. 10 at Heswall on the 13th was also a good count. Note the weekly totals shown in the graph are the sum of daily records so any birds staying more than one day will have been counted more than once. See 'Curlew Sandpiper Influx 2016' for details of Curlew Sandpipers numbers on the Dee Estuary this century.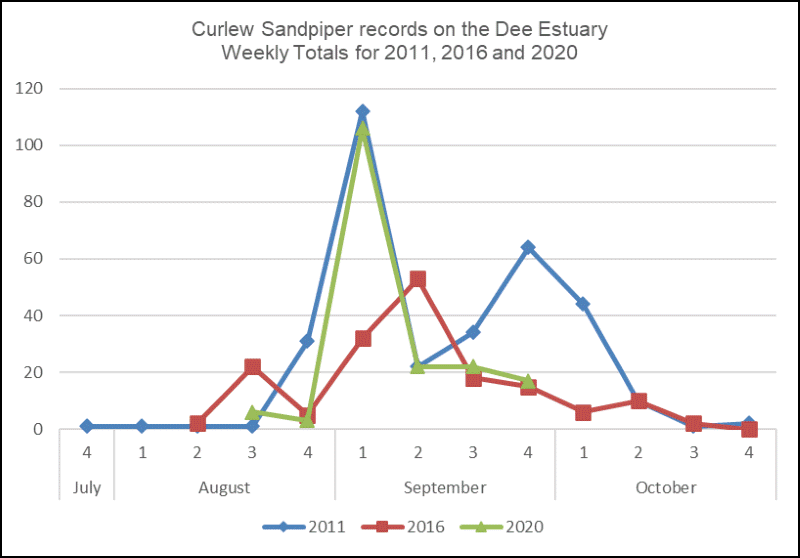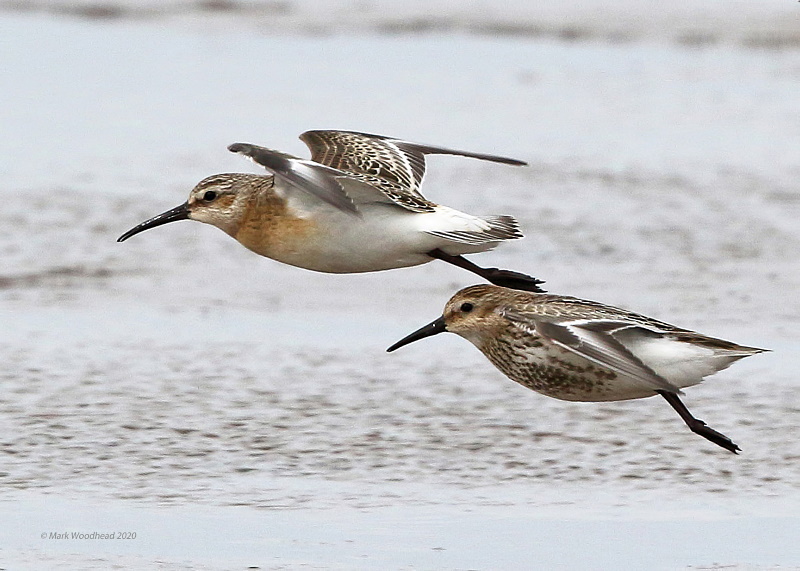 A lovely comparison of Curlew Sandpiper and Dunlin at Hoylake, September 4th © Mark Woodhead


Generally numbers of waders were lower than in August but this very approachable Golden Plover (below) was a stunning sight at Hoylake mid-month. A Lesser Yellowlegs at Thurstaston on the 20th was reported as a 'possible' but having read the description it has to be a 'probable' but unfortunately it wasn't relocated and no photo was taken. A Pectoral Sandpiper was at Burton Mere Wetlands at the end of the month, with at least one Spotted Crake still present.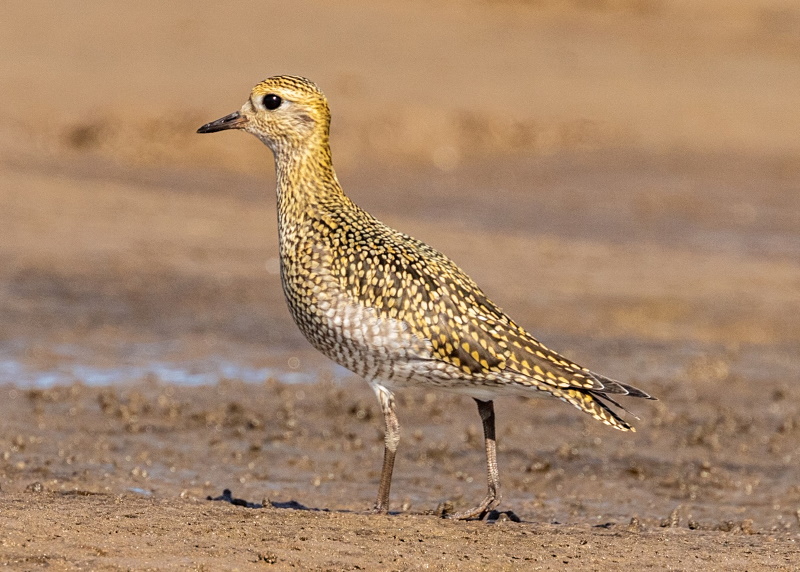 Golden Plover at Hoylake, September 14th © Peter Sutton


Lots of 'white herons' around with seven Spoonbills still at Parkgate but it was Egrets which really impressed. Eight Cattle Egret arrived at Burton Mere Wetlands on the 11th, breaking the previous record of six in 2016 and 2017, then a week later there were 10! There were lots of Great Egret sightings but it wasn't until the end of the month when 39 were counted coming in to the roost that we realised just how many there were - previous max count was 35 in August 2019.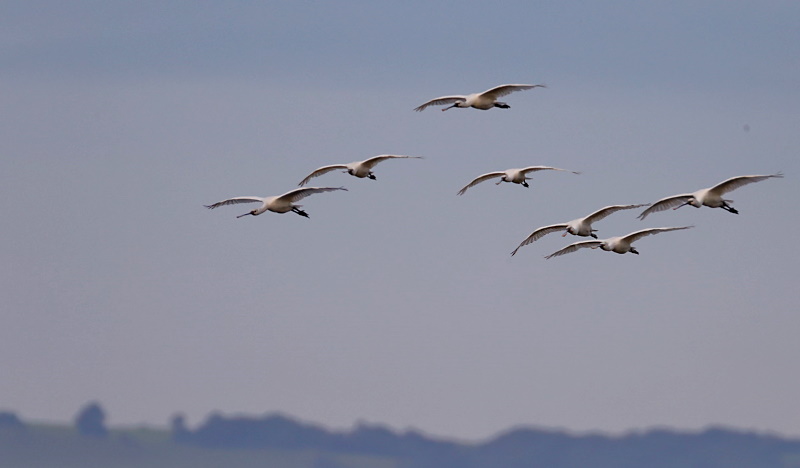 Spoonbills flying at Parkgate, August 17th © Roy Wilson

Flocks of Pink-footed Geese were flying into the estuary all month and the evening flights were spectacular by the last week with several thousands present - expect even more in October.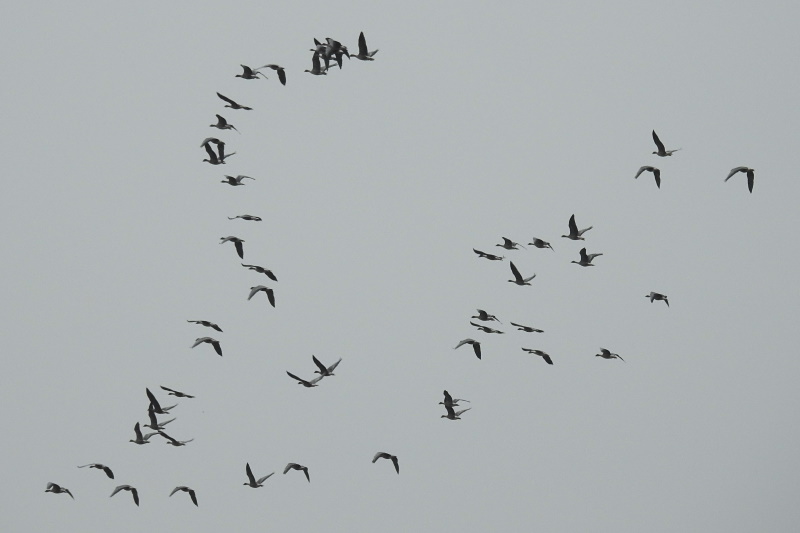 Pink-footed Geese over Burton Marsh, September 16th © Les Hall


There was plenty of movement of passerines including Wheatears and Whinchats, and the number of Grey Wagtails flying over suggest they had a good breeding season.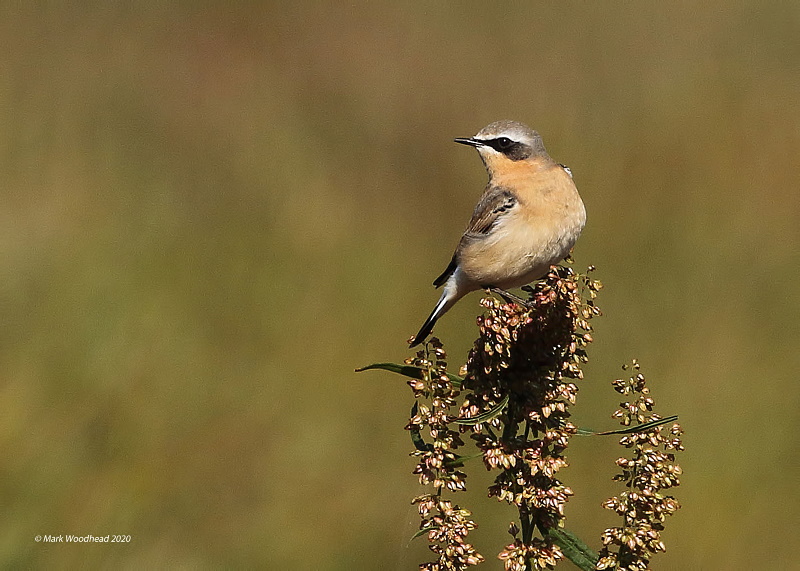 Wheatear at Burton Point, September 1st © Mark Woodhead
North-west gales, specially early in the month, should bring in Leach's Petrels and a selection of skuas, with the possibility of Sabine's Gulls and Grey Phalaropes. But even flat calm conditions can be good for sea-watching as we often see huge flocks of Common Scoters off shore on their way south to winter off Africa, plus a build up of a few hundred Great Crested Grebes off north Wirral although numbers seem to have declined in the past couple of years.

There will be a big influx of Pink-footed Geese with large skeins overhead heading for the marshes, some of these will be on their way to Norfolk but increasing numbers now spend the winter here - last winter's max was an amazing 22100 (in March). October often sees a big influx of both Teal and Pintail with many recorded at both Burton Mere Wetlands and off Oakenholt Marsh. Shelduck numbers will peak in October, the several thousand off Thurstaston make for a spectacular sight. On the marshes Neston Reedbed will be worth checking out in the hour or two before dusk to see the Marsh Harriers fly in to roost, counts could be as high as 20 or more. Great Egrets, Hen Harriers and Short-eared Owls will also be in evidence.
More than anything October is known for migration with many birds seen on 'Vis Mis' (visible migration). To see Vis Mis you need to be on site on the coast at dawn preferably during a period of light to moderate south-east winds and over-cast skies. On a good day you will see flock after flock of Chaffinches, Starlings, Redwings, Fieldfares, Siskins and many other species (Brambling, Greenfinch, Wood Pigeons, various tit species etc) passing overhead heading generally in a southward direction - see Visible Migration.

The waders which have roosted further east, on the Waddensee and the Wash, will arrive en-masse at the end of the month to spend the winter here - these will be mainly Dunlin, Knot, Grey Plover and Bar-tailed Godwit.

A bird we really shouldn't be seeing, because it should be in south-east Asia, is the Yellow-browed Warbler - but a few do turn up every year - read The Yellow-browed Warbler Influx 2016 to find out about this mysterious species. But October is a month we can expect to see rarities and over the past few years these have included Chough, Pallid Harrier, Pectoral Sandpiper, Melodious Warbler, Rosy Starling, Richard's Pipit and Sooty Shearwater.

There are some big high tides due from 16th to the 19th, with a stiff westerly behind them these may well cover the marshes bringing many of the large numbers of birds described above close to the shore with spectacular views.

16th October, 11.24hrs (BST), 9.8m.
17th October, 12.06hrs (BST), 10.0m.
18th October, 12.48hrs (BST), 10.1m.
19th October, 13.30hrs (BST), 9.9m.