Sabine's Gull is one of a suite of species which draws birders to the north Wirral coast in the hope of seeing one when strong north-westerly winds blow in autumn. In such conditions, sightings may be obtained as the bird is blown within sight of land as it migrates to its wintering grounds off south-west Africa.

The first bird seen in the county was part of what British Birds (Vol 46 p254-6) reported as an "invasion" in September 1950 in which what were described as "unusual numbers" occurred in England and Wales. Twelve individuals in all were reported, including an immature at Wallasey (A M Woods), in addition to birds near Rhos on Sea and the Isle of Man. BB gives the date as September 22nd, although the Merseyside Naturalists' Report for 1950 has the following day. The MNA Report includes a description of the bird and of the sighting, which included a period when the bird was out of the water. Coloured sketches were made and exhibited at a Wild Life Exhibition in Birkenhead Art Gallery in February 1951.

There was to be no quick repeat visit to the shores of our county and it was 30th September 1962 at Red Rocks before the next bird was reported. Subsequently, however, appearances of Sabine's Gull have been not far short of annual, missing only three years in the 60s, one in the 70s, none in the 80s, four in the 90s, two in the 'noughties' and two so far (to 2017) in the present decade.

A review of Cheshire (and Wirral) Bird Reports for the period from 1962 finds sightings in every month except for May and December. However, the monthly distribution of records is very far from even. Of the total of 169 dates, 106 are in September and 32 in October. The fact that 10 of the dates are in August and nine in November shows just how unusual sightings outside of this prolonged autumn period are. Over the years the peak period for the number of records appears to be 8th to 16th of September.

The pattern of records year by year show that in most years there is a very limited window of opportunity to see a Sabine's Gull. Only in 1980, when birds were seen on ten dates, have the number of dates with records reached double figures. Otherwise, only in four years have birds been reported on more than five days, while in 17 years there have been reports on just single dates. Given the popularity of the species with birders this is likely to be due to the relative lack of just the right weather conditions at the time birds are moving south rather than any lack of effort.

From 1990 to 2019 29 Sabine's Gulls were recorded in Clwyd. All reports came from Point of Ayr, with 26, and Gronant with just three. Out of those 30 years Sabine's Gulls were recorded in 14 of them, so by no means annual.
All birds were seen in the months of August, September and October with the earliest on 8th August and the latest on 22nd October. Strangely all August records were in three consecutive years, 1993 to 1995. In total five birds were recorded in August, 17 in September and 7 in October. Where birds are aged a third were adults and two thirds juveniles.

The highest daily count was made on 21st September 2004 when a total of five juveniles were counted, this was the day when three were seen off Gronant as well as two from Point of Ayr so possibly one or two of them could have been reported twice. On that same date definitely four, and may be as many as nine, were recorded off Wirral.

Sources for records of Sabine's Gull in Clwyd are Clwyd Bird Reports/North-East Wales Bird Reports and BirdGuides.

Colour Ring Report
With so many birds on passage August is always good month for spotting colour rings and this year was no exception.

Dunlin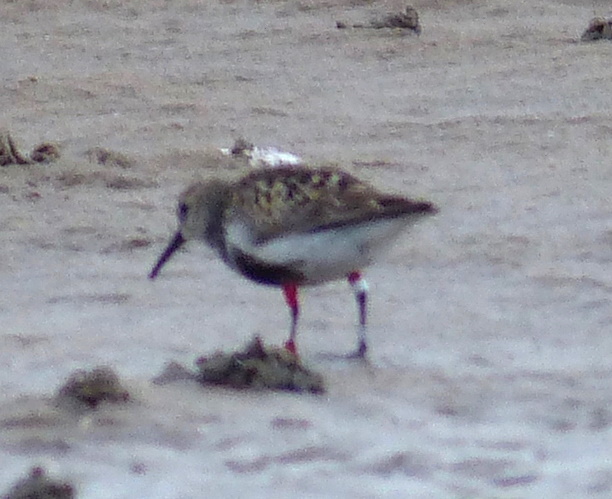 Dunlin RR/R-RW/m, Middle Eye, August 2020 © Allan Hitchmough

Pride of place goes to a Dunlin ringed in Greenland. According to the BTO website there have only been seven previous recoveries of Greenland ringed Dunlins in the UK so it was an excellent find. Further research indicates that the only previous connection between the Dee Estuary/north Wirral and Greenland were two birds which were ringed here. One was ringed at Point of Ayr on 5/5/1969 and found in north-east Greenland on 16/7/1969 and is the first ever Greenland recovery of a UK ringed Dunlin. The second was ringed at Hoylake on 22/5/1970 and found dead in north-east Greenland on 7/6/1970 (info kindly provided by Merseyside Ringing Group). The population which nest in north-east Greenland are all thought to be Caldris alpina arctica, they winter in West Africa so we only see them on passage. arctica Dunlin are noticeably smaller than the alpina race which over winter here.
WW-BG, ringed as an adult breeding male.
Ringed on 17/7/2020 at Hochstetter Forland in north-east Greenland.
Recorded at ringing site on 23/7/20.
Recorded on 21/8/2020 at Hoylake.
The ringer, Olivier Gilg, said: "It's one of the very few dunlins I ringed in Greenland this summer (poor breeding year for this species), on July 17th. It was a very tame male that I could trap by hand while ringing its 4 chicks...
Predation pressure was very high this year on our site but it was resighted once on July 23 with at 1 young still alive."

I liked Stephen Hinde's reply "Very many thanks for your messages about the Dunlin. Although we know that most of the wading birds that migrate through Liverpool Bay have nested in the Arctic knowing exactly where a particular bird has nested and when is incredibly rewarding. There is a small but dedicated team of birders looking for colour ringed waders in this area, if we find any more of your birds or see this one again we will let you know."
RR/R-RW/m.
Ringed on 26/7/2020 at the Filey Bird Observatory, North Yorkshire.
Recorded:
Hoylake on 16/8/2020.
Birkdale (Lancs) on 21/8/2020.
We don't often get resightings of the colour ringed Dunlin we spot!
It was good to get two records of Dunlin (below) ringed by the Mid-Wales Ringing Group who are a very active group not far to the south west of the Dee Estuary. Tony Cross, their Ringing Secretary, said "The colour-ringing is part of a project aiming to study the origins, destinations and turn-over rates of Dunlin using this important (RAMSAR designated) migration stop-over site on the West Wales coast. In the last four years over 5,000 Dunlin have been individually colour-ringed with many sighting reported around Britain and Ireland as well as movements recorded to or from Greenland, Iceland, Faero Islands, Norway, Sweden, Finland, Denmark, Germany, Poland, France, Spain, Portugal, Canary Islands, Mauritania, Senegal and The Gambia."
O-Y(8U7)
Ringed on 17/8/2018 at Ynyslas NNR, just south of Aberystwyth, west Wales.
Recorded at Hilbre on 20/8/2020.

O-Y(9N9)
Ringed on 6/8/2019 at Ynyslas NNR, just south of Aberystwyth, west Wales.
Recorded at Hoylake on 21/8/2020.


Whimbrel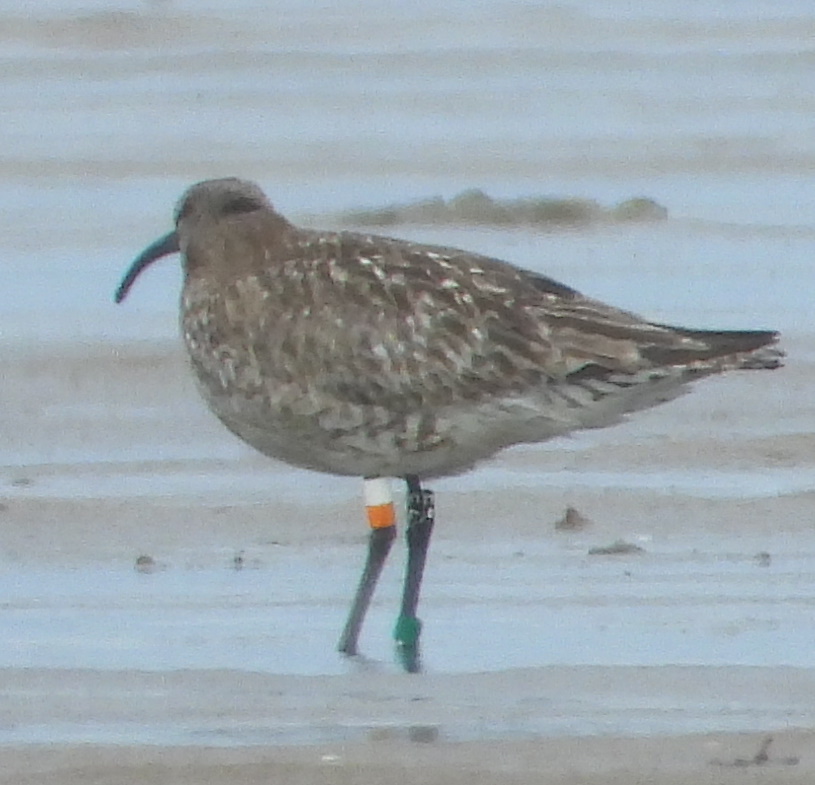 Black-tailed Godwit R/YRL at Caldy, July 2020 © Richard Smith


WO/ - N(E4)/G.
Ringed on 1/5/2010 at Llansaintffraid, Llanon (Cardigan Bay), west Wales.
Recorded at Hoylake on 18/8/2020.
This is the first colour-ringed Whimbrel in our Dee Estuary database and it's another wader ringed by the Mid-Wales Ringing Group. Tony Cross said "that's a great record, many thanks. This bird was ringed on 1st May 2010 and this is it's first reported sighting!! Amazingly another of the 5 birds that we ringed that night also turned up for the first time this spring, in Ireland."
"The colour-ringing is part of a project aiming to study the origins, destinations and turn-over rates of Whimbrel using West Wales as a migration stop-over. In the last 10 years over 400 Whimbrel have been individually colour-ringed with sightings reported around Britain and Ireland as well as movements recorded to Norway, Denmark, Iceland, France, Spain, Senegal and The Gambia."

Knot

Regular readers of this Colour Ring Report will know that over the past three winters we have seen a lot of Orange flagged knot on the Dee Estuary which were ringed on the Alt Estuary. Through July and August many of these knot returned from breeding and there have been re-sightings of no less than 109 of these flagged birds previously recorded on the Dee Estuary. Most of these sightings have been on Ainsdale Beach, with a handful around the Wash and one on the Humber - with just one on the Dee! But I do believe that '0Y' is the first colour ringed knot in breeding plumage ever to be successfully recorded on the Dee Estuary, all the rest have been in winter plumage. We hope to see more in September but the main influx won't occur until October.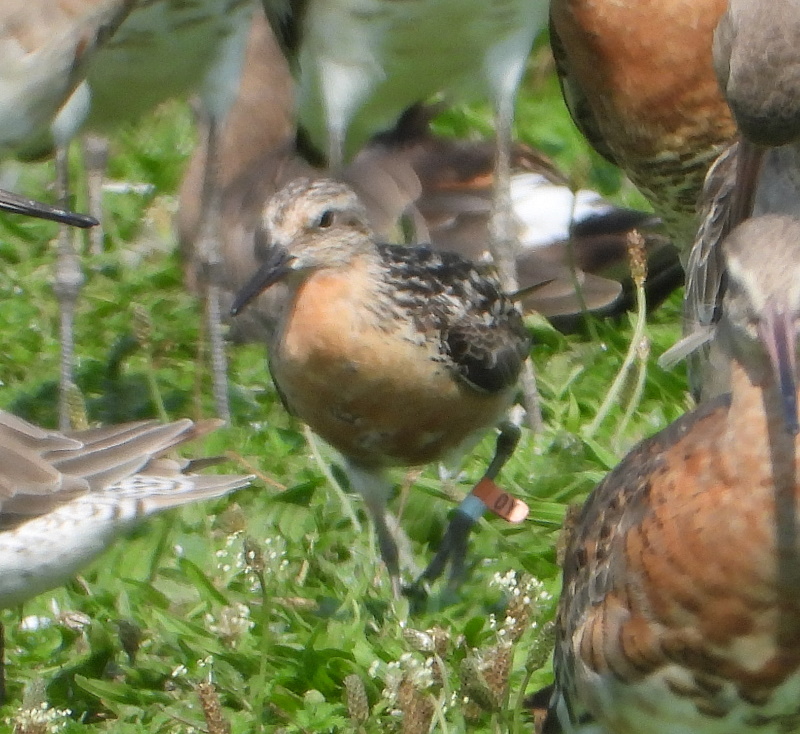 Knot O(0Y)P at Caldy, August 2020 © Richard Smith


O(0Y)P.
Ringed on 22/9/2017 at the Alt Estuary.
Recorded a total of 37 times, not bad for a Knot which has only been seen twice in the winter months.
It was one of the first birds to be recorded after the first catch at Altcar, turning up at the Caldy Wildfowl Collection in September 2017 where it was seen regularly until mid-October.
Next recorded at Leighton Moss in April and early May 2018, it was then spotted in mid-May in SW Iceland presumably on it's way to Canada.
July 2018 saw it's return to Formby beach and it again made its way over to Caldy in September and October.
A record at Heysham in February 2019 probably meant it wintered on Morecambe Bay, but it had returned south to Southport by April 2019.
Late summer and early Autumn 2019 saw it at Formby and Southport and it was spotted for the first time on the Dee estuary itself, at Thurstaston, in late October and again in December. Early spring and then late summer 2020 saw it at Ainsdale, turning up briefly at the Caldy Wildfowl Collection on August 12th.

Black-tailed Godwit

Since the Black-tailed Godwits started returning from Iceland in early July they have built up to an incredible 6,000 at the Caldy Wildfowl Collection. It's somewhat frustrating, therefore, to have seen only 13 colour ringed birds but we hope a new scheme to ring them in the north-west of England will result in a lot more records and we will gain a better understanding of the movements of the large numbers which moult here in late summer. It's good that birds are still being ringed in France and this one below, with an unusual ring on the right leg, was spotted in August.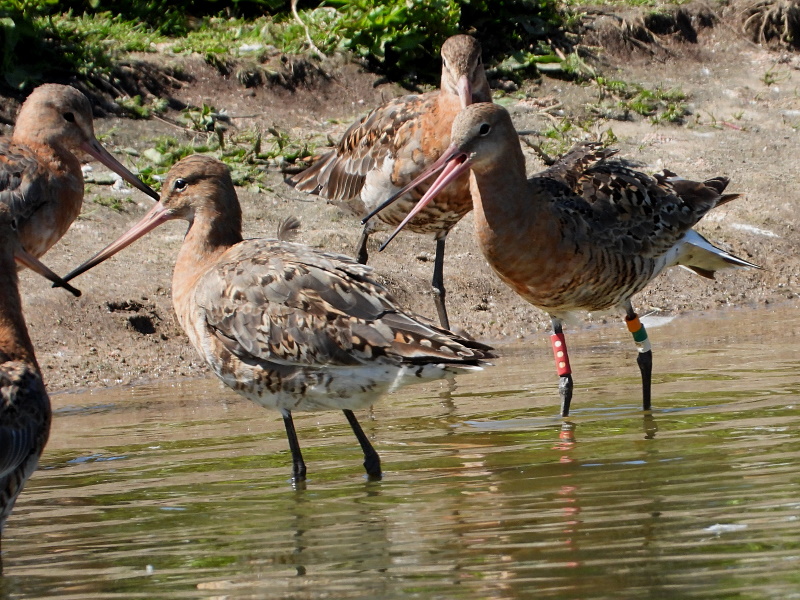 Black-tailed Godwit OGW-RdW, August 2020 © Richard Smith


OGW-RdW - Orange over Green over White left tibia, Red ring with three White dots right tibia.
Ringed on 8/11/2018 in Moeze (just south of La Rochelle) on the French Atlantic coast.
Recorded on the French Atlantic Coast near the ringing site on six dates from November 2018 to October 2019.
Recorded at Caldy Wildfowl Collection on 3/8/2020.


Little Tern

The easing of Covid-19 restrictions by mid-July meant that Henry Cook and others managed to get to Gronant before the end of the breeding season. They got 278 resightings of 152 colour-ringed birds, an excellent total, and among them were a couple of particularly interesting ones: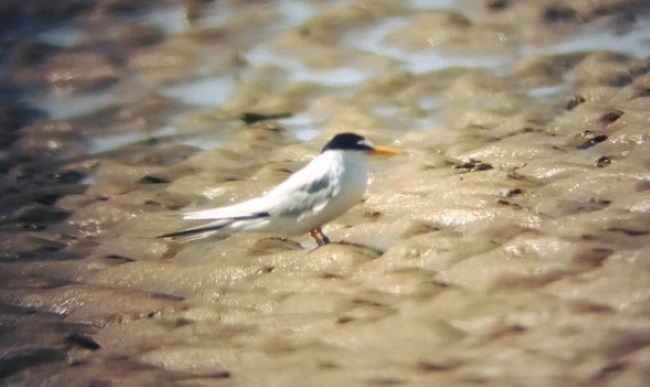 Little Tern GG-Gm, at Gronant July 2020 © Gronant Little Terns


GG-Gm - Green over Green, left tarsus, Green over metal ring, right tarsus.
Ringed on 20/9/2018 on the Tagus Estuary (Samouco salt pans).
Recorded on 16/7/2020 at Gronant, Clwyd.
Caught with mist nests by the Tagus Ringing Group, there can't be many groups ringing Little Terns on passage. Their presence on the Tagus estuary suggests that Little Terns tend to hug the coastline on their way south, rather than out in the ocean such as some of the larger terns do. This is the first ever British recovery of a Portuguese ringed Little Tern.

ZBA - black letters on a yellow ring.
Ringed with a metal ring in 1993 at Gronant.
Ringed with a yellow colour ring (ZBA) in 2018 at Gronant.
Recorded during the breeding season at Gronant during both 2019 and 2020.
At 27 this is the oldest recorded Little Tern in the world.


Mediterranean Gull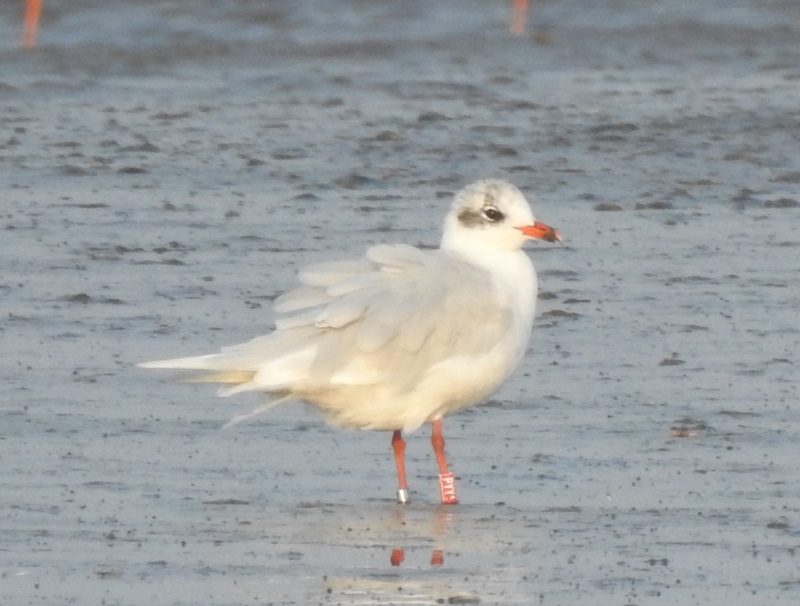 Mediterranean Gull PYY1 at Thurstaston, August 2020 © Steve Hinde


PYY1 - white on red ring.
Ringed on 18/5/2017 in north-east Poland as an adult female.
Recorded at the ringing location a year later, then on Thurstaston Shore in August 2018, July 2019 and August 2020. It's never been seen in the winter months, where does it go??

Great Black-backed Gull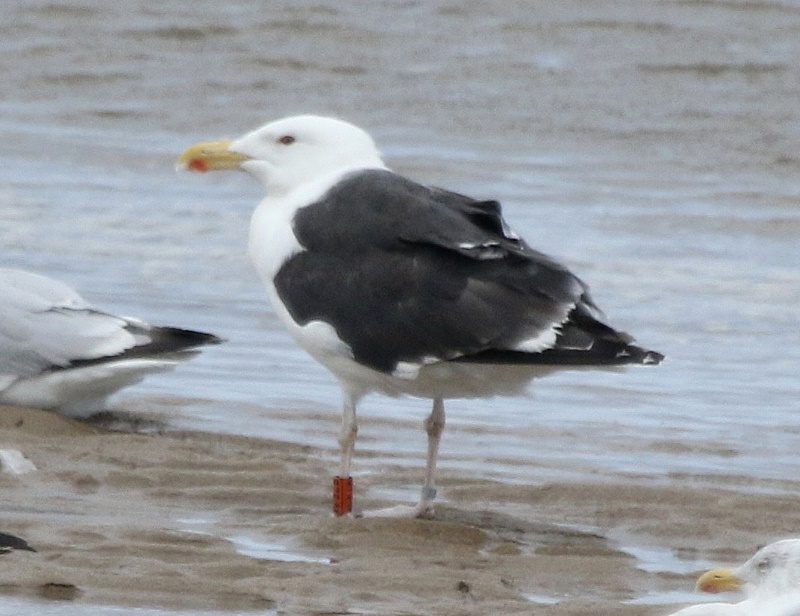 Great Black-backed Gull S76:M at Hoylake, August 2020 © Tim Kinch


S76:M on orange ring.
Ringed on 24/6/2015 on Calf of Man, Isle of Man, as a chick.
Recorded:
Bullock Harbour, Dublin, in August 2015.
The Skerries, Dublin, in August 2018.
Oakenholt RSPB, Dee Estuary, in December 2019.
Hoylake shore on 22/8/2020.

Herring Gull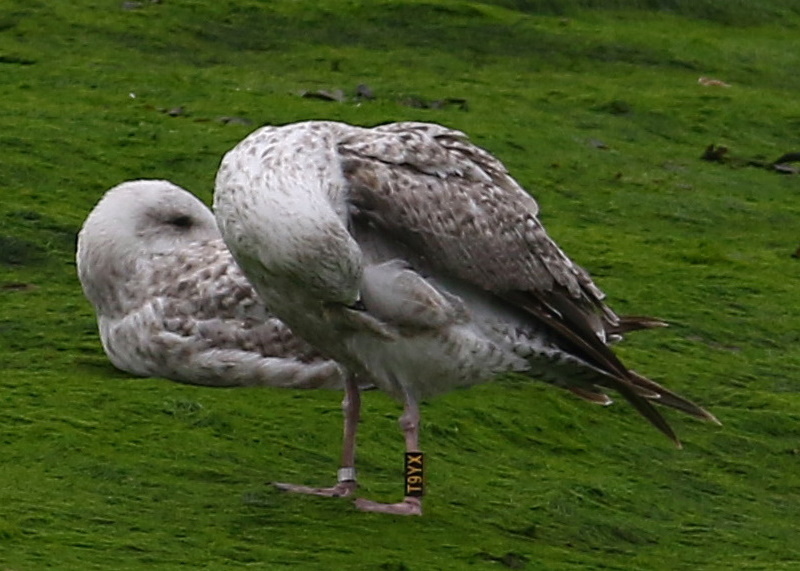 Herring Gull T9YX on Hilbre, August 2020 © Elliot Montieth


T9YX yellow on black ring.
Ringed on 3/7/2019 at Calf Of Man, Isle of Man, as a chick.
Recorded on 6/8/2020 on Hilbre.


Black-headed Gull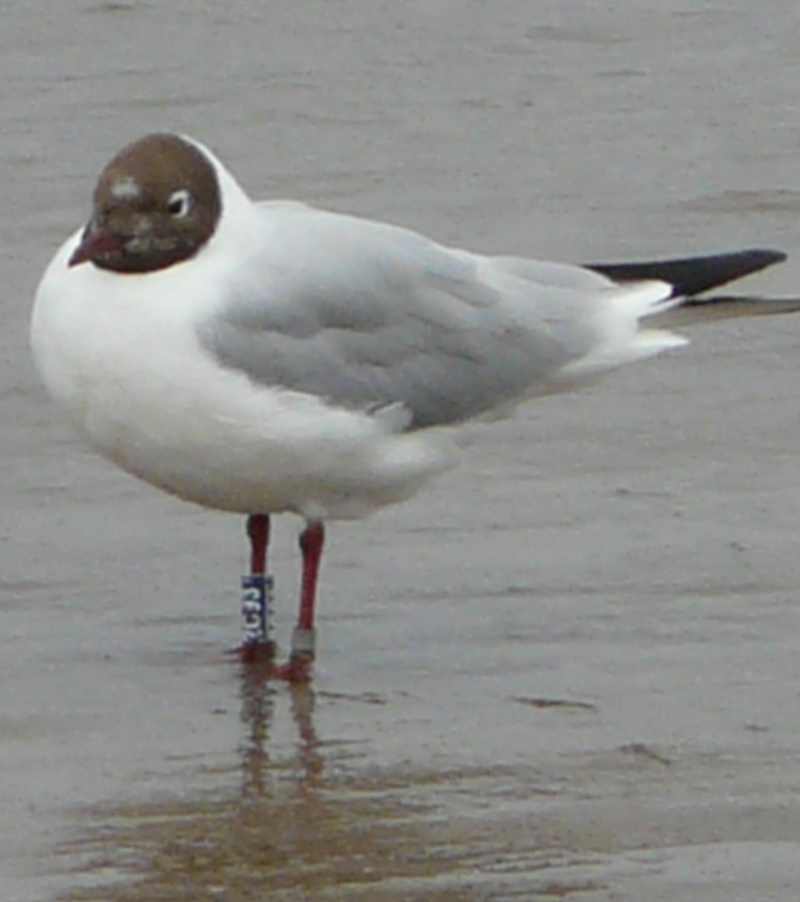 Black-headed Gull 2C33 on Meols Shore, July 2020 © Graham Connolly


2C33 on blue ring.
Ringed on 16/1/2012 at Preston Docks, Lancs.
Recorded on Grange-over-sands, Cumbria in early 2012 and 2013.
It was back at Preston Docks in the winter of 2013/14 then moved to Bowness, Cumbria, in January 2015.
It then disappeared for over five years before being recorded at Meols on 22/7/2020.

Shelduck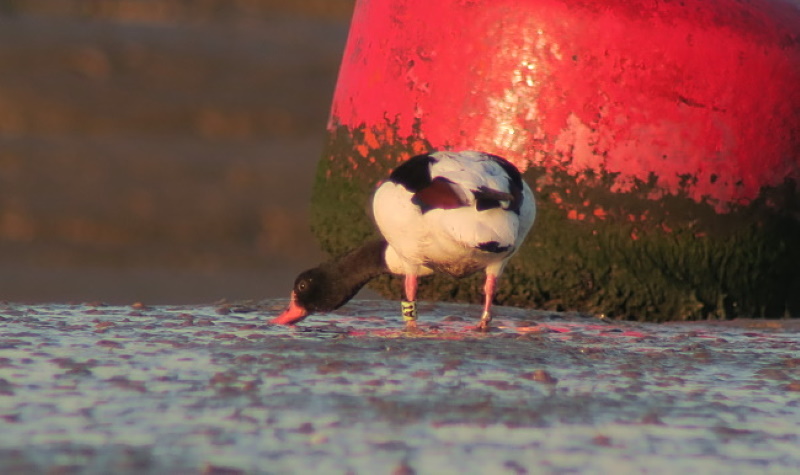 Shelduck Lime AT at Thurstaston in September 2019 © Steve Hinde


Lime NX and Lime SA.
We continue to see Shelduck which hve been ringed at Martin Mere WWT, and these two were spotted drinking from the stream running over the beach at Tinker's Dell, Thurstaston, on 24/8/2020. NX was also seen in 2019 whilst SA is new for us.
The birds spend the winter feeding on the food put out for the wild swans at Martin Mere, and are typically present there from November through to March. They then leave to breed, and their presence on the Dee estuary in late August must mean they have moulted locally, probably either on the Dee or Mersey estuary although none of the birds we have seen have yet been recorded at their moulting site.
Colour-rings were recorded by Richard Smith, Steve Hinde, Matt Thomas, Tim Kinch, Graham Connolly, Steve Williams, Allan Hitchmough, Allan Conlin, David Haigh, Colin Jones, Derek Bates, Colin Schofield, Henry Cook, Elliot Montieth, Brian Tollitt and Richard Speechley.
Cheshire and Wirral Bird Report 2018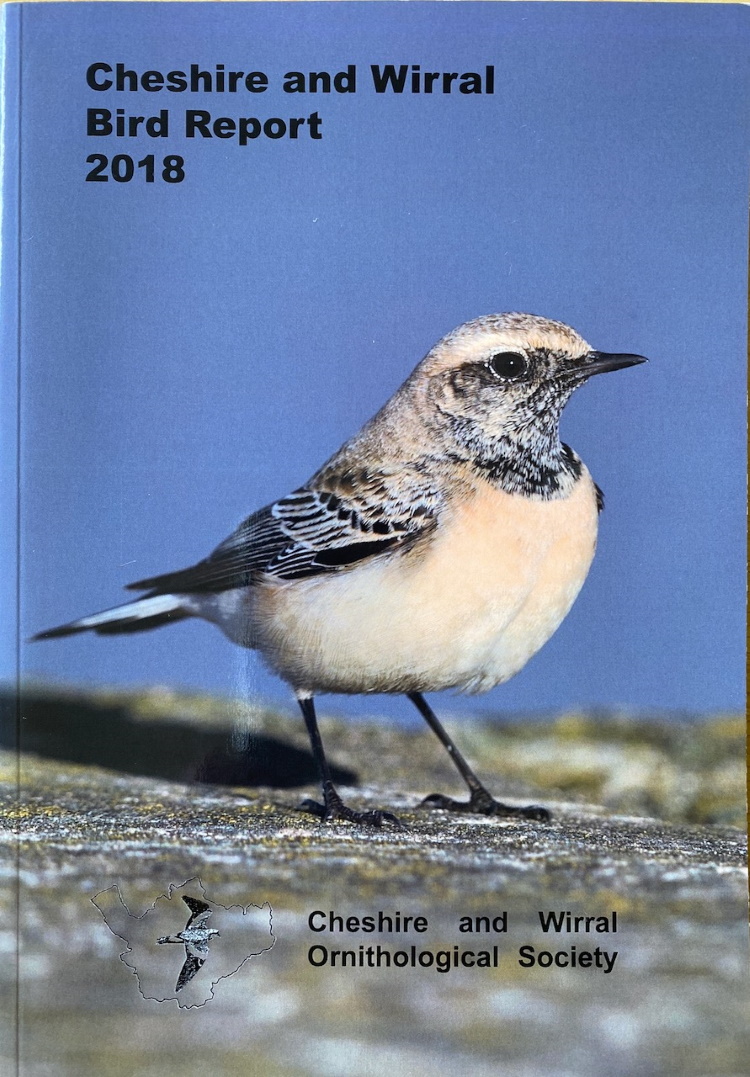 The Bird Report for 2018 has now been published - with many people working together to develop the content and get it printed. The Report is produced in the B5 format with full colour printing which gives the opportunity to include 80 great images of birds whatever their abundance or popularity. The front cover is graced by the Pied Wheatear at Meols in November, which was a first for the county.

The Report has 160 pages and draws on over 150,000 records from a wide range of sources – Birdtrack, BTO WeBS and Breeding Bird Survey, rECOrd, major site reports, website records, ringing reports and of course records from individual observers. An annual Bird Report is the one document that brings all these records together on a County basis.

In 2018 there were 236 species recorded in Cheshire and Wirral of which 27 were County or BBRC rarities. Also included in the Report are articles on the Pied Wheatear, the Mersey Estuary, 'Early and Late Dates for Migrants' and Cheshire and Wirral in the BTO Online Ringing Report for 2018, which selectively focusses on recoveries chosen to illustrate movements and longetivity.

The Bird Report is free to Cheshire and Wirral Ornithological Society members (ordinary membership costs £15), otherwise it costs £10 + £2 p&p with copies available from:

David Cogger, 71 Parkgate, Knutsford, Cheshire, WA16 8HF
Tel: 01565 228503 Email: davidcogger@cawos.org,

August Bird News
The bird of the month was undoubtedly a Purple Heron first seen briefly at Burton Mere Wetlands on the 9th before flying past Decca Pools and ending up at Parkgate. Although a first for Wirral it wasn't a first for the Dee Estuary with single birds recorded at Shotton Nature Reserve in 1961 and 1985. Unlike the three Egret species and Spoonbills this heron doesn't appear to be increasing in number in this country with records having been at around the 20 a year mark for the last 50 years. Another nice rarity was a Citrine Wagtail at Hoylake but as it was only seen and heard in flight it has to go down as just a 'probable'. A family of Spotted Crakes were at Burton Mere Wetlands with an adult first seen on the 12th and two juveniles on the 17th.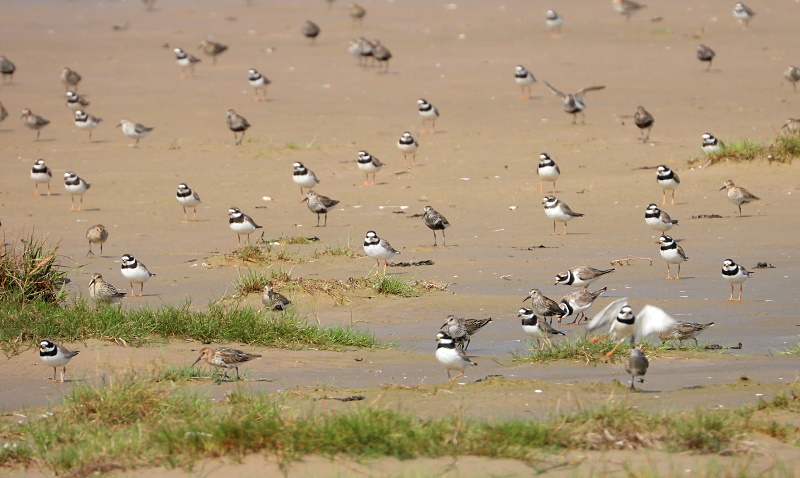 Dunlins and Ringed Plovers social distancing at Hoylake, August 20th © Richard Smith


The high tides in the third week of August brought in good numbers of waders including 800 Ringed Plover and 3,500 Dunlin at Hoylake on the 20th. A juvenile Curlew Sandpiper was at Hoylake on the 18th, and singles (perhaps the same bird) were seen on several more days as well as one at both Heswall and Parkgate; a moulting adult at Hilbre was more unexpected.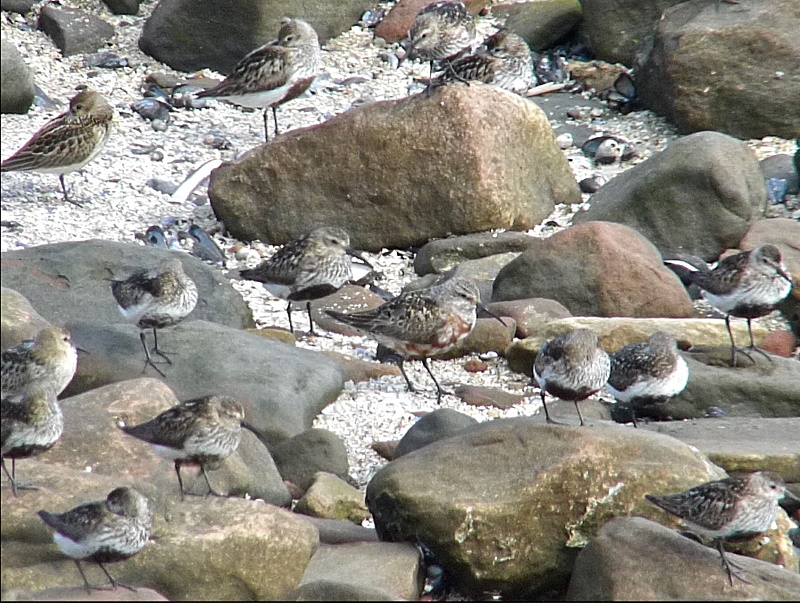 4,900 Redshank were an impressive sight at Heswall on the 12th, but not as impressive as the 6,230 Black-tailed Godwits in their roost at Caldy on the 21st. This is the third year in a row numbers have been over 6,000 at this site at this time of year and represents over 5% of the Icelandic sub-species. To show just how settled they are they spent a ridiculous amount of time there often flying in around 7am and not leaving until after 5pm, and sometimes not leaving until dusk. This is what Jenny Gill, Black-tailed Godwit expert, said "This amazing (and tiny) site is of huge international importance for godwits, particularly during the autumn moult period. What a fantastic sight!".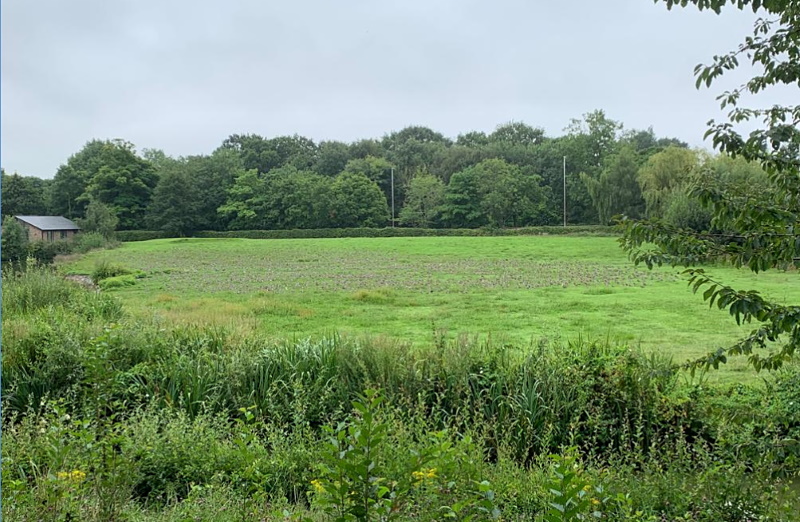 5,900 Black-tailed Godwits at Caldy, August 17th © Richard smith

August is always a good month for terns. A max of 690 Sandwich Terns was a bit on the low side but there were good numbers of Common Terns with several counts over 600. 85 Little Terns, including 45 juveniles, were at Point of Ayr on the 5th. Rarer terns included a Roseate off Hilbre on the 6th with eight Arctic Terns there later in the month. Single Black Terns were at Red Rocks and NewBrighton with two at Hoylake on the 21st.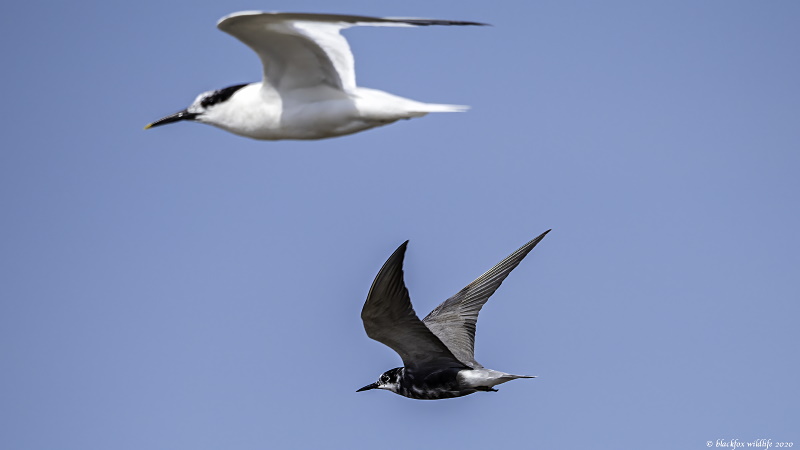 Black Tern with Sandwich Tern off Red Rocks, August 8th © Jeff Cohen

There were several Mediterranean Gulls around including five by the Meols Groyne on the 16th and eight on Hoylake Shore on the 18th.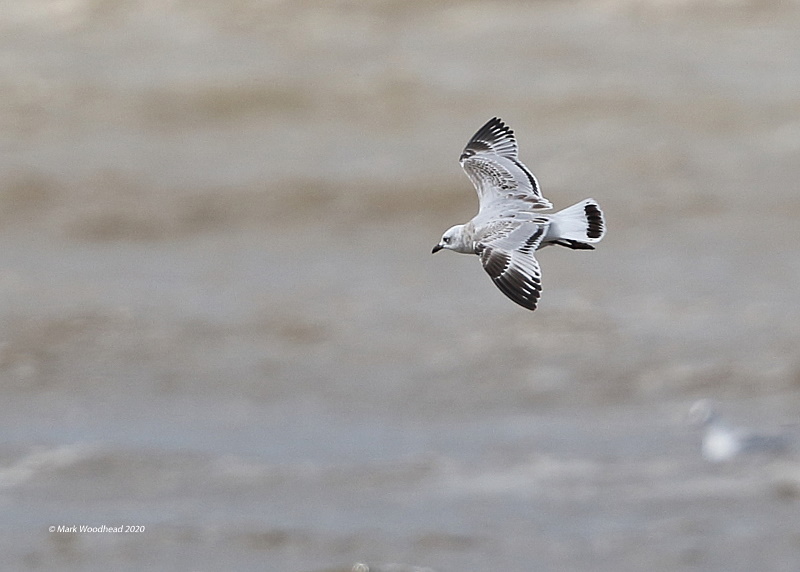 Juvenile Mediterranean Gull at Hoylake, August 20th © Mark Woodhead

The 26th saw some strong north-westerlies which blew in a couple of early Leach's Petrels - one each at Hilbre and Hoylake. A few days earlier, on the 23rd, two Great Skua, five Arctic Skuas and 50 Manx Shearwaters were off Hilbre.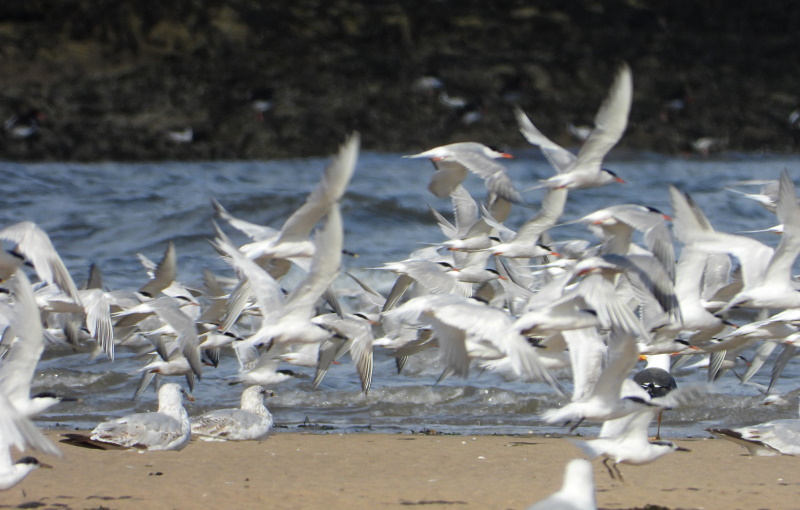 Common and Sandwich Terns at Hilbre, August 3rd © Richard Smith

Early in the month eight Spoonbills were at Parkgate, with most counts for the rest of the month being of seven. Greenshanks reached 22 at Parkgate, and it was a good month for Green Sandpipers including six at Decca Pools mid-month. Marsh Harriers were seen almost daily including the pair with two young which bred at Burton Mere Wetlands. A single ringtail Hen Harrier was recorded on several dates.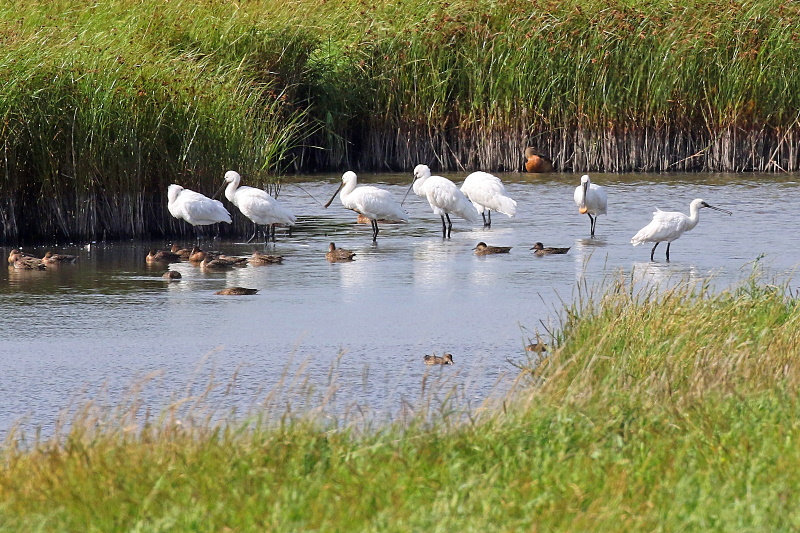 Spoonbills at Parkgate, August 20th © Roy Lowry


Juvenile Cuckoos are often very approachable at this time of year as they search for caterpillars to eat, this one, below, was next to the horse paddocks by Leasowe Lighthouse for most of the second half of the month.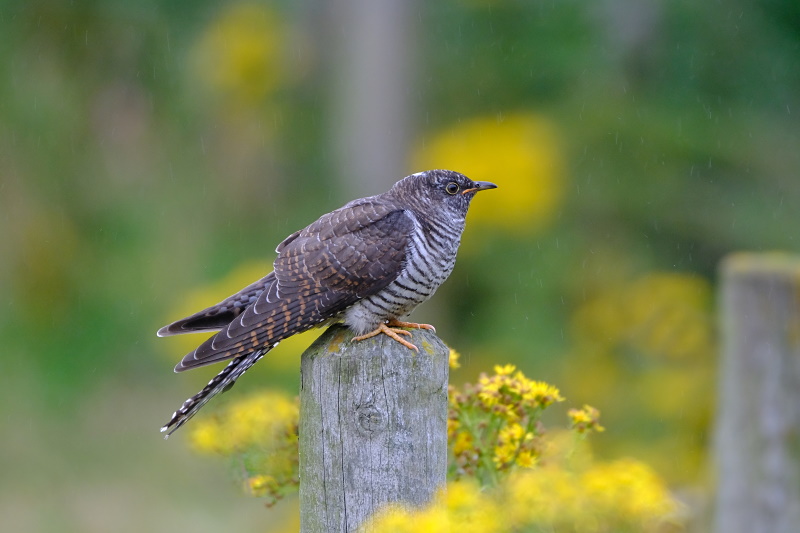 Cuckoo at Leasowe, August 19th © Jeremy Bradshaw

Our Liverpool Bay coast is the best place in Europe to see Leach's Petrels, but only if the weather is right. We need north-west gales this month, if the gales last several days around mid-month we could get hundreds. In these conditions they get blown through the north-west passage and many then end up in the River Mersey mouth so New Brighton is a prime spot. They then make their way along the north Wirral coast and out past Hilbre and Point of Ayr. September sea-watching is not just about Leach's Petrels, of course, and in 2019 we had a record daily count of 101 Arctic Skuas from Hilbre as well as good numbers of Great, Long-tailed and Pomarine Skuas, 2017 saw record numbers of Grey Phalaropes and then there are Sabine's Gulls as mentioned in the above article.
Another classic September species is Curlew Sandpiper and I reckon we are due a good year for them, the last being in 2016 (See Curlew Sandpiper influx 2016). Early in the month Hoylake shore is usually the best place for them but then they tend to move to more inland sites such as Burton Mere Wetlands and Connah's Quay. We can also get good numbers of juvenile Ruffs coming through and a few Little Stints, and always the possibility of something much rarer - Western Sandpiper and Semipalmated Sandpiper turned up in September in the recent past, both at Hoylake.
Pink-footed Geese will start to arrive, often just small flocks flying in early morning before the larger numbers arrive in October. Marsh Harriers will increase up towards their over-wintering numbers and there's a good chance of an early Short-eared owl or two.

Top of Page
18th September, 12.30hrs (BST), 9.9m.
19th September, 13.12hrs (BST), 10.0m.
20th September, 13.54hrs (BST), 9.9m.