August 2020 Newsletter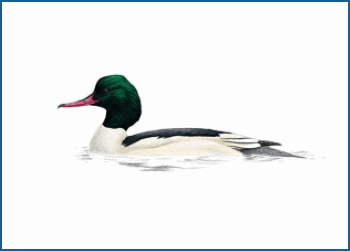 Goosanders on the Dee Estuary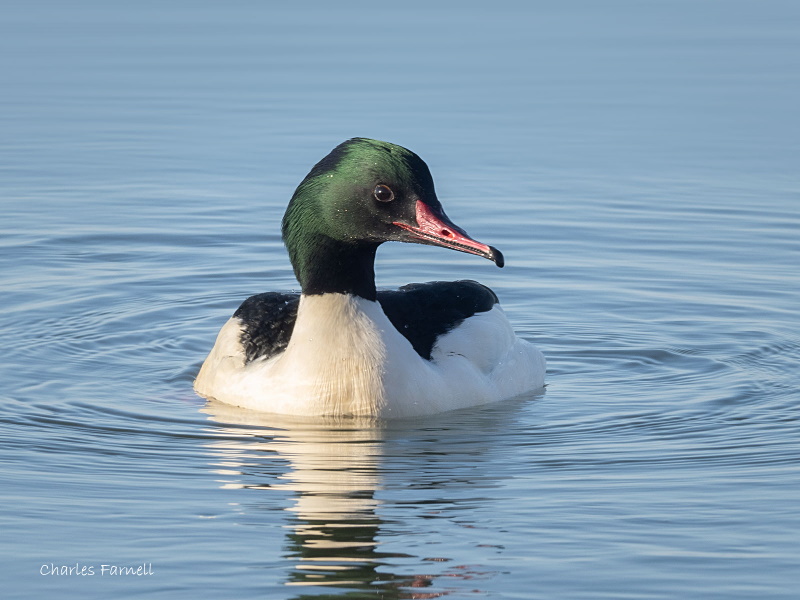 Goosander drake on West Kirby Marine Lake © Charles Farnell


Whatever you have learnt about ducks probably isnít true about the Goosander. This is a very different animal from your quacking park staples, and almost everything they do, it doesnít do. If you take a list of unusual duck facts, many of them will be true of Goosanders. The Goosander is a duck apart, a thoroughbred and a maverick. Far from being a portly, bread-ivorous consumer of benefit handouts, the Goosander is a big-game fishing duck.
Dominic Couzens (Ref 1).

Being a bird mainly of rivers and lakes the Goosander is a scarce bird on the estuary, although it is definitely getting commoner than it used to be. Over the last four winters Goosanders have become regular on West Kirby Marine Lake. One bird was recorded several times in the winter of 2013/14 but before that I can only find two records of brief visits by single birds, in 2001 and 2010. But in the winter of 2016/17 two or three spent several weeks and on 7th December 2019 the first double-figure record was achieved with 10, they reached 11 later that month. I assume what's driving this is just the general increase in the country as a whole and in particular the increase locally both in Clwyd and Cheshire. Interestingly, Goosander numbers at West Kirby have increased whilst Red-breasted Mergansers have shown a sharp decrease over the past few winters - see graph below. As the decrease seemed to have started well before Goosanders discovered the lake it seems unlikely one has caused the other although it's certainly a possibility due, perhaps, to competition for fish. Red-breasted Mergansers numbers on the Dee estuary as a whole have dropped somewhat from what they were 15 to 20 years ago but there doesn't appear to have been any significant drop overall in the past five years.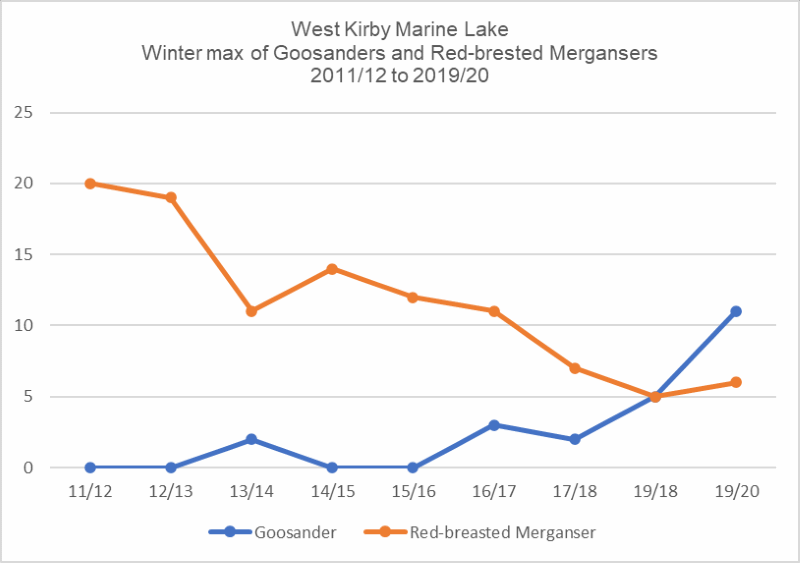 Until they recently started using West Kirby Marine Lake Goosanders were known mainly as a passage bird with flocks passing through in late summer and autumn. The bar chart below shows the annual distribution over a period of 50 years, each bar is the total number over that period so you can see what I meant when I said it is a scarce bird! The large majority of records are of flocks of four or more with many reported in August and September flying west along north Wirral before heading into the estuary.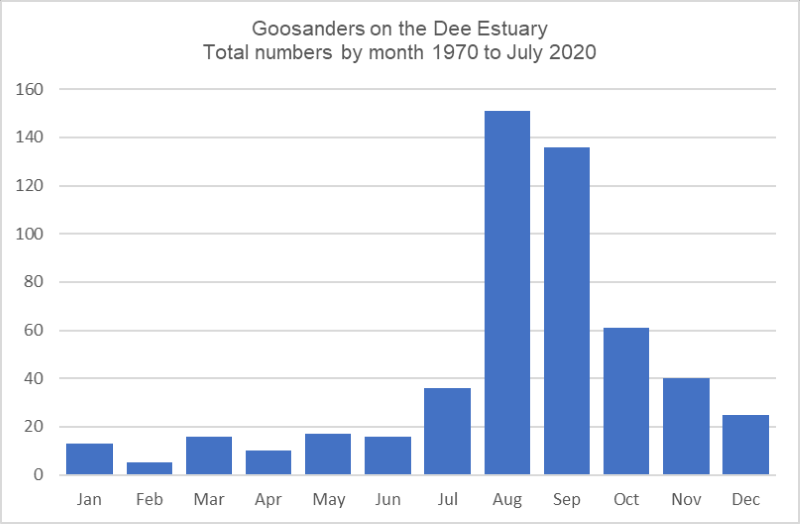 Part of the large flock on Middle Eye in August 2010 © Steve Williams (Hilbre Bird Observatory)


Most just seem to keep going, presumably heading inland, but occasionally some touch down such as the 31 seen on the rocks at Middle Eye in August 2010. At this time of year sizable flocks have also been recorded on the sea off north Wirral, at Point of Ayr, Parkgate, Connah's Quay and Burton Mere Wetlands. At other times of year ones and twos can turn up anywhere although the five non-breeding birds at Thurstaston in mid-June this year (2020) were certainly unexpected and a first for that site.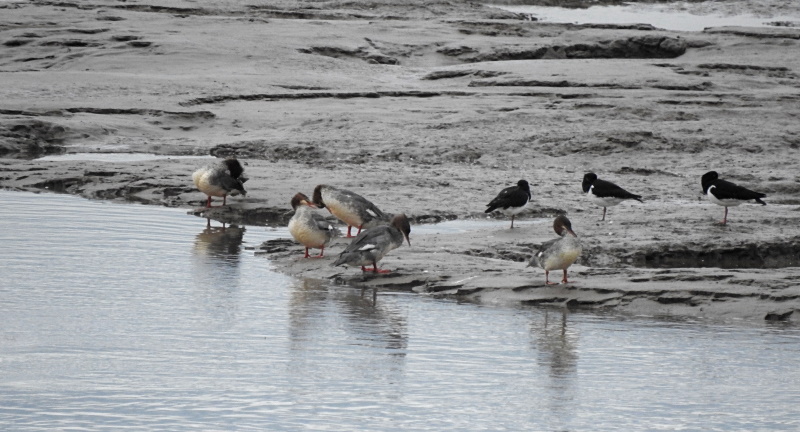 Immature Goosanders at Thurstaston June 2020 © Steve Hinde

One thing you will notice about any Goosander seen from June to October is that they will all be 'redheads' (females and young birds). All the adult males from north-west Europe, including the UK, perform an astonishing moult migration all the way to northern Norway, this was only discovered in the 1980s. You may think the males are selfish leaving the females to look after the recently hatched young birds but it does mean they are not competing for food at the breeding areas while they themselves are in an area where food supply is more reliable.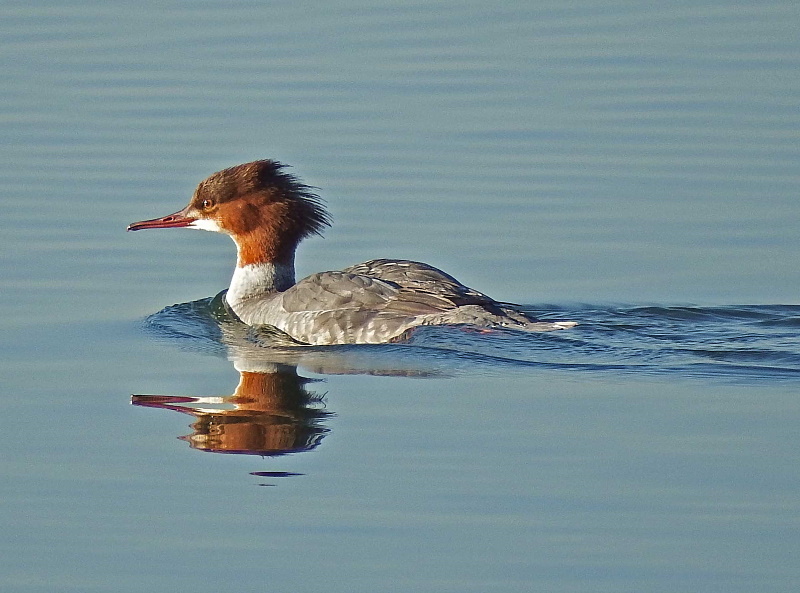 'Redhead' on West Kirby Marine Lake © Tanny Robinson

History and Status

Goosanders seem to have been present in very small numbers as a wintering bird on the Dee estuary in the 19th century and Eric Hardy mentions one in Liverpool Museum which had come from Hoylake in 1894. They remained rare well into the 20th century and the first record in double figures I can find is of 15 off Hilbre in November 1978, although such flocks have become more regular recently it is still unusual to see that many together on the estuary.

Goosanders were unknown as a breeding bird in the UK until they colonised Scotland in the late 19th century, not reaching England until 1941. It took them until 1995 to start breeding in Cheshire although they were certainly breeding in Clwyd by 1990. Perhaps due to lack of suitable nesting habitat they remain a scarce breeder in Cheshire but are more numerous in North Wales where the Clwyd estuary seem particularly attractive to them and Rhuddlan in particular is regularly mentioned in the bird reports as a place to see several broods in the spring and summer.

Numbers inland are much higher in the winter, a survey in 2010-11 found 166 in Cheshire and similar numbers are found in Clwyd on various lakes and reservoirs as well as both the River Clwyd and River Dee. The birds seen flying through the Dee estuary in late summer and autumn are likely to include some of these birds which over-winter.
Nationally it is estimated that there are 3,500 pairs breeding and 15,000 over-wintering. The British breeding population is largely sedentary (i.e. within the UK, except for the male moult migration) and the wintering numbers are boosted by migrants from continental Europe, although, except in hard winters, numbers coming here for the winter is probably quite low and are mainly found in south-east England.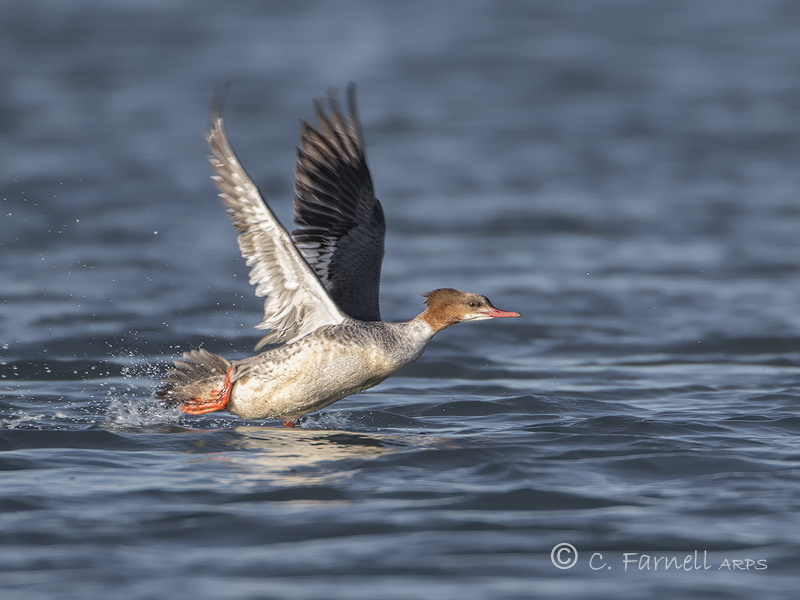 'Redhead' on West Kirby Marine Lake © Charles Farnell

References:

1. Dominic Couzens, Goosander, Bird Watching magazine, October 23 2017.

2. Goosander records from http://www.deeestuary.co.uk/, 2000 to 2020 (many thanks to all who sent in their sightings).

3. Cheshire and Cheshire & Wirral Bird Reports 1965 to 2017.

4. Clwyd Bird Reports and North-east Wales Bird Reports various from 1980 to 2018.
5. B. Little and R.W. Furness, Long-distance moult migration by British Goosanders, Ringing and Migration 6: October 1985.
6. Eric Hardy, The Birds of the Liverpool Area, 1941.
7. Steve Barber, The CAWOS Goosander Survey 2009-2011, C&W Bird Report 2010, CAWOS.
8. Population estimates of wintering waterbirds, British Birds, March 2019 (Vol 112).
9. Richard Hearn, Status of Goosanders in the UK, JNCC, February 2015.

10. Hedley Bell, The Birds of Cheshire, 1962.
11. Hilbre Bird Observatory Blog, http://hilbrebirdobs.blogspot.com/.
12. WeBS Report Online, BTO, https://app.bto.org/webs-reporting/ .

Richard Smith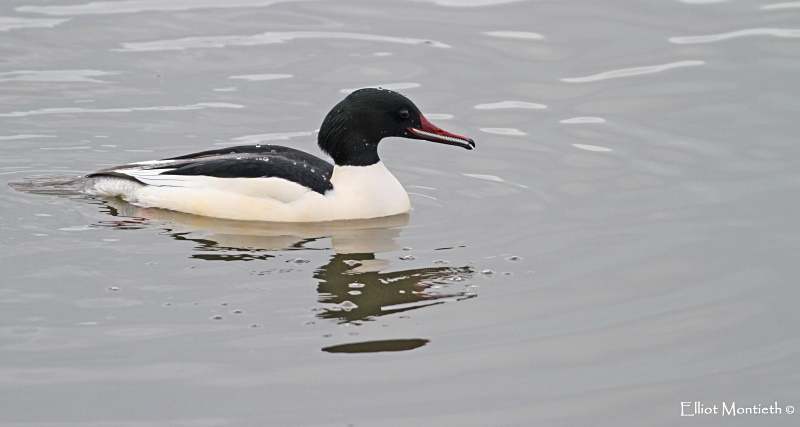 Drake Goosander on West Kirby Marine Lake © Elliot Montieth

Colour Ring Report
It's been good to be able to get out and about again looking for colour-ringed birds. We've seen several although we've had some bad luck with birds just being too distant and in other cases we are still waiting for feedback. But below are two particularly interesting records.

Little Tern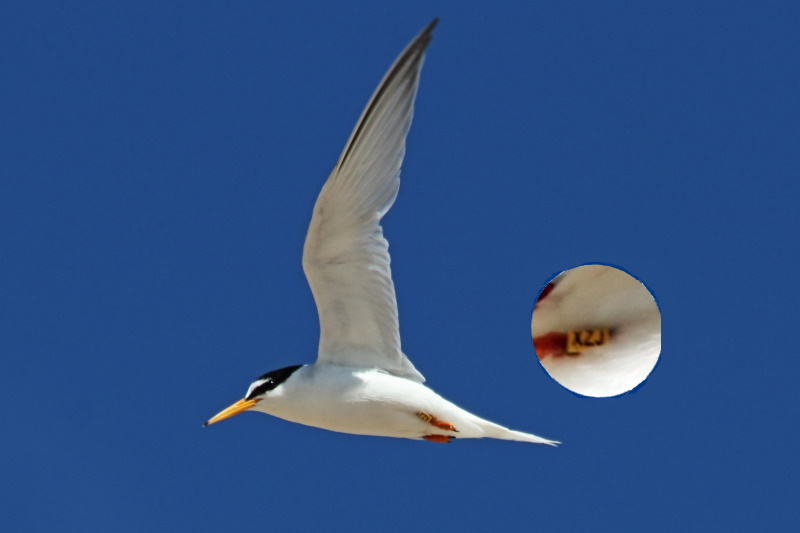 Little Tern XZJ, at Gronant July 2020 © Carole Killikelly


XZJ - black on yellow ring.
Ringed on 28/6/2008 with metal ring, as a chick, at Kilcole, County Wicklow, Ireland.
Ringed on 12/6/2018 with colour ring at Gronant, Clwyd.
Recorded:
28/11/2019 at Banc d'Arguin, Mauritania.
12/7/2020 at Gronant, Clwyd.
This bird shows a typical movement between Irish Sea colonies having been ringed as a chick in Kilcole in 2008 then moving to Gronant to breed - it's sighting this July confirms it is now 12 years old. Last November it was spotted by a team from NIOZ (Royal Netherlands Institute for Sea Research) in Mauritania who were there monitoring waders, we know all about NIOZ as they ring hundreds of Knot many of which we see here on the Dee Estuary. Remarkably this is only the second record of a British ringed Little Tern from Mauritania.

Black-tailed Godwit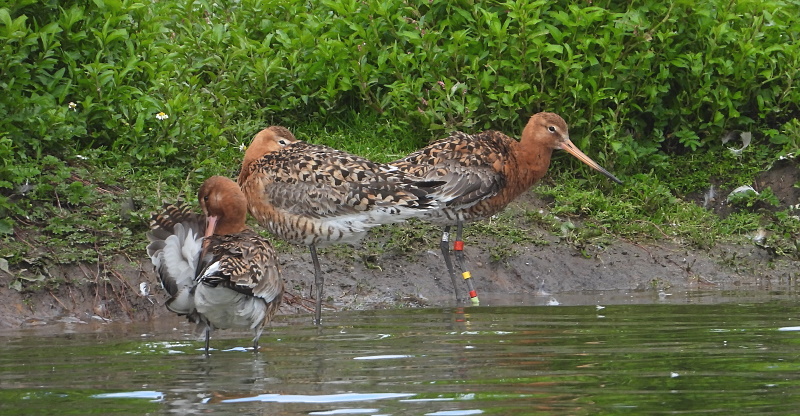 Black-tailed Godwit R/YRL at Caldy, July 2020 © Richard Smith


m-R//YRL.
Ringed on 23/12/2019 at Sanxenco, Pontevedra in north-west Spain (just north of Vigo).
Present at Caldy from 5/7/2020 to the end of July 2020.
It was ringed by the Andurina Ringing Group as part of the shorebirds monitoring program in Galicia. This is the first Black-tailed Godwit we have seen which has been ringed by this group. They also ring many other species of waders and always use the same pattern with one ring on the right tibia and three on the right tarsus - we have seen three Dunlin from this scheme, one on Hilbre and two at Hoylake.

July Bird News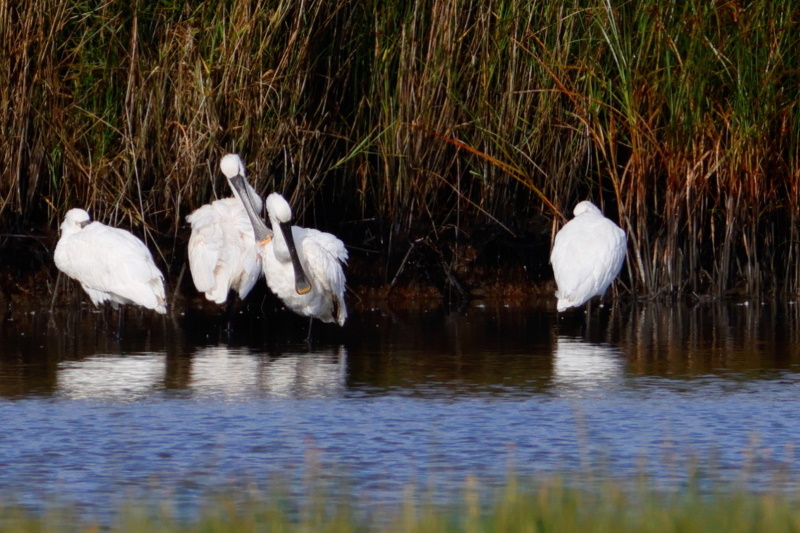 Spoonbills at Parkgate, July 25th © Roy Wilson


Up to four spoonbills were present all month, usually either at Parkgate or Burton Mere Wetlands. At least three Marsh Harriers, one Hen harrier and three Great Egrets were regularly recorded, and loads of Little Egrets.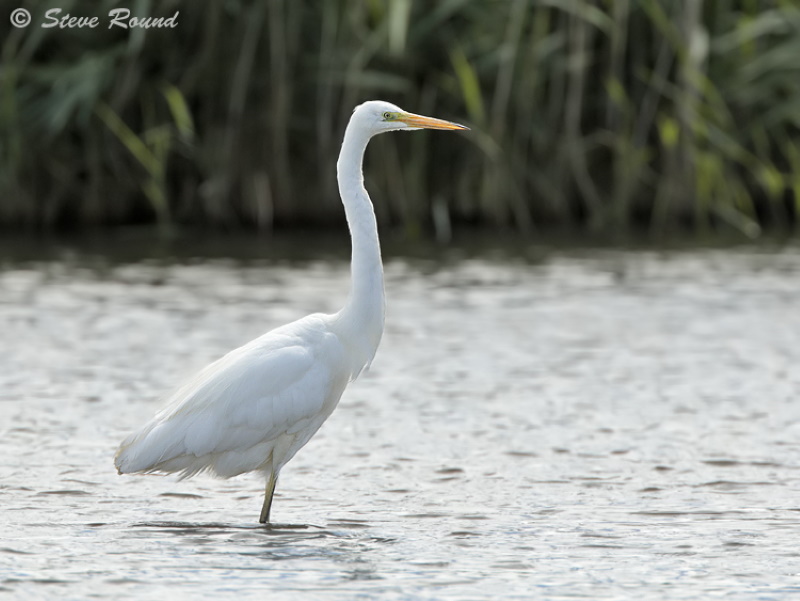 Great Egret at Burton Mere Wetlands, July 26th © Steve Round

Returning Mediterranean Gulls are always a feature in July and there were five at Heswall, two at West Kirby, two at Hoylake and two at Meols/Leasowe. Out towards Hilbre there were plenty of Sandwich Terns with max count of 580 a third of which were juveniles. Towards the end of the month 520 Little Terns at Gronant and 1,000 Common Terns at Point of Ayr were counted. I've not yet heard how our Little Tern and Common Tern colonies have done this year but I fear not particularly well what with gales, very strong sun and torrential rain at different times all causing problems. Further out to sea there were reports of a few Manx Shearwaters during strong westerlies and three Arctic Skua off both Hilbre and Meols at the end of the month. More unexpectedly was an Arctic Skua seen chasing Carrion Crows over Thurstaston Shore on the 26th. 618 Gannets off Hilbre on the 28th was a great count during a strong westerly.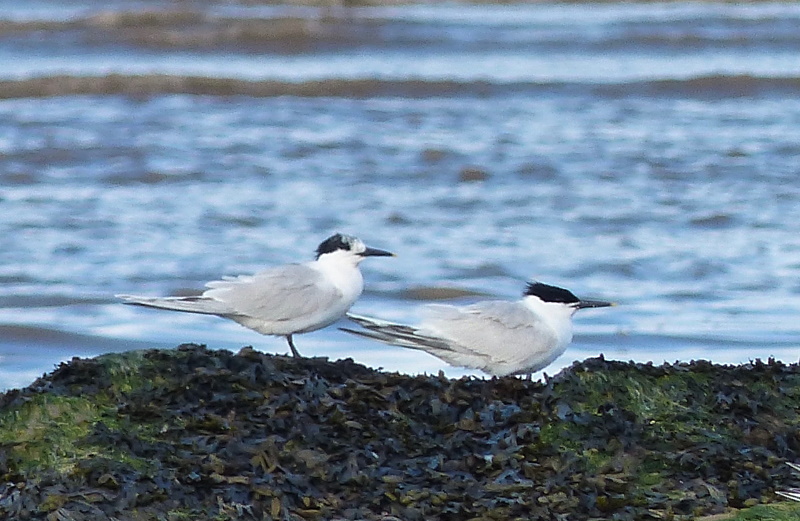 Sandwich Terns by Middle Eye, July 19th © Allan Hitchmough

Waders were pouring in to the estuary but we already had a large number of immature Knot over-summering as reported in last month's newsletter. On the 8th a large flock of 10,000 which had been feeding on Dawpool Bank flew over me heading north towards Formby and I then saw another large flock by Little Eye - so an estimated total of 15,000. Amazing numbers for July, by the end of the month a few returning adults in full breeding plumage were recorded. Black-tailed Godwits returning from Iceland had increased to 2,900 by the end of July. They could be seen feeding right out in the middle of the estuary off Caldy and roosted in Caldy Wildfowl Collection over high tide. Redshank numbers had increased to nearly four thousand by the month end at Thurstaston where there were also up to 20 Whimbrel. Greenshanks were recorded at several sites with the highest count at Parkgate with 22. Wood, Green and Common Sandpipers were all recorded.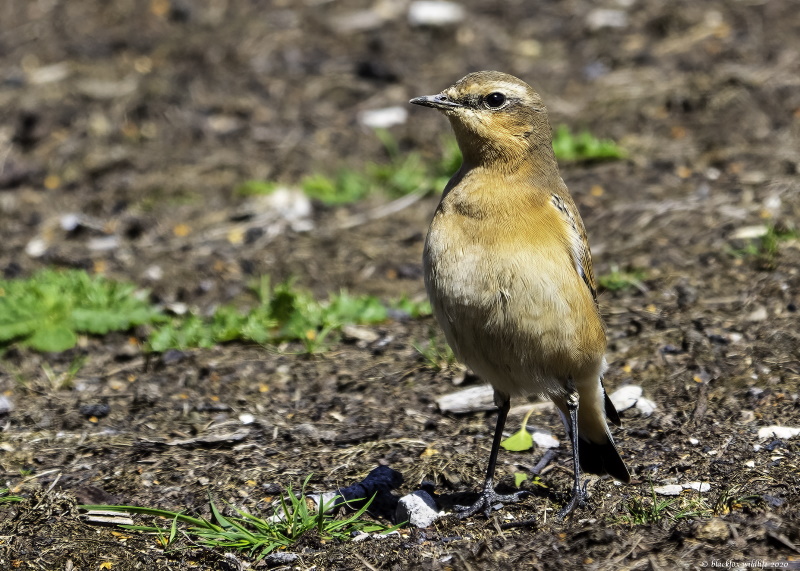 Wheatear at Flint Dock, July 28th © Jeff Cohen

Several juvenile Wheatears were reported so they seem to have had a good breeding season. Also several siskins and Crossbills were observed, mostly flying overhead, probably dispersing away from the large influx into the country reported in June.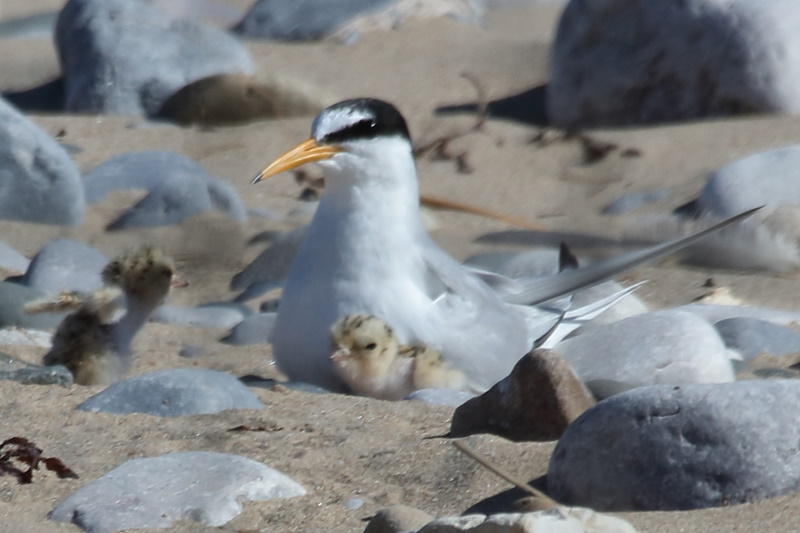 Little Tern and chick at Gronant (photo taken from outside the perimeter fence), July 12th © Carole Killikelly


In Wirral what we call rivers most people would call ditches! But, nevertheless we get our share of Kingfishers and several were reported in July no doubt dispersing after the breeding season including this one below on the River Birket.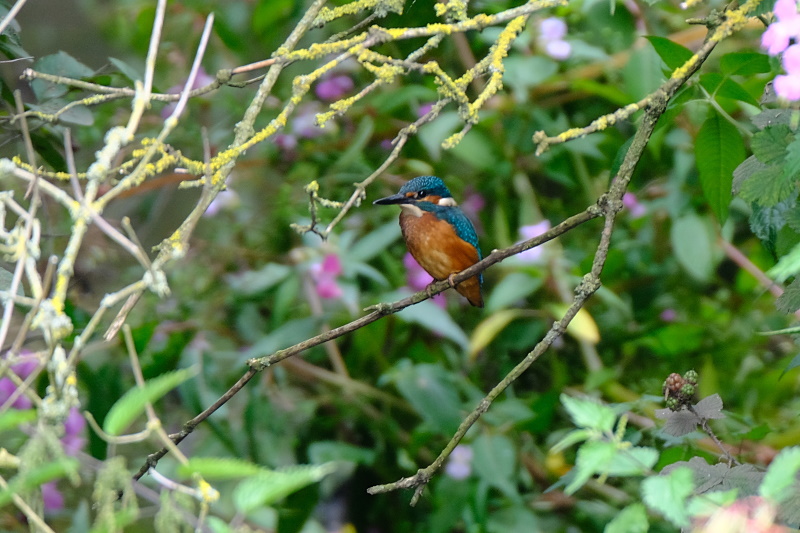 Kingfisher at Leasowe, July 26th © Jeremy Bradshaw

Many thanks go to Henry Cook, Geoff Robinson, Julie Rogers, Mark Gibson, Jeremy Bradshaw, Mark Woodhead, Tim Kinch, Matt Thomas, David Haigh, Carole Killikelly, Steve Hinde, Alan Hitchmough, Derek Bates, Allan Conlin, Steve Williams, Richard Whitby, David Thompson, David Small, Linda Platt, Les Hall, Steve Hasell, Colin Schofield, Richard Speechley, James Smith, Gail Wilson, Richard Beckett, Chris Revell, Roy Wilson, Ken Mullins, Steve Wende, Malcolm Williams, Mark Woodhead, Steve Round, Charles Farnell, Dave Edwards, Jeff Cohen, Graham Connolly, Paul Vautrinot, John Hemmings, Paul Mason, David Parker, Ann Hancox, Mathew Gardiner, Stephen Dobbie, Pete and Mrgo Lewis, Steve Edwards, Chris Lewis, Alan Irving, Simon Dowell, Kevin Taylor, Marc Gannon, the
Dee Estuary Wardens
and the
Hilbre Bird Observatory
for their sightings during July. All sightings are gratefully received.
What to expect in August
Don't make the mistake of thinking that because it is the summer holidays that means August is a bit of a dead month when it comes to birding, because it's actually one of the best of the year. For starters waders will be pouring in with many adults still in summer plumage and with them will be, we hope, plenty of juveniles. There's something very satisfying looking at these young birds knowing that 'our' waders have had a good breeding season. You should look at them with some awe as most make it here having travelled across the Atlantic or all the way from Siberia completely independent of their parents. One species we hope to see in August are Curlew Sandpipers, we might get an adult or two at the beginning of the month but the juveniles could start to arrive in the last week of August with Hoylake Shore one of the best spots to see them.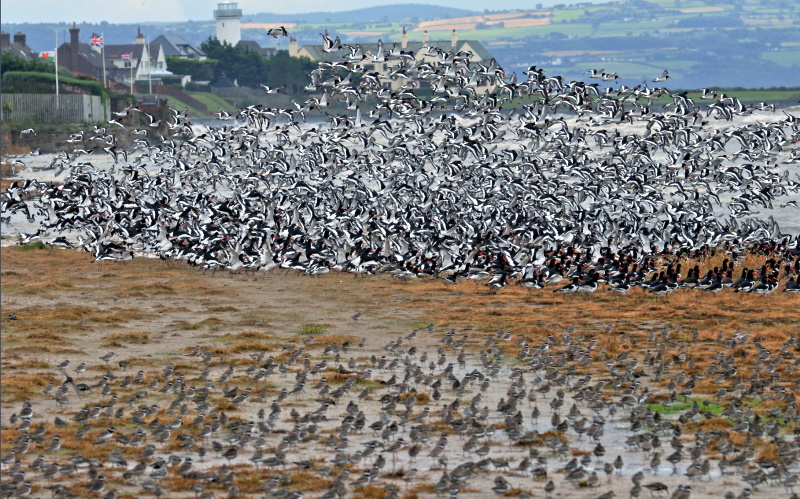 Waders on Hoylake Shore at the end of August 2019 © Carole Killikelly

There are some good high tides peaking on the 21st and, given reasonable weather, this will give us a wader spectacle with the beaches covered in Dunlin, Oystercatchers, Ringed Plover and Sanderling - Hoylake, Point of Ayr and Gronant should be prime spots. Both the wader and gull flocks are certainly worth scanning for rarities, a Bonaparte Gull turned up a couple of years ago. Other waders will include several thousand Black-tailed Godwits at Caldy Wildfowl Collection, and at various sites around the estuary we could get Greenshank, Ruff, Common Sandpiper, Green Sandpiper and Wood Sandpiper. On the marshes look out for Spoonbills and Great Egrets.
Also on the beaches will be plenty of Sandwich and Common Terns, and look out for the much scarcer Arctic and Black Terns. Given strong westerlies we will get plenty of Skuas and towards the end of the month, if we get a prolonged north-westerly wind, we could get an early Leach's Petrel.

Forthcoming Events
August Highest Spring Tides (Liverpool)
Also see Tides page.
20th August, 12.52hrs (BST), 9.5m.
21st August, 13.35hrs (BST), 9.7m.
22nd August, 14.18hrs (BST), 9.6m.
Forthcoming Events
Due to Covid 19 restrictions no birdwatching events are planned for this month.