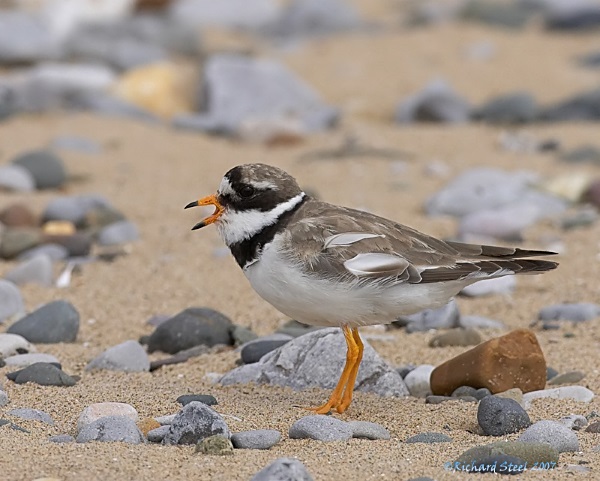 August is THE month for Ringed Plovers on the estuary. It is this month when we get the migrants, which breed in the high Arctic, passing through in their hundreds on their way to spend the winter in Africa. They tend to favour sand, rather than mud, so you will see them at Gronant, Point of Ayr, Hilbre, West Kirby and Hoylake. On August 21st last year (2013) I was lucky enough to see Hoylake shore covered with them at high tide when I counted 1,600, which may well be the highest single site count on the Dee estuary since the 1970s. I always look at these small birds with awe knowing how far they have already travelled and how much further they still have to go.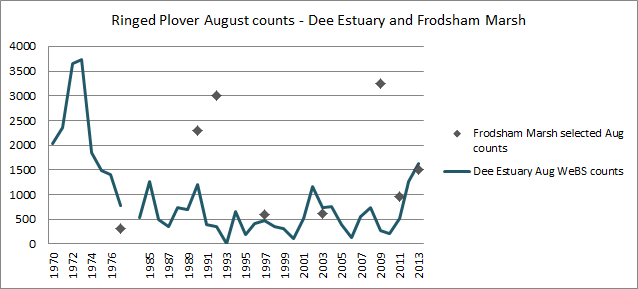 Way back in the 1970s we used to have larger numbers but since then counts have been much lower, but it is pleasing to see over the past three years a big increase such that the WeBS count of 1,630 on August 25th 2013 was the highest since 1974. We also get birds coming through in May on their way back to their breeding grounds, but the August peak is always larger here on the Dee Estuary. In contrast, on the nearby Ribble Estuary the peak is usually in May and in 2011 (and with only a slightly smaller peak in May 2012) they had the highest ever recorded count for Lancashire with 6,270 (see graph below).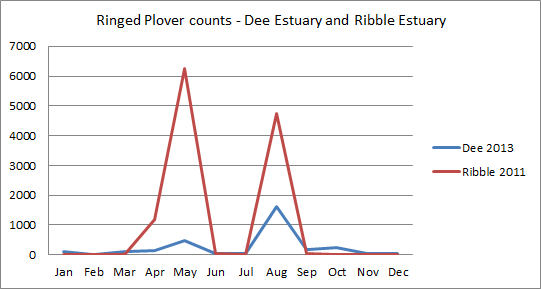 Nearer to the Dee estuary both Frodsham Marsh and the Mersey estuary can have good numbers in August, although the peak counts vary greatly from year to year. Recent high counts at Frodsham include 3,250 in August 2009, one of the highest ever recorded there, and there were 1,500 in August 2013. The same day as the Frodsham birds were counted 1,120 were on the north shore of the Mersey estuary, which is the second ever highest count there.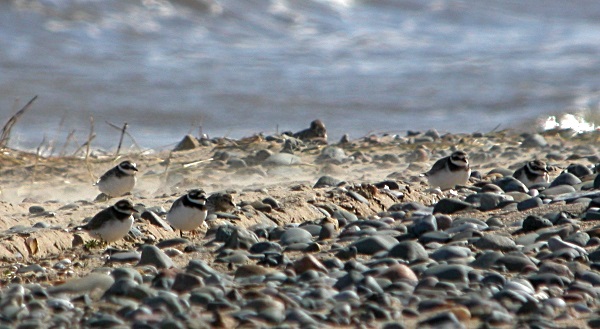 Ringed Plovers sheltering from the wind at Point of Ayr © Richard Smith.
These migrants are from two populations, psammmodrama - which breed in Greenland and Eastern Canada, and tundrae - which breed in northern Scandinavia and right across northern Siberia. Both populations winter in Africa. These recent good numbers locally could indicate that these populations may well be increasing but, of course, we only see a tiny proportion of the total, which may well be as many as a million birds, so I don't think we can come to any conclusion in that regard without looking at the bigger picture.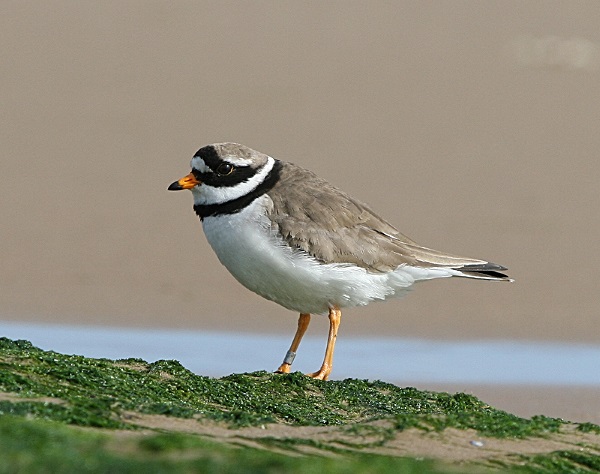 Ringed Plover at New Brighton © Steve Seal
.
There is a third population of Ringed Plovers - the nominate race hiaticula. Ringed Plovers are one of the few waders which breed around the Dee estuary and it is a joy to see them when I'm wardening at Gronant with their soft calls and distraction displays. They breed at several locations along the Welsh coast as well as two locations on North Wirral. These are hiaticula birds and it is also this population which spends the winter with us. The British Isles is of major importance for hiaticula both for breeding and wintering, there is some movement south in the winter but only as far a Iberia and the Moroccan coast and the majority both breed and winter in western Europe. It is this population which has undergone a major decline in this country since they reached a peak in the late 1980s. This is probably due to both disturbance in their coastal breeding areas and some birds staying further east during mild winters. However, there is some evidence that the population as a whole only shows a moderate decline. The graph below shows numbers recorded in the winter on the Dee estuary and mirrors the national decline, they reached their lowest ever winter max in 2011/12 (52) but there was a very welcome bounce the following year. Lets hope that continues.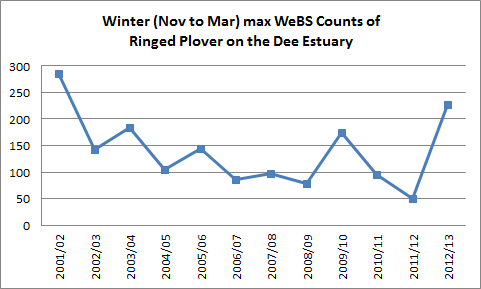 References/Sources of Information:
1. BTO, WeBS Reports Online, http://www.bto.org/volunteer-surveys/webs.
2. Neil Friswell and Colin Wells, Dee Estuary and North Wirral Foreshore WeBS Annual Report, 2012/13.
3. Cheshire and Wirral Bird Reports, 1967 to 2012, CAWOS, plus 2013 data not yet published.
4. Simon Delany et al., An Atlas of Wader Populations in Africa and Western Eurasia, Wetlands International, 2009.
5. The Migration Atlas, BTO, 2002.
6. Birds of the Western Palearctic (BWPi - interactive edition).
7. David Norman, Birds in Cheshire and Wirral (Atlas), CAWOS, 2008.
8. Bird Atlas 2007-11, BTO, 2013.

Richard Smith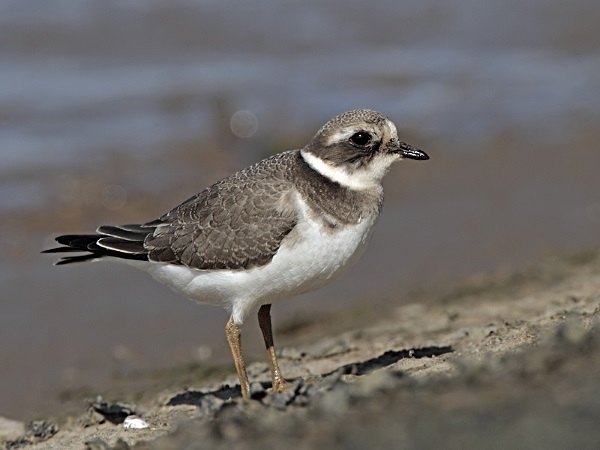 Richard Smith
Top of Page
Red Rocks - Update
I have some news this month - Cheshire Wildlife Trust have set out a consultation timetable for the management plan for Red Rocks. The Cheshire and Wirral Ornithological Society (CAWOS), the Dee Estuary Conservation Group (DECG) and Wirral Wildlife (Wirral branch of CWT) have all been invited to a meeting early in August, with a fuller consultation with various bodies and individuals (including myself) to take place shortly after. CAWOS and DECG have been asked to put forward nominees to take part in the management plan working group. Work on Red Rocks is planned to resume on October 1st.
I hope this will turn out to be as good news as it seems. It is not the comprehensive re-surveying of the site followed by a complete re-assessment of the features of the SSSI which is our ultimate aim, but at least it is a good step in the right direction. There are some worrying aspects with the consultation process - for example, why no mention of Natural England and their Conservation Enhancement Agreement? - but we will have to wait to see what happens.
For those who have not been following the problems at Red Rocks - see the Madness at Red Rocks article and the subsequent follow up article.
July Bird News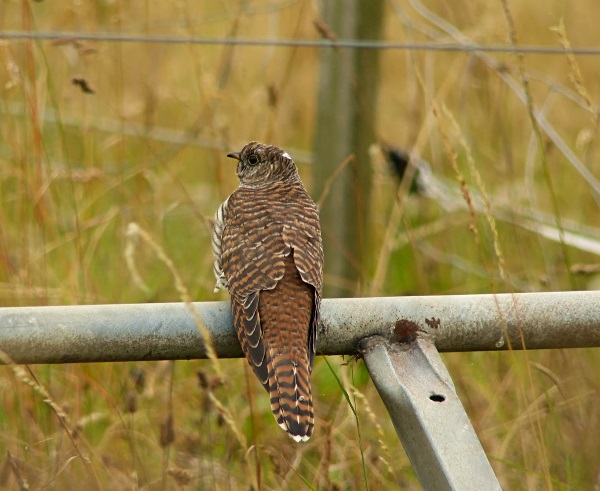 Juvenile Cuckoo at Leasowe, July 29th © David Haigh.
Mediterranean Gulls were much in evidence, particularly in the first half of the month. Total number of records received came to 57, which is second only to the 63 in July 2010 which was a record month for this species. Notable counts were three off Leasowe Lighthouse on the 7th and seven on Heswall Shore on the 10th.
It was great to stand on Red Rocks and hear the constant noise of the Sandwich Terns, highest count was 795 at West Kirby on the 24th, with similar numbers at Hilbre. There were 133 adults with 33 juveniles on the 13th, so a good breeding season. There was also good numbers of Little Terns at West Kirby with up to 200 towards the end of the month including 70 fledglings. There was a massive count of 587 Little Terns at Gronant on the 27th which included at least 107 fledglings. I think 587 is a record high number for the Dee estuary, it will include birds which have bred elsewhere and arrived at Gronant at the end of the breeding season.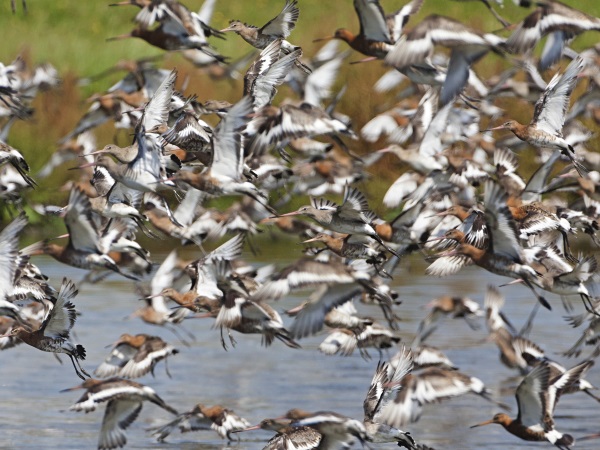 Wader numbers built up steadily during the month, it was an amazing contrast between the beginning of the month, with just a few Oystercatchers and Curlews around, to the end when there were many hundreds of Black-tailed Godwits, Dunlin, Redshank etc. The early return of Black-tailed Godwits caught us by surprise but we understand some appalling weather in Iceland in the first week of July meant that many broods were abandoned and thus many of the adults left early. We've had record numbers of these waders at Gilroy Nature Park (West Kirby) with a maximum of 1,220 when we would normally be expecting no more than 100 there by late July. I write this on the last day of the month having just got back from Gilroy, it was truly magical seeing the godwits come in from the shore pushed off by the rising tide in flocks anywhere between three and three hundred strong, as they flew over me to land you could hear the wings slicing through the still air - a really amazing sound - and when they landed they all started 'talking' to each other, a surprisingly load musical twitter.
Heswall shore has been good for waders, as well as the usual thousands of Redshank and hundreds of Curlew, we had 86 Whimbrel on the 25th and seven Common Sandpipers on the 29th. Greenshank numbers are starting to build up, there were several reports of single birds and eight were on Parkgate Marsh on the 26th.
With light easterly winds for most of the month sea-watching has been poor, but we did have three days when Manx Shearwaters were seen with max 95 from Hilbre on the 13th. An early returning Hen Harrier has been seen and there were two Marsh Harriers (a female and a juvenile) at the end of the month.
Last, but not least, the big news of the month was the successful breeding of Spotted Crakes at Burton Mere Wetlands, there had been several reports of singles over the past couple of months but there was much excitement when an adult with two chicks were spotted from the reception hide on the 29th.
Many thanks go to Derek Bates, Matt Thomas, Richard Beckett, Chris Butterworth, Steve Hinde, Eddie Williams, Dave Edwards, Jim Armstrong, Allan Conlin, Greg Harker, David Haigh, Jeremy Bradshaw, Alan Hitchmough, Steve Williams, Ray Eades, Colin Schofield, Dave Wild, Jeff Cohen, Steve Hand, Charles Farnell, Elliott Montieth, Paul Earley, Jon Wainwright, David Small, Graham Murphy, Tony Darby, David Peate, David Leeming, Angie Mounsey, Julie Rogers, Ron Stores, Andy Thomas, Jon Greep, Mike Buckley, Rob Dogson, Paul Mason, Andrew Farrell, Andrew Livermore, the
Lighthouse and Wirral Birding Blog
, the
Dee Estuary Wardens
and the
Hilbre Bird Observatory
for their sightings during July. All sightings are gratefully received.
Top of Page
What to expect in August
Spring tides mid-month come just at the right time to bring a spectacular display of terns and waders to Hoylake shore - weather permitting, of course! Tides from the 10th to the 15th should result in hundreds of Sandwich and Common Terns on the shore, also Little Terns will be present and some years we can get a few Black Terns. There will be large numbers of small waders - Dunlin, Ringed Plover and Sanderling, and look out for gorgeous looking summer plumaged Bar-tailed Godwits, Knot and Grey Plover. A large number of gulls should include one or two Mediterranean Gulls. Hoylake is a prime spot for all this but Gronant, Point of Ayr, Hilbre and West Kirby are also all well worth a visit.
Bad weather can spoil all this by scattering the birds, but strong winds do have their compensation with the prospect of seeing Manx Shearwaters, Gannets, skuas and Storm Petrels blown in. If we have gales late on in the month there is always the possibilty of the first Leach's Petrels of the year coming past.
Early in the month there is always the prospect of seeing one or two summer-plumaged adult Curlew Sandpipers, and we could get the first Curlew Sandpiper juveniles coming in by the month-end. Greenshank numbers will increase with Parkgate marsh and the Connah's Quay reserve good sites to see these, and there is always the possibilty of seeing a rarer wader such as Little Stints at Hoylake or Pectoral Sandpiper at Burton Mere Wetlands.
Land birds will also be on the move and on Hilbre we can get spectacular falls of Willow Warblers as well as good numbers of Wheatears and other migrants. August is a good month for Marsh Harriers and some years we can have several around the estuary.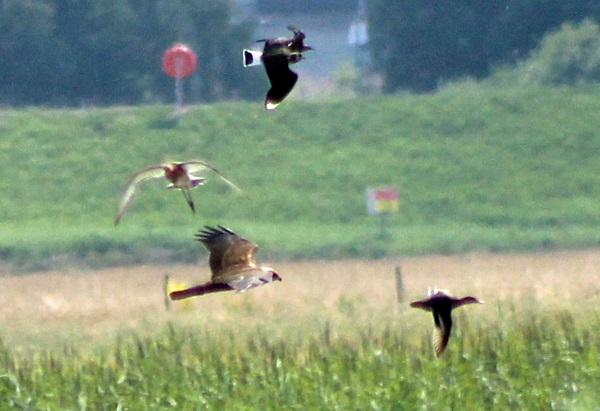 Marsh Harrier at Burton Mere Wetlands plus accompanying flushed birds, 25th July © Elliot Monteith
Top of Page
Forthcoming Events
August Highest Spring Tides (Liverpool)
Also see Tides page.

11th August, 12.15hrs (BST), 9.7m.
12th August, 13.01hrs (BST), 9.8m.
13th August, 13.47hrs (BST), 9.8m.
Forthcoming Events
Organised by the Wirral Ranger Service , Flintshire Countryside Service and the RSPB (Dee Estuary):
All these events and walks have bird interest, even those not advertised specifically for birdwatching. No need to book for these events unless specified - please check below.
Also see 2014 Events Diary.
Friday 15th August 10:00am start
Mud Glorious Mud!
Join the Coastal Rangers and RSPB to find out what lives below our feet on Hoylake beach and learn about the birds that feed on the creatures that we might find! Please be aware that wellingtons are ESSENTIAL for this event and is not suitable for very young children. No need to book - just turn up at the above time. Meet at the Lifeboat Station, King's Parade, Hoylake.
For further information please ring Wirral Country Park on (0151) 648 4371
Saturday 16th August 6:30pm – 9:30pm
Sunset and Wildlife:
Join the Coastal Rangers and RSPB for an evening walk across the sands to Hilbre Island to discover its wildlife and history. Warm waterproof clothing, stout footwear or wellingtons are recommended. Bring binoculars if you have them.
Places are limited and a suggested donation of £3:00 will be gratefully received for this event.
Booking essential (0151) 648 4371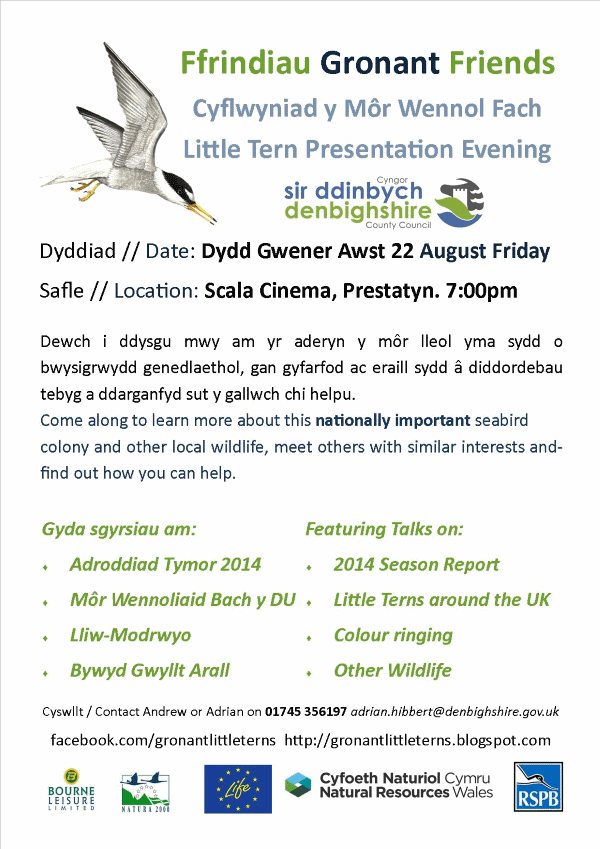 Saturday 6th September 12:00 noon – 3:00pm
Take Tea with the RSPB:
Walk across the sands to Hilbre Island where the RSPB will be serving tea and biscuits during the above date and time. They will be on hand to show you some of the island's unique wildlife and will tell you about the work that the RSPB are doing at their fantastic reserve at Burton Mere Wetlands. There is no need to book, just turn up. Suitable clothing and footwear are essential for the walk out and please note – this is not a guided walk. Remember to bring money for the tea!
For further information, please telephone Wirral Country Park on (0151) 648 4371
Saturday 27th September 12:00 noon
High tide Birdwatch at Hoylake:
Join the Coastal Rangers, Dee Estuary Voluntary Wardens and the RSPB on this high tide birdwatch at Hoylake to see large numbers of waders as they gather and roost on the shore. We hope to see dunlin, knot etc, as they begin to return from their breeding grounds. No need to book. Meet at the bottom of Trinity Road, King's Parade, Hoylake.
For further information please telephone Wirral Country Park on (0151) 648 4371 .