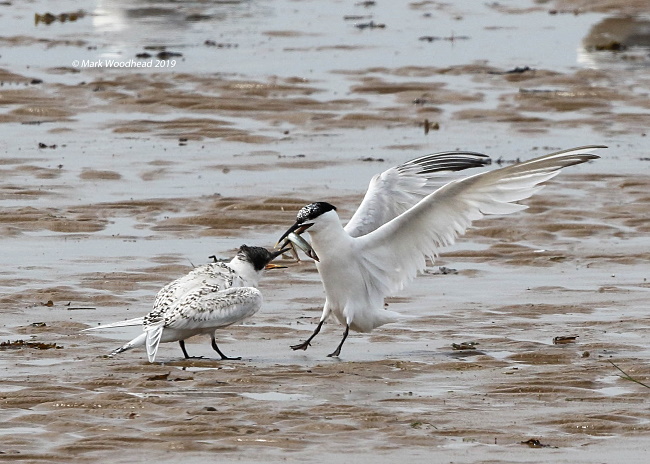 Sandwich Tern and young at Hoylake © Mark Woodhead


I always look forward to July because of the return of the Sandwich Terns filling the Liverpool Bay coast with the sound of their strident kirrick calls. Being close to a big flock of several hundred is an incredible experience - constant noise and constant movement with hungry chicks demanding food from the busy adults.

They are the first of our terns to start breeding, laying eggs in early May, and the first to finish from late June and into July. After breeding they disperse widely and many congregate at staging posts around the UK with the coastline from Gronant, across to Hilbre and north Wirral and up to Ainsdale on the Sefton coast being one of the most important areas in the country. Small numbers arrive here in late June then quickly build up through July with a peak in the first half of August. Many birds will have left to go south by the end of August but numbers on passage in early September can still be quite significant and these may be birds from colonies further north or east. A few stragglers are usual in early October.

Total numbers in this Liverpool Bay area are likely to peak at around 5,000 and, including juveniles, this will be 10 to 20% of the UK population. The main roost sites are at Gronant, Point of Ayr, Hilbre, West Kirby, Hoylake, Formby Beach and Ainsdale. Several hundred will also be distributed along the North Wales coast with Rhos Point near Colwyn Bay a favourite spot.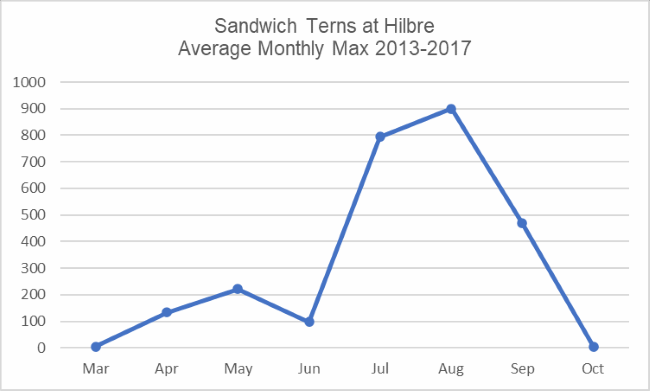 There is also a spring passage but with lower numbers than in the summer as birds don't linger at that time of year. The graph above of birds counted at Hilbre shows the typical annual distribution. Peak numbers usually occur in the first half of August but some years high numbers are seen in both July and September.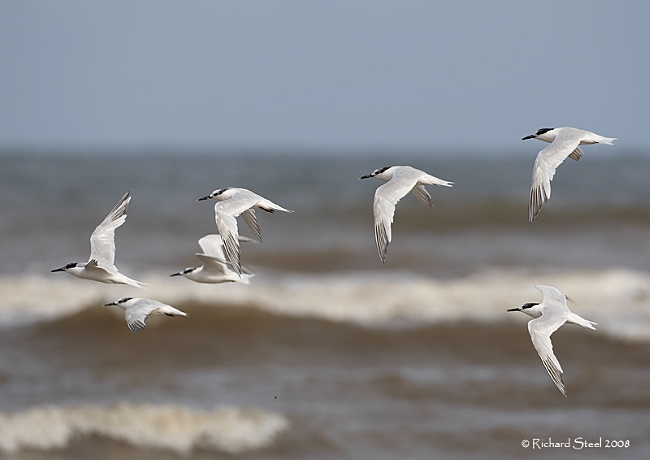 Sandwich Terns flying along north Wirral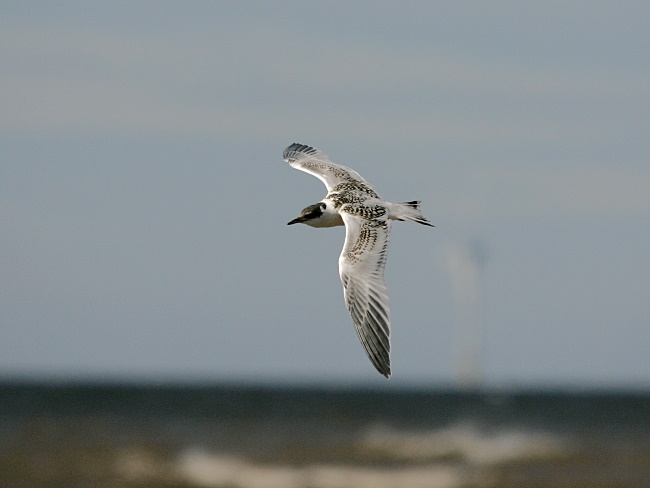 Juvenile Sandwich Tern at Hoylake © Steve Seal.

"Sandwich terns exhibit the most erratic population trends and distribution of any seabird breeding in the UK. The population fluctuates dramatically among years due to large variations in the proportion of mature birds attempting to breed and distribution varies owing to mass movements between colonies." (Ref 1).

That quote is certainly true of our nearest breeding colonies at Cemlyn Bay and Hodbarrow (see map below). At Cemlyn Bay numbers have fluctuated between 409 and 2,650 pairs over the past few years with similar changes at Hodbarrow - but what is interesting is that when birds have had problems at one colony, usually due to predation, then they fly to the other one where they suddenly see a large increase in pairs halfway through the breeding season. I quote the Cemlyn wardens writing about the 2018 season (ref 2):

The end of June/early July brought another surprise, as the Sandwich Tern numbers almost doubled due to two further influxes. The Wardens were able to establish that these birds had likely come from RSPB Hodbarrow (Cumbria) where they had failed in their breeding attempt this season. This was particularly interesting, as Hodbarrow appears to serve as an alternate breeding site for these Sandwich Terns, and in recent years, has possibly even become the preferred site. For those who may not know, in 2017 the Sandwich Terns that abandoned Cemlyn actually re-laid at Hodbarrow and successfully fledged around 500 chicks!

Map showing the main Sandwich Tern Colonies in the British Isles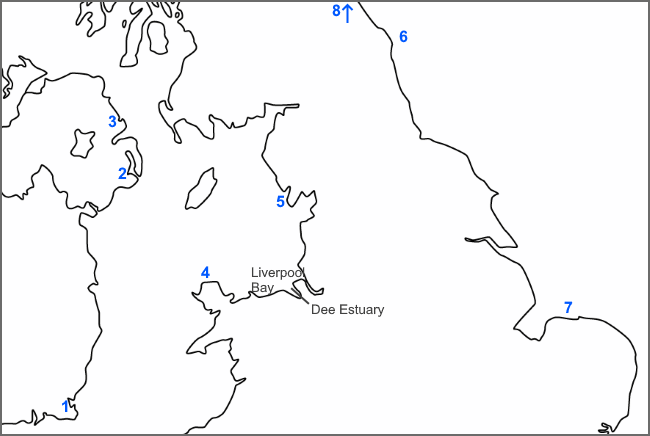 Lady's Island, Wexford.
Strangford Lough, Northern Ireland.

Larne Lough, Northern Ireland.

Cemlyn Bay, Anglesey.
Hodbarrow, Cumbria.
Farne Islands and Coquet Island, Northumberland.
Blakeney Point and Scolt Head, north Norfolk coast.

Sands of Forvie/Ythan Estuary, Aberdeenshire.
Although there are large variations in breeding numbers from year to year we can say that the largest colonies are at Wexford, Northumberland and Norfolk with the latter having the most pairs with up to 4,000 at Scolt Head. Birds from all the colonies shown on the map visit Liverpool Bay, as well as from the Netherlands. We know this because of colour ringing although this is a comparatively recent activity with, for example, Wexford starting in 2015, Hodbarrow in 2017 and Cemlyn Bay in 2019. I have managed to find details of 153 colour-ringed Sandwich Terns seen along the Liverpool Bay coast between Gronant and Ainsdale and they were ringed at the following sites (Ynsylas is a staging post in Cardigan Bay, Wales, all the rest are breeding colonies):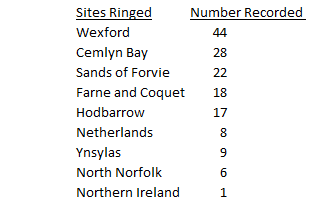 The table reflects ringing effort as much as anything else. For example, we get a surprising number from the Sands of Forvie in north-east Scotland but they have been ringing there since 2008 compared to Cemlyn Bay where the first ones were ringed only last year. Another complication is that a bird may be ringed at one colony then move to another to breed in following years. Nevertheless we do see birds which have been seen/ringed at North Sea colonies in the breeding season which then make their way to Liverpool Bay later that same summer. How do these birds get to the Irish Sea? Sandwich Terns, unlike Arctic Terns, are very rarely seen inland and the direct evidence that they fly across the country is sparse - but I think looking at the ringing records we have to assume that is what they do rather than fly all around the coast including flying the 'wrong' way up the Irish Sea. This includes birds breeding in south Netherlands which must fly north-west to reach us.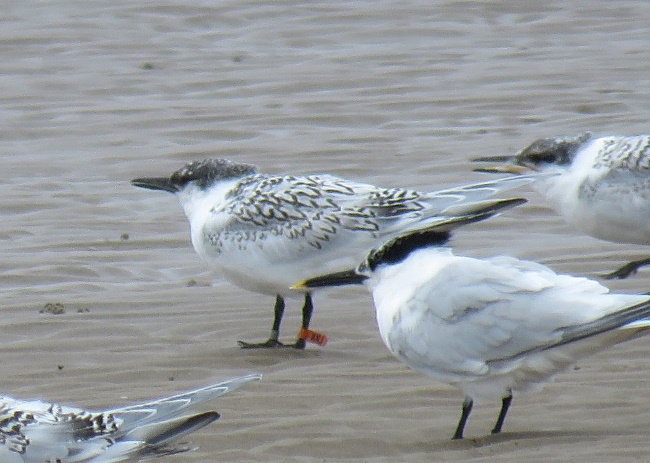 Juvenile with Orange flag AXJ, ringed at Cemlyn Bay in June and photographed near Hilbre in July.
© Richard Smith.
When they leave us at the end of August and September they disperse widely and birds can spend the winter along the coasts anywhere between France and South Africa. Unfortunately I don't have a complete sightings list for the majority of the colour-ringed birds recorded in Liverpool Bay but I do know that several have been seen in Namibia and South Africa; however very few have been recorded elsewhere on their wintering grounds. It is estimated that at any one time slightly under 10% of the west-European Sandwich Tern population are present in Namibia and South Africa. But it is thought that there is a constant turnover of birds which means the total which make it that far south is likely to be a lot higher than 10% of the population. Of course many factors govern the reporting of colour-ringed birds including observer effort, access to a decent telescope and the ability to easily report any rings/flags. We know there is a site in Namibia which is watched by keen colour ring spotters but elsewhere the coverage is very variable. It will be interesting to see the reports of the Orange flagged Cemlyn Bay birds which, I know from personal experience, are definitely easier to read than most rings fitted to Sandwich Terns.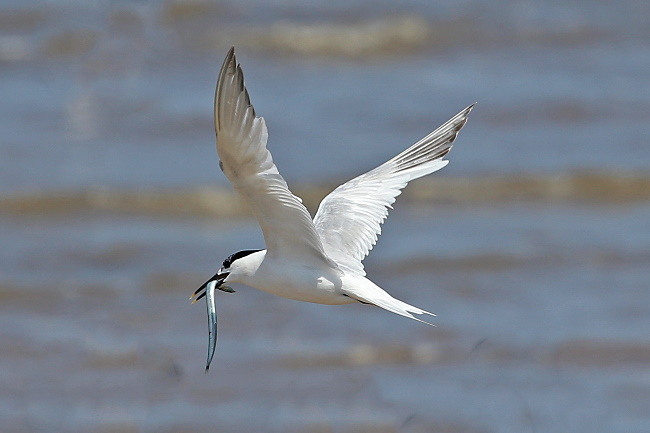 Food for the chick, Hoylake Shore © Roy Lowry.
History and Status of Sandwich Terns on the Dee Estuary/North Wirral.

Rampant egg-collecting in the 19th century meant that the species almost became extinct as a breeding species in the British Isles and Coward writing in 1910 (and also in his 1916 supplement of Ref 3) doesn't even mention them as a bird seen in Cheshire. A bird at Marbury in 1918 is 'suggested' to be the first Cheshire record (Ref 4). I find that hard to believe, though, as birds were breeding in what is now Cumbria and on the Farne Islands in good numbers in early 20th century, and Eric Hardy writing in 1941 (Ref 5) talks about birds breeding at Ainsdale and Formby up to 1917 - surely some of these birds were seen off north Wirral before 1918? In the days before birdwatchers with telescopes perhaps they may have been seen but not identified, and it seems unless a bird was shot and then held in the hand it was not acceptable as a record!
By 1941 Eric Hardy was writing "In August big flocks of adult and young with other terns off Hoylake, Red Rocks and Wallasey", and interestingly "Ringing shows that Lancashire birds winter in West Africa and a few in Natal". Some remarkably early ringing returns. Hedley Bell writes "the numbers are often large with a maximum of over 70 seen off Hilbre on September 13, 1958", but then in 1965 the Hilbre Bird Report had this under the heading 'Mixed Terns' (Ref 6):
On August 21st, 26th and September 5th literally thousands of mixed terns were off the island, certainly in such numbers that had not previously been recorded by the Observatory. The observers found it impossible to specifically identify and count each species so the estimates of numbers refer mainly to the Common, Arctic, Little and Sandwich Terns. The estimates were as follows:- August 21st and 26th - c5,000 and at least 1,000 respectively, Sandwich and "Comic" Terns predominated with a few Little. September 5th - c10,000. Heavy movement to the north-east during the two hours 05.30 - 7.30. Majority Sandwich, then Little, with only a few "Comic".

One can only guess where these came from and the weather conditions which caused such a concentrated passage, and why were they flying north-east in September when birds should be heading south? We have never seen anything like this before or since. So I can put a number on the bar chart below I've guessed that there were around 9,000 off Hilbre on Sep 5th 1965.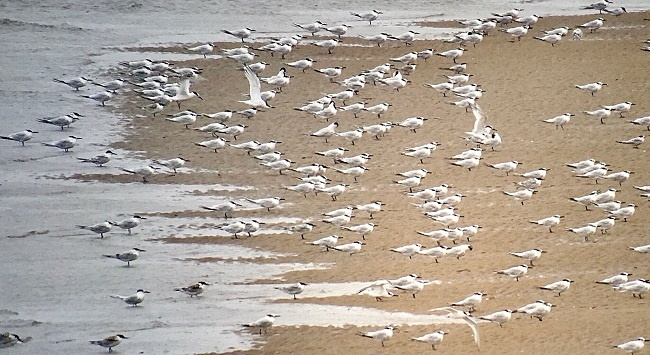 Part of the large flock present in August 2018 off Hilbre © Hilbre Bird Observatory.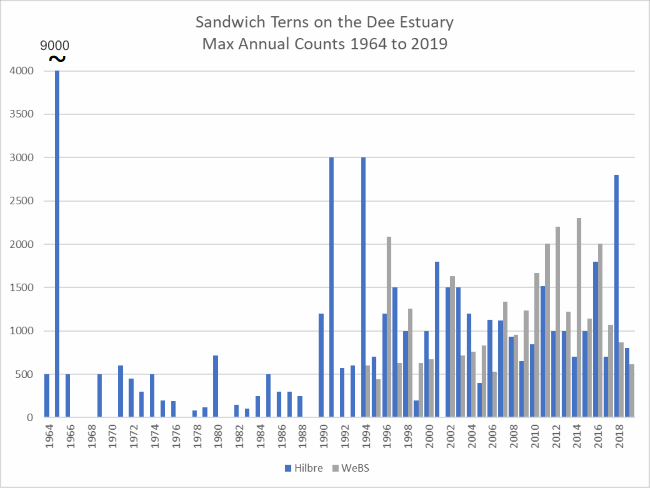 Counts of Sandwich Terns were only included in the WeBS (Wetland Bird survey) from 1994. These counts are coordinated throughout the estuary but taking place at high tide are likely to miss the many birds which feed out at sea then, also they take place mid-month and thus may miss the peak which is usually early August - so WeBS should be regarded as a minimum count. Hilbre counts take place daily with most birds counted roosting on the sand at low tide where it is likely a good proportion of the Dee birds will be at low tide. Ignoring the one off 1965 count there definitely seems to have been an increase in birds from 1990 onwards. This doesn't correlate with national data which shows lower numbers in the 1990s although they have recovered since. But the local Irish Sea colonies seemed to be doing well at that time including Lady's Island in Wexford where pairs shot up from 400 in 1988 to 1500+ in 1991 and have increased further since then. The Northern Ireland colonies increased from around 1000 pairs in the early 1990s to over 3000 by 2005 and at Cemlyn they were steady at around 500 pairs in the 1990s before shooting up from 2001 reaching 2,650 by 2015 since when they have decreased but did reasonably well in 2019 with 1,000 pairs.

I'm writing this in mid-June eagerly awaiting their return!
References:

1. Sandwich Tern, JNCC, 2020.
See: https://jncc.gov.uk/our-work/sandwich-tern-sterna-sandvicensis/

2. Tarik Bodasing and Tim Morley, Cemlyn Tales 2018: The Wardens ' Story, 2018.
See:
http://roseatetern.org/news/cemlyn-tales-2018-the-wardens-story
3. T.A. Coward, the Fauna of Cheshire, 1910 (and 1916 supplement).
4. Hedley Bell, The Birds of Cheshire, 1962.
5. Eric Hardy, The Birds of the Liverpool Area, 1941.
6. Hilbre Island Bird Report for 1965, Hilbre Bird Observatory.
7. Cheshire Bird Reports and Cheshire and Wirral Bird Reports 1964 to 2017, CAWOS.
8. Lancashire Bird Reports 2005 to 2018.
9. Stephen Dodd, pers. comm. re colour ringed Sandwich Terns at Cemlyn Bay and their resighting, 2019.
10. Peter Knight and Rose Maciewicz, pers. comm. June 2019. Peter and Rose have logged an impressive 118 colour-ringed Sandwich Terns along the Sefton coast since 2016.
10. David Cabot & Ian Nisbet, Terns, New Naturalist, Collins, 2013.
11. A.J. Tree, Origins, Occurrence and Movements of Sandwich Tern
Thalasseus Sandvicensis
in Southern Africa, Marine Ornithology 39: 173-181 (2011).
12. Hilbre Bird Observatory Blog,
http://hilbrebirdobs.blogspot.com/
.
13. WeBS Report Online, BTO,
https://app.bto.org/webs-reporting/
.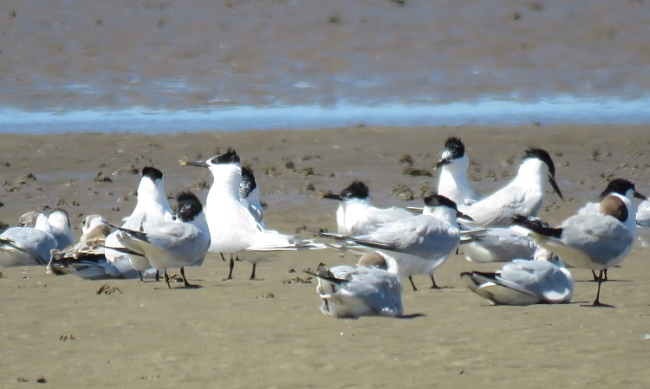 Typical scene on West Kirby Shore in early July © Richard Smith.

Richard Smith
June Bird News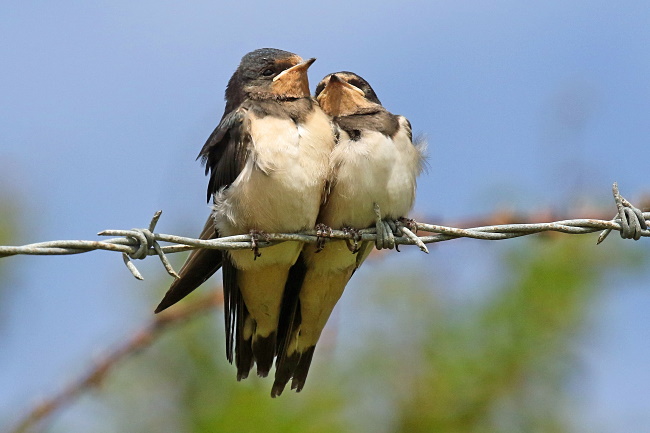 Swallows near Heswall Shore, June 2nd © Roy Lowry


Early June saw some strong winds with over 50 Manx Shearwaters seen on the 5th and at least six Storm Petrels the following day. Unfortunately this same wind blew in a high tide which destroyed many Little Tern nests at Gronant, but I'm told they have re-laid so hopefully they'll still have a successful breeding season. Further strong winds at the end of the month blew in an Arctic Skua at New Brighton.

RSPB Burton Mere Wetlands re-opened on the 15th and we were able to find out how the breeding season is going there. I'm sure Graham Jones (RSPB Dee Estuary Manager) won't mind me quoting him in full:
Weíve had 3 pairs of Great White Egret nesting this year, not sure if theyíve all been successful, but I did see the first 2 fledged birds on Monday. The Spoonbills havenít shown any interest in breeding this year. Cattle Egret havenít bred either, I last saw the pair in breeding plumage on 20th April.
Itís been a good year for Bearded Tit with 3 pairs breeding. Not sure of the number of young raised in total, although 2 pairs are still raising second broods. 2 pairs of Marsh Harrier have nested this year, with a pair feeding young at Burton Mere, and the regular pair feeding young at Neston Reedbed. There was a third pair that attempted to breed off the Old Baths but they seemed to have failed / lost interest.
Avocetís have had a below average year, with the drought causing most that were nesting on the wet grassland (which dried out completely) to fail. Weíve had good breeding success on the scrape though. Lapwing and Redshank have had a bad year at BMW, with the dry spring having a big impact. Although Redshank numbers have been good on the saltmarsh, especially at Parkgate.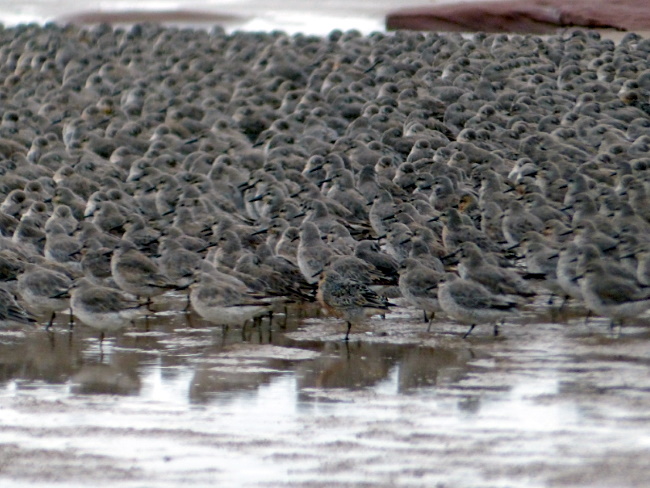 Knot off Little Eye, June 28th © Allan Hitchmough


Thousands of Knot are normally unexpected in June, but because they had had such a good breeding season in 2019 we were hoping to see the immature birds over-summering here. At the end of May 28,000 were counted between Southport and Seaforth, an amazing total, and quite a few have made their way over here with 7,000 between Caldy and Heswall mid-month and 10,000 roosting by Little Eye on the 28th. We think the latter total is the highest June count since 1971.

Five red-head Goosanders were a first for Thurstaston on the 10th and certainly unexpected in June, and there continued to be two or three Quails around with birds at Burton and West Kirby. Three spoonbills were regular at Parkgate.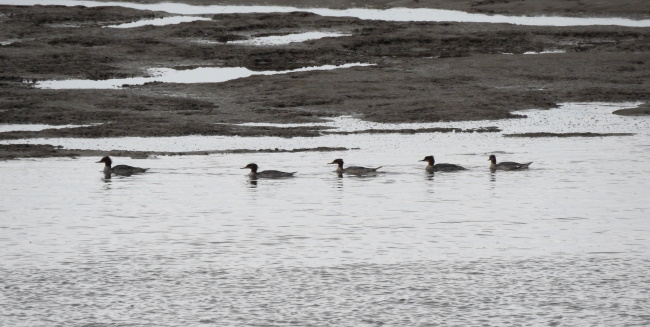 Goosanders at Heswall, June 10th © Steve Hinde

Crossbill and Siskin Irruption

There was a major irruption of both Common Crossbills and Siskins into England between June 23rd and 27th. Most birds were recorded on the Yorkshire coast but some did reach us here in the Dee Estuary area with a total of seven Crossbills plus numerous Siskins, all on the 27th. Most of the Siskins seen here were flying very high so no doubt most were missed and could have been in the hundreds, and many of both species may well have been flying through all the previous night. Although Crossbills and Siskins aren't totally unknown here in June none have been reported over the previous five years so this was certainly very unusual.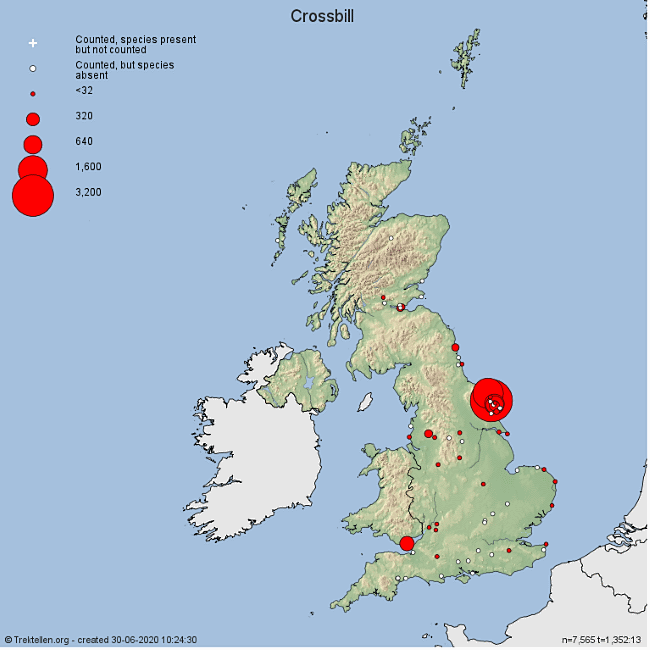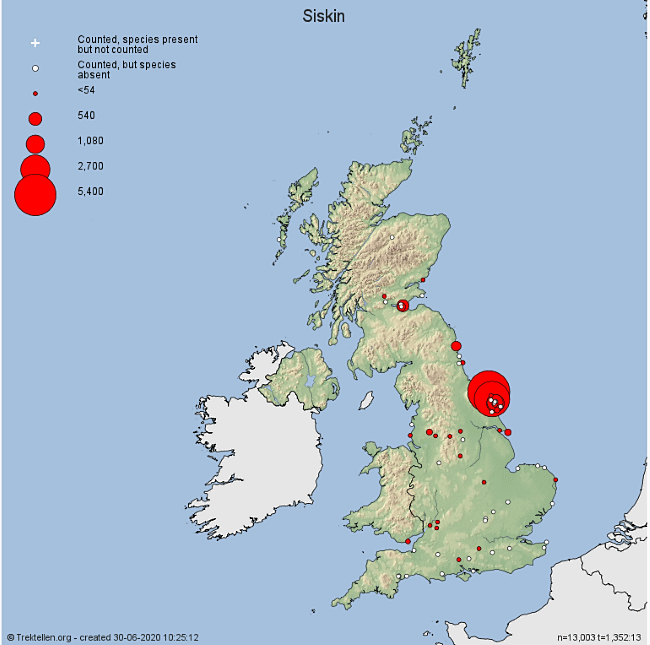 The numbers recorded along the Yorkshire coast was impressive with June totals of 7,707 Crossbills and 13,317 Siskins, as demonstrated on the above maps for June 20th to 30th. The biggest numbers were on the 25th and seen from Scarborough (1,223 Crossbills and 2,070 Siskins). The combined summer totals for 2016 to 2019, as recorded by the migration website (Trektellen.org), is just 292 Crossbills and 895 Siskins and this is for the whole country. Going back earlier, 2015 also saw an irruption of both Crossbills and Siskins but with much smaller numbers than 2020, the totals that year were 1,223 Crossbills and 2,070 Siskins through the three summer months. The 2015 irrruption took place in the last week in June and the first two weeks in July so we could well see the 2020 irruption continuing into July this year.
The 2020 irruption seems to have been confined to the UK as there were no reports from other north European countries of any significant movement. Given that they arrived in Yorkshire it seems likely that they crossed the North Sea from Scandinavia. It probably was caused by the good weather producing a big crop of young birds thus causing a shortage of food. The literature suggests that the earlier the irruption the more likely that the majority migrating will be young birds, the adults tending to move much later in the year.
For further reading try:
Ian Newton, Movement patterns of Common Crossbills in Europe, Ibis (2006), 148 782-788.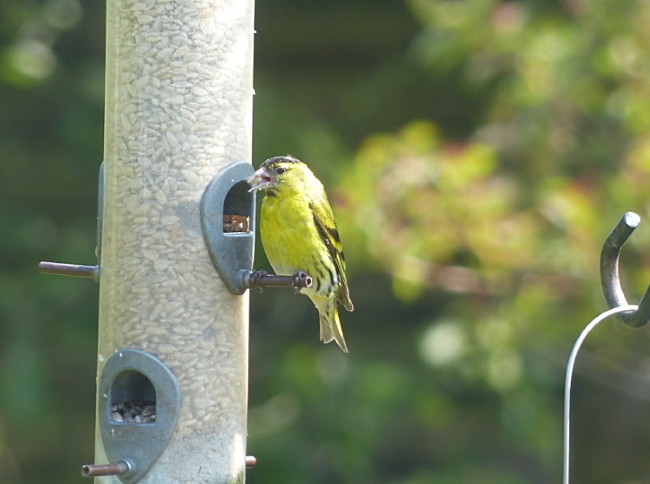 Siskin in Newton, June 15th © Allan Hitchmough

Many thanks go to Matt Thomas, Graham Jones, David Haigh, Steve Hinde, Alan Hitchmough, Derek Bates, Allan Conlin, Steve Williams, Richard Whitby, Frank Burns, David Small, Jeremy Bradshaw, Ian Goldstraw, Bill Wonderley, Gail Wilson, Richard Beckett, Roy Lowry, Roy Wilson, Ken Mullins, Leon Castell, Tony Hession, Jon Swindy, Mark Woodhead, Les Hall, Malcolm Shaw, Chris Wilding, Laurie Stockton, Ron Brumby, Rod Bell, John Hemming, John Rowlands, Katy Moleneux, Ian Bedford, Keith Duckers, Dave Edwards, Paul Vautrinot, Peter Humphrey, Chris Davies, Dave Harrington, Andrew Leaver, the
Dee Estuary Wardens
and the
Hilbre Bird Observatory
for their sightings during June. All sightings are gratefully received.
What to expect in July

As per the above article Sandwich Terns will be very much in evidence but there will also be plenty of Common Terns about feeding over the sea from our two colonies at Seaforth and Shotton. I don't know if we will be allowed to get to Gronant but there should be plenty of fledglings on the beach by the end of July, and we always get an influx of adults from other Irish Sea colonies round about the third week with may be as many as 800 birds in total. Arctic Terns are also a possibilty, look out on the edge of East Hoyle Bank for these.

As well as terns the estuary will fill up with gulls and it's always good to see Mediterranean Gulls in full breeding plumage. Also in summer plumage will be returning waders and there should be plenty of Dunlin and Black-tailed Godwits, with a good chance of seeing one or two Knot, Bar-tailed Godwit and Spotted Redshank. Whimbrels will also be coming through on their way south as will Common, Green and Wood Sandpipers although only in small numbers.

Given a strong westerly sea-watching can be excellent with skuas, Manx Shearwaters and Gannets.

Forthcoming Events
Until the Covid 19 restrictions are lifted there will not be any birdwatching events.