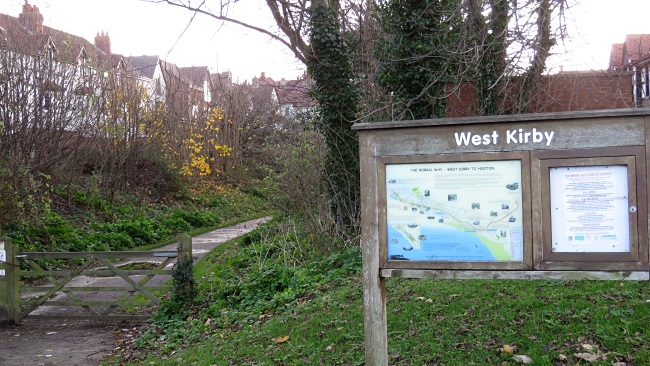 The start of the Wirral Way at West Kirby © Richard Smith

In 1968 the disused railway line from West Kirby to Hooton was designated the UK's first Country Park - and 2018 marked it's 50th anniversary. The park is linear comprising mainly the Wirral Way, which runs along the old railway track, plus various adjacent nature reserves, woods and recreation areas.
This site guide covers the area from West Kirby to Parkgate which is the seven miles that runs along the coast next to the Dee estuary. The Wirral Way is itself a great place for birding but also passes by some of the best sites on the Dee estuary, plus there are some great view points along the way. I'm writing this as though you are walking all the way which is perfectly feasible - if you walked along the Wirral Way from West Kirby to Parkgate without stopping it would take about two and a half hours, so if you made a day of it there would be plenty of time to stop and birdwatch along the way. You probably wouldn't want to carry a telescope all that way but there are plenty of car parks. There are excellent transport links at either end with buses and trains at both West Kirby and Neston, which is just a 10 minute walk from Parkgate. There also buses at Lower Heswall and Parkgate.
Edgelands
'Edgelands' is a word coined by writer and conservationist Marion Shoard to denote land which is just left to grow wild and unkempt, those bits of neglected land on the edge of towns or some uncultivated bit of countryside which councils and farmers would just love to tidy up. Wirral Country Park is full of Edgeland with impenetrable thickets of brambles, blackthorn, ivy and hawthorn, thick overgrown hedges and areas of grass just left to grow full of wildflowers including, gasp, thistles! How the birds and other wildlife must love it and explains the concentrations of warblers in the spring and Redwings and Fieldfares in the winter, among many other birds which can include Waxwings. But lets start our walk.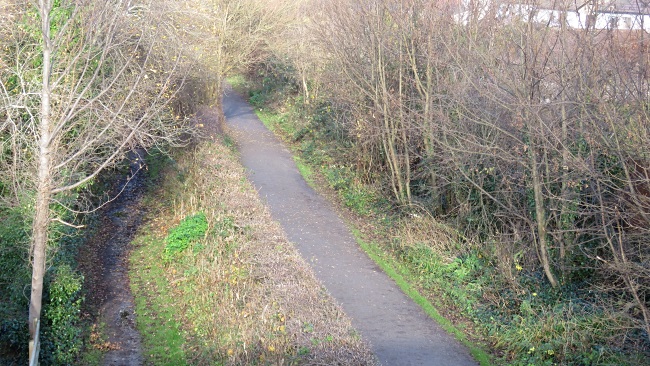 Wirral Way between West Kirby and Caldy, plenty of 'edgeland' here © Richard Smith
West Kirby to Heswall Fields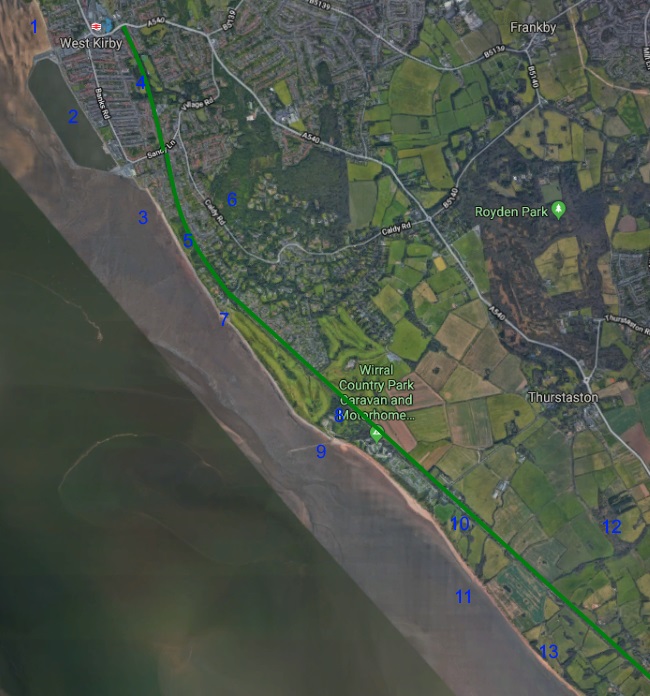 Walk out of West Kirby Station and turn left, just before Grange Hill starts you will see the entrance to the Wirral Way on the other side of the road. But before starting our walk you might like to turn right at the station and visit West Kirby Shore (1) which is a major high tide wader roost in the winter and full of terns in the summer. Next to it is West Kirby Marine Lake (2) which rarely has a large number of birds on it but can hold some interesting ones from time to time including Great Northern Diver, Red-throated Diver, Shag, Scaup, Goosander, Goldeneye and Brent Geese as well as the more usual Red-breasted Mergansers - all these in the winter and best during a cold spell. The shore to the south of the lake (3) is very muddy and can hold impressive numbers of waders as the tide goes out - Black-tailed Godwits, Dunlin, Knot and Redshank as well as a few Curlew and Shelduck.
Returning to the Wirral Way the first site of interest is Ashton Park Lake (4) which has good numbers of Mallards and various gulls, unlikely to hold anything scarce but worth checking just in case. After passing under Sandy Lane Cubbins Green on the right has large areas of brambles and willows which can hold any number of warblers and other birds in the spring, but also gives great views over the adjacent mudflats, and across to Hilbre and Wales. To the left, up the hill, you will see Caldy Hill (6) which leads on to Caldy Woods and Stapledon Wood, you could easily spend all day exploring this area - it is good for both Green and Greater Spotted Woodpeckers as well as many other woodland birds such as Jays.
On the Caldy side of Cubbins Green is a large car park and if you turn right, as you walk across Croft Drive, you reach Caldy Steps (7) leading down to the shore which will be full of waders with great views over to Wales. During migration this is an excellent place to spot Whimbrels and on the rocky sea defence there are often Wheatears in spring, a couple of years ago there was a Black Redstart here.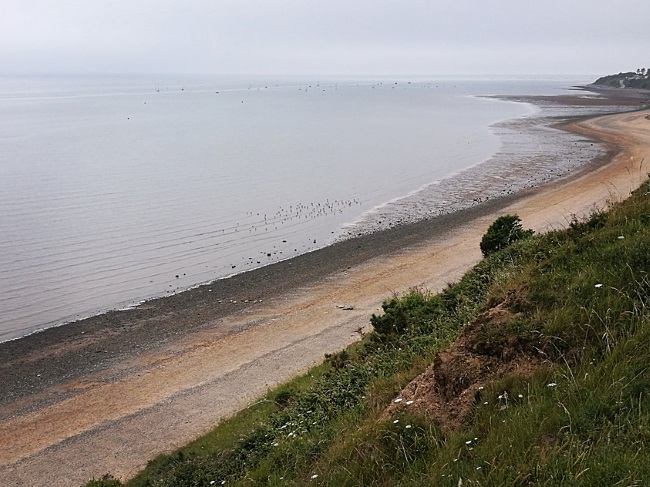 View of Thurstaston Shore just after high tide, the black dots are Black-tailed Godwits © Matt Thomas

There is now a fairly long stretch along the Wirral Way past Caldy Golf Course with more great views, in winter there is the possibility of Pink-footed Geese feeding in the nearby fields. Just as the golf course ends there is a path on the right leading to Dawpool Nature Reserve (8). A Ranger led spring walk through this reserve and the adjacent Wirral Way a few years ago got a total of 3 Lesser Whitethroat, 12 Common Whitethroat, 10 Chiffchaff, 8 Blackcap, 1 Willow Warbler, 1 Sedge Warbler and 1 Grasshopper Warbler, which gives you some idea of just how good this area is for warblers. It's a short walk to the shore here and it's worth walking along the causeway (9) you can see going out towards the moored boats, in winter the adjacent mussel and cockle beds can hold thousands of Knot and is the best place on the estuary to see Bar-tailed and Black-tailed Godwits feeding together.
Walk past the caravan park and you reach Wirral Country Park Visitor Centre (10) at Thurstaston. Here there is car parking, a nearby cafe and toilets. Between the Wirral Way and cliff top there is an extensive grassy area much of which is allowed to grow as a meadow in the summer, there are also ponds and the top of the cliff gives extensive views of the mud flats (11). At low tide it is worth looking through your telescope and just scanning Dawpool Bank and be amazed at the sheer number of birds here - in October we can get the largest flock of Shelduck in the country and there can be over 1,000 Pintail in the nearby channel, as well as thousands of Oystercatchers, Black-tailed Godwits, Knots.....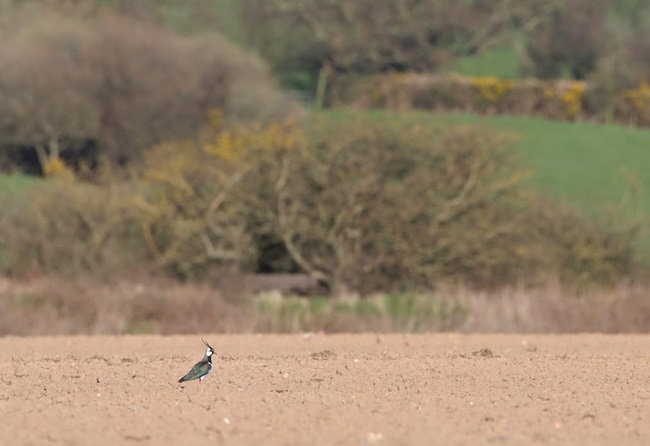 Lapwing breeding next to the Wirral Way © Matt Thomas
Carry on walking towards Heswall, the fields either side along this stretch can be full of birds - Pink-footed Geese, Oystercatchers, Curlews and Black-tailed Godwits in the winter and migrating Golden Plovers, Wheatears and White Wagtails plus breeding Lapwings and Skylarks in the spring. This is also an excellent place to see visible migration in the autumn with finches and starlings flying along the cliff edge whilst Fieldfares and Redwings are more likely to fly across Wirral from the direction of the Mersey estuary, on good days I've seen hundreds fly in here and descend on the Hawthorn berries. To the left there is a footpath which takes you to Dungeon Wood (12) - this is a ravine with many mature trees and there is a waterfall although rarely more than a trickle. Back on the Wirral Way and a bit further to the right is a track taking you to Heswall Fields National Trust (13). The hedge along this track is a good place for a Grasshopper Warbler in the spring and in some years one or two Ring Ouzels may be seen in the fields. At the end of the track the big open field is full of wild flowers in the summer and the cliff top is a great view point to see the birds flying along the nearby channel on an incoming tide. In August and September we can get more Redshanks here than anywhere else in the country. It is also the best place on the estuary to see Whimbrels - sometimes over 100, other species include large numbers of Curlew and Oystercatchers as well as one or two Greenshanks and Curlew Sandpipers.
Target Road (Lower Heswall) to Parkgate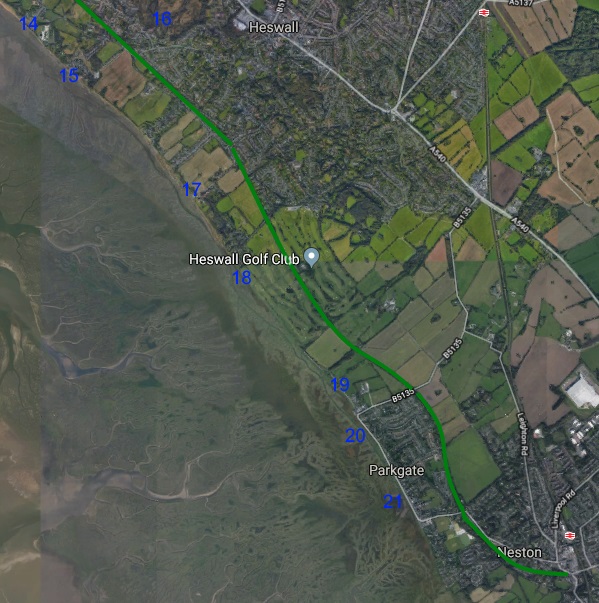 From Heswall Fields (13) there are various ways of getting to the Target Road viewpoint (14) but the easiest is to walk along the beach. Here the channel comes close in and large numbers of waders can be seen flying into the marsh on an incoming tide. As the tide rises small flocks of Teal will be flushed from the channels and hundreds, probably thousands, of Shelducks will be sitting on the sea. Look out for Hen and Marsh Harriers flying over the marsh. Across the channel, in the winter, is a sizable Lapwing roost of several hundred birds and there can be over one hundred Golden Plover with them. Just inland of the viewpoint is a reed bed which is likely to hold Water Rails beyond which is the sewage works always worth checking for wagtails. In the adjacent overgrown hedge you should see Goldcrests and perhaps a Firecrest, a Pallas's Warbler was here a couple of years ago.
Back on the Wirral Way it is worth walking down Banks Road, at the shore end there is a car park and Sheldrake's Restaurant (15) - here lots of waders and duck can be seen in the channel whilst Harriers and Pink-footed Geese may be spotted over the marsh. The Wirral Way next passes under Delavor Road. if you walk up the road and turn left at Pipers Lane you will get to Heswall Dales (16), an extensive area of heath, gorse and birch woodland.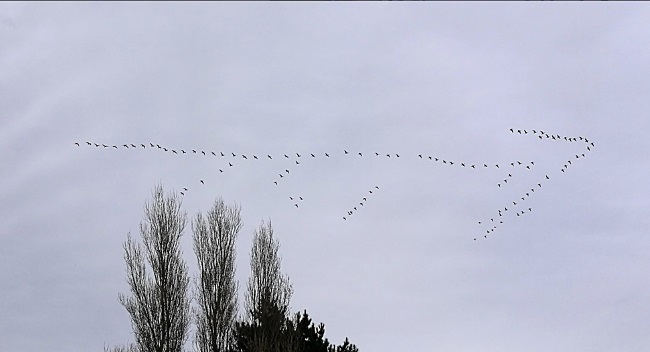 Pink-footed Geese over Riverbank Road © Matt Thomas

As the Wirral Way passes through Lower Heswall it turns into a made road for a short stretch with houses either side. Where the road ends and the track begins again the road going right is Riverbank Road. Walk down it, to the right is a large field which can hold good numbers of White Wagtails and Wheatears in the spring and Curlews in the winter. There is a car park at the end of the road (17), as it is raised above the marsh it gives great views of the birds. This is a prime spot on a spring tide as the marsh gets covered by the sea far more frequently than at Parkgate - look out for Water Rails and Short-eared Owls as well as thousands of waders and wildfowl.
The next road you pass under is Cottage Lane (18). Walk down this road to reach the marsh, then turn left to walk along the coastal path. On a big spring tide it's is well worth stopping here as there is a Short-eared Owl roost on the marsh and as the tide comes in they will be flushed giving fantastic views - I've seen as many as 12 here. You can carry along this path to reach Parkgate.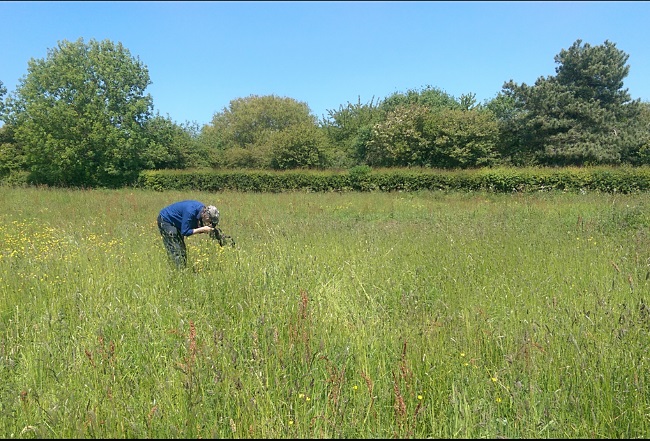 Wildflower Meadow next to the Wirral Way © Matt Thomas

If you stay on the Wirral Way walk as far as the end of the golf course and a bit further on is a bridge carrying an unmade track, turn right here to walk down to the Old Baths car park at Parkgate (19) - justly famed for it's Hen Harrier roost and high tide birdwatches. Late afternoon is best for the former and exceptionally high spring tides for the latter. Walk along the promenade heading towards Neston, on the marsh is a series of flashes - Boathouse flash (20), Bevyl Road Flash and, close to the road opposite a famous Ice Cream shop, the Donkey Stand Flash (21). All these can hold a good selection of waders and duck and may well include the odd rarity. Expect to see Greenshanks and Spotted Redshanks in late summer and autumn as well as the commoner Black-tailed Godwits and Redshanks. In the winter Pink-footed Geese will be seen over the marsh, often feeding in the grass just on the far side of the flashes. Both Hen Harriers and Marsh Harriers hunt over the marsh and Short-eared Owls are often seen, especially during a big high tide.
Here we end our walk - there is a good selection of pubs and restaurants as well as the aforementioned ice cream shop at Parkgate so you can recover from the long walk - for those few who do actually walk all the way!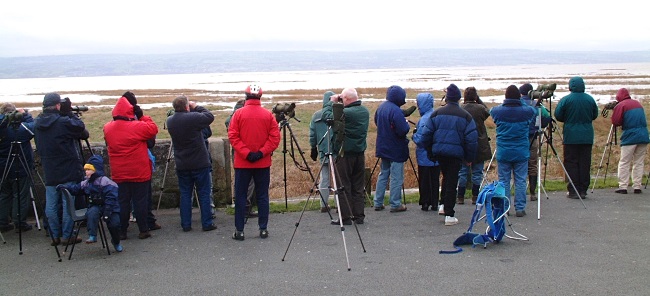 High tide birdwatch at Parkgate © Richard Smith
Reference
1. Joe Hanik (Editor), Wirral Country Park Free Newsletter, Spring 2018.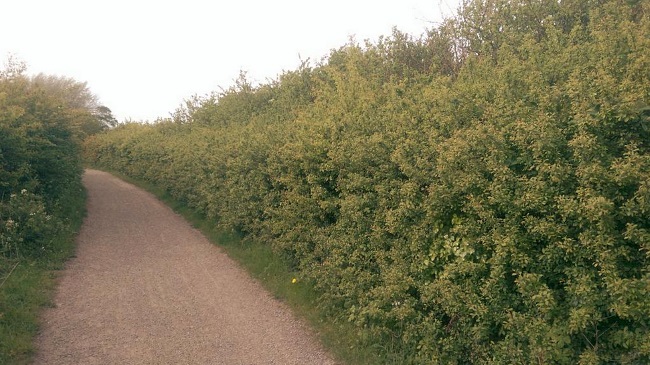 Lovely thick overgrown hedges, ideal nesting habitat © Matt Thomas
Richard Smith.
Top of Page
January Bird News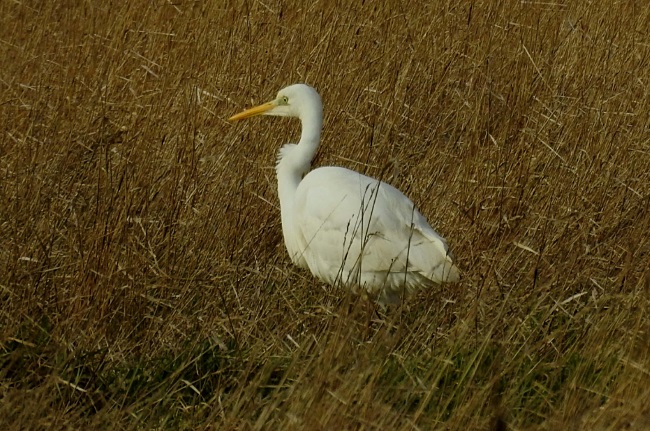 Great Egret at Parkgate, January 25th © Les Hall


Having featured in last month's Newsletter there were plenty of Bearded Tits (Bearded Reedlings) to be seen with up to six giving good views at Burton Mere Wetlands. A survey by wardens there came up with an excellent count of nine Water Pipits, the highest ever count for the reserve and one of the highest counts for the Dee estuary as a whole. Up to nine Great Egrets were counted on the reserve with similar numbers on the marshes, the total surely must be in double figures.
One or two Bitterns were recorded regularly at Parkgate and coming in to roost at Neston Old Quay, we've had a record number of sightings for this elusive species this winter. It is a fantastic winter for Harriers, and, despite their appalling persecution on grouse moors, we've had six Hen Harriers (including two adult grey males) as well as at least 12 Marsh Harriers. The spell of cold weather at the end of the month brought in seven Short-eared Owls giving great views at Parkgate and one or two Barn Owls have been regularly spotted both at Parkgate and Denhall Quay.
Short-eared Owl at Parkgate, January 21st © Mark Woodhead
An American Wigeon was at Denhall Quay on the 12th, it was disturbed by dog walkers but it is very likely that it is still on the estuary somewhere. The Black Redstart at Shotwick Lake was still present up to the 17th and there was a rare winter record of a Little Stint on Hoylake Shore on the 23rd. 502 Sanderlings was a a good count at Hilbre on the 20th.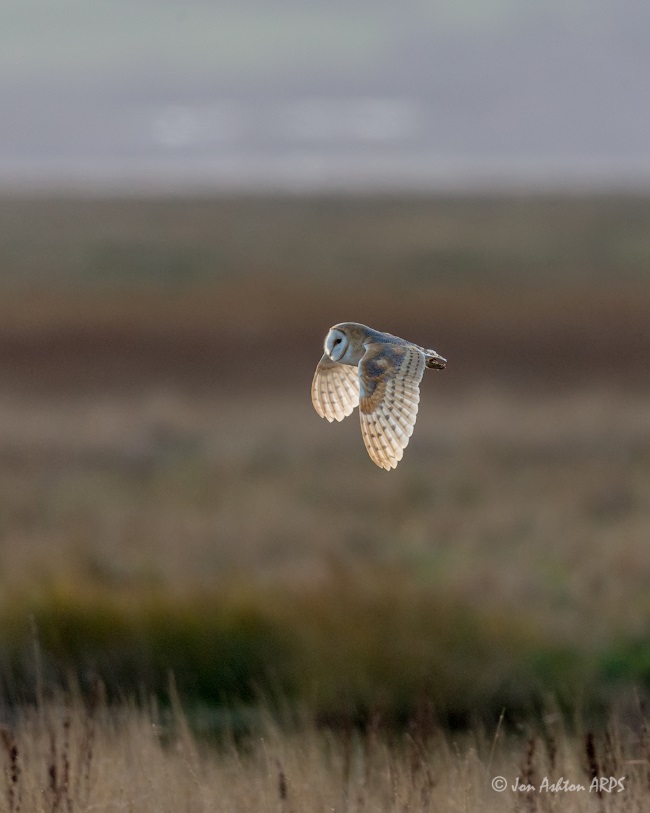 Barn Owl at Parkgate, January 17th © Jon Ashton
Many thanks go to Mark Gibson, Tim Kinch, Jeremy Bradshaw, Eddie Williams, Geoff Robinson, David Haigh, Jeremy Bradshaw, Mark Woodhead, Steve Hinde, Matt Thomas, Chris Butterworth, Mark Garner, David Leeming, Alan Hitchmough, Paul Mason, Steve Williams, Derek Bates, Allan Conlin, Karen Leeming, Frank Burns, Tim Kinch, Les Hall, Roy Lowry, Colin Schofield, Alan Irving, Damian Waters, Mark Gibson, Chris Wilding, Carole Killikelly, Dave Edwards, Richard Whitby, Linda Platt, Ken Davies, Richard Steel, Keith Scovell, Ryan Williams, Mark Peers, Alec Neal, Steve Hart, Clive Part, Mike Coupe, Stephen Downing, Willaim Keig, Julie Rogers, Chris Bell, David Swift, David Taylor, Neil McMorran, Steve Round, Nigel Jarratt, Edward Murphy, David Harrington, the
Lighthouse and Wirral Birding Blog
, the
Dee Estuary Wardens
and the
Hilbre Bird Observatory
for their sightings during January. All sightings are gratefully received.

Top of Page
What to expect in February
Spring tides this month are often the best of the year for high tide birdwatches at Parkgate (see below for details), and other prime view points such as Heswall and Point of Ayr. Short-eared Owl numbers often peak this month, as can Pink-footed Geese, and there should be plenty of Harriers, both Hen and Marsh.
Brent Geese and Purple Sandpipers also peak in February, we could have as many as 400 of the former around West Kirby and Hoylake, and up to 20 Purple Sandpipers both at Hilbre and New Brighton. Dunlin numbers should be high, on a high tide they often use the rocks on the edge of West Kirby Marine Lake as a roost site with as many as 3,000 just a few yards from walkers on the pavement.
We usually get a few mild days which will get the birds singing and the woodpeckers drumming, heralding the coming spring, and we could even get the first spring migrant back by the end of the month - probably a Sand Martin.
Dunlin by West Kirby Marine Lake © Roy Lowry
Top of Page
Forthcoming Events
February Highest Spring Tides (Liverpool)
Also see Tides page.
20th February, 11.35hrs (GMT), 10.0m.
21st February, 12.20hrs (GMT), 10.2m.
22nd February, 13.04hrs (GMT), 10.1m.
23rd February, 13.47hrs (GMT), 9.9m.
Forthcoming Events
Organised by the Wirral Ranger Service , Flintshire Countryside Service and the RSPB (Dee Estuary): All these events and walks have bird interest, even those not advertised specifically for birdwatching. No need to book for these events unless specified - please check below.
---
Sunday 10th February
- Raptorwatch at Parkgate (RSPB).
1pm-dusk, Price: Free.
Join us for a chance to see up to seven different birds of prey including peregrine and merlin, plus two types of owl that all make their home on the RSPB Dee Estuary nature reserve. With its panoramic views of the saltmarsh, Parkgate is one of the best places to watch for these birds hunting.
Stick around until dusk for a chance to see the graceful and endangered hen harriers flying into roost for the night on the marsh close to the Old Baths car park, and maybe a ghostly barn owl emerging to hunt. No booking required, come along any time between 1pm and sunset.
Dress appropriately for the weather and don't forget your binoculars! Public toilets and various pubs and cafes are situated close by along Parkgate promenade.
Wednesday 20th February, Thursday 21st February and Friday 22nd February.
High Tide Birdwatch at Parkgate (RSPB).
10.30am-2.30pm.
High tide times: Wednesday 20 at 11.35am; Thursday 21 at 12.20pm; Friday 22 at 1.04pm.
Price: Free.
In celebration of the RSPB Dee Estuary reserve's 40th anniversary, join us at Parkgate Old Baths for the awe-inspiring spectacle of a high tide flooding the vast saltmarsh, potentially reaching the old sea wall. The marsh at Parkgate is one of the best wetland habitats in the northwest, and when flooded by an incoming tide, the wildlife which lives here is pushed closer, with chance of seeing the great range of ducks, geese, wading birds and egrets in big numbers as they are driven upstream by the rising tide.
A range of birds of prey take advantage of mice and voles flushed from the grasses; hen and marsh harriers, peregrines and merlins all spend the winter months on the estuary and this is one of the best places to watch them, plus short-eared owls if we're really lucky. So why not venture out to try witness all the drama. Low pressure and a westerly wind will help push the tide and wildlife in close.
There is free public parking at the Old Baths car park (CH64 6RN) at the north end of The Parade, and the Wirral Country Park car park on Station Road (CH64 6QJ). There are public toilets at Mostyn Square in the middle of The Parade, and a number of pubs and cafes.
Sunday 10th March
- Raptorwatch at Parkgate (RSPB).
1pm-dusk, Price: Free.
Join us for a chance to see up to seven different birds of prey including peregrine and merlin, plus two types of owl that all make their home on the RSPB Dee Estuary nature reserve. With its panoramic views of the saltmarsh, Parkgate is one of the best places to watch for these birds hunting.
Stick around until dusk for a chance to see the graceful and endangered hen harriers flying into roost for the night on the marsh close to the Old Baths car park, and maybe a ghostly barn owl emerging to hunt. No booking required, come along any time between 1pm and sunset.
Dress appropriately for the weather and don't forget your binoculars! Public toilets and various pubs and cafes are situated close by along Parkgate promenade.