December 2021 Newsletter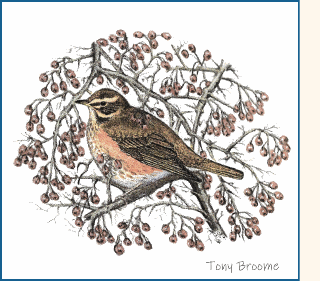 Hilbre Bird Observatory Ringing Report July to September 2021


When I saw this Hilbre Bird Observatory Ringing Report (published in the November 2021 CAWOS Bird News) I immediately asked them if I could reproduce it in this newsletter as it is a fascinating description of an exceptional three months ringing and observing on Hilbre.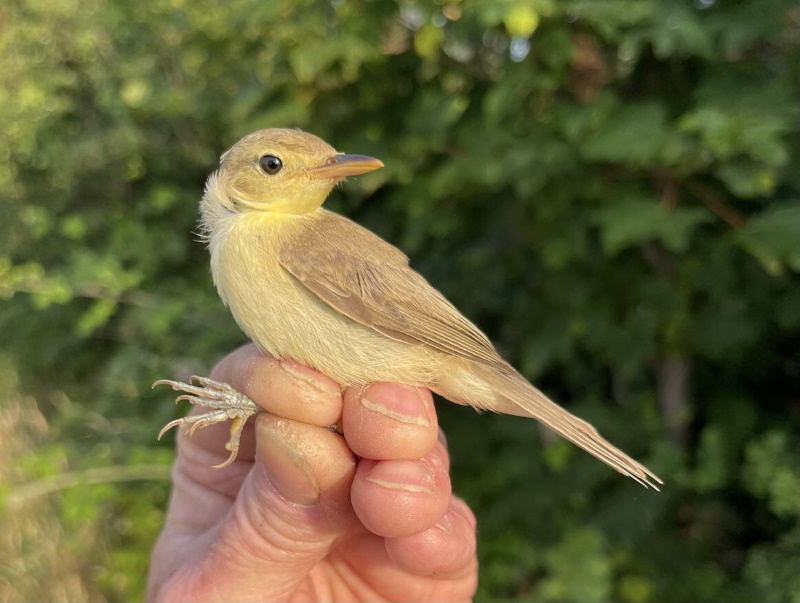 Melodious Warbler being ringed at HiBO on 20/07/21 © Hilbre Bird Observatory

HILBRE BIRD OBSERVATORY (HIBO) Ringing July to September 2021
The summer on Hilbre was viewed in the past as an unimportant time on the island, a time for bird observatory members to attend to other things. This year was different and members attended as frequently as they did in the spring migration period. Thank goodness they did, that 3-month period was as eventful as any other period in the island's development.
It was stated in the last Hilbre report for CAWOS that Linnets had done well, breeding productivity was high. It turned out that this was the best Linnet breeding season since records began, a great result for this red-listed species holding its own on Hilbre. Other breeding birds did well too with Blackbirds producing several broods and the Rock Pipits were shown to be resident. Ringing recoveries of adults demonstrated this, and they were productive with many young establishing themselves round the islands.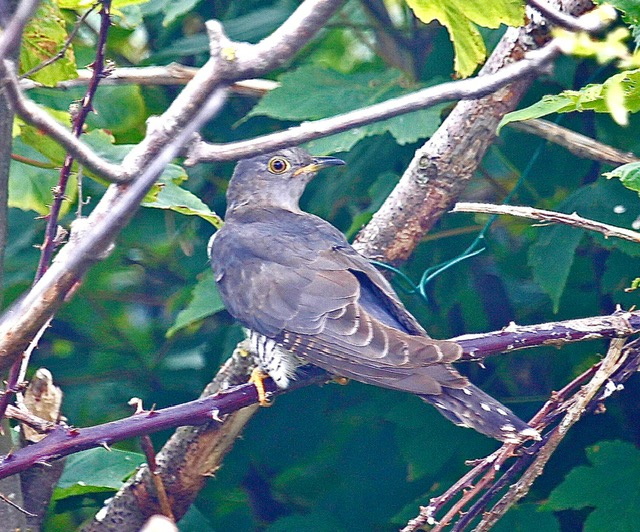 The juvenile Cuckoo which was caught and ringed on 01/07/20201 © Hilbre Bird Observatory

On 1st July a juvenile Cuckoo was caught and ringed, this was the first since 2013. What a start to the summer! Juvenile Whitethroat, Chiffchaff, Blackcap, Song Thrush and Grasshopper Warbler were all caught and ringed. The first Willow Warbler after the spring migration was caught on 16th July, was this post-juvenile dispersal or migration? A Great-spotted Woodpecker, a juvenile, was caught and ringed. This was the third for the island, the first arriving in 2015. Then it was 20th July. On the 20th a Melodious Warbler was caught and ringed. This was the first since 1994 and the third for the island overall. A day later a Hoopoe turned up, paid a brief visit to the island but to members' and visitors' frustration it remained on the west of the island and avoided all the trapping areas.
Along with all this excitement 14th July brought a remarkable event. A Redwing was caught and ringed. The bird was an adult and was undertaking a full moult. Redwings do not generally spend the summer in the UK and their full moult usually takes place after a breeding attempt. What had that bird been up to and where had it been when it was up to whatever it was up to?!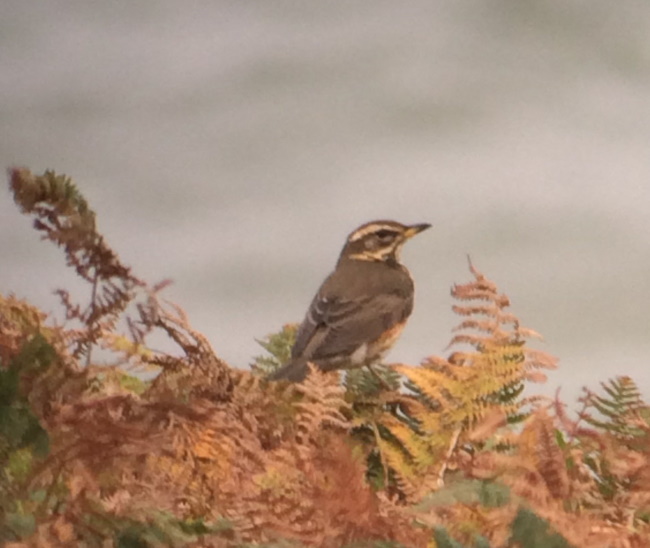 Redwing photographed in July 2021, later caught and ringed © Hilbre Bird Observatory


August found the activity on the island unabated, not quite the excitement of July but nevertheless a southern migrant hawker dragonfly was a first for the island. The Hilbre record was a confirmation that this dragonfly is expanding its range northwards. A juvenile Redstart and Stonechat were both ringed at the beginning of August and nominate race Wheatears were also caught and ringed. The Wheatears represented long-distance migrants as did the Whitethroats and Willow Warblers that were also ringed in August. These long-distance migrants will have bred in the UK unlike most of the Wheatears that were ringed in September. These were birds of the Greenland race which usually breed in Iceland, Greenland or Canada. Hilbre has more years where no Greenland race Wheatears are caught in autumn than years where that race of birds are caught.

Hilbre was part of Franz Bairlein's Wheatear network as was David Hussell from the Long Point Bird observatory. Both Franz and David attached geolocators to Wheatears; Franz had 3 geolocators recovered from Wheatears breeding in Alaska and David had 1 geolocator recovered from a bird he had ringed in lqaluit in Canada. Geolocators are reasonably good at identifying longitude but not very good at identifying latitude, especially at the time of the equinox when Canadian Wheatears migrate across the Atlantic. David explained that his geolocator recovery showed that his Wheatear had crossed the Atlantic in 4 days but he did not feel that his data could reliably identify where in Europe the Wheatear landed.
Following on from David Hussell's data, it seems likely that his Canadian Wheatears that are on their way to their wintering grounds in West Africa are affected by weather conditions over the Atlantic, in particular hurricanes in and around the Caribbean and their northern aftermath. In years where there are no hurricanes at this time of year the Wheatears from Canada/Greenland/ Iceland make landfall in Europe somewhere south of the UK and do not turn up on Hilbre. In years where there is hurricane activity at the right/wrong time, as in 2021, Wheatears are pushed further north than they would like and land in the UK, hence their arrival at Hilbre.
There is probably no simple explanation of why the summer of 2021 produced so many interesting and unexpected ringing records on Hilbre. The increased effort by members during the period probably accounted for some of the records, but there may have been a better than average breeding season in the UK that meant more birds were moving about either on migration or on post-juvenile dispersal. Improvements in the UK breeding season may be a result of global warming. The unexpected number of Greenland race Wheatears ringed was probably just a result of the weather over the Atlantic, but this weather effect could not have been responsible for the increased number of other long-distance migrants or relatively sedentary birds around the island.
It will be interesting to see what next summer brings.
John Elliott, on behalf of Hilbre Bird Observatory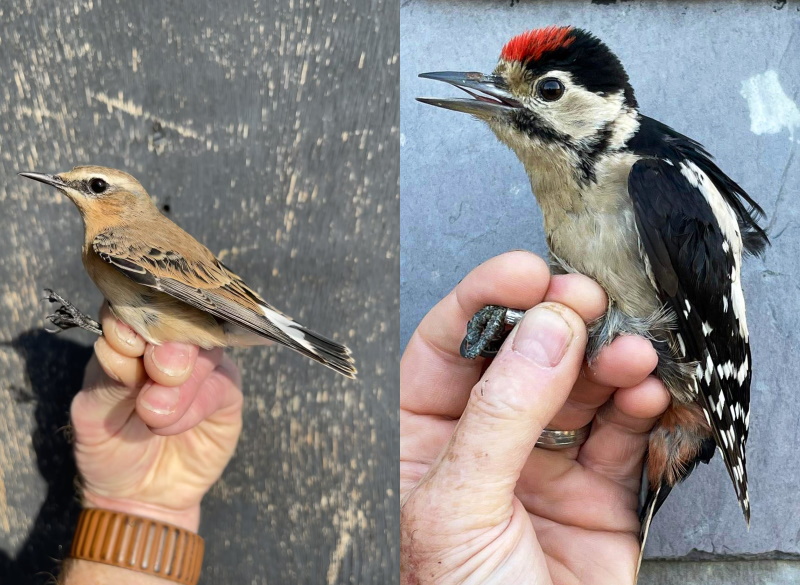 Wheatear (left) and Great Spotted Woodpecker (right) being ringed in 2021 © Hilbre Bird Observatory

Colour Ring Report

Shelducks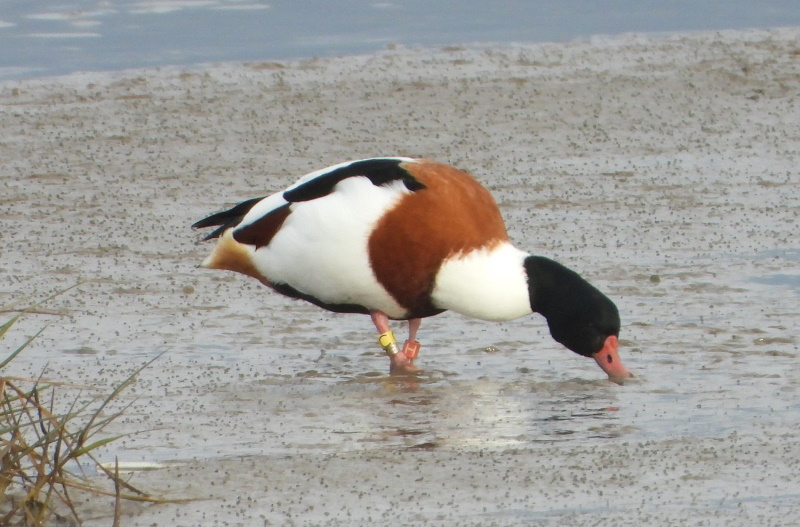 Shelduck RHYC at Meols in November 2021 © Richard Smith

H on red ring/C on Yellow ring.
Ringed in the Lower Derwent Valley NNR, Yorkshire, on 18/05/2018.
Recorded on Meols Shore on November 13th and 18th 2021.
This is our ninth Shelduck ringed in the Lower Derwent Valley and shows where some of our over-wintering Shelduck breed.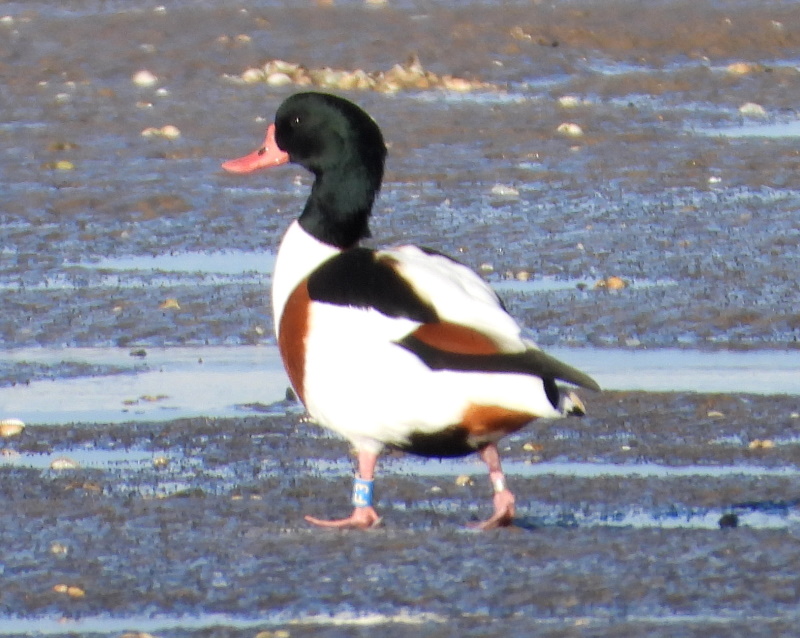 Shelduck Blue (F3) at Thurstaston, November 2021 © Richard Smith

Blue (F3)
Ringed at WWT Martin Mere, Lancashire, on 25/11/2019.
Recorded back at Martin Mere from January to April 2021.
Recorded on Thurstaston Shore (by DSC causeway) on several dates in October and November 2021.

We often see the same colour-ringed Shelducks in exactly the same feeding area day after day, including this one. This is despite the fact they move to float on the high tide, usually off Heswall, but then fly back to the same spot when the tide goes out.

Black-headed Gull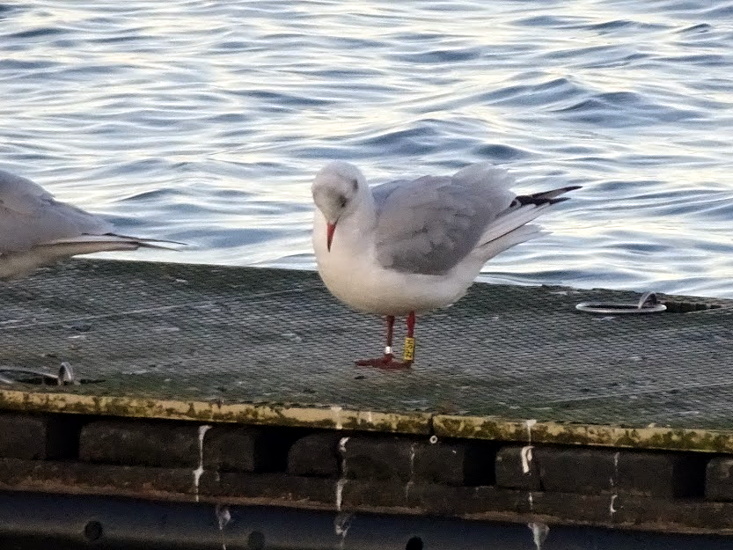 Black-headed Gull 2PSH on the pontoon at West Kirby Marine Lake, November 2021 ©Mark Peers


2PSH on a Yellow ring.
Ringed at Pitsea Landfill Site, Essex on 12/03/2016
Only ever recorded at West Kirby where it was seen in the autumn of 2016, 2017 and 2018. Then no other records until 19/11/2021. Where has it been for three years??


Great Black-backed Gull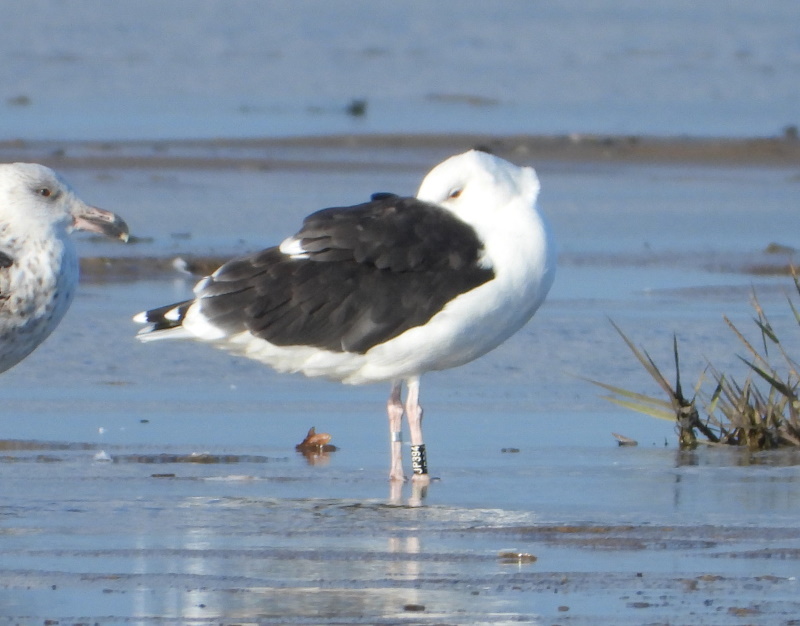 Great Black-backed Gull on Hoylake Shore, November 2021 © Richard Smith


JP394 on Black ring.
Ringed at Hidlekjeoy, Rogaland, Norway, on 19/6/2013.
Recorded at Albion Landfill Site, Leicester & Rutland, in July and October 2013, and February 2015.
Seen on Hoylake Shore in July and September 2015.
It was recorded back, or near, the breeding site in Norway in 2017 and 2019.
Recorded on Hoylake Shore on 03/11/2021.


Knots

The Knots returned in force in November and Steve Hinde and I recorded no less than 264 with colour rings/flags. Two different populations of Knot visit us in the Dee Estuary. One is the Irish Sea population seen mostly on the Liverpool Bay coasts, adults moult and feed here so are present from July to May, in addition immature birds spend the summer here. The second population moult on North Sea coasts (mainly the Wash and the Waddensea) and we generally only see these birds on the Dee Estuary from late October to early April. Below is the life history of two colour-ringed Knots, one from each population.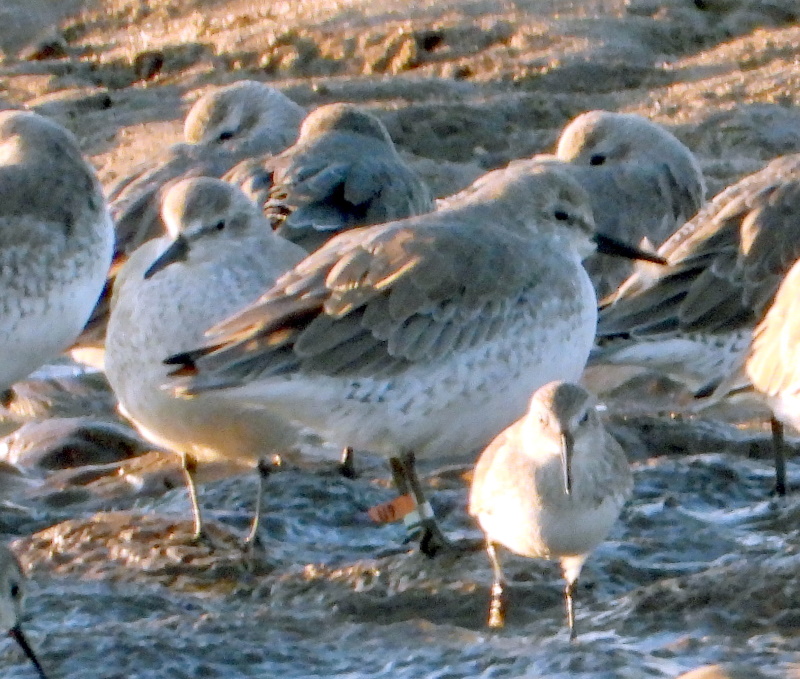 Knot Orange flag (U9) over pale blue, at Thurstaston November 2021 © Richard Smith

Oflag U9
Ringed at Altcar (south of Formby beach) on 22/09/2017.
September 2017 was when the first Knots were fitted with orange flags and this bird was one of the first seen on the Dee Estuary being at Caldy in October 2017.
It has been recorded on the Dee Estuary every winter since except for the winter of 2018/19 when there were no sightings, but it was at Walney Island in April 2019 so may have spent the winter in Morecambe Bay. It was in north-east Scotland in early May that year, presumably on the way north to breed. It has been seen spotted at Formby after breeding in late July/early August both 2018 and 2019 when it would be moulting.
It was also recorded on spring migration in SW Iceland in May 2018.
Recorded at Ainsdale in April 2021 and at Thurstaston on 19th and 24th November 2021.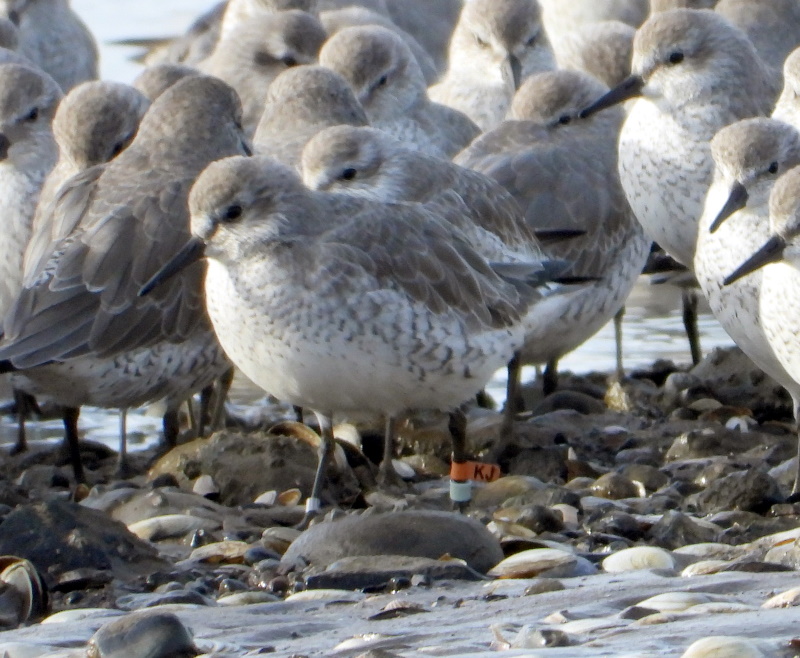 Knot Orange flag (KJ) over pale blue, at Thurstaston November 2021 © Richard Smith
Oflag KJ
Ringed at Altcar (south of Formby beach) on 22/09/2017.
Although ringed at the same time as U9 this bird must be from the North Sea population judging by subsequent records.
After being ringed it wasn't seen at all for over a year until it was recorded on the island of Griend in the Dutch Waddensea in October 2018. It was almost a year until the next record which was at Snettishan, north Norfolk, in September 2019.
So it was a bit of a surprise when the next sightings were at Thurstaston on 25th and 29th November 2021.


Colour Rings were recorded by Richard Smith, Steve Hinde, Mark Peers, Derek Bates, Allan Hitchmough and Steve Williams.
November Bird News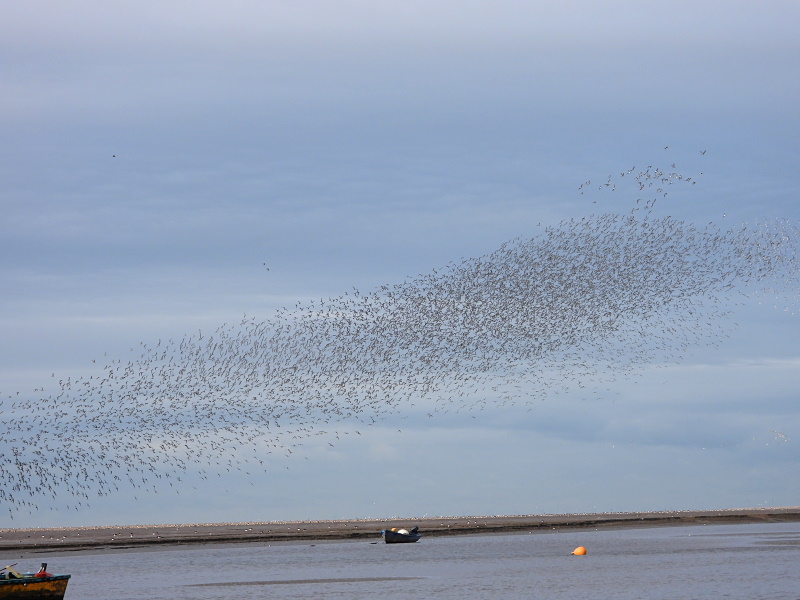 Knots over Thurstaston Shore, November 29th © Richard Smith

After wondering why Fieldfares were largely absent in October we did see some in November although not in particularly big numbers but nice to see, plenty of Redwings about as well. But November was more notable for late departures rather than arrivals, with no less than eight Swallows recorded, the latest being one at Burton Mere Wetlands on the 25th. Two Ring Ouzels were seen - one by Leasowe Lighthouse on the 8th and one in Meols on the 14th. Especially intriguing was a good but brief view of a Lesser Whitethroat in David Thompson's garden at Lower Heswall on the 29th, about five weeks later than any previous record of this species in Cheshire and Wirral. Hugh Pulsford, the County Recorder, said "I have had another report of one in Warrington. Please take any photos you can please, as these birds tend to be of eastern origin, but their taxonomy is complex and confusing. In particular photos showing the tail feathers, notably the outer ones, in addition , although Lesser Whitethroats call give a "tack" type of call, eastern birds also give a Blue Tit like call, chee, chee, chee." Unfortunately that one brief view is all we got.

When this website started in 1998 Brent Geese numbers on the estuary were typically around 10, numbers then started to rise steeply and over the last three winters counts have stabilised at a maximum of just over 400, a remarkable increase. But in November we saw another big increase with a max of 612 on the 18th. These were spread along the channel east of the Hilbre islands between Little Eye and the main island, sheltering from a fresh westerly at first light. Through the month they seemed to be flying in overnight, or perhaps at first light, and then dispersing elsewhere.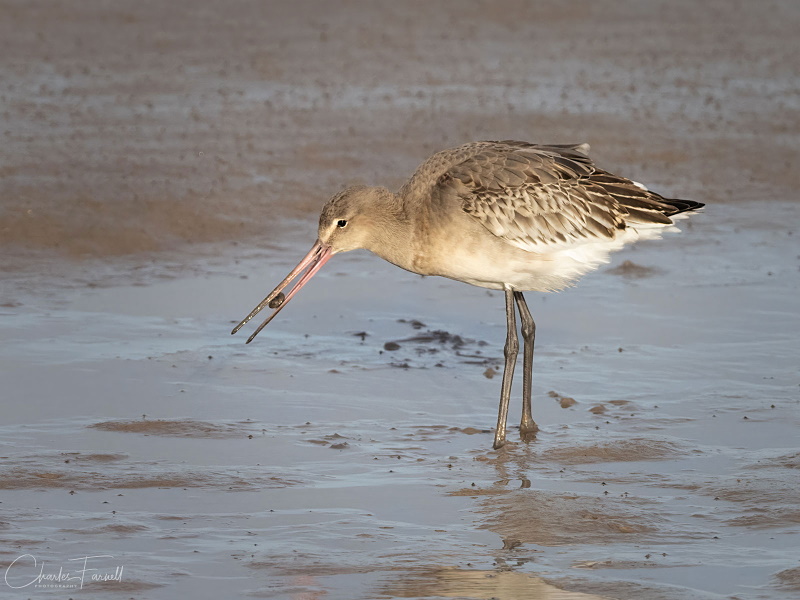 Black-tailed Godwit on Meols Shore, November 17th © Charles Farnell

There were plenty of waders on the estuary and north Wirral as you would expect at this time of year and around the third week of the month Dunlin seemed to be everywhere. I expect there must have been at least 20,000 in total and at low tide Dawpool Bank was covered with them, and there were at least 15,000 at Hoylake during the spring high tides. Black-tailed Godwits are common on the estuary but unusual along north Wirral. I don't recall ever seeing any on Meols shore before but around 20 took to feeding there regularly through the month.
Goosanders have become regular on West Kirby Marine Lake in recent years and there was a record high count of 18 there on the 29th.

It was good to see Short-eared Owls back on the marshes and six were in the air together on the 14th off Denhall Quay. The highest count of Marsh Harriers was at least 10 at Parkgate on the 20th, and there were several observations of much interaction between them and the Short-eared Owls. There were at least four Hen Harriers spotted including one grey male.
Last but not least was a Dusky Warbler at Talacre from the 13th to 15th showing well in a wood not far from Point of Ayr car park. I believe this is only the eight ever seen in Wales, and the last one seen in Flintshire was at Point of Ayr in November 1997.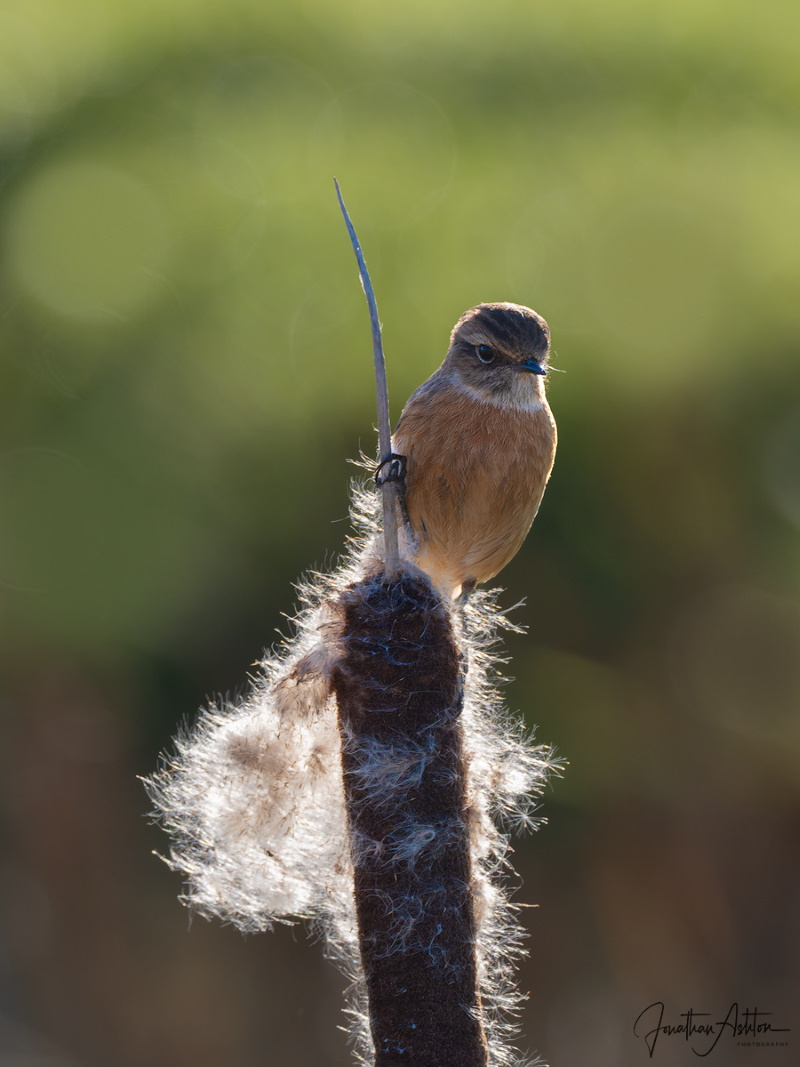 Stonechat on Burton Marsh, November 22nd © Jonathan Ashton

Many thanks go to Matt Thomas, Eddie Williams, Steve Williams, Steve Hinde, Alan Hitchmough, Derek Bates, Allan Conlin, Richard Whitby, David Thompson, David Small, Geoff Robinson, Bruce Atherton, Roy Wilson, Mark Woodhead, Linda Platt, David Leeming, Colin Wells, Paul Vautrinot, Les Hall, Jeremy Bradshaw, Dave Edwards, Paul Mason, Frank Burns, David Bradshaw, Sheila Ryde, Kelvin Britton, Mark Peers, Steve Liston, Ian Goldstraw, Graham Connolly, Tony Hession, David Jones, Graham Parry, Samantha Danford-Jones, Steve Round, Dan Gorton, Nigel Baratt, Bill Hodgson, Chris Maltby, Tim Baldock, John Watson, John Hemmings, James Smith, Paul Kenyon, Gail Wilson, Paul Ralston, Maurice Pons, Rod Bell, Paul Liversage, David Roe, Alan Round, Carole Killikelly, Mark Garner, Charles Farnell, Jon Ashton, Jrff Cohen, Paul Greenslade, Richard Smyth, Chris Wilding, Ann Rudinow Saetnan, David Higginbottom, Sean O'Hara, Elizabeth Shand, the Dee Estuary Wardens and the Hilbre Bird Observatory for their sightings during November. All sightings are gratefully received.

What to expect in December

In the first week of the month there are some high spring tides which may well result in spectacular wader roosts at Hoylake and Point of Ayr. They will probably not be high enough to cover the marshes but it will certainly result in masses of wildfowl being flushed from the saltmarsh edge with thousands of Pintail, wigeon and Teal in view, and in particular Pink-footed Geese. Flocks of the latter will be feeing in coastal fields and are often seen in the Pensby and Irby area, as well as in flight heading south to the Dee flood meadows south of Chester. Marsh Harriers will certainly be seen and it will be interesting to see just how many fly into the roost in Neston Reed Bed, perhaps more than 20. Last winter we also had one or two Bitterns on the marshes which were also often spotted flying into he reed beds. We also usually get at least six Hen Harriers and the grey males are always spectacular to see. So far this winter it's been good for Short-eared Owls so lets hope they stay for a few more months.
December last year saw the arrival of eight Snow Buntings on Hoylake Shore which stayed for several weeks attracted by the proto Sand Dunes. On West Kirby Marine Lake we have already seen a record number of Goosanders in November so we should see plenty of them along with a few Red-breasted Mergansers and Goldeneyes, both the latter two species are unfortunately decreasing in numbers. They can also be seen out to sea along with a few Eiders and Scaup as well as a few hundred Great crested Grebes, and a Great Northern Diver is always a possibility.
But perhaps what I most want is some lovely cold frosty and still weather over the Christmas period when it's a joy to be out and about doing some birding!

Forthcoming Events
December Highest Spring Tides (Liverpool)
Also see Tides page.
4th December, 10.58hrs (GMT), 9.7m.
5th December, 11.39hrs (GMT), 9.8m.
6th December, 12.23hrs (GMT), 9.8m.
7th December, 12.23hrs (GMT), 9.6m.
Forthcoming Events
No Events planned this month