Juvenile Curlew Sandpipers just to the south of West Kirby Marine Lake, September 11th © Richard Smith
The best views of Curlew Sandpipers this year was undoutedly here on the mud which must have been
very rich in food as they were finding a lot to eat - mostly worms several inches long, and they
liked to dunk them in the water before swallowing them!

August and September 2023 saw another good Curlew Sandpiper passage with the fourth highest number this century. As shown in the bar chart these last 13 years have been particularly good with no less than six years when numbers of Curlew Sandpipers have exceeded any from the previous ten years.

The graph above shows the weekly pattern for 2011, 2022 and 2023. 2023 was very similar to 2022 with a sharp peak in the second week in September and, like last year, the majority of records came from Burton Mere Wetlands with six consecutive days when 13 were present - surely too much of a coincidence not to be the same birds. The sharp single peak is in marked contrast to 2011, when the largest numbers this century were recorded. The graph for 2011 (and 2013 was very similar) shows two peaks, the first peak in the first week of September, when most birds were on north Wirral, and the second peak in the fourth week when most birds were at Burton Mere Wetlands. We can only speculate why there is a difference between 2011/2013 and 2022/2023, but my guess is that we get two peaks when birds arrive from different directions - with one lot coming from the north after flying down the west coast of Norway, and the second coming across from the east, probably after flying through the Baltic - both routes are known to be taken by juvenile Curlew Sandpipers. Whatever is happening it is no doubt dependent on the weather they encounter en route.

The vast majority of the Curlew Sandpipers we record here are juveniles which we usually start to see them around the last week in August, and from then on the passage is nearly all juveniles. Adult Curlew Sandpipers are rare and in most years we would expect to see perhaps three or four in spring with similar numbers on the return passage, usually around the end of July and early August. This extract from the 2005 Cheshire and Wirral Bird Report is typical:
A single at Inner Marsh Farm on May 14th to 18th with two on 19th and 20th were the only birds present during spring passage.

Two ads on the Weaver Bend on Jul 16th were the first returning birds with four at Hilbre the next day;....... two on Hoylake shore on Jul 20th (the next entry was for late Aug when the first juveniles were seen).

The passage of adults this August (2023) was unusual because of the numbers involved, the length of time their passage went on for and how late they were. It started on the fairly typical date of August 4th with four at Burton Mere Wetlands, these were only seen briefly, which again, is typical for adults during the post-breeding period. The next sighting was of one in summer plumage at Meols on the 17th, up to three were then recorded nearly every day either at Meols or Hoylake right up to the 29th by which time we were seeing the first juveniles. In total there were 20 records of adult birds (sum of daily counts). The birds were in different stages of moult which helped when trying to estimate the total number of individuals involved over the 12 days they were here, and we reckoned at least six - four of which are shown below.
The passage of adult Curlew Sandpipers included these four birds in different stages of moult off Meols
top left by Frank Burns August 22nd : top right by Mark Woodhead August 21st
bottom left by Richard Smith August 29th : bottom right by Sean O'Hara August 24th

which goes into more detail including some fascinating historical records.
Another photo of juvenile Curlew Sandpipers by West Kirby Marine Lake on the rising tide, September 15th
© Steve Round
North-East Wales Bird Report 2022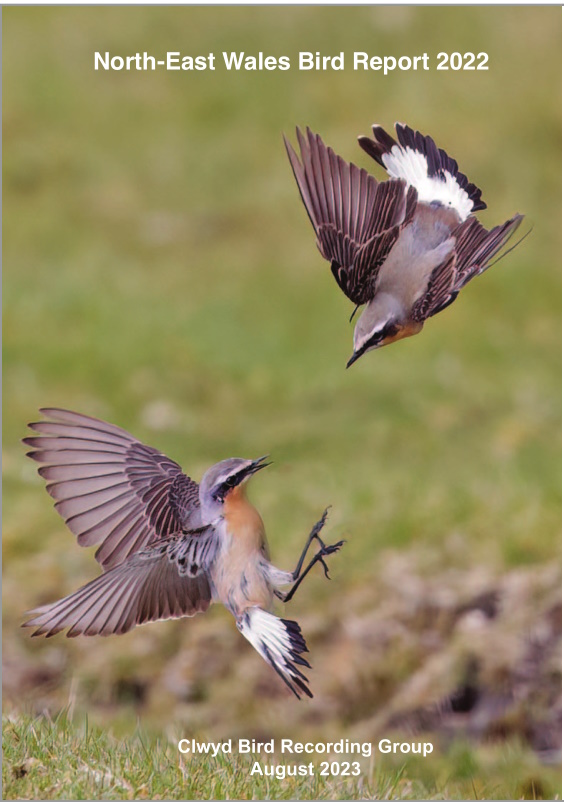 The North-East Wales Bird Report for 2022 has been published and is freely available by clicking this link and downloading - https://www.cofnod.org.uk/CBRG. As you will see the Bird Reports (Clwyd Bird Reports up to 2003, Nort-East Wales Bird Reports after 2003) going back to 1975 are all freely available to download making for a tremendously useful resource for those interested in historical records and how the status of species compares to the present. As far as the Dee Estuary is concerned these cover the area from Gronant to Point of Ayr, then down the west coast of the estuary (including Flint and Connah's Quay) then across the head of the estuary, passing Shotton Lagoons, and up to the Wales/England Border within RSPB Burton Mere Wetlands.

For the 2022 Report I quote from the first three paragraphs of the introduction written by the North-East Wales Bird Recorder Glenn Morris:

Once again this year, the reader is referred to the 2019-20 Report for background details about the status of each species in Flintshire (Flints) and Denbighshire (Denbs) and for a generally"good read". The main objectives of this Report are to record unusual sightings, breedingevidence and high counts for each species and to acknowledge the efforts of people submitting
data. Where extra description or photos have been submitted, via Birdtrack or directly, I have incorporated these enthusiastically into the text.
This Report is based almost entirely on data provided in spreadsheet form by Cofnod, BTO (Birdtrack, Garden Birdwatch, BBS, WBBS) and WeBS, plus other sources (RSPB [Graham Jones, Neil Friswell and Colin Wells], DNS Report 2022, eBird, Dee estuary website (DEW), direct submissions).
Unusual records for 2022 include White-tailed Eagle, White Stork, Caspian Gull, Puffin, Hoopoe, Little Gull, Arctic Terns in November, Black Tern and our first "wild" Snow Goose.

Colour Ring Report

Knots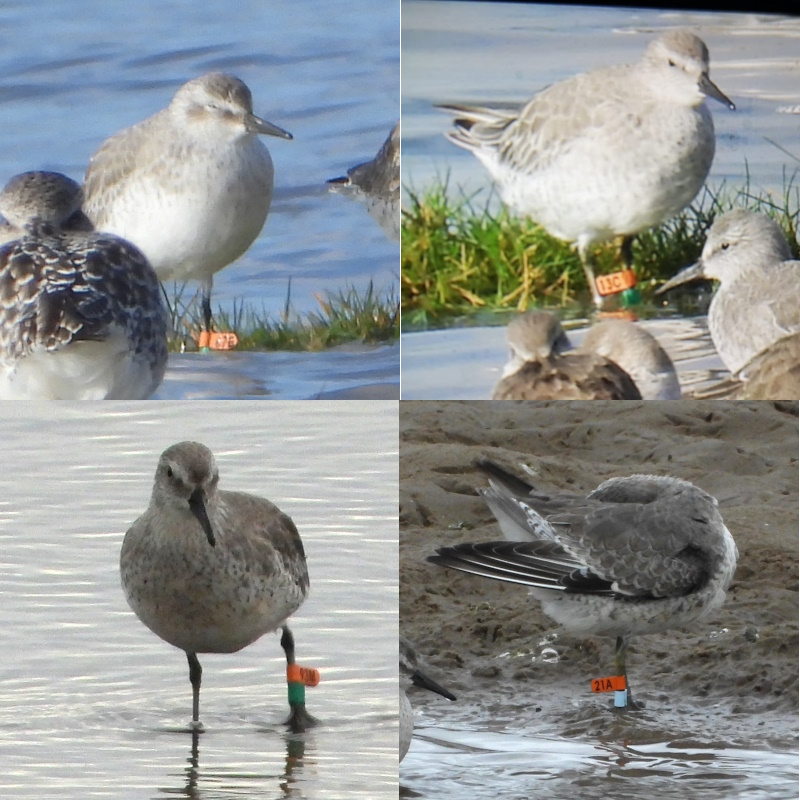 Orange flaggged Knots - 67E, 13C, 93M and 21A - all photographed by Richard SMith except for 13C by Tony Ormond

The big numbers of Knots don't arrive until November so we did well to read 15 Orange flagged birds, plus two ringed by the Dutch, from the few hundred present through October - four of which are shown above.

2023 was a very good breeding season for them and some of the juveniles have already been caught and fitted with flags - including over 50 on Cardigan Bay (Ynyslas point) by the Mid-Wales Ringing Group. It always amazes us that these juveniles, ringed on Cardigan Bay, find their way to Liverpool Bay. How do they know where to go? We saw five of these juveniles (21A, above, is one of them) in October - so one tenth of those flagged in September have already found their way to Meols and Hoylake.
We were also particularly pleased to see 13C, it had been flagged at Hoylake by the Merseyside Ringing Group in November 2022 and it was one of their ringers who photographed it at high tide at Hoylake on October 31st.

Of the other ones photographed (above) 67E was flagged at Ainsdale in March 2022 and has been recorded several times at Meols and Hoylake since, but also seen in Iceland in both May 2022 and 2023. 93M was flagged at Altcar in April 2023.
It was good to see Orange flag X7 at Hoylake on October 31st as it was caught and flagged in the first catch at Altcar in September 2017, and one of the first of these Orange flagged Knots I saw when it turned up a few yards from my house at the Caldy Wildfowl Collection in early October 2017. Since then it has been a regular over at Formby and at Thurstaston, and was recorded in Iceland in both May 2018 and 2022. (Photograph below of X7 at Thurstaston in November 2020, taken by Richard Smith).

Grey Plovers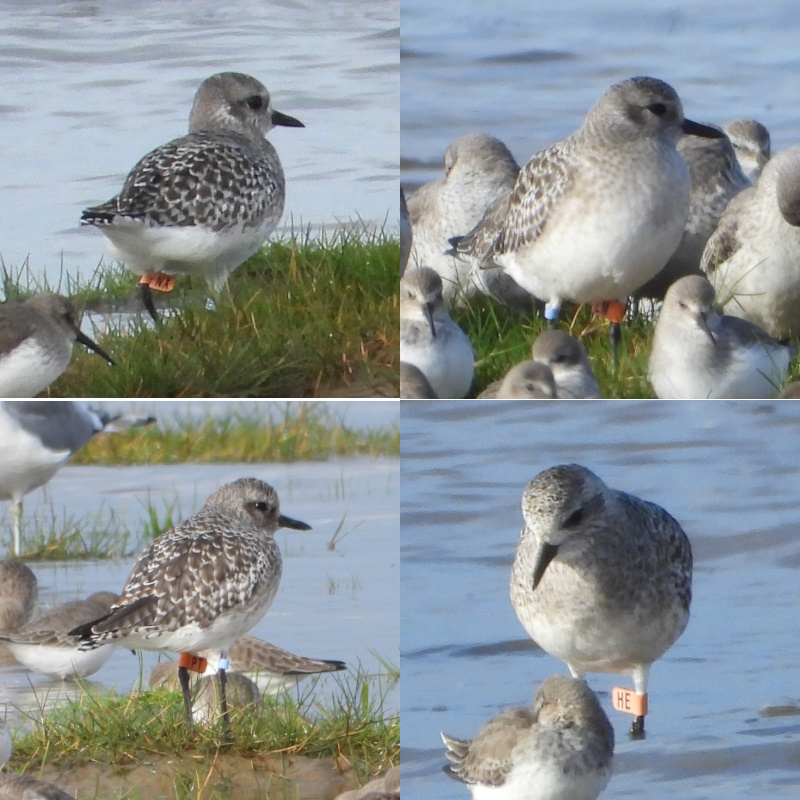 Orange Flagged Grey Plovers NX, LM, PT and HE, all at Hoylake October 30th/31st © Richard Smith
With their long legs the Orange flags fitted to Grey Plovers can be read even standing in water, or standing in long grass. The high tides at the end of October brought them relatively close to Hoylake promenade and we saw a total of 10 in a nice undisturbed wader roost. They've also been seen at West Kirby and Meols at low tide bringing the total recorded in September and October to 19, with a few seen several times.

These Grey Plovers seem to be remarkably site faithful. For example, Orange flag HE (photo above) has been recorded a total of 34 times since it was flagged in March 2018, and always in the area between Ainsdale, Formby and across to Hoylake.

Dunlins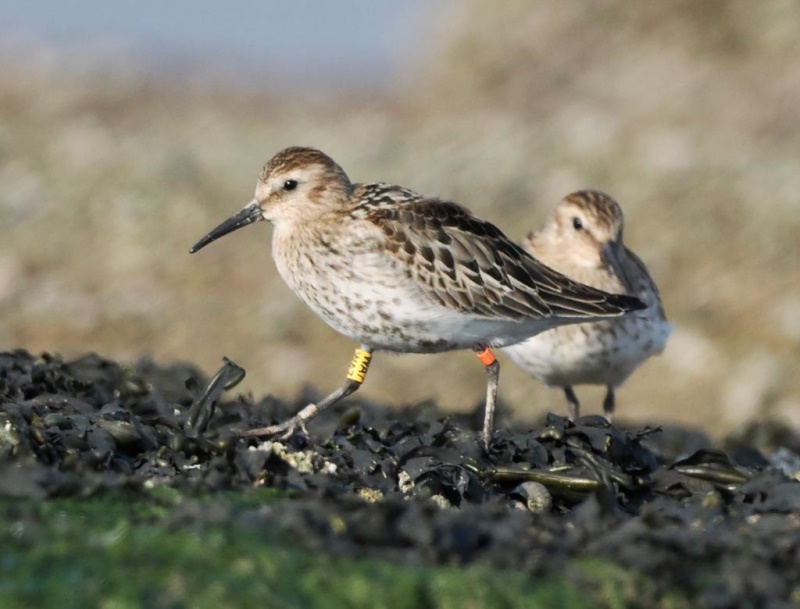 Yellow WA7 at Hilbre, September 8th 2023 © Sreve Williams (Hilbre Bird Observatory)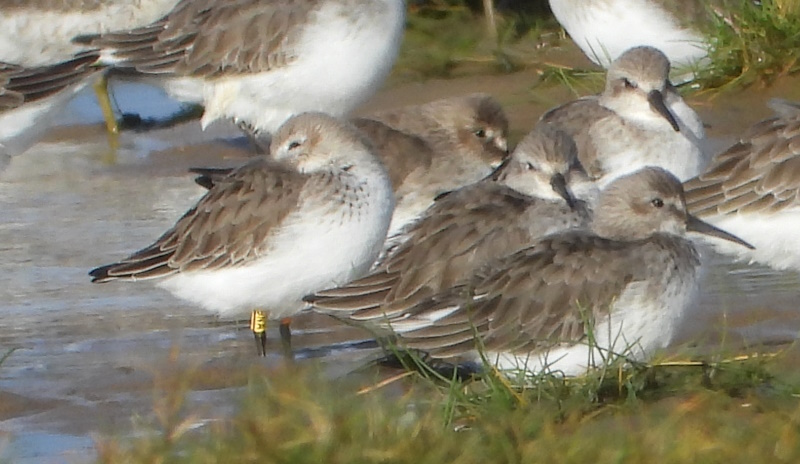 Yellow 8NA at Hoylake, October 31st 2023 © Richard Smith


Both these yellow ring Dunlin were ringed by the Mid-Wales Ringing Group at Ynyslas (Cardigan Bay). WA7 on September 1st 2023 and 8NA on September 28th 2022.


Oystercatcher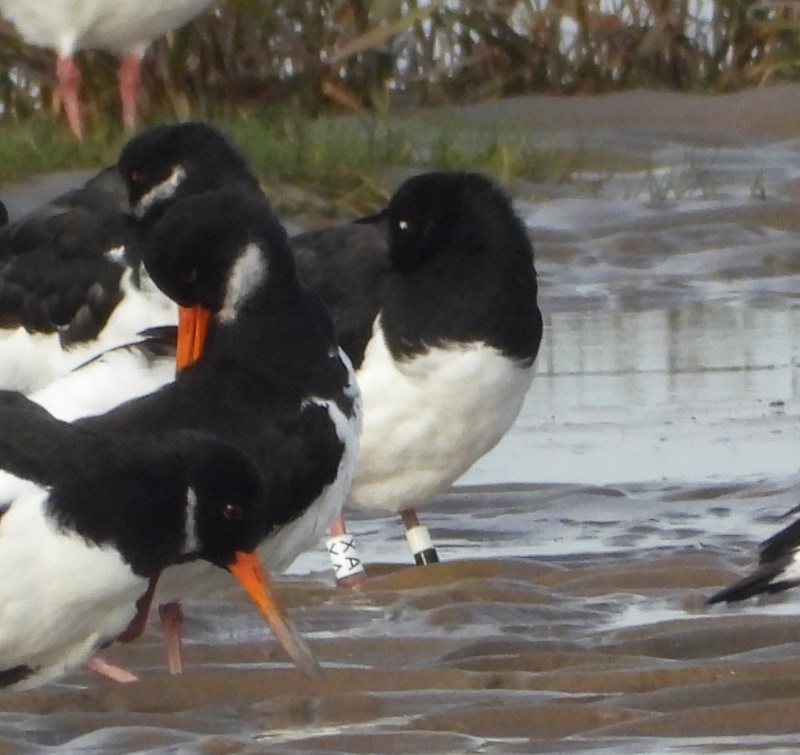 Oystercatcher White over Black - White (XA) at Hoylake October 30th 2023 © Richard Smith
WN - W(XA)
Ringed at Fljótshlíð in southern Iceland on 26/05/2022, an incubating female.
Recorded Hoylake Shore on 30/10/23.
It wasn't seen at the nesting site in 2023 and the ringer thought it had moved elsewhere to breed due to high predation in the area.
Rock Pipit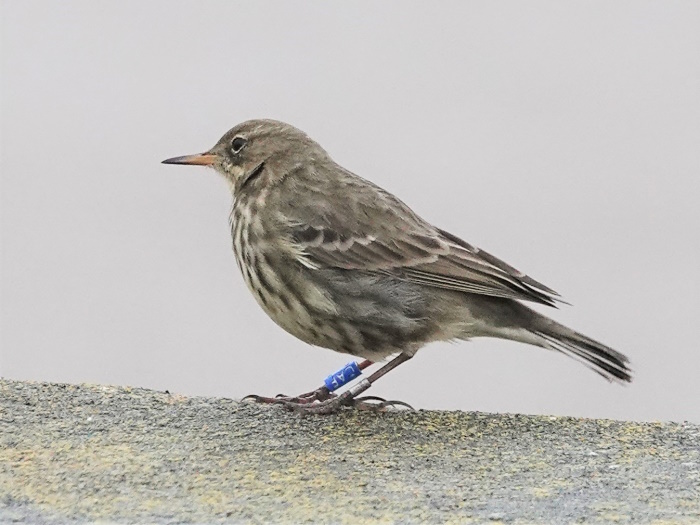 Rock Pipit Blue (CAF) at Meols on October 28th © Ed Wilson


Blue (CAF)
One of the birds ringed on Hilbre as part of the project studying Rock Pipit movements of the birds which visit, and breed on the island.
To quote Phil Woollen of the Hilbre Bird Observatory "A few pairs breed on Hilbre & we started the project this year to try & find out more about their movements as we know we get Scandinavian birds passing through in the winter (we've caught a Norwegian ringed bird). CAF was ringed as a juvenile on the 4th August this year and appears to be a classic case of post juvenile dispersal as it has now been recorded several times at Meols"


Colour Rings were recorded by Richard Smith, Stephen Hinde, Alex Jones, Alan Hitchmough, Tony Ormond, Sean O'Hara, Steve Williams and Ed Wilson.

Richard Smith

October Bird News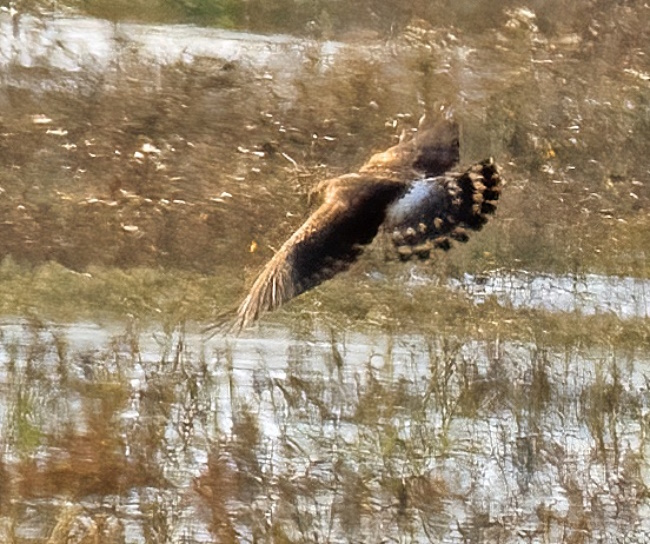 Leach's Petrel over Hoylake Shore, September 22nd © Alan Hitchmough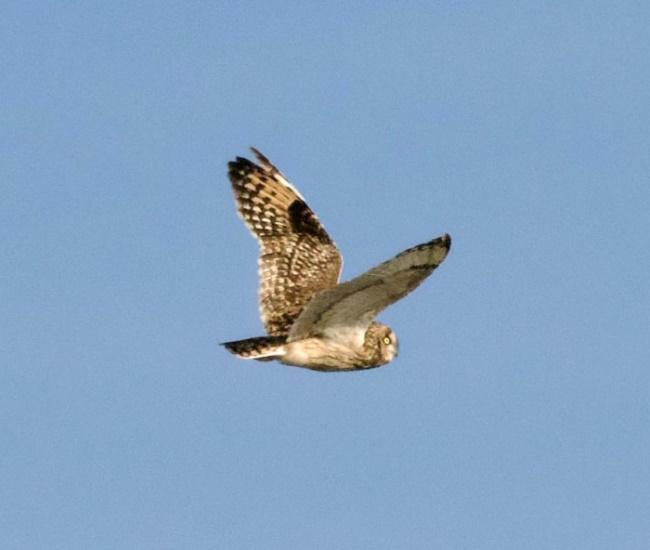 Curlew Sandpipers at West Kirby, September 11th © Richard Smith


Both Hen Harriers and Short-eared Owls showed well in October. Unusually, a ringtail Hen Harrier was seen to fly over Hilbre and a grey male high over Hoylake, both on the 17th. On the marshes at least six were recorded with five ringtails and one grey male on the 28th.

There was a mass movement of Pink-footed Geese into the estuary on the 8th, with more arriving over the rest of the month and giving wonderful views - particularly when they flew over Burton Mere Wetlands in their thousands.

October lived up to it's reputation for rarities and included a Pectoral Sandpiper, six Yellow-browed Warblers, two Lapland Buntings, a Long-tailed Duck, one Richard's Pipit and a Pallas's Warbler.
Other highlights inluded 19 Cattle Egrets at Burton Mere Wetlands, 23 Red-breasted Mergansers off Heswall Marsh, a flock of 11 Greenshanks in the channel at Heswall Shore and 15,000 Dunlin on West Kirby Shore. Not such big numbers at Hoylake but it was nice to have a good selection of species in an undisturbed roost during the spring tides at the end of the month.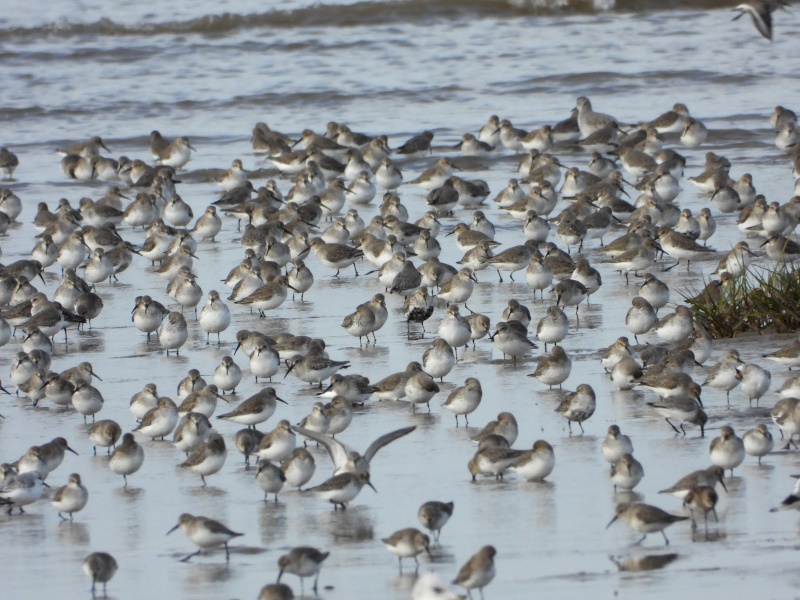 Dunlins at Hoylake, October 30th © Richard Smith

Many thanks go to Steve Williams, Steve Hinde, Mark Garner, Tony Ormond, Alan Hitchmough, Richard Speechley, Allan Conlin, Richard Whitby, Bruce Atherton, David Leeming, Matt Thomas, Dave Edwards, David Thompson, Les Hall, Sean O'Hara, Jane Turner, Ken Mullins, Charles Farnell, Mark Woodhead, Graham Connolly, Colin Schofield, Frank Burns, Paul Vautrinot, David Small, Dave Harrington, Neil Newman, Geoff Robinson, Mark Gibson, Ed Wilson, Bill Owens, Derek Bates, Alex Jones, Kevin Smith, Chris Maltby, Sara Rara, Steve Houghton, Richard Payne, Chris Croft, Phil Brown, Chris Doran, Mi;o Owen, Jim McKeown, Jeff Hodgson, Elliot Montieth, Tony Sinnott, Phil Walker, Richard cotterill, John Rowlands, Eric Burrows, Andrea Thomas, Ron Brumby, Tommy Mundy, John Crook, the Dee Estuary Wardens and the Hilbre Bird Observatory for their sightings during October. All sightings are gratefully received.

What to expect in November
There was a big influx of Short-eared Owls into the country in October (as per BirdGuides), we've already seen several on the marshes and hopefully we'll see plenty more over the winter. Hen Harrier numbers are also looking good.

There will be noticeable change as far as waders are concerned with the Icelandic breeding Dunlin (schinzii), which spent August and September here, having already disappeared to spend the winter in West Africa, being replaced by those which breed in northern Europe and western Siberia (alpina). There will also be a big increase in Knot numbers with birds having completed their moult on the Ribble Estuary, the Wash and Waddensea flying in to spend the winter with us. Look out for both species on the mud between West Kirby and Thurstaston and out on Dawpool Bank - 20,000 of each is typical. Purple Sandpipers will return for the winter, numbers are sadly not as high as they used to be but we could get up to ten both at Hilbre and the New Brighton Marine Lake roost at high tide.

Brent Geese numbers should reach several hundred around Hilbre and are also often seen on West Kirby Shore, particularly at high tide, with a few scattered elsewhere including Thurstaston and Point of Ayr.

High tide on a bright calm day is the time to look out to sea along north Wirral, there should be several thousand Common Scoters out there, last November a Long-tailed Duck was spotted and it turned out to be the first of a small flock which over-wintered. A few hundred Great Crested Grebes are often seen at high tide, usually off Meols.
The first Snow Buntings should be seen in November, they can turn up almost anywhere but the embankment between Wallasey Shore (Derby Pool) and Meols is a favourite place, as is Point of Ayr beach and the sandy stretch to Gronant.

Forthcoming Events
November Highest Spring Tides (Liverpool)
Also see Tides page.
14th November, 11.20hrs (GMT), 9.3m.
15th November, 11.55hrs (GMT), 9.3m.
27th November, 10.41hrs (GMT), 9.3m.
28th November, 11.21hrs (GMT), 9.4m.
29th November, 11.59hrs (GMT), 9.3m.
Forthcoming Events
Also see events at
https://events.rspb.org.uk/deeestuary