November 2021 Newsletter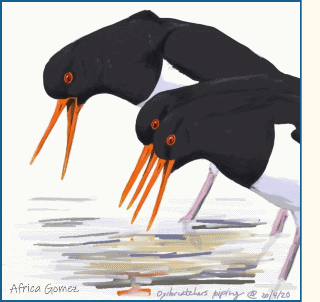 Wader Conservation World Watch 2021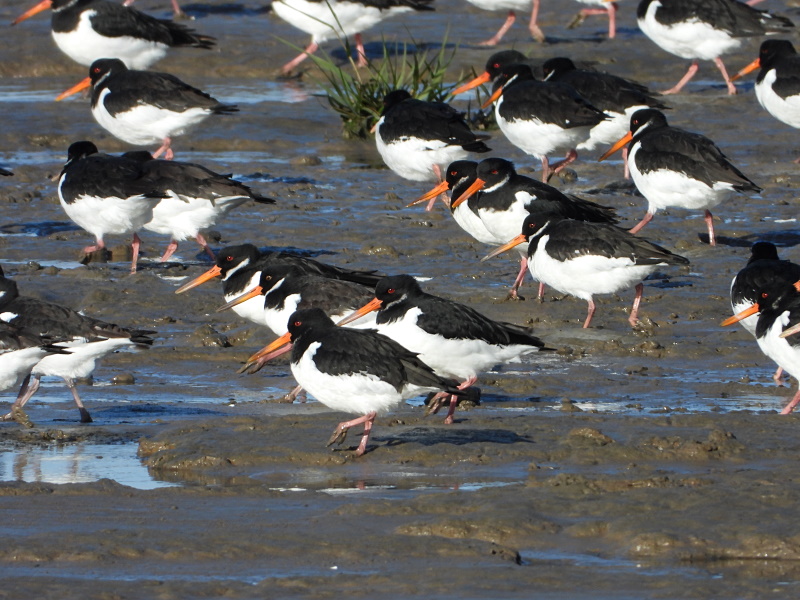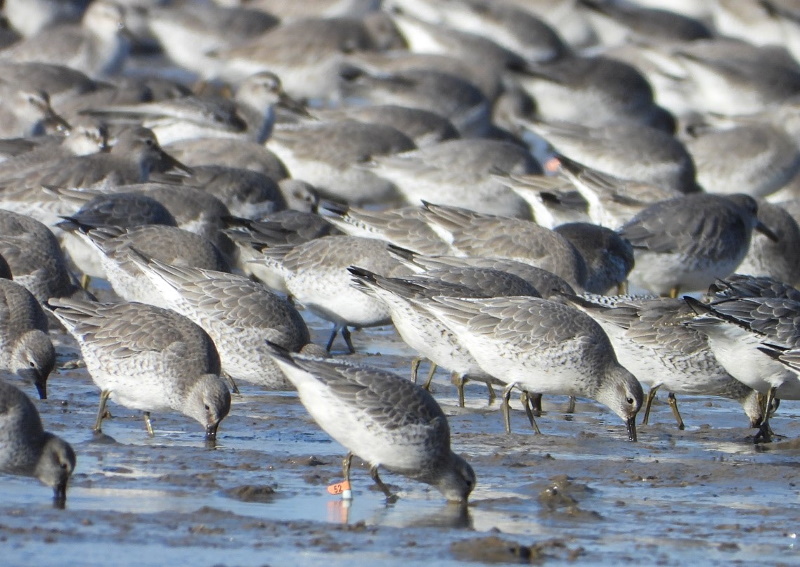 Top: the 'Oystercatcher March' at Hoylake (October 2021) when hundreds walk in front of the incoming tide © Richard Smith
Bottom: Knots feeding on West Kirby Shore at low tide (February 2021) © Richard Smith
The purpose of WCWW is not just to highlight waders and the problems they are facing, but also to celebrate the people who are involved, either professionally or voluntarily, in their conservation. Whether a person's involvement is as a researcher, ringer, conservationist, warden, birdwatcher or fundraiser, this event is a fun way to say 'thank you' to them and for the participants to say 'I Care' about what is happening to the world's waders.
The Dee Estuary and north Wirral coast will be full of waders on 6th and 7th of November. There are some high spring tides on those two days and if you want to see waders I would get to the high tide roosts at least an hour before high tide with Hoylake and Point of Ayr particularly recommended. If you want to see birds feeding at low tide then the stretch of coast between the south end of West Kirby Marine Lake and Heswall Marsh should be good although a telescope is essential if you want to scan through the massed flocks way out on Dawpool Bank.

High Tides (Liverpool time and height):
Nov 6th 11.39hrs 9.9m
Nov 7th 12.23hrs 9.8m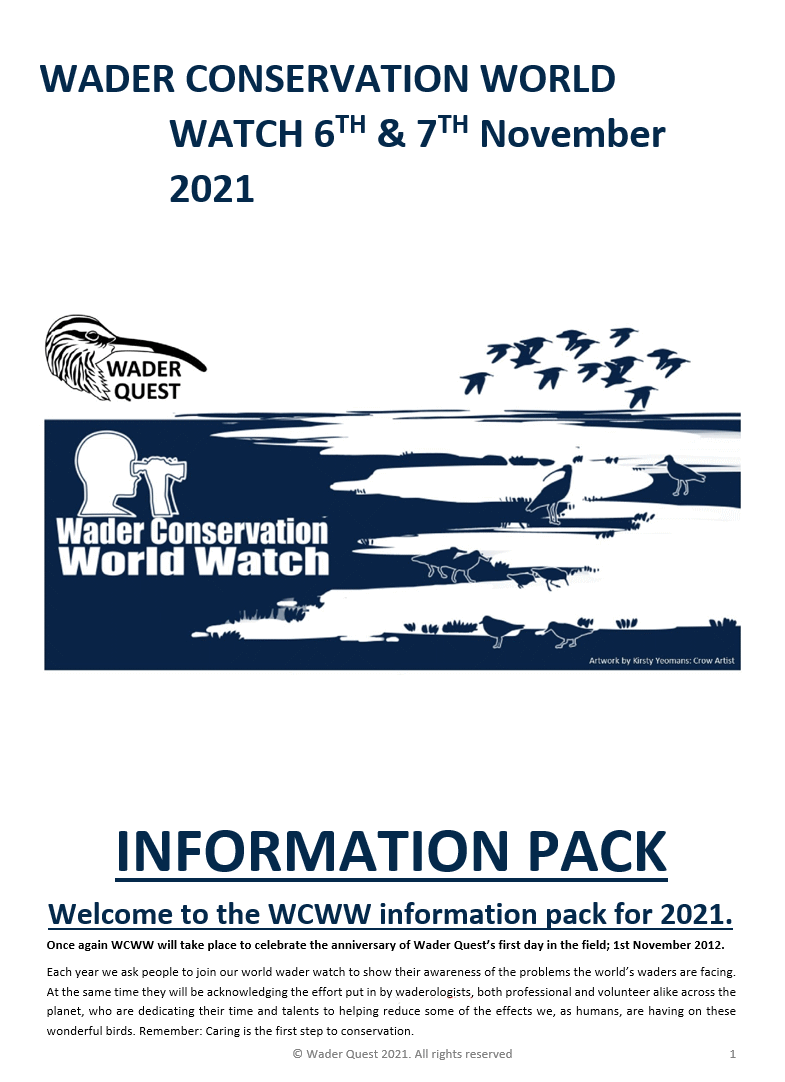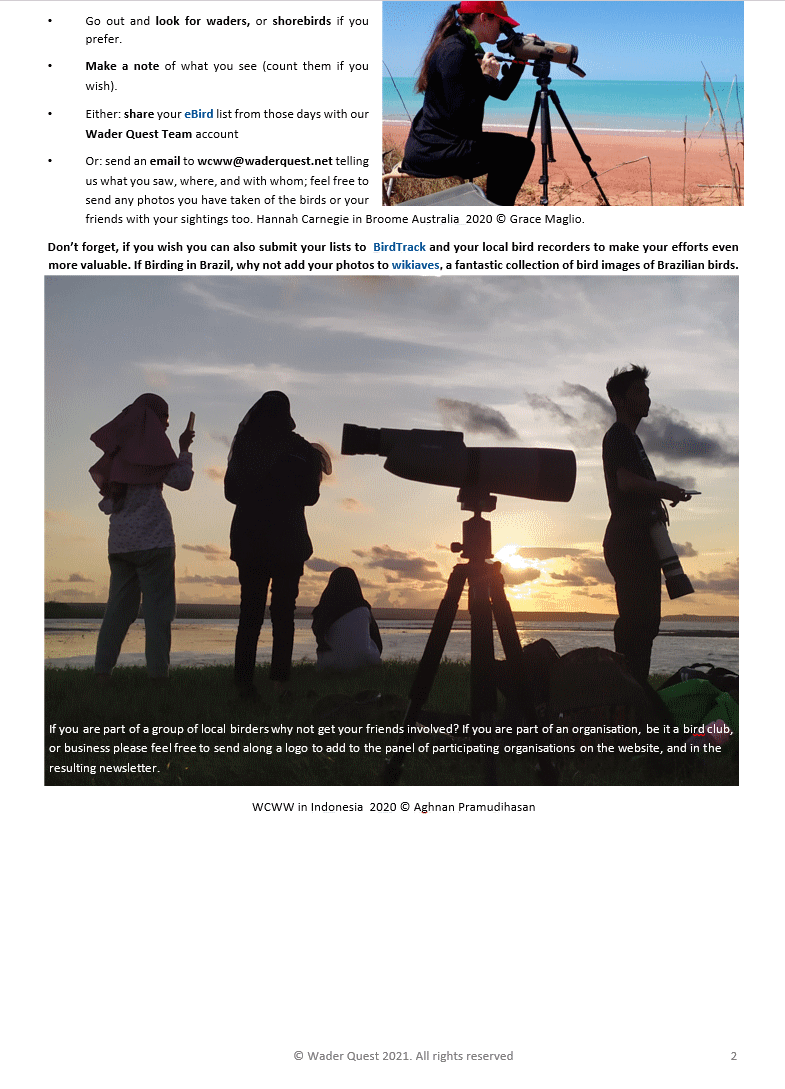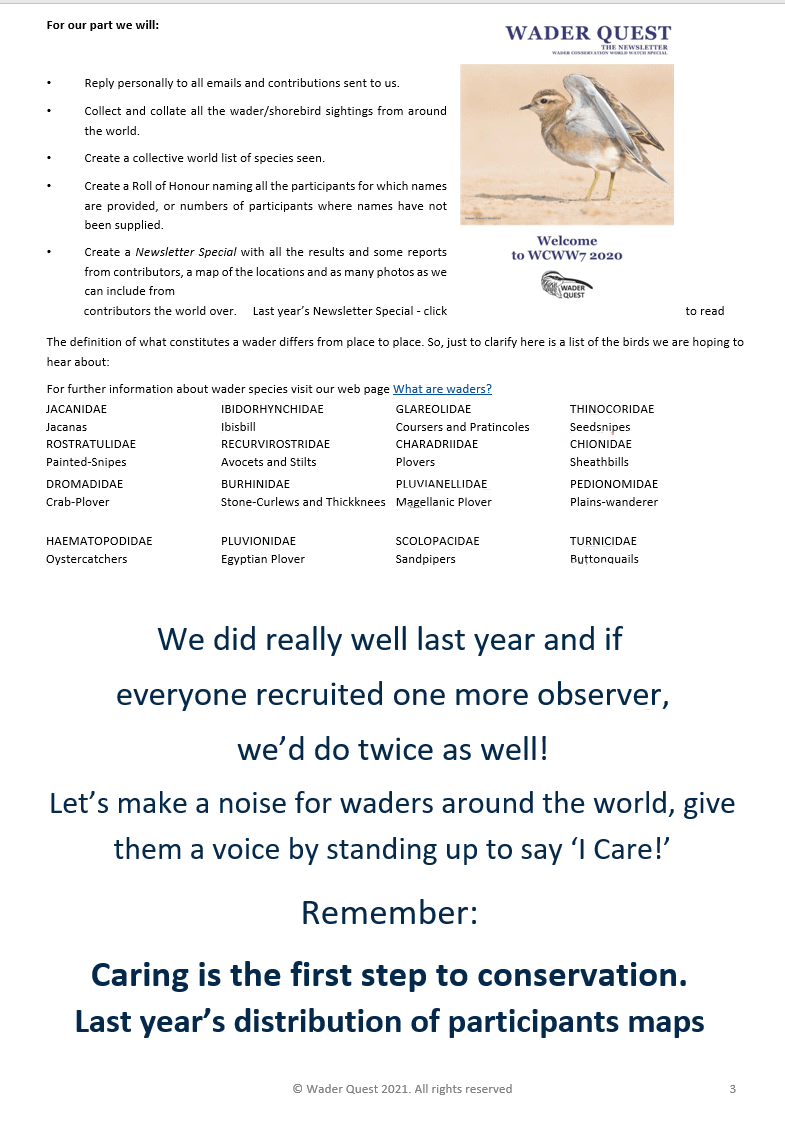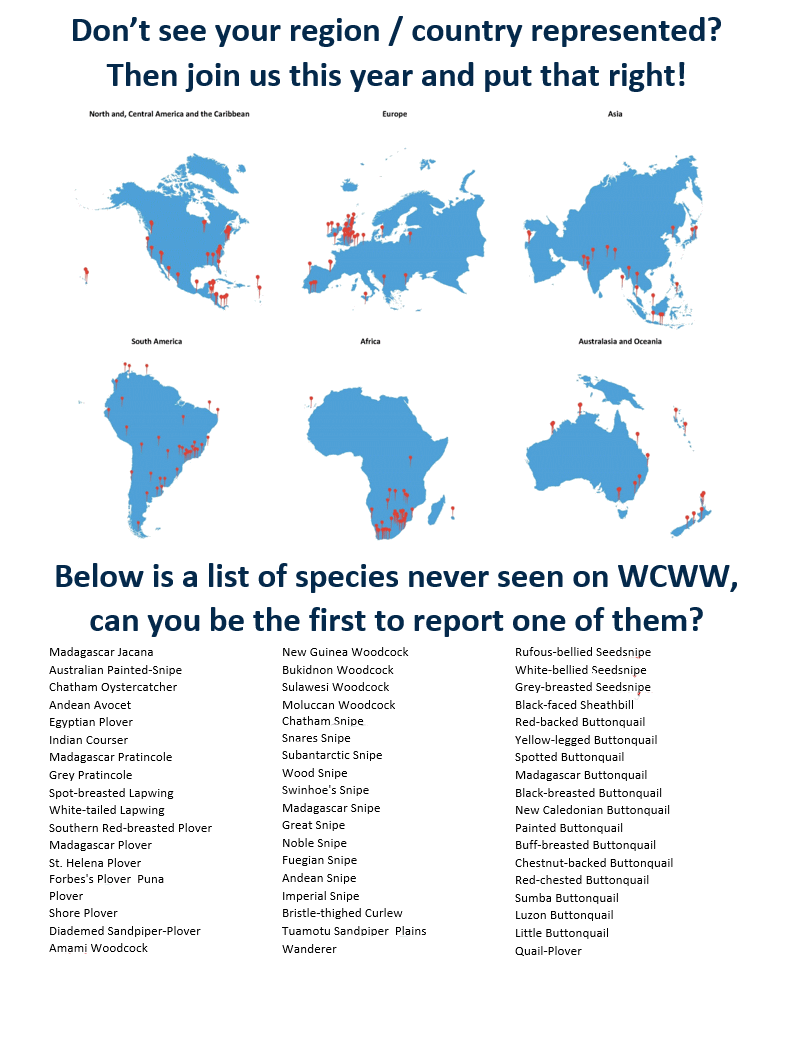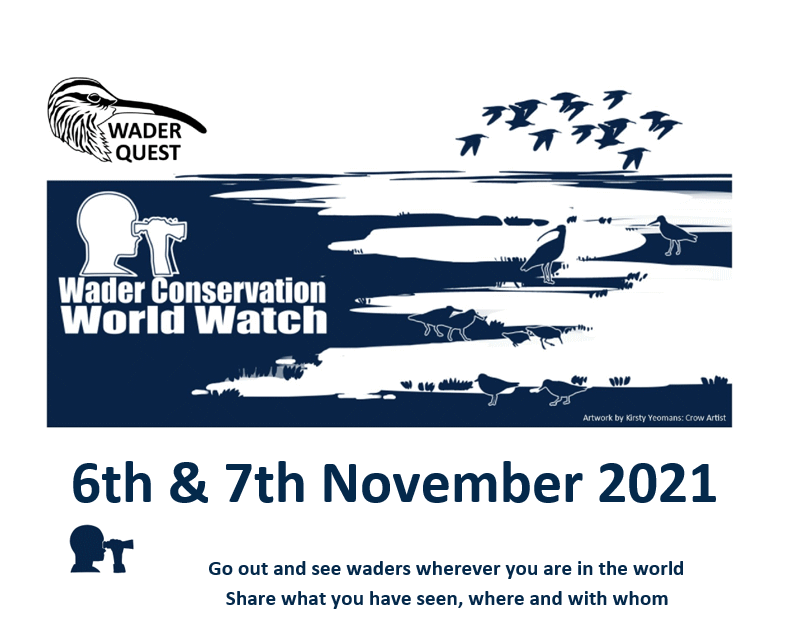 by either





Sharing your eBird checklist with the Wader Quest Team account





or



Sending an email to wcww@waderquest.net

I CARE!

REMEMBER



CARING IS THE FIRST STEP TOWARDS CONSERVATION





WADER QUEST - THE NATURAL HOME FOR WADER LOVERS




www.waderquest.net




For further information take a look at the Wader Conservation World Watch website:
https://www.waderquest.net/events/wader-conservation-world-watch/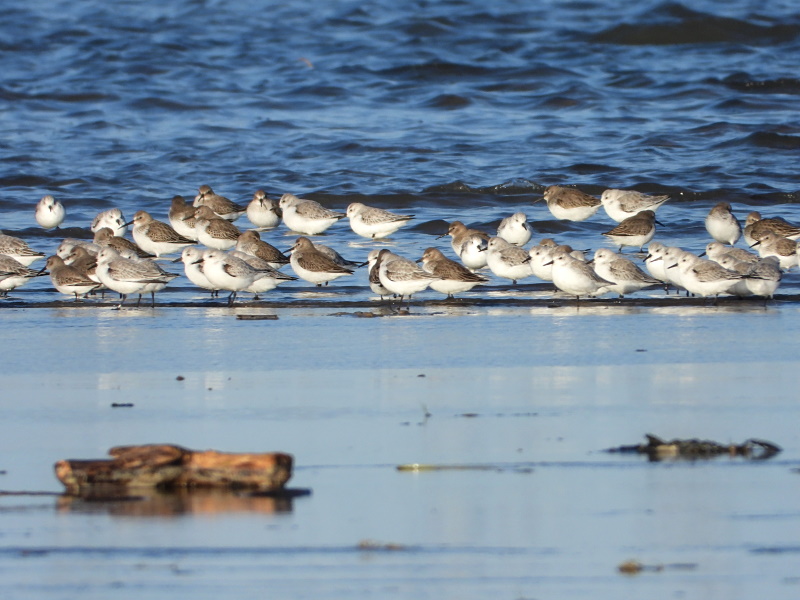 Sanderling and Dunlin at high tide, Hoylake (November 2020) © Richard Smith
Colour Ring Report

Oystercatchers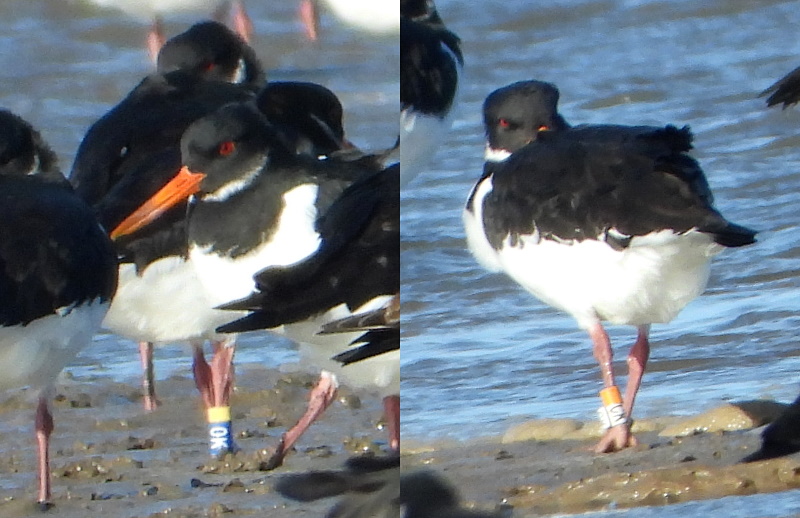 Oystercatchers YB(OK) and OW(CK) on Hoylake Shore © Richard Smith

Yellow over Blue (OK).
Ringed on the Exe Estuary at Dawlish Warren on 04/02/2018 and recorded there in March 2018, September 2018 and February 2021.
Recorded at Tichfield Haven NNR, Hampshire, on 12/05/2021 and at
Hoylake shore on 21/10/2021.

Orange over White (CK).
Ringed as a chick on 13/06/2017 at Glen Cova, Angus.
Recorded at Seaforth on 28/07/2018 and at
Hoylake on 20/09/2017 and 21/10/2021.


Knots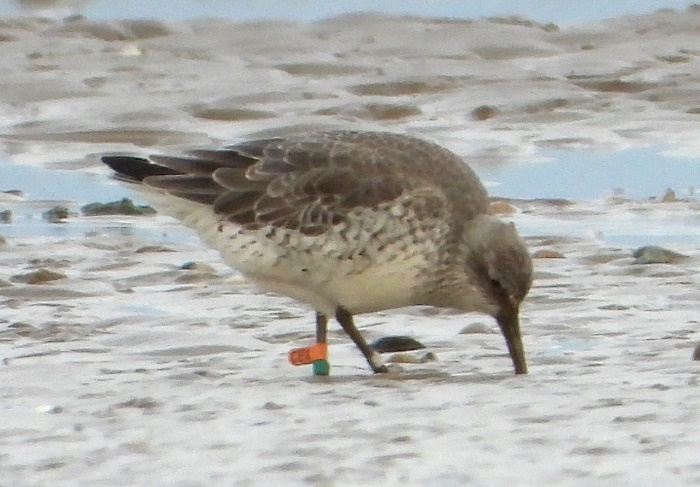 Knot OflagG (CEX) at Meols © Richard Smith

The first of our over-wintering Knots arrived during October and we managed to read a handful of the 'O flags' including this one:

Orange Flag (CEX) over Green ring.
Caught at Beaumaris (Anglesey) on 17/01/2010 and fitted with a metal ring.
Colour-ringed near the Alt Estuary on 30/03/2018.
Recorded on the Dee Estuary at Thurstaston November 2018, 2019 and 2020 and also at Meols December 2020.
In March 2019 it must have been on it's way north when it was spotted in Findhorn Bay, north-east Scotland.
It is a regular on the Sefton coast with the earliest arrival being late July and latest record before breeding being mid-April.
It moved back to Wales earlier this year when it was recorded at Bangor on 18/01/2021.
Recorded at Ainsdale on 27/07/2021 and Thurstaston on 19/10/2021.

Grey Plovers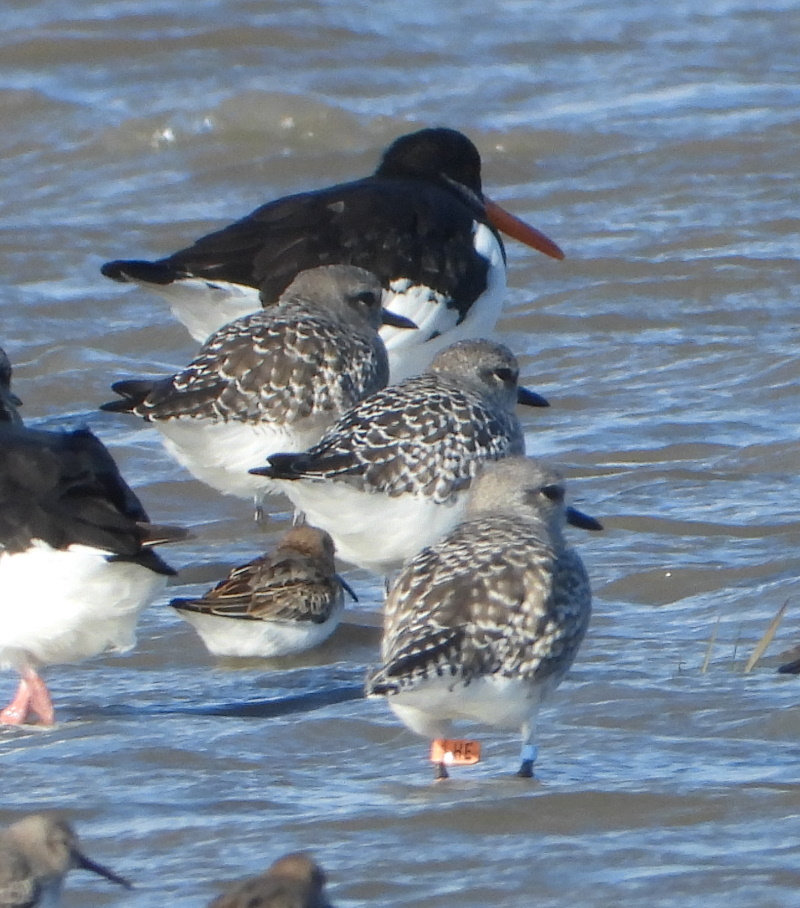 Grey Plover Oflag - P (HE) on Hoylake Shore © Richard Smith


Four colour-ringed Grey Plover were recorded in October. Two at Hoylake, one at West Kirby and one at Thurstaston. Three were ringed locally and these have Orange flags, here are the records for Oflag (HE):

Oflag (HE).
Since being ringed near the Alt Estuary on 30/3/2018 it has been recorded at Hoylake four times and along the Sefton coast between Formby beach and Southport 20 times.
Last recorded at Holylake on 24/10/2021.

The following is the first colour ringed Grey Plover we've recorded on the Dee Estuary which was not ringed at the Alt Estuary:
Left leg: Yellow flag over Yellow ring over Red ring, Right leg: Green ring over yellow ring.
Ringed on the island of Griend (Dutch Waddensea) on 08/09/2021.
Recorded at Thurstaston on 10/10/2021.
It turned out to be the first Dutch colour-ringed Grey Plover ever to be seen in the UK:
"It's the first Grey Plover which we have colour ringed in the Dutch Wadden Sea which is reported in the UK. Ringed on the island of Griend on 8 September 2021 as an 2CY bird. We recently started a project on Grey Plovers because we have many questions about their annual rhythms and migration patterns. We started colour ringing on the Russian tundra, and have ringed birds in the Wadden Sea and Mauritania too, almost 70 individuals in total." (Job ten Horn).


Common Gulls

Late summer and early autumn 2021 brought with it an unusually large number of Common Gulls to the estuary and we managed to spot four colour-ringed ones. Three had been ringed in Norway and the other in north-east Scotland. We've only managed to obtain detailed records of two of these, as follows.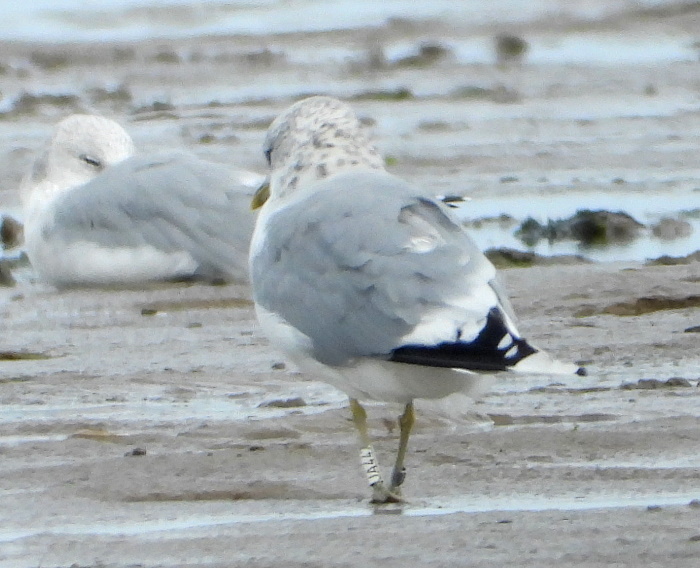 Common Gull JA447 on Hoylake Shore © Richard Smith


JA447 on a white ring.
Ringed as a breeding adult near Bergen, Norway, on 05/06/2016 where it was also recorded on 11/07/2021.
Recorded on Hoylake shore in August 2016, October 2017, August 2018 and on 11/09/2021 and 21/09/2021.
JH358 on a white ring.
Ringed as a chick near Stavanger, Norway, on 30/06/2019.
Recorded at Finisterre, France, in the winter of 2019/20 and on Hoylake Shore on 05/09/2021.

Lesser Black-backed Gull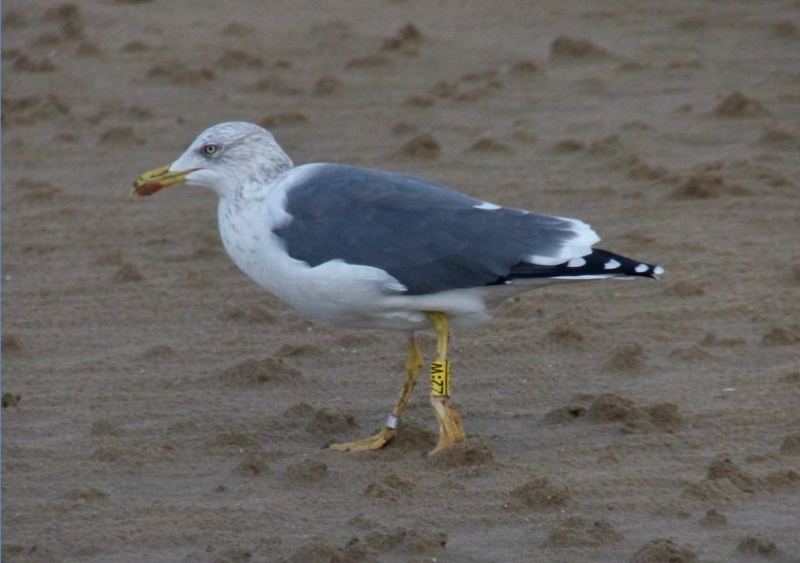 Lesser Black-backed Gull Z2:W at Hilbre © Steve Williams

Z2:W on a yellow ring.
Ringed on Banks Marsh, Ribble Estuary, on 24/05/2017.
Recorded at Hilbre (between Middle Eye and Little Eye) on 09/10/2018 and 01/10/2021.

Colour Rings were recorded by Richard Smith, Steve Hinde, Ros Green, Tim Kinch and Steve Williams.
October Bird News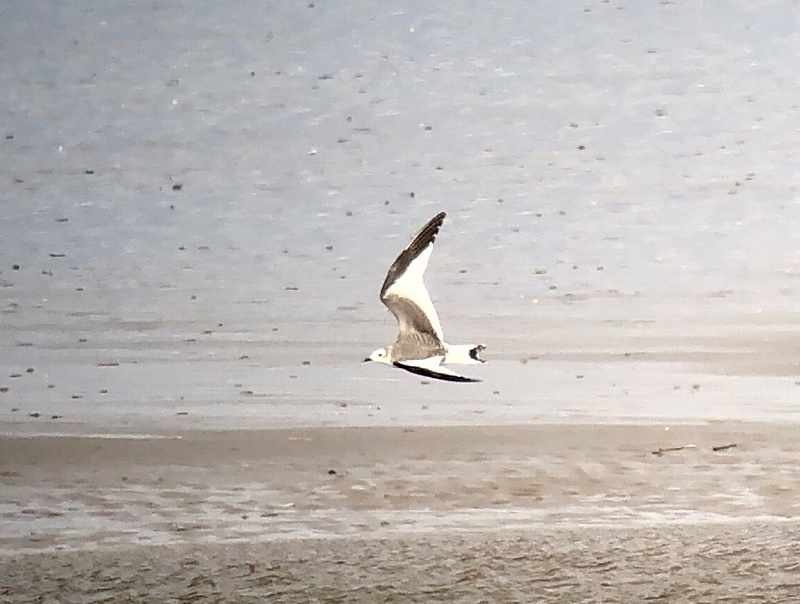 Sabine's Gull off Hilbre, October 5th © Steve Williams

Gales early in the month brought in some good sea birds after a disappointing September. 12 Leach's Petrels, 6 Arctic Skuas, 6 Great Skuas and 1 Sabine's Gull were the totals. In addition a Little Auk flew past Hilbre on the 21st and a Grey Phalarope was spotted exiting the River Mersey on the 22nd.

Visible migration was notable for the passage of hundreds of Redwings through the area on several days through the month, but in contrast a near total lack of Fieldfares. This appears to have been the case right across the country as illustrated by the migration monitoring website https://trektellen.org/ , see the two bar charts below with October weekly totals for Redwing and Fieldfares migrating into the UK for 2021, 2020 and 2019. October 2021 saw numbers of Fieldfares less than 2% of the previous two years. Presumably they are arriving late this year!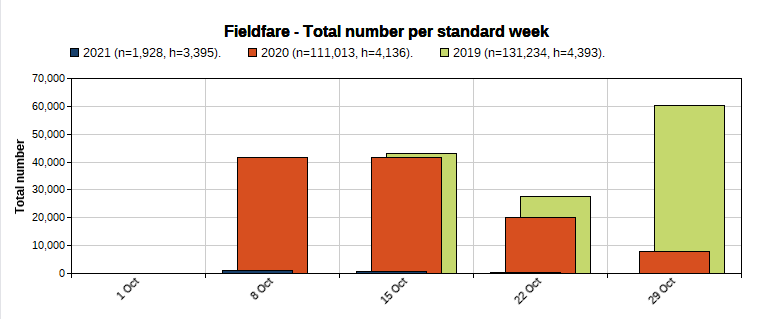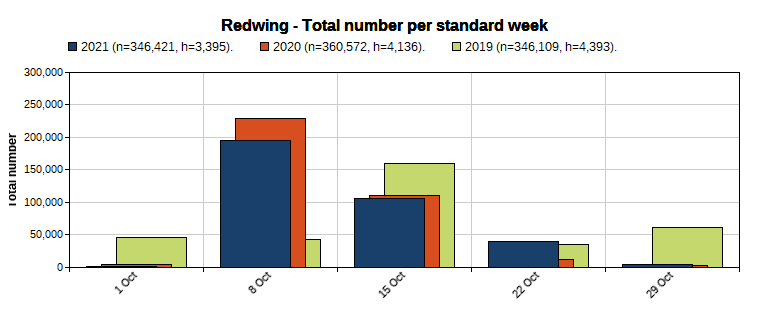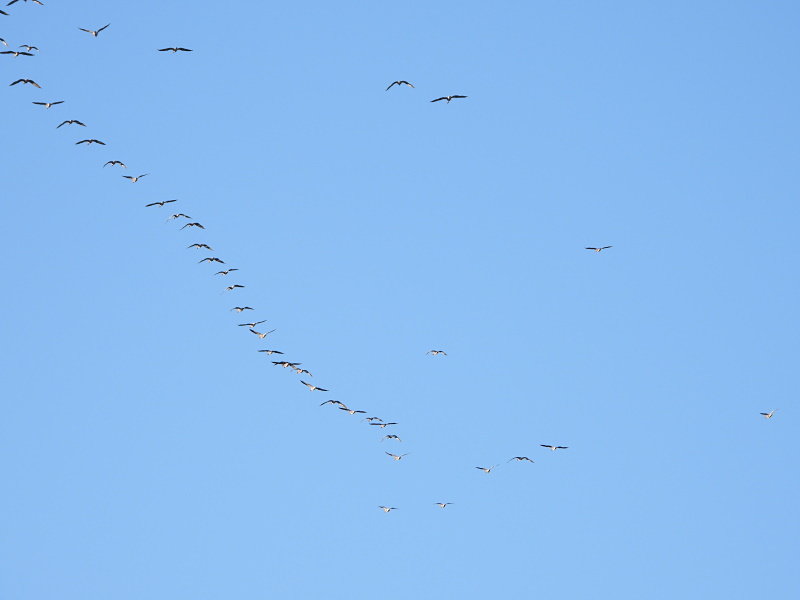 Pink-footed Geese over Caldy, October 15th © Richard Smith

The 6,300 Shelducks spread over Dawpool Bank off Thurstaston on the 7th was probably the biggest flock in the country for October, and 4,320 Redshanks at nearby Heswall on the 1st was also a pretty impressive number. The dramatic increase in Pink-footed Geese numbers in recent years has been well documented on this website and 12,500 flying into roost on the 25th was a fantastic sight.

On the marshes 13 Marsh Harriers were seen over Neston Reedbed on the 19th with total numbers probably well over that. A grey male and at least one ringtail Hen Harrier were present through the month. Cattle Egrets reached a total of eight, the max count of Great Egrets was 38 and up to three Spoonbills were present.

Two records of Snow Buntings this month, singles at Hilbre and Meols. A Firecrest was a nice find On Hilbre on the 8th, a Lesser Spotted Woodpecker was in a West Kirby garden on the 19th and just one report of a Yellow-browed Warbler with one at Burton on the 28th. A Long-tailed duck was at Burton Mere Wetlands on the 30th.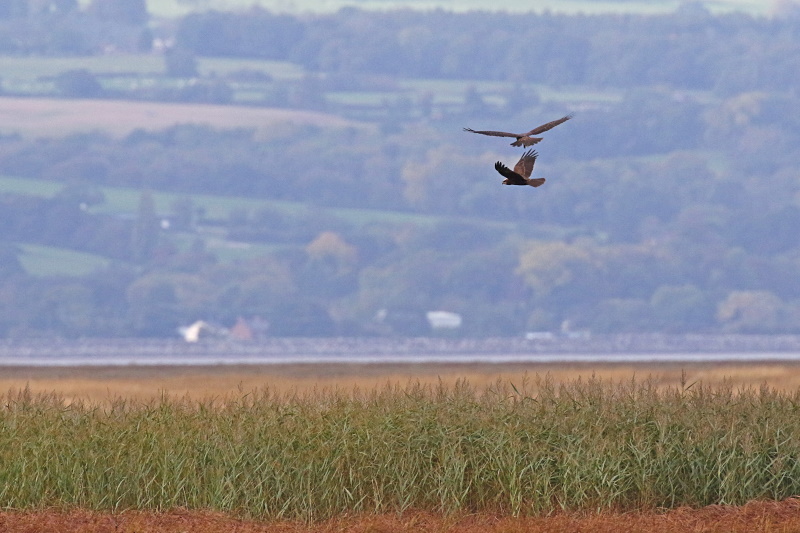 Marsh Harriers at Parkgate, October 25th © Roy Lowry

Many thanks go to Matt Thomas. Eddie Williams, Steve Williams, Steve Hinde, Alan Hitchmough, Derek Bates, Allan Conlin, Richard Whitby, David Thompson, David Small, Bruce Atherton, Mark Gibson, Roy Wilson, Mark Woodhead, Richard Speechley, Tim Kinch, Linda Platt, David Leeming, Colin Wells, Paul Vautrinot, Les Hall, Jeremy Bradshaw, Dave Edwards, Paul Mason, Frank Burns, David Bradshaw, Sheila Ryde, Kelvin Britton,Mal Sergeant, Richard Speechley. Eric Burrows. Mark Peers, Nick Lockley, Gillian Burnley, Steve Liston, Ian Goldstraw, Simon Dowell, P Roberts, Peter Ham, Graham Connolly, Neil Simpson, Kieran Kelly, LLlewlyn Thornbold, Tony Hession, Richard Shsford, James Andrewes, Sue Moody, Kevin Taylor, David Bedford, Chris Molby, David Jones, Richard Jones, Ian Hutton, the Dee Estuary Wardens and the Hilbre Bird Observatory for their sightings during October. All sightings are gratefully received.

What to expect in November

We already had an influx of Cattle and Great Egrets in October but expect even more in November, last year we had at least 15 Cattle and over 30 Great. Both Harrier species should be present in good numbers with at least four Hen Harriers (hopefully including one or two grey males) and Marsh Harriers well into double figures. Also on the marshes one or two Bitterns should be lurking, usually only seen when they fly into Neston Reedbed to roost.

Our overwintering waders will have arrived, last year we had a count of 40,000 Knots, mostly off Caldy and Thurstaston, during a low tide count mid-November. Also expect plenty of Dunlins, Grey Plovers and Sanderlings.

The high spring tides during the first weekend of the month should produce some spectacular numbers off wildfowl flushed from the marshes including Pink-footed Geese, Wigeon, Pintail and Teal and many of these may relocate to Burton Mere Wetlands. Also in November we start to see ducks frequenting West Kirby Marine Lake with Goosanders now the most regular species. Shotwick Lake is well worth a look for ducks including a Long-tailed duck which turned up last year, as well as a Slavonian Grebe. The new proto-sand dunes at Hoylake attracted a small flock of Snow Buntings last winter so it would be nice if they returned, but this lovely finch can turn up anywhere along north Wirral including Hilbre and West Kirby, as well as between Point of Ayr and Gronant.

On a calm day it's well worth looking out to sea at high tide where there could well be thousands of Common Scoters and hundreds of Great Crested Grebe - but they will be a long way out!

Top of Page
Forthcoming Events
November Highest Spring Tides (Liverpool)
Also see Tides page.
5th November, 10.58hrs (GMT), 9.8m.
6th November, 11.39hrs (GMT), 9.9m.
7th November, 12.23hrs (GMT), 9.8m.
Forthcoming Events
At last, the return of events!!
Friday 5th November - High Tide Wader Watch at Point of Ayr RSPB
09.00hrs to 12.00 hrs.
By November, most of our winter visitors will be back on the mudflats and saltmarsh that make the Dee Estuary such an important home for wetland birds, and witnessing a high tide at Point of Ayr is a spectacle not to be missed.
Thousands of godwits, redshanks, oystercatchers and curlews gather in spectacular fashion on the saltmarsh and shingle here at high tide, along with a variety of ducks - pintail, shelduck, teal and mallard - pushed close on the incoming tide, and there's always the chance that something unexpected will show its face! Peregrine and merlin are the two raptors most likely to take advantage of this high tide buffet, so there's a chance of seeing these hunting at close range.
This exclusive guided walk with the reserve's former warden has strictly limited numbers and will give you an intimate insight into the key wildlife and importance of the Point of Ayr part of the RSPB Dee Estuary reserve. The event starts with a gentle stroll through the sand dunes to the beach looking for highlights on the rising tide, then along the sea wall to our hide to watch the tide peak, covering around 2 miles in total, on some soft ground.
Appropriate outdoor clothing and footwear suitable for the weather conditions are essential, with binoculars and/or telescope highly recommended! Feel free to pack some snacks for in the hide, and a hot flask is recommended at this time of year!
Park in one of the public car parks signposted from Station Road and meet outside 'The Point' bar at the end of Station Road ready for a 9am start. Car parks are Pay & Display so don't forget some coins. Public toilets and places to purchase refreshments will be available in Talacre before and afterwards.
Booking essential
- go to
https://events.rspb.org.uk/events/8633
and click on the orange 'Buy now' button on the bottom of the page.
Wedenesday 17th November - Wildfowl Watch at Burton Mere Wetlands RSPB
14.30hrs to 17.00hrs.
The UK's wetlands are a vital winter home for thousands of wading birds and wildfowl, and the Dee Estuary is one of the best places in the country to see them.
Join us for this exclusive afternoon walk with the reserve's former warden to brush up on your ID and marvel at the flocks of ducks, geese and and a variety of other water birds that spend the winter here. Eight types of ducks and up to five types of geese can be seen here at this time of year, in colourful breeding plumage after their autumn moult.
This gentle walk will cover around 2 miles along fully accessible trails to Burton Mere Wetlands' new Border hide, stopping at screens and viewpoints along the way. As dusk approaches, finish back at the visitor centre for a drink and a snack of your choice, staying for half an hour after the reserve closes to visitors to experience - weather permitting - one of our dramatic sunsets, and the flurry of activity of birds flying to roost on the reserve.
Appropriate outdoor clothing and footwear suitable for the weather conditions are essential, with binoculars and/or telescope highly recommended, but binoculars can be hired here on the day! Please note, we request for face coverings to be worn indoors unless exempt, except to eat and drink.
Ticket price includes the drink and snack, plus the reserve entry fee for non-members. Members should bring their membership card to present on arrival.
Booking essential
- go to
https://events.rspb.org.uk/events/8635
and click on the orange 'Buy now' button on the bottom of the page.