October 2021 Newsletter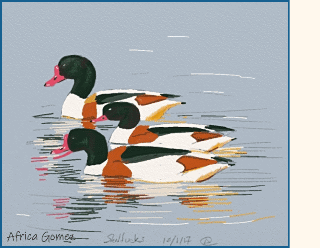 Species Spotlight - Shelduck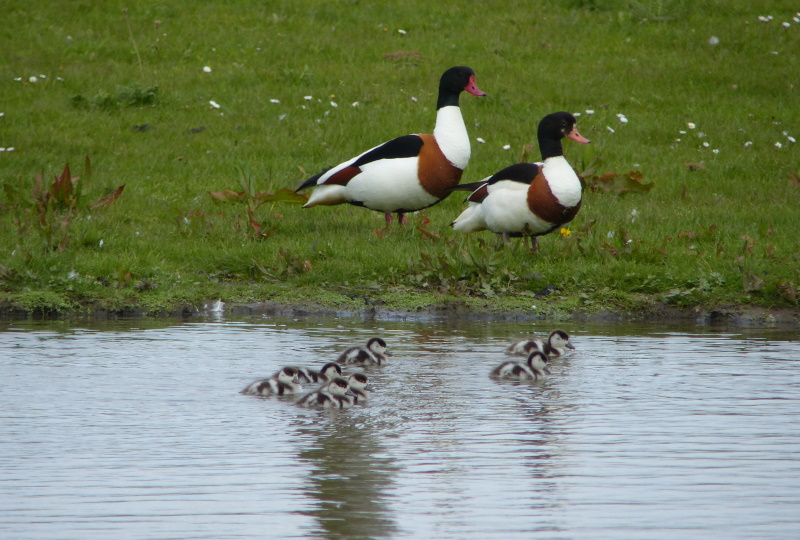 Shelduck pair with chicks at West Kirby © Mark Turner

The large and colourful Shelduck is always a joy to see, being commonplace on the estuary we rather take them for granted but they really are exotic looking birds. We are lucky as the Dee estuary and adjacent Mersey estuary are the most important sites in the country for them.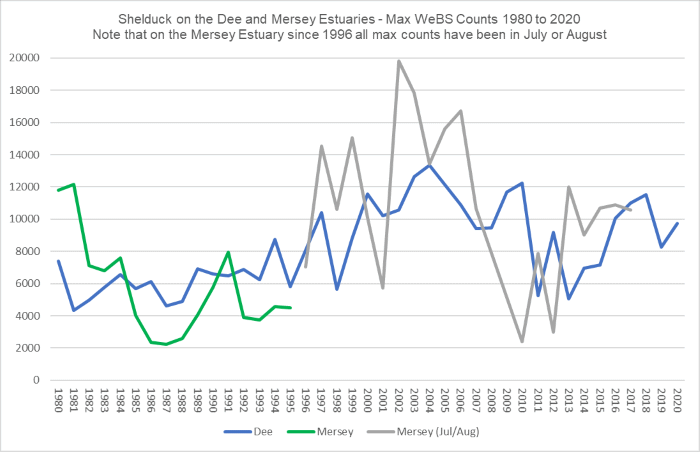 The graph above shows max annual counts (Wetland Bird survey) from the Dee and Mersey estuaries from 1980 to 2020. In the late 1970s and early 1980s the Mersey estuary had more Shelduck than the Dee, at that time numbers peaked on the Mersey during the winter months. But around 1996 there was a dramatic change in their behaviour when large numbers started to use the Mersey estuary as a post-breeding moulting site during July and August, reaching a remarkable 19,810 in August 2002. Shelduck, of course, are famous for their long-distance flight to the Waddensea (mostly to the Helgoland Bight, NW Germany - a straight line distance of just over 470 miles from the Dee estuary) where they moult in July and August. Probably well over half of the UK adult population undergo this flight but a significant number stay to moult in this country mainly in the Humber, the Wash, Firth of Forth and the Mersey - and it is the Mersey which is now by far the most important moulting site in the UK. Numbers moulting on the Mersey do fluctuate quite widely from year to year and are currently at just over 10,000 (there have been some missed and/or partial counts since 2017 so have not been included in the graph - but overall numbers do appear to have dropped in the past three years).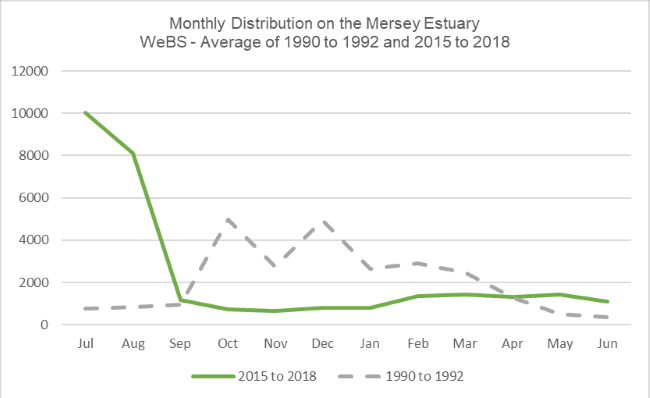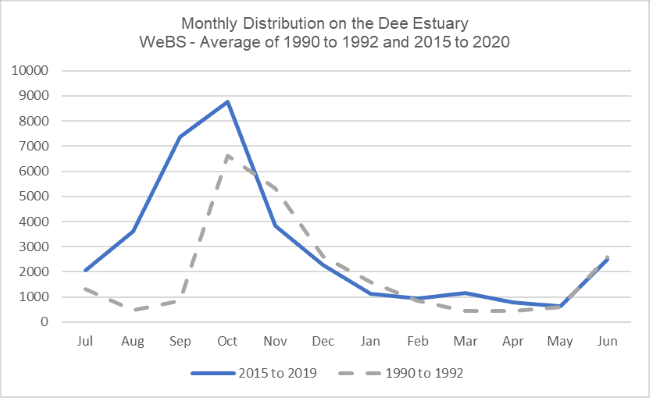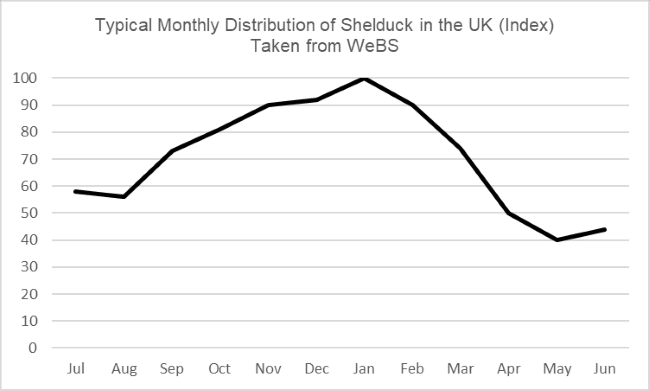 These three graphs, above, tell an interesting story. I've compared the monthly average in the early 1990s, i.e. pre 1996 and when numbers nationally were high, to the current monthly distribution. There has been a dramatic change on the Mersey and the graph shows the peak numbers which now occur in July and August, compared with autumn and winter peaks in the early 1990s. Wintering numbers there are now only around the 1,000 mark, perhaps the moulting flock are depleting the food sources which then don't recover until the next summer. On the Dee estuary the change in distribution is more subtle. The peak on the Dee estuary has always occurred in autumn so our mudflats must have plenty of food for birds returning from their moult, whether that's on the Waddensea or the Mersey. However, before 1996 the peak always occurred either in October or November whilst since 1996 the peak has been either in September or October. Obviously, the reason for the earlier arrival is that most birds are now flying the very short distance from the Mersey to the Dee after they've finished their moult, rather than several hundred miles from Germany. Note also, the much higher numbers that we now have in August on the Dee estuary which suggests that a few thousand Shelduck moult here as well as on the Mersey, something which has been suspected for quite a while.

After the October peak birds disperse away from the Dee very quickly and by January counts are down to 1,000. The monthly distribution for the UK as a whole is quite different with a peak in mid-winter, usually in January, and this is presumably when all the birds which moulted on the Waddensea have returned to the UK. The movements of Shelduck are complex and by no means fully understand. The Ribble estuary, just to the north of us, typically has a peak of around 4,000 but since 2005 this peak has occurred on nine different months - only excluding April, May and August. I have no idea what to make of that! Ros Green (BTO), who has just started a PhD on Shelduck migration (and see Refs 3 and 4), said "I've got a feeling they do many more interesting things than most people realise".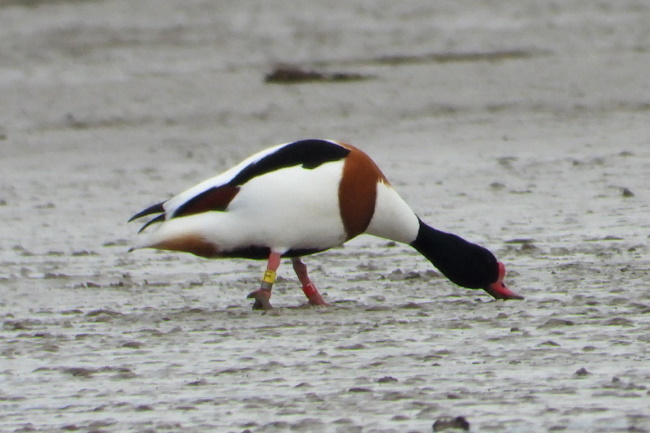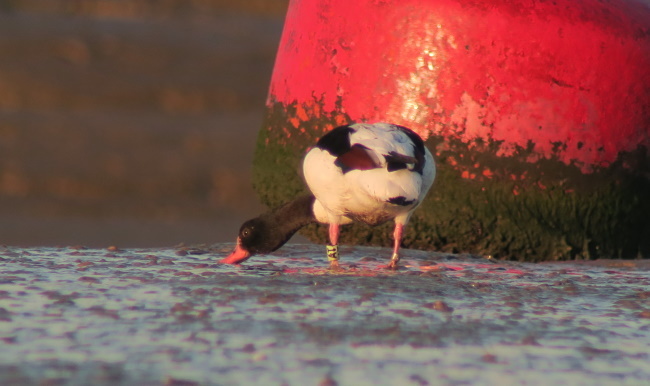 Top: Shelduck Red T/Yellow F ringed on Bank Island in Lower Derwent Valley NNR in Nov 2020, seen at Meols in Mar 2021
© Richard Smith © Steve Hinde


One way to track these movements is by colour ringing and a lot of Shelducks have been colour-ringed in recent years, and on the Dee estuary we have 102 records of 35 colour-ringed Shelduck over the past three years. Prior to that there have been a total of four recoveries of metal ringed birds (which demonstrates just how useful colour-ringing is), and the map below shows where else all these have been recorded.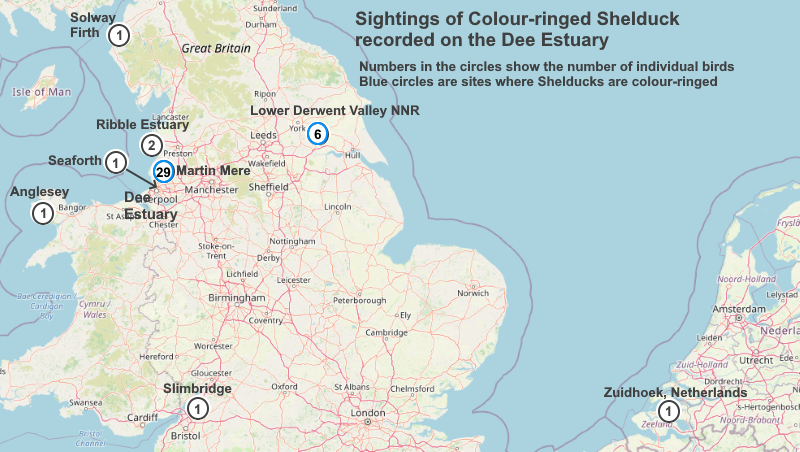 Notes:
1. Over 400 Shelduck have been colour-ringed since 2017 at Martin Mere and we saw our first one on the Dee estuary in March 2019. Most of these Martin Mere ringed birds are sighted on the Dee from late August through to early November, after which many spend the winter back at Martin Mere where they get plenty of free food put out for the wild swans and captive birds. Typical numbers through the winter at Martin Mere are around 500. About 30 pairs stay to breed there but most have dispersed elsewhere by the end of March, and it is April when we have seen one or two ringed birds back here on the Dee Estuary presumably breeding locally.

2. They have been colour ringing Shelduck in the Lower Derwent Valley NNR for over 10 years but we didn't see our first one on the Dee estuary until November 2019. As well as the six birds seen on the Dee estuary they have also had several other records of their birds in the north-west of England, so that's an interesting westwards movement. Like the Martin Mere birds we see these ones in autumn and spring. There is a sizable breeding population in the Derwent Valley of at least 60 pairs.

3. A bird ringed at Lower Derwent Valley in February 2018 was spotted at Thurstaston in November 2019, before finding it's way to Zuidhoek, just south of Rotterdam, in February 2021. As far as I can ascertain this is the first ringed Shelduck seen on the Dee estuary which has also been recorded abroad. February is also an interesting date for it to be in the Netherlands, has it been there since moulting on the Waddensea in August, or is it a bird that winters in the UK and breeds on the continent? These are the sort of questions that we hope colour ringing will eventually answer.
Where to see Shelduck on the Dee Estuary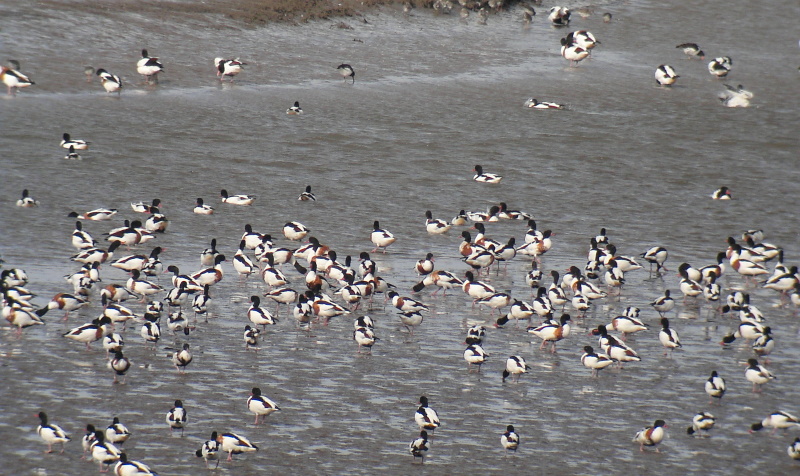 A small portion of the huge flock of Shelducks on Dawpool Bank in October © Charles Farnell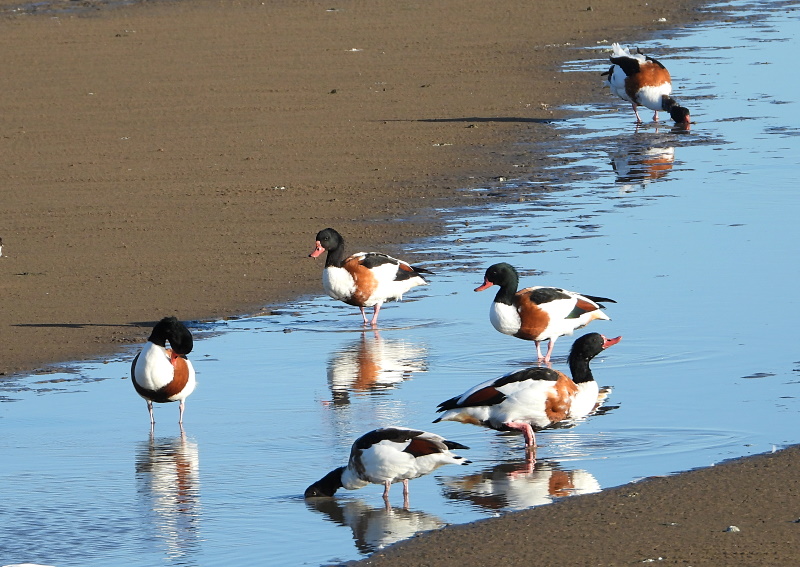 Shelducks photographed from Meols Prom in November 2020 © Richard Smith

Stand on top of Thurstaston cliffs at low tide anytime from late September to around mid-October. You will need a telescope to scan the vast Dawpool Bank in front of you but it will be covered in Shelduck, and at that time of year you will almost certainly be looking at the largest flock in the country. Also at that time of year Point of Ayr will have several hundred with high tide the best time to see them floating on the sea in the lagoon.

To get closer views take a walk at low tide anywhere between Heswall and West Kirby and there should always be a few feeding on the mud not too far from the beach. Sometimes you can get up to a hundred drinking from the stream at Tinker's Dell. In the spring you will see them paired up when they can be quite noisy and aggressive towards other pairs. In March, before nesting has started, they can often be seen inland on fresh water, sometimes in single pairs but small groups sometimes assemble on local ponds or floods. Then in May you could get lucky and see a family like in the photo at the top of this article.
By mid-October, when the big flock at Thurstaston starts to disperse, you can get several hundred on the mud off Meols, and if you can get there early before the walkers disturb them you can get really good views of them close to the promenade. If the sun is shining you can take some great photos directly without having to set foot on the mud.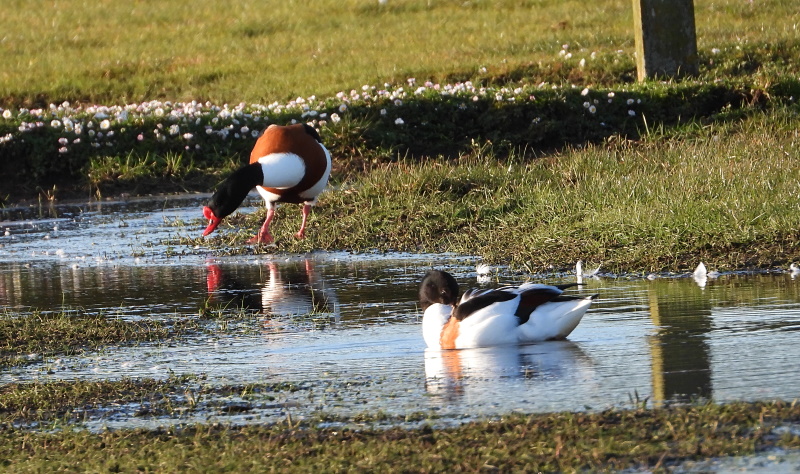 A pair of Shelduck on a flooded paddock at Leasowe in March 2021 © Richard Smith
References
1. Cheshire and Wirral Bird Reports 1980 to 2019, CAWOS.

2. Neil Friswell & Colin E. Wells, Dee Estuary and North Wirral Foreshore WeBS Annual Reports 2009/2010 to 2019/2020.

3. Ros Green, A migration mystery, BTO News Spring 2021.

4. Ros Green et al., Review of the migratory movements of Shelduck to inform understanding of potential interactions with the offshore wind farms in the southern North Sea, BTO Research Report 718, 2019.
Thanks to Kane Brides (Martin Mere) and Craig Ralston (Lower Derwent Valley) for providing the Shelduck colour ringing records.

This article 'Contains Wetland Bird Survey (WeBS) data from Waterbirds in the UK 2019/20 © copyright and database right 2021. WeBS is a partnership jointly funded by the BTO, RSPB and JNCC, in association with WWT, with fieldwork conducted by volunteers.'

Richard Smith

Colour Ring Report

Having concentrated on Sandwich Terns in both the August and September Newsletters it's now time to take a look at a selection of other species.

Lapwing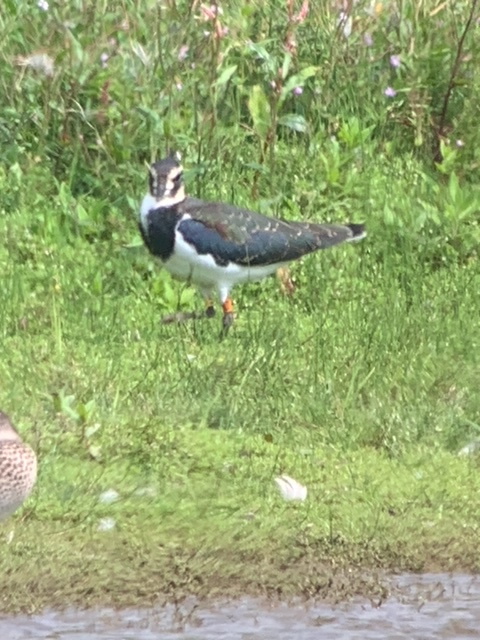 Lapwing O(C) - Y(5) at Burton Mere Wetlands, August 25th 2021 © Colin Schofield

Left Leg: Orange (C), Right Leg: Yellow (5).
Ringed on 01/05/2021 at Polder Zeldert, near Amersfoort, Netherlands as a chick.
Recorded at Burton Mere Wetlands RSPB on 25/08/2021.

We see very few colour-ringed Lapwings so it was a good find by Colin Schofield to spot this one. It was ringed in the Netherlands making it even more special.
Oystercatcher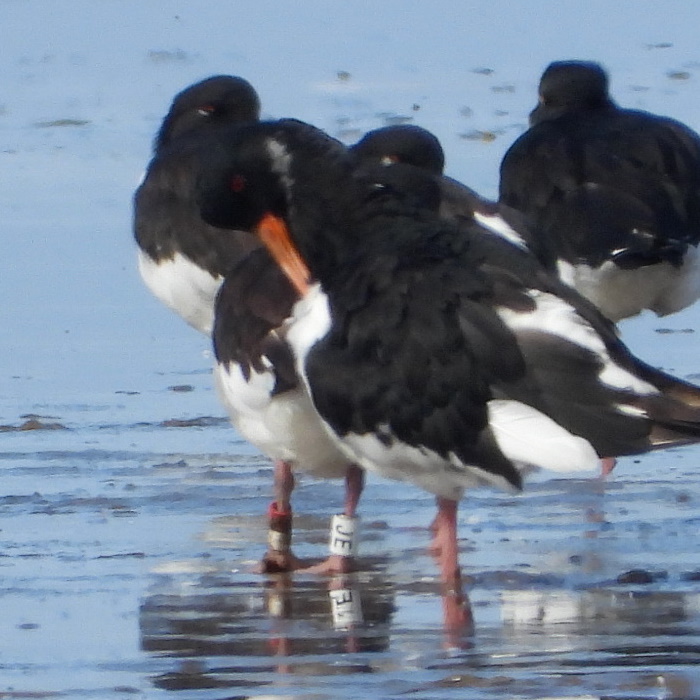 Oystercatcher RW-W(JE) at Hoylake on September 10th 2021 © Richard Smith


Left leg: Red over White (red ring partly obscured by mud) Right leg: White (JE).
Ringed on 15/05/2020 at Garour, SW Iceland (just north of Reykjavik airport) as an adult.
Recorded:
Heysham Harbour, Morecambe Bay, on 30/10/2020.
Hoylake Shore on 10/09/2021.
This is our eighth colour-ringed Oystercatcher from Iceland where there is currently a lot of work being carried out on their movements and breeding strategies with some interesting papers published - it's good to know that we have contributed to something like this.

Black-tailed Godwits
Since they returned from Iceland in early July we have had 101 records of 22 colour-ringed Black-tailed Godwits. Quite a few have been regulars, one of which we've been recording here on the Dee Estuary every year since 2005 - when it was just two years old. But below are four interesting ones which we haven't seen before.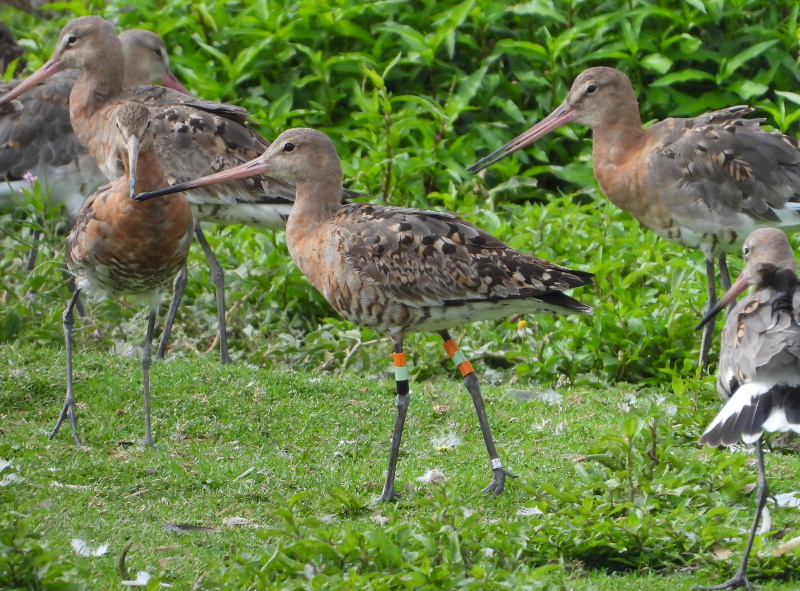 OLN-OLO at Caldy, August 9th © Richard Smith


OLN - OLO ringed on 08/10/2018 at Levington on the River Orwell in Suffolk as an adult.
Recorded:
It was in NW Spain then Portugal in the winter of 2018/2019.
The summer and autumn of 2019 saw it back on the River Orwell near Ipswich before being recorded again in Portugal in February 2020.
It was again back near Ipswich the following summer before being spotted on the west coast of France in March 2021 (on the way back from Portugal?).
At Caldy during August 2021.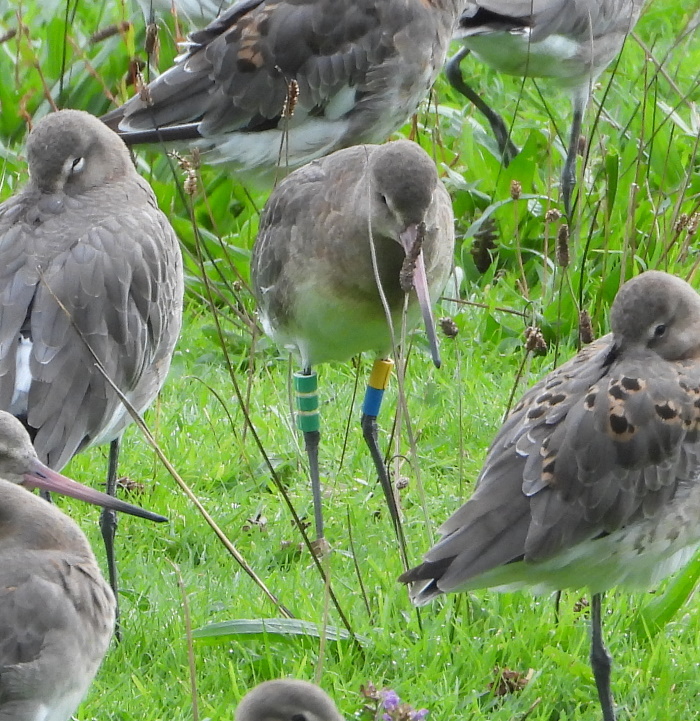 YB-G= at Caldy on September 10th © Richard Smith

YB-G= ringed on 24/01/2020 at Bull Island, Dublin Harbour, Ireland, as an adult.
Recorded:
Stiffkey Fen, Cley NNT Reserve and Wells-next-the-Sea all along the north Norfolk coast in July and August 2020.
It was back in Dublin Bay in January 2021 before returning to north Norfolk, this time Blakeney, in July 2021.
It was at Caldy on 10/09/21 and it was then recorded on three consecutive days: 13th Sep at Caldy, 14th Sep at Thurstaston, 15th Sep in Dublin Bay.
This is the first time we have recorded a Black-tailed Godwit ringed in Dublin Bay, and YB-G= showed an interesting east to west movement over the past three months.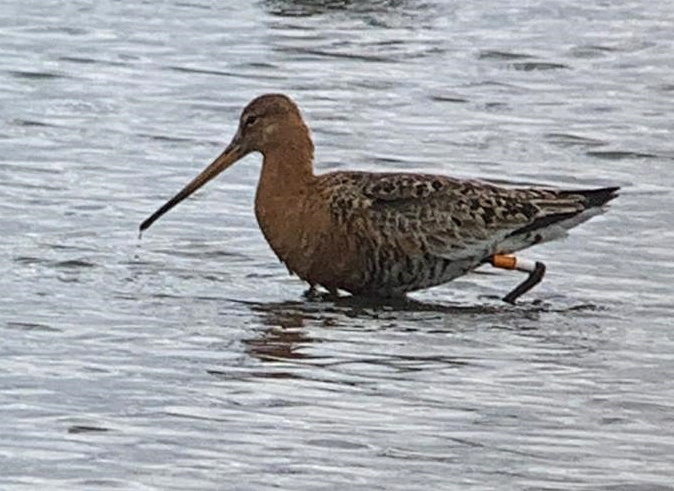 OW=R//W at Burton Mere Wetlands RSPB on August 11th © Colin Schofield

OW-R//W ringed on 22/08/2005 at Holbeach on the Wash as a juvenile.
Until spotted at Burton in August this bird has never been seen away from the east coast of England.
It has been recorded a total of 91 times, and every year since 2005. The sites where it has been seen read like a birder's guide to the best Nature Reserves in the east of England and include: Breydon Water, Cley and Welney in Norfolk, Fen Drayton in Cambidgeshire, Saltholme in Cleveland and Frampton Marsh in Lincolnshire. It has also visited the Stour Estuary in Essex.
It was at Burton Mere Wetlands on 11/08/2021 but it was obviously in a hurry to get back to the east coast where it was spotted on the Wash on 13/08/2021.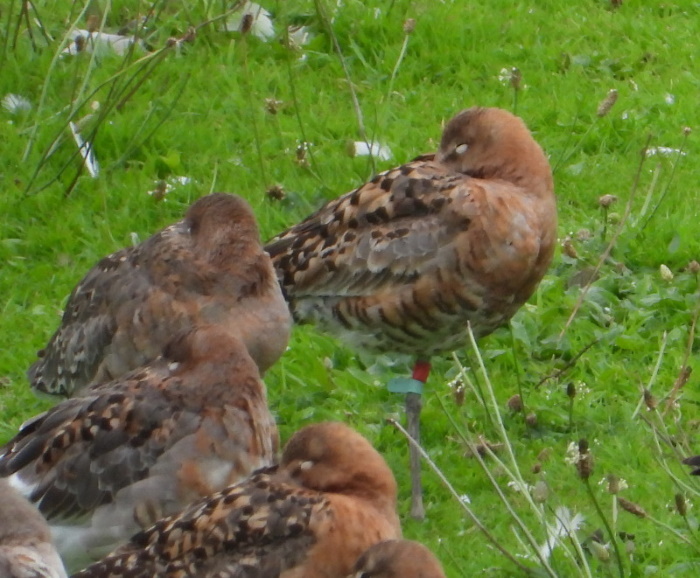 LRLflag-BL at Caldy on August 8th © Richard Smith

LRLflag - BL ringed on 07/04/2019 at Irnsum, just south of Leeuwarden, Netherlands.
Recorded on the edge of the Waddensea, Netherlands, in July 2019 and July 2020. It was at Harlingen, Netherlands, on 20/07/2021 before moving to Caldy on 08/08/2021. Another interesting east to west movement. It's presence in the Netherlands in April (when it was ringed) suggests to me that it winters further south, presumably France, Portugal or Spain.
This is the first Black-tailed godwit we have seen which was ringed in the Netherlands, but the following day, 09/08/2021, a second one turned up which had been ringed at the same site but on 19/03/2021.


Black-headed Gulls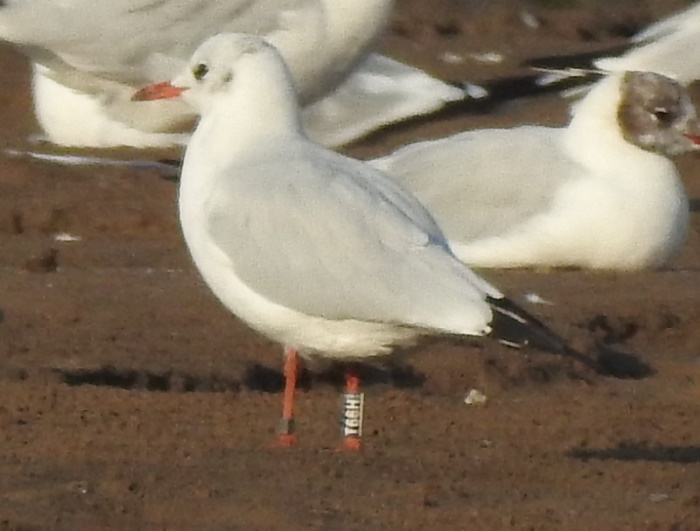 Black-headed Gull Blue T66H on Heswall Shore, August 4th © Steve Hinde

Blue T66H
Ringed on 04/06/2020 at Kornik, Poland, as a chick.
Recorded on 04/08/2021 on Heswall Shore.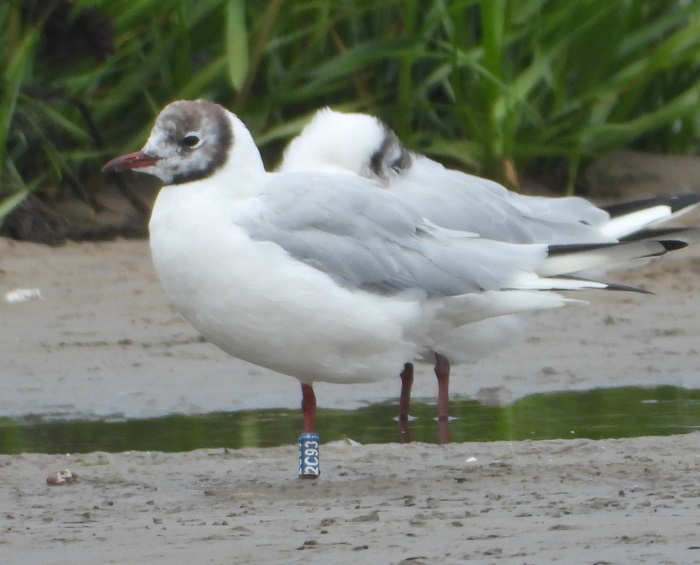 Black-headed Gull Blue 2C93 on Meols Shore, July 29th © Richard Smith

Blue 2C93
Ringed on 11/06/2012 at Killington Reservoir, Cumbria, as a chick.
Recorded:
East Hoyle Bank on 17/09/2014
Hoylake Shore on 14/08/2018
Heysham on 13/02/2019
Meols Shore on 29/07/2021
A rarely seen bird, I wonder where it spends most of it's time?

Colour Rings were recorded by Richard Smith, Colin Schofield, Steve Hinde, Tim Kinch, Chris Williams and Steve Williams.
September Bird News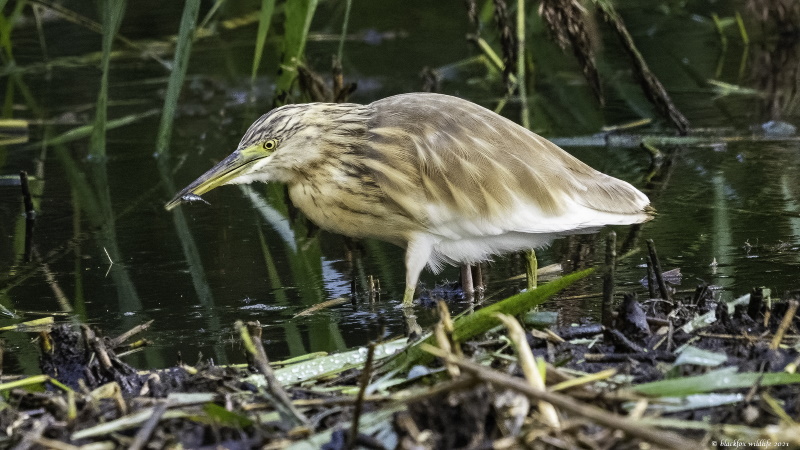 Squacco Heron in Big Pool Wood NR, Gronant, September 16th © Jeff Cohen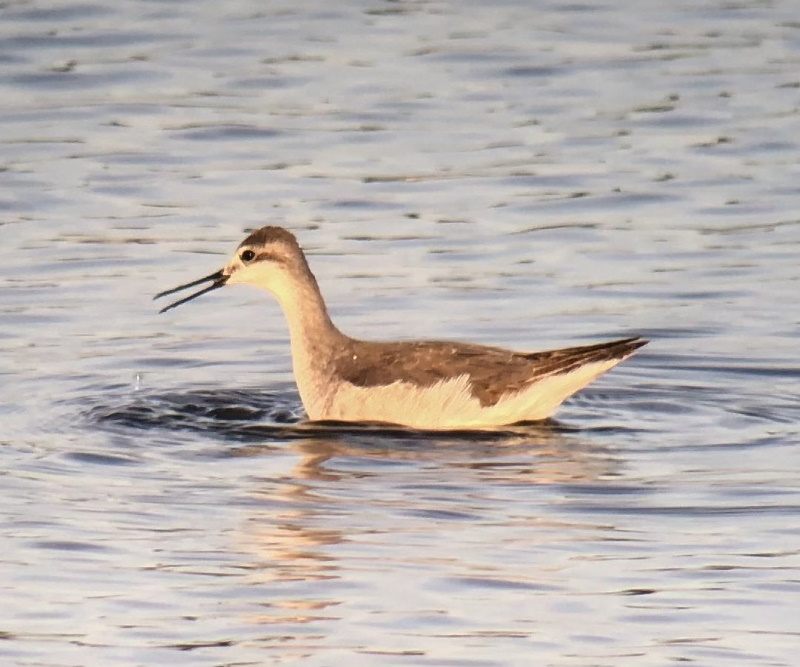 Wilson's Phalarope at Burton Mere Wetlands, September 22nd © Steve Williams

September - a sea bird bonanza it wasn't. Just two days of strong westerlies which brought in two Leach's Petrels and one Great Skua, and that was it. There can't have been many Septembers without a single Arctic Skua recorded!

Plenty of other birds about, though, dominated by two cracking rarities. A Squacco Heron turned up on the 15th at Big Pond Wood nature reserve, near Gronant, and was last seen on the 24th. This is a first for the Dee estuary, the last one anywhere near here was shot on the River Conwy in 1828! It's normally found around the Mediterranean and winters south of the Sahara. On the 21st a Wilson's Phalarope was found mid-morning on the main scrape at Burton Mere Wetlands, it stayed three days before moving to Parkgate on the 24th, after which it moved on. For a species which breeds in western Canada and western USA and winters on salt lakes near the Andes in South America it has been recorded surprisingly often around the Dee estuary with a total of eight records since 1978, the last being at Point of Ayr in Sep and Oct 1997.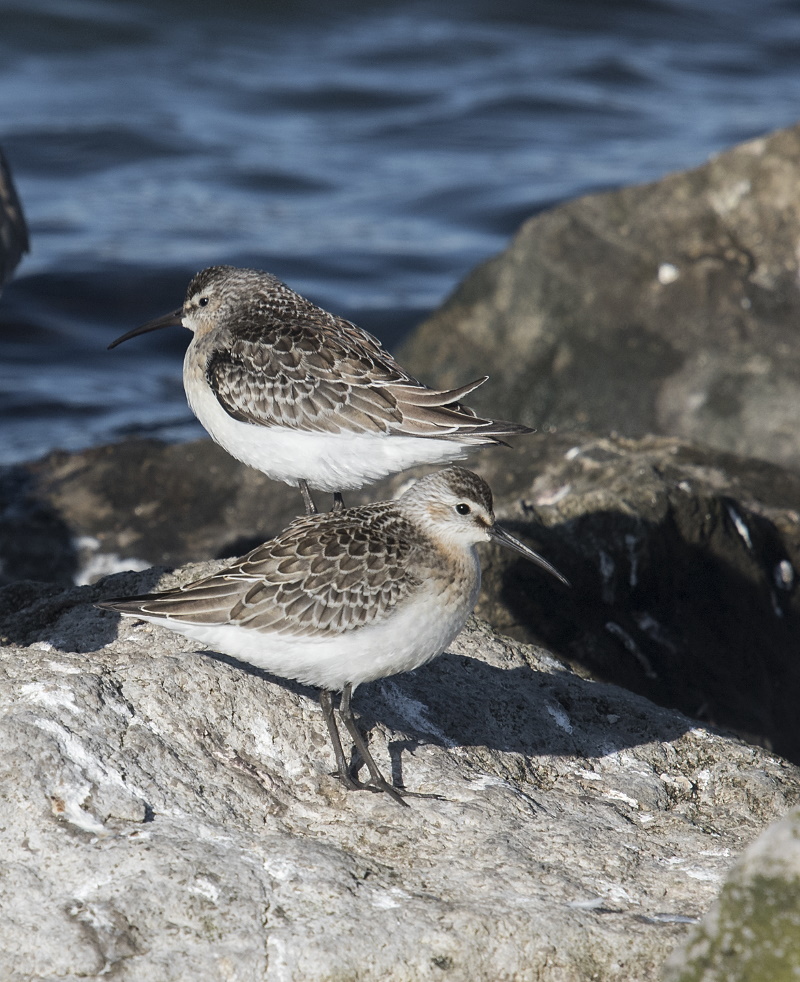 Curlew Sandpipers at West Kirby, September 20th © Matt Thomas

Curlew Sandpipers rather trickled through but a surge of sightings at West Kirby and Heswall in the third week of the month pushed the total number of records to a respectable 58. Seven at both Hoylake on the 12th and at West Kirby on the 18th were the highest counts, but very unusually not a single one at Burton Mere Wetlands. There were also good numbers of Little Stints with at least nine on the shore at Gronant on the 21st easily being the highest count, there were also three at Hilbre and three at Hoylake. On WeBS day (12th Sep) there was a record count of at least 7,728 Black-tailed Godwits, and, remarkably, on the same day there was a record count of 5,138 on the Mersey estuary - that's a lot of Blackwits and is a third of the total British population! Other good wader counts were 7,400 Oystercatchers between Tansky Rocks and Hilbre on the 2nd and 6,240 Redshanks at Heswall on the 6th. Greenshank were at Parkgate all month with a max of 19 on the 7th.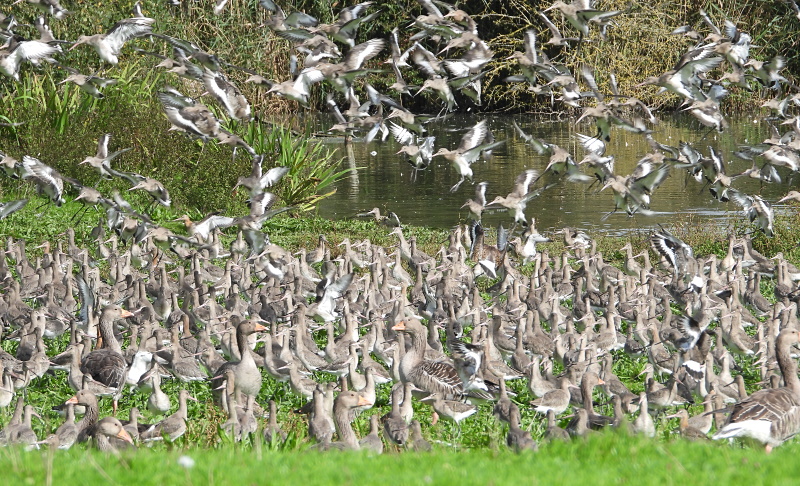 Black-tailed Godwits with feral Greylags at Caldy, September 29th © Richard Smith

High counts of other species included 1,510 Common Gulls on the 12th and 5,770 Shelducks on the 20th, both at Heswall. Five juvenile Spoonbills flew over on the 8th, last seen flying west from Hilbre, and these must have been in addition to the four already at Parkgate. 34 Great Egrets and 6 Cattle Egrets were at Burton Mere Wetlands at the end of the month - expect more in October! You can certainly expect more Pink-footed Geese in October and several hundred were already present at the month-end.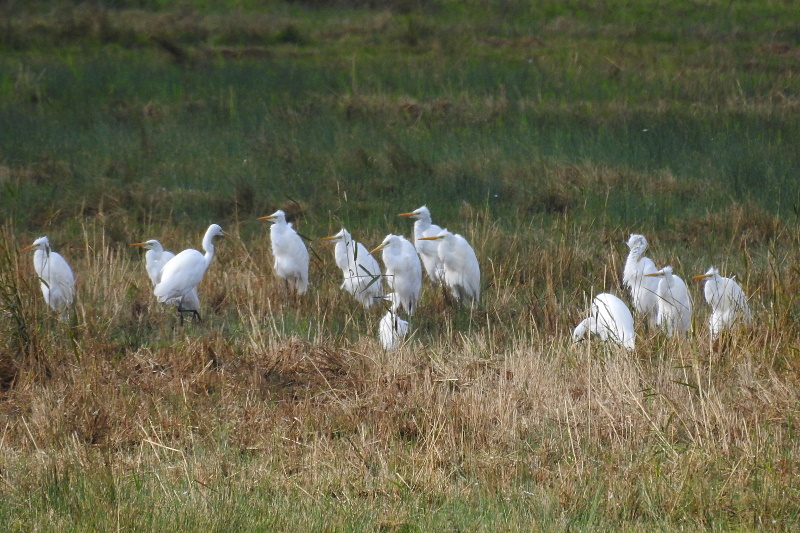 Great Egrets at Burton Mere Wetlands, September 29th © Les Hall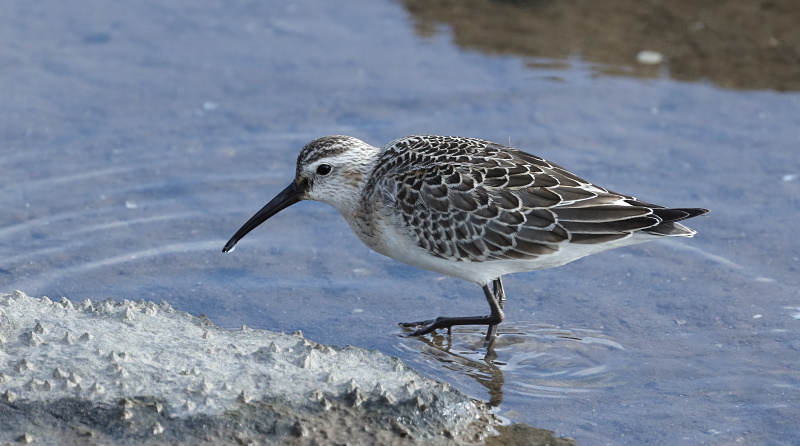 Curlew Sandpiper on the mud by West Kirby Marine Lake, September 19th © David Bradshaw
Up to seven fed here for several days, so close you could almost touch them and just below loads of walkers on the lake wall.

Many thanks go to Matt Thomas. Eddie Williams, Sean O'Hara, Steve Round, Steve Williams, David Haigh, Steve Hinde, Alan Hitchmough, Colin Schofield, Derek Bates, Allan Conlin, Richard Whitby, David Thompson, David Small, Bruce Atherton, Mark Gibson, Roy Wilson, John Hewitt, Mark Woodhead, Richard Speechley, Tim Kinch, Linda Platt, David Leeming, Colin Wells, Peter Humphrey, Paul Vautrinot, Simon Dowell, Chris Bower, John Missin, Les Hall, Jeremy Bradshaw, Carole Killikelly, Dave Edwards, Elliot Montieth, Paul Mason, Ken Mullins, Frank Burns, David Bradshaw, Bill Wonderley, Sheila Ryde, David Wilson, Ron Brumby, Chris Revell, John Pryer, Glyn Thursfield, David Wood, John Williams, Stuart Phillips, Trevor Sexty. Kelvin Britton, the Dee Estuary Wardens and the Hilbre Bird Observatory for their sightings during September. All sightings are gratefully received.

What to expect in October

September didn't bring any gales, so lets hope October is different. It would certainly be nice for some prolonged strong north-westerlies to coincide with the spring tides on the 7th, 8th and 9th, in which case we should get a good selection of sea birds including Leach's Petrels, skuas, Sabine's Gulls and Grey Phalaropes. However, calm weather would not be a complete disaster as it gives us the opportunity to see the many Common Scoters (could be thousands) and Great Crested Grebes (100+) which will be on the sea - high tide at Point of Ayr, Hilbre and north Wirral are the best places to see these.

Gales or not October will be a busy month with many birds migrating through whilst others are arriving for the coming winter. Visible migration can be spectacular given the right weather conditions, a light to moderate south easterly wind, cloud cover and preferably with some slight morning mist - see Visible Migration article. You need to be on the coast at first light to see the best of it and it can involve hundreds of birds flying along the coast - Chaffinches, Meadow Pipits, Starlings, Redwings and Fieldfares are likely to be the most numerous but many other species can be involved including Siskins.

This month usually sees good numbers of egrets arriving and we may see Cattle Egrets in double figures and Great Egrets are likely to reach at least 30, and 50 + is quite feasible. Pink-footed Geese will be arriving and often we get a few days when thousands are flying over-head over north Wirral on their way to the marshes. Brent Geese are likely to reach over 200 around Hilbre. Duck numbers will be building including Shelduck, Teal, Wigeon and Pintail.
The first of our over-wintering Knot will be arriving hopefully in their thousands whilst we should still be seeing Curlew Sandpipers coming through, in October we usually get them at Burton Mere Wetlands.
We usually see our first Snow Buntings of the winter this month and look out for rarities such as Yellow-Browed Warblers.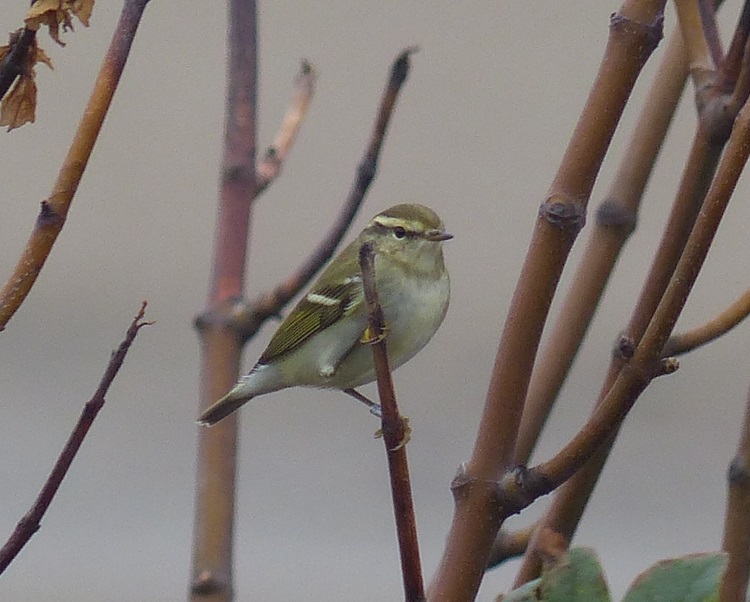 Yellow-browed Warbler on Hilbre in 2017 © Alan Hitchmough

Forthcoming Events
October Highest Spring Tides (Liverpool)
Also see Tides page.
7th October, 12.24hrs (BST), 9.8m.
8th October, 13.03hrs (BST), 9.8m.
9th October, 13.43hrs (BST), 9.7m.
Forthcoming Events
None are planned for this month.