September 2022 Newsletter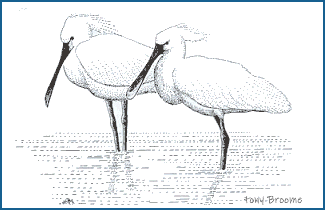 Wetland Bird Survey 2020/21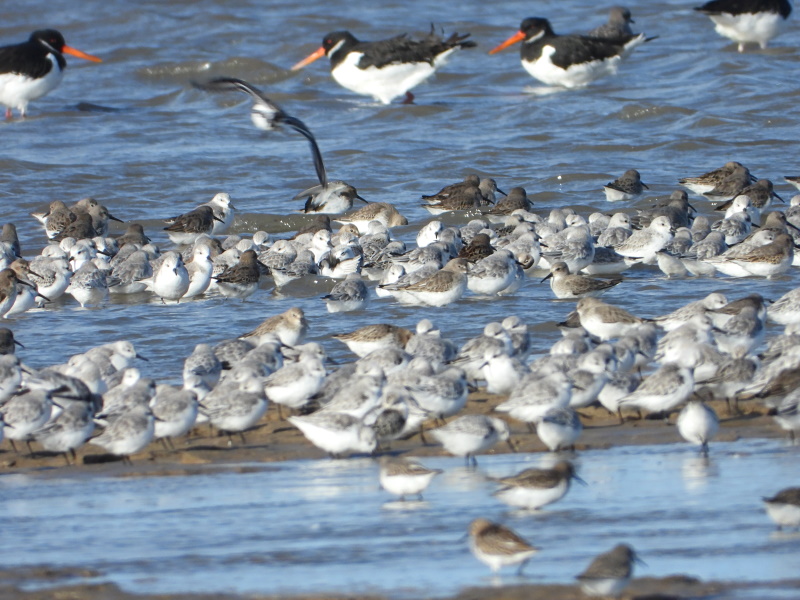 High tide at Hoylake and plenty of waders to count, November 2021 © Richard Smith


Covid had a big impact on the Wetland Bird Survey in 2020/21 with no counts taking place in July (2020) and limited coverage from January to March 2021. Such has been this impact that the BTO have decided not to publish a 2020/21 Report, in particular too many counts were missed at major complex sites to be able to use the data in any meaningful manner. However, as far as the Dee Estuary is concerned there has been a local report issued and, as the important late summer to mid-winter period was fully covered we can at least look at the numbers and discuss trends and any interesting counts. In addition there was a low-tide WeBS performed in 2020/21 - this was fully counted in November and December with about half the sectors counted in January and February - so again we can discuss the counts which were carried out (Note that low-tide WeBS counts are normally carried out only every seven years - they are a lot of work and take a lot of organising!). I should add that any analyses performed in this article are meant as just brief summaries and any discussion about the data is my own inexpert interpretation and opinion. Please contact the BTO for further details and information.
My summary consists of discussing counts made for the following five species:
Great Egret

In 2015 I was speculating, with some amazement, that it was possible that we could get Great Egrets in double figures sometime in the next few years. Well, that figure was obtained the very next year with 12 in 2016 and numbers have been going up ever since. In the 2019/20 WeBS we had a record breaking 29 making the Dee Estuary the second most important site in the country for this species, and in 2020/21 we had another record count of 44 in October. The max roost count was 39 at RSPB Burton Mere Wetlands in September 2020 and three pairs bred there producing 10 young in the spring of 2021. This is the most northerly breeding site in the UK.
With their habit of feeding out of sight in gutters it is no surprise that the Low-tide WeBS vastly under estimates the numbers but six were on Parkgate Marsh for both the November and December counts, with the same number on Burton Marsh in December.
Nationally, the Somerset Levels is the most important site and they had a count of 62 in March 2020 and in 2021 they had 25 successful nests producing 50 fledglings.

Wigeon

I don't know what it is about the Ribble Estuary which is so attractive to Wigeon but they have enormous numbers there with a few counts even exceeding 100,000, the last one being 101,594 in November 2008. What an amazing sight that must have been. Here on the Dee Estuary things are rather different, not only have we never had numbers anything like that we haven't even ever had a five-figure count!
But despite talk of birds staying on the east coast or short-stopping on the continent the last five winters has seen five of the highest WeBS counts ever recorded on the Dee Estuary. This includes the highest count of 8,941 in November 2018 and the third highest in November 2020 with 8,048. Meanwhile the five-year average has been the highest it's ever been now for the past four years and is currently at 7,600.
These large flocks can be difficult to see as Wigeon tend to stay well into the upper reaches of the estuary. From the English side they are often invisible off the outer edge of the marshes only being seen on a big spring tide from Parkgate. The best site for them is undoubtedly Connah's Quay Nature Reserve where they can be seen in the River Dee channel and 2,500 where counted here during a Low-tide WeBS count in December 2020.

Oystercatcher

November 10th 2020, I was down at my favourite patch to do a Low-tide WeBS count. I was early so I did what I always do and first stood on top of the cliff at Thurstaston and scanned the estuary through my telescope. The tide was just beginning to ebb from my sector, number 61, and was astonished at the numbers of waders. The first to arrive were Dunlin piling in from West Kirby as soon as the first bit of mud was showing, followed by Oystercatchers seemingly coming from every direction. The Knot had been roosting next to Heswall Marsh that morning and they were the last to arrive in one huge flock - but more of those below.
If you stand by Dee Sailing Club with the causeway below you, sector 61 is the large mud bank the other side of the channel, beyond the moored boats. In other words the north end of Dawpool Bank. It's always been very attractive to waders but these last two winters have seen exceptional numbers.
Two hours before low tide it was time to start my count. By this time not only were large numbers of Oystercatchers feeding on the cockles a lot must have already had their fill and there were several large groups of them roosting. My average of three counts was 16,900. So that meant just over 60% of the total number (30,636) of Oystercatchers present on the Dee Estuary in November was in that one sector, my sector!
The November total was high but by December even more were counted. The birds were a lot more dispersed and I had less in sector 61 with 'just' 10,700. Elsewhere, there were 6,900 on Mostyn Bank (just south of Point of Ayr), and 5,000 at both West Hoyle Bank and on the sand west of the Hilbre islands and Tansky Rocks, with the rest scattered around the estuary. The total low-tide count was very high with 41,871, higher than any high tide count anywhere in the country since 2012!
The December 2020 high tide WeBS count for the Dee Estuary was a high one at 28,319, the second highest winter count since 1993 - but it was still a lot lower than that low tide count, the difference being 13,552. Strangely, the last low-tide WeBS count in 2014/15 had resulted in almost exactly the same discrepancy with a high tide count of 26,152 and a low tide count of 39,306 - the difference being almost identical to 2020/21 with 13,155. A hell of a coincidence!
I don't think anyone knows why there has been this difference between the high and low tide counts but reasons could include: birds flying inland to feed in fields at high tide not being counted, birds leaving the estuary to roost elsewhere at high tide, one or more high tide roosts on the estuary has been missed and not counted (but not very likely), there is some inherit bias between counting tightly packed flocks at high tide (perhaps under estimated) compared to the more scattered feeding flocks at low tide (perhaps over estimated), there can be as much as two weeks between when the low and high tide counts take place so during that time birds could have flown into or out of the estuary coming from, or moving to other major sites such as Morecambe Bay. The truth may be a combination of all those.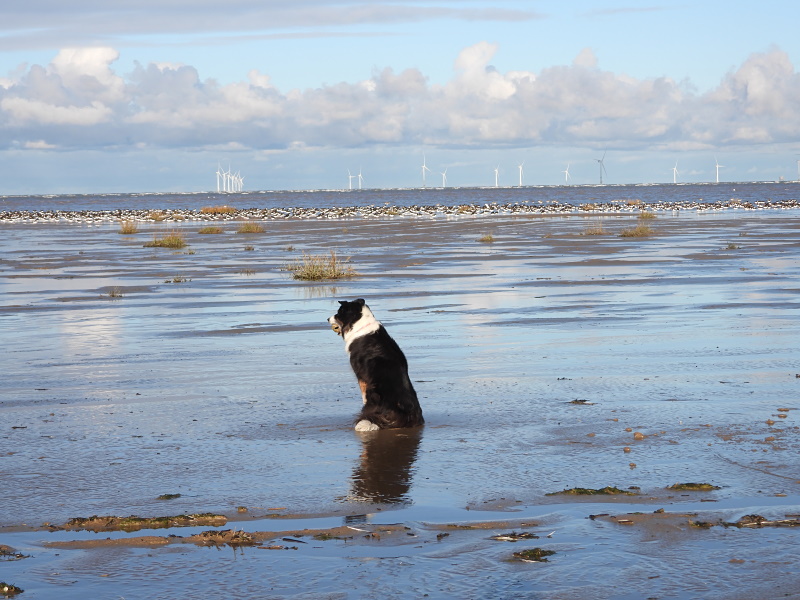 Nancy helping her owner count the Oystercatchers at Hoylake, November 2021 © Richard Smith
If only all dogs and their owners were so well behaved!!


Knot

Knot numbers can fluctuate on the Dee estuary hour by hour let alone month by month or year by year and it is well known that on some high tides (usually spring tides) many leave the estuary to roost at Seaforth or further north along the Sefton Coast, perhaps flying as far as Ainsdale. So a discrepancy between low and high tide counts was expected and this is certainly what we saw.
As we knew the importance of Dawpool Bank for Knots my colleague Steve Hinde and I coordinated our low tide WeBS counts in 2020 with my sector 61 and Steve's sector 62 (so covering all of Dawpool Bank). In November we got a total of 28,200, over 80% of the total counted for the estuary. Even more were present on the Estuary in December but our combined Dawpool Bank count was still 28,000, but with the total for the whole estuary a massive 52,606 - one of the highest ever counts on the Dee. Other high counts included 10,000 on Mostyn Bank. Compare that with the Dee Estuary high tide WeBS count for November which was 10,224 and for December which was 13,832.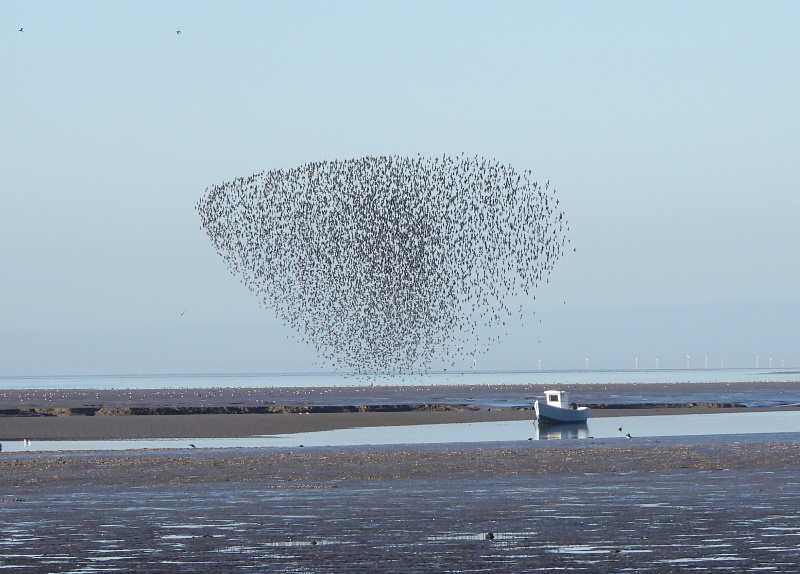 Knots over Low Tide WeBS Sector 61, January 2022 © Richard Smith

Bar-tailed Godwit
In the late 1960s and through the 1970s we used to get thousands of Bar-tailed Godwits on the Dee Estuary/North Wirral both feeding at low tide and roosting at high tide - numbers typically ranging from 5,000 to 10,000. But, presumably due to excess disturbance, in the winter of 1980/81 they suddenly deserted their high tide roosts (mostly West Kirby and Hoylake) and started using Formby and Crosby shore instead. They did continue to fly over to feed along North Wirral, in particular Leasowe Bay, in their thousands and I remember doing counts in the 2000's which were typically around the 5,000 mark but sometimes significantly higher. More recently numbers have plummeted and it's an exceptional count if we can get a few hundred even though much higher numbers are still seen over at Formby and in the Ribble Estuary.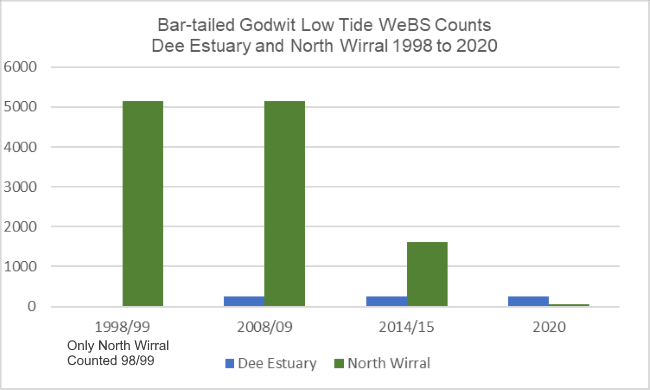 The bar chart shows numbers on North Wirral Shore (green bars) and, separately, numbers in the Dee Estuary (blue bars). The majority of Bar-tailed Godwits within the Dee Estuary itself are found at low tide off Thurstaston with typical counts usually between 100 to 300. Thurstaston is the only site locally where you regularly get Bar-tailed and Black-tailed Godwits feeding together and numbers there don't seem to have changed significantly over the past 30 years or so - unlike North Wirral.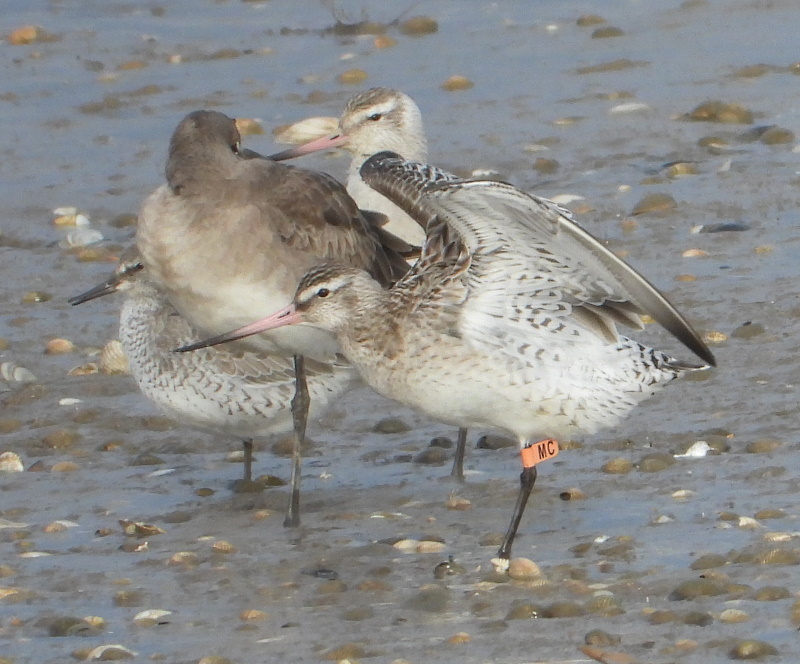 Bar-tailed Godwits with a Knot at Thurstaston, Jan 2022 © Richard Smith
Orange flag MC ringed at Altcar (Formby)

The photo, below, of Leasowe Shore in November 2010 brings back bad memories for me. I don't know how the waders felt but I was traumatized! I happened to go down there hoping to see some colour ringed Knot completely unaware that I had picked the first day the area had been opened up for industrial scale cockling. Tractors, 4 x 4s and Quad bikes raced past me as I stood there bemused looking at the handful of knot remaining although these soon left. So basically that stretch of shore, about 4kms long, was denied to the many thousands of waders all that winter. At that time it was one of the most important feeding areas for waders not just in our area, but the whole country. I'll list the protection it has - Special Protection Area and Special Area of Conservation (then under the EU Habitats Directive and currently the same under UK Law), a Ramsar site under International Treaty and a Site of Special Scientific Interest (UK law). You couldn't get a more protected site yet the fisheries industry is allowed to completely ignore every one one of those laws as though they didn't exist. North Wirral isn't the only area they have damaged as both the Wash and the Waddensea have suffered very badly by industrial scale cockling in the recent past.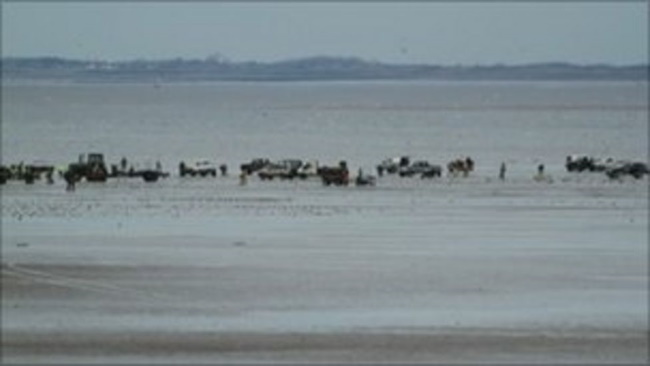 Industrial scale cockling in Leasowe Bay, November 2010


As far as I can see from counts made since the winter of 2010/11 wader numbers, particularly Bar-tailed Godwits, have never recovered from this and the bar chart above clearly shows this. Cockling isn't the only problem, however, and increased activity by dog walkers, bait diggers and para motors certainly haven't helped.
The counts along North Wirral for the 2020 Low Tide WeBS counts were particularly dire with just 19 Bar-tailed Godwits, 231 Knots, 226 Dunlins and 203 Oystercatchers. There is some good news, however, as this last winter (2021/22) saw much better numbers. Although there was a maximum of only 372 Bar-tailed Godwits the other three species mentioned were all substantially higher including a count of 9,445 Oystercatchers in January which is a very high count for North Wirral. Lets hope this trend continues.

References:
1. Neil Friswell and Colin Wells, Dee Estuary and North Wirral Foreshore WeBS Annual Report 2020/2021.
2. WeBS Report Online (https://app.bto.org/webs-reporting/numbers.jsp), BTO.

3. Richard Smith, WeBs and Waders, Dee Estuary Newsletter May 2007, http://www.deeestuary.co.uk/news0507.htm.

Richard Smith

Colour Ring Report


Turnstone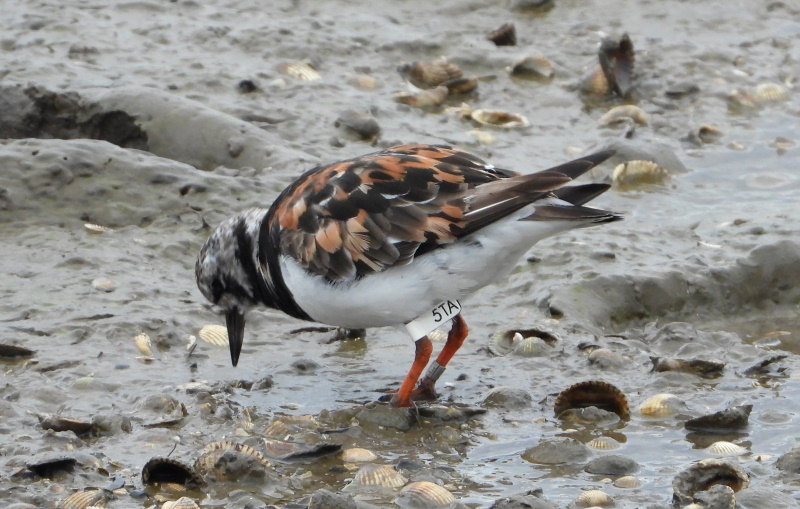 Turnstone White Flag 5TA at West Kirby, August 2022 © Richard Smith

White Flag '5TA'.
Ringed at Alert, Canada, on 31/05/2018.
Recorded at Hilbre on 26/03/2019 and at West Kirby on 19, 22 and 24/08/2022.

Alert is just 500 miles from the North Pole so this is really the far north of Canada. This bird's arrival at Hilbre in 2019 caused much excitement and it was a big surprise to see it again this August. When roosting the white flag was tucked away in the bird's white feathers making it very difficult to see, so Richard Speechley, the finder, did very well to spot it.

Oystercatchers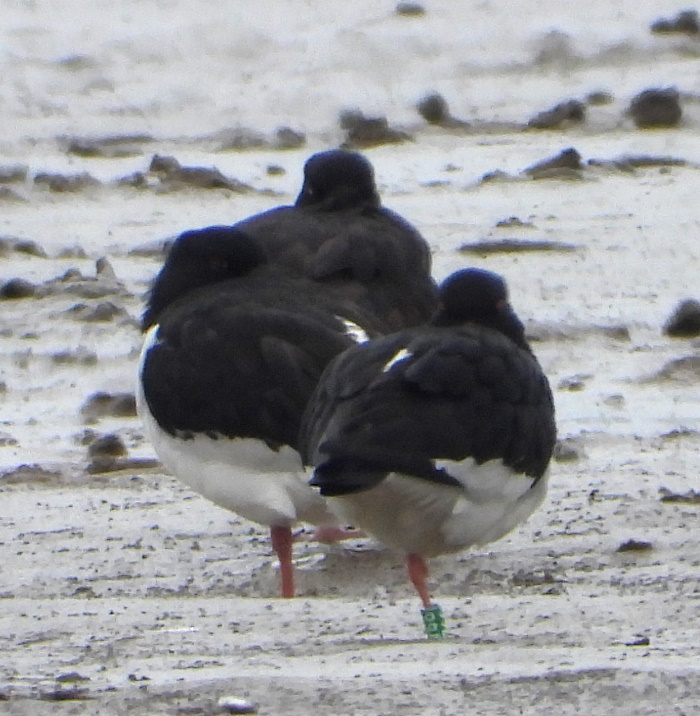 Oystercatcher Green 'T766' at Meols, July 2022 © Richard Smith

Green T766.
Ringed at Klepp (just south of Stavanger), Norway, on 08/06/2020.
Recorded at Meols on 30/07/2022.
This is just the second Oystercatcher we've recorded which has been ringed in Norway.
White 'L' - Green/Blue 'Y'
Ringed at Grijpskerke, Netherlands (on coast close to Belgium border) on 30/06/2013.
Recorded back at the ringing site in March and June 2016, and every spring since including on 04/03/22.
Recorded on Thurstaston Shore on 02/02/2019, 17/09/2019, 26/11/2020 and 24/07/2022.
So this bird travels north-west from SW Netherlands to spend the winter on the Dee Estuary. This is very interesting as according to both the BTO Migration Atlas and the recently published Eurasian Migration Atlas the vast majority of Dutch breeding Oystercatchers move south-west for the winter whilst migration to north-west England is virtually unknown. So it's doing something very unusual, but it's not the only one as we saw another one in February 2017 which was ringed in NW Netherlands in 2009 and it was back there in the summer of 2017.

Dunlin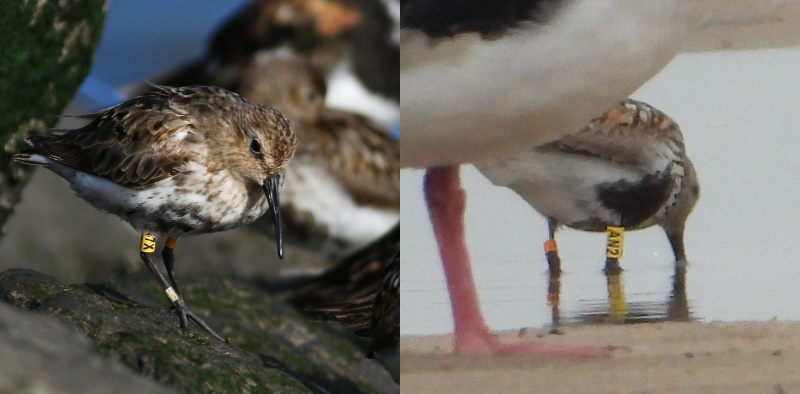 Left - Yellow '47X' © Elliot Montieth, Right - Yellow 'AN2' © Richard Smith


O - Y (47X)
Ringed at Ynyslas (Cardigan Bay) on 11/09/2018.
Recorded at West Kirby on 11/08/2022.
O - Y (AN2)
Ringed at Ynyslas (Cardigan Bay) on 19/08/2020.
Recorded at Meols on 28/07/2022.
These were both ringed by the Mid-Wales Ringing Group. We've now recorded eight Dunlin ringed at Ynyslas over the past few years, a number which I thought quite high as the connection between Cardigan Bay and the Dee Estuary isn't particularly obvious. But then I read that, since 2016, that they have colour-ringed an astonishing 6,000+ Dunlin, so now I'm surprised we haven't seen more!

Black-tailed Godwits


All three of these Black-tailed Godwits were ringed in Ireland and all photographed at the Caldy Wildfowl Collection in August 2022
© Richard Smith
RB-W=
Ringed at Lough Beg, Ringaskiddy, Cork Harbour on 01/09/2014.
Recorded both in autumn and early winter at Cork Harbour every year up to 2021, and also in spring 2018 and 2019.
Also seen in October 2016 at Thameside Nature Park, Thurrock (north shore of Thames estuary) and at Belfast in August 2019.
Recorded at Caldy Wildfowl Collection in July and August 2022.

LO-O=
Ringed at Belfast Harbour on 21/04/2021.
Recorded at Caldy Wildfowl Collection from the end of August to October 2021.
It was back in Belfast Harbour in March 2022 before returning to Caldy Wildfowl Collection in August 2022.

ONG-W=
Ringed on Harper's Island, Cork Harbour on 08/09/2020.
Recorded at the ringing site from September 2021 to January 2022.
Recorded at Caldy Wildfowl Collection in August 2022.
Little Egrets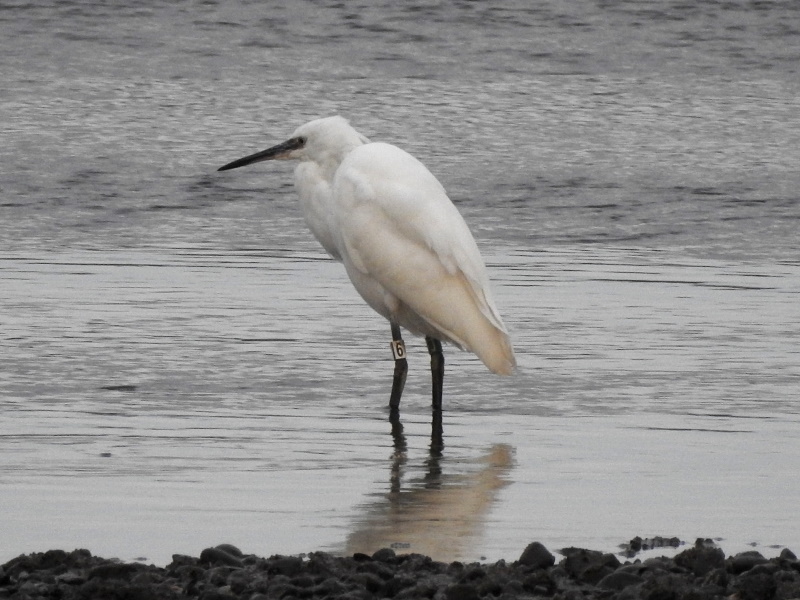 Little Egret White 6 - Green J at Thurstaston, August 23rd © Steve Hinde

No less than six colour-ringed Little Egrets were logged in August. No doubt it would have been more if it wasn't for mud covering the rings!

The Merseyside Ringing Group have been busy ringing Little Egret chicks at Hale Duck Decoy (north shore of the Mersey Estuary) and with this new project succeeded in ringing a total of 39 this summer.
Of the four we saw two were from one nest ('White 4 - Green B' and 'White 4 Green D') and the other two were from another nest ('White 6 - Green J' and 'White 6 - Green L'). A third sibling from the second nest was recorded at Audenshaw Reservoir in July having headed off in the opposite direction from the other two!
Also recorded were two returning adult birds:
Blue CX ringed at Newark-on-Trent in May 2017.
Having visited Rutland Water in August 2017 it was seen at Heswall in September 2019 and every late summer/early autumn since. No winter records.
Recorded at Thurstaston Shore August 2022.

Blue H4 ringed at Wheldrake Ings, Yorkshire, in July 2019.
Recorded at Heswall in September 2019 and 2020, and November 2021.
It was back breeding at Wheldrake Ings in the summer of 2022 before being back at Thurstaston August 2022.

Cormorant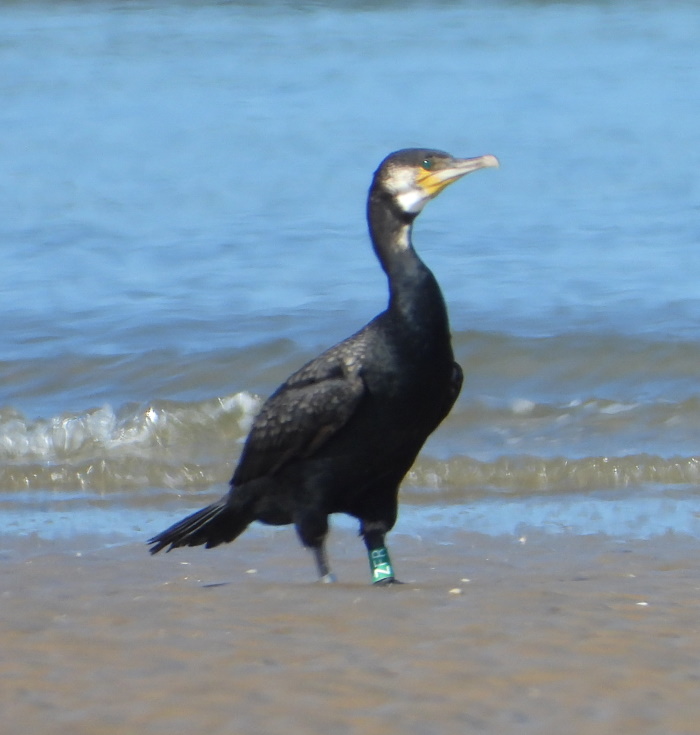 Green ZFR on East Hoyle Bank in August 2022 © Richard Smith

Green - ZFR
Ringed on Puffin Island, Anglesey, on 25/06/2017.
Recorded:
Seaforth August 2017.
Knott End, Lancs, March 2018.
East Hoyle Bank close to Hilbre on 08/08/2022.
Of the twelve Cormorants in our database five have been ringed on Puffin Island.

Sandwich Terns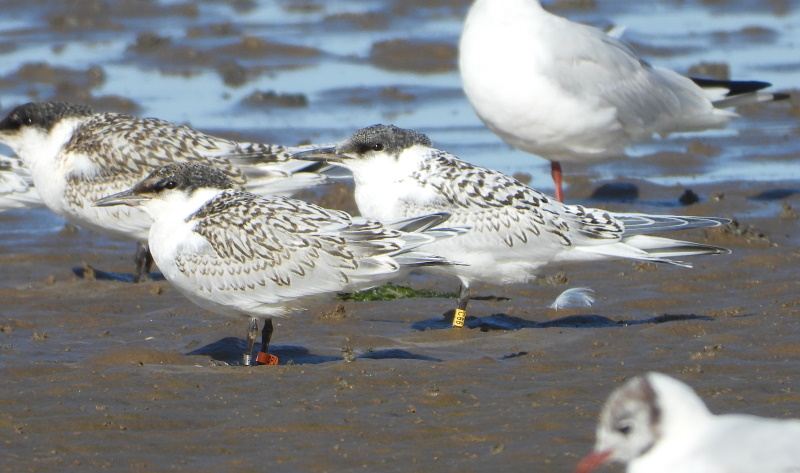 Sandwich Tern juveniles at West Kirby July 2022 © Richard Smith


Several more colour-ringed Sandwich Terns were logged in August, I'm expecting an update on all chicks ringed at Cemlyn Bay in the next few weeks and a summary of their movements will be included in the next newsletter. We've recorded 15 of these flagged Cemyln Bay juveniles here on the Dee Estuary this summer, with many more records elsewhere in the Liverpool Bay area and further afield. It's really amazing how much they move around the area after breeding and before they eventually move south.


Colour Rings were recorded by Richard Smith, Stephen Hinde, Richard Speechley, Alan Hitchmough, Alex Jones, Steve Williams, Elliot Montieth and Derek Bates.
Richard Smith

August Bird News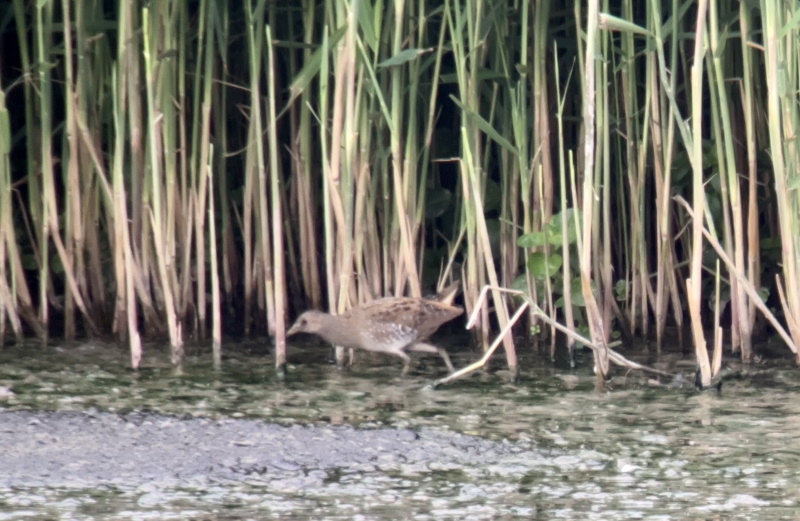 Spotted Crake at Burton Mere Wetlands, August 18th © Ashley Cohen

A juvenile and adult Spotted Crake was seen at Burton Mere Wetlands throughout the second half of the month, presumably having bred there. This summer migrant is a rare bird in this country but as they spend most of the time skulking in reeds no doubt under recorded. Another one was briefly seen at Parkgate on the 28th, possibly they bred there as well or it may have been just passing through. The similar looking Water Rail appears to have had a good breeding season with several reports of juveniles at Parkgate, including three adults and three young on the 9th at Donkey Stand Flash.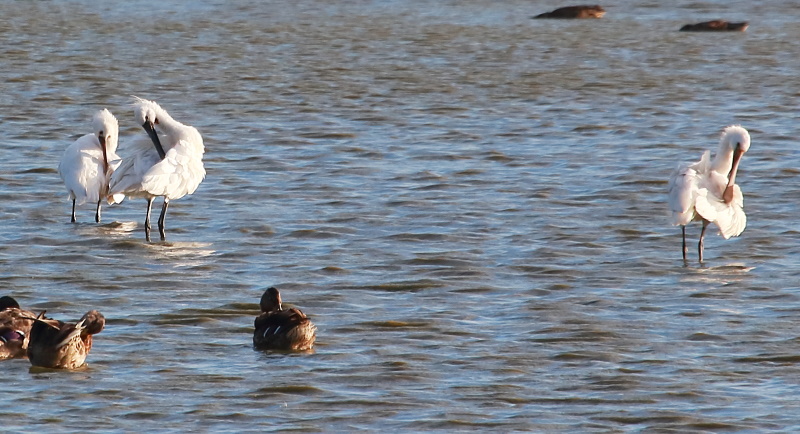 Spoonbills at Burton Mere Wetlands, August 20th © Carole Killikelly

Spoonbills were recorded at Connah's Quay, Parkgate and Burton Mere Wetlands, and by the end of the month there was a record equaling 12 at Parkgate - a number last reached in 2016 at Burton. Up to four Garganey were at Burton Mere Wetlands and probably bred there. Hobbies were reported at several sites including two seen regularly hunting over Burton Mere Wetlands.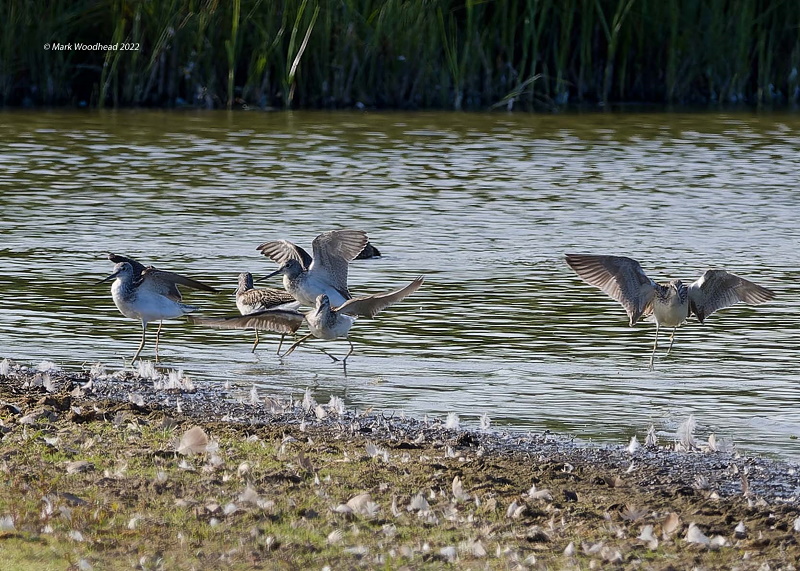 Greenshanks at Burton Mere Wetlands, August 30th © Mark Woodhead


Greenshanks were passing through all month with Parkgate having the largest counts with a max of 11. The highest count of Black-tailed Godwits was of 5,030 at Caldy Wildfowl Collection on the 17th. 4,400 Redshanks were at Heswall mid-month. On the very last day of the month the first juvenile Curlew Sandpipers were spotted with singles at Hoylake and Burton Mere Wetlands, let's hope plenty more follow.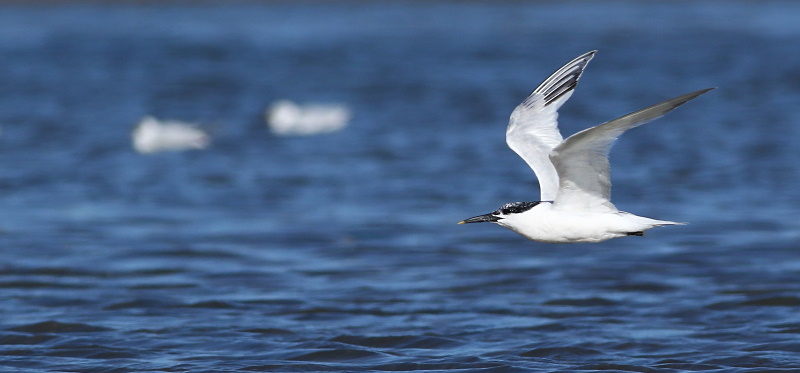 Sandwich Tern at West Kirby, August 7th © Elliot Montieth

Sea watching was by no means spectacular but an early morning visit to Hilbre during a fresh westerly on the 7th produced a respectable count of 125 Manx Shearwaters. The highest count of Sandwich Terns was also at Hilbre with 750 on the 23rd.

A female/imm Black Redstart visited a garden at Barnston on the 2nd - a very unusual time of year for this species here, but we are told several pairs bred around Manchester so maybe we shouldn't be too surprised. Wheatears were coming through all month with eight at Meols on the 27th the highest count.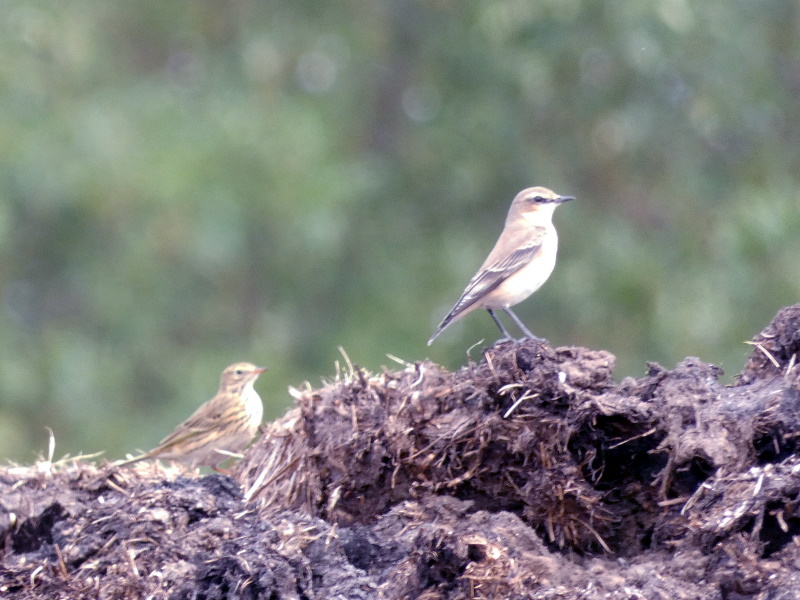 Meadow Pipit and Wheatear on Burton Marsh, August 28th © Sasha Quentin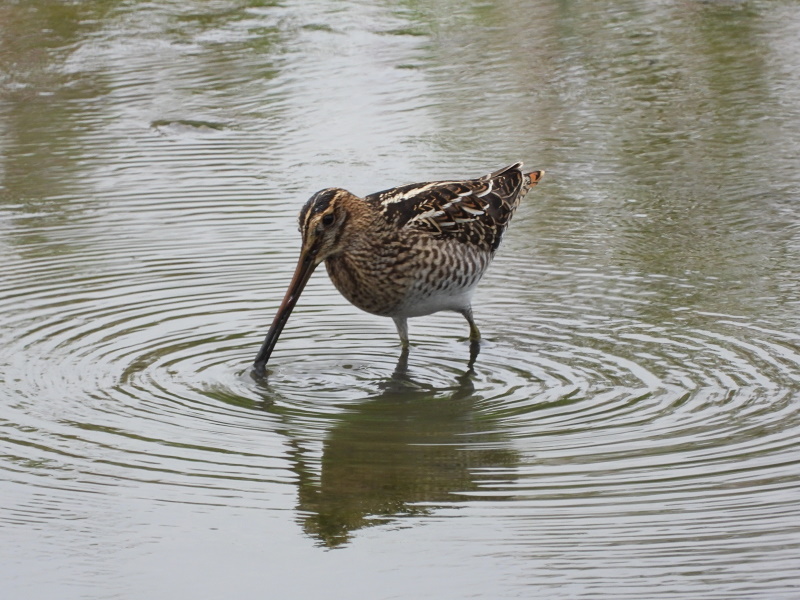 Common Snipe at Burton Mere Wetlands, August 17th © Bill Wonderley

Many thanks go to Steve Williams, Steve Hinde, Alan Hitchmough, Richard speechley, Allan Conlin, Richard Whitby, David Small, Bruce Atherton, Mark Woodhead, Jeremy Bradshaw, David Leeming, Dave Edwards, Carole Killikelly, Roy Wilson, Mark Gibson, Bill Wonderley, Chris Wilding, Alex Jones, Elliot Monieth, Charles Farnell, Hugh Stewart, Will Ferguson, Richard Cotterell, Ashley Cohen, John Watson, Steve Lane, David Thompson, Geoff Robinson, Kevin Gallagher, Marc Gannon, Les Hall, Roger Jacobs, Sasha Quentin, George Clappison, Paul Vautrinot, Motgan Whittaker, Sam O'Donell, David Wright, Brian Joy, Trevor Godfrey, the Dee Estuary Wardens and the Hilbre Bird Observatory for their sightings during August. All sightings are gratefully received.

What to expect in September
Given the right conditions our stretch of coastline will be the best place in Europe to see Leach's Petrels. If we get a prolonged north-west gale then Leach's Petrels get funneled through the North-west passage of the Irish Sea with many then blown into the mouth of the River Mersey before struggling westwards close to the north Wirral and north Wales coast. The last two Septembers have been disappointing and we are certainly overdue for a good passage with, perhaps, several hundred coming though. Gales will also bring in all four species of Skuas as well as Grey Phalaropes and Sabine's Gulls. See 'Four windy days in September' to get an idea of what to expect (September 2017).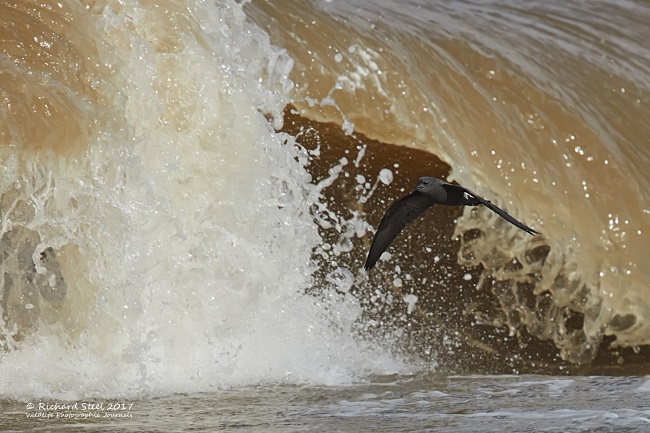 Leach's Petrel, September 2017 © Richard Steel
A lack of strong winds would certainly be disappointing but there should still be plenty to see. Juvenile Curlew Sandpipers will be passing through with Hoylake and West Kirby often the best spots early in the month with more at Burton Mere Wetlands later on. Also look out for Little Stints at the same sites. September is always good for Egrets and we could get Cattle Egrets in double figures and at least 40 Great Egrets.
A sign of the coming winter will be return of Pink-footed Geese with many small skeins arriving and landing on the marsh.

Forthcoming Events
September Highest Spring Tides (Liverpool)
Also see Tides page.
11th September, 12.39hrs (BST), 9.6m.
12th September, 13.17hrs (BST), 9.5m.
Forthcoming Events

See events at https://events.rspb.org.uk/deeestuary