September 2021 Newsletter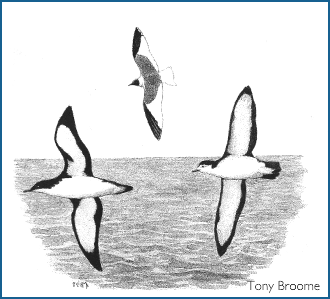 Pelagic Seabirds in Liverpool Bay


Leach's Petrel at New Brighton September 2017 © Elliot Montieth
This gives you a good idea just how close some of them come to the watching birders!

Pelagic Birds Definition: Pelagic describes a bird that spends a significant portion of its life on the open ocean, rarely venturing close to land except to breed (ref 1).

If you look at a map you will see that our bit of Liverpool Bay coastline, from Gronant to New Brighton, is as far from the open ocean that you can get within the Irish Sea. On the other hand Leach's Petrels are truly pelagic, breeding on remote offshore islands (where they only appear at night) and spending the rest of the year out on the open ocean. Yet, that same stretch of coastline is the most reliable place in the whole of Europe to see Leach's Petrel - I think that's wonderful!

But how can this be? Well, around 30,000 to 40,000 pairs breed in Scotland, mainly on St Kilda, and there are about 100,000 pairs breeding in Iceland whilst on the islands off New Foundland they are counted in millions. When all these birds have finished breeding at the end of August there is a general dispersal across the north Atlantic, thus large numbers are present off the west of Scotland and to the north of Ireland in early autumn. North-westerly gales are fairly regular in September and October which means many Leach's Petrels get funneled through the relatively narrow North Channel of the Irish Sea with the wind then taking them in a south-easterly direction until they come up against north Wirral and here they are held up in the mouth of the River Mersey, New Brighton being a prime spot to see them. From here they fly west, struggling against the wind close to the shore, along north Wirral, past Hilbre in the mouth of the Dee estuary and along the North Wales coast before they can turn south and exit the Irish Sea back into the Atlantic.

So it's a nice quirk of geography that, given a north-westerly gale, these birds get blown up against our shoreline where they can easily be seen with some years several hundred a day recorded. But does this mean that Liverpool Bay coast is a mecca for pelagic seabirds generally? Unfortunately the answer is no. Granted, we often see plenty of Gannets, Manx Shearwaters and skuas, all of which can be described as pelagic at least for part of the year - but more interesting pelagics are very rare indeed. Very rare, but not completely unknown and I thought it would be interesting to list some of these rare pelagic seabirds which have turned up along our North Wirral/Dee Estuary coast over the years. Some of these records have been submitted and accepted by the relevant rarity committees, whilst others have not for a variety of reasons but they were all seen by experienced birders. This July (2021) there were some mega rare seabird records in the UK which demonstrates that anything can occur just about anywhere, so keep looking!
Wilson's Storm Petrel (
Oceanites oceanicus

)

With an estimated 50 million pairs the Wilson's Storm Petrel is probably the most numerous seabird in the world. They breed around the Antarctic coast and adjacent islands, in the southern winter they are wholly pelagic and some wander up into the north Atlantic. In our late summer they are fairly regular in very small numbers in the Celtic Sea just south of the Irish Sea - and are often spotted on Pelagic trips from the Scilly Isles. Here the continental shelf borders the deep Atlantic, unlike the much shallower Irish Sea where they are virtually unknown.

However, September gales do very occasionally bring one in view from the coast, and one was in the Mersey mouth on Sep 5th 2009. This bird was seen well from Seaforth nature reserve and the record was accepted by BBRC. Although undoubtedly viewable from the Wirral side of the estuary (according to birders at Seaforth and Crosby) I'm not sure if anybody did get on it and certainly nobody submitted the record from our side of the river - so one that got away as far as Cheshire & Wirral is concerned.


A probable Wilson's Storm Petrel was seen by a very experienced observer from Hilbre on September 11th 2017 during some typical stormy September weather. Unfortunately, the view of it wasn't good enough to make it worthwhile submitting it, and it was way too far away for photos.


Other Irish Sea records I've hunted down over the past 20 years are two from Cumbria and one off Bardsey Island - and that's about it!

Swinhoe's Storm Petrel (
Hydrobates monorhis

)


A real mega rarity as this species breeds in the northern Pacific Ocean. But for a species which isn't supposed to be anywhere near the north Atlantic the odd one or two keep cropping up including a single bird which has been trapped several times on Fair Isle. Birds are also occasionally seen or trapped at Madeira, Canary Islands and Cape Verde Islands plus several western European countries from Norway to Spain, as well as off Hatteras on the eastern coast of the USA. So it's feasible that small numbers may breed in the Atlantic although there is currently no direct evidence.

Swinhoe's Storm Petrels are very like Leach's Petrels except with a dark rump instead of a white one. Such a bird flew past the Old Gunsite (Leasowe) late afternoon on September 6th 2019, at a time when several Leach's Petrels were also flying past. Unfortunately it wasn't possible to photograph this bird and it was put down as a 'probable'. The last definite record of a Swinhoe's Storm Petrel in the UK was one trapped on Fair Isle on July 14th 2017.

Cory's Shearwater (
Calonectris diomedea

)


This large shearwater breeds on Atlantic Islands such as the Azores, Madeira and Canary Islands. In late summer and autumn, after breeding, many disperse north and west and are regular off the south-west coasts of the British Isles. Some also find their way into the North Sea but Irish Sea records are very rare and certainly less than annual.

There are five accepted records for the Dee Estuary/North Wirral plus two probables, as follows:
One which flew past Meols and Hilbre (assumed to be the same bird) on Aug 30th 1980 was the first accepted record for Cheshire and Wirral.
Singles were also recorded on Sep 14th 1986 (Hilbre), Jul 15th 1991 (Red Rocks), Sep 4th 1992 (Hilbre) and Jun 21st 1999 (Gronant).
One reported from Hilbre on April 13th 1975 was regarded as not proven by BBRC and one the following year, on May 16th, was not submitted.

So it's been over 20 years since our last record. The nearest Irish Sea records for the past 10 years were one at Anglesey in 2016, and single birds in 2012, 2017 and 2019 off Bardsey Island - all in August. Contrast that to Cornwall records when they were just about daily in August 2021 including nine past the Lizard on the 5th.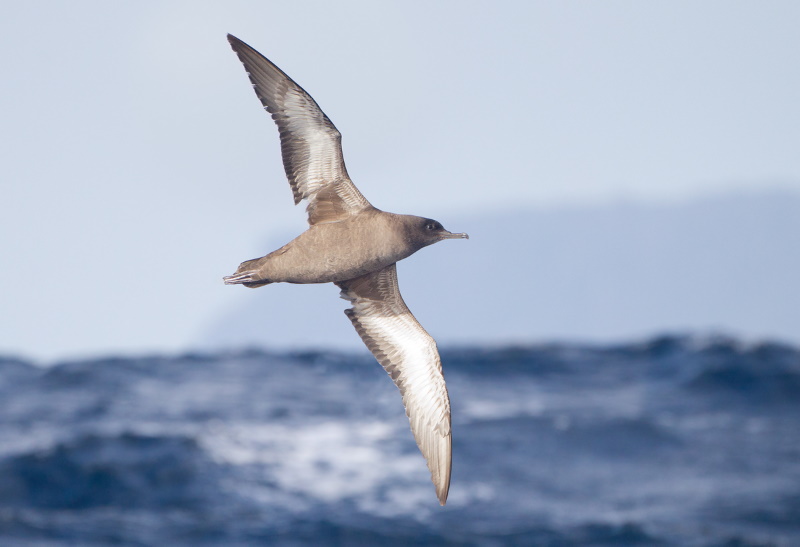 Sooty Shearwater off Australia © JJ Harrison
Sooty Shearwater (
Ardenna griseus

)


Sooty Shearwaters are our second most common shearwater, after Manxies, but even so are less than annual in Liverpool Bay. They breed on islands in the south Pacific and south Atlantic including the Falkland Islands. After the end of their breeding season they undergo a spectacular migration traveling up into the north Atlantic flying in a clockwise direction up the west side of the Atlantic then, between late August and October, they fly down the east side which is when we see them. Their infrequent appearances normally coincide with north-westerly gales.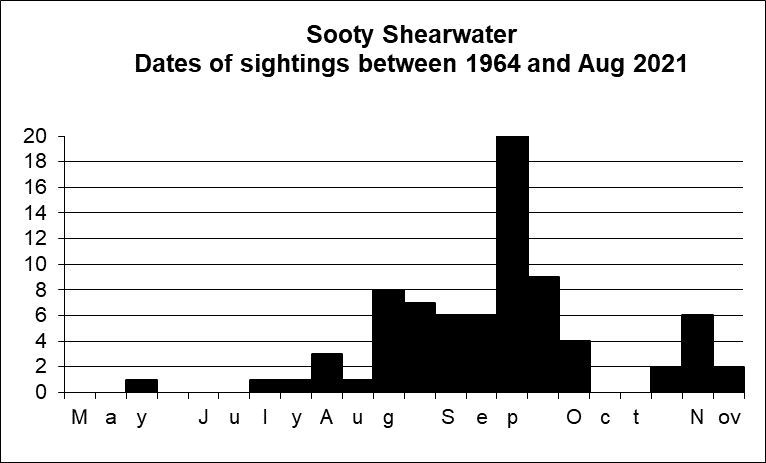 There was a total of 77 birds recorded from the Dee Estuary/North Wirral between 1964 and 2021, as can be seen in the graph most records occur from late August to early October with a definite peak in the third week of September. Multiple sightings have been very few but include four seen by John Gittins on Hilbre on 21st August 1965. Other notable records were a total of eight during 1985 and five each in 1978 and 1984. Recent records have been very sparse with two in September 2012 and one in October 2017, but then one was spotted flying west off East Hoyle Bank on August 28th 2021 just in time to make it into this article. Elsewhere in the Irish Sea, one or two are recorded off Anglesey and Bardsey Island most years, but 70 off Bardsey on September 7th 2011 was really exceptional.
Great Shearwater (
Ardenna gravis

)


This large shearwater breeds in the south Atlantic on the islands of Tristan da Cunha and nearby Gough Island. The number of breeding pairs is at least six million. The birds spend the northern summer in the north Atlantic with many following a circular route, flying up the eastern seaboard of America, moving past Greenland and eastwards towards Europe before returning south. This species moves further north than Cory's Shearwater and tends to stay further offshore than the Sooty Shearwater. They are rarely seen from the coast which is why, despite large numbers in the north Atlantic in the summer, very few have been recorded in Liverpool Bay. Adults return to breed during August and early September so birds observed off European coasts in late September and October are likely to be non-breeders.

One observed off Hilbre on Oct 31st 1971 was the first Cheshire and Wirral record. The only other record was also one seen from Hilbre, on Sep 12th 1980. In the rest of the Irish Sea they are less than annual off Bardsey and just three have been recorded from Anglesey in 20 years. In contrast off the south-west of the British Isles they are more numerous than Cory's Shearwaters during August and September, although most records are of single birds occasionally there are good movements including 31 which flew past Pendeen, Cornwall, on the morning of August 6th 2021.

Balearic Shearwater (
Puffinus mauretanicus

)


A recent study (Ref 6) has shown UK waters, especially the western English Channel and southern Celtic Sea, are very important for this endangered species and may, at times, hold as many as a quarter of the total population. As the name suggests this species breeds on the Balearic Islands in the western Mediterranean with many heading out into the Atlantic when breeding finishes in May although it appears the birds recorded from the UK are mainly immature birds.


A few of these do make it up into the Irish Sea and there have been 11 records from the Dee Estuary/north Wirral:

1974 Single off Meols on 7th September
1985 Single off Hilbre on 1st September
1989 Single off Red Rocks on 24th August
1993 Three individual moved west off Red Rocks during a heavy passage of Manx Shearwaters on July 31st
1997 Single off Meols on 8th September
1998 Single off Hilbre on 22nd August
2003 Two records of singles on 4th and 6th October, both off Hoylake.
2009 Two records of singles off Red Rocks, on 8th May, and off Hilbre, on 3rd September
2012 Single off Hilbre on 15th August
Yelkouan Shearwater (
Puffinus yelkouan

)

One possible record, I quote from the 2000 Hilbre Bird Observatory Report: "A single bird moved west during a heavy passage of Manx Shearwaters on 6th June. The bird showed characteristics which the observer felt more closely fit eastern birds (Levantine) rather than Balearic". Levantine is an alternative name to Yelkouan.

Given there has only ever been one accepted record in the UK, a single seen from Berry Head, Devon, in July 2008, this may seem like a very unlikely record. But it may not be as unlikely as it first seems. As a species Yelkouan Shearwaters are a lot more numerous than Balearics in the Mediterranean where they both breed. Although most Yelkouan Shearwaters stay in the Mediterranean some are seen annually in the Strait of Gibraltar and Gulf of Cadiz, and it is likely that small numbers are regular in the north Atlantic. Most years one or two 'possibles' are reported off the UK coasts although identification is difficult to say the least. and even when you are convinced you have a 'probable' you then have to convince the BBRC! The Devon 2008 bird was close enough to be well photographed, both Balearic and Manx Shearwaters were present for comparison and the observers were very familiar with all three species. Interestingly, another Yelkouan Shearwater was well seen, also off Devon, in July 2020 and is currently being assessed by BBRC.

Barolo Shearwater (
Puffinus baroli

)

Most birders refer to these as Little Shearwaters, which is what they used to be officially called. These have now been split into three very similar species - Audubon's, Barolo and Boyd's which in the field are near impossible to tell apart. But where it has been possible to identify the species in the UK they have all proved to be Barolo and these breed in the Azores, Canaries and Madeira.


There have been several records of 'Little Shearwaters' off the Dee Estuary and north Wirral, but for one reason or another none have, so far, been accepted by BBRC. Strangely, there are two inland records for Cheshire which have been accepted - one was found moribund on May 10th 1958 at Stockport and a sick individual was present at Rostherne Mere from Jun 29th to Jul 3rd 1977 when it was picked up and later died.

Here are the other records:
1971 One off Meols on 20th October. Not proven.
1976 One off Hilbre on 1st September. Not proven.
1984 One off Hilbre on 2nd September. Accepted but later withdrawn.
1985 One off Hilbre on 21st September. Not proven.
1992 One in River Mersey mouth on 5th September. Recorded from Seaforth (Lancs) and accepted. Apparently seen from New Brighton but no record from there was submitted.
2000 One off Hilbre on 6th September. Not proven.
2010 One off Meols and Hoylake on 14th September. Record submitted but pending whilst under review.


So all a bit frustrating but this comment in the 1993 Report of Rare Birds in Great Britain caught my eye "This species continues to cause the BBRC severe headaches, since most descriptions just fail to provide that convincing element of proof. The Committee acknowledges, however, that this is a difficult species to prove on paper and one which, by its nature, seldom gives observers a second chance." Looking at BBRC's 'work in progress' spreadsheet no less than 67 records of Barolo/Boyd's/Audubon's Shearwater are currently under review, going as far back as 1967! But from 2018 BBRC now seem to be either accepting or rejecting records and there was one accepted in 2018 and two in 2019 - all as the species group of Barolo/Boyd's/Audubon's. It would certainly be nice if the 2010 bird seen off Meols and Hoylake was accepted as I was one of the birders who saw it.
References
1. https://www.thespruce.com/pelagic-definition-seabirds-386849

2. Richard Smith, Rare Shearwaters off the Dee Estuary, Dee Estuary Newsletter September 2007,
http://www.deeestuary.co.uk/news0907.htm.

3. Allan Conlin & Eddie Williams, Rare and Scarce Birds of Cheshire & Wirral, 2017.

4. Robin Sandham, Scarce and Rare Birds in North Wales, 2017.
5. BIRDGUIDES Latest Sightings, https://www.birdguides.com/.

6. Phillips, J A, Banks, A N, Bolton, M, Brereton, T, Cazenave, P, Gillies, N, Padget, O, van der Kooij, J, Waggitt, J, & Guilford, T. 2021. Consistent concentrations of critically endangered Balearic Shearwaters in UK waters revealed by at‐sea surveys. Ecology and Evolution. DOI: https://doi.org/10.1002/ece3.7059

7. Cheshire and Wirral Bird Reports 1964 to 2018
8. Lancashire Bird Report 1992.

9. Clwyd/North-east Wales Bird Reports, 1989 to 2018.
Richard Smith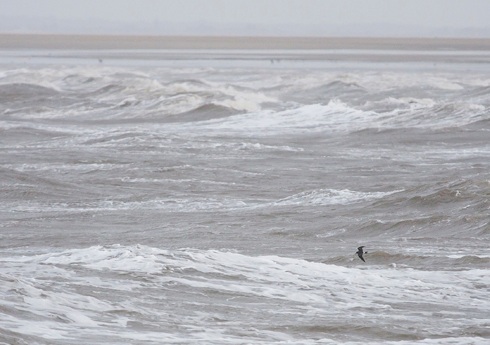 A Leach's passing Hilbre © Matt Thomas

Colour Ring Report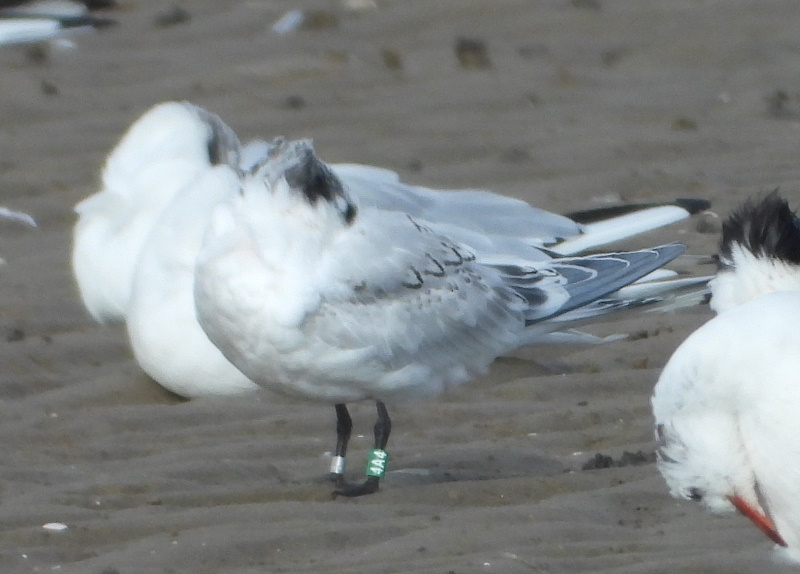 Juvenile Sandwich Tern Green 4A4 © Richard Smith
Ringed at Strangford Lough, Northern Ireland in June 2021, our first from that colony


Sandwich Terns
It's been a good couple of months for spotting colour ringed birds. We've had 68 records of 18 Black-tailed Godwits, plus several Mediterranean and Black-headed Gulls, a Lesser Black-backed Gull, a Dunlin, a Sanderling, a Cormorant, a Little Egret and two Shelduck. I shall detail some of these in the October Newsletter but for this newsletter I concentrate on Sandwich Terns of which we've recorded a total of 22 - easily our best ever year for this species, and the life histories of these Sandwich Terns show some really exciting recoveries including all the way down to the southern tip of Africa.
Rather than try and detail each of them I've drawn up a couple of maps so you can see where the birds recorded in the Dee Estuary this summer have been seen (and ringed) previously.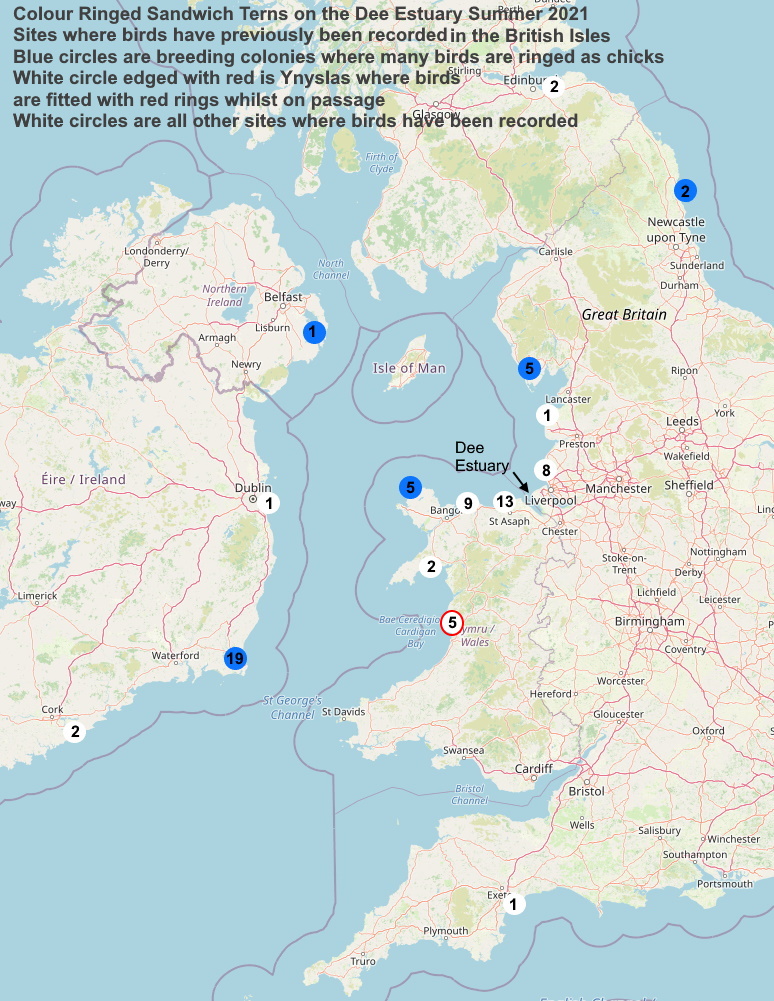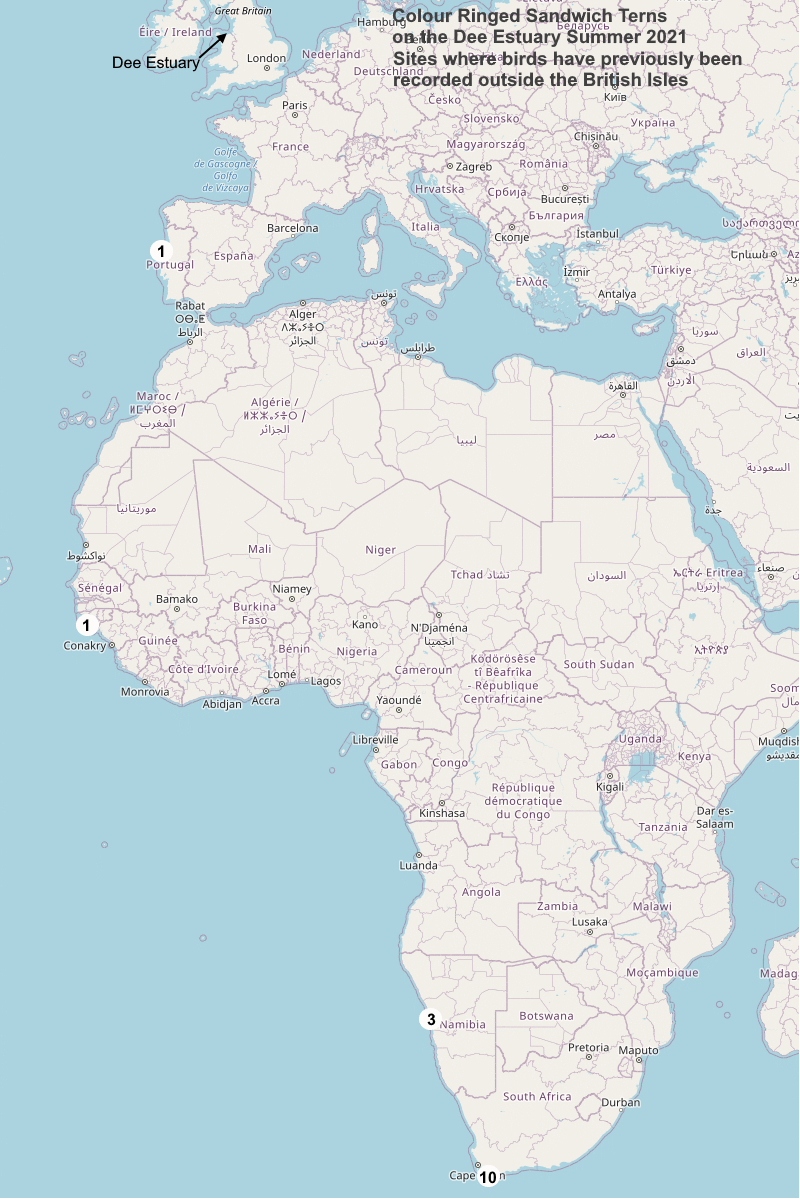 The maps tell a fascinating story, they obviously reflect the movements of the Sandwich Terns but also the amount of ringing and observer effort at any particular site. Here are some observations:
Many chicks at the Lady's Lake Reserve near Wexford, Ireland, are ringed every year and after breeding they disperse through the Irish Sea, and colour ringed Sandwich Terns from this large colony are regularly recorded on the Dee Estuary and nearby sites along the North Wales coast and the Sefton Coast. The majority of our Sandwich Terns probably come from the nearby Cemlyn Bay (Anglesey) colony but they only started colour ringing them there in 2019 and it was good to see one of these at Hoylake in August (others were seen elsewhere). It was also good to see our first Northern Irish ringed Sandwich Tern, ringed as a chick this year, and this is a new scheme using green rings.

The birds don't always return to the colony they were hatched and one the birds seen this year was hatched at Wexford in 2015 but was recorded breeding in Cemlyn Bay this year, and another was hatched on Coquet Island in 2014 but again was breeding in Cemlyn Bay in 2021.
Although rarely seen on inland waters it has long been suspected that many Sandwich Terns cross the country, both before and after breeding, and colour ringing has proved they definitely do. But perhaps more unexpected is that, during post-breeding dispersal, they can head the 'wrong way' flying north-east from the Irish to the North Sea, before, presumably, flying back in the reverse direction!

The Dee Estuary along with the whole of the North Wales coast and, in particular, the extensive sand flats off Formby and Ainsdale is probably the most important area in the country for this species as a post-breeding loafing and feeding area, and a nursery for the young birds before they head south. There could well be as many as 10,000 Sandwich Terns present at times between Anglesey and the Ribble Estuary.

It's remarkable that for these 22 Sandwich Terns seen on the Dee Estuary this summer we have as many records from Namibia and South Africa as we have for Rhyl and Colwyn Bay just a few miles west of the Dee Estuary. In last year's article "Sandwich Terns" I speculated that a large proportion of the west-European population probably make it all the way to southern Africa and 13 records from 22 birds certainly seems to confirm that. The Namibia sightings all seem to come from Swakopmund, just north of Walvis Bay, whilst in South Africa there are several sites mostly just to the south of Cape Town. It's good that we have some keen birders down there to record and report these birds.

Richard Smith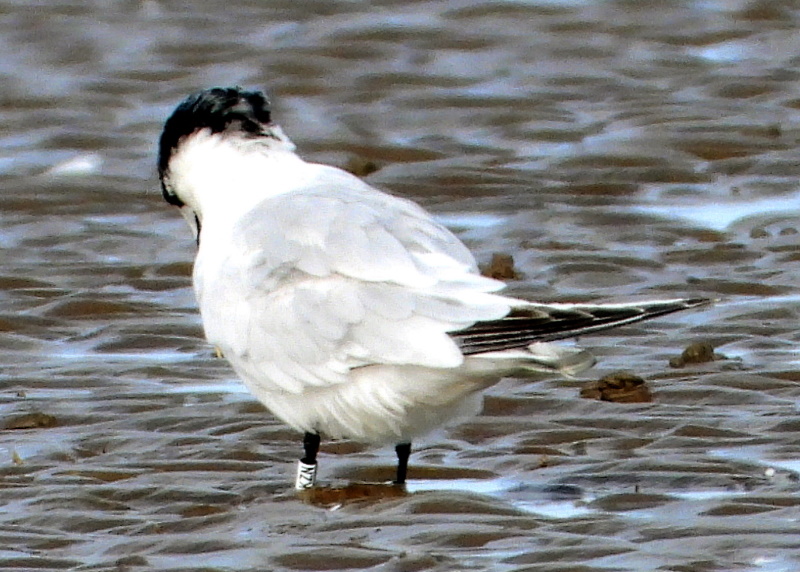 Sandwich Tern White KZN, at Hilbre on 15th August 2021 © Richard Smith
Ringed as a chick at Wexford in 2016 (and seen breeding there in 2020 and 2021) this bird has been
recorded in Namibia twice and at the Western Cape, South Africa, once.


Colour Rings were recorded by Richard Smith, Colin Schofield, Steve Hinde, Elliot Montieth, Alan Hitchmough and Steve Williams.


August Bird News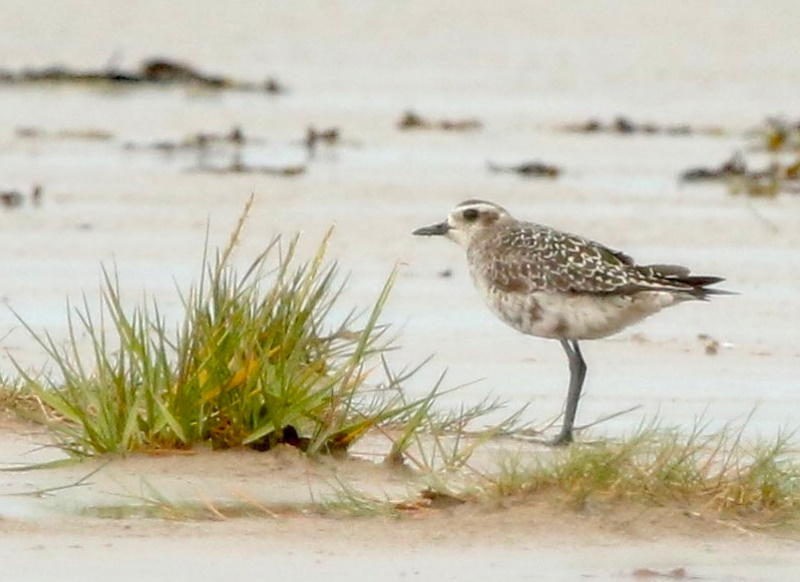 American Golden Plover, Hoylake shore, August 8th © Tim Kinch
well done to Tim who found this bird


A Pecoral Sandpiper at Burton Mere Wetlands early in the month was a nice find followed by a much rarer American Golden Plover on Hoylake Shore present on the 7th and 8th. This is the fourth record for the Dee Estuary and North Wirral, there was also a probable at Gronant in 2018. Given the calm weather at the time a Sooty Shearwater off East Hoyle Bank was unexpected on the 28th but arrived in time to be included in the above article on Pelagic Seabirds - the first one since 2017.
Other than the Sooty Shearwater sea watching was poor with just a couple of Arctic Skuas and a few Manxies and Gannets, but there was plenty to see on the beach. Sandwich Terns peaked early on in the month with 700 on East Hoyle Bank and there were lots of reports of Mediterranean Gulls including five at both Thurstaston and Leasowe. A juvenile Black Tern was at Hoylake on the 24th with a couple of Little Stints and a Curlew Sandpiper (seen on several dates), single curlew Sandpipers were also spotted at Hilbre and Parkgate. As well as around 3,000 Dunlin there were also a total of at least 1,200 Ringed Plover at Hoylake and West Kirby on the 22nd. Other waders included an impressive 5,700 Black-tailed Godwits at Caldy, 4,400 Redshank at Heswall and up to 25 Greenshank at Parkgate.
4 Spoonbills were recorded (one at Burton and three at Parkgate) on the marshes as well as several Marsh Harriers and a returning Hen Harrier and Short-eared Owl. We always see less Ospreys in the 'autumn' than in the spring and just the one was spotted over Heswall Fields. We know in spring the main flyway for them is over the western half of England, so perhaps they fly further east on the return journey.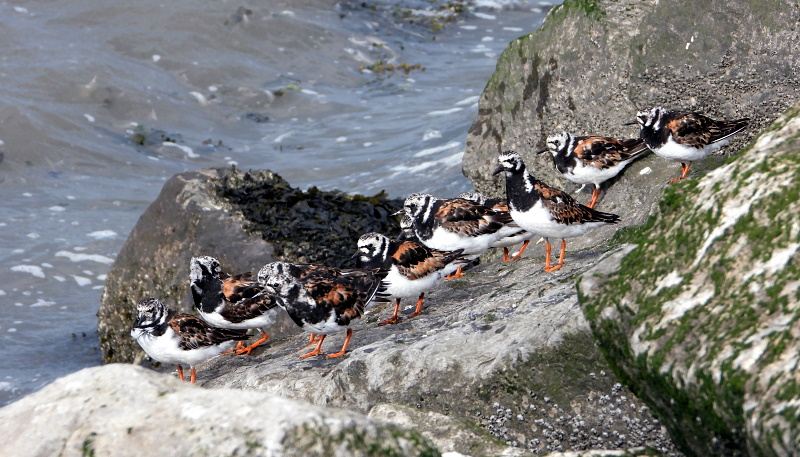 Turnstones on the edge of West Kirby Marine Lake, August 5th © Richard Smith
Looking stunning in breeding plumage, there were about 30 in total

Many thanks go to Steve Williams, David Haigh, Steve Hinde, Alan Hitchmough, Colin Schofield, Derek Bates, Allan Conlin, Richard Whitby, David Thompson, David Small, Bruce Atherton, Peter Sutton, Mark Gibson, Roy Wilson, John Hewitt, Mark Woodhead, Richard Speechley, Tim Kinch, Linda Platt, David Leeming, Colin Wells, Les Hall, Anthony Davies, Jeremy Bradshaw, Chris Wilding, Carole Killikelly, Charles Farnell, Dave Edwards, Elliot Montieth, Matt Francis, Neil Simpson, Andy Coxon, Paul Mason, Stephen Lane, Ken Mullins, Paul Greenslade, David Shearan, Frank Burns, David Bradshaw, Bill Wonderley, John Missin, Roger Evans, Tommy Mundy, Andrew Ingham, Tony Hesseion, Steve Hasell, Hugh Stewart, Steve Liston, Eugene Dillon-Hooper, Sheila Ryde, John Rowlands, Marc Gannon, the Dee Estuary Wardens and the Hilbre Bird Observatory for their sightings during August. All sightings are gratefully received.

What to expect in September

September is a special month, it's also one of the most unpredictable. It can be flat calm all month with nothing more than a gently breeze, or at the other extreme we can get gale after gale. Gales are what we need to see lots of sea birds with Leach's Petrels the star of the show as described in the article above (Pelagic Seabirds in Liverpool Bay). It was 2010 since we had really large numbers of them and just reading my article (Leach's Petrels 2010) I see we had as many as 524 recorded from Hilbre on Sep 17th that year, fabulous! So we are well overdue for another good year. But that doesn't mean to say that we haven't had some great September sea-watching since then - 2017 was good with plenty of Leach's but that year was particularly notable for Grey Phalarope with a total of at least 19, easily the highest number this century. 2019 was the year we saw loads of skuas with the highest ever recorded count of 101 Arctic Skuas on Sep 4th.
But if we do get calm weather at least we can feast our eyes on all the waders coming through with Curlew Sandpipers and Little Stints ones to particularly look out for. By the end of the month Pink-footed Geese will be returning, a sign of the coming winter, and we should see some large flocks flying over. We can also get good numbers of ducks returning, some years numbers of both Teal and Shelduck can peak this month.

Marsh Harriers have had a good breeding season here and their winter roost will start to build; we are likely to get counts in double figures of birds flying into the reed beds in the evening at Neston and Parkgate. It should also be a good month for 'white herons' with plenty of Cattle Egrets, Great Egrets and Spoonbills, as well as Little Egrets which are just about everywhere these days.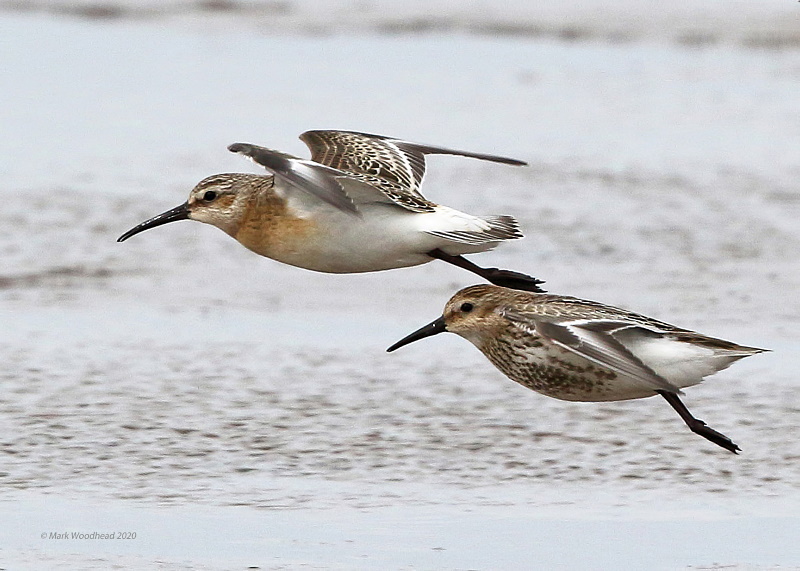 Dunlin and Curlew Sandpiper at Hoylake in September 2020 © Mark Woodhead

Forthcoming Events
September Highest Spring Tides (Liverpool)
Also see Tides page.
8th September, 12.51hrs (BST), 9.5m.
9th September, 13.28hrs (BST), 9.6m.
10th September, 13.07hrs (BST), 9.5m.
Forthcoming Events
None are planned for this month.