July 2023 Newsletter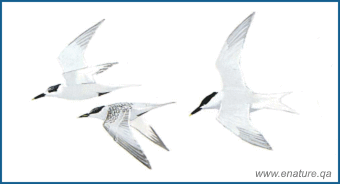 Sandwich Terns and Colour Rings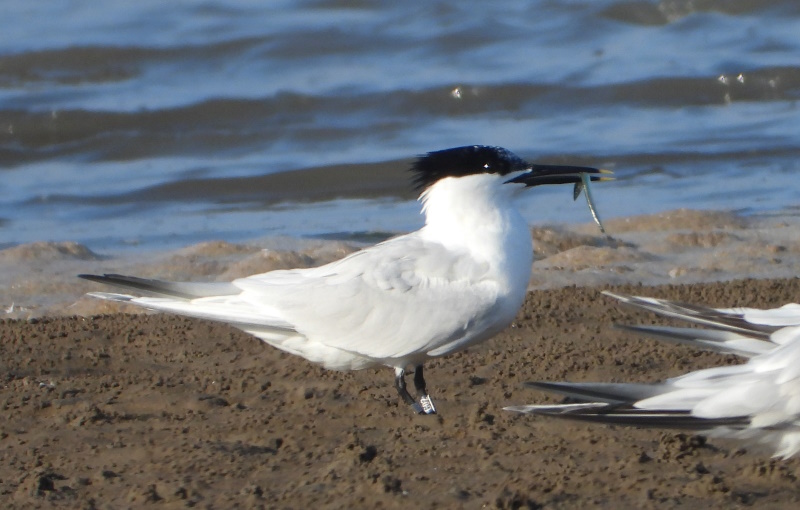 Sandwich Tern with Blue Ring CO2 at West Kirby in 2021, ringed as a chick at Hodbarrow (Cumbria) in June 2019 © Richard Smith

Unlike Common and Little Terns, there is no Sandwich Tern breeding colony in the Dee Estuary area, nevertheless it is one of the most important sites in the country for this species. By the end of June the first ones arrive with numbers steadily increasing through early July, and by mid-July the young birds will have arrived. Hundreds are likely to be present and the one thing you will notice more than anything else is the sheer noise these bird make - their kirrick calls seemingly everywhere along the coast.

Sandwich Terns use the Dee Estuary as a staging area after breeding before heading south for the winter - they will be here all July and August but by September numbers decrease rapidly. The main concentrations are at Gronant, Hilbre and the adjacent East Hoyle Bank, West Kirby and Hoylake. Up until around 10 years ago we could only guess where these birds had bred as information gleaned from ringing returns was sparse, to say the least. But colour ringing has made a dramatic change to our knowledge and we now know a lot about where the birds come from, and where they go when they leave us, including some fascinating movements of individual birds.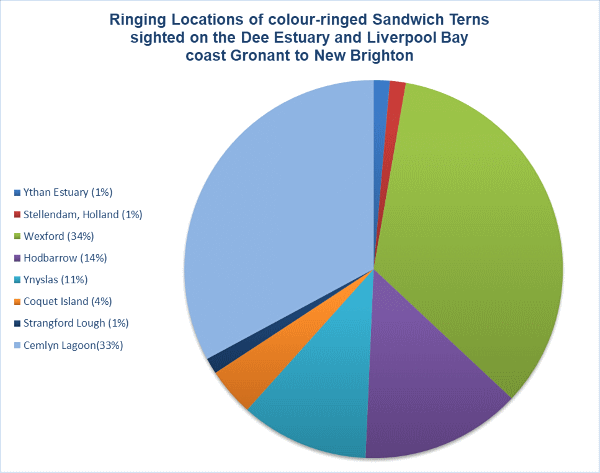 Up until the end of 2022 we have had 91 records of 73 colour-ringed Sandwich Terns on the Dee Estuary and adjacent coast. The pie-chart shows where these birds were ringed with the percentage from each site, and these sites are shown in the map below.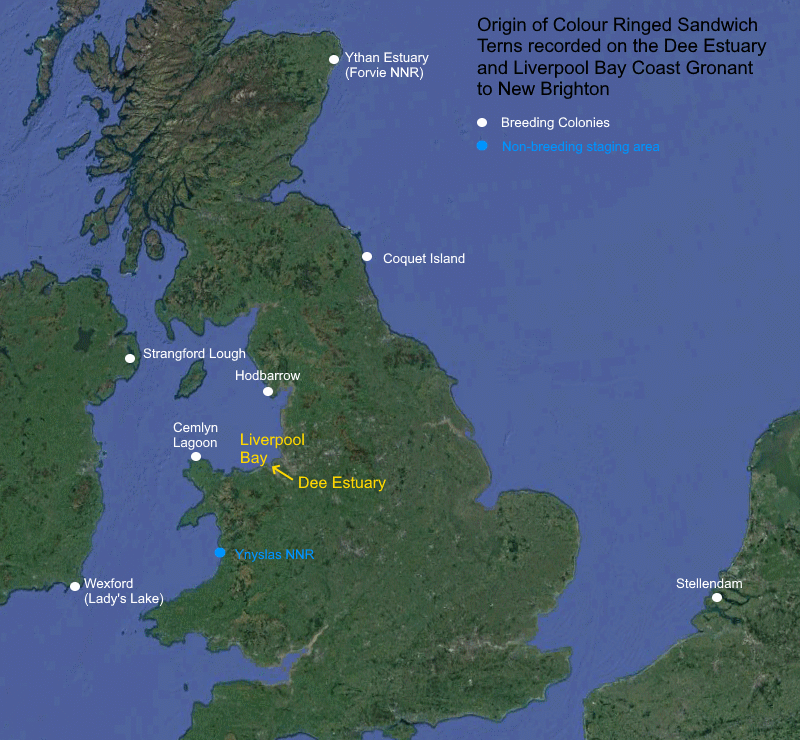 Juveniles Heading north-west from Lady's Lake

As you would expect, a lot of the Sandwich Terns which visit the Dee Estuary and nearby coast come from our two nearest breeding colonies at Hodbarrow in Cumbria and Cemlyn in Anglesey, both around 55 miles away. But, somewhat unexpectedly, we get more recoveries from the Lady's Island Lake Colony at Wexford which is a further 100 miles away and well to the south. At Lady's Island Lake, Tony Murray and colleagues noted that the juveniles left the colony as soon as they fledged (with accompanying parents) such that by late July Sandwich Terns are quite scarce in the area and they where curious about where they went. In 2015 they started a colour ring scheme and by 2019 they had ringed over 1,000 chicks. 208 of these colour ringed juveniles were subsequently recorded (as juveniles) elsewhere and a remarkable 130 were found to have moved north into the Irish Sea (63%) with the majority being seen along the Liverpool Bay coast. We have 35 records from this scheme here on the Dee Estuary and adjacent coast, both as juveniles and subsequently as adults.
Moving around Liverpool Bay

Whichever colony these birds come from they obviously find the coast along Liverpool Bay to their liking and there are likely to be as many as 5,000 present between mid-July and mid-August mainly between the Little Orme in the west, east along the North Wales coast, past the Dee Estuary and north Wirral coast then along the coast at Formby and Ainsdale. Observations of their colour rings show these birds are constantly moving around this area and here are a couple of examples from last summer (2022):
Orange Flag CPH, ringed at Cemlyn Lagoon on June 26th.
July 13th River Clwyd, Rhyl
August 2nd River Clwyd, Rhyl
August 15th Formby Beach
August 16th River Clwyd, Rhyl
August 20th Hilbre
Green Ring K8K, ringed at Wexford in 2017.
July 21st River Clwyd, Rhyl
July 23rd Gronant beach
August 1st, 4th and 16th River Clwyd, Rhyl
August 21st Hilbre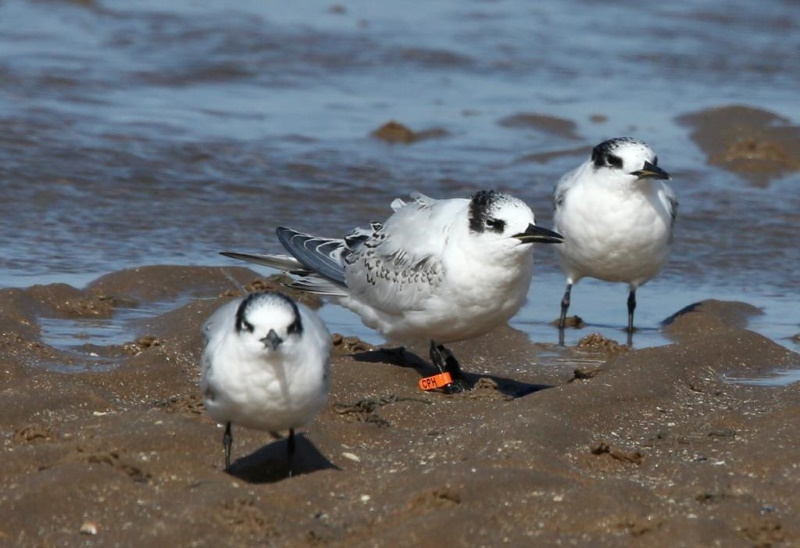 Juvenile Orange flag CPH near Hilbre on August 20th 2022 © Steve Williams

The Wrong Way!

One of the most surprising things found by colour-ringing is that some juveniles not only go much further north than Liverpool Bay but cross the country the 'wrong way' in order to do so. Tony Murray mentions (Ref 2) that in 2019 a juvenile from Lady's Lake was at Tywyn (Cardigan Bay) on 5th August and next spotted at Port Seton (on the south coast of the Firth of Forth about 10 miles east of Edinburgh) on September 12th. That same year a juvenile ringed in Cemlyn Lagoon was also recorded at Port Seton on three dates - July 27th, August 21st and September 4th. Then last year, 2022, two more Cemlyn Lagoon ringed juveniles were at Port Seton in August. These juveniles, with their parents, will have crossed the country from the Irish Sea to the North Sea which must be quite a daunting flight for such young birds, and going in the opposite direction from where they would be traveling in a few weeks time! I wonder if they then ended up flying back across the country in the reverse direction or flew down the east coast and through the English Channel?


Two Interesting Journeys

Whilst looking through the Sandwich Tern data in preparation for this article I saw some fascinating movements of these birds, including juveniles flying north-east across the country as related above and the long migration to South Africa when they leave us (see below), but these two journeys by W-N3N and Y-KDC struck me as particularly interesting.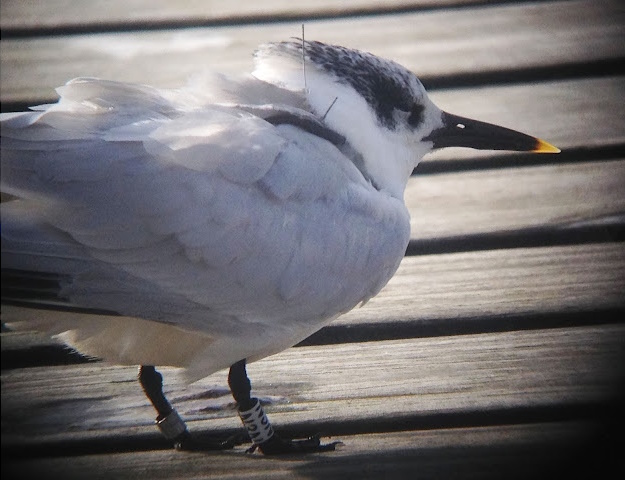 W-N3N on jetty at West Kirby Marine Lake, October 28th 2013 © Colin Jones

W-N3N was the second colour ringed Sandwich Tern ever recorded on the Dee Estuary, and it not only had a colour ring but a GPS tracker - the first one we'd seen of those. It was observed right at the end of October 2013, a late date for this species with most of them already off the African coast by then. It had always been assumed that these late records were of birds heading south from colonies much further north, but we were wrong about this one! W-N3N was ringed as a breeding adult near Stellendum (south of Rotterdam), Netherlands, on 28th May 2013. As can be seen in the photo above it was fitted with a GPS tracker as part of the research into their foraging trips into the North Sea from the breeding colonies (see Ref 3). It's movement north to the island of Texel in early July will have been part of the usual post-breeding dispersal. It then disappeared for three months so we have no idea whether it stayed in the North Sea or crossed the UK into the Irish Sea, but we do know it was next spotted on the Pembrokeshire coast on the Nevern Estuary on October 7th, so already late leaving. It must have liked it in South Wales as it was still in the area, at Burry Port Beach, on the 25th. At this date you would have thought it would be quickly flying off south, but instead it flew 200 miles north around the Welsh coast where it was spotted by Colin Jones on a jetty at West Kirby Marine Lake!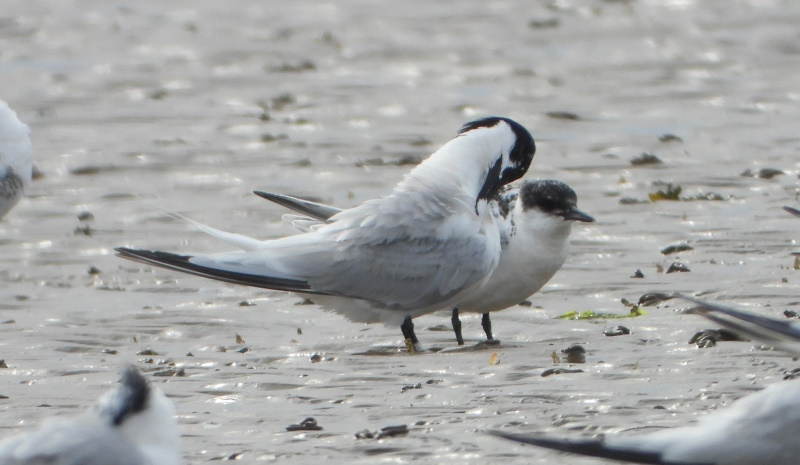 Y-KDC with juvenile near Hilbre, July 27th 2022 © Richard Smith

Y-KDC is the most recorded Sandwich Tern in our Dee Estuary database having been sighted 21 times since being ringed as a chick in June 2017 at Wexford. It is recorded regularly in the summer in the Liverpool Bay area including at Hilbre last July and August. When I got the history from Tony Murray last year I saw that it had visited the Netherlands a couple of years ago, my next thought was "that can't be right". I saw that in 2020 it was at Lady's Island Lake on July 6th and the very next day, July 7th, it was at Camperduin on the Netherlands coast! It was seen there twice and there was no doubt about the ID, but after doing a few calculations I was surprised to see that for a strong flyer like a Sandwich Tern it was easily possible to fly the 470 miles between these two sites over that period of time. If it flew non-stop over Wales and England at 20mph it would fly the straight line distance of 470 miles in around 24 hours, but 20mph is a bit slow for a Sandwich Tern so it would have had time to deviate, perhaps to the Norfolk Coast, for a fishing trip and a rest. Just a week after it was last seen at Camperduin (23rd) it was on Formby Beach, after presumably crossing over the country again, where it remained into August last being seen at Rhos Point on the North Wales coast on September 5th.

Do All Sandwich Terns go to South Africa?

When I first started seeing colour ringed Sandwich Terns, in 2016 (my first was W-K3B at Hoylake in July 2016, ringed at Wexford), I thought how exciting it would be to see one that had got as far as South Africa. I guessed that my chances were very slim as surely very few made it that far, and the chances of a colour ringed bird being recorded there were even slimmer. But that has turned out not to be the case and of the 29 adult Sandwich Terns we have recorded on the Dee Estuary in the past three years 10 have been seen either in Namibia or South Africa, a total of 20 times. Considering by no means all the colour ringed birds making it that far south will have been recorded, that seems a very high number and strongly suggests that the majority of Sandwich Terns make the flight to South Africa. A.J. Tree (Ref 4) reckoned that there are typically just under 10% of the East Atlantic Flyway population in South Africa at any one time but that there is continuous movements of birds indicating a high turnover. His analysis of ringing recoveries from Namibia and South Africa showed that just over 50% were ringed in Britain and Ireland, most of the rest being from the Netherlands, Germany and Denmark. So next time you see all those noisy Sandwich Terns on the beach just think that most will be flying all the way to Cape Town, maybe not as far as Arctic Terns travel but still an incredible journey.
Top Left - Sandwich Tern Orange Flag AHA, Top right - Sandwich Tern Orange Flag AAC
both ringed at Cemlyn Lagoon in 2019 and photographed here at Macassar near Cape Town.
Bottom: View of the Sandwich Tern roost at Macassar, just south of Cape Town SA
photos by Theuns Kruger (October 2020)


References.
1. Richard Smith, Sandwich Terns,
July 2020 Newsletter Dee Estuary Birding
.
2. Tony Murray, Alyn Walsh & David Daly, Post-fledging dispersal of juvenile Sandwich Terns from Lady's Island Lake, County Wexford, Ireland, Ringing & Migration, 2020 Vol. 35:1.
3. Ruben Fijn et al., Foraging ecology of Sandwich Terns studied via GPS-loggers and colony observations, 2014.
Click here to download PDF File.
4. A.J. Tree, Origins, Occurrence and Movements of Sandwich Tern in Southern Africa, Marine Ornithology 39 (2011).
Richard Smith.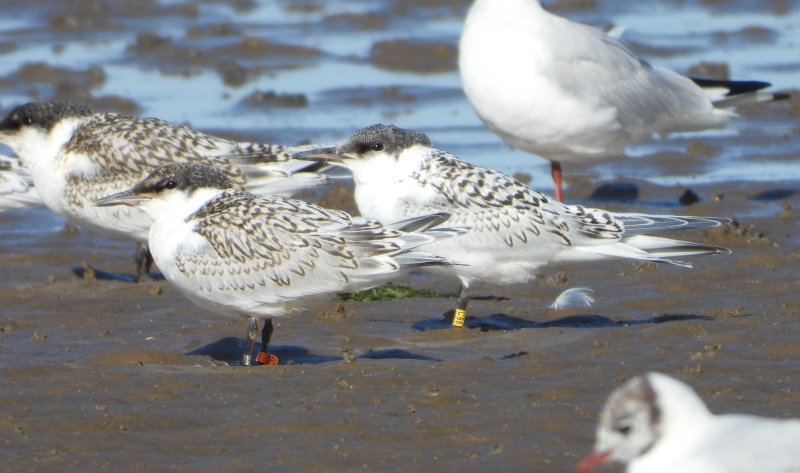 Colour Ringed Juveniles at West Kirby, July 2022 © Richard Smith
O-flag CPU ringed at Cemlyn Lagoon, Y-C66 ringed at Hodbarrow


Colour Ring Report



White-tailed Eagle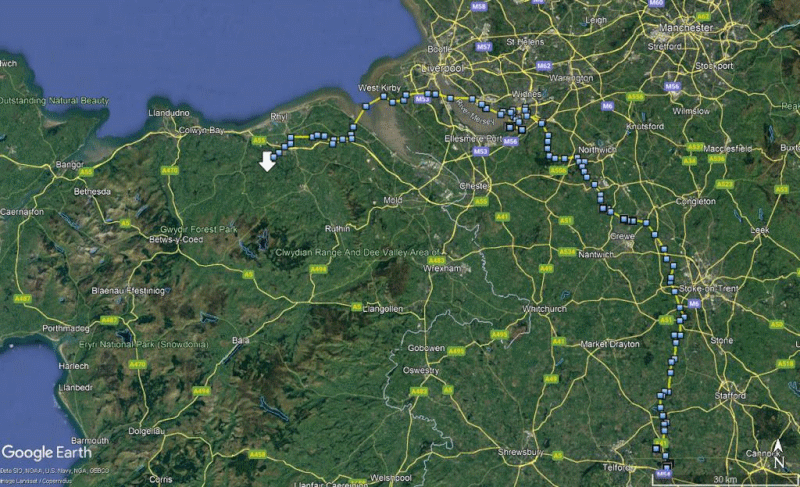 This map shows the track taken by White-tailed Eagle G542. It flew north past Stoke-on-trent before heading to the Mersey
Estuary and then west over Wirral and the Dee Estuary and into North Wales.
This map was forwarded to me having originally been sent to Dave Craven who found the bird on the south shore of
the Mersey Estuary (June 21st). I'm assuming it originated from the Roy Dennis Wildlife Foundation, for which many thanks.


Black Ring (G542) and fitted with a GPS transmitter (see above map).
This is a female which was released on the Isle of Wight in 2021 as part of the re-introduction program. She spent last winter in Norfolk and Suffolk. As the above map shows she flew north past Stoke-on-trent before heading north-west. We know she landed on Frodsham Score on the south side of the Mersey Estuary on June 21st as she was seen there by Dave Craven. The following day G542 was observed flying off high and disappeared from view - but not from the GPS satellites which tracked her crossing Wirral and the Dee Estuary from Caldy to just south of Mostyn Docks and into North Wales, totally unobserved by local birders!
To learn more about the White-tailed Eagle re-introduction project on the Isle of Wight (and other similar projects) see:
https://www.roydennis.org/isleofwight/

Lesser Black-backed Gull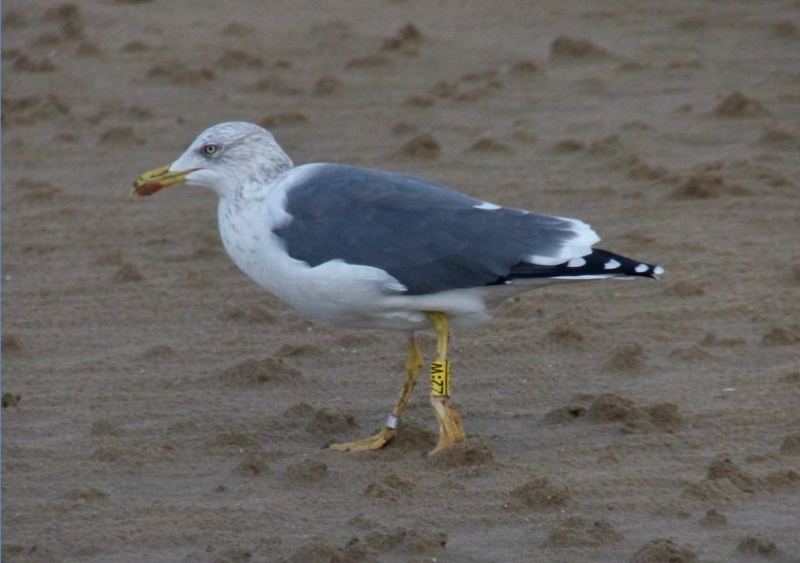 Lesser Black-backed Gull Yellow Z2-W at Hilbre © Steve Williams

Yellow (Z2-W)
Ringed on the Ribble Estuary at Banks Marsh in May 2017.
Recorded:
On Hilbre in October 2018 and 2021, August 2022 and 27/05/2023.
Only record away from Hilbre was on the west coast of Brittany in March 2022.
When ringed this bird was fitted with a GPS tag (since fallen off as it was designed to do) as part of a project to investigate the big fall in numbers of this species in Lancashire and Cumbria, and how they are affected by windfarms.
Knots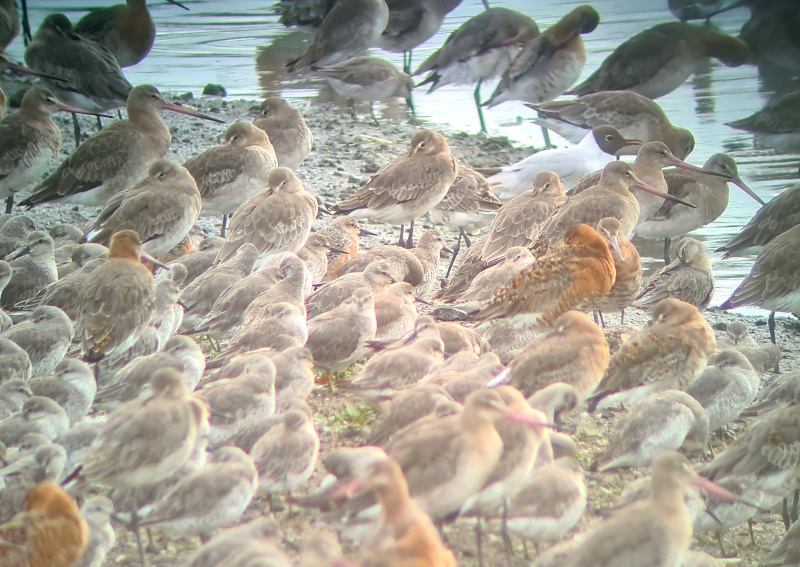 Knots and Black-tailed Godwits at Connah's Quay, June 25th © Alex Jones
Orange flagged Knot centre

It's very unusual to see over-summering Knots at the Connah's Quay Reserve but this flock shown in the photo visited there on June 25th. Three with Orange flags were spotted as follows:
Oflag (TUA) - Pale blue ring
Ringed at Ynyslas (Cardigan Bay) on 15/09/2022
Recorded at Thurstaston January 2023.
It was at Formby on April 7th, Oakenholt RSPB on April 8th and back at Formby on April 19th.
Recorded at Connah's Quay Nature Reserve on 25/06/2023.
Oflag (76M) - Green Ring
Ringed at Altcar (south Formby Beach) on 21/04/2023.
Recorded at Connah's Quay Nature Reserve on 25/06/2023.
Oflag (09P) - Green Ring (very faded flag so not 100% sure of code).
Ringed at Altcar (south Formby Beach) on 21/04/2023.
Recorded at Connah's Quay Nature Reserve on 25/06/2023.


Oystercatcher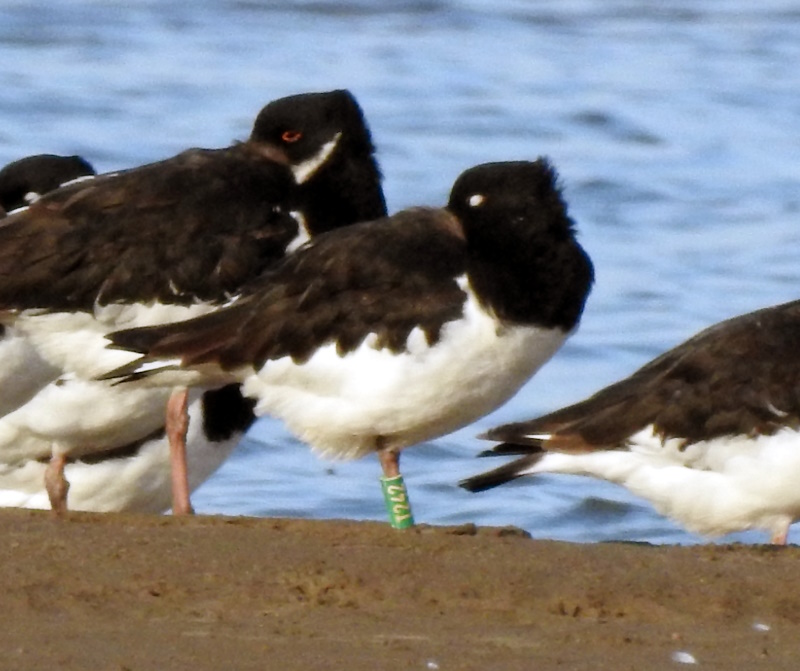 Oystercatcher Green (T242) on Heswall Shore, June 29th © Steve Hinde

Green (T242)
Ringed in Bergen, Norway, on 17/06/2021, as a chick.
Recorded on Heswall Shore on 29/06/2023.
No other records.
It's usually Aberdeen where various waders are recorded breeding on roof tops and in gardens, but this one hatched out at the Bergen IKEA. We are not sure if it was on the flat roof or somewhere in the vegetation around the car park!

Colour Rings were recorded by Steve Hinde, Steve Williams, Alex Jones, Colin Schofield and Richard Smith, and thanks to Dave Craven for finding the White-tailed Eagle on Frodsham Score.
Richard Smith

June Bird News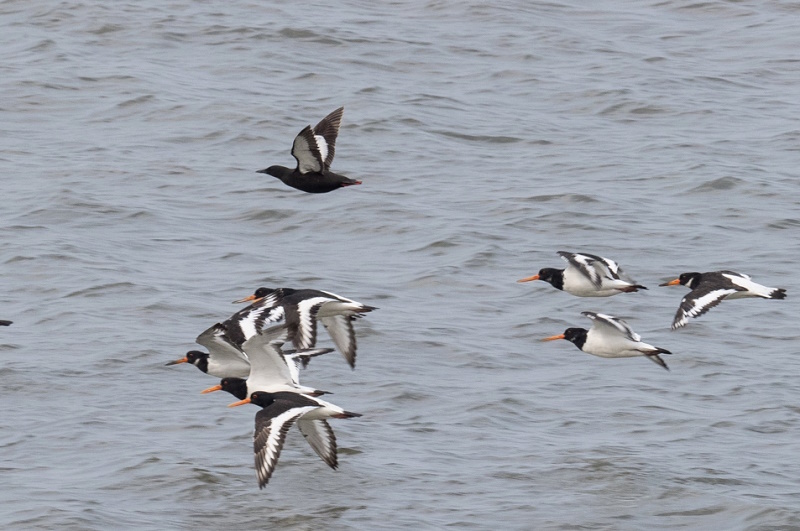 Black Guillemot with Oystercatchers at Hilbre, June 18th © Phil Woollen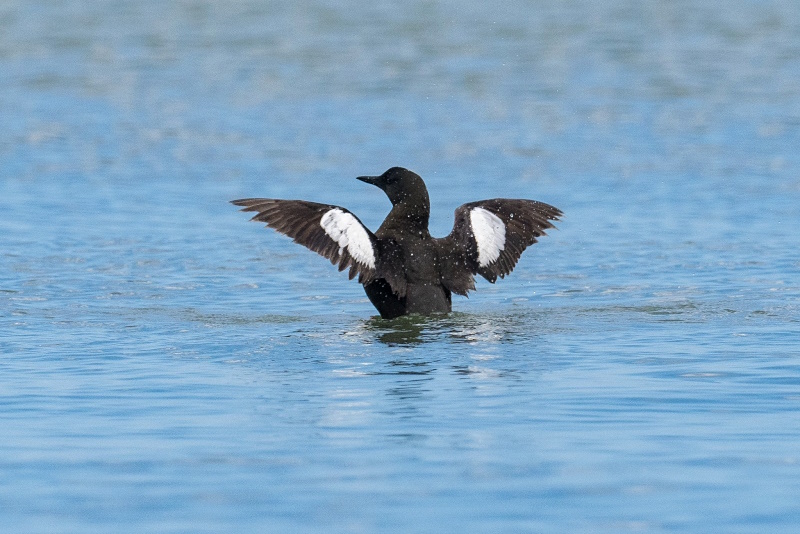 Black Guillemot at Hilbre, June 19th © Phil Woollen


The bird of the month has to be the Black Guillemot that thinks it's an Oystercatcher! The Black Guillemot, which has been spotted quite a few times in the past few weeks, usually off Hilbre, took to spending time on the rocks at the north end of Hilbre this month where it usually associated with Oystercatchers and, as the photo above shows, often flying with them. Colin Davies, who visited Hilbre on the 21st, had this to say in his blog (see more details and photos on https://colinsfieldnotes.blogspot.com/2023/06/black-guillemot-hilbre-island.html):

The bird has for some reason attached itself to the oystercatcher flock and is not shy of asserting itself. When they are on the rocks it roosts with them and flies with them like they are the best of pals, but if it needs to move because of the approaching tide or some other disturbance, it scatters its new friends in all directions by walking towards them, chest puffed out, head held low and flapping it's wings at them to reveal the white under wing and white upper wing patches. It's a bizarre thing to watch. Apparently the last long staying bird, which was around 30 years ago, behaved in a similar way.
It was last seen from Hilbre on the 21st, and it was presumably the same Black Guillemot which was spotted flying west past the Point of Ayr on the 28th. Perhaps it has decided to return to it's more normal habitat around the Great and Little Orme.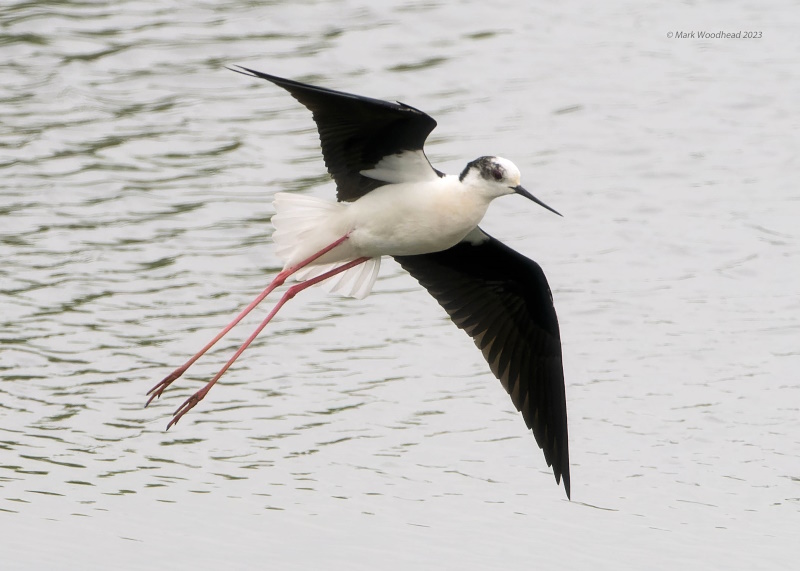 Black-winged Stilt at Burton Mere Wetlands, June 7th © Mark Woodhead

A Black-winged Stilt, thought to be a different bird to the one seen last month, was at Burton Mere Wetlands on the 6th and 7th and gave some great views. Single Curlew Sandpipers, rare here in June, were at Burton Mere Wetlands on the 3rd and Hilbre on the 15th. The other big rarity was a White-tailed Eagle flyover on the 22nd. As detailed in the above 'Colour Ring Report' this was a GPS tagged bird released on the Isle of wight in 2021, it was seen on the Mersey estuary on the 21st and flew over the Dee Estuary on the 22nd - sadly unseen by human eyes but faithfully recorded by the satellite!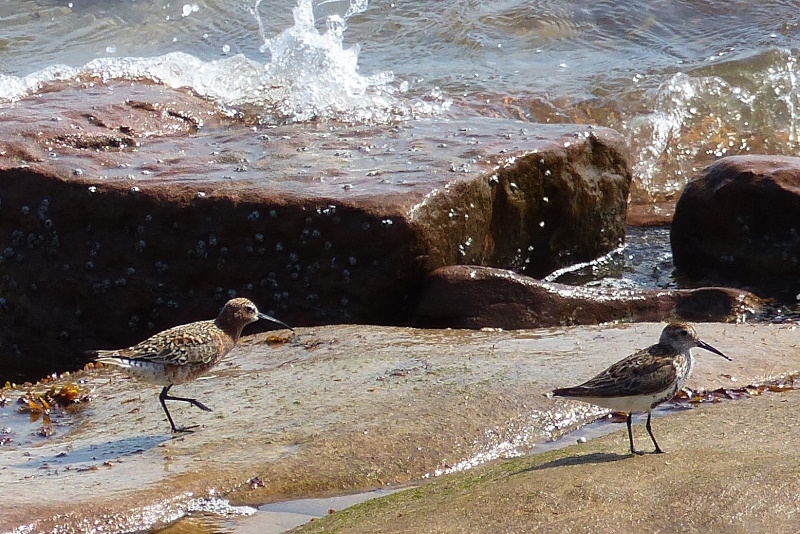 Curlew Sandpiper (left) with Dunlin on Hilbre, June 15th © Andrea Sawiak (Hilbre Bird Observatory)


Other waders included at least 50 Sanderlings at Gronant on the 4th, on their way from Africa to the Arctic. Most non-breeding Knots which over-summer in the Liverpool Bay area are found on the Sefton Coast and the Ribble Estuary, with the occasional brief visit to the outer edges of the Dee Estuary. This year was different with 400, mostly immature birds, spending most of June at Burton Mere Wetlands. 150 were also at Connah's Quay Nature Reserve on the 25th. Two Whimbrels at Heswall on the 17th were also presumably non-breeding birds.
The first returning waders arrived at Burton Mere Wetlands on the 16th with a Wood Sandpiper, two Ruff, four Spotted Redshank and two Little Ringed Plover. 10 Common Sandpipers were along the River Dee near Connah's Quay on the 25th. Also returning were seven Mediterranean Gulls at Heswall on the 23rd.

The good weather has meant the Little Terns are doing well. A record number of nests have been recorded at Gronant and there is hope, even an expectation, that there will be a big crop of fledglings.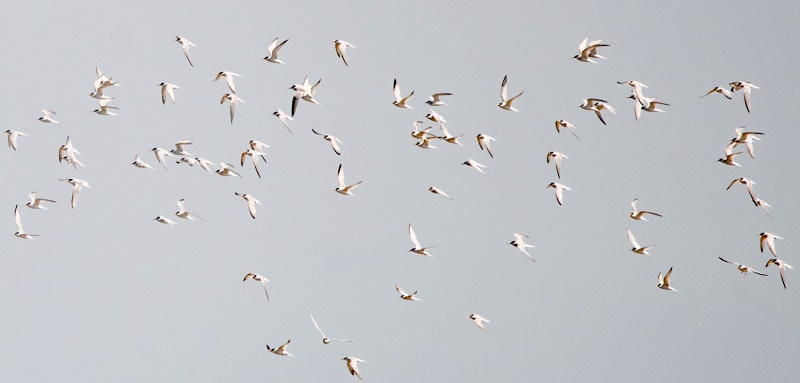 Little Terns at Gronant, June 4th © Ian Sheppard


It's good that after my April Newsletter featuring Stonechats (http://www.deeestuary.co.uk/news0423.htm) that they are having a good breeding season. I've heard of successful breeding at Parkgate, Heswall, West Kirby and Leasowe and no doubt there will be other nests so far unreported.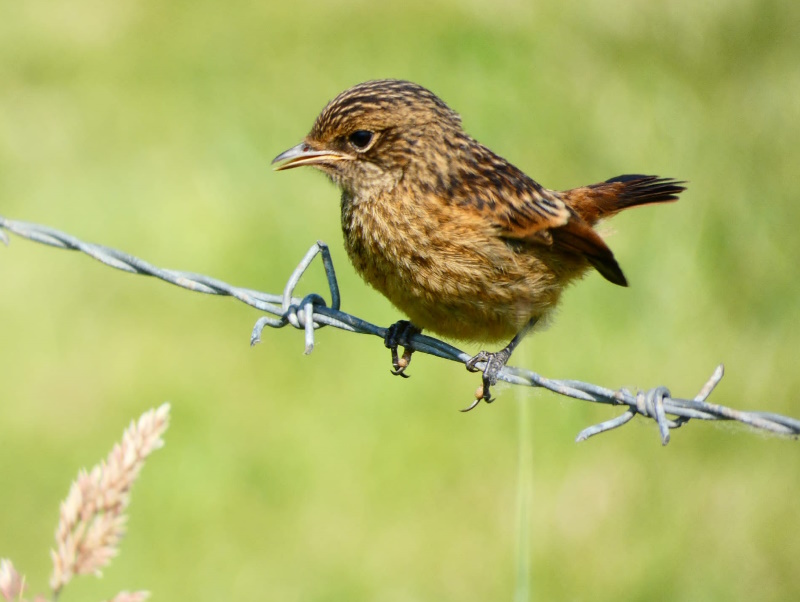 Recently fledged Stonechat at Leasowe, June 8th © Graham Connolly


I leave the bad news to the last. Last year the Dee Estuary, indeed most of the west side of the country, largely escaped the ravages of Bird flu (HPAI) which was experienced further east. Sadly the same can't be said this year and we hear that both the Black-headed Gulls and Common Terns at Shotton Lagoons have been decimated with many adults dying and no young of either species fledged. I know colonies elsewhere have also been badly hit. We can but hope they recover over the coming years.
See https://www.birdguides.com/news/deeside-gull-and-tern-colony-decimated-by-bird-flu/

Many thanks go to Steve Williams, Steve Hinde, Colin Schofield, Alan Hitchmough, Richard Speechley, Richard Whitby, Bruce Atherton, David Leeming, Matt Thomas, David Thompson, Tim Kinch, Chris Williams, Jane Turner, Jeremy Bradshaw, Mark Woodhead, Dave Harrington, John Crook, David Small, Alex Jones, Carole Killikelly,Neil Newman, Derek Bates, Phil Woollen, Andrea Sawiak, Ian Sheppard, Graham Connolly, Tom Giles, Keith Ackerly, David Bradshaw, Dave Edwards, Pete Sutton, Roy Wilson, Phil Brown, Martin Horton, Paul Vautrinot, Charles Farnell, the Dee Estuary Wardens and the Hilbre Bird Observatory for their sightings during June. All sightings are gratefully received.

What to expect in July
There will be a big influx this month as the birds return from breeding. As mentioned in the above article Sandwich Terns are possibly the most noticeable species because of the racket they make! Numbers will increase rapidly so that by the mid-month several hundred will be at Gronant, West Kirby and Hilbre, and the first juveniles will have arrived. There will also be a rapid rise in gull numbers and it's always great to see Mediterranean Gulls still in full breeding plumage - on the 12th last year we had at least 27 spread between Heswall, Thurstaston, West Kirby, Hoylake and Meols - easily double our previous highest count.
One of the most important sites in the country for moulting Black-tailed Godwits is only a short walk from my house on the edge of Caldy, the first ones will have returned from Iceland by the beginning of the month and are likely to reach over 2,500 by the month-end, by when the first young birds will be arriving. They look fabulous in their breeding plumage and I'm always a bit sad when they start moulting into their duller winter feathers.

It was only two years ago when it was realised how attractive the shores of the River Dee are in the Connah's Quay area - between the A494 bridge at Queensferry to the A548 Flint Bridge 35 were counted on July 10th 2021, with 21 there July last year. 35 may not seem a lot except normally it's unusual to see more than one in the same place!
July is often a good month for rarities, 2022 was a bit quiet but in 2021 a Melodious Warbler, Long-billed Dowitcher and Hoopoe were all seen.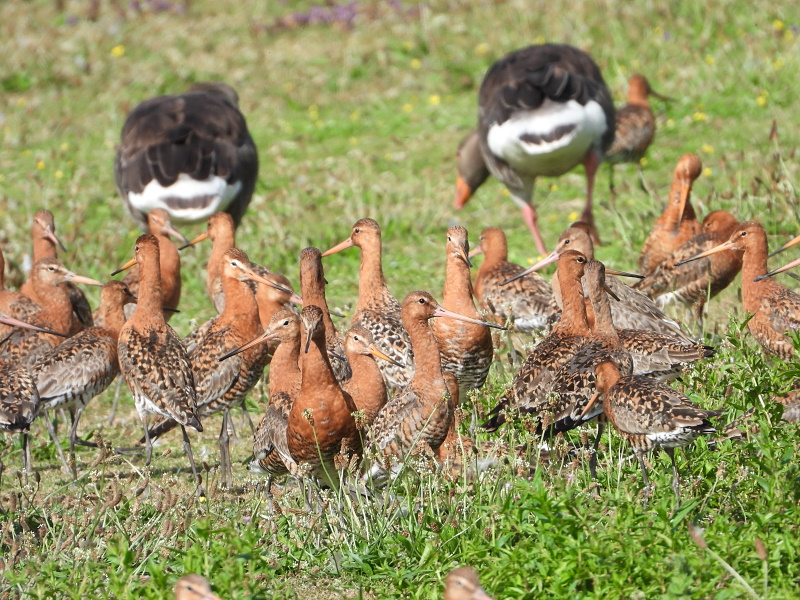 Black-tailed Godwits at Caldy, July 2022 © Richard Smith

Forthcoming Events
July Highest Spring Tides (Liverpool)
Also see Tides page.
5th July, 12.31hrs (BST), 9.2m.
6th July, 13.21hrs (BST), 9.3m.
7th July, 14.12hrs (BST), 9.2m.
Forthcoming Events
Also see events at
https://events.rspb.org.uk/deeestuary