June 2023 Newsletter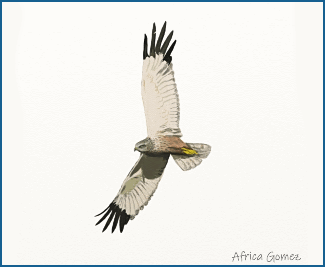 Up on the Roof

Something a bit different this month, an article about rooftop nesting gulls by Andy Harmer. See the Editor's note at the end of the article for further details - Richard Smith.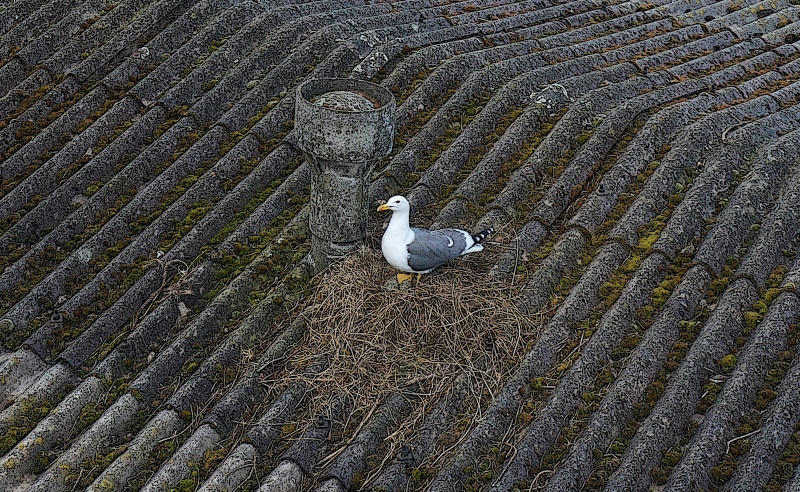 Lesser Black-backed Gull, nest and eggs om asbestos corrugated roof

The concluding paragraph for the Lesser Black-backed Gull text in the Birds in Cheshire and Wirral is as follows…

Now that some birds have taken to breeding on buildings, there is no shortage of nest-sites for them, and an abundance of food, either fish or other marine items, putrefying waste at landfill sites or, increasingly, take-away food discarded by humans in urban areas. In view of the rapid development of rooftop breeding in other urban coastal areas it would be good to monitor thoroughly the progress of this habit in Cheshire and Wirral.


The author of Birds in Cheshire and Wirral, Professor David Norman, predicted the spread of this species in 2008 and by 2022 Lesser Black-backed Gull Larus fuscus (LBG) has become a common breeder in urban sites throughout Cheshire and Wirral. Herring Gull Larus argentatus (HG), albeit in lesser numbers, has also achieved a similar distribution. Great Black-backed Gull Larus marinus (GBG) nests have been found in amongst the larger gull colonies but appear restricted in distribution to the industrial landscape in north Cheshire and Wirral.

Unfortunately, there is a significant survey constraint in the recording and monitoring of rooftop breeding gulls and that is the inability to observe nesting habits because of the height of the roofs. The crucial breeding data can be frustratingly just out of reach of the recorder, but help is now here. Drones are now cheap enough for even surveyors with the most meager of budgets, and the size, weight, and safety features are enough to satisfy the Civil Aviation Authority that some drones (sub 250 grams) can be used even in heavily congested urban situations.

In the spring and summer of 2022, the author of this report used drones to locate 1025 LBG nests, 222 HG nests, and 3 GBG nests on commercial and residential structures across the recording area of Cheshire and Wirral. 85 factory and warehouse roofs have supported over 99% of all rooftop gull nests whereas less than 1% of gull nests were found on the roofs of residential dwellings.
LBG outnumbered HG at every breeding colony except for one site at Runcorn, where there were marginally more HG nests. Many breeding colonies had little or no HG interest, whereas others had an almost equal amount of LBG and HG nests. Size of colony, proximity to the coast or 'urban-ness' appears to have no influence on the absence of, or the percentages of, HG.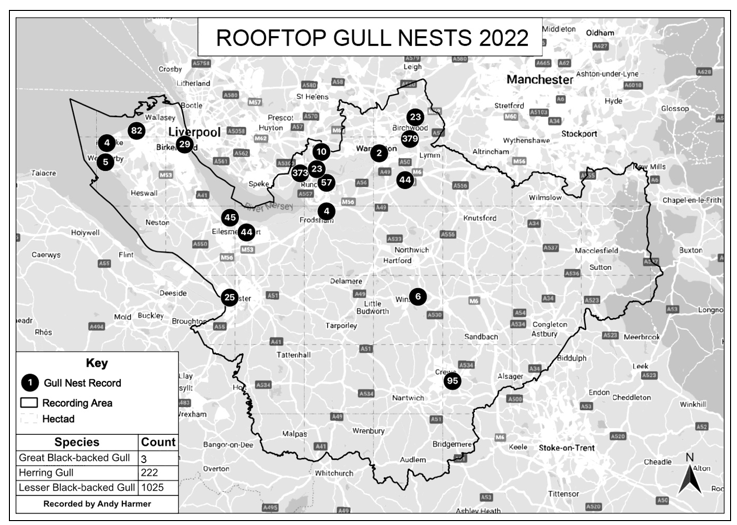 Map showing numbers of nests at the various locations throughout the recording area


The author's first drone sortie surveying for rooftop nesting gulls was at an industrial estate in Runcorn, on the south bank of the river Mersey. Prior to the survey, gull activity was observed momentarily from the new Mersey Gateway Bridge, and as the bridge is non-pedestrianised a proper inspection wasn't possible. When the factory was visited later that day, there was no evidence – as is usually the case - to prove breeding, but any birder would wonder why tens of adult gulls in the breeding season were swirling around a site which presumably offered no food. A drone was required.

A cautious approach was required to safeguard any nesting birds, and the drone. A take-off from the ground and a slow low flight away from the structure was made whilst observing the reactions of the gulls, tentatively ascending the drone to many metres above the roof height, before moving lower to gauge reaction and get a better view. The reaction of the gulls could be observed from a position on the ground, as well as from the drone's on-board camera. The gulls were surprisingly nonchalant and allowed the drone to get closer and closer until it was sometimes less than five metres away from the roof lip. Breeding evidence of three species of gull could be seen, and the survey's first 25 HG nests, 24 LBG nests, and single GBG nest was recorded at this site on this day.
| | | |
| --- | --- | --- |
| Location | Factories/warehouses | Residential |
| Appleton Thorn | 1 | |
| Birkenhead | 7 | |
| Chester | 3 | 3 |
| Clifton | 1 | |
| Crewe | 4 | |
| Eastham | 4 | |
| Ellesmere Port | 7 | |
| Hoylake | | 4 |
| Moreton | 14 | |
| Risley | 1 | |
| Runcorn | 5 | |
| Warrington | 1 | |
| West Kirby | 1 | 4 |
| Widnes | 14 | |
| Winsford | 4 | |
| Woolston | 18 | |

Table showing the type and number of roofs colonised at each location

Roof Preferences

The narrow scope of this survey means that the results are unlikely to help our understanding of how and why a particular urban area attracts and sustains gulls during recruitment. However, notes on roof types (materials and structure) were made during the visits and these are included within this article along with speculation as to why gulls have a propensity to colonise these types of roofs.

The roof height appears less important than its ability to provide an adequate barrier against mammalian predators (including humans). Favoured roofs have gently sloped asbestos corrugation, single or multiple ridged, with or without roof furniture such as air vents, pipes, and skylights. The steeper the gradient, the greater the propensity to utilise roof furniture as an anchor point. The roofs usually have sides and edges, which on the face of it provides cover from the worst of the elements, but it should be borne in mind that a precipitous edge is a danger to the chicks so could this be a safeguarding choice?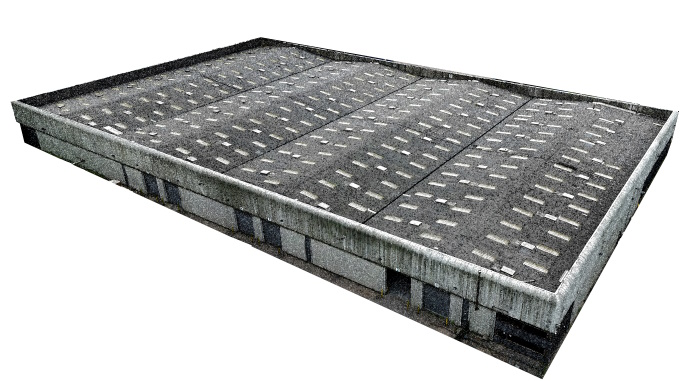 Photo showing multiple-ridged asbestos corrugated roof with sides & edges
Asbestos corrugation, compared to metal roofing, offers much better purchase for nests, possibly even when the asbestos is at a steeper pitch. Asbestos corrugation roofs rapidly undergo bio-weathering, (bio-covering) and this is expedited by gulls. Gulls ostensibly 'green the roofs' that they nest on as their faeces provide nutrients for lichens and mosses, and nest construction brings in plants. Prey-item remains, faeces, and plant material can end up in the gutters and valleys of roofs which can impede drainage and then provide drinking water. There is evidence to suggest that nests on metal roofs 'migrate' downwards towards the gutters, valleys, or roof edge, and all of these could be disastrous for eggs and young.

Photo showing what is thought to be the trails of nests as they 'migrate' down the metal roof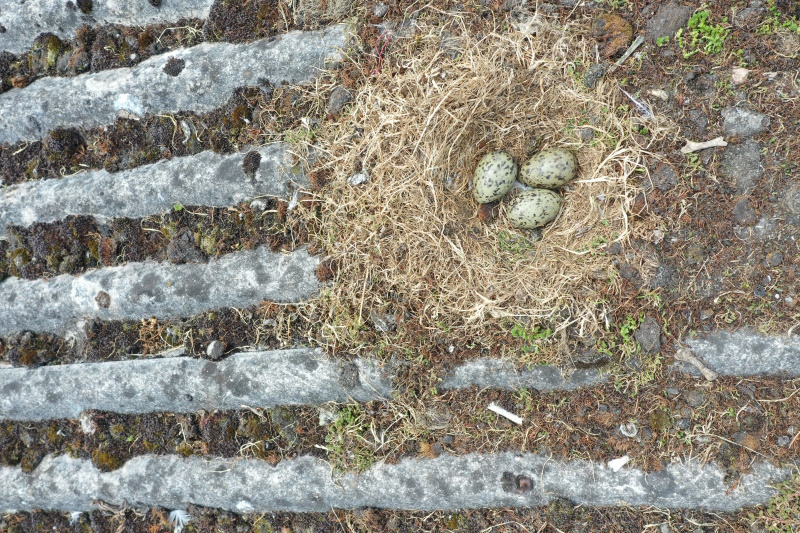 Photo showing gull nest, roof flora and prey remains

One benefit from choosing an asbestos roof became obvious after the chicks had hatched out. As a drone hovered above a roof in Widnes sending a livestream back, it revealed that both nests on the roof were empty, and predation appeared to be the reason as chicks were nowhere to be seen. It was only when the drone camera viewed the roof from the side that the chicks became visible. The mottled greys and orange hues of the chicks could not have found a better backdrop than a grey roof covered in Xanthoria and Physcia lichen rosettes.

Andy Harmer, andyharmer@btinternet.com.

References
1. David Norman, Birds in Cheshire and Wirral (a breeding and wintering atlas), Liverpool University Press, 2008

This article originally published in Bird News March 2023 (CAWOS - https://www.cawos.org/).

Editor's Note: I wrote the gull section in the Cheshire and Wirral Bird Reports from 2004 to 2015 - and it was during that period that the large gulls went from being rare breeding birds to becoming widespread across the county, so it's no wonder that Andy's article caught my eye. Just to give you an idea how rare breeding Herring Gulls were, in 2000 the Bird Report mentions that a pair bred at Hoylake raising one young, the first breeding pair in Cheshire and Wirral since a pair at Heswall in 1976. In 2004 one pair bred in West Kirby but there were indications that even by that year they were starting to colonise as the Report goes on to say "Birds may also have bred at Hoylake, Wallasey and Birkenhead Docks". The first report of Lesser Black-backed Gulls breeding on roof tops came in 2003 with a pair on a roof near Bidston Dock, Birkenhead. In those days there were virtually no breeding records outside Wirral of either species but by 2015, when my stint of writing the gull accounts came to an end, I wrote that there were 70 pairs of Lesser Black-backed Gulls and at least 15 pairs of Herring Gull breeding on roof tops in Crewe, with many more across the county.
It's a similar story on the Welsh side of the estuary with both Herring Gulls and Lesser Black-backed Gulls currently nesting on rooftops at Connah's Quay, the Flint area and Mostyn Docks, where they had been completely absent 20 years previously. The only numbers I have is 71 pairs of Lesser black-backed Gulls nesting in Connah's Quay in 2019 counted during an aerial survey. Many more large gulls breed in the Prestatyn and Rhyl area and further west along the North Wales coast.
Data from Cheshire and Wirral Bird Reports, 'The Breeding Birds of North Wales' 2013 and 'The Birds of Wales' 2021.
"Harry" The Red-tailed Hawk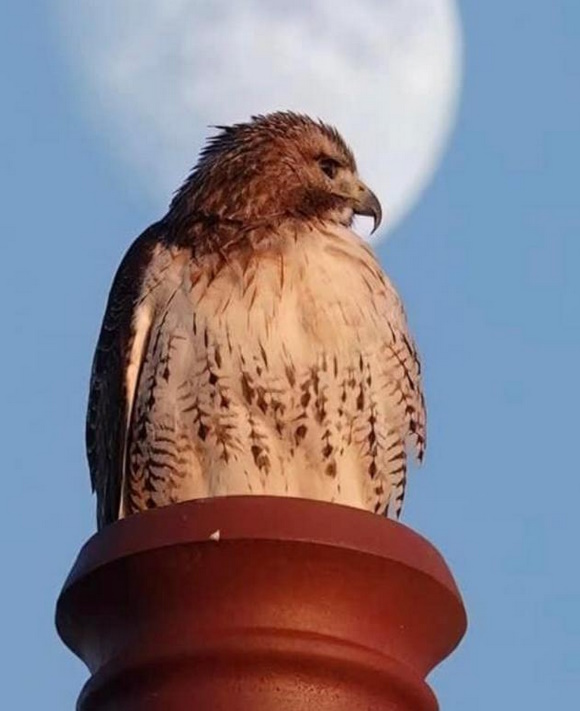 'Harry' on one of his favourite spots on top of chimney in the middle of West Kirby © Sara Rara


Most residents and regular visitors to West Kirby will know all about a Red-tailed Hawk (nick-named 'Harry') which was a falconer's escape in 2013 and since then frequently seen perched on the roofs of Morrison's, the Dee Hotel (Wetherspoons) and other buildings in the town centre. Unfortunately, it was found dead in February 2023 but, for an escape, it did very well to survive 'in the wild' for 10 years.

'Harry' was probably the most misidentified bird ever in Wirral, frequently being recorded as an Osprey, Red Kite or Common Buzzard. At one time it got to a stage when all Red Kite sightings over West Kirby had to be dismissed unless they came from a very reliable source, and I remember a couple of years ago somebody got quite upset when I didn't believe his claim that there was an Osprey perched on top of Lloyds Bank!

There is a reason I've written this short piece about 'Harry' in this newsletter as there is a strong connection with the above article on gulls as will become clear when I quote from what I wrote in the Herring Gull account in the 2013 Cheshire and Wirral Bird Report - "At least 10 prs bred in West Kirby although it appears that many chicks were predated by an escaped Red-tailed Hawk". Andy Harmer only recorded five pairs of Herring Gulls in West Kirby in 2022 so this reduction may well be because of the presence of this Red-tailed Hawk, and it will be very interesting to see if numbers increase now that 'Harry' is no more. But Herring Gull chicks were only available as a food item for a few weeks each year so he must have found other prey to feed on at other times. In their native America Red-tailed Hawks eat rodents, including Squirrels, and we have an all too plentiful supply of Grey Squirrels in the West Kirby area so I suspect they were on the menu. I would also think both adult and young Feral Pigeons would have been relatively easy for a Red-tailed Hawk to catch.

No doubt whatever he preyed on will be glad to see the back of him, but we humans in West Kirby will miss our resident Red-tailed Hawk.
Richard Smith

Colour Ring Report



Redshank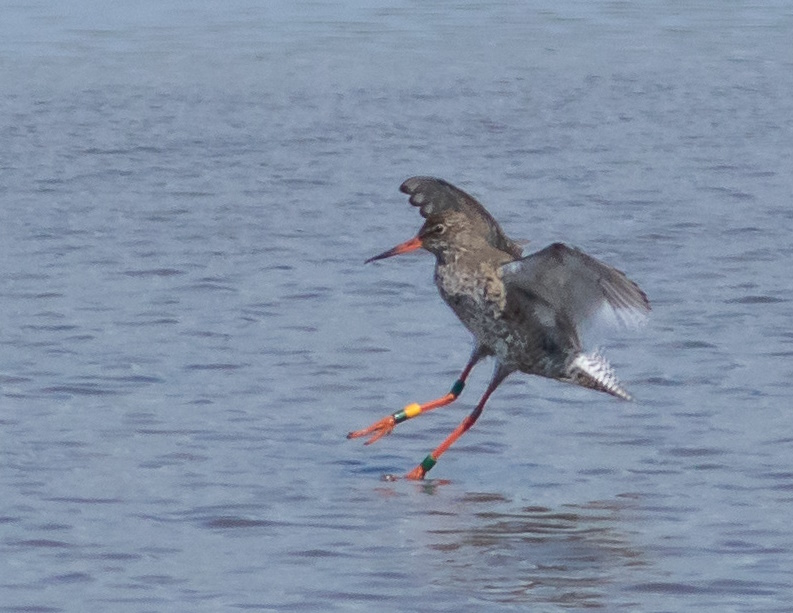 Redshank m/G - G/YG at Burton Mere Wetlands, May 2023 © Elliot Montieth


m/G - G/YG
Ringed in Chichester Harbour in November 2017.
This bird has been seen every winter in Chichester Harbour (Hampshire/West Sussex) since being ringed. The earliest it has been recorded there is late August (2019) and the latest it has been seen is early March (also in 2019).
The first record away from Chichester Harbour was at RSPB Leighton Moss on 14/04/2018.
Since then it has been a regular spring visitor to RSPB Burton Mere Wetlands where it has been recorded on the following dates: 25/03/2019, 26/05/2021, 15/05/2022, 17/05/2022, 01/04/2023 and 16/05/2023. Presumably it's presence in spring at BMW, particularly in May, means it breeds there.

Dunlin

Dunlin Y - Y(60C) at Meols Shore, May 2023 © Richard Smith

Y-Y(60C)
Ringed at Ynyslas on Cardigan Bay as a juvenile on 10/09/2018.
Recorded at Meols Shore on 20/05/2023.
Colour Rings were recorded by Richard Smith, Alex Jones and Elliot Montieth.

Richard Smith

May Bird News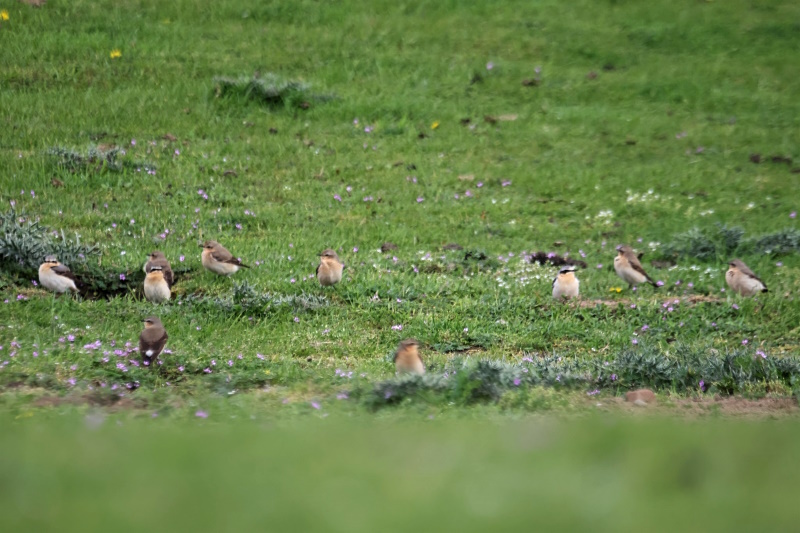 Plenty of Wheatears at Burton, May 1st © Carole Killikelly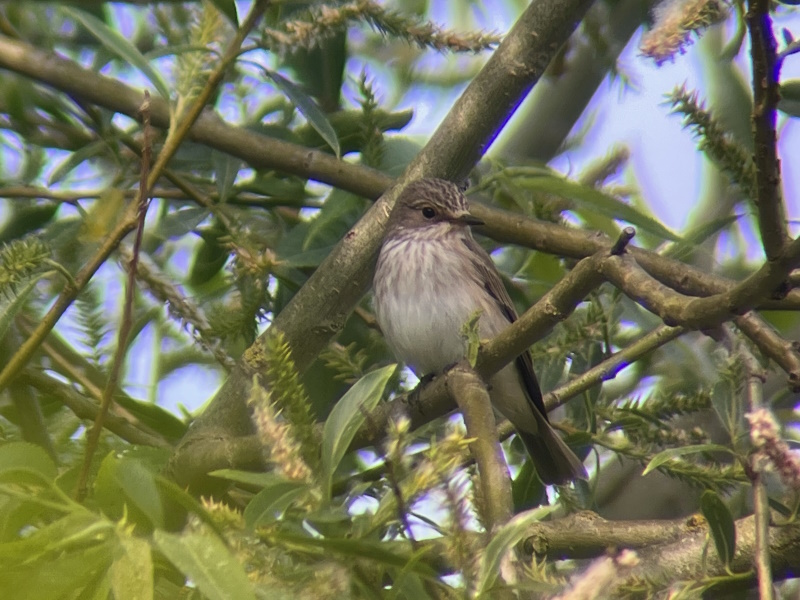 Spotted Flycatcher at Gilroy Nature Park, West Kirby, May 29th © Richard Whitby

The spring migration was still well underway in early May including at least 33 Wheatears and four Whinchats in the Burton Marsh area on the 1st. The first spotted Flycatcher was seen on the 5th but then it was just over two weeks later when we had the second one. The peak occurred on the 29th with five ranging from Burton to Hilbre. This was different to 2022 when all records were between the 13th and 22nd of May with a peak of eight on the 15th.

On the estuary Whimbrels were passing through in good numbers with 184 at Heswall on the 2nd the highest count.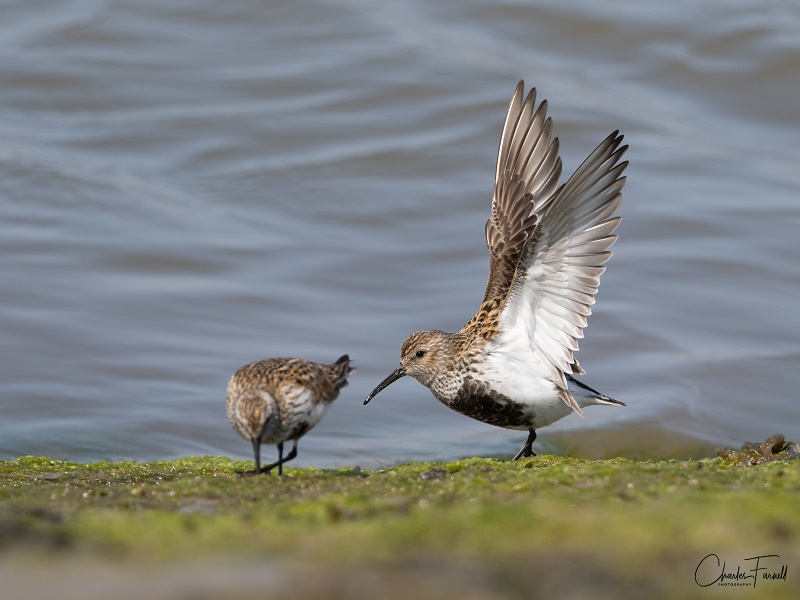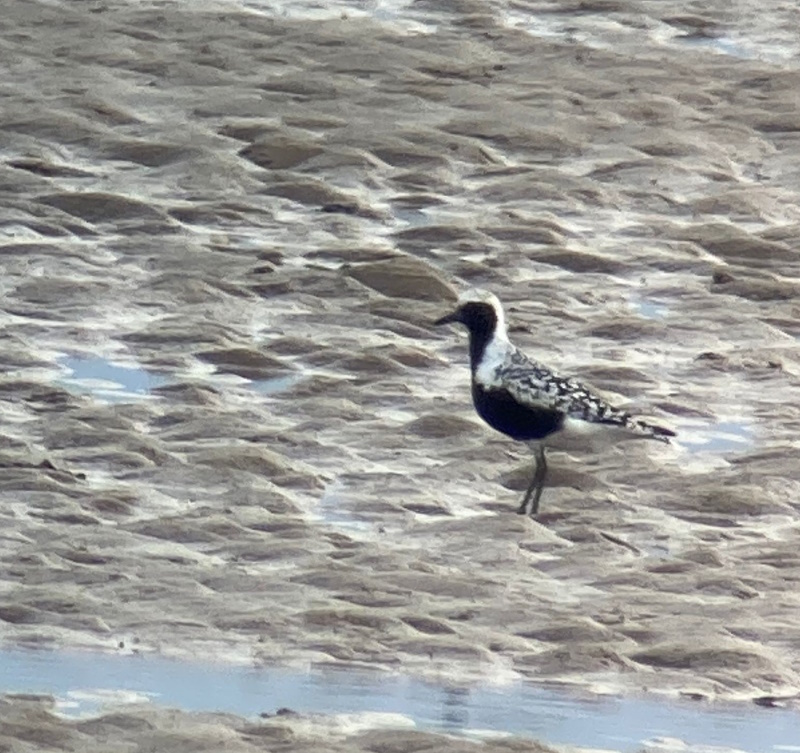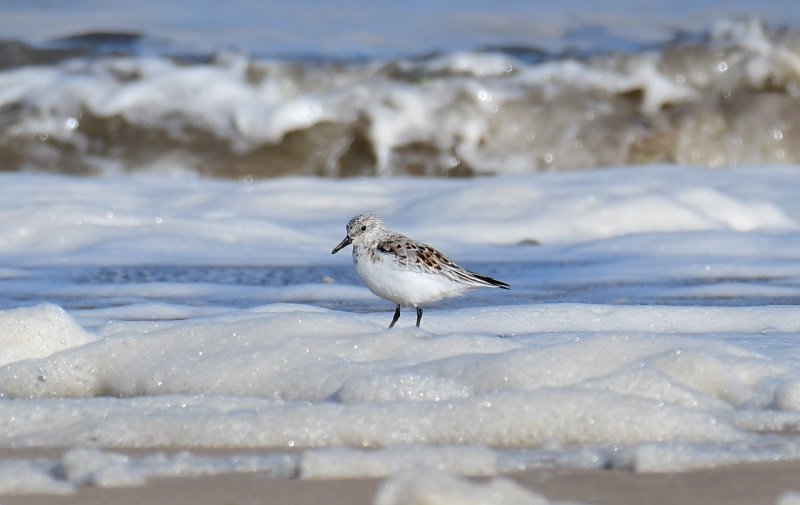 Waders in summer plumage, top Dunlins by Charles Farnell, middle Grey Plover by Sean O'Hara and bottom Sanderling by Tony Hession


One of the joys of birdwatching in May is seeing waders in breeding plumage as shown in the photos above, and many of these waders will have flown up frpm Africa where they will have spent the winter. These include a lot of Dunlin of the schinzii and artica races, all wintering in West Africa with the former mostly breeding in Iceland and the latter in Greenland. All our over-wintering Dunlin (alpina race) will have left us by April and breed in northern Scandinavia and north-west Siberia. At least that is what is supposed to happen, but every year, around mid to late May, we get some big Dunlin at Hoylake which look distinctly Siberian. One of these is shown in the blue circle below with a massive beak, a richly coloured back and a large black belly plate, this was photographed on May 19th this year. Dunlins looking like this breed in the far-east of Siberia and if you saw this bird on the shores of the Bering Strait it wouldn't look out of place. Dunlins belonging to races which breed in the eastern half of Siberia shouldn't be anywhere near the UK in May! So the presence of these 'Siberian' Dunlin at Hoylake is an intriguing mystery and I go into more details in my Dunlin - Rings, Races and Genes article.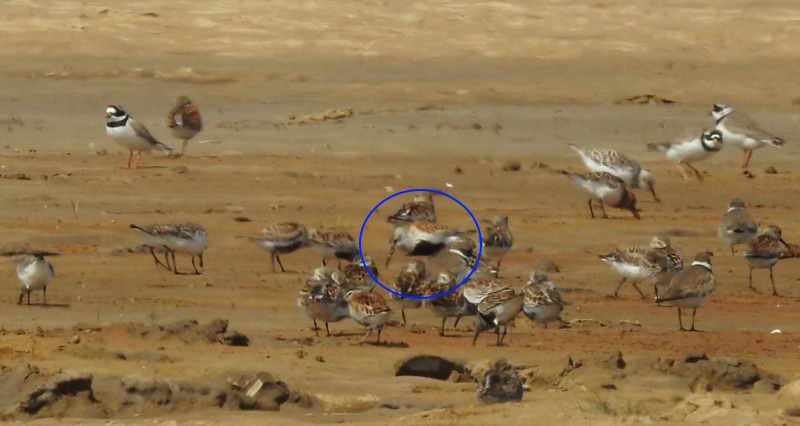 Dunlins with a few Ringed Plover and Sanderlings on Hoylake Shore, May 19th © Jane Turner
A 'Siberian' Dunlin shown in the blue circle.

Seawatching was fairly quiet but undoubtedly the highlight was two Puffins off Hilbre on the 7th, and the Black Guillemot which has been lingering off north Wirral for a few weeks put in another appearance giving good views from Hilbre on the 13th - see video on Twitter https://twitter.com/i/status/1657268260151107584.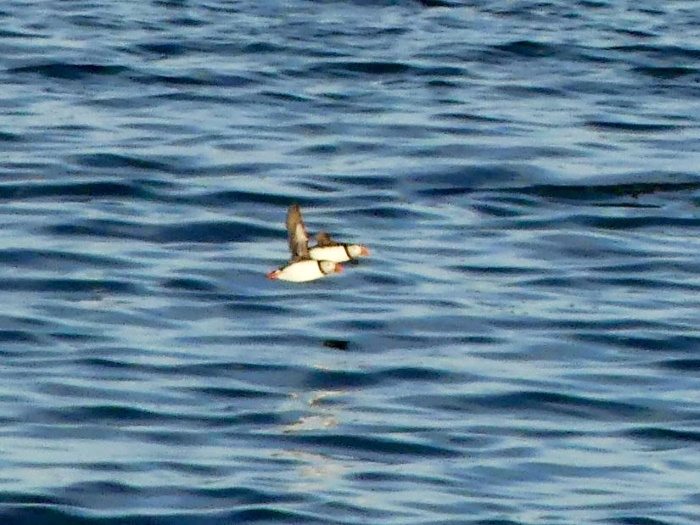 Puffins off north end of Hilbre. May 7th © Steve Williams (Hilbre Bird Observatory)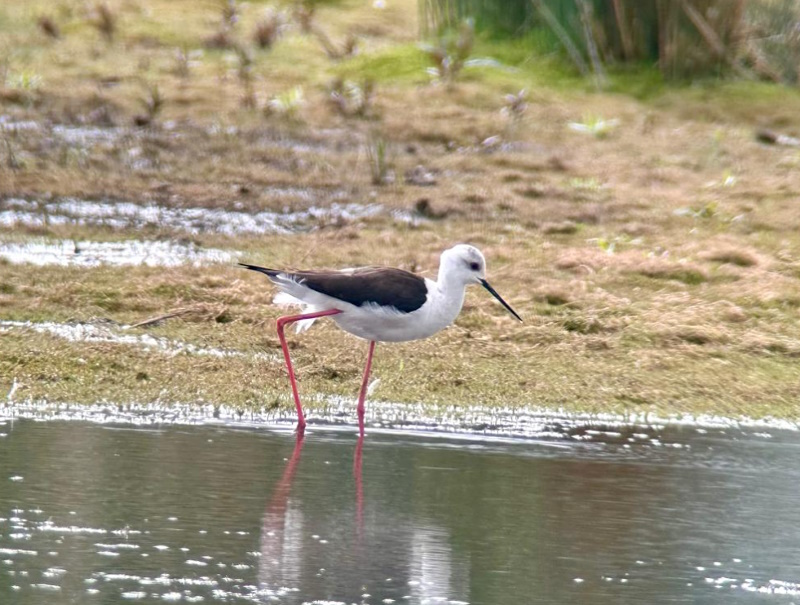 Black-winged Stilt at Burton Mere Wetlands, May 5th © Steve Williams

The Black-winged Stilt which was at Burton in April re-located to Warren Farm (Talacre) on the 4th before giving good views back at Burton Mere Wetlands on the 5th. A drake Garganey was recorded several times at Burton Mere Wetlands during May, is there a female lurking in the reeds somewhere??

Six Ospreys flew over during May, making a good total of 22 for the spring. There were several reports of Red Kites including three over Connah's Quay on the 27th, I wonder if any are breeding nearby? There are two Marsh Harrier nests at Burton Mere Wetlands with one male and two females - there have been some spectacular displays including food passes.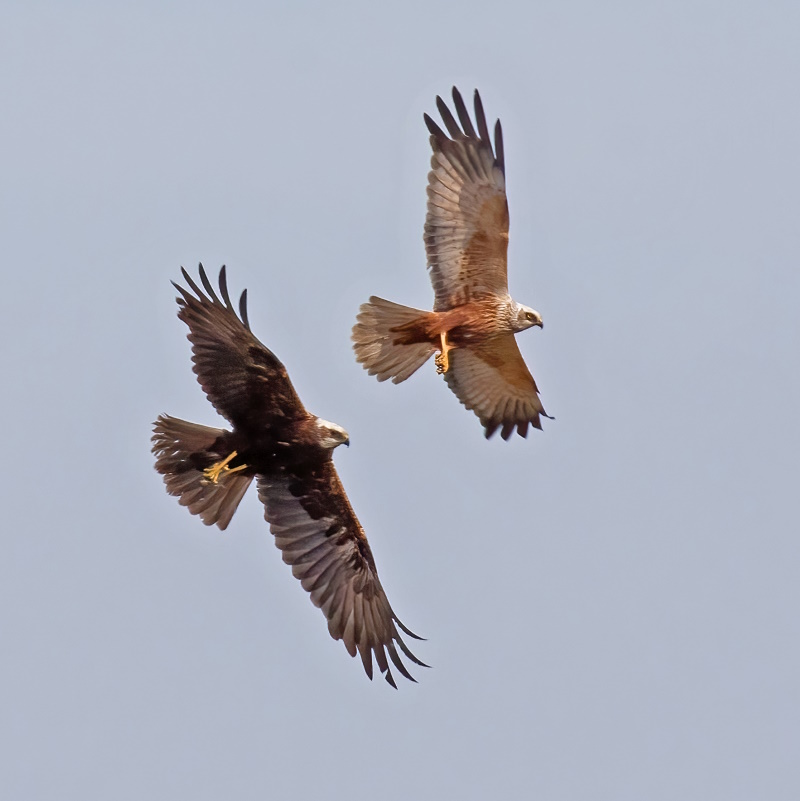 Marsh Harriers over Burton Mere Wetlands, May 23rd © Frank Burns

Many thanks go to Steve Williams, Steve Hinde, Alan Hitchmough, Richard Speechley, Allan Conlin, Richard Whitby, Bruce Atherton, David Leeming, Matt Thomas, Steve Round, Tim Kinch, Les Hall, Sean O'Hara, Jane Turner, Jeremy Bradshaw, Elliot Monteith, Mark Woodhead, Dave Harrington, John Crook, David Small, Alex Jones, Carole Killikelly, Neil Newman, Derek Bates, Tom Giles, Charles Farnell, Graham Parry, Tony Hession, Peter Sutton. Roy Wilson, Dave Edwards, Kim Fster, Josh Roberstson, Mike Buckley, Kenton Morgan, Geoff Roberstson, Chris Maltby, Steve Lane, Paul Todd, Marc Gannon, Gail Wilson, Bill Owens, the Dee Estuary Wardens and the Hilbre Bird Observatory for their sightings during Mayl. All sightings are gratefully received.

What to expect in June
Some waders will still be heading north in early June, look out for small flocks of Sanderlings and Ringed Plovers on the shore, these may well have flown all the way up from South Africa and will be heading to the far north to breed. We will also have some non-breeding waders over-summering here, the odd Whimbrel or two with a few Oystercatchers and Knots, also we often see a few hundred non-breeding Black-tailed Godwits at Burton Mere Wetlands and Connah's Quay. As early as the middle of the month we will start to see the beginning of the return migration with the first Spotted Redshanks, Green Sandpipers, Wood Sandpipers and Little Ringed Plovers. On the estuary gull numbers will start building, mainly Black-headed Gulls but also Mediterranean Gulls looking magnificent in full breeding plumage. The first Sandwich Terns will be returning by the end of the month, these early arrivals are probably failed or non-breeders, but there will be a lot more about Sandwich Terns in my next Newsletter.

The Little Terns nesting season will be well underway in June and a visit to Gronant and Point of Ayr is always a fantastic experience this time of year, lets hope for good weather and another good breeding season. At RSPB Burton Mere Wetlands there will be plenty of Avocet chicks on view on the main scrape and, hopefully, Lapwings and Redshanks will have had a good breeding season on the wet grassland. Shelduck broods should also be on view and last year we had a family of Shovelers to see. Little and Great Egrets will be breeding on the reserve and it's always possible we will have breeding Spoonbills and Cattle Egrets, Spoonbills should be present whether breeding or not.

Look out for hunting Hobbies, and Marsh Harriers with recently fledged young.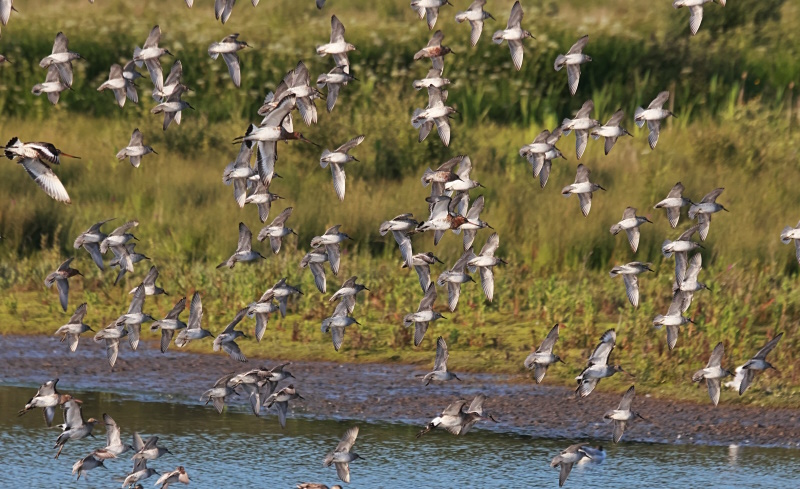 Knots and Black-tailed Godwits at Burton Mere Wetlands, May 30th © Carole Killikelly
These are non-breeding birds spending the summer here.

Forthcoming Events
June Highest Spring Tides (Liverpool)
Also see Tides page.
4th June, 11.55hrs (BST), 9.1m.
5th June, 12.39hrs (BST), 9.2m.
6th June, 13.27hrs (BST), 9.1m.
Forthcoming Events
Also see events at
https://events.rspb.org.uk/deeestuary