June 2022 Newsletter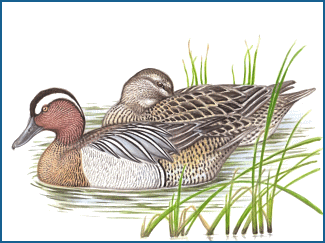 Species Spotlight - Garganey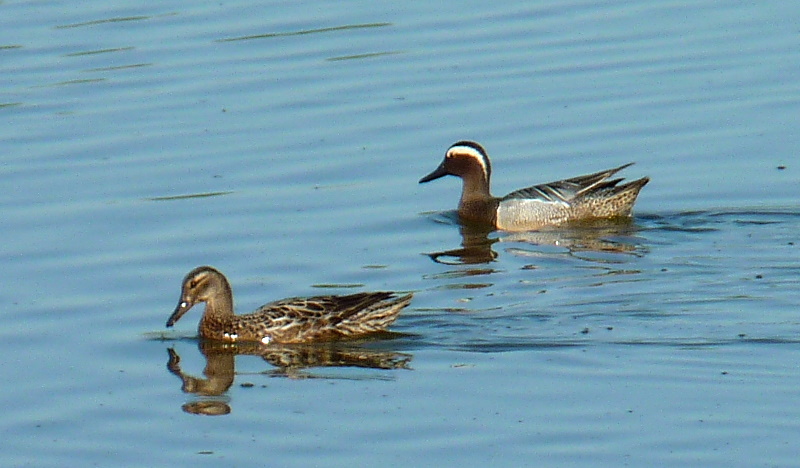 A pair of Garganey at Gilroy 'wader scrape'. April 2011 © Richard Smith


Late March this year saw a remarkable influx of Garganey into the UK. Exceptional numbers were seen in the south of England including a flock of 32 past Dungeness on the 21st and 26 offshore at Thurlestone, Devon, on the 19th with smaller flocks widespread across England and Wales, including here on the Dee Estuary. The influx appears to have been caused by a south-easterly airflow with very mild conditions encouraging the birds to move further north and west than normal during migration.

The first two arrived at Burton Mere Wetlands (BMW) on the early date of March 20th, there have only been five earlier records this century on the Dee Estuary. Numbers then quickly built up and by the 23rd we had seven. This relatively high number then remained for the rest of the month until reverting back to the more usual ones and twos by early April. A look at the half-monthly distribution chart below shows there were more than five times the number of daily records in the last two weeks of March 2022 than the total for those same two weeks for the previous 22 years!
Since the year 2000 the earliest bird to arrive was on February 16th (in 2012). Most first arrivals come in March but, as you can see from the half-monthly distribution above, the spring migration doesn't really get under way until the second half of April. For the return migration, which nearly always involves less birds than in spring, the second half of August is when we see most movement, tailing off into September and October. Winter records are virtually unknown in this country so it is surprising that we have had two birds in December - one at BMW in 2000 and one at Point of Ayr in 2006.
The max count of seven in March 2022 wasn't a record count for the Dee Estuary, that was at Inner Marsh Farm RSPB with nine on August 13th 1999, and the second highest (eight) was at the same site in April 2011. It is only comparatively recently that the Garganey has become a regular visitor to the Dee Estuary. In the 19th century it was a real mega rarity with Coward mentioning only three records, all on Burton Marsh (and that was for the whole of Cheshire). Even in the 20th century they were far from annual until the 1990s. A look at the Cheshire Bird Reports from 1964 reveals not a single bird was reported from the Cheshire side of the estuary until 1989 (although they were regular elsewhere in Cheshire by that time). It was the creation of the fresh water reserve Inner Marsh Farm by the RSPB in 1989 (later to be enlarged in 2011 and become BMW) which has made a huge difference to the fortunes of this species and since the 1990s they have became regular here during both the spring and autumn migrations. They are still quite scarce, though, and over 90% of records this century are of just one or two birds.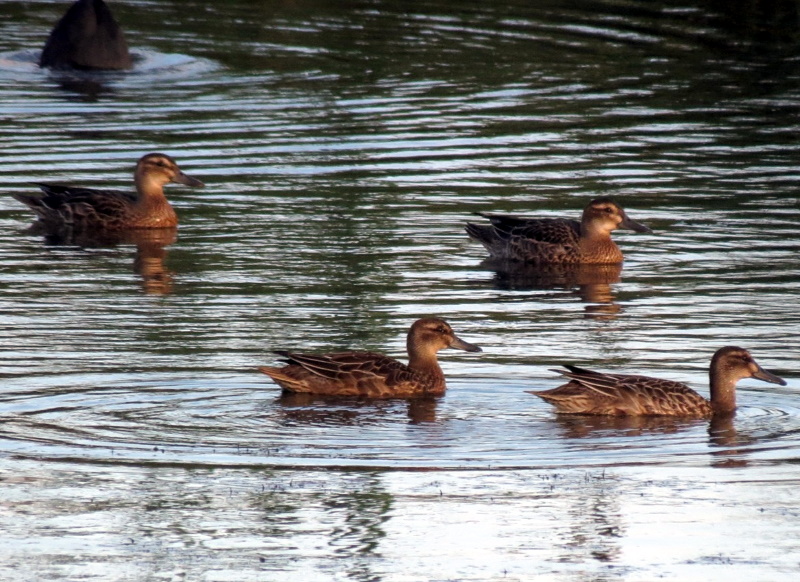 A late summer flock of Garganey at Burton Mere Wetlands in August 2012 © David King


The pie-chart shows the sites Garganeys have been found between 2000 and 2022 around the estuary with the majority, being seen at Burton Mere Wetlands/Inner Marsh Farm. The site with the second highest number of records is Point of Ayr and Talacre, but that is slightly misleading as most records involved just the single bird which stayed in the area for over a month in the autumn of 2012.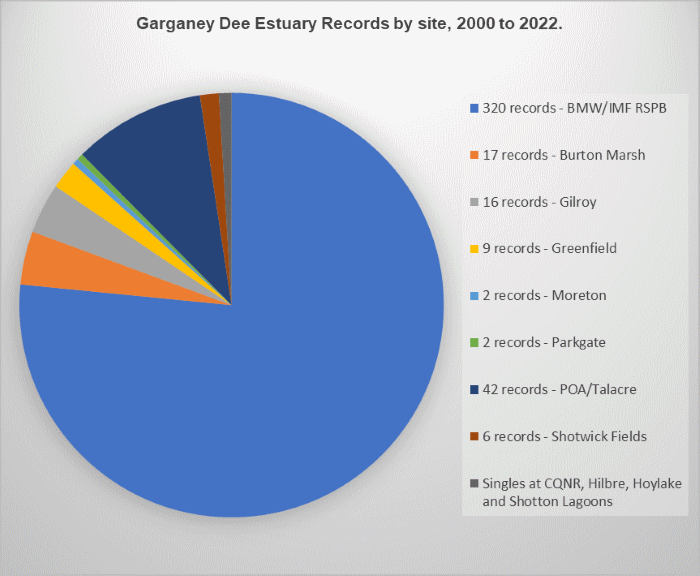 Garganeys aren't easy to monitor as they often hide away in reeds and can disappear for days before re-appearing, and then you are never quite sure if they are the original ones or 'new' in. Trying to establish the presence or not of these ducks is a particular problem during the breeding season when they are even more secretive. Breeding around the estuary has never been confirmed although they have bred elsewhere in Cheshire, the latest successful pair being at Woolston Eyes in June 2019 when they were seen with a brood of four young ducklings. However, there have been many cases of suspected breeding including at Shotton Lagoons way back in 1960 when a pair had been spotted a few times in the reeds in May and June before six immature birds were recorded in July - but they were by then fully grown so it wasn't possible to say for sure that they had hatched on the reserve. More recently, at BMW, several times there have been one or two Garganeys present through the summer and they have been reported as either 'possible breeding' or 'probable breeding' to the Rare Breeding Birds Panel, but young ducklings have never been seen here.

Since that very busy period in March and early April it's been very quiet this spring for Garganeys with just two seen in May, one of which turned up at BMW on the very last day of the month. May be this will be one that stays for the summer!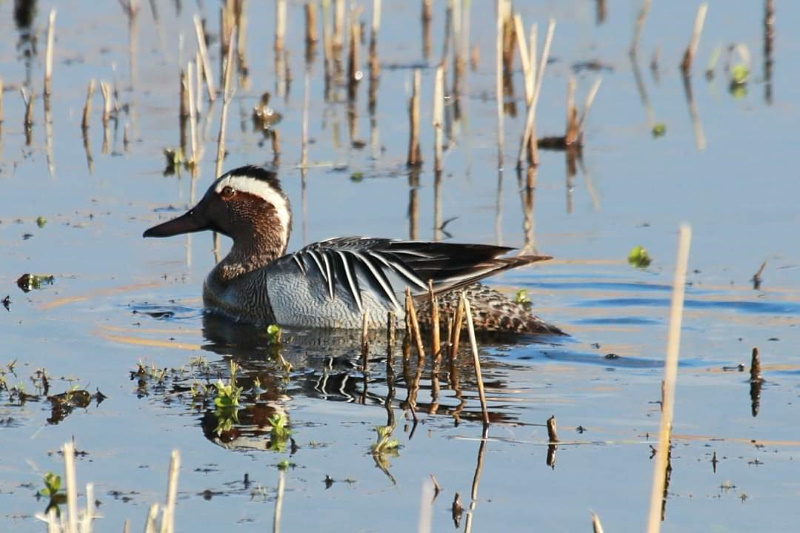 A drake Garganey at Burton Mere Wetlands in early April 2022 © Carole Killikelly

References
1. Birdwatch magazine, May 2022.
2. Cheshire Bird Reports/Cheshire & Wirral Bird Reports from 1964 to 2020 (CAWOS)
3. North-east Wales Bird Reports (various between 2000 and 2019), Clwyd Bird Reporting Group.
4.
Birdguides
reported sightings of Garganey 2000 to 2022.
5. Garganey sightings in
www.deeestuary.co.uk
.
6. T.A. Coward, The Fauna of Cheshire, Witherby, 1910.
7. Rhion Pritchard et.al, The Birds of Wales, Liverpool University Press, 2021.
8. David Norman, Birds in Cheshire and Wirral (Breeding and wintering atlas), 2008 (CAWOS).
Richard Smith

Colour Ring Report


An interesting selection of colour-ringed birds this month and a special thanks to the very active Mid-Wales Ringing Group who ring many of the birds we see here, including three of the ones described below.
Cormorant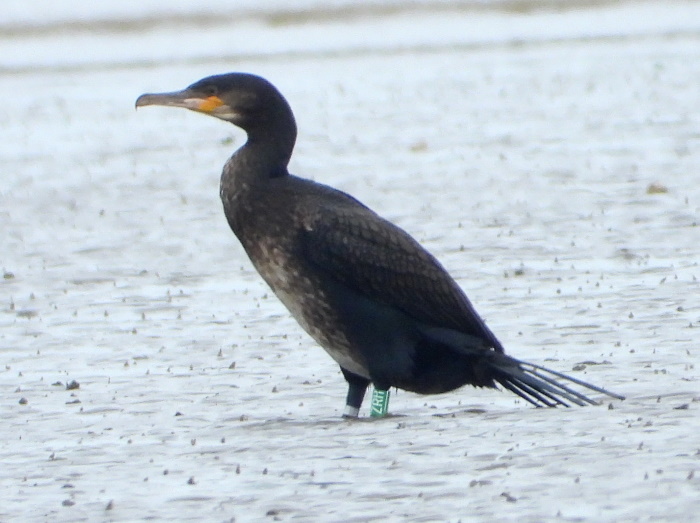 Cormorant Green ring (ZRH) near Hilbre in August 2021 © Richard Smith


Green Ring ZRH.
Ringed on Puffin Island, Anglesey, on 02/07/2021 as a chick.
Recorded:
East Hoyle Bank just east of Hilbre on 14/08/2021
Bird Rock (Red Rocks) on 15/05/2022.

When recorded near Hilbre last August it was the first sighting of that year's chicks away from Puffin Island.


Dunlin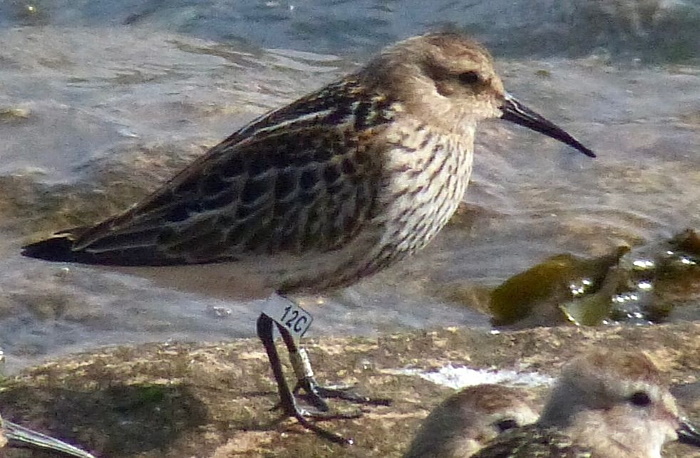 Dunlin White flag C12, Hilbre in September 2021 © Steve Williams

White flag C12
Ringed near Gdansk on 15/08/2021
Recorded at Hilbre on 05/09/2021

We've only just got feedback for this Dunlin. Sometimes we do have to wait months for feedback - perhaps the ringer lost his notes!
Over the decades the Polish Bird Ringing Centre have ringed many thousands of Dunlin in the mouth of the Vistula River near Gdansk. We've seen quite a few here in the past and they have all had white rings. I guess, therefore, they have now run out of combinations to put on the rings so have now started using white flags - and this is the first flagged one we've seen.


Turnstones
Two flagged turnstones in three days was a nice surprise in mid-May.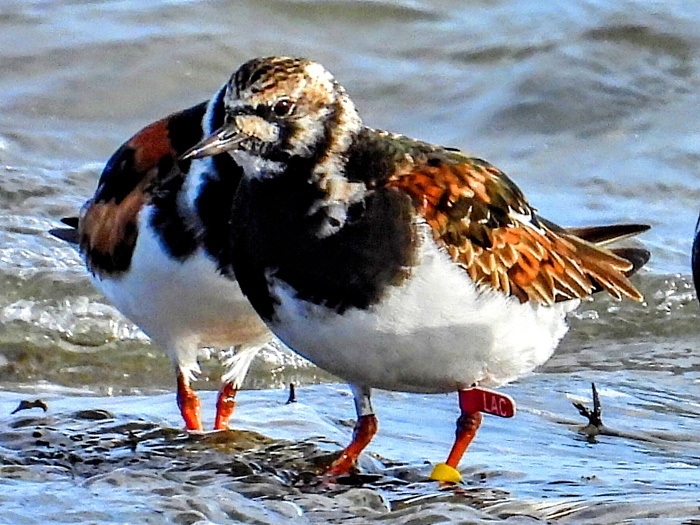 Turnstone Red flag (LAC) on Hilbre, May 2022


Red Flag (LAC) - Y
Ringed at Ynyslas, Cardigan Bay, on 06/09/2022.
Recorded:
Gavres, Brittany, France on 2/03/2022 and 04/03/2022.
Hilbre on 14/05/2022.

This bird has only been recorded on migration. Quite a lot of Turnstones do winter around Brittany and the Atlantic coast of France, or it could have travelled travel all the way from Mauritania like the next bird.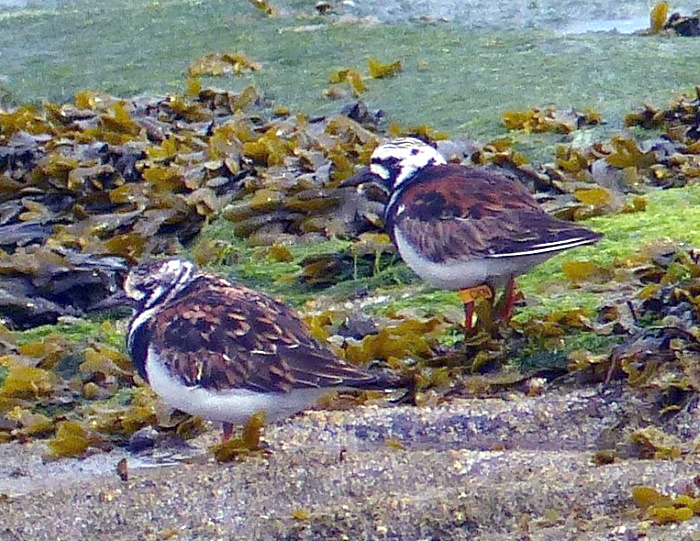 Orange Flag (CKN) on Hilbre May 2022 © Andrea Sawiak


Orange Flag (CKN) - R
Ringed on the island of Schiermonnikoog in the Waddensea, Netherlands, on 26/07/2017
Recorded:
Ban d'Arguin, Mauritania on 14/01/2018, 9/12/2018 and 10/12/2018.
Hilbre on 12/05/2022.
This bird's presence in the Waddensea in July and the fact that it overwinters in Mauritania suggests this is one that breeds in Scandinavia (or further east) rather than Greenland or north-east Canada. There can't be many, if any, colour-ringed Turnstones which have been recorded both in Mauritania and on the Dee estuary.


Black-tailed Godwit
LO-RH (lime green over orange - red over yellow enscribed with a black H)
Ringed on the Tagus Estuary, Setubal, Portugal, on 07/01/2019.
Recorded on four dates in February 2019 and twice in February 2021 on the Tagus Estuary.
Seen at Burton Mere Wetlands on 04/04/2019 and 13/04/2022.

Oystercatcher
O-G(MH) (orange ring - green ring enscribed with MH)
Ringed on the River Severn by Forden, Montgomeryshire.
Recorded at Thurstaston on 09/04/2022.

Whimbrel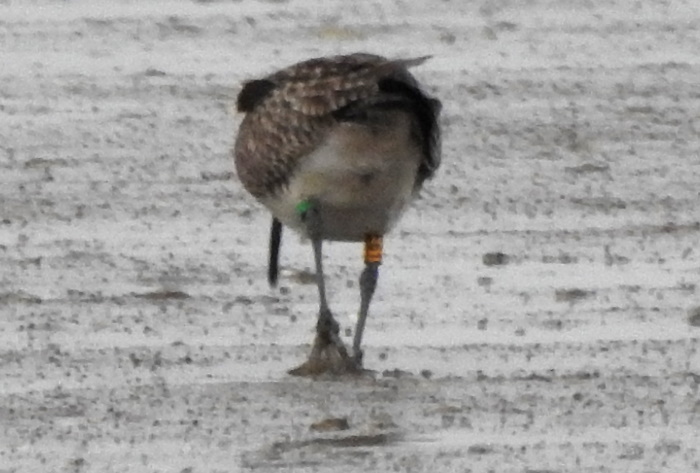 Whimbrel G-Y(E61) at Thurstaston, May 2022 © Steve Hinde

G-Y(E61)
Ringed at Llanon on Cardigan Bay on 02/05/2018
Recorded at Thurstaston on 08/05/2022

Lesser Black-backed Gull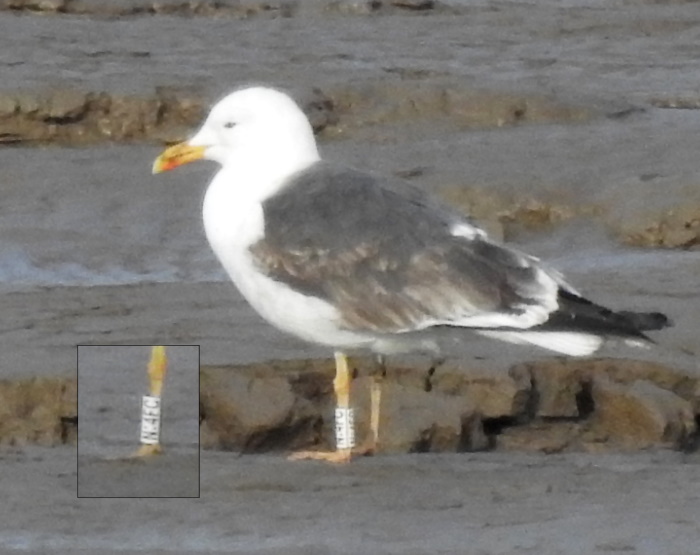 Lesser Black-backed Gull N:4FC at Heswall May 2022 © Steve Hinde

N:4FC on a white ring.
Ringed in Puerto de la Caleta de Velez (just east of Malaga), Spain, on 14/02/2020 as a second calendar year bird.
This bird spent October to April at the ringing location (with a few sightings also in Malaga) during the winters of 2020/21 and 2021/22. Last seen there 11/04/2022.
Recorded at Heswall on 14/05/2022.

No other records so we don't know if it spent two summers elsewhere on the Costa del Sol or, perhaps, returned to the UK. It's presence at Heswall in May this year suggests it may be returning to breed in the UK where it presumably originally hatched.
Colour Rings were recorded by Richard Smith, Steve Hinde, Andrea Sawiak, Richard Speechley, Matt Thomas, Ed Wilson and Lesley Dolbear.

Richard Smith

May Bird News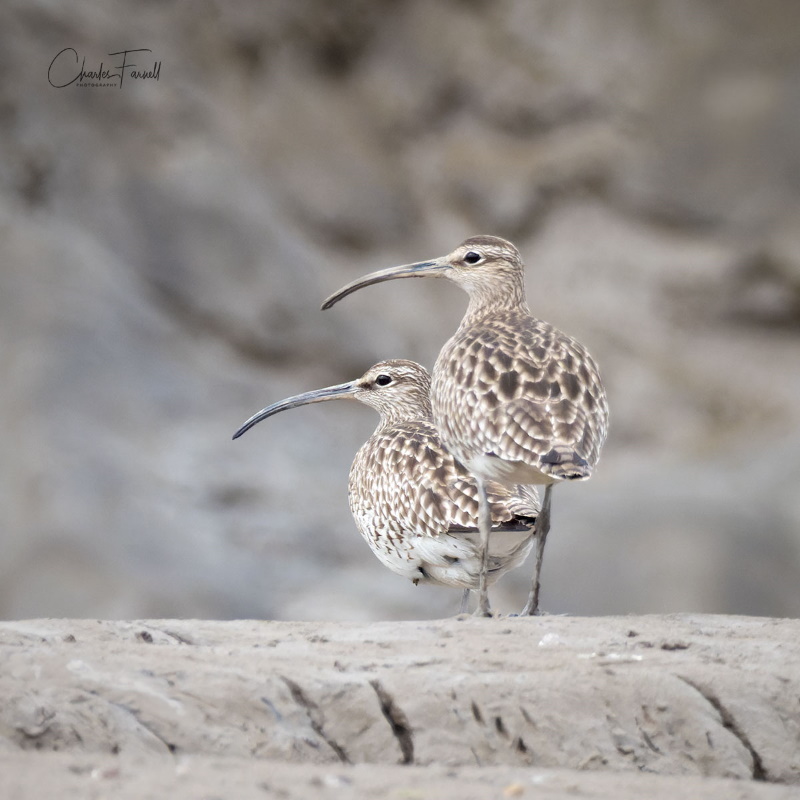 Whimbrels at Heswall, May 5th © Charles Farnell

Spring migration was still in full swing during the first half of May. Migrants included four Wood Sandpipers at Burton Mere Wetlands on the 3rd, three Arctic Terns off Meols on the 4th and a total of three Curlew Sandpipers between the 15th and 17th. But the most notable record was of 211 Whimbrel counted at Heswall Shore on the 5th, that's three years in a row we've had a record high count for the estuary (173 in 2021). Several hundred Dunlin were on Hoylake Shore on the 16th and included the sub-species arctica, the smallest of the Dunlin which breed in Greenland, but there were also several large Dunlin which looked very like the centralis race (see photo below) which have never been confirmed as a British visitor (i.e. not on the British list) even though we see them at Hoylake every May! These big Dunlin breed across northern Siberia. See Dunlin - Rings, Races and Genes for more info on the mysteries of Dunlin races.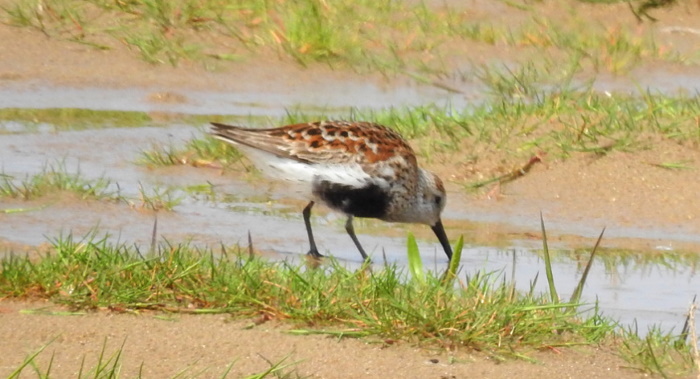 Dunlin '
centralis
' at Hoylake, May 16th © Jane Turner
The 16th saw the peak of the Spotted Flycatcher migration with over five at Leasowe and at least three at Hoylake. Also at Hoylake on the same day was a Black Tern. There were 11 Cuckoo records through the month, a good total for this declining species.
Six Ospreys, seven Hobbies and seven Red Kites were spotted through the month, and there was an unusually late sighting of a Short-eared Owl at Gronant on the 26th. But undoubtedly the most unexpected record was a Puffin off Connah's Quay Nature Reserve on the 15th. This is almost as far into the estuary as you can get, very unusual for a species which is normally only ever seen, and then only two or three times a year, out in Liverpool Bay.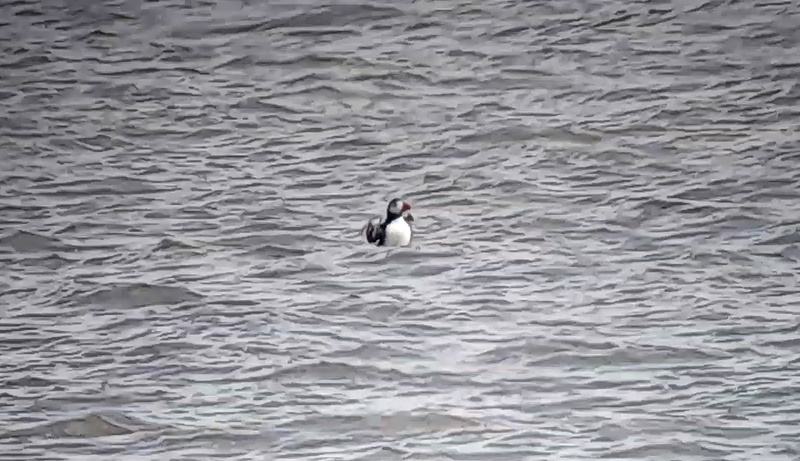 Puffin off Connah's Quay Nature Reserve, May 15th © Deeside Naturalists Society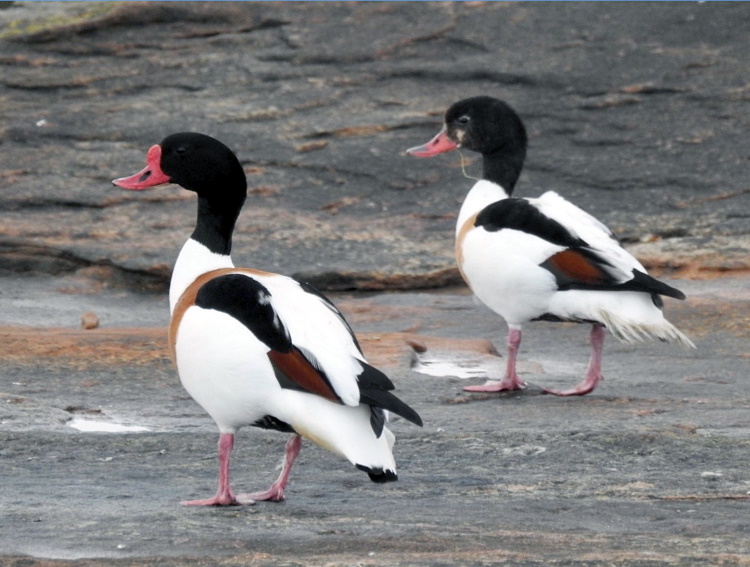 Shelduck pair on Hilbre, May 29th © Alan Hitchmough

Many thanks go to Matt Thomas, Geoff Robinson, Steve Williams, Steve Hinde, Alan Hitchmough, Richard speechley, Allan Conlin, Richard Whitby, David Small, Bruce Atherton, Mark Woodhead, Jane Turner, David Leeming, Paul Vautrinot, Dave Edwards, Paul Mason, Frank Burns, Carole Killikelly, Jeremy Bradshaw, Roy Wilson, Mark Gibson, David Thompson, Charles Farnell, Paul Greenslade, Bill Wonderley, Sean O'Hara, Graham Connolly, Elliot Montieth, Chris Maltby, Jennifer Harwood, Benjamin Lane, Les Hall, Robin Moody, Peter Haslem, Geoff Hawkin, Colin Wells, Steve Hart, Steve Round, Gail Wilson, Andrew Ellis, Tony Hession, Ian Fraser, Andrea Sawiak, Richard Jones, David Wilson, John Hemmings, Derek Bates, Lesley Dolbear, Ed Wilson, the Dee Estuary Wardens and the Hilbre Bird Observatory for their sightings during May. All sightings are gratefully received.

What to expect in June

It may be approaching mid-summer but for the birds the beginning of June is still spring with a few waders migrating through on their way north, whilst by the month-end it can seem like autumn with some arriving back on the estuary after breeding. Look for Sanderling and Ringed Plover on the first few days of the month as they will have come from a long way south, perhaps as far as South Africa and will be on their way to the far north. As early as mid-June it's possible that we will have the first Spotted Redshanks back, probably at Burton Mere Wetlands, and both Common and Green Sandpipers could arrive back over the following two weeks.

We do have over-summering birds on the estuary including those that breed here such as Avocet, Redshank and Lapwing, and last year there were record numbers of pairs at Burton Mere Wetlands. We also see non-breeding birds including Black-tailed Godwits and sometimes good numbers of Knots. But the first of the breeding Black-tailed Godwits should start flying back in the last few days of June looking wonderful in their full breeding plumage.

Other breeding birds on the estuary are terns and a visit to the Little Tern colony at Gronant, one of the biggest in the country, is an amazing experience at this time of year.

Given a strong westerly sea-watching can be good with Manx Shearwaters and perhaps Storm Petrels in view, but we really don't want gales in June as it will play havoc with those Little Tern nests at Gronant!
June can bring a really good rarity or two, and last year we had a Red-back Shrike at Leasowe and a probable Caspian Tern distantly seen heading west past Hoylake.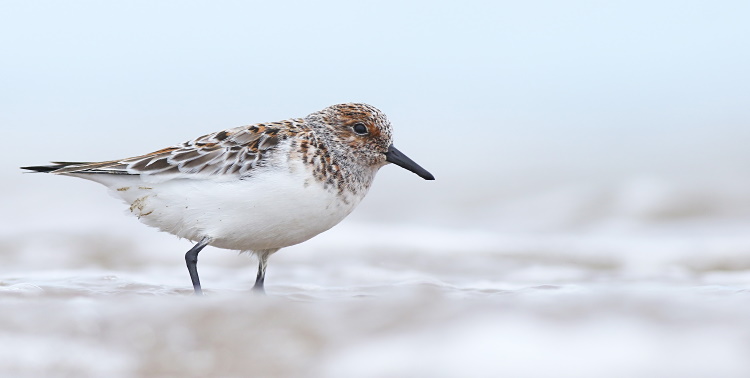 Summer plumaged Sanderling on East Hoyle Bank, May 21st © Elliot Montieth

Forthcoming Events
June Highest Spring Tides (Liverpool)
Also see Tides page.
15th June, 12.24hrs (BST), 9.4m.
16th June, 13.15hrs (BST), 9.4m.
Forthcoming Events
see https://events.rspb.org.uk/deeestuary