June 2021 Newsletter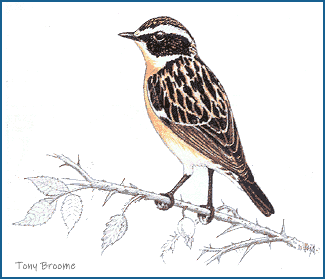 Wetland Bird Survey 2019/20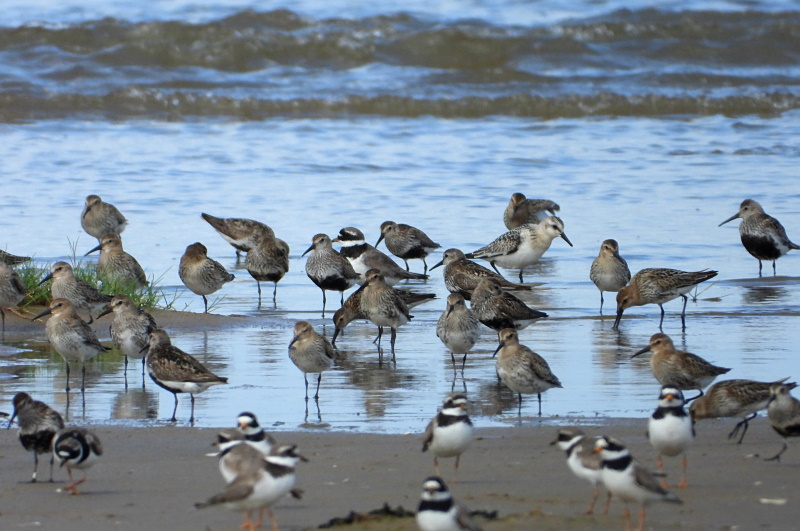 August high tide at Hoylake and plenty of waders to count © Richard Smith


Both the local, Dee Estuary, and National Wetland Bird Survey Reports for 2019/20 have just been published and, as always, gives us the opportunity to see how our wetland birds are doing.

The WeBS pages on the BTO website are a tremendous resource. The latest report can be downloaded for free and you can look at all the updated data, including that for the Dee Estuary. But not only that, data goes all the way back to 1965/66 when the then Birds of Estuary Enquiry started. It might amuse you to look at that year for the Dee Estuary when the total count for all species, according to the table, was just two Pink-footed Geese! But that was the only species they counted that year (we get quite a few more these days - see below) and it wasn't until 1970/71 that a full survey was undertaken. All the annual reports going back to 1999/20 are also available. See Ref 3 for the link.

The index for the latest report, 2019/20, is shown below to give you an idea of the contents. Full of interesting articles, I found the four Species Focus articles of particular interest.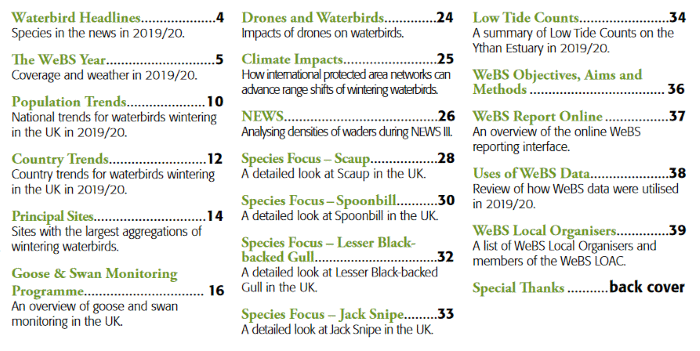 I will now just briefly summarise some of the highlights from the Dee Estuary:
Pink-footed Geese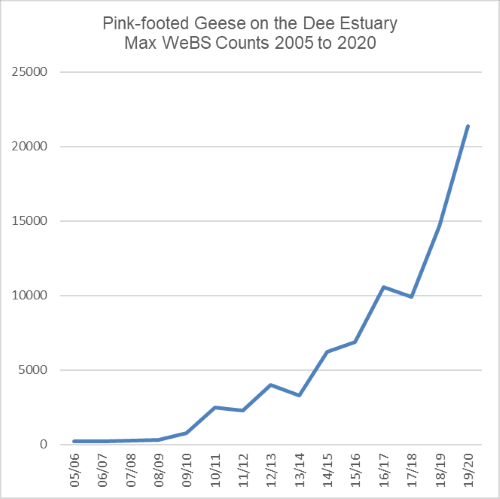 The increase in Pink-footed Geese numbers on the Dee Estuary over the past 10 years has been phenomenal, and shows no sign of slowing down any time soon. In 2019/20 the Dee Estuary was the seventh most important site in the country. An amazing achievement when you consider the six sites with more birds includes major sites in Scotland, such as Montrose Basin and Moray Firth as well as major English sites such as North Norfolk and Martin Mere. I quote from the Dee Estuary WeBS Report 2019/20 which summarises their movements: "During the autumn and early winter many birds spend most of their time feeding on fields along the Wirral side of the estuary and further inland along the Dee valley (at least as far as Aldford) but usually returning to roost on the estuary (so not recorded in Dee Estuary WeBS counts). This winter birds were recorded even more widely eg 500 present at Bar Mere with birds often seen arriving from the north west during the morning. As winter progresses, they spend more time grazing the saltmarsh off Parkgate and in late winter, with the cessation in shooting, they move onto Burton Marsh."

Egrets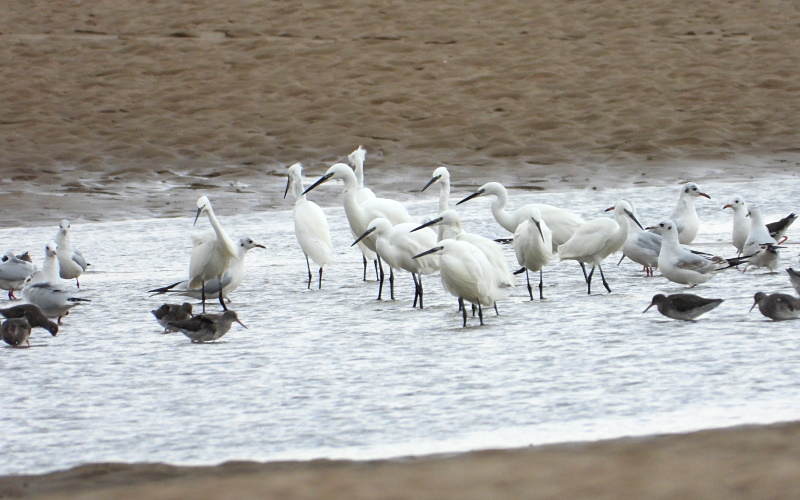 Little Egrets with Redshanks and Black-headed Gulls in the channel at Meols, October © Richard Smith


There is certainly something about the Dee Estuary which the Egrets love. Last year I was reporting that in 2018/19 the Dee Estuary had the highest count in the country for Little Egrets with a roost count of 425 in August 2018. Only 260 were counted in 2019/20 but that will be a big underestimate as a full roost count was not undertaken. However, there were a record number of pairs breeding in the estuary with a total at two sites of at least 110.
Great Egret numbers on the Dee Estuary were the second highest in the country in 2019/20 with 29, second only to the Somerset Levels with 62. Three pairs bred successfully fledging 11 young. Note the max number counted in 2019/20, on a non-WeBS day, was 35 on August 2019.
Ducks
Last year I was reporting really good numbers of ducks for the winter of 2018/19, unfortunately the reverse happened in 2019/20 with all our commoner ducks showing a fall in numbers. This was thought to be due them staying further east and north due to a very mild winter on the continent. Typically Teal have shown the wildest fluctuations in numbers with a max of 3,084 in 2017/18, 9,892 in 2018/19 and 4,152 in 2019/20 ( see Species Spotlight - Teal).
Waders
Wader counts were also generally on the low side in 2019/20. But it is good to see numbers of Curlew increasing on the Dee Estuary for three years running. The Dee Estuary was the third most important site for this species in 2019/20 and the five year average is 3,553.
Knot numbers in the country increased significantly and the index was the third highest since WeBS began in the late 1960s, this was due to an exceptionally good breeding season in 2019. The Wash is by far the most important site in the country for them and they always peak there in the autumn when birds which have moulted on the Waddensea start moving west. In 2019 numbers peaked in September on the Wash with a remarkable 199,625.

Knot is a difficult species to count on the Dee Estuary, at low tide they are scattered over miles of mud banks whereas at high tide many leave the estuary altogether to roost anywhere between Southport and Seaforth (the latter undisturbed site has become increasingly important in recent years). What the data shows in the 2019/20 season illustrates the point. The January 12th high tide count for WeBS was only 5,185, but a few days earlier, on January 4th, Steve Hinde had 22,000 off Thurstaston at low tide and this was submitted as a WeBS supplementary count and it is this larger count shown in the BTO WeBS data. Incidentally a Low Tide WeBS count in November 2020 gave a nice high count with large numbers of birds on Dawpool Bank off Thurstaston, I'm not sure what the total figure was but it will be well over 30,000.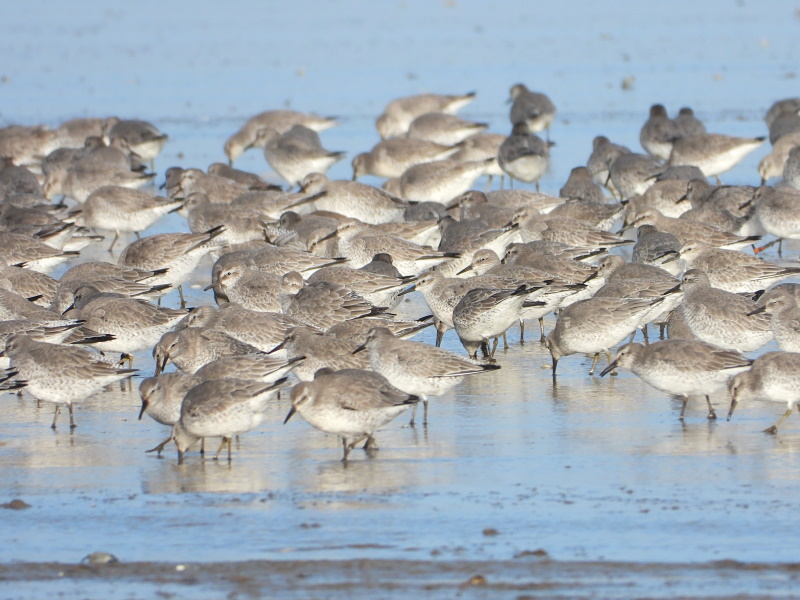 Knots at Meols, December © Richard Smith

References
1. Neil Friswell (Approved by Colin Wells), Dee Estuary and North Wirral Foreshore WeBS Annual Report 2019/20.
2. Frost T.M. et al., Waterbirds in the UK - Summary report 2019/20:
https://www.bto.org/our-science/projects/wetland-bird-survey/publications/webs-annual-report/waterbirds-in-the-uk

3. WeBS Report Online data:
https://app.bto.org/webs-reporting/numbers.jsp
Richard Smith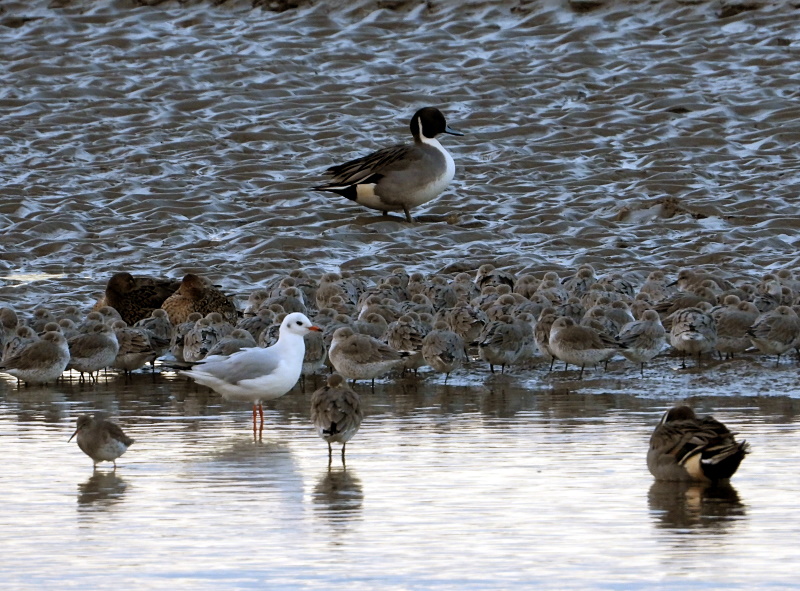 Early morning at Thurstaston, November © Richard Smith

Redpolls
Apart from a few colour-ringed Knots early in the month, more of which in a forthcoming newsletter, there are no colour-ringed birds to report this month. Knowing about the large numbers of Redpolls Jane Turner has been ringing in her sea-front garden at Hoylake this spring I asked Jane about them and she very kindly wrote this fascinating article about them: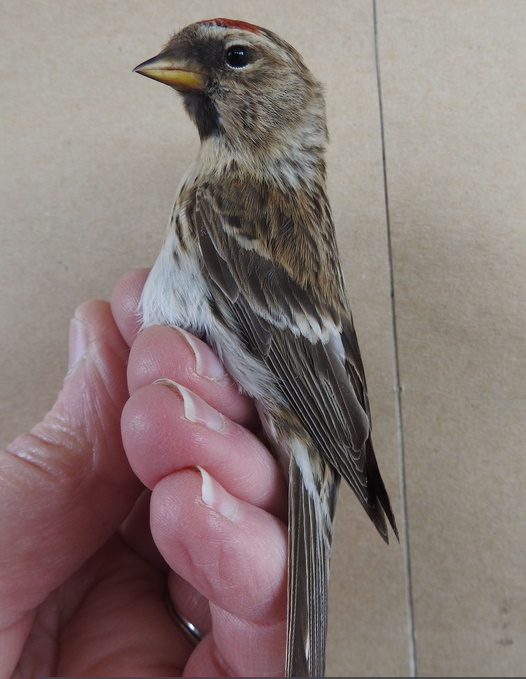 "Redpolls continue to fascinate and baffle in equal measure. This was the 80th this week - undertail that an expiles would be proud of, head that appears to have come from a rostrata and biometrics that rule nothing in or out". Twitter: @Turnershbo Apr 22, 2021.

There is a substantial spring passage of Redpolls through the Dee Estuary and north Wirral in most years. The peak of the passage occurs at a time when any local birds should be nesting and the similarity of the passage to movements of Iceland/Greenland bound Wheatears and White Wagtails makes it tempting to suggest that the Redpolls too are heading that way.

Redpoll taxonomy is on one hand complicated and on the other hand incredibly simple. Knox 1988 [Ref 1.], is still regarded as the "bible" for Redpoll taxonomy, names 6 forms,
[1] cabaret [Lesser Redpoll - small buffy brown]
[2] flammea [Mealy Redpoll, larger, paler]
[3] rostrata [Greater or Greenland Redpoll huge and brown]
[4] hornemanni [Hornemann's Arctic Repoll - huge and pale]
[5] exilipes [Coue's Arctic Redpoll - long-tailed small-billed and very pale]
[6] islandica [Icelandic Redpoll - often regarded as a hybrid swarm between rostrata and hornemanni that as a rule are large, with dark birds outnumbering pale birds by about 10:1]

On the other hand, more recent DNA studies [ Ref 2, Mason & Taylor 2015 ] suggest that there is only one species of Redpoll and the huge variation that is seen in them comes from gene expression. They suggest the size, shape and plumage of Redpolls develop with time as a response to their environment eg. Shorter, thicker bills, and longer tails for birds that predominately feed on the ground.

A quick internet image search of Icelandic Redpolls - [use "Aušnutittlingur" as a search term], shows that the situation there is even more complex than the literature suggests. With birds of every appearance imaginable, including ones that look just like Lesser Redpoll. Around half the Icelandic population is migratory, and it seems likely that they winter in Western Europe, though there are no ringing recoveries to support this. The dark birds would be hard to differentiate from Lesser Redpoll unless they were really big ones, whilst the pale birds might easily be mistaken for exilipes, only their more robust bills giving them away. The birds which pass Wirral in late spring, and are also recorded in North Wales, Northern Ireland and NW Scotland, include birds which appear to be "North Western" , i.e. rostrata/dark islandica and a few pale islandica, mainly from Greenland and Iceland.

In 2021 I've caught 130 Redpolls. None of them have been big enough to be certain North-Western (NW) birds which should be from 73 to 85mm in wing length, though some could be at the very bottom end of the population and some really have the long winged, long tailed large-billed swarthy look of dark NW birds. What is clear is that as a cohort they are bigger than standard British birds, which average 69mm wing length (cabaret).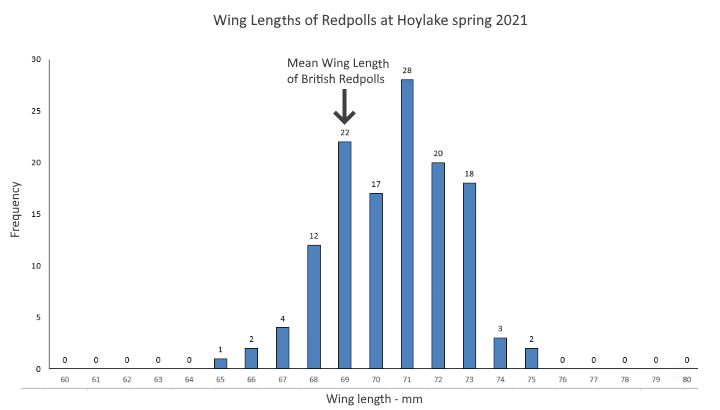 I've been sound recording the birds as I release them, and it would appear that many would not sound out of place in Iceland: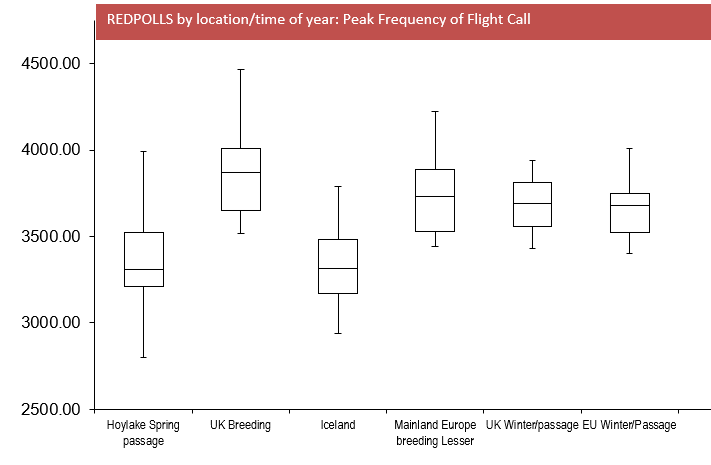 Plumage and structure-wise they are amazingly varied.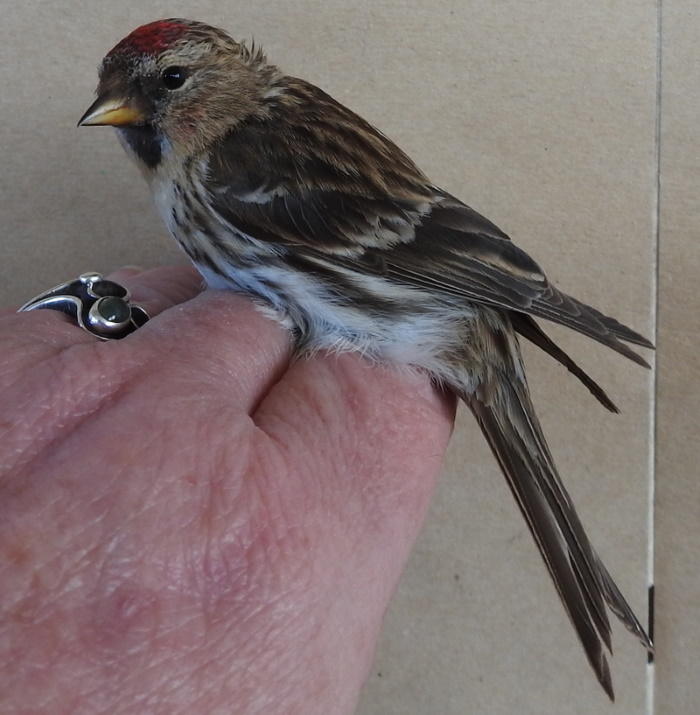 This, above, has the structure and plumage of NW Redpoll, long-winged, long-billed and exceptionally long-tailed, though it's not big enough.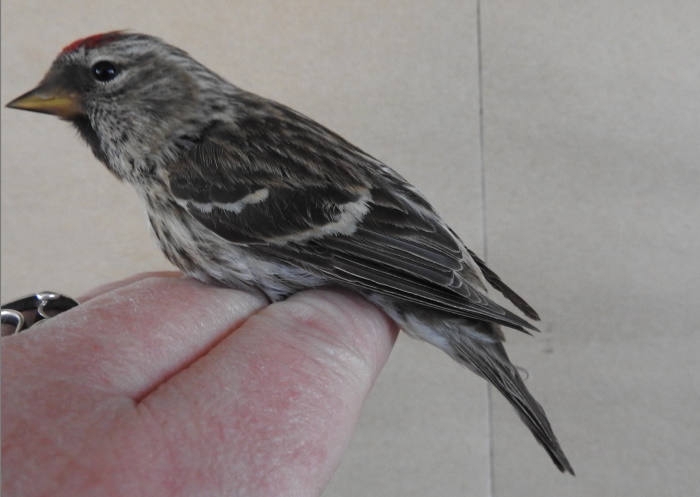 This one is cold/grey, also large-billed, but very short-tailed.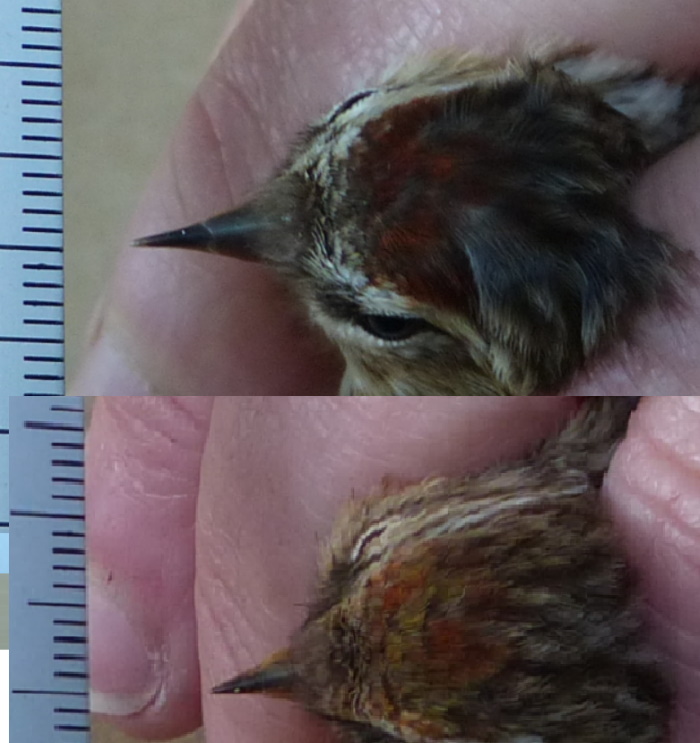 These two were caught on the same day - the long-billed bird above was nearly 2cm shorter in body length than its companion.

What is I think most telling is the number of birds that have mixed characteristics - i.e a rump from one form and undertail from another.

for example: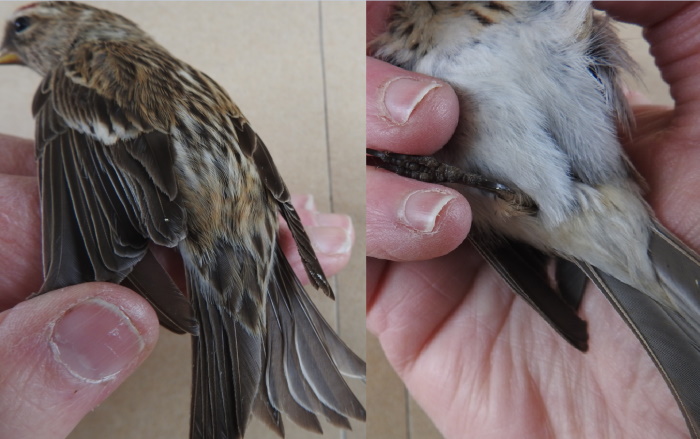 This bird has heavily streaked rump, but a completely unmarked undertail - like exilipes.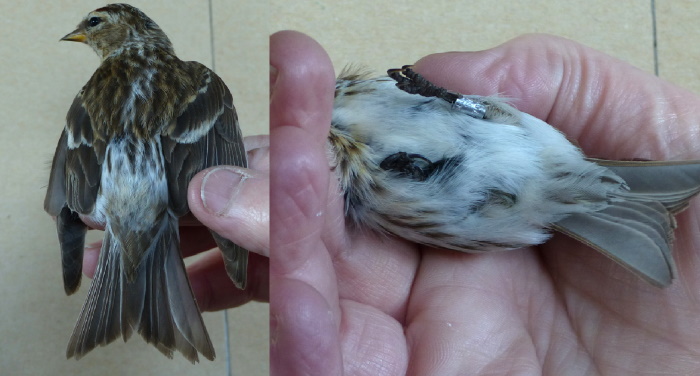 Whilst this one has a rump that could pass as exilipes, but quite a streaky undertail.

I think that the most plausible explanation for these birds is that there is a mixed population of Icelandic and Lesser Redpolls somewhere. Whether this is in Iceland, as suggested by the passage dates, or perhaps in NW Scotland, remains to be determined. Certainly, Icelandic Redpolls have been suspected of breeding in the Outer Hebrides [Andrew Stevenson pers.comm] though the numbers passing through NW UK in May do suggest a much very larger population than is known to breed in the Uists. It's also possible that the studies in Iceland, which have relatively small sample sizes for the migrant population, have missed these birds. Hopefully there will be some recoveries that shed light on this.

References:

1. Knox, A, The Taxonomy of Redpolls, Ardea 76, p1-26 1988

2. Mason, N.A & Taylor S.A, Differentially expressed genes match bill morphology and plumage despite largely undifferentiated genomes in a Holarctic songbird, Molecular Ecology, 24:12 3009-3025 2015
Jane Turner
(all photos and graphs in this Redpoll article © Jane Turner).


May Bird News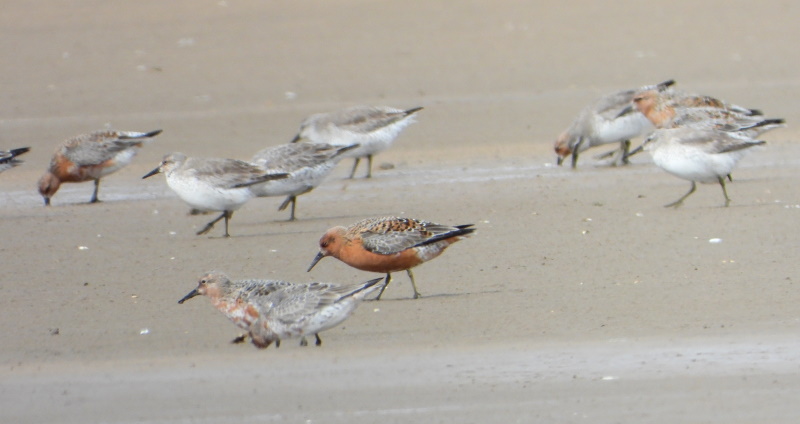 Knots at Meols on May 4th, the one in the middle is in full summer plumage which is a rare sight on the Dee Estuary,
they usually leave here well before early May and when they return in July are already moulting © Richard Smith


Lots of waders were coming through early in the month including a record high Dee Estuary count of 173 Whimbrel at Heswall on the 1st, smashing last year's record of 142 at the same location. At least two were still at Heswall by the month-end. A great sight was a mixed flock of over 2,000 Dunlin, Knots and Grey Plovers more or less in full summer plumage on the 4th. This is a late date for s/pl Knot which would normally have been expected to be already in Iceland (where they stage before moving on to Canada), no doubt they were held up by a strong northerly. On the same date there were 3,500 Dunlin and 1,000 Knot off Heswall, but distant. At least 12 Spotted Redshank was an excellent count at Burton Mere Wetlands on the 2nd and a Wood Sandpiper was a good find at 'Pasture Flash' in Moreton on the 24th.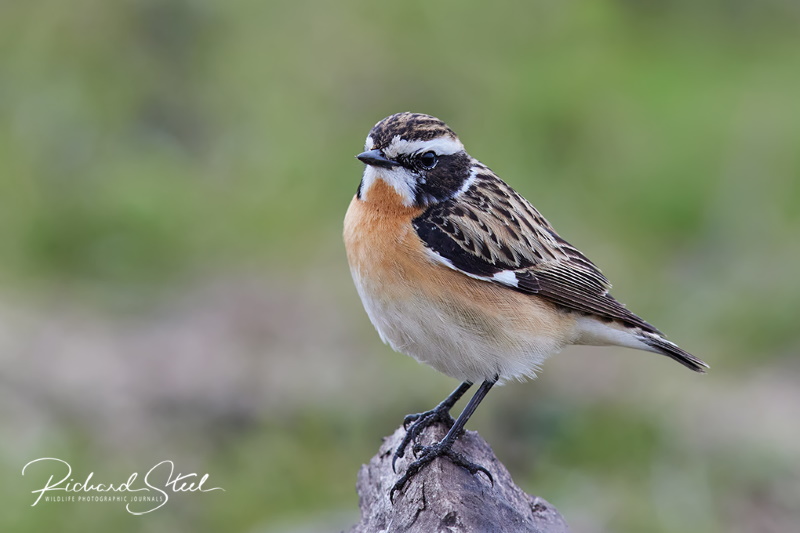 The first Spotted Flycatcher of the spring was recorded at Leasowe Lighthouse on the 9th, the same day there was at least 20 Whinchats there. Four Wood Warblers through the month was a good number for what has now become a scarce bird.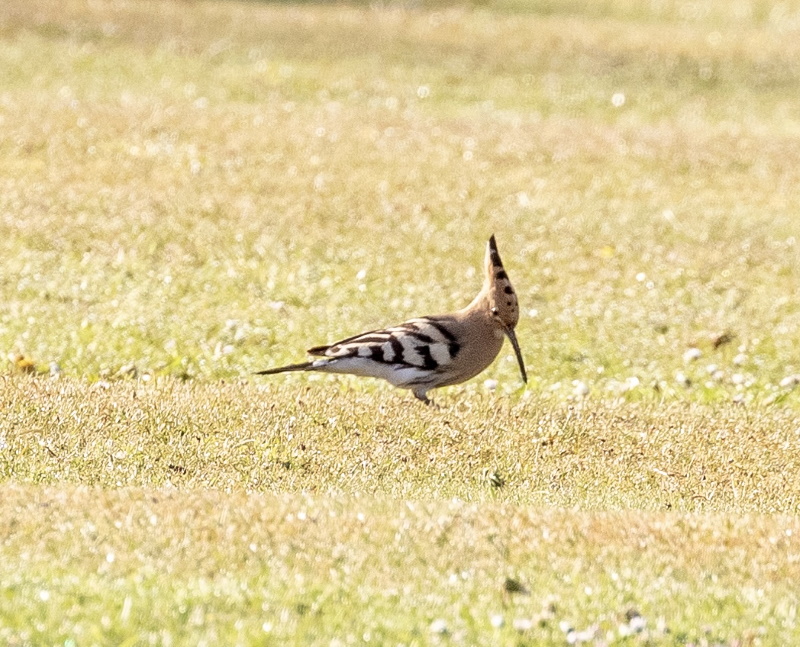 Hoopoe at Hoylake, May 9th © Peter Sutton

Glossy Ibis at Burton, May 25th © Peter Sutton


But the big story of the month was some great rarities. It started with a Hoopoe on the 8th and 9th at Hoylake then, remarkably, last month's Collared Pratincole was spotted at Leasowe on the 14th but only a flyover. A Common Crane landed on Burton Marsh in some appalling weather on the 16th. Burton Mere Wetlands then had both a Bonaparte's Gull and Glossy Ibis on the 23rd. Also at Burton Mere Wetlands the Bittern continued to show well and at least two pairs of Bearded Tits are nesting. Three Spoonbills were seen both at BMW and on the marshes from Burton to Parkgate.

Short-eared Owls is not a species usually associated with May but there were five records ranging from Gronant, to Burton and Leasowe. Out to sea up to four Eiders were off Hilbre through the month but otherwise it was quiet until a westerly gale on the 25th which blew in a good number of sea birds including 75 Manx Shearwaters.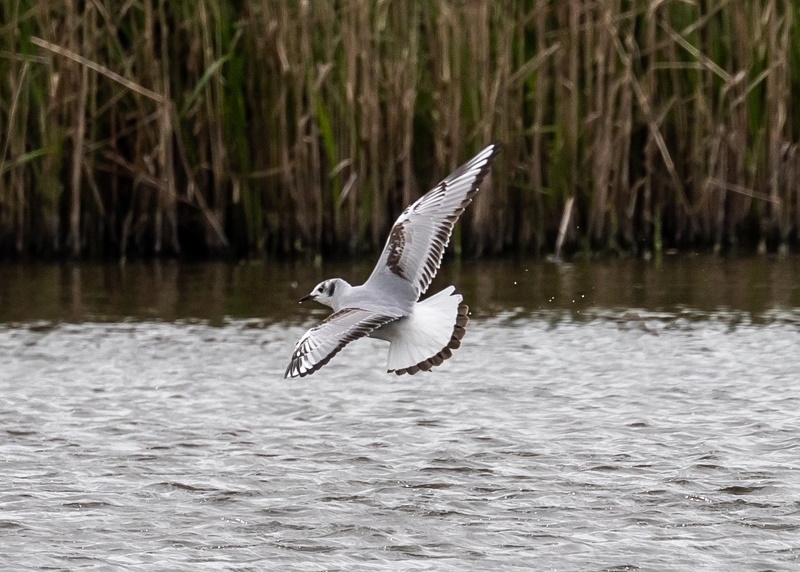 Bonaparte's Gull at Burton Mere Wetlands, May 23rd © Peter Sutton

Many thanks go to Steve Williams, David Haigh, Steve Hinde, Alan Hitchmough, Colin Schofield, Derek Bates, Allan Conlin, Richard Whitby, David Thompson, David Small, Richard Beckett, Bruce Atherton, Peter Sutton, Mark Gibson, Roy Wilson, John Hewitt, Tony Sinnott, Mark Woodhead, Richard Speechley, Tim Kinch, Steve Round, Richard Steel, Bill Wonderley, Linda Platt, David Leeming, Colin Wells, David Roe, Kenny McNiffe, Peter Lysaght, Geoff Hawkins, Les Hall, Mike Jones, Elaine White, Paul Mason, Kevin Horsewood, Jason King, Andy Coxon, Ian Brown, Geff Robinson, Mike Davenport. Mervyn Davies, David Shearan, John Harland, Paul Rutter, Micky Schroder, Paul Vautrinot, Steve Hart, Clare Byrne, Bryan Joy, Martin Donaldson, Barry Brett, Glyn Thursfield, Scott Duffy, Sheila Ryde, Richard Corbett, Gareth Hawkins, Jeff Stephens, Chris Matlby, Anthony Davies, the Dee Estuary Wardens and the Hilbre Bird Observatory for their sightings during May. All sightings are gratefully received.

What to expect in June

June is the quietest month of the year but I find it fascinating being a month of transition between spring and autumn. In the first few days of June Grey Plovers, Ringed Plover and Sanderling will still be on their way north. Look at these birds with awe as some will have come all the way up from South Africa and will end up nesting within the Arctic Circle. By the end of the month early breeding birds will have returned including spotted Redshanks, Common, Green and Wood Sandpipers as well as Black-tailed Godwits, Curlew and Redshank. Many non-breeding birds, of course, don't actually leave us and these always include Oystercatchers and, perhaps more unexpectedly, a few Whimbrel. After an exceptionally good breeding season in 2019 we had thousands of immature knot visiting us in June 2020, and I would be surprised if we don't get some of these again this year.
But perhaps the most obvious build-up is of gulls. These will be mainly Black-headed Gulls but will include a few Mediterranean Gulls which will still be in full summer plumage. Lesser Black-backed Gulls are always surprisingly numerous and we always get a few hundred roosting off Heswall shore. Then we will get the welcome return of Sandwich Terns, just a few by the end of June but many more to come in July.

For many birds the breeding season is still very much underway and a visit to Gronant to see the Little Terns will be a wonderful spectacle. Although a strong westerly would be unwelcome at Gronant it would at least result in plenty of seabirds passing through Liverpool Bay including Gannets and Manx Shearwaters, and the occasional Storm Petrel.

Forthcoming Events
June Highest Spring Tides (Liverpool)
Also see Tides page.
24th June, 11.21hrs (BST), 9.3m.
25th June, 12.12hrs (BST), 9.4m.
26th June, 13.03hrs (BST), 9.3m.
Forthcoming Events
Due to Covid 19 restrictions no birdwatching events are planned for this month.