February 2023 Newsletter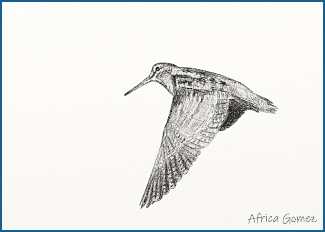 A Year at Meols - A Favourite Place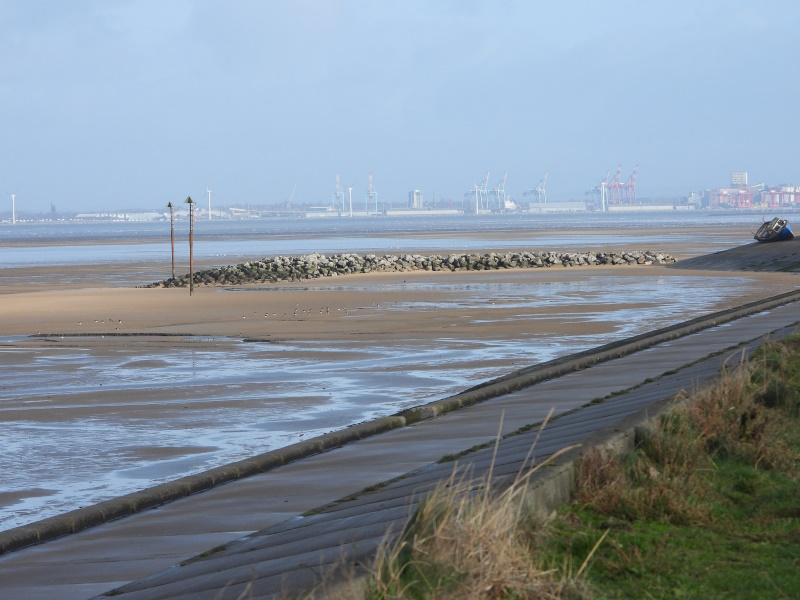 Meols Groyne with Seaforth Docks in the background. The wet sand is often frequented by waders in the winter, particularly Knot.
© Richard Smith

Writing last month's article on the bird paintings along the "Wader's Walk" got me thinking about all the good bird experiences I've had along Meols Shore over the years, including some mega rarities found by others. Although it can be used as such this isn't really a site guide, more a collection of highlights mostly from the past 20 years.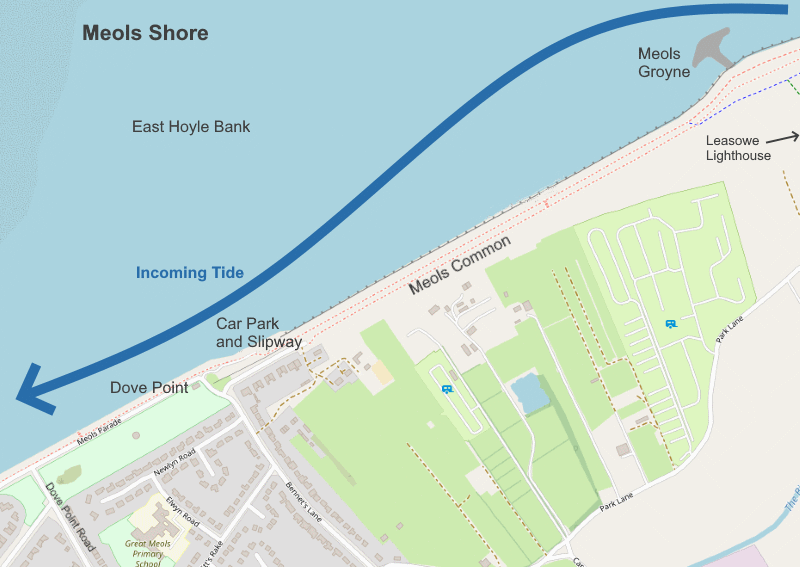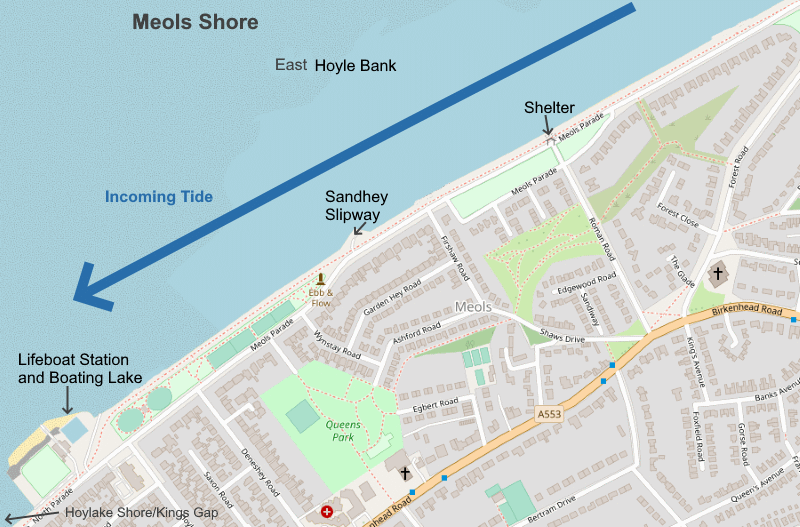 Maps courtesy of www.openstreetmap.org , annotated by Richard Smith.

Setting the Scene

The maps show Meols shore from the Meols/Leasowe boundary to the north-east (top right) to the Hoylake/Meols boundary to the south-west (bottom left) - Note that the Meols/Leasowe boundary is at the groyne running inland, and the Hoylake Meols boundary runs inland from about 100 feet north-east of the boating lake. The tide comes in from the north-east along a channel from New Brighton direction - this channel fills very quickly and you don't want to be on the wrong side of it!

The shore between the Dove Point slipway and the groyne is relatively sandy although you have to cross some quite thick mud to get to it. Going south-west from Dove Point the shore is very muddy and hence attractive to waders. Beyond the muddy area is East Hoyle Bank which turns sandy as you approach the sea at low tide. On most days all this is covered by the sea at high tide, although on neap high tides some of East Hoyle Bank remains uncovered and the birds use it as a roost site. All the landward side (Meols Promenade and the sea defence) is raised up above the shore and gives good views over the sea at high tide. The rising tide usually reaches Dove Point, along the channel, two hours before high tide. The sea tends to spread out here as it moves towards Hoylake forming a lagoon with many waders and gulls feeding on the tide line.

I'll describe some highlights season by season, but with rarities grouped at the end - and there have been some megas over the years!
Summer
I start with what many birders regard as the start of the birding year - with the return of the birds after breeding.
By the end of June there is a sharp increase in gulls on the shore with Black-headed Gulls easily the most numerous. Colour ringing tells us that many of these Black-headed Gulls breed in the north-west of England but the same can't be said of the Mediterranean Gulls and they breed throughout the continent. In 2022 we saw a juvenile Med Gull in mid July which had still been in the breeding colony on the Atlantic coast of France at the end of June, and over the years we have seen ones which have bred in the Netherlands and Germany and as far east as Poland. As the tide floods the Med Gulls often feed or roost on the mud in front of the incoming tide, with the shore in front of Sandhey Slipway a favourite spot. At low tide a sizable gull roost can form on the sand to the west of the groyne and in July 2022 eight Med Gulls were counted there. Another gull species to look out for is Little Gull, they are scarce here in summer but the last two years a single adult has been recorded on the tide line in August, and close enough to get a decent photo. Other gull species are recorded here in smaller numbers, including Common Gulls.
Although we never get large numbers at Meols the tideline in August is where you can good close views of terns, mostly Sandwich at first then towards the end of the month there should be a noticeable influx of Common Terns with a few Little, and occasionally one or two Black Terns.

One of the joys of summer birding is seeing the waders in full breeding plumage. By the end of July Dunlins will be piling in and at this time of year we see the ones that have bred in Iceland and Greenland on their way to spend the winter in West Africa. Most of these will be of the schinzii race, but look out for the noticeably smaller arctica which only breed in north-east Greenland.
Although much smaller in number - Grey Plovers, Bar-tailed Godwits and Knot all look stunning at this time of year. Perhaps not as colourful, but juvenile waders always look so smart and 'brand new' and it's always good to see them as it means they have had a successful breeding season.
The Meols groyne is a magnet for birds, particularly at high tide. Notable recent summer records are 6 Common Sandpipers on July 19th 2021, 24 Little Egrets on August 24th 2022 and eight Wheatears on August 27th 2022.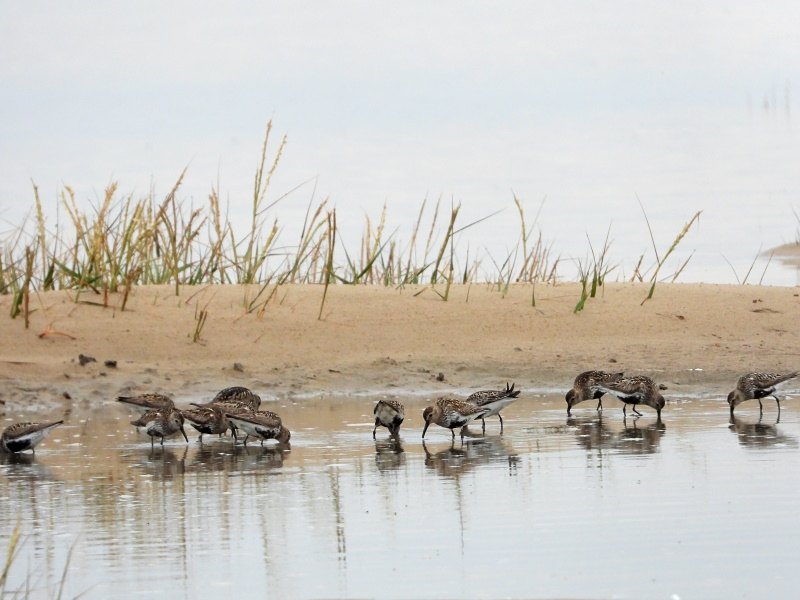 Dunlin flock feeding on the rising tide, just west of Sandhey Slipway - July 2022 © Richard Smith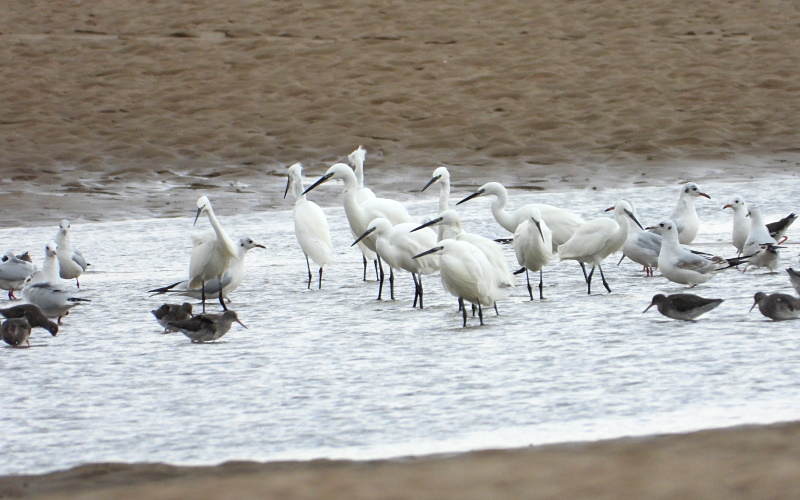 Little Egrets, Black-headed Gulls and Redshanks in the channel near the groyne at the end of August 2020 © Richard Smith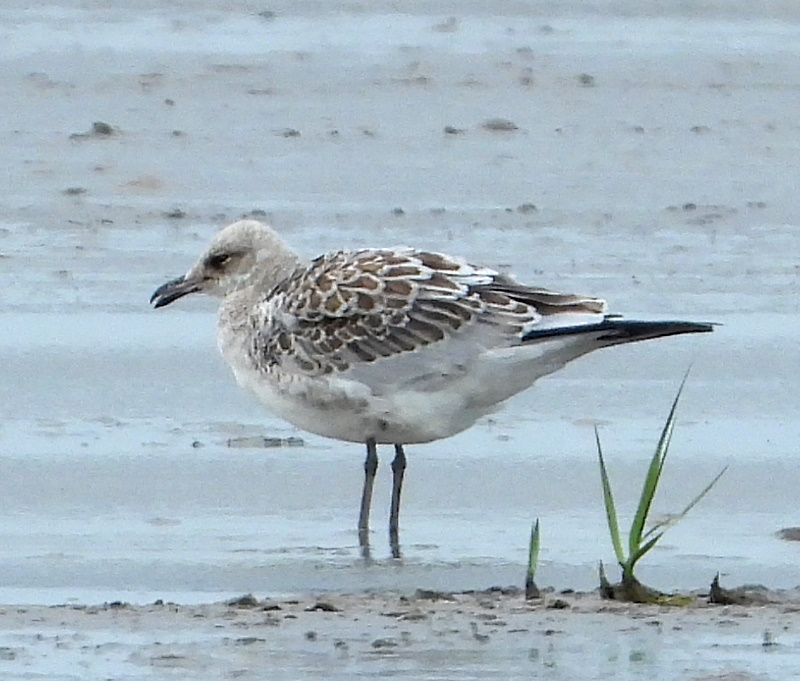 Juvenile Mediterranean Gull off Sandhey Slipway, July 2021 © Richard Smith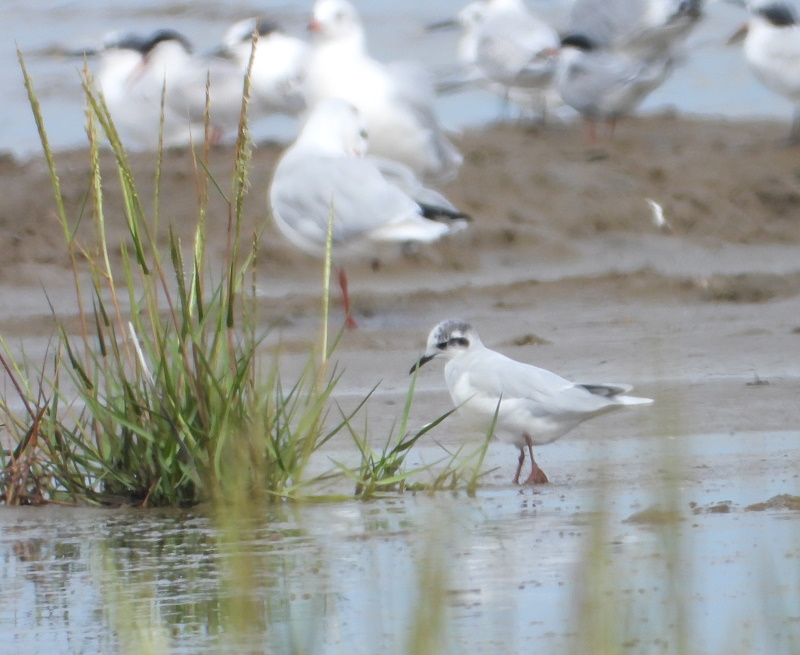 Little Gull in the gull and tern flock on a rising tide, August 2021 © Richard Smith

Autumn

The adjacent Hoylake shore is well known for it's high tide wader roost but it's not always realised that many of the waders, in particular the rare and scarce ones, often make their way to Meols as the tide drops - sometimes giving better views than at Hoylake. This certainly applies to Curlew Sandpipers and Little Stints in September and I well remember a couple of years ago standing on the shore by Dove Point when four Curlew Sandpipers dropped down beside me and started feeding. Little Stints and a good selection of other waders are probably best seen feeding in front of the incoming tide off Sandhey Slipway.
Oystercatchers are present all year but peak in the autumn. Several hundred can be seen feeding around the boats at Dove Point at low tide but a few thousand pass through before and after high tide between their roost site at Hoylake and the main feeding area off Leasowe. One thing I love seeing is 'the March of the Oystercatchers' which happens on every medium to spring high tide. As the tide starts to flood, coming up the channel, the Oystercatchers first gather in a large temporary roost on East Hoyle Bank off the groyne. They will then fly closer to the 'prom' and then all start walking in front of the tideline towards Hoylake. With their pink legs, black and white bodies and bright orange beaks it is really quite comical and impressive at the same time. It is also a good opportunity to look out for colour rings on those pink legs and we have seen birds ringed in Iceland, Norway, the Netherlands as well as several locations around the UK.
Autumn, of course, is when we expect, and hope for, gales. Any prolonged north-west gale, particularly around mid-September, will blow in Leach's Petrels as well as a selection of skuas and other sea birds. It was Meols where I saw my first Leach's Petrel in September 2001. It was high tide and blowing a gale (of course) and I was in the shelter at the end of Roman Road. 16 flew past in just over half an hour, no more than 100 yards out, and I've been obsessed with them ever since! In 2010, which was the best Leach's year this century, I stood on the slipway at Dove Point looking down the north Wirral Coast towards New Brighton and I could see 10 flying towards me in just one sweep of the 'scope. More recently, 2017 was particularly good when a total of 36 were recorded past Dove Point on September 11th.

Shelduck are very much a feature of Meols Shore. Not so much because of large numbers but because of the great views they give close to the promenade, drinking and bathing in the channel. Large numbers are present on Dawpool Bank off Thurstaston in September and early October after which they start to disperse and it's then we see them at Meols with up to 300 on the mud through November.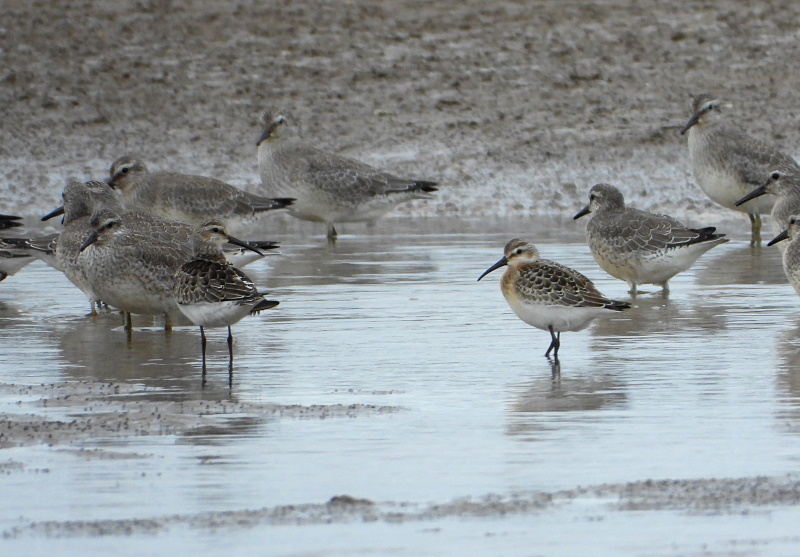 Two of four Curlew Sandpipers which flew down next to me at Dove Point, with a small flock of Knot - September 2020 © Richard Smith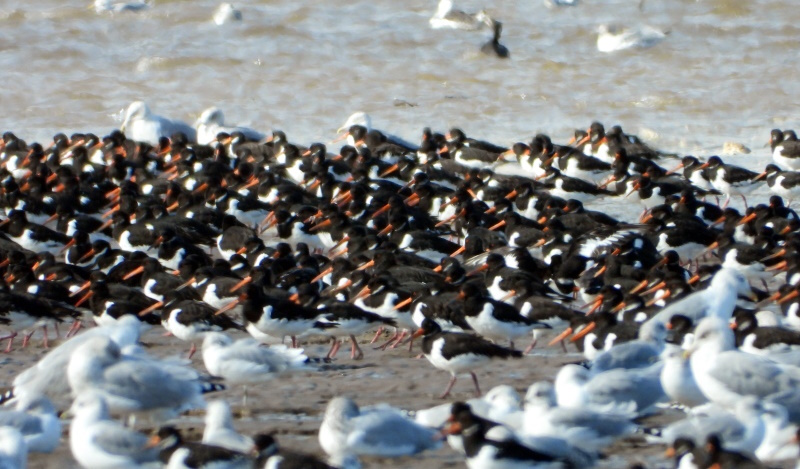 The "March of the Oystercatchers" as they walk up towards Hoylake, September 2022 © Richard Smith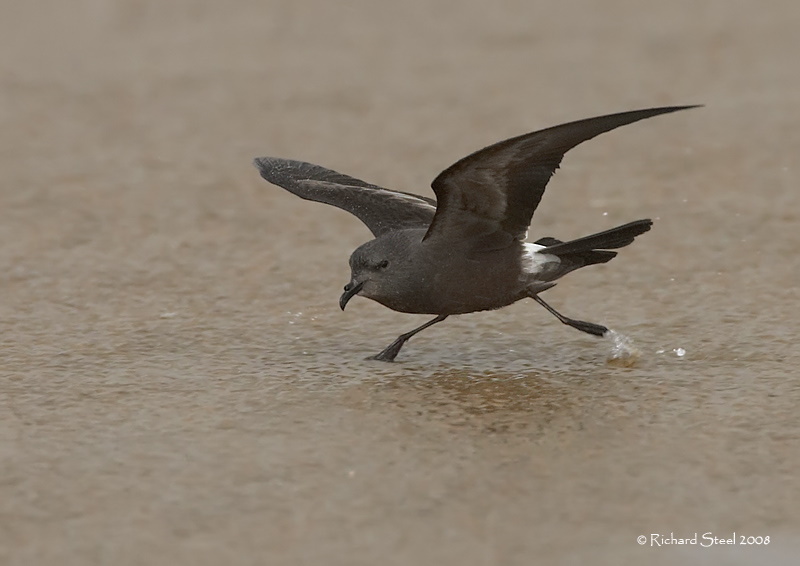 Leach's Petrel - this one was close in off Leasowe but was definitely headed for Meols! © Richard Steel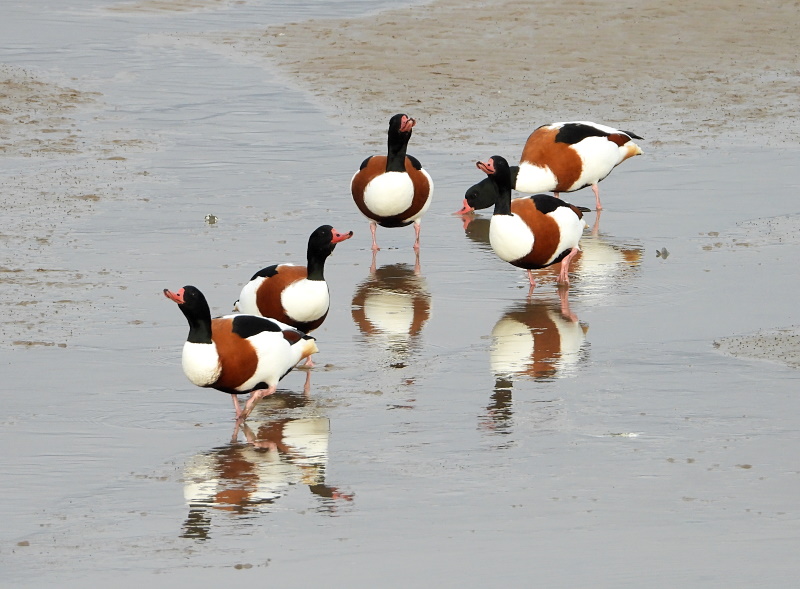 Shelducks drinking just off Meols Promenade, November 2021 © Richard Smith

Winter

We get all the usual estuarine waders at Meols, mostly feeding around the boats at Dove Point but also right up to the Lifeboat Station. On most days this winter (2022/23) we have had several hundred Dunlin feeding and Redshanks and Oystercatchers are ever present, plus a few Turnstones on the seawall. But its the Knots I love seeing and, as Knots tend to do, they come and go. They'll arrive, perhaps a couple of thousand or so, either from the east having roosted at Seaforth, or the west from Hoylake direction. They cover the mudflat in tight flocks, moving in unison as they feed on small shellfish. Having spent ten minutes in one spot they'll suddenly decide to move a couple of hundred yards putting on a sychronised flying display as they go. The most spectacular displays are put on when a Peregrine is around, if the Peregrine attack is not too severe they'll come back but often we see them disappear as fast as they can go! I spend many hours down there scanning their legs for colour rings and the best views are had when they start feeding on the sandy area to the east of Dove Point as they can come really close to the seawall, and I've sometimes seen them walking up the seawall just like Turnstones, with cyclists bombing along the path just a few yards away.

The Meols groyne is used as a high tide roost by the waders and great views can be had of Lapwings, Sanderlings, Dunlins, Redshanks and Knots although numbers vary greatly from day to day. An over-wintering Greenshank has been regular there for several years, and this winter we've had two.

When the sea is flat calm take a look through your telescope and you will be amazed at the number of birds out there. Common Scoters are always present and numbers between 5,000 and 10,000 are not unusual, but occasionally we get much larger numbers. There was a huge flock of up to 40,000 in February 2016 stretching all along North Wirral, with a similar number in October that year. Just an amazing sight specially when they all take to the air!
On November 16th 2022 589 Great Crested Grebes were counted on the sea. But that was by no means the highest count with several over 800 over the years with the maximum a remarkable 1195 in January 2011. This was the total for the whole of North Wirral but whenever I've done counts the highest concentration has always been off Meols.
One of the most spectacular sights I've seen at Meols was a huge gathering of gulls during February 2013. There were several counts of 20,000 between Hilbre and New Brighton that month. Mainly Herring Gulls but plenty of all the commoner gulls were present, but on the 12th most of them were loafing on East Hoyle Bank on the ebbing tide. I've never seen so many gulls in one place before or since!

On dry land Snow Buntings and Rock Pipits are often seen along the Meols stretch. One or two Snow Buntings are seen most winters on the sea defence/cycle path east of Dove Point, with the winter of 2020/21 being particularly good when we had a flock of eight at Hoylake which often wandered up to Meols.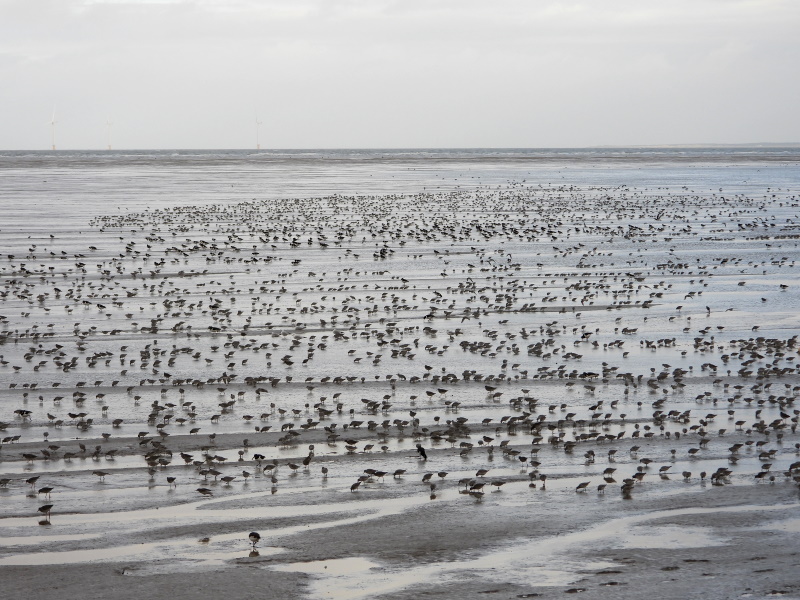 A large flock of Knots feeding ahead of the tide off Sandhey Slipway, December 2020 © Richard Smith
A great opportunity to read colour rings!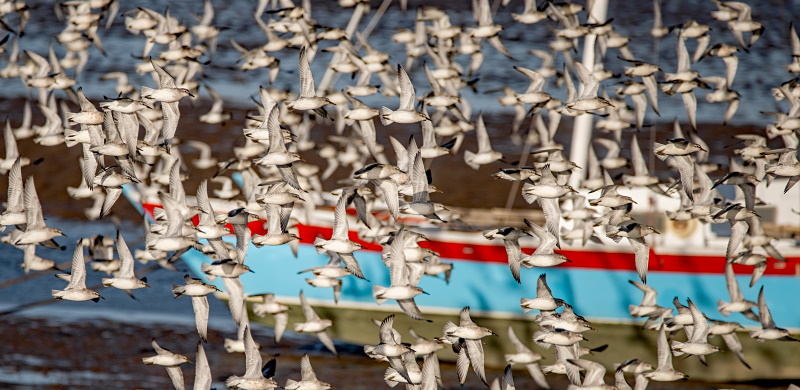 The Knots' favourite feeding area is on the mud around the boats at Dove Point, here they were moving from
one spot to another giving great views from the sea wall, December 2022 © Ian Sheppard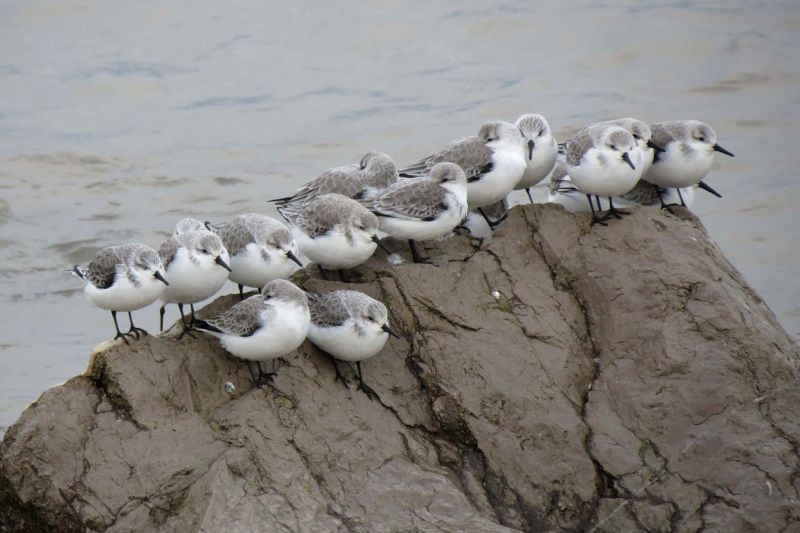 Meols Groyne is a good place to view roosting waders at high tide, that particular day they were nearly all Sanderlings,
January 2014 © Les Hall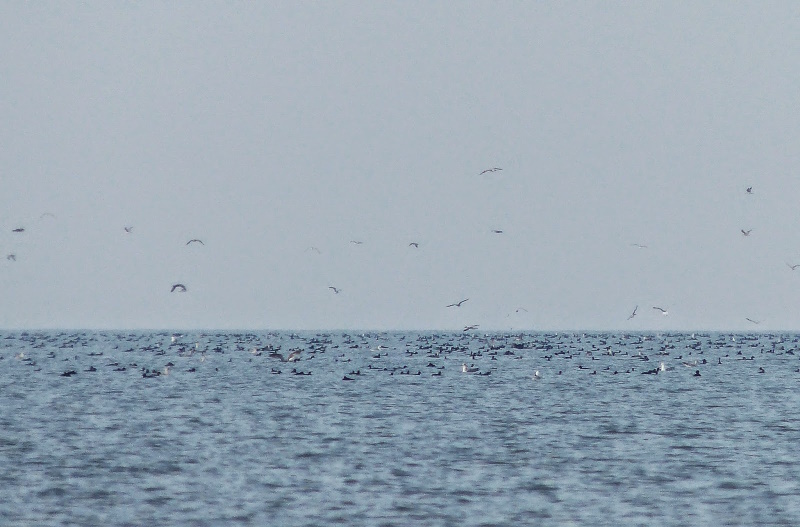 Common Scoters off North Wirral in 2015, a small portion of the many thousands recorded © Allan Conlin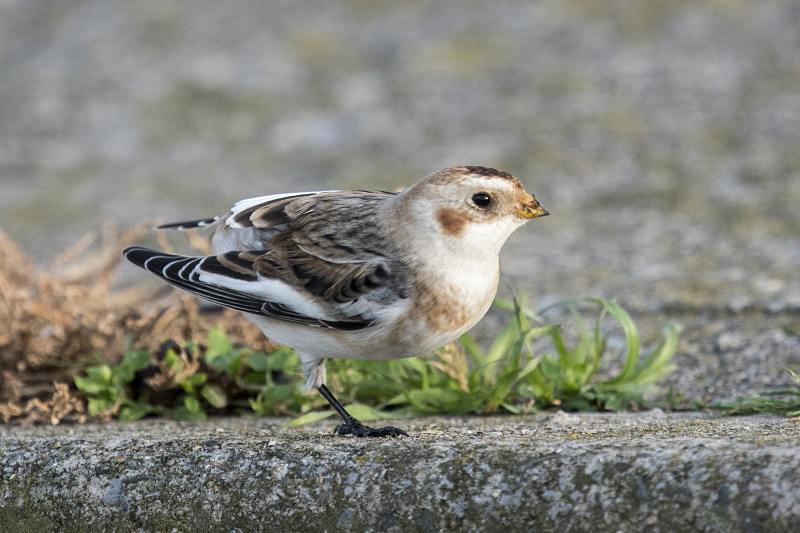 Snow Bunting on the sea wall east of Dove Point, December 2020 © Matt Thomas

Spring
With plenty of northward movement, both on sea and land, Spring is an exciting time at Meols and elsewhere along North Wirral. In March and April there is a passage of Little Gulls which fly up the Irish Sea before flying across the country on their way to breed in the Baltic. They can be seen flying along the tideline on the edge of East Hoyle Bank, identified by their small size and the distinctive black under-wing.

Most years a few Ospreys are recorded flying over, but they don't usually stay the night! One did just that on April 14th 2022, roosting in a tree overnight before landing on a post next to the groyne the next morning until it decided to resume it's journey north. April 12th last spring was particularly notable with the following all seen between Dove Point and the groyne that day - 1 Great Egret in gutter, 30+ Wheatear, 10+ Swallow, 1 House Martin, 2 Sand Martin, c20 Willow Warbler and c10 Chiffchaff. Other notable records last spring where 10 White Wagtails on the shore on April 27th, six Arctic Terns off the groyne May 4th and a summer plumaged Curlew Sandpiper with Dunlin on the groyne on May 17th. By early May the Knots will be in full breeding plumage but we rarely see these birds as they tend to stay up at Ainsdale and Southport before flying off across the Atlantic. But in 2021 a flock of around 1,000 fed up on Meols Shore looking lovely and red, and the presence of several Grey Plovers in the flock, also in full summer plumage, helped to make for a spectacular sight.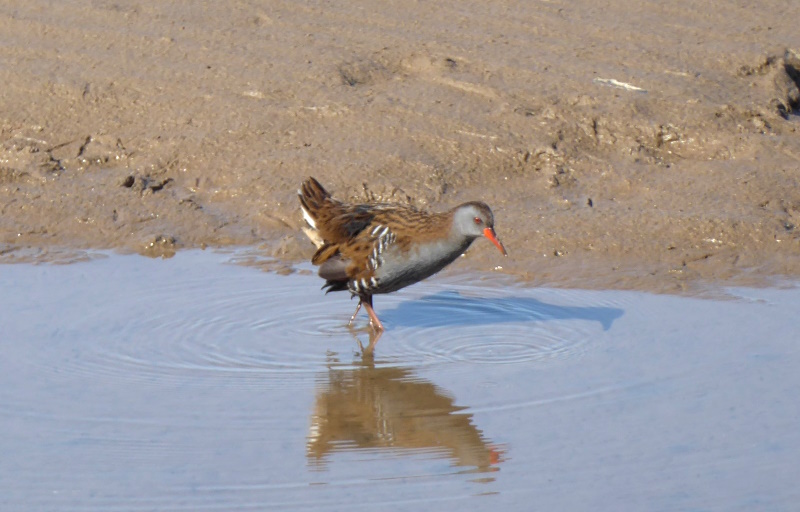 Not what you expect to see when you peer over the wall at Dove Point - a Water Rail on the mud, March 2017 © Gordon Crapper
This Osprey spent the night in a tree by Park Lane on April 14th 2022,
The following morning it landed on this navigation post next to the groyne © Richard Smith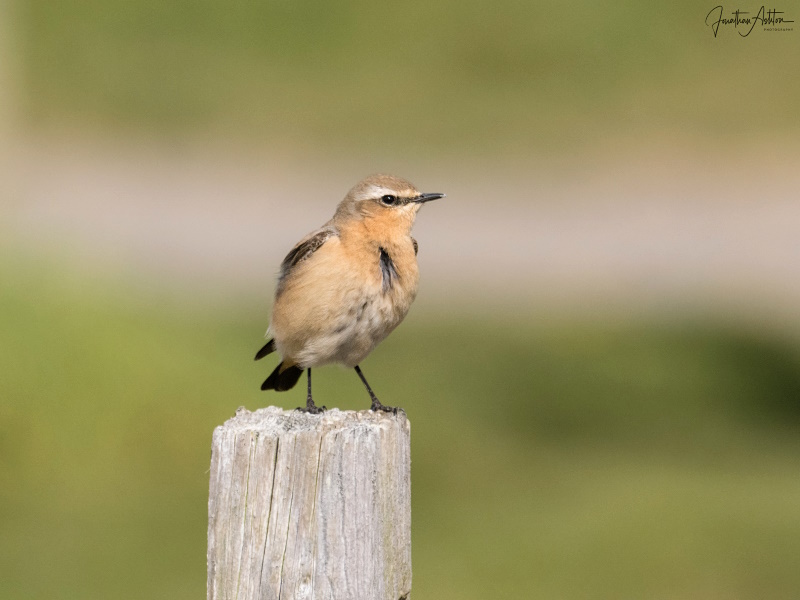 In both spring and autumn good numbers of Wheatears can be seen passing through, in the sand dunes on Meols Common, in the nearby horse paddocks or on the rocks on the groyne. This one was photographed at the end of April 2022 © Jon Ashton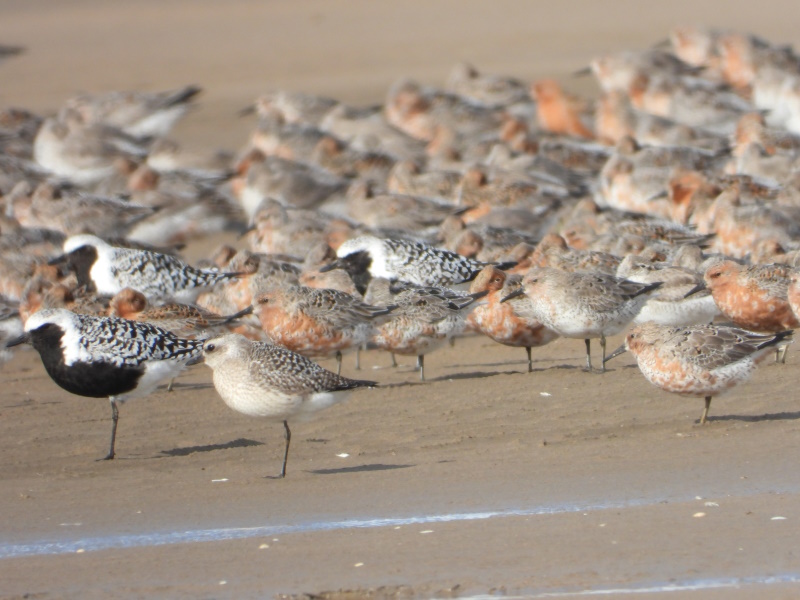 Grey Plovers and Knots in summer plumage - some of the knots are still moulting and the nearest bird is an immature Grey Plover.
These were off Dove Point in early May 2021 © Richard Smith

Rarities

For the most celebrated rarity at Meols we have to go back to October 1979 when an Asian Desert Warbler was found in the sand dunes just east of Dove Point. At the time it was only the fourth British record and it resulted in a large twitch.
There is a horse paddock just inland of the sand dunes on Meols Common which is still called 'Hoopoe hollow' after a Hoopoe which was present there for several days in April 2004. I remember it well as it gave excellent views.

Two waders, initially seen at Hoylake and then relocated at Meols, were a Broad-billed Sandpiper in May 2011 and a Western Sandpiper in September 2012. The latter was initially thought by many to be a Semipalmated Sandpiper and was the cause of much debate, but the BBRC agreed with the finder (Allan Conlin) that it was a Western Sandpiper.
An unexpected rarity was a Green-winged Teal in a flock of Teal (themselves a rarity at Meols) seen at Dove Point on April 4th 2014.

An Alpine Swift flew over Park Lane on April 22nd 2015. Also at Park Lane that year was a Red-backed Shrike on September 4th and 5th.
Three summer plumaged Dotterels were in a Dunlin flock on the mud on May 3rd 2015.

During September gales it is not unusual to spot a Grey Phalarope or two from Meols, but on September 16th 2017 one landed on the groyne to join the sheltering waders.
A Pied Wheatear was a nice find sitting on top of the sea wall at Dove Point, it showed well for three days in early November 2018. Although not a rarity as such a Black Redstart was in the exact same spot, also showing really well, in October 2020.
Arctic Skuas are not unusual off Meols in the summer and autumn but Pomarine Skuas are much rarer. Unusually an adult decided to fly over Meols town on September 26th 2019 before landing on Meols Shore not far from the promenade.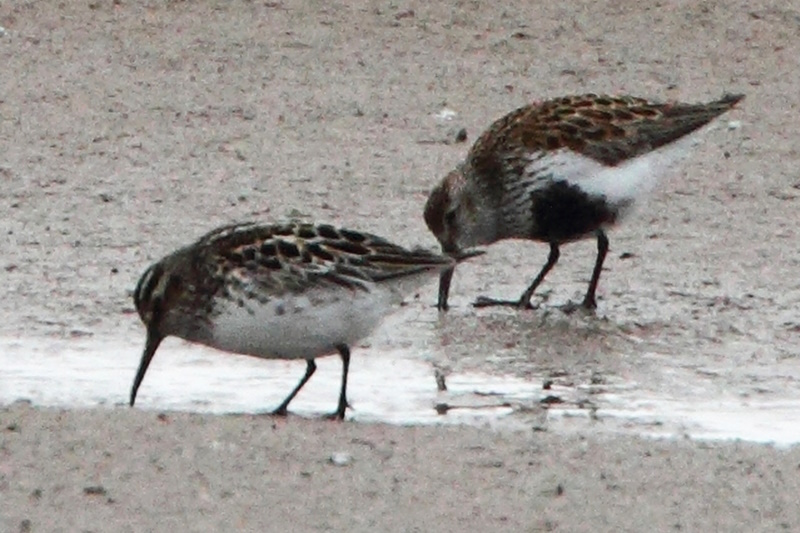 Broad-billed Sandpiper with Dunlin on Meols Shore, May 2011 © Keith Scovell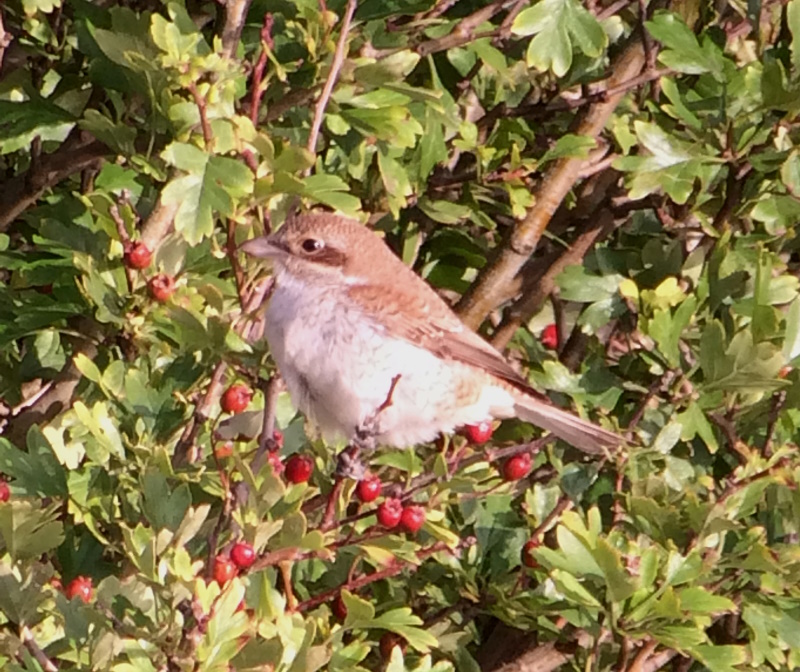 Red-backed Shrike at Meols, September 2015 © Alan Hitchmough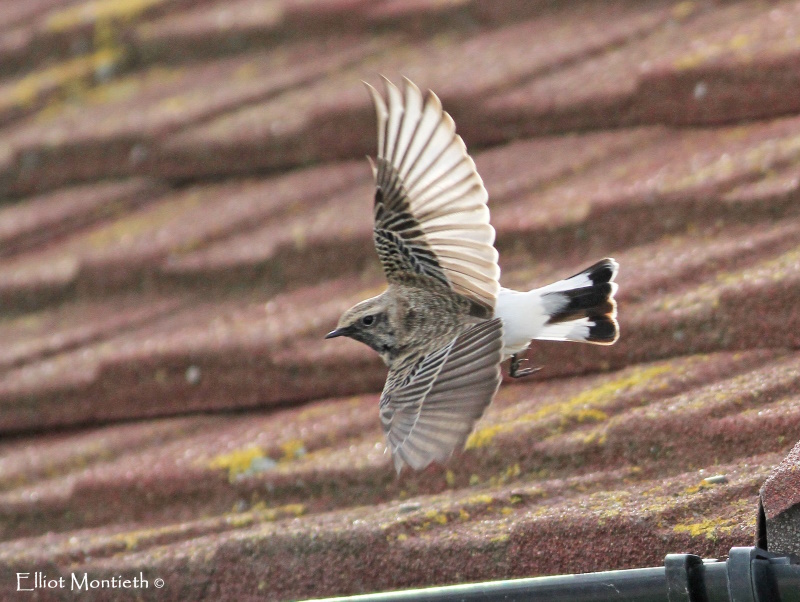 Pied Wheatear at Dove Point, November 2018 © Elliot Montieth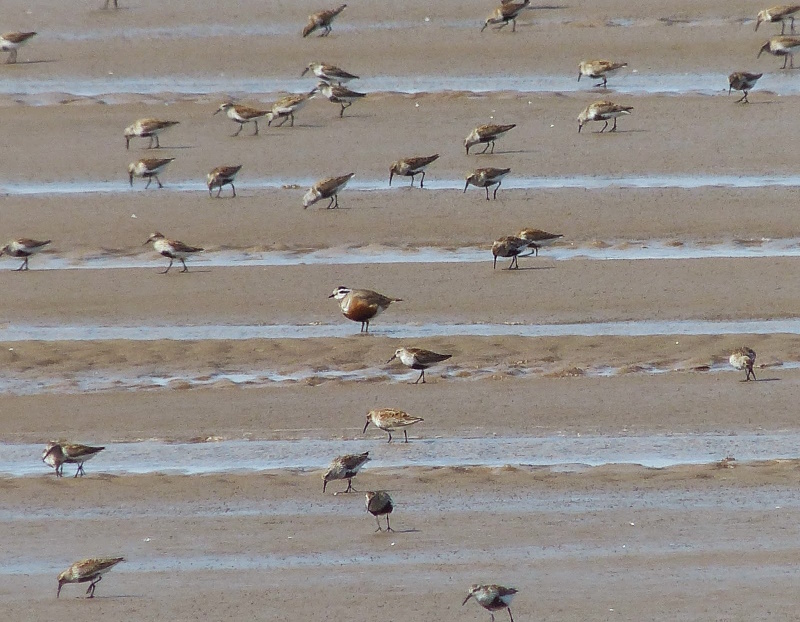 Summer plumaged Dotterel (centre) feeding with Dunlin, May 2015 © Allan Conlin
Richard Smith


Colour Ring Report

Grey Plovers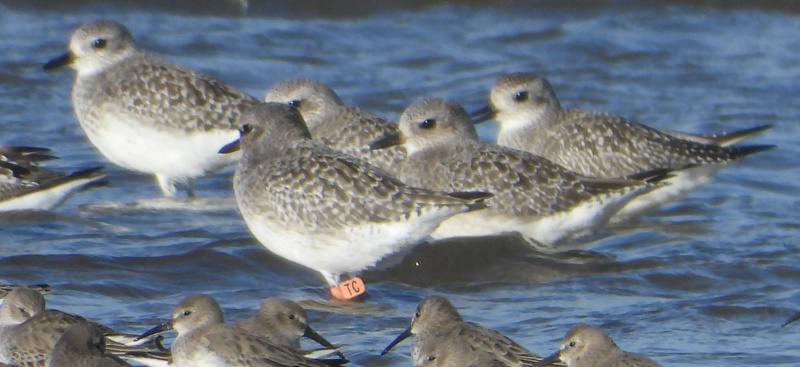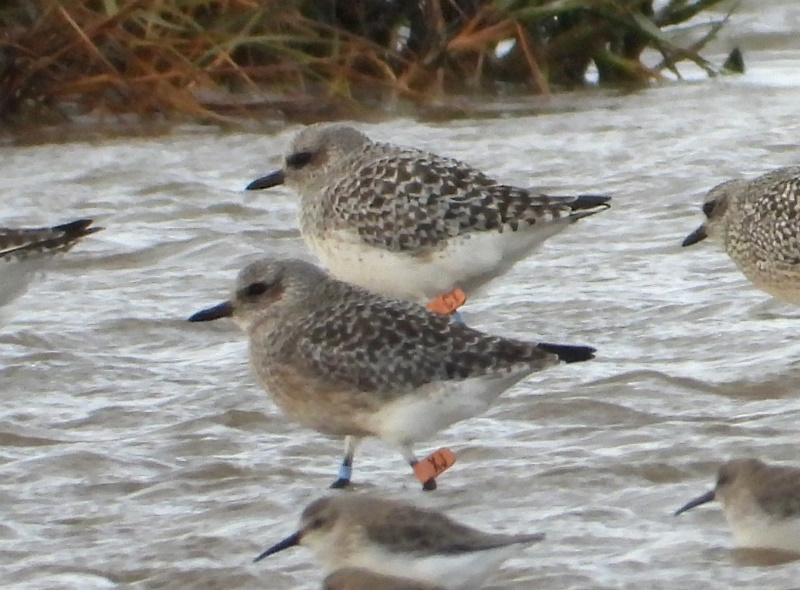 Orange flagged Grey Plovers at Hoylake, November 2022 © Richard Smith

This winter has proved particularly productive for colour ringed Grey Plover with 38 sightings of 24 different birds. These are ones that were ringed over by the Alt Estuary in 2018 and 2019, and they all have orange flags. Some nice high tide roosts at Hoylake, largely undisturbed, brought the Grey Plovers close to the shore and with their long legs the flags could be read even when they are standing in water.
The movements of Grey Plovers has not been extensively studied so this colour ring scheme is helping to fill in the gaps in our knowledge. So far the vast majority of records have been around Liverpool Bay, particularly during autumn, early winter and spring - suggesting that some go further south during mid-winter winter and there have been some sightings in Brittany.

Brent Goose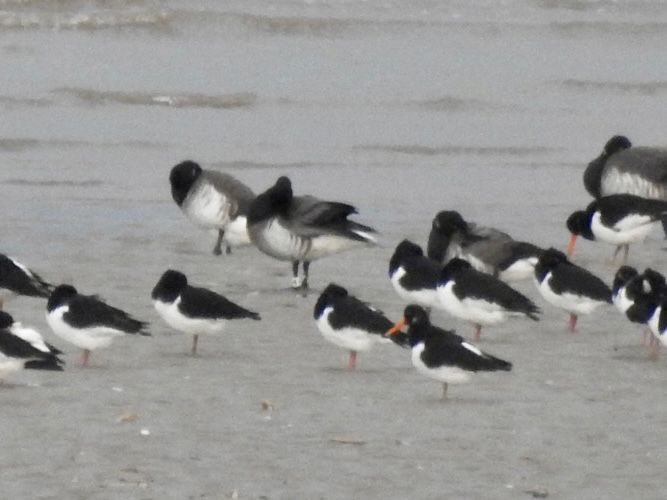 Brent Goose 74NW (7 on black ring, 4 on white ring) on black ring (centre), Hilbre on January 29th © Alan Hitchmough
Brent Goose '74NW' was ringed on Anglesey in February 2019.
It was one of a pair that was ringed and they were recorded at Strangford Lough on September 26th 2019. They were first recorded on Hilbre on October 31st 2019 with six juveniles in tow.
Rock Pipit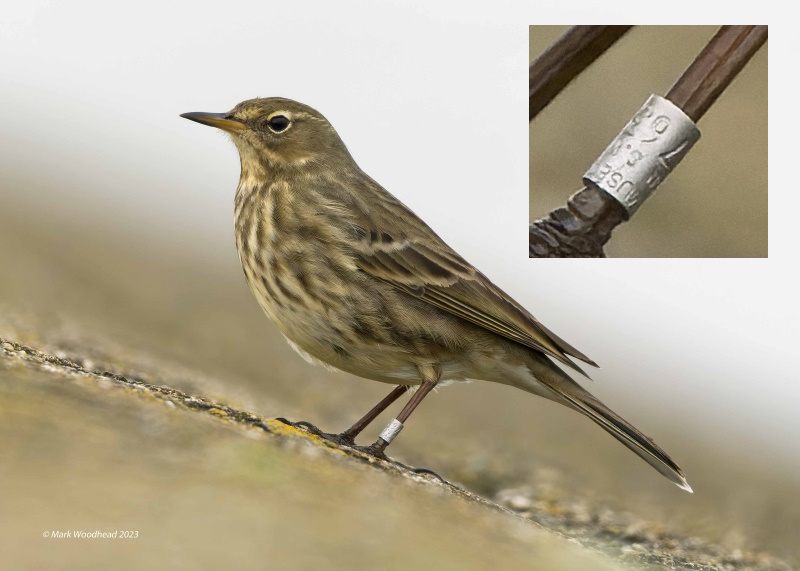 Rock Pipit with metal ring '2637635', on sea wall at New Brighton on January 5th 2023 © Mark Woodhead
This Rock Pipit has been seen and photographed several times this winter, including by Mark Woodhead.
I quote from Mark's email to me "I photographed it on the sea wall West of New Brighton on 20th December 2022 and again 5th January 2023. Between Steve Williams and myself we have managed to decipher the ring number from multiple photos taken from different angles as '2637635'. This means that Steve ringed it on Hilbre on 22 September 2022 as a 3 (juvenile)".
Great work!
Mediterranean Gull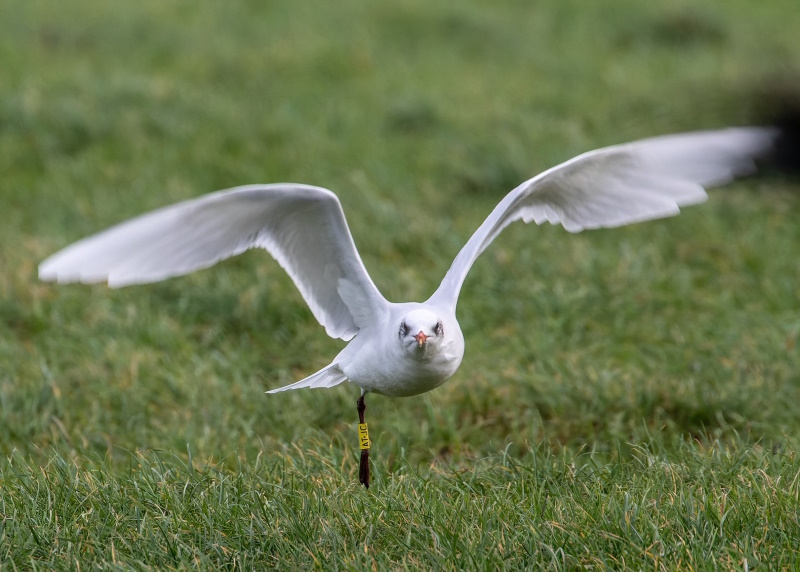 Mediterranean Gull Y-AT.JC at Leasowe, January 4th 2023 © Pete Sutton

Yellow Ring AT.JC
Ringed near Luckow, Germany, on 06/06/2021, as a breeding adult.
Recorded at Seaforth six times between August 2021 and March 2022.
It returned to Seaforth in July 2022 before being seen at Egremont in October 2022 and Crosby in December 2022.
Recorded at Leasowe on 04/01/2023.


Black-headed Gull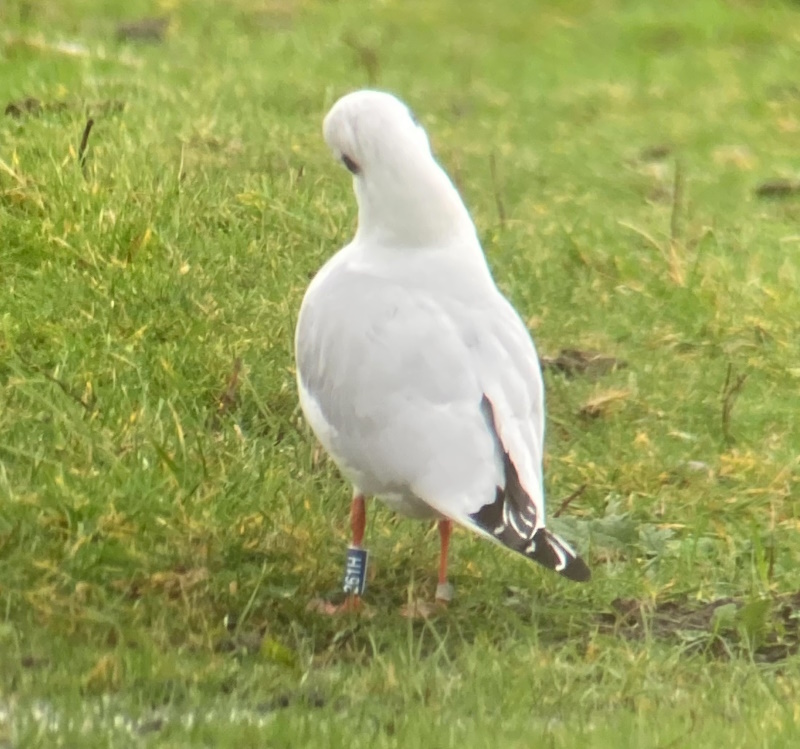 Black-heeaded Gull B-261H at Leasowe on January 5th 2013 © Sean O'Hara

Blue Ring 261H
Ringed at Sefton Park, Liverpool, on 01/12/2022.
Recorded on Kerr's Field, Leasowe, on 05/01/2023.
It was one of several ringed by the Waterbird Colour-marking Group at Sefton Park.
Colour Rings were recorded by Richard Smith, Stephen Hinde, Alan Hitchmough, Tony Ormond, Sean O'Hara, Peter Sutton, Steve Williams, Mark Woodhead, Helen Jones, Eddie Williams, Tim Kinch, John Sharp, Roy Lowry, Charles Farnell and Colin Schofield.

Richard Smith

December and January Bird News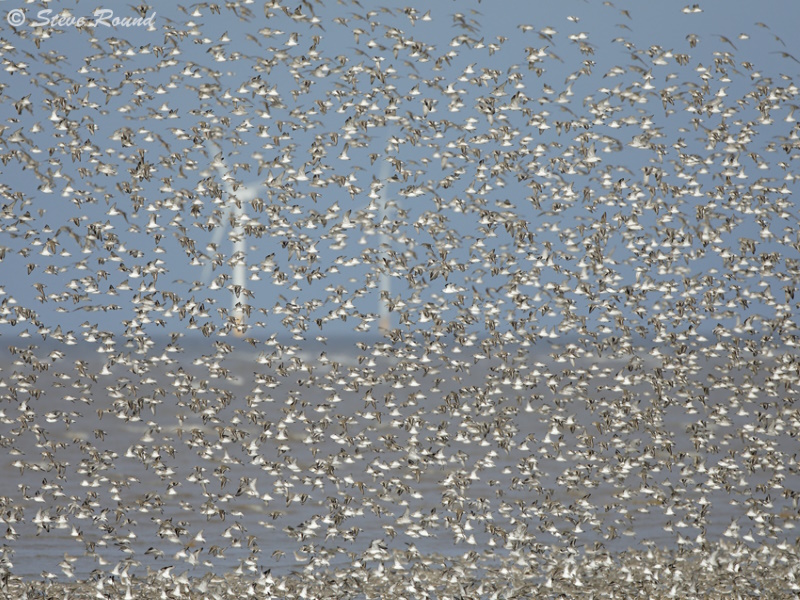 Dunlins at Hoylake, January 26th © Steve Round

There have been some spectacular high tide wader roosts at Hoylake this winter and I've been pleasantly surprised at how little disturbance there has been - at least when I've been down there. In particular there have been large numbers of Dunlin and the highest count at Hoylake I made was 22,500 on January 22nd, compared to the five year average of 16,900 for the whole estuary (BTO WeBS).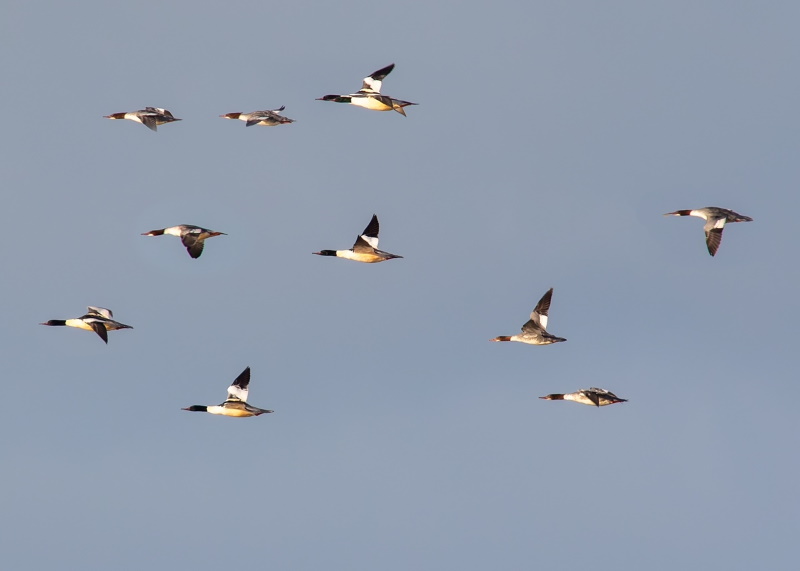 Goosanders flying over West Kirby Marine Lake, December 9th © Peter Sutton

A Black Guillemot on the sea off Hoylake was a nice record on December 1st, they are way less than annual in our area and this is just the sixth one we've had since 2010. Also out there were a flock of six Long-tailed Ducks which arrived in early December and seemed to have stayed all winter. Several Velvet Scoters have been seen with the thousands of Common Scoters (max 15,000 on January 4th) and the highest Great Crested Grebe count for these two months was 334 on January 22nd. At Hilbre up to four Eiders have been around the island. During the cold spell in December numbers of Goosanders on West Kirby Marine Lake seemed to be increasing every day with a maximum of 36 on the 14th - a record high number, 20 in December 2021 was previous highest count. Also during the cold spell a roost of Woodcocks was discovered near Ditton Lane, Moreton. These flew out at dusk towards the fields at Leasowe with up to 12 counted.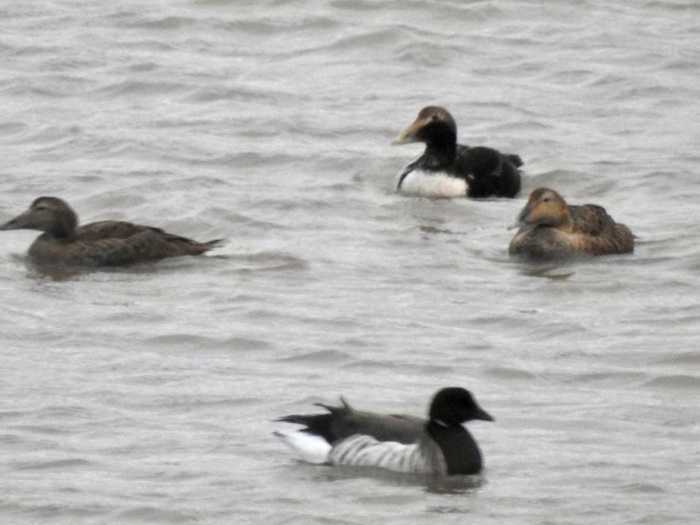 Eiders and a Brent Goose at Hilbre, January 29th © Alan Hitchmough


On the marshes a Bittern has been seen regularly flying into the roost at Parkgate, as have at least 20 Marsh Harriers. Those sort of Marsh Harrier numbers are almost routine at Parkgate and Neston but five at Gronant in early January was more unexpected. Hen Harrier numbers have been low this winter but it was good to have two grey males. Short-eared Owl numbers have also been low but three were spotted towards the end of January a long way out on the marshes. These days Pink-footed Geese are everywhere but over 6,000 leaving their roost at Hoylake Marsh at first light was an awe inspiring sight through January - and many flew over my house in Caldy on their way to feed in the fields between Hoylake and Greasby.
Strong winds on January 9th resulted in a really good seawatch off hoylake with almost 1,000 auks, including two Puffins, 15 Gannets, 275 Kittiwakes and a blueish Fulmar.

A Long-billed Dowitcher briefly visited Burton Mere Wetlands on January 11th. Small flocks of Whooper Swans visited or flew over BMW and 27 were on Shotwick Fields in January.

A Snow Bunting has spent several weeks on the shore and sand dunes at Derby Pool, Wallasey, and at least 25 Twite have been on the marsh next to Flint Castle.

An intriguing record was a probable Dartford Warbler near Burton Point on January 29th. There was a brief view and a poor photograph taken, there was also a report of a second sighting later on that day but no photograph or description has emerged.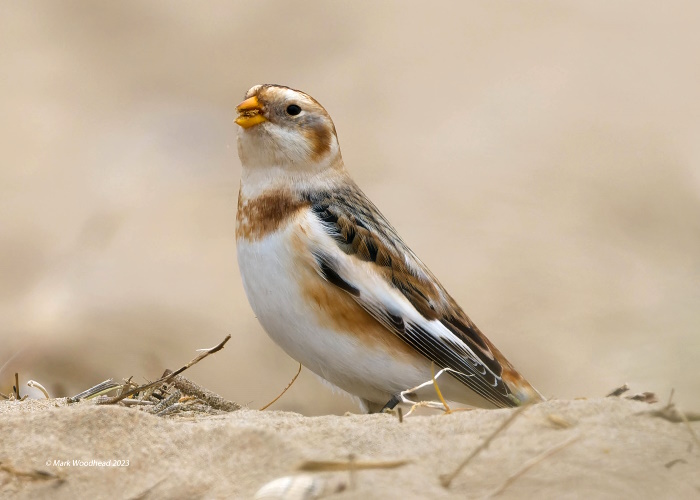 Snow Bunting at Wallasey, January 24th © Mark Woodhead
Many thanks go to Steve Williams, Steve Hinde, Alan Hitchmough, Richard Speechley, Allan Conlin, Richard Whitby, Bruce Atherton, Mark Woodhead, David Leeming, Matt Thomas, Dave Edwards, Chris Wilding, David Thompson, Les Hall, Sean O'Hara, Richard Jones, David Bradshaw, Eddie Williams, Tony Ormond, Peter Sutton, Tim Kinch, Jane Turner, Chris Maltby, Jeremy Bradshaw, Colin Schofield, Graham Connolly, Derek Bates, Paul Vautrinot, Andrew Davis, Ben Lane, Milo Owen, Morgan Whitaker, Marc Gannon, Ron Brumby, Kelvin Britton, John Wright, Tom Murray, Hugh Stewart, Ian Sheppard, Jon Ashton, Helen Jones, John Sharp, Steve Round, Nigel Barratt, Roy Wilson, Ken Mullins, Kevin Gallagher, Paul Mason, Nick Moss, Catherine Hartley, Tony Sinnott, Bruce Hogan, Charles Farnell, Elliot Monteith, Sheila Ryde, Deborah Williams, Simon Fisher, Roy Lowry, Mike Cooper, Jeff Cohen, Steven Heywood, David Taylor, Paul Ralston, Stuart Feeley, John Hewitt, Steve Senior, Steve Wende, Richard Payne, Peter Humphrey, Bill Wonderley, Ken Lewis, Danny Carmichael, Roger Evans, Andrew Ingham, Andy Coxon, Darrell Priest, Stephrn Martin, Alan Round, Steve Hurt, David Small, Helen Kent, Paul Greenslade, Ian Fewtrell, Julie Robson, Gary Shingler, Gerald Lucas, the Dee Estuary Wardens and the Hilbre Bird Observatory for their sightings during December and January. All sightings are gratefully received.

What to expect in February
Over the past few years we've had at least two severe gales in February, bringing massive storm surges of at least 1.5 metres. If we get a repeat expect to have some spectacular birding at Parkgate with thousands of wildfowl and waders in the air, as well as Hen Harriers, Marsh Harriers and Short-eared Owls. Out to sea strong winds often bring Little Gulls closer to the coast, these will probably be birds which over-winter in the Irish sea but maybe already moving north-westwards towards their breeding grounds.
There are some big high tides due this month, if they coincide with a westerly gale that should be interesting!

Signs of the coming spring will include the usual passage of Stonechats along north Wirral, the return of Avocets to Burton Mere Wetlands and Mediterranean Gulls moulting into summer plumage.

Top of Page
Forthcoming Events
February Highest Spring Tides (Liverpool)
Also see Tides page.
20th February, 11.08hrs (GMT), 9.8m.
21st February, 11.53hrs (GMT), 10.1m.
22nd February, 12.36hrs (GMT), 10.2m.
23rd February, 13.17hrs (GMT), 10.1m.
24th February, 13.57hrs (GMT), 9.7m.
Forthcoming Events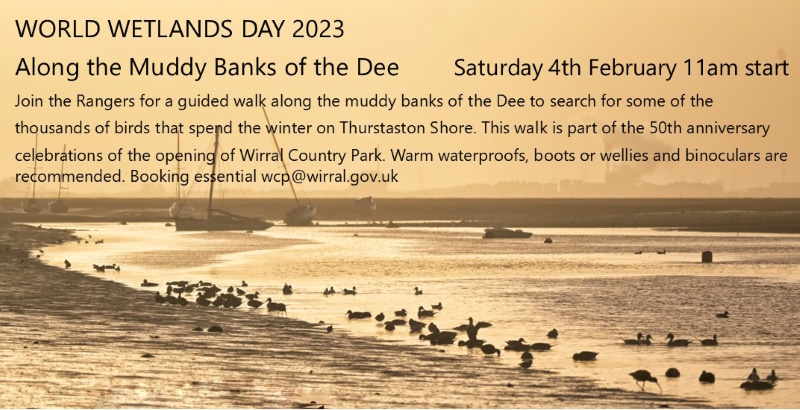 Also see events at
https://events.rspb.org.uk/deeestuary