February 2022 Newsletter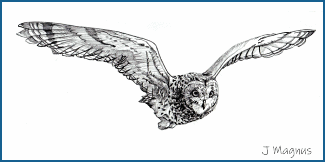 Denhall Quay: What's owl the fuss about?


Dan Trotman RSPB Jan 2022
As we regularly talk about, our Dee Estuary reserve is vast, covering more than 6500 hectares of tidal habitats stretching 14 miles along the Welsh shore from Oakenholt to Talacre, and six miles on the English side from Burton to Gayton. However, apart from the three recognised sites of Burton Mere Wetlands, Parkgate and Point of Ayr, the rest of the reserve is a mystery to many, with little signage or interpretation to help the public understand and enjoy the landscape and wildlife.

Owing to easy access not far from Burton Mere Wetlands, Burton Marsh is an increasingly well known area. Becoming part of the reserve with our purchase of Burton Marsh Farm in 2006, it spans from Burton Point all the way to Neston Old Quay at the south end of Neston Reedbed. Nestled roughly halfway between Burton Mere Wetlands and Parkgate, adjacent to The Harp Inn and with access from the Burton Marsh Greenway sits Denhall Quay, a derelict sandstone jetty with an important place in the Dee's history before the dramatic changes initiated by the canalisation in the 1730s.

It has long been a popular place for local birders, protruding into the marsh so offering unrivaled panoramic views from Burton Point to Neston Reedbed, perfect for scouring the landscape in winter for birds of prey as well as huge flocks of waders and wildfowl to whom the estuary is a priceless winter refuge. Like all wildlife, birds are driven by where they can find food, and this winter the saltmarsh around Denhall Quay has become a prime location for short-eared owls to hunt, simultaneously offering superb views for birdwatchers and wildlife lovers.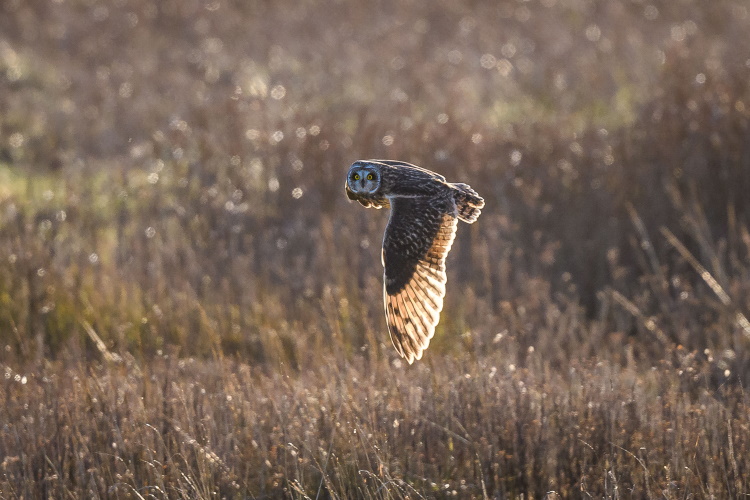 Short-eared owl (Paul Jubb)

These enigmatic birds are an annual winter resident on the saltmarsh, but are rarely seen as close and reliably as has been the case for the past few weeks. Often, they are the sought after highlight of a famous spring high tide at Parkgate. As word of mouth spread of their daily displays, the number of people visiting Denhall Quay grew to unprecedented levels particularly during the fair weather around Christmas and New Year, and sadly a minority of these were straying onto the marsh in front of The Harp in an effort to get closer views or photographs of the owls. In doing so, new "paths" were being forged in pristine saltmarsh, an emerging reedbed was being trampled, and the owls were being prevented from hunting this area due to the presence of people in their favoured spot.

Clearly this is not responsible wildlife watching, and as stated in the birdwatchers' code, the birds' interests should always come first. Similarly, the nature photographers' code of practice has one underpinning rule of "the welfare of the subject is more important than the photograph".

As well as forcing the owls to hunt further afield on the estuary - where the small mammal availability may be lower - resulting in disappointment and frustration for those watching respectfully from Denhall Quay or the marsh edge, encroachment on the marsh also causes disturbance to the waders and ducks resting or feeding on the pools of this inner marsh area. These, ultimately, are the primary reason for the RSPB protecting the expanse of saltmarsh and mudflat that we do on the reserve; the Dee Estuary is the third most important estuary in the UK for waterbirds, supporting over 100,000 of them through the winter months.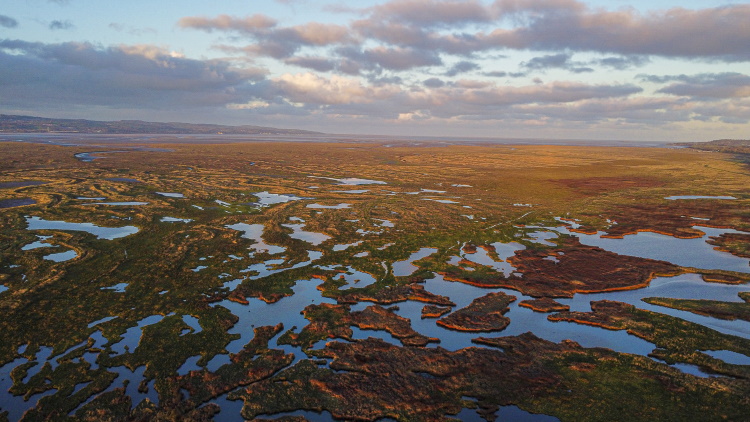 Drone photo showing the myriad pools on the saltmarsh (Josh Robertson)

In the first week of January, we began to address the issue by installing signs asking people not to enter the sensitive parts of the marsh that had been causing problems. The reserve team have also been monitoring the site as much as capacity allows. Thankfully, the issue seems to already be easing, helped also by the amount of public support on social media calling out the inappropriate behaviour.

Some people may wonder what all the fuss is about, and what harm it causes if the birds fly away to another part of the marsh. As mentioned above, the owls' location indicates a prevalence of food, and being forced to hunt elsewhere means they may struggle to find sufficient food to survive the winter. Similarly, the ducks and waders being scared from this area have settled there due to the right food in the water or mud, or to rest away from the rising tide on the outer part of the saltmarsh.

Some of these birds have migrated thousands of miles and will have lost half of their body weight in doing so. It is essential for them to feed and rest sufficiently over winter to regain this weight and return to prime condition ready to migrate north to their breeding grounds in spring. Disturbing birds does more than simply cause them to fly away; it uses up their energy reserves, decreasing their chance of survival. Once frightened away, birds can take a long time to settle and they remain alert, meaning they cannot rest properly for a while afterwards.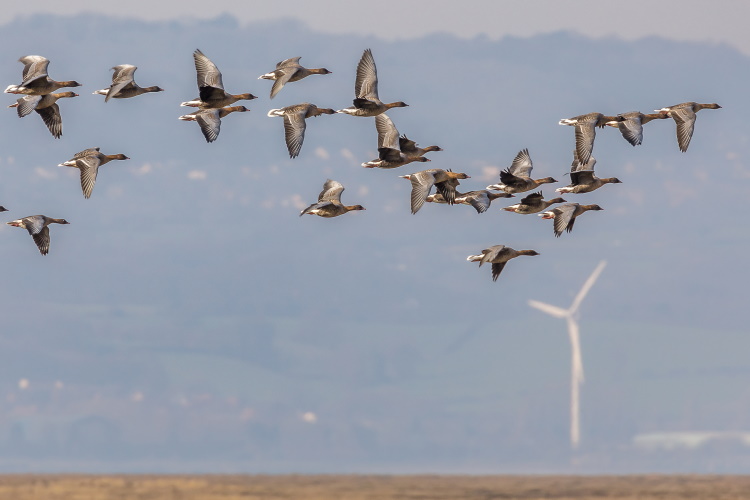 Pink-footed geese migrate from Iceland and Greenland to overwinter on the Dee Estuary in their thousands (Paul Jubb)

In an ideal world, nobody would walk onto the saltmarsh at Denhall Quay, or any part of the estuary, to keep human disturbance to the birds at a minimum. However, a permissive route exists, forming a loop between Denhall Quay and the car parking area at the end of Marshlands Road. This dates back generations, long before the area was purchased by the RSPB in 2006. There is no public right of way onto the marsh, and the historic access was intended for the local residents between Burton and Neston.

Over time, the area has become increasingly used by people from further afield, and due to Covid lockdowns over the past two years, has at times been incredibly busy. We have observed the negative impact on the birds using this part of the reserve, although it is encouraging that the short-eared owls this winter are happily hunting within the loop, when not deterred by people straying from the long-standing route.

This route is regularly referred to as the "dog-walkers' loop" which reflects its most frequent use, and whilst dogs and wildlife - especially wetland birds that feed and roost on the ground - do not mix well, dogs kept on leads or at heel here should cause little disturbance to birds on pools in the proximity. Sadly, it is not uncommon for dogs to chase and flush flocks of waterfowl from the marsh, an obvious disturbance issue that we are keen to address in the near future to give these overwintering flocks the protection they need.

Aside from the RSPB's objective of managing a huge area as a nature reserve, the entire Dee Estuary has extensive legal protections for its wildlife; as a Special Protection Area (SPA), a Site of Special Scientific Interest (SSSI) - both for the winter bird populations - and the saltmarsh is a Special Area of Conservation (SAC) habitat. This demonstrates how important the Dee Estuary is, not only on a national level but on a European scale, and reinforces the need for us all to behave in a way that is sensitive to nature rather than just to suit our own desires.

There really is no need to venture onto the saltmarsh from Denhall Quay, to enjoy the short-eared owls or any of the other brilliant birds that the estuary supports. The slight height of the Quay gives an advantage to see further across the marsh; with patience and effort, you can see flocks of pink-footed geese, wigeon, teal, lapwing, redshank and curlew to name just a few, not to mention the long list of birds of prey, egrets and herons, and characterful songbirds like stonechat and skylark.

Since we do not live in an ideal world, it is worth highlighting that the area of saltmarsh affected by the permissive route is a small fraction of our reserve. Although we would prefer to avoid any disturbance to the pools on the inner marsh around Denhall Quay, there is at least a natural saltmarsh gutter which creates a clear boundary to restrict access to the rest of the marsh. If you happen to see anybody beyond there, it could be RSPB staff or volunteers, our tenant farmer or his shepherds, or a member of the Dee Wildfowlers' Club.

Although it looks as though the new signs are being effective, directing people away from the recently disturbed and trampled areas where we do not want a new path formed to prevent long-term damage to the saltmarsh and birds, we will continue to monitor the area over the coming weeks. All that we ask is if you choose to visit the estuary, please follow the Countryside Code to help us in our efforts to protect some of Europe's most threatened landscapes and wildlife. Wildlife doesn't have a choice of going elsewhere.
Dan Trotman RSPB Jan 2022 (First published on the RSPB Dee Estuary Blog on 12 Jan 2022 - see
https://community.rspb.org.uk/placestovisit/deeestuary/b/deeestuary-blog)

Colour Ring Report


Bar-tailed Godwit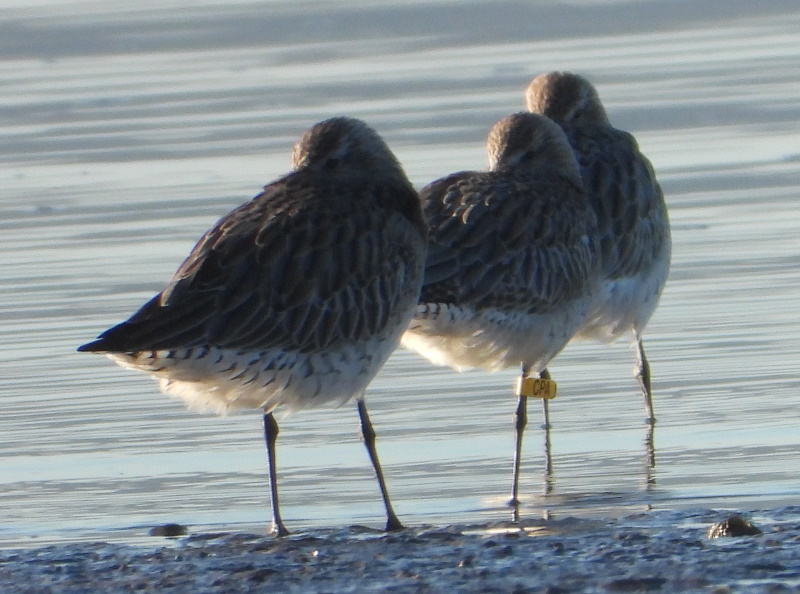 Bar-tailed Godwit Y flag (CPA) at Thurstaston, January 2022 © Richard Smith

Although regular on the Dee Estuary and North Wirral we only get small numbers here, perhaps two or three hundred and consequently colour ringed birds are rare. This one, ringed in Norway, is only the fourth colour-ringed Bar-tailed Godwit in our database.
Yellow flag (CPA)
Ringed at Kragero, Telemark, southern Norway, on 16/08/2021.
Recorded:
Seaforth NR on 18/12/2021
Birkdale on 05/01/2022
Thurstaston on 13/01/2022

Black-tailed Godwit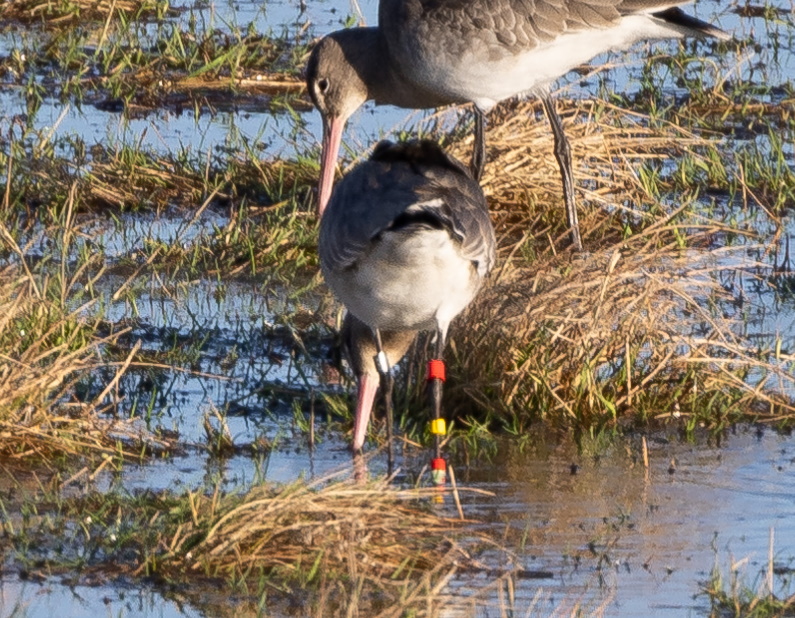 Black-tailed Godwit R//YRL at RSPB Marshside January 2022 © Nick Brooks


We know from colour ringing that waders, and in particular Black-tailed Godwits, tend to have a set routine and are very site faithful using the same migration routes, moulting areas and wintering sites year after year. But occasionally you get one which is in the 'wrong' place and you wonder what the hell it's doing there! Such is the case with R//YRL pictured above.
R//YRL
Ringed by the Andurina ringing group at Pontevedra (near Vigo) in NW Spain on 23/12/2019 as an adult.
On the assumption it bred in Iceland the following year (2020) it returned early being seen at Woolston Eyes on 24/06/2020. It next turned up at the Caldy Wildfowl Collection where it stayed (with another Andurina ringed bird) all July and the first half of August, last recorded on the Dee Estuary at Connah's Quay on 20/08/2020.
That October (still 2020) it was again recorded in NW Spain as you would expect for a bird which winters in Spain (or so we thought judging from when and where it was ringed). But it then disappeared for well over a year before turning up at RSPB Marshside, Southport, on 05/01/2022 - a somewhat unexpected location for a bird thought to be at least 800 miles to the south!

Grey Plover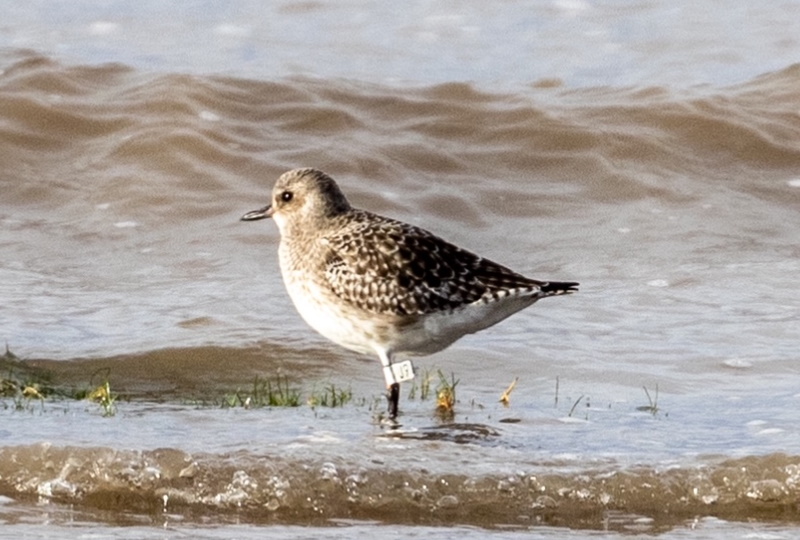 Grey Plover White Flag J9 at Hoylake, January 2022 © Peter Sutton


Grey Plover White Flag (J9) is our first of this species we've recorded which was ringed by the Wash Wader Ringing Group.
Ringed at Terrington Marsh (The Wash) on 03/09/2019.
Recorded:
Birkdale on 30/03/2021.
Hoylake on 06/01/2022.

Redshank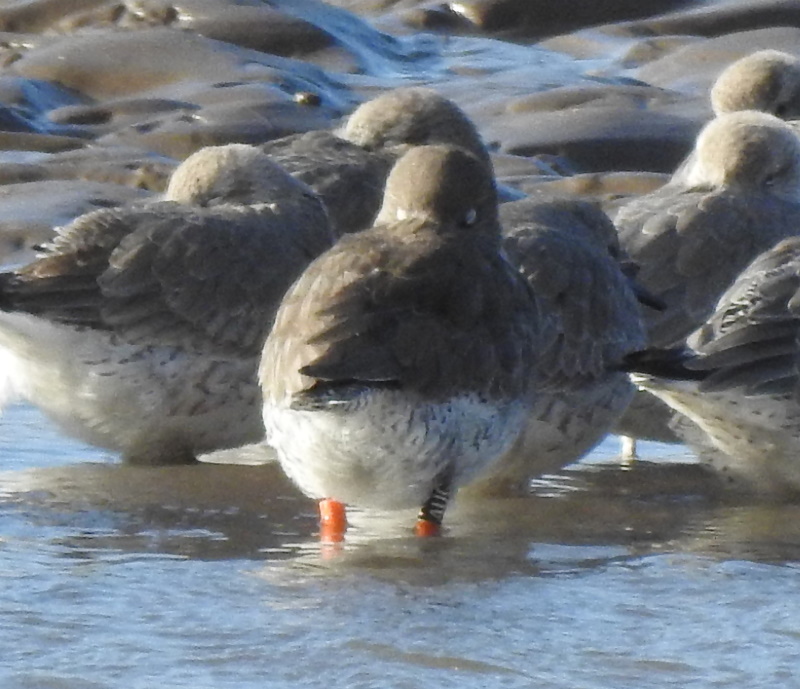 Redshank O - Black (AUC) at Thurstaston, January 2022 © Steve Hinde

Despite having some of the largest numbers of Redshanks in the country we see very few with rings so it was good to see this one ringed by the Mid-Wales Ringing Group.
O - N(AUC)
Ringed at Ynyslas, near Borth on Cardigan Bay, mid-Wales on 16/12/2020.
Recorded at Thurstaston on 27/01/2022.

Colour Rings were recorded by Richard Smith, Steve Hinde, Matt Thomas, Peter Sutton, Eddie Williams, John Jakeman, Sean O'Hara and Steve Williams.
January Bird News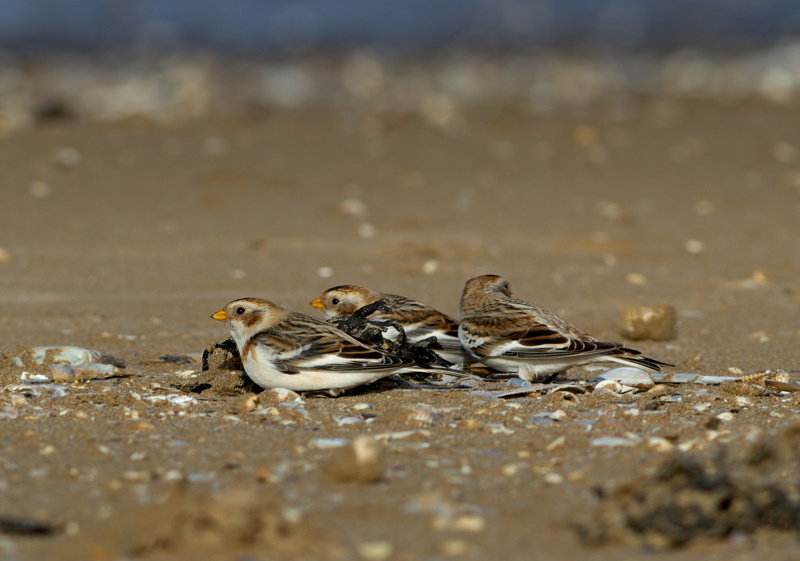 Snow Buntings sheltering from strong winds on Wallasey shore, January 29th © Peter Morris

As per the above article we continued to have problems with people going onto the marsh at Neston trying to photograph Short-eared Owls and I stopped reporting records from there as a result - so apologies for all those that sent me their sightings and wondered why they were ignored. It wasn't just the number of people out on the marsh which angered us it was the behaviour of a small majority which were seen, and filmed, deliberately flushing the birds, waving their arms and running towards them! Anyway, despite all this we had some good views of Short-eared Owls and I think the peak count was seven from Denhall Quay early in the month, with four recorded at Parkgate on the 5th during the spring tide.

There seems to have been at least seven Snow Buntings in the area with singles at Point of Ayr and Hoylake, and five on Wallasey shore/dunes for most of the month. There has been a big influx of Bramblings into the country this winter and we had our share with at least 20 in a large flock of Chaffinches at Thornton Hough with a couple of Yellowhammers in the area as well. A much rarer finch was recorded with a flyover of a Corn Bunting at Riverbank Road, Heswall, on the 27th and another Yellowhammer was also recorded there.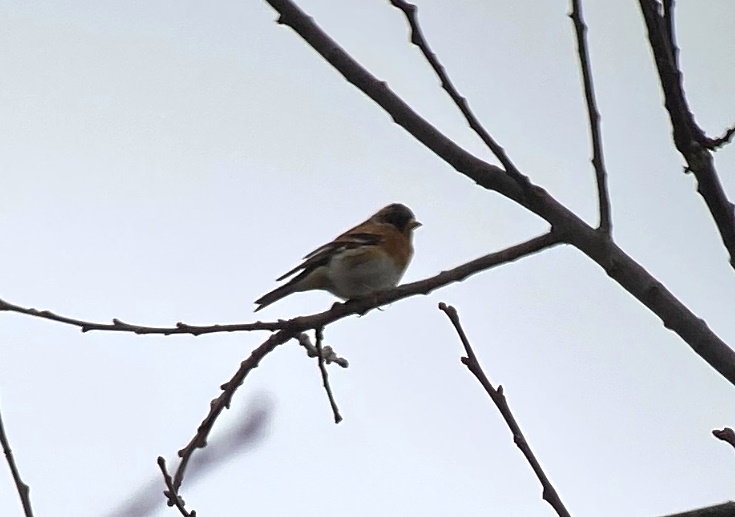 Brambling at Thornton Hough, January 22nd © David Thompson


We had some very variable weather in January including gales and rain but we also had a week of glorious sunny weather with little wind around mid-month and consequently it was fantastic being out doing some birding. Simon King was at Meols and Thurstaston that week filming Peregrines hunting the Knot flocks and I understand got some great footage. I was at Thurstaston on the 13th when there were spectacular views of the knots swirling around over the sand banks. I'm not sure about total numbers but there must have been at least 20,000 on Dawpool Bank and 10,000 at Meols on the 24th was a very high count for that site.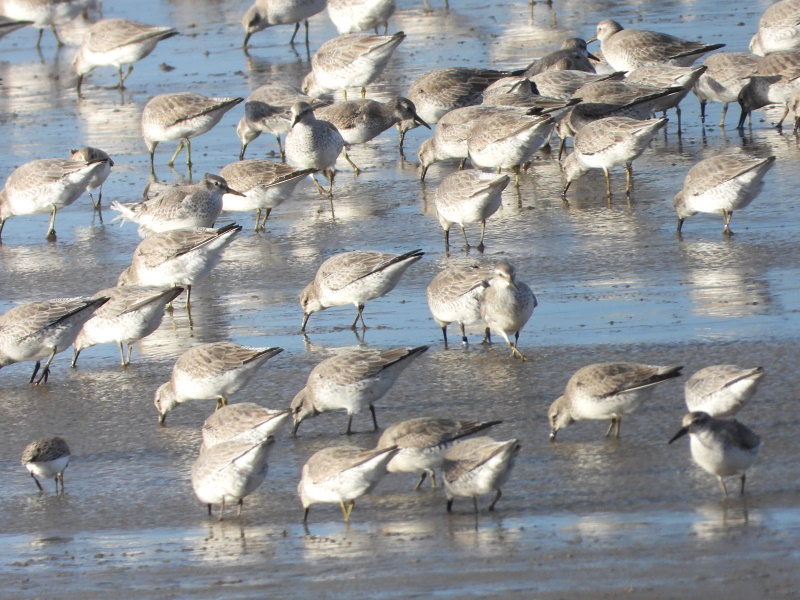 Knots at Meols, January 3rd © Richard smith
The flocks were often on the mud just below Meols Promenade giving wonderful views


Neston Reedbed is always worth a look just before dusk with a Bittern and over 10 Marsh Harriers flying into roost, and somebody had a probable roost of at least 10 Water Pipits there although poor light made it impossible to be 100% sure of the ID.
21 Red-breasted Mergansers was a good count on the sea at high tide at Heswall on the 23rd. Goosanders reached 13 on West Kirby Marine Lake but they were also spotted on various ponds around the area, including four on Gilroy Duck Pond. At the end of the month 5,000 Pink-footed Geese flew north leaving the estuary at first light, an amazing sight. I suspect there must be a lot of interchange between North Norfolk, the Dee Estuary and Martin Mere (South Lancs) through the winter, and we also know many thousands move at night.
Shotwick Boating Lake had a Long-tailed Duck, a Great Northern Diver and about 40 Little Grebes early in the month.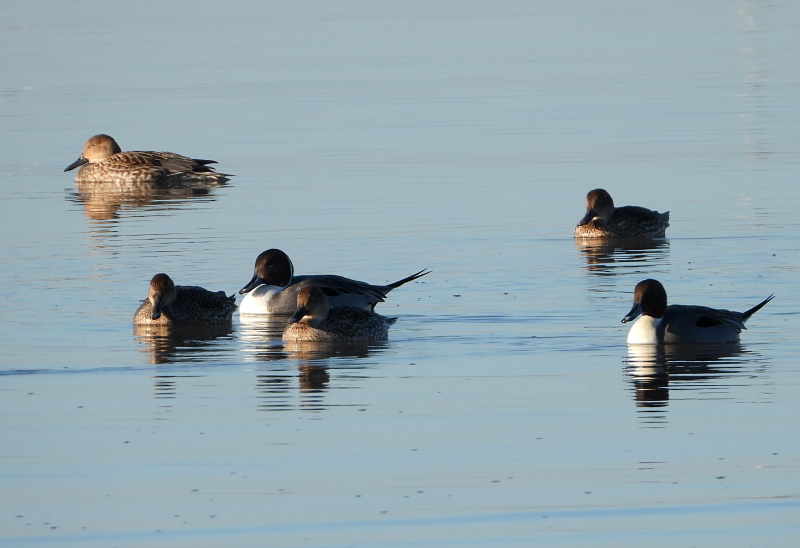 Pintails at Thurstaston, January 14th © Richard Smith

Many thanks go to David Haigh, Matt Thomas, Eddie Williams, Steve Williams, Steve Hinde, Alan Hitchmough, Derek Bates, Allan Conlin, Richard Whitby, David Thompson, Peter Morris, David Small, Bruce Atherton, Mark Woodhead, David Leeming, Paul Vautrinot, Les Hall, Dave Edwards, Paul Mason, Frank Burns, Sheila Ryde, Steve Round, Gail Wilson, Carole Killikelly, Richard Smyth, Steve Morris, Bill Wonderley, Kevin Gallagher, Rob McDonald, Andrew Ingham, Chris Wilding, Bill Dickinson, Richard Jones, Nicola Selby, Alan Oates, Ian Shepherd, Jack Murphy, Kelvin Britton, Richard Armour, Derek Lees, Chris Cameron, Steve Hart, Wendy Russ, Patrick Tierney, Helen Jacobs, Rod Bell, James Smith, John Jakeman, Sean O'Hara, Laura Middlebrook, Tony Davies, Mark Peers, Alan Manger, Ron Armstrong, Glyn Thursfield, Hugh Stewart, Andrew Leaver, Chris Maltby, Paul Kenyon, Richard Steel, Barbara Robinson, Steve Burke, Richard Payne, John Williams, Bill Wonderley, David Jones, Peter Sutton, Paul Ralston, Ryan Williams, Roy Williams, the Dee Estuary Wardens and the Hilbre Bird Observatory for their sightings during January. All sightings are gratefully received.

What to expect in February

February is unpredictable - over the past few years we've had weather more like May, bitterly cold spells and at least one strong gale. Obviously the weather has a big effect on what we will see!
The month starts with three spring high tides, they are not massive tides but a fresh westerly should bring the sea up to Heswall and Parkgate with spectacular views of Short-eared Owls, Harriers and masses of geese, ducks and waders. Hoylake Shore may well be worth a visit to see the high tide wader roost.
If we get some calm weather then a look out to sea will be worthwhile - you will see hundreds of Great Crested Grebes and thousands of Common Scoters, and we often see Velvet Scoters, Eiders, Goldeneyes, Scaup and a Long-tailed Duck or two. Look out from Meols, Hoylake, Red Rocks, Hilbre or Point of Ayr.
There will be signs of spring including the arrival of Avocets at Burton Mere Wetlands which could reach as many as 50 by the month-end. Look out also for Mediterranean Gulls starting to turn into summer plumage. A Stonechat passage is often seen along the coast this month. If we get a spell of warmer weather towards the end of the month then we could see an early migrant, one or two Sand Martins, Wheatears and White Wagtail have all been recorded in February in recent years.

Top of Page
Forthcoming Events
February Highest Spring Tides (Liverpool)
Also see Tides page.
2nd February, 11.54hrs (GMT), 9.8m.
3rd February, 12.37hrs (GMT), 9.8m.
4th February, 13.18hrs (GMT), 9.7m.
Forthcoming Events
No Events planned this month